Tender pecan nuts and a nutty, buttery, golden syrup flavoured filling, all encased in a crispy flaky pastry case, make this easy pecan nut pie one of the best I have ever tasted. Why not try it for yourself – it's so easy to make.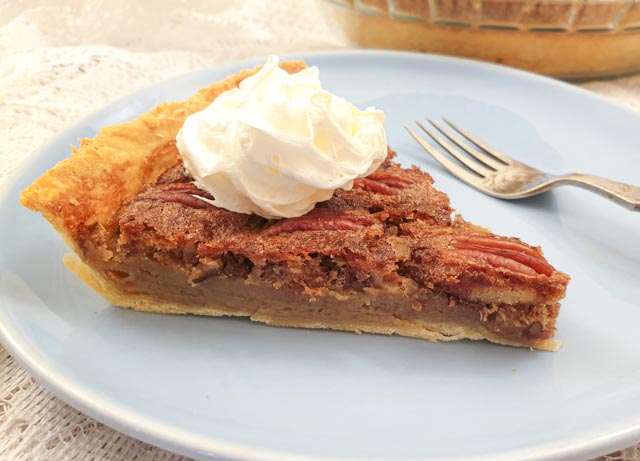 **As an Amazon affiliate, I earn from qualifying purchases.**
What is a pecan nut pie?
A pecan nut pie is a sweet dessert pie, packed with pecan nuts, with a deliciously sticky filling flavoured with golden syrup and butter. It is all encased in a buttery flaky pastry shell.
Traditionally made and eaten during festivals or celebrations, like Christmas and Thanksgiving, pecan nut pies can (and should!) be eaten throughout the year.
This easy recipe for pecan nut pie is made without corn syrup. Instead, I like to use golden syrup, which provides a delicious caramel taste. However, if you prefer, you could use corn syrup or even maple syrup.
For the pie crust, I prefer to make my own pastry, and I've included a recipe for the flaky pastry that I use for my coconut jam tarts and upside-down apple pie, but you could use store-bought shortcrust pastry if you prefer.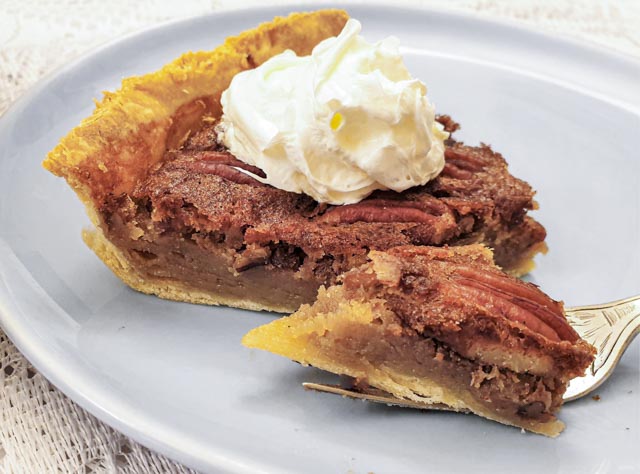 What ingredients do you need?
This recipe makes one 9-inch tart. You can get the exact quantities and full instructions for making a pecan nut pie on the printable recipe card at the end of this post.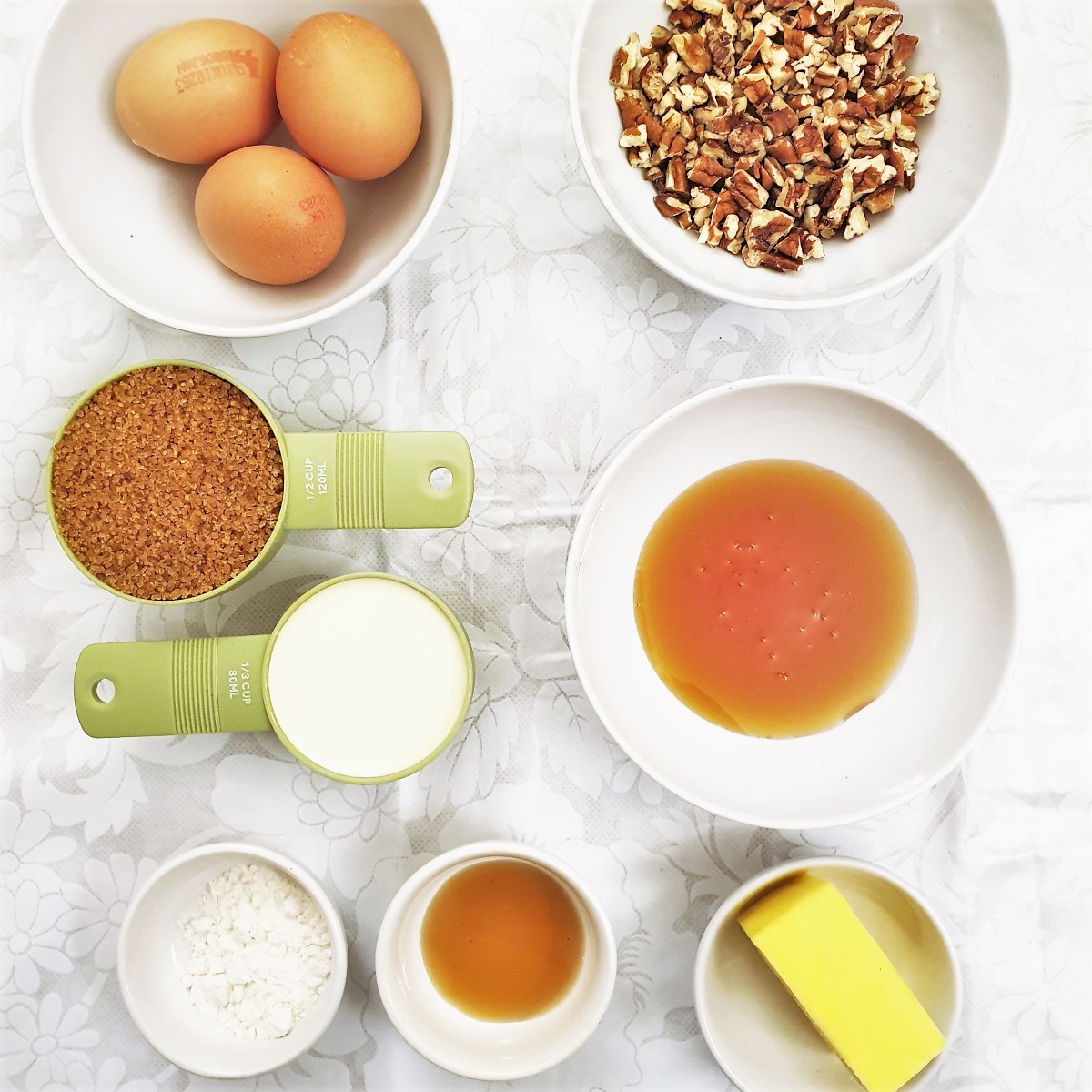 Eggs – you will need the yolks and the whites.
Pecan nuts – chopped nuts for the filling, and whole pecan halves for decoration.
Brown sugar – I used demerara sugar, but you could use muscovado or dark brown sugar for an even richer caramel taste.
Cream – used to give richness to the filling. I use single cream, but you could use double cream too. Don't be tempted to cut calories by swapping the cream with milk – the filling will not set if you do this.
Golden syrup – for the caramel flavour.
Flour – used to help thicken the filling. You don't need much, one teaspoon is sufficient.
Vanilla essence – for flavour
Butter – for a rich buttery taste. Please do not substitute this with baking margarine.
Shortcrust or flaky pastry – you can buy a roll of ready made shortcrust pastry, or follow the instructions further down in this post and make your own flaky pastry. If you do make your own pastry, please note that you will only need half of the pastry for this pie. You can keep the other half of the pastry in a plastic bag in the refrigerator for up to 3 days, and use it to make something else. (Ingredients for the pastry are not shown in the above image).
Make the pecan pie crust
If you are using store-bought pastry you can skip this step.
For the pastry you will need flour, butter, egg yolks, salt and water.
There is no need to blind-bake this pastry before adding the filling.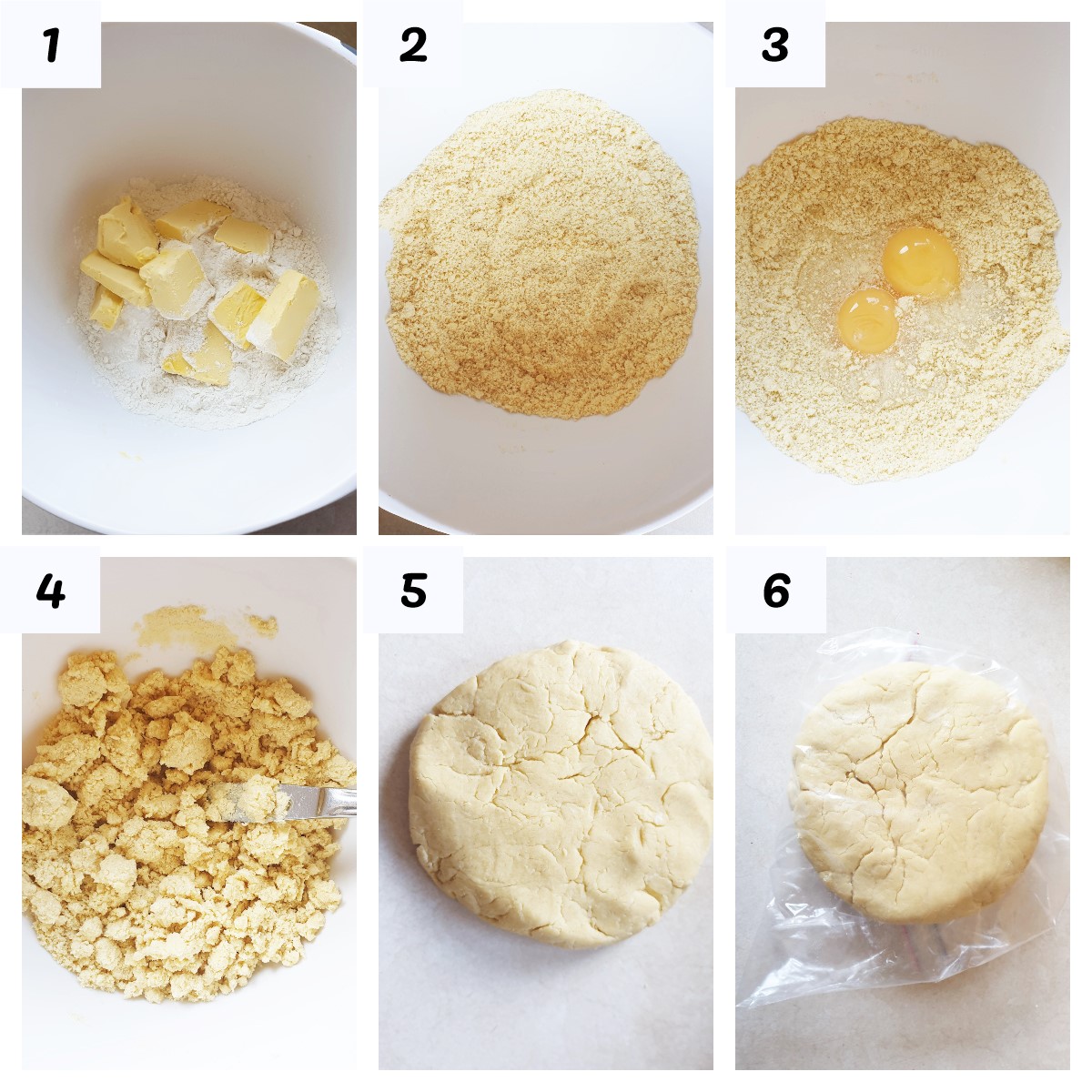 Measure the flour into a mixing bowl and add the salt. Then cut the butter into cubes and add to the flour (image 1 above).
Using your fingertips, rub the butter into the flour until all the flour has been coated with butter and the mixture resembles fine breadcrumbs (image 2 above). When rubbing in, lift the butter and flour above the bowl and allow it to fall back. This helps aerate the mixture.
Add the egg yolks and water (image 3 above). You can use the egg whites for making a meringue topping for this lemon meringue pie.
Use a flat knife to cut the eggs and water through the flour mixture until it starts to come together (image 4 above). Start with 4 tablespoons of water and if you need more add the extra tablespoon. The amount of liquid you will need depends on the size of the egg yolks.
Now use your hands to gently press the pastry together into a flat disk (image 5 above). Do not knead. Use just enough pressure to make the dough come together.
Place the pastry into a plastic bag, or cover with clingfilm (image 6 above), and place in the refrigerator to rest for at least half an hour, while you prepare the filling.
Make the pecan pie filling
This will take about 10 minutes to prepare and mix. If you have a hand-mixer it will make it easier to cream the butter and sugar together. If not, you can just use a wooden spoon and plenty of elbow-grease.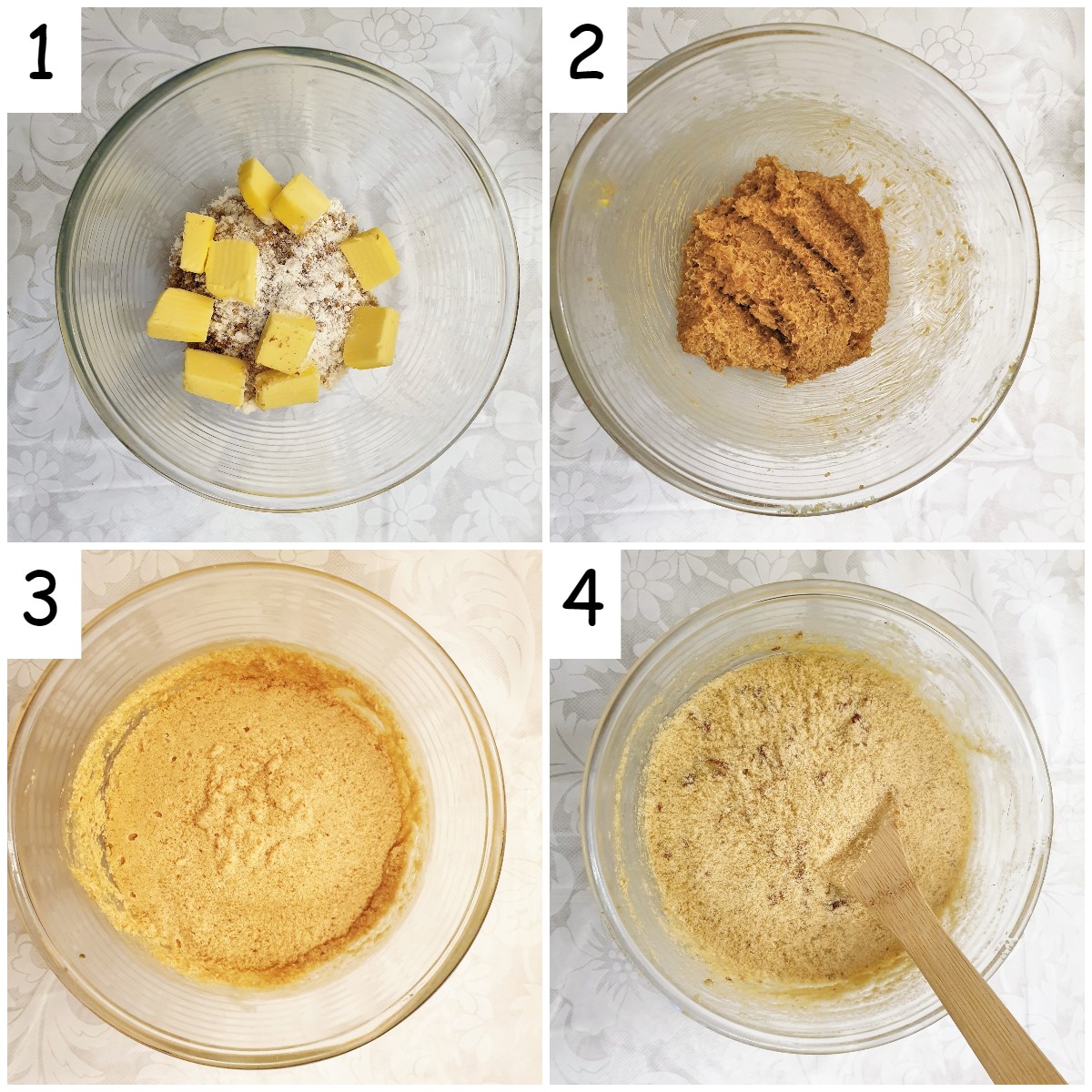 Start off by chopping one cup of pecan nuts into small pieces. These will be used for the filling. Keep the remaining nuts whole. These will be used to decorate the top of the pie.
Cut the butter into small cubes and allow to come to room temperature. This will make it easier to blend with the sugar.
Place the brown sugar, flour and cubed butter in a mixing bowl (image 1 above) and beat with a wooden spoon (or an electric hand mixer) until smooth and creamy (image 2 above). The sugar will not dissolve entirely. This is perfectly fine. Just ensure there are no lumps of butter left in the mixture, and that it is very well blended.
Break the eggs into the mixture, one at a time, and blend well after each addition (image 3 above). It will look as though the mixture has curdled, but don't worry. It is supposed to look like this.
Mix in the golden syrup, cream and vanilla essence, then stir in the pecan nuts.
Note – this is a very runny mixture, but don't worry, it will set as it bakes.
Assemble and bake
Grease a 9″ pie dish with a little butter, taking care to cover both the base and the sides.
Roll out the pastry to approximately one eighth of an inch thickness, and use it to line the greased pie dish.
If you have made the pastry according to the recipe above, you will only need to use half the pastry. You can keep the remainder in the fridge for up to 3 days, or freeze it and store in the freezer for up to six months.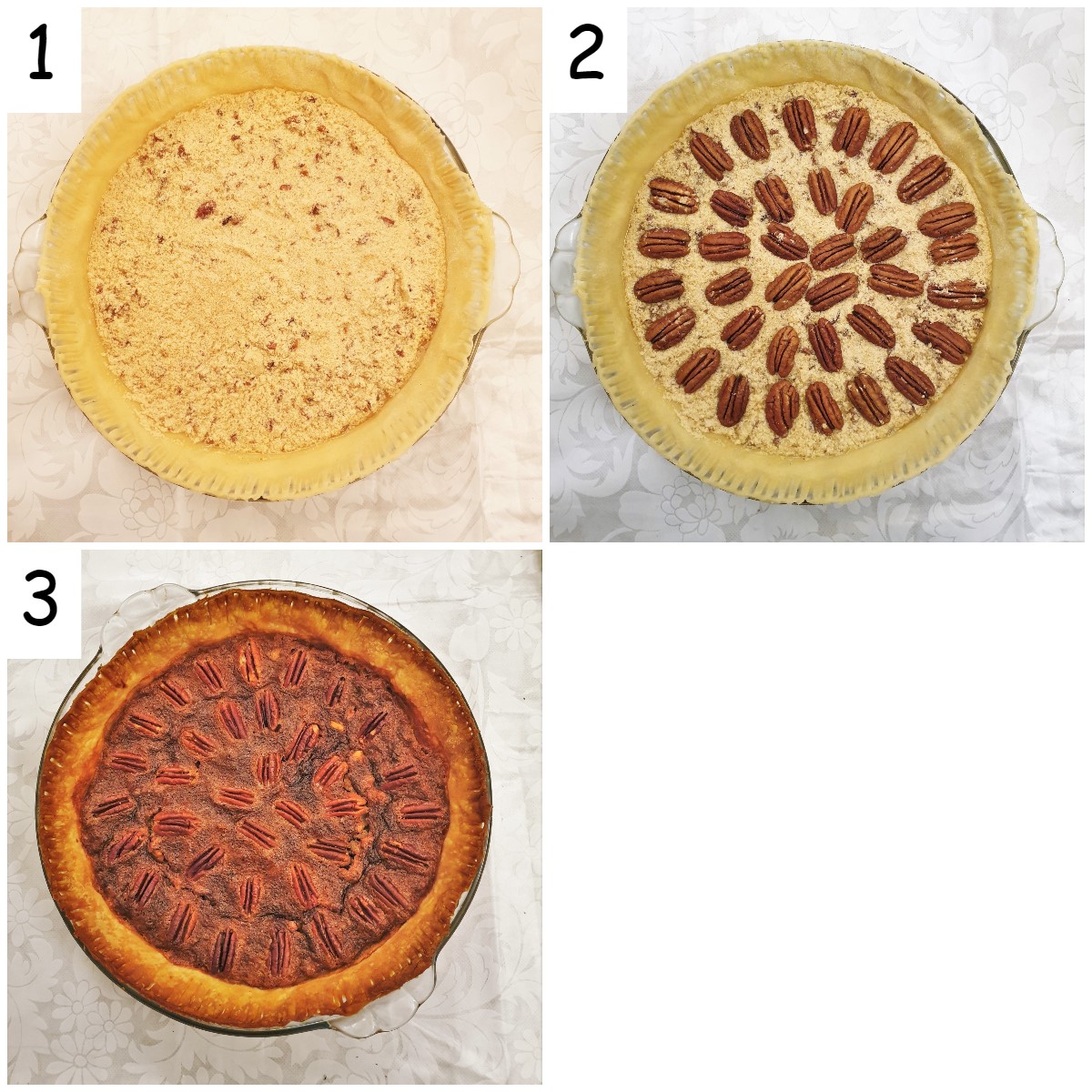 Pour the filling into the prepared pastry case (image 1 above) and arrange whole pecan nuts on top (image 2 above).
Bake in a medium-hot oven (180C / 360F) for 30 minutes. Keep your eye on it. If the pastry seems to be browning too quickly, cover the dish with a layer of aluminium foil (tin foil).
The filling will rise up as it bakes but will settle and flatten as the pie cools.
Allow the pie to cool completely before cutting into slices and serving, as this will give the filling time to set.
You can serve this pecan nut pie plain, or for extra decadence add a scoop of ice cream or whipped cream.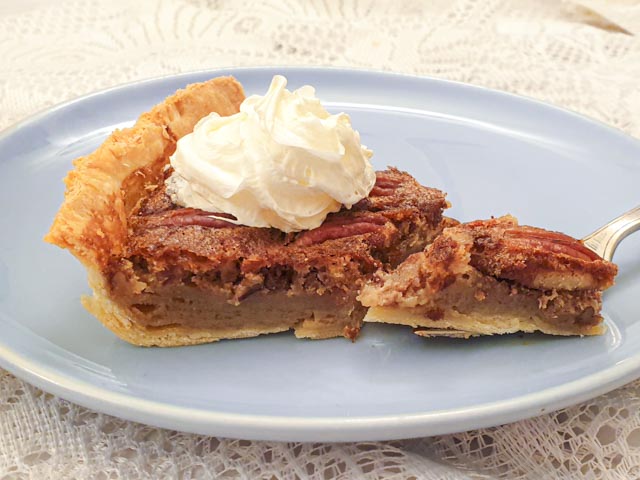 If you'd like to be notified of any new recipes, why not subscribe to my newsletter. As a thank-you gift, you will receive a free recipe e-book containing some of my most popular cakes and desserts.
Storing and freezing a pecan nut pie
This pie freezes well, but you will have to freeze it in the pie dish so that the pie doesn't break in the freezer.
To freeze, allow to cool completely. Wrap the pie and dish in a layer of aluminiuim foil, followed by a double layer of plastic wrap (clingfilm).
You can store the pie in the freezer for up to six months.
To serve, transfer the frozen pie to the refrigerator and allow to defrost. Then let the pie come to room temperature before serving.
You can also make this pecan pie in advance and store it covered in the refrigerator for up to 4 days.
If you enjoyed this recipe for my easy pecan nut pie, you may enjoy these other recipes too.