This recipe for coconut meringue jam tarts is a classic. Soft flaky pastry, filled with fruity strawberry jam, covered with a light and crispy coconut meringue. These are irresistable!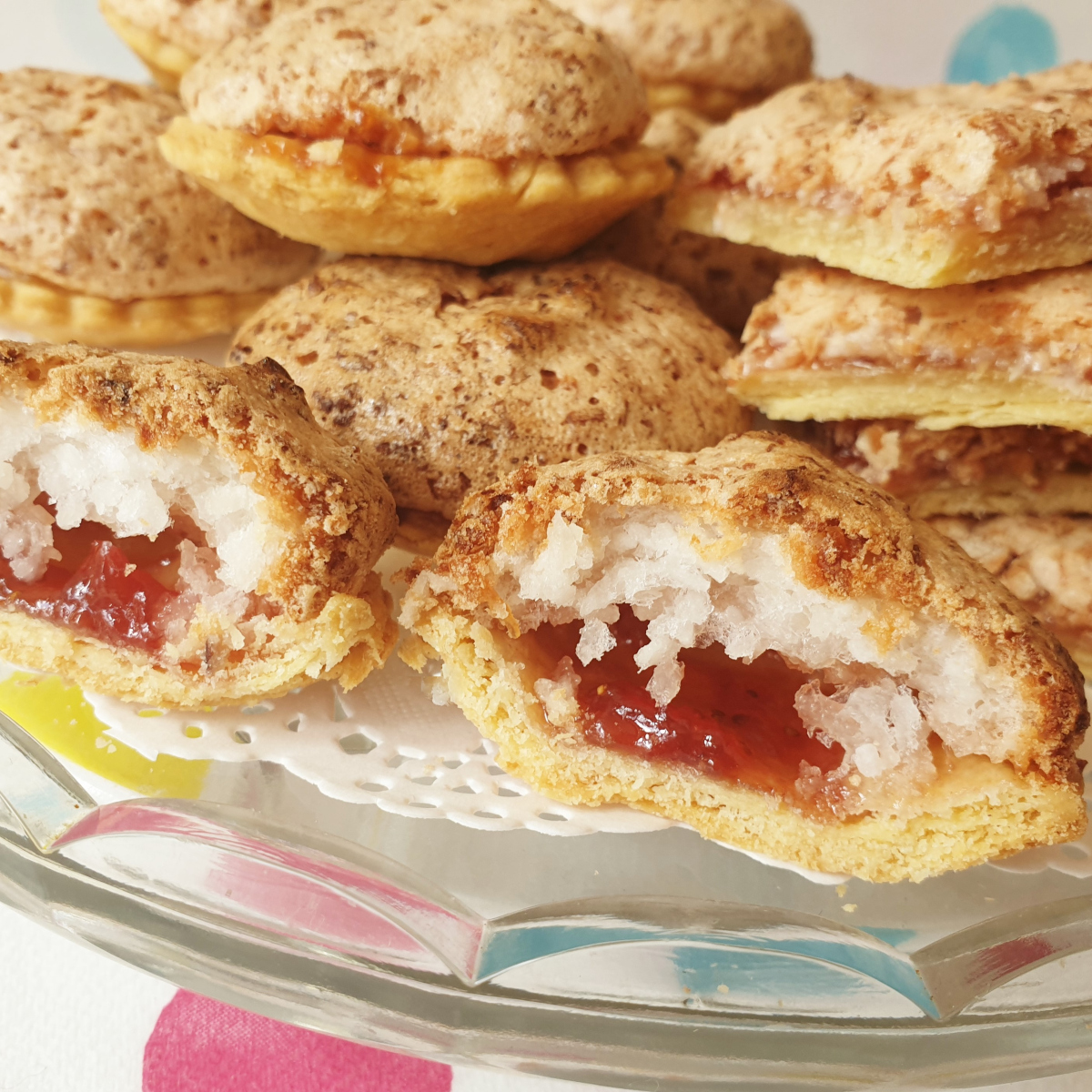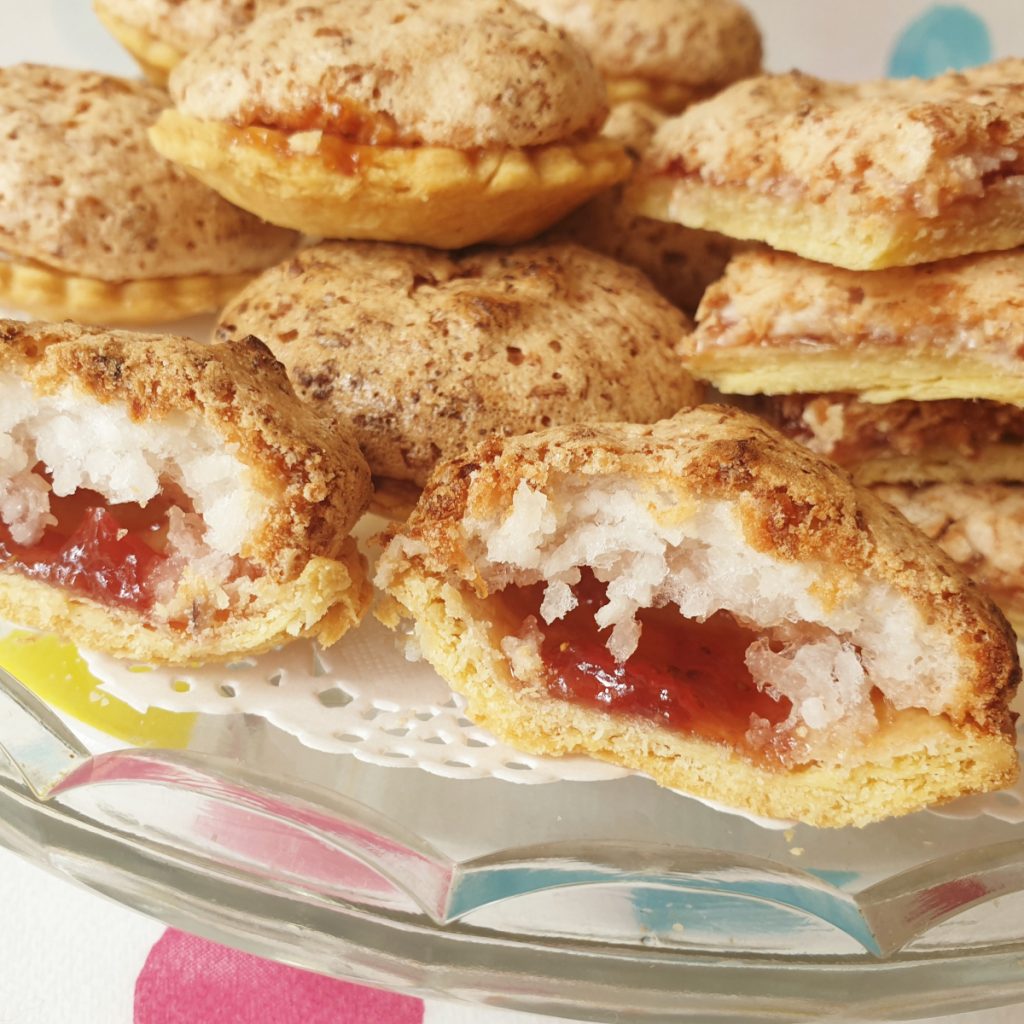 Coconut meringue jam tarts (hertzoggies)
These little coconut meringue jam tarts are one of my favourite bakes. Light as a feather, buttery flaky pastry, covered with homemade strawberry jam and topped with a light and crunchy coconut meringue. Home baking doesn't get much better than this.
These little tarts are a taste sensation. Just bite into that delicious softness and taste the tang of the jam with the sweet crispy meringue. Combine that with a pastry so light that it literally melts in your mouth and you'll be reaching for another one before you've swallowed the first!
I've based this recipe on an old favourite South African recipe for Hertzoggies (pronounce hurt-sockies). It is said that these little cookies were named after General Hertzog, who was the President of South Africa between 1924 and 1939. Apparently they were his favourite too!
The traditional recipes calls for smooth apricot jam, but you can use any jam you have to hand in the kitchen. I've used strawberry jam for mine, but the choice is up to you.
I've included a close up shot of the inside of the coconut meringue jam tarts so you can see for yourself how tempting they look. Just look at the flakiness of that pastry!!!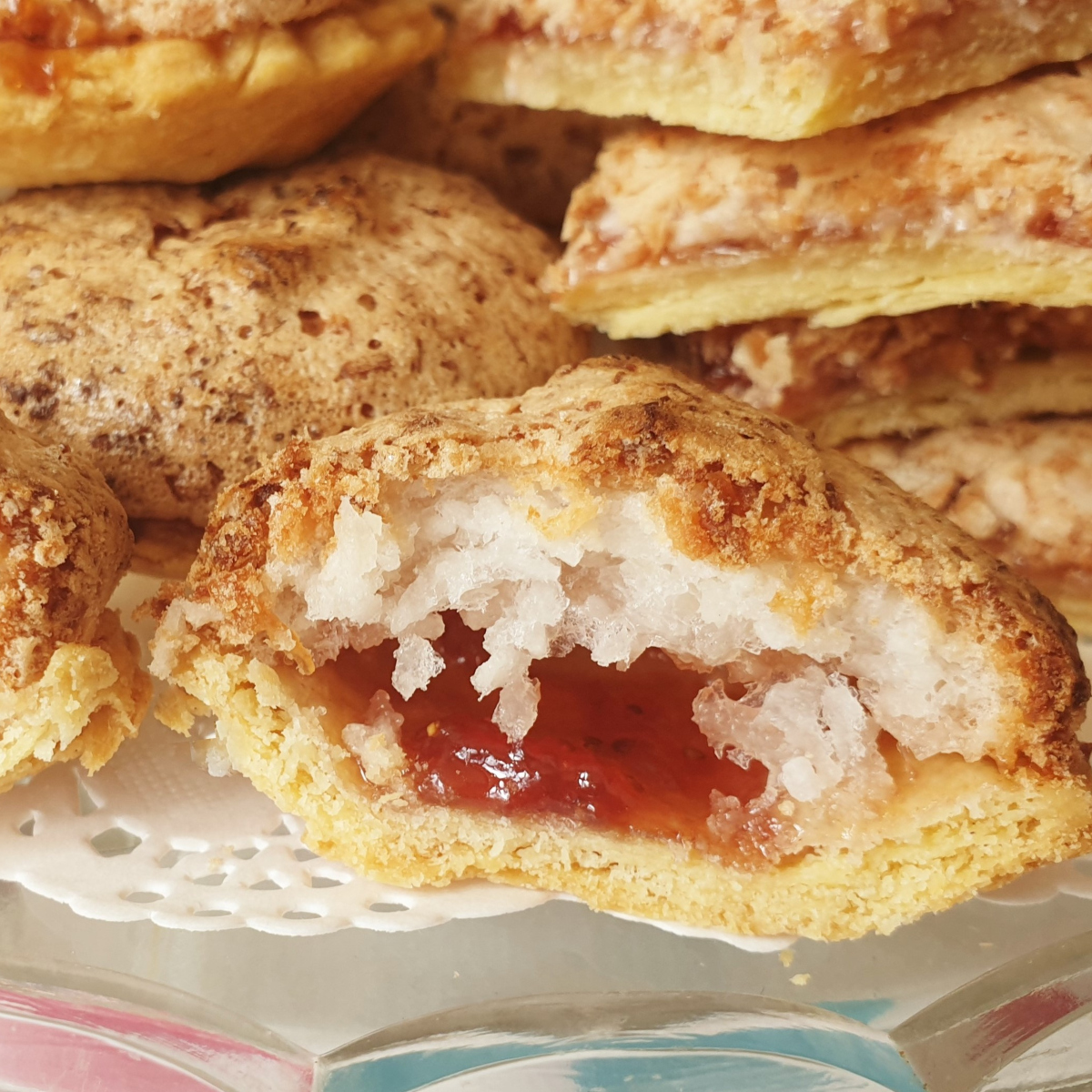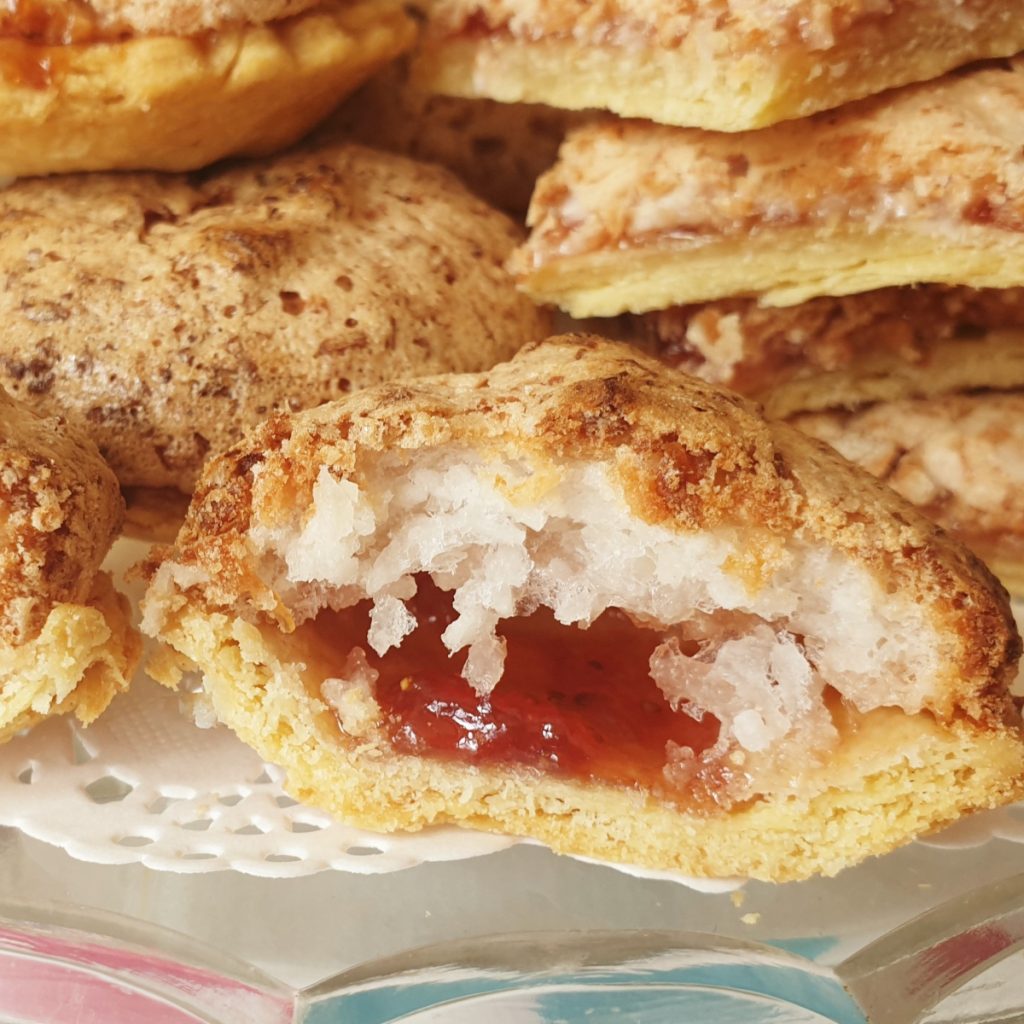 How do you make hertzoggies?
You can get the complete list of ingredients and full instructions on how to make this recipe on the printable recipe card at the end of this post.
These coconut meringue jam tarts are so simple to make. All you need is a quantity of shortcrust pastry, your favourite jam, and some sugar, coconut and egg whites for the topping.
There are only 4 simple steps to make coconut meringue jam tarts. They take less than half an hour to mix and put together, and with only 25 minutes in the oven you can be tucking into these little beauties in under an hour.
Make the pastry – you can use shop-bought shortcrust pastry if you like, but my recipe for pastry is so easy and only takes minutes to mix. And believe me, the difference in taste is unbelievable.
Line the jam tart tins with pastry and fill with jam
Mix the meringue and spoon it over the jam
Bake.
You can make some coconut meringue jam fingers with the leftover pastry trimmings, and any leftover meringue. I've included instructions further down the post.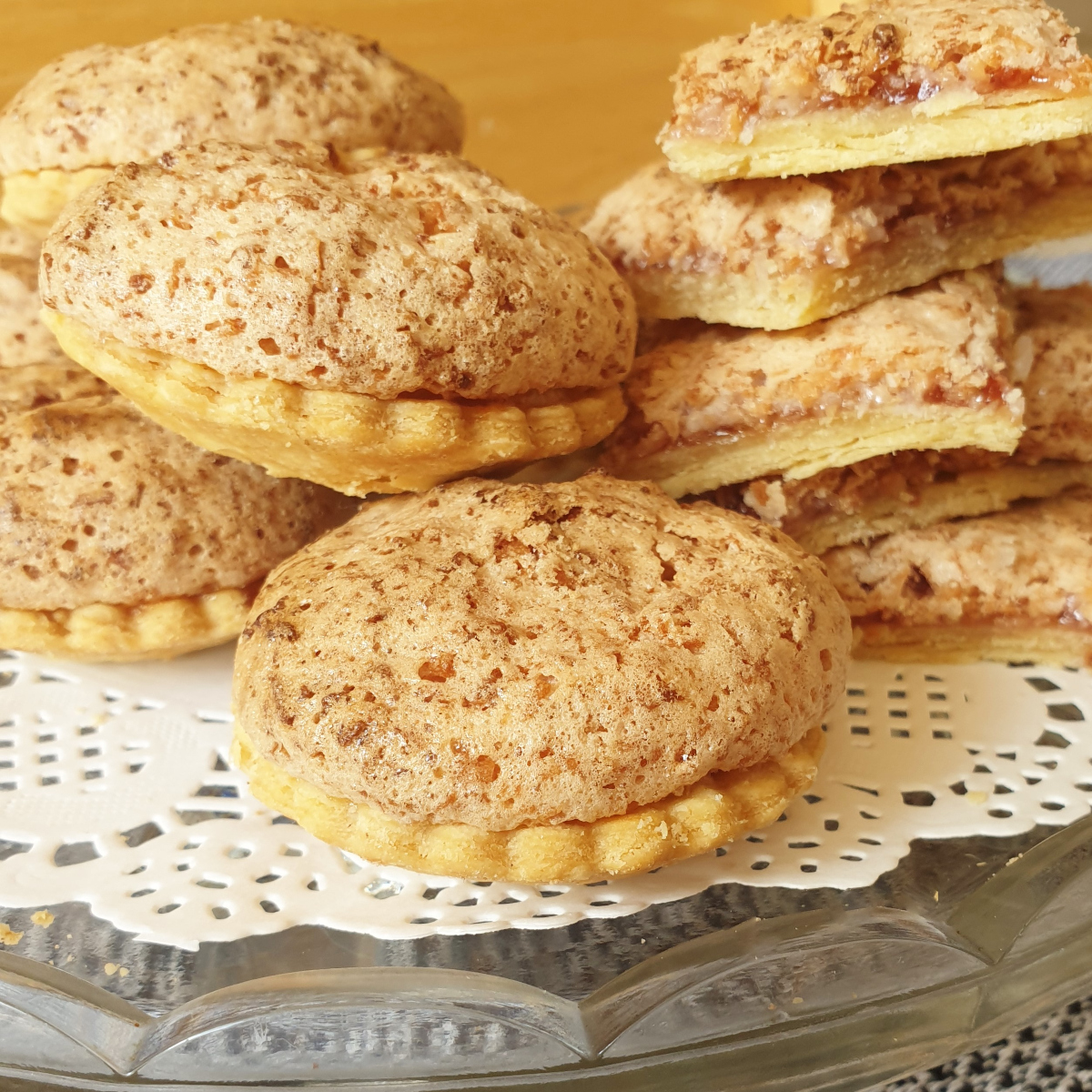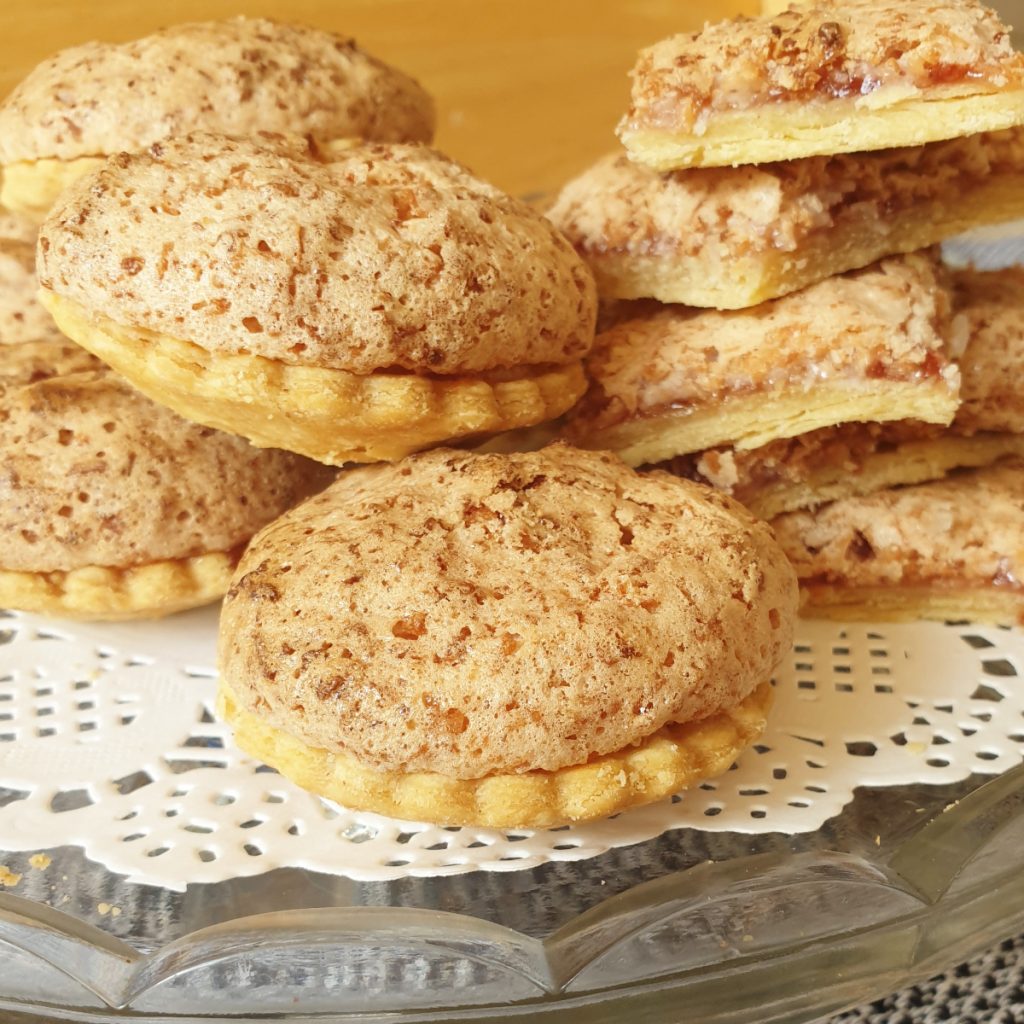 Make the pastry
Here are my top tips for making your own pastry.
Make sure that all your ingredients are as cold as possible. Take the butter and eggs directly out of the fridge, and use ice cold water for mixing.
Handle the pastry as little as possible, and don't over-work it, to ensure a nice light, crisp, flaky pastry.
Use plain all purpose flour and don't add baking powder. You don't want the pastry to swell up during baking.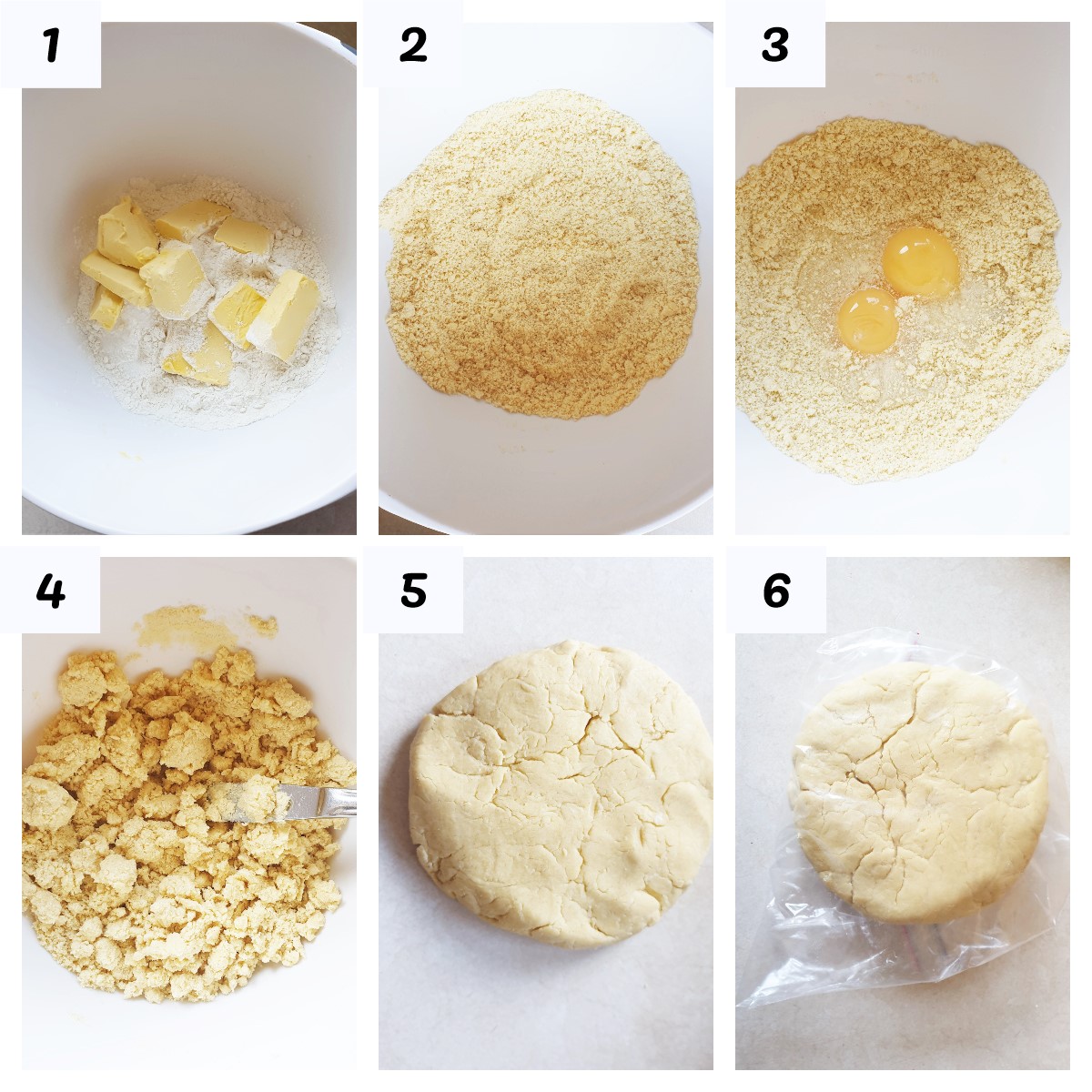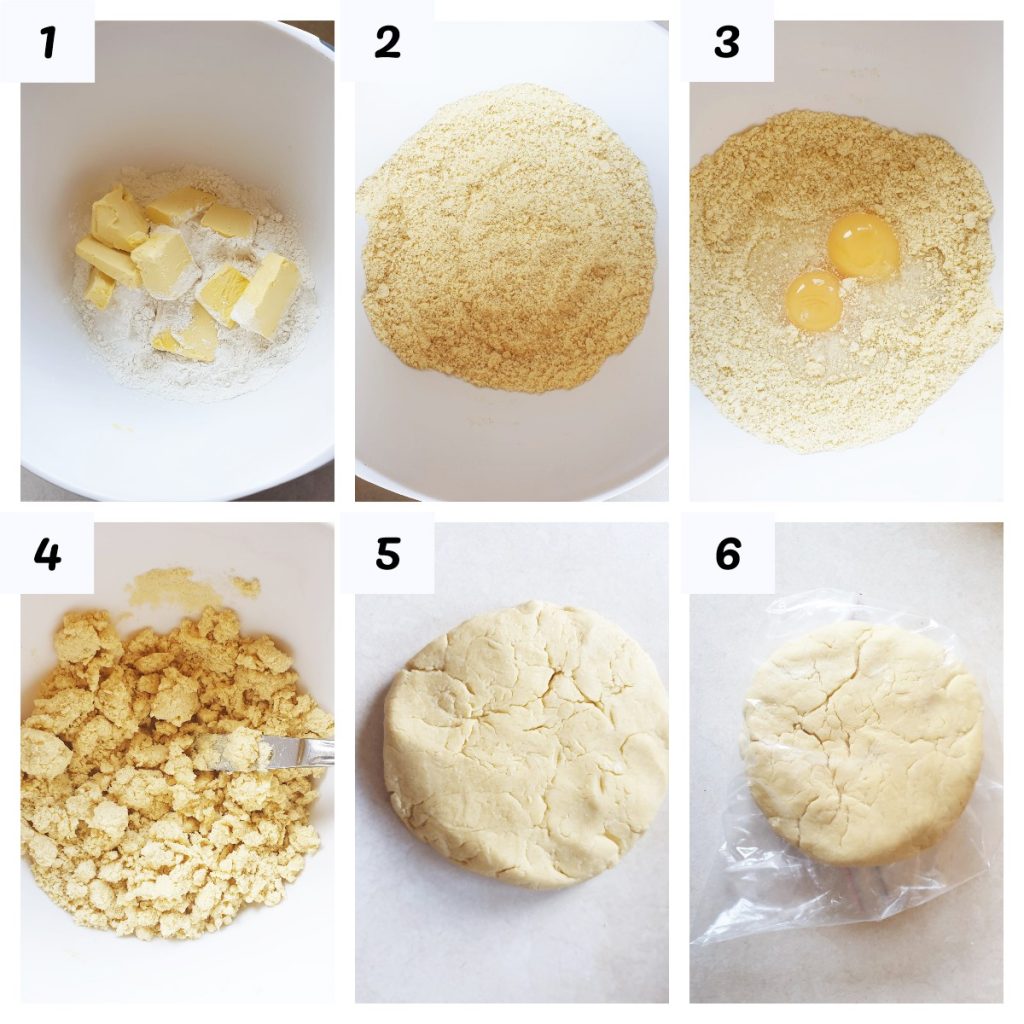 Sift the flour into a mixing bowl, cut the butter into cubes and add (image 1).
Using your fingertips, rub the butter into the flour until all the flour has been coated with butter and the mixture resembles fine breadcrumbs (image 2). When rubbing in, lift the butter and flour above the bowl and allow it to fall back. This helps aerate the mixture.
Add the egg yolk and water (image 3). You can use the egg whites to make the meringue.
Use a flat knife to cut the eggs and water through the flour mixture until it starts to come together (image 4). Start with 4 tablespoons of water and if you need more add the extra tablespoon.
Now use your hands to gently press the pastry together into a flat disk (image 5). Do not knead. Use just enough pressure to make the dough come together.
Place the pastry into a plastic bag, or cover with clingfilm (image 6), and place in the refrigerator to rest for at least half an hour. You can prepare the meringue mixture while the pastry is resting.
Line the jam tart tins
The pastry you have just made will be sufficient for 24 tarts.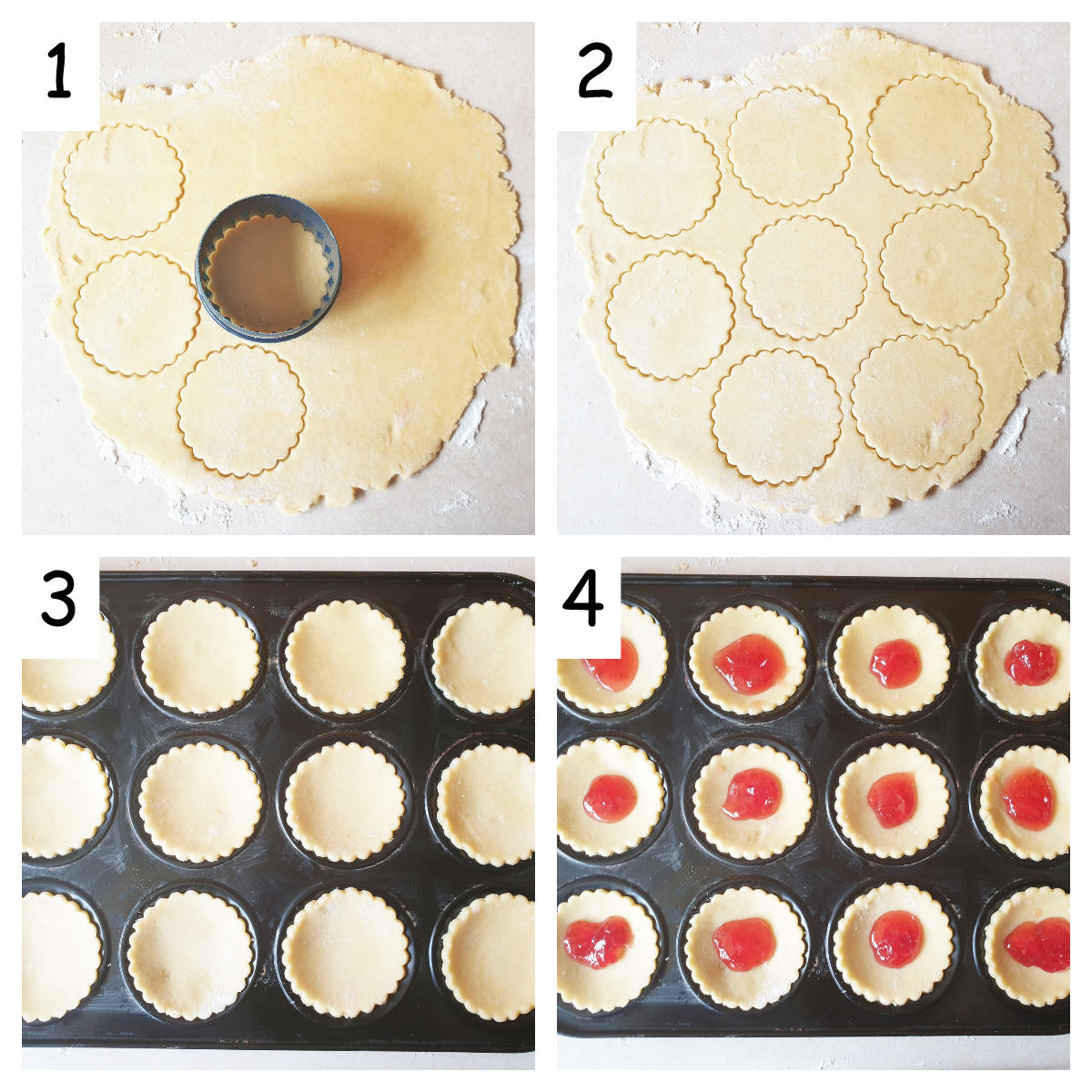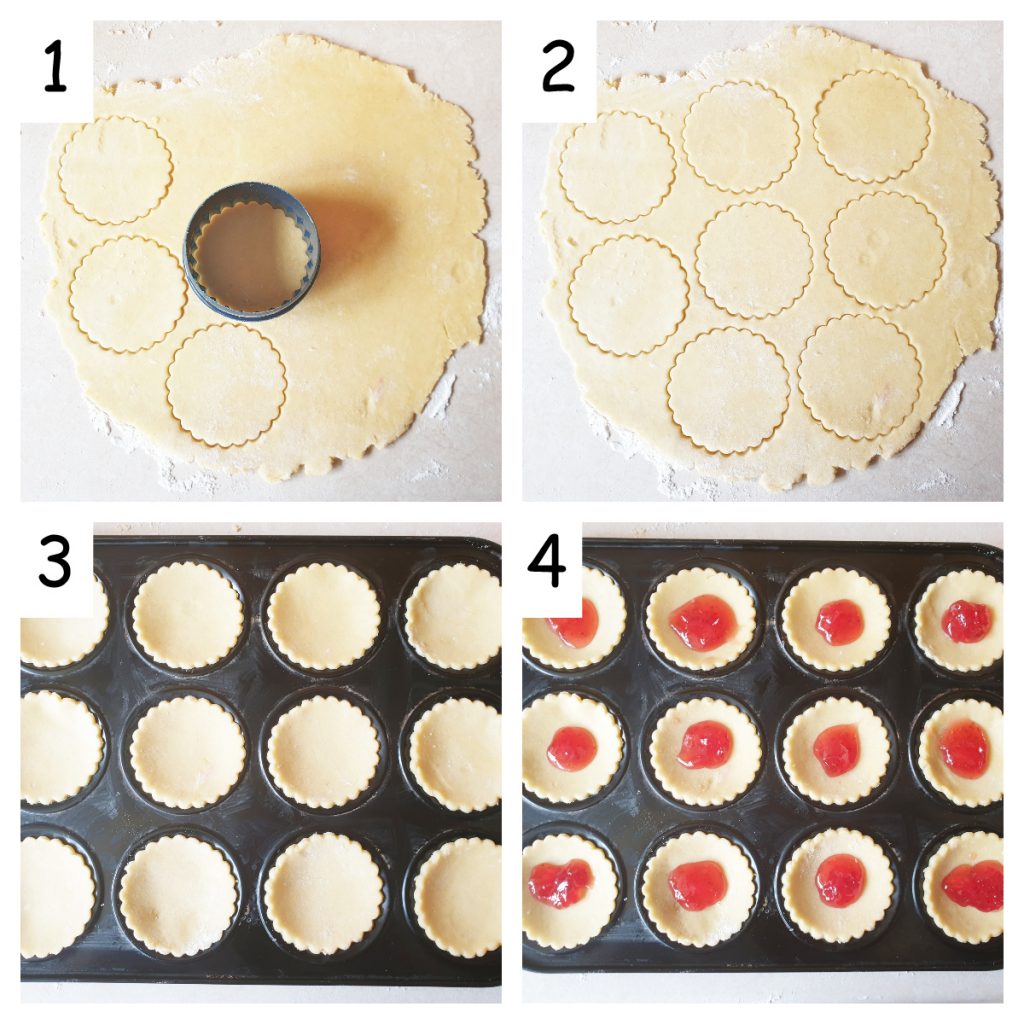 Sprinkle a small amount of flour onto your worksurface. Go easy, don't use too much. You don't want to incorporate too much extra flour into the pastry. Also, rub your rolling pin lightly with flour to prevent it sticking to the pastry.
Take about 1/3 of the pastry and roll it out to approximately 1/8″ thickness. Don't try and roll all the pastry at once, it will be too difficult to handle, and you may need to roll too much, which will result in a tough pastry.
Use a fluted pastry cutter and press circles from the pastry. Use these circles to line a lightly-greased 12-hole jam tart tin. If you have a non-stick tin, so much the better – it won't need greasing.
Place a small teaspoon of jam onto each pastry case. Don't overfill them with jam or it may spill out during the baking process and make an awful mess.
Mix the meringue
You can use an electric hand-beater for mixing the egg whites, or do as I did and use a balloon whisk.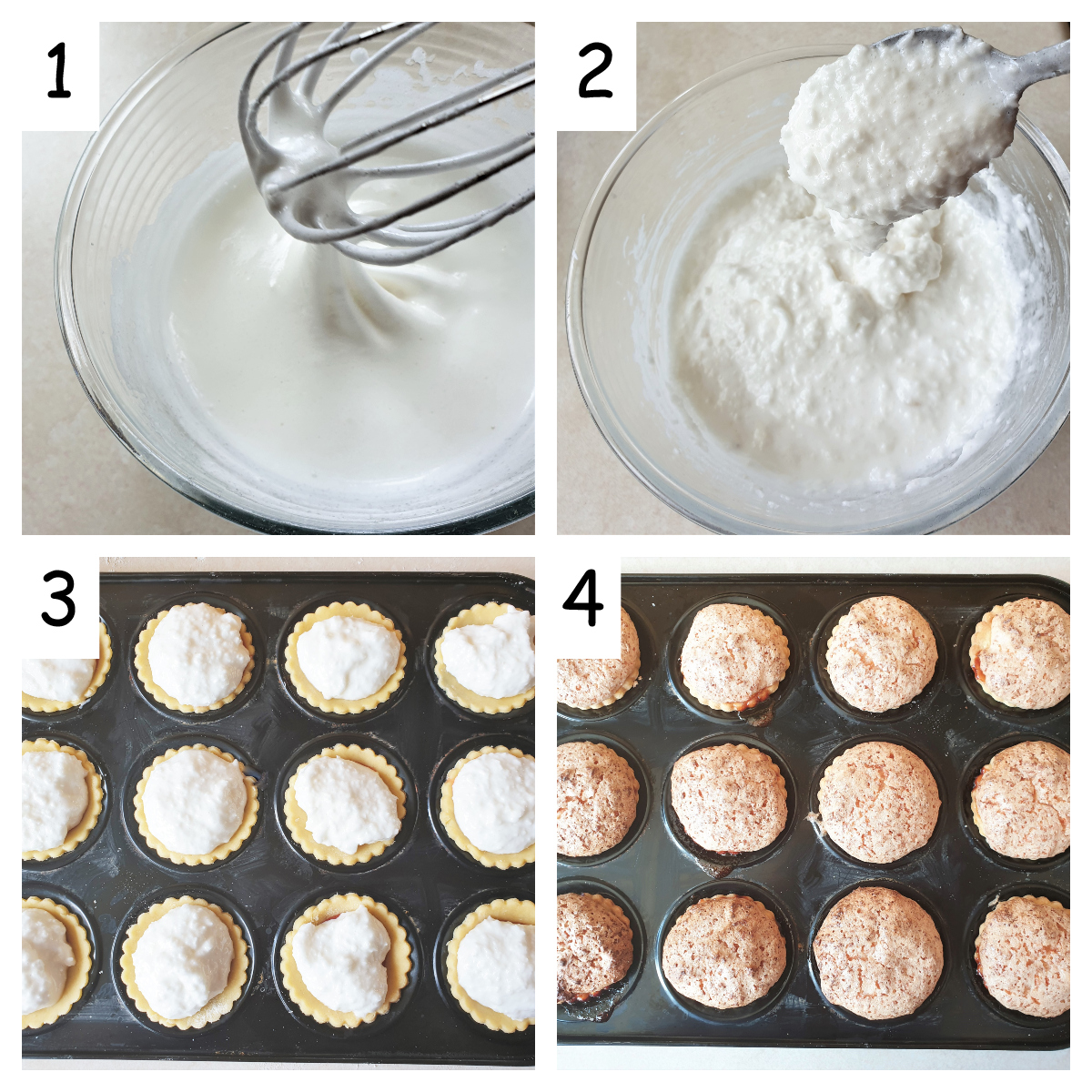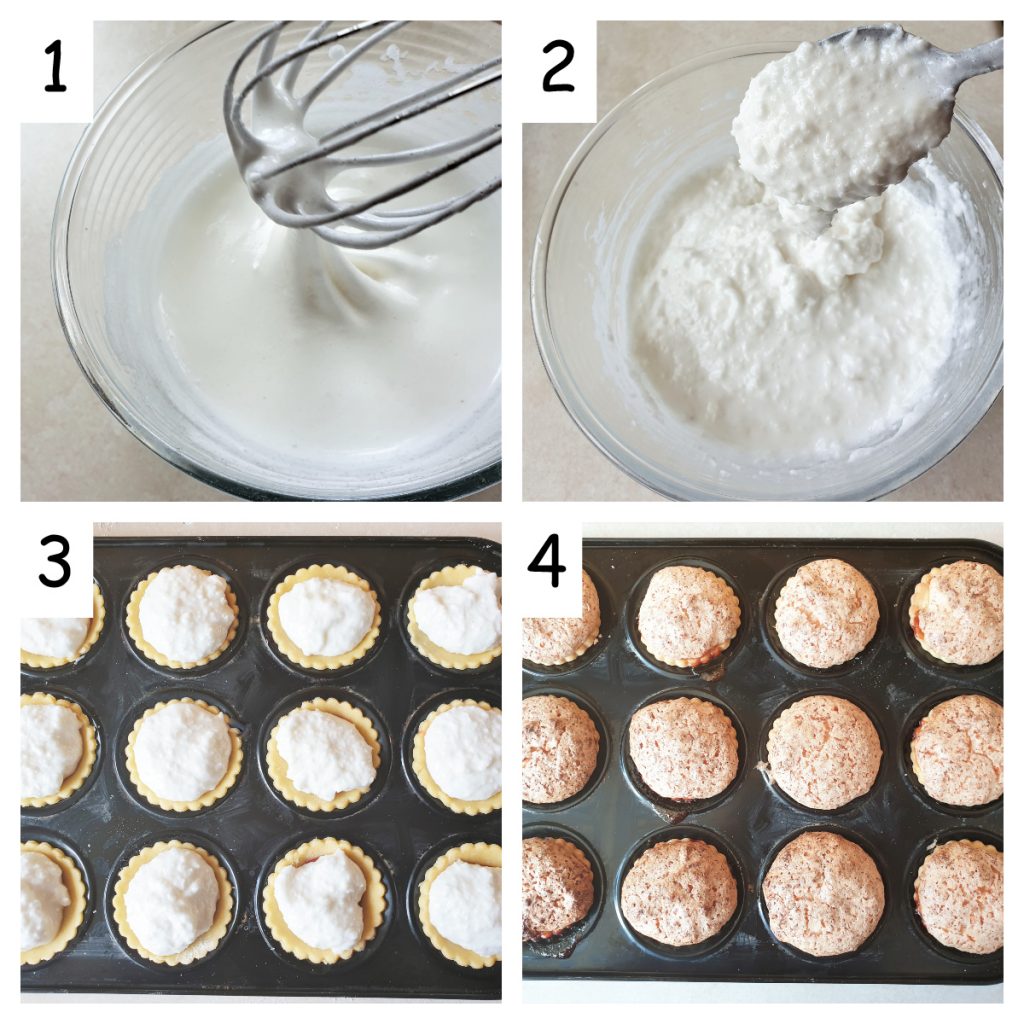 Whisk the egg whites until they hold together in soft peaks, then add the sugar and continue to whisk until the meringue is thick and glossy (image 1).
Using a metal spoon, fold in the coconut until it is well combined (image 2). Don't overmix or you will knock all the air out of the meringue.
Place spoonfuls of the meringue over the jam (image 3). The meringue should hold its shape in the oven and not spread.
Bake in a pre-heated oven (200C/400F) for 20 to 25 minutes until the meringue has browned and set, and the bottoms of the tarts are nicely browned (image 4).
Make a coconut meringue jam slice with any leftovers
My Yorkshire heritage hates waste, so I always make a jam slice with any leftover pastry trimmings and meringue. (If you don't have any leftover pastry/meringue, you can ignore this step 🙂 ).
Gather all the pastry trimmings together and roll out into a rough rectangle and place on a lightly greased or non-stick baking tray. Don't worry about trimming it at this stage. We will trim it later once it has baked.
Cover with jam (image 2).
Now cover the jam with any leftover meringue (image 1 – I got the photos the wrong way round 🙂 ).
Bake in the same way as the tarts, in a pre-heated oven (200C/400F) for 20 to 25 minutes until the meringue has browned and set. You won't be able to check the bottom though (image 3).
Allow to cool then trim the edges (don't throw the cut-off bits away, they are delicious) and cut into rectangular slices (image 4).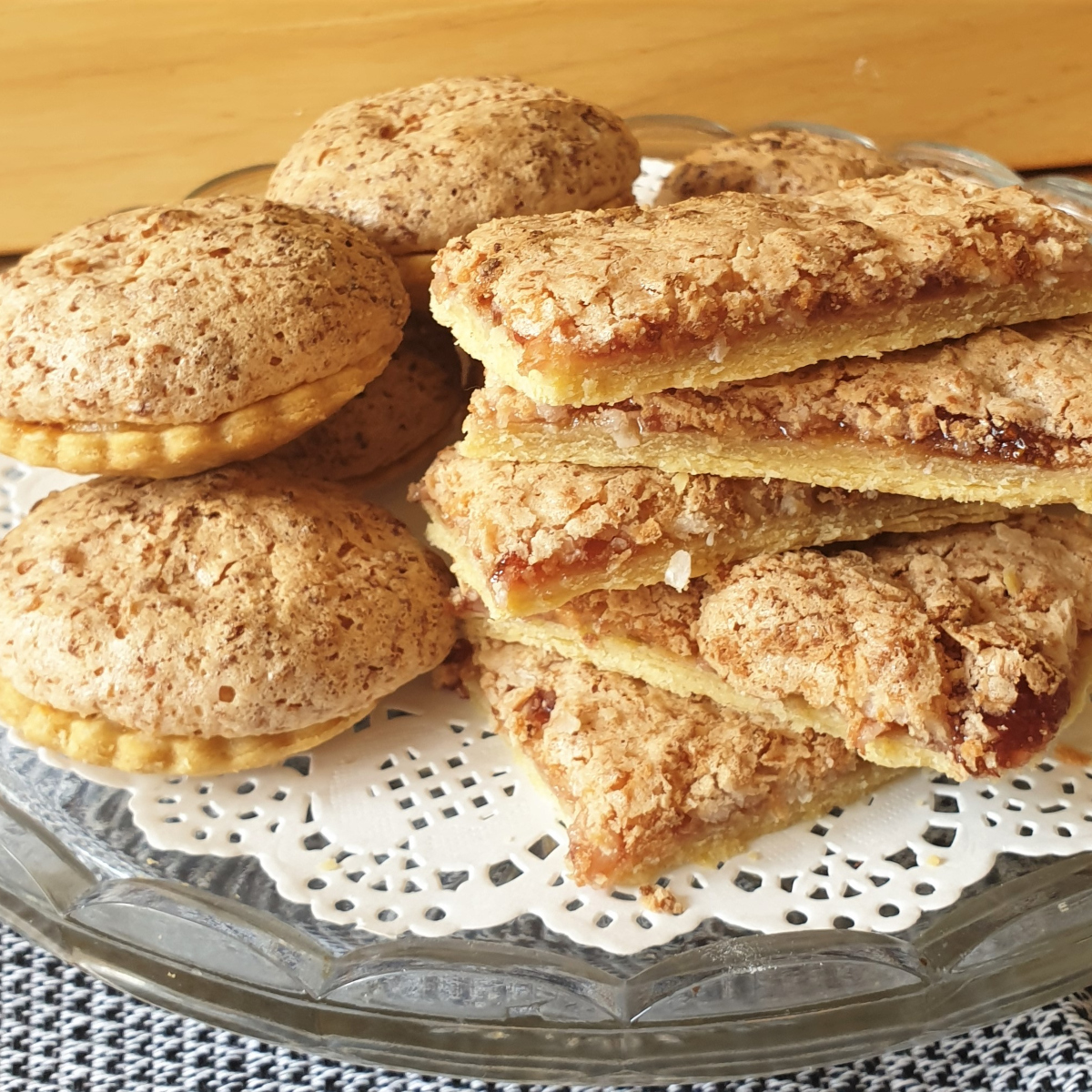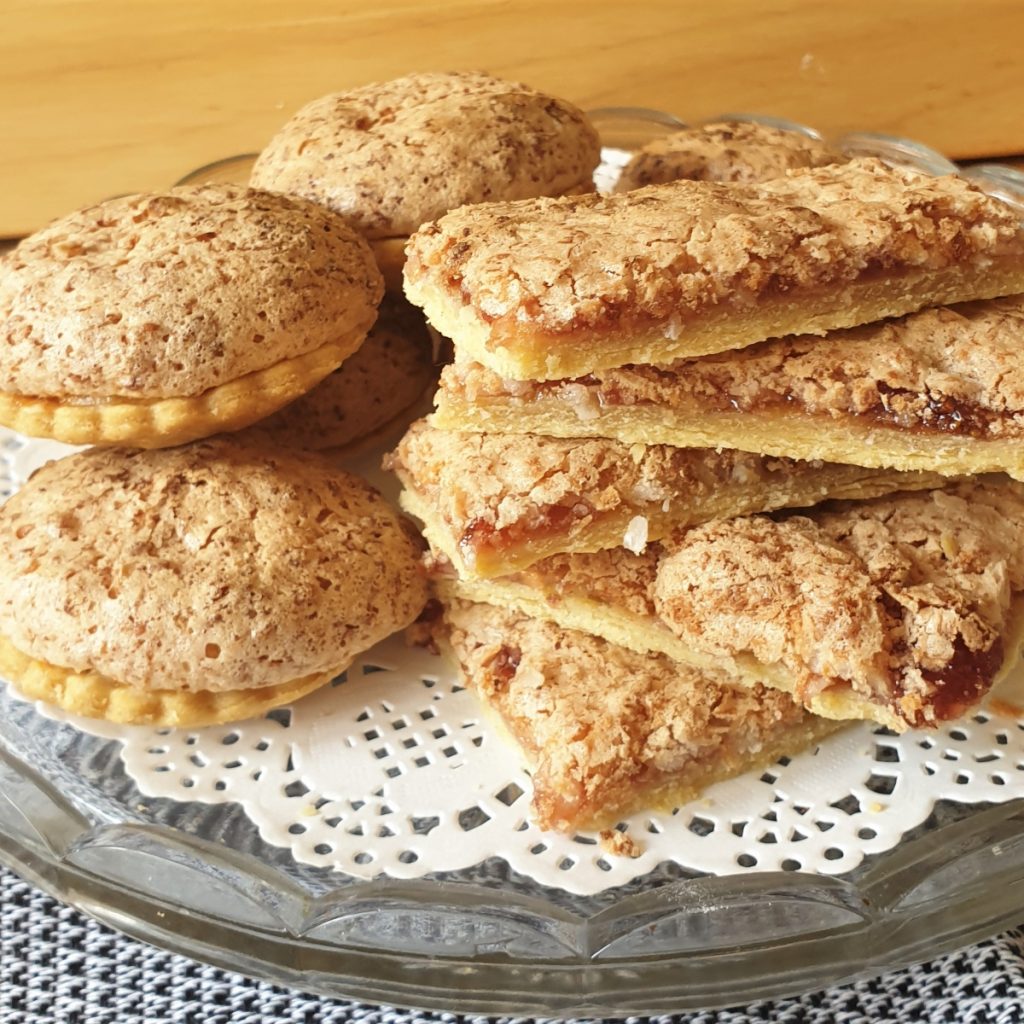 Store in an airtight container in the kitchen. These little cakes will stay fresh for up to 3 days, after that they will still be edible, but the pastry may have started to harden.
If you want to keep up-to-date with my latest recipes why not follow along on Facebook or Pinterest. And don't forget to subscribe to my mailing list so you can get your FREE COOKERY BOOK
Convert grams to cups
To help you convert your recipes, I have created a handy Cookery Conversion Calculator which will convert ingredients between grams, ounces, tablespoons, cups and millilitres. I hope you will find it useful.
If you live at a high altitude you may find you need to adjust your baking recipes to compensate for this. You can read about how to do this in this post on baking at high altitudes.
Recipe – Coconut meringue jam tarts (hertzoggies)
I am not a nutritionist. The nutrition information has been calculated using an on-line calculator, and is intended for information and guidance purposes only. If the nutrition information is important to you, you should consider calculating it yourself, using your preferred tool.
If you made this recipe and enjoyed it, please don't forget to give me a star rating in the comments below. And if you'd like to get in touch, you can email me on foodleclub1@gmail.com. I'd love to hear from you. And don't forget to subscribe to my mailing list so you can grab yourself a copy of my FREE COOKBOOK!
If you'd like to continue browsing, just click on this link to all my recipes.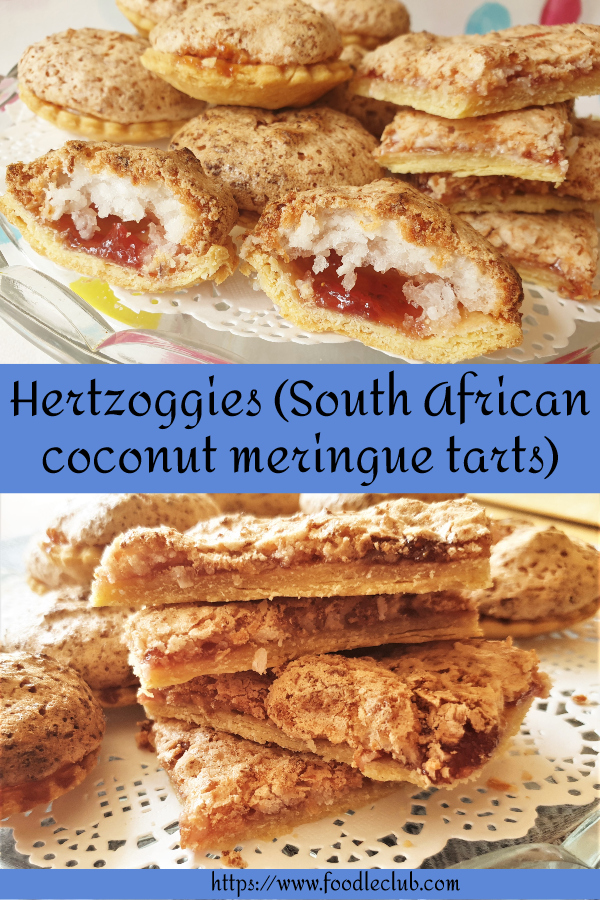 This recipe has been shared on #CookBlogShare