The texture of this tropical pineapple coconut cake is amazing. The crushed pineapple makes it super moist, while the coconut combines with the cake batter to form a soft spongey crumb. And best of all, you don't need to be too precise with the measurements. This is an easy no-fail recipe that delivers perfect results time after time.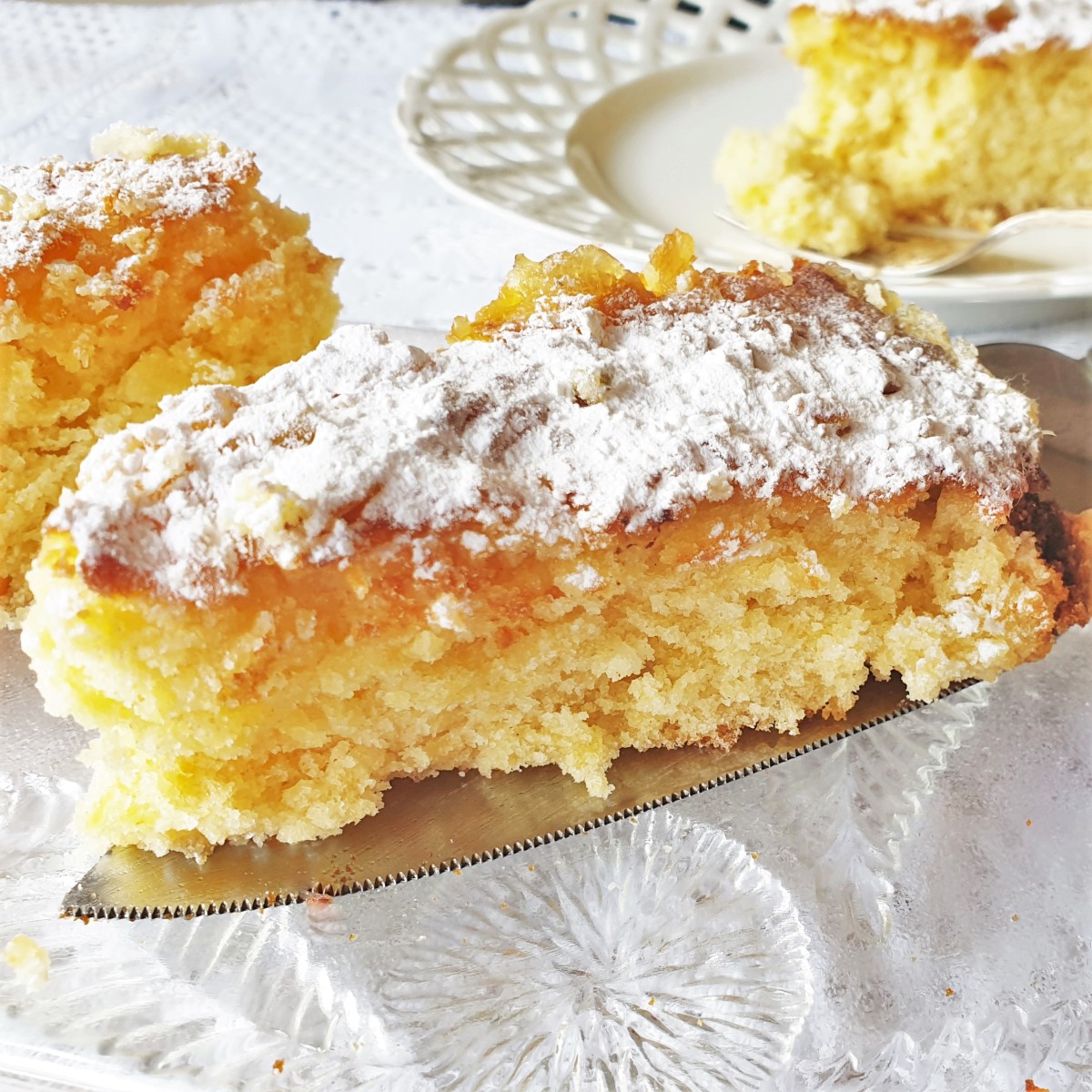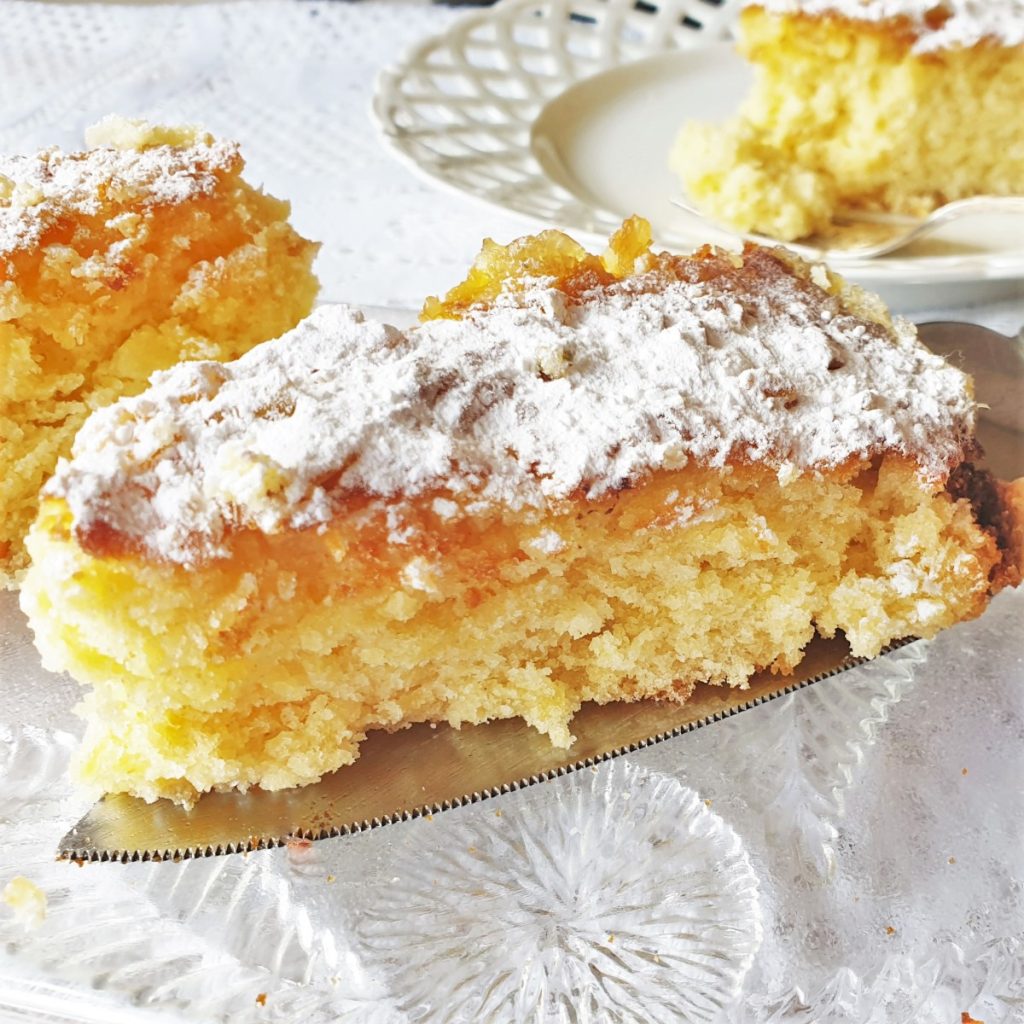 Easy no-fail pineapple coconut cake
This is my favourite cake recipe of all time, and I'm delighted to be able to share it with you. It's packed with tropical flavours of pineapple and coconut and is so moist that it doesn't need any frosting. It's the perfect cake to impress your friends at the office, but at the same time it wouldn't be out of place as a dessert at a formal dinner party. I've made this cake umpteen times and it really is a no-fail recipe.
The pineapple flavour of this cake really shines through. This is due to adding crushed pineapples to both the cake batter and the delicious sugary pineapple glaze. This cake contains an entire can of pineapple, and there is just enough coconut in the mixture to provide a coconut taste, without being too sweet.
I love the flavour of coconut and I often use it for making cakes and desserts. If you also enjoy coconut, you may enjoy these other recipes too.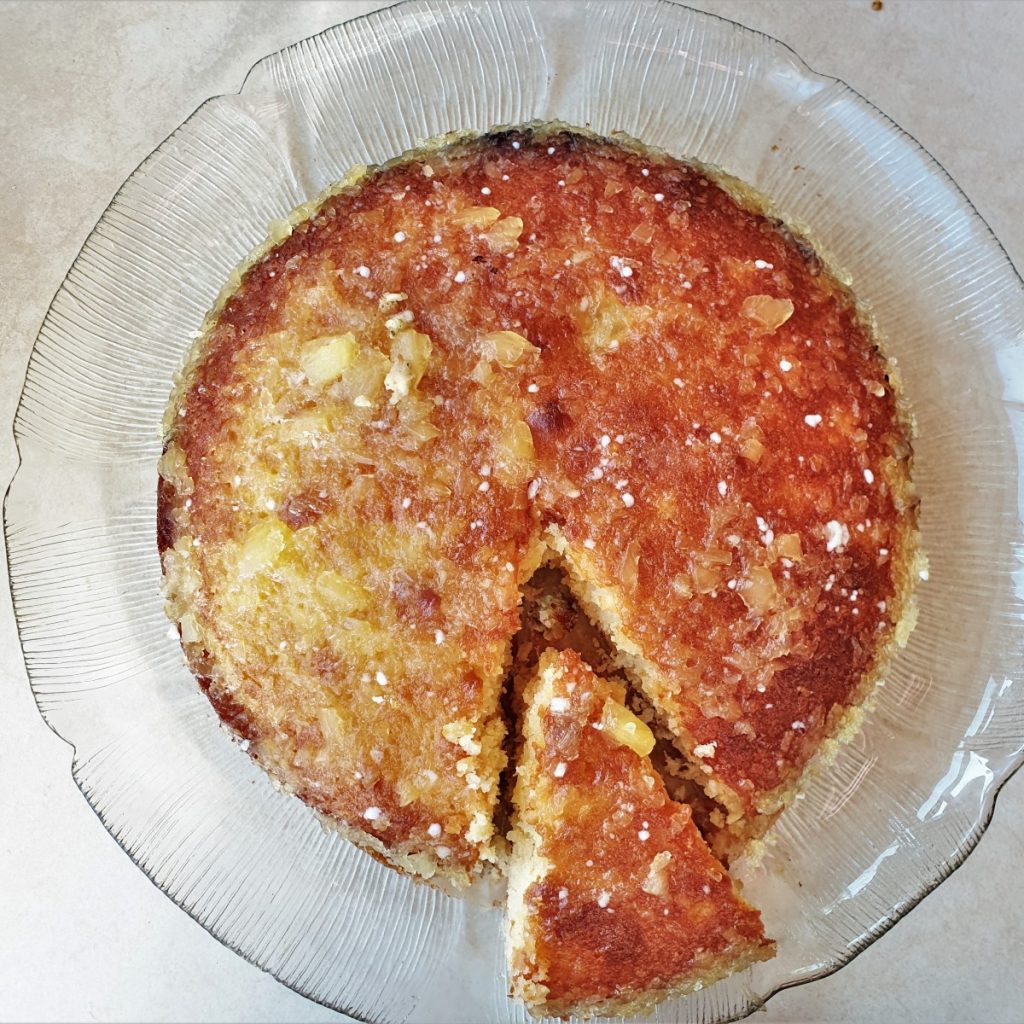 How to make pineapple coconut cake
You can get the complete recipe and detailed ingredients for this pineapple cake on the printable recipe card at the end of this post.
To make a pineapple coconut cake you will need all the normal cake ingredients like flour, eggs and butter, but instead of milk you use a can of pineapple chunks. Get pineapple which has been canned in its own juice. Don't use pineapple in a heavy syrup, this will be too sweet.
The pineapple chunks will be blended in a food processor until crushed. Some of the pineapple will be added to the cake and the rest will be mixed with icing sugar (or powdered sugar / confectioner's sugar) to form a glaze and which will be poured over the baked cake while it is still warm.
Make the pineapple and coconut batter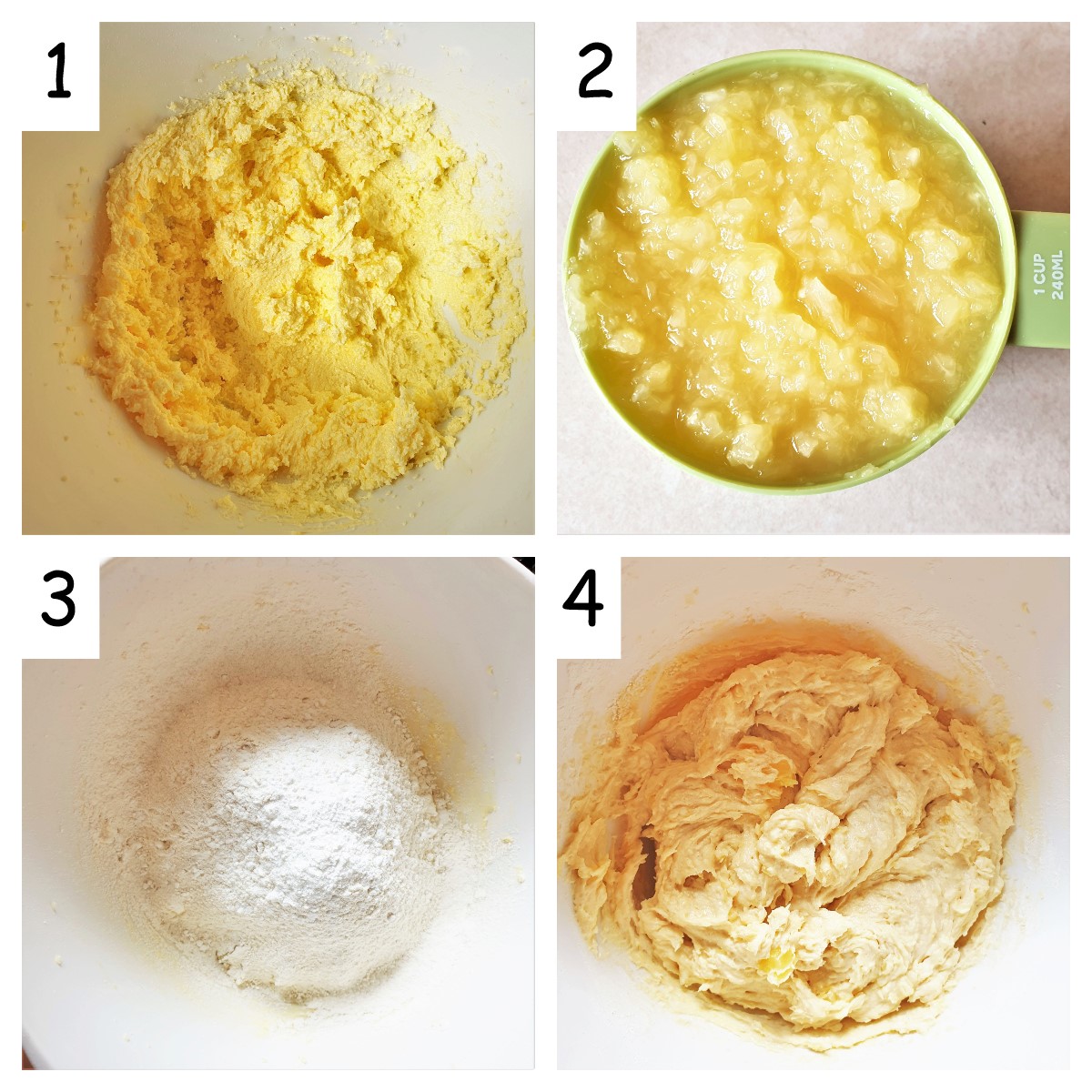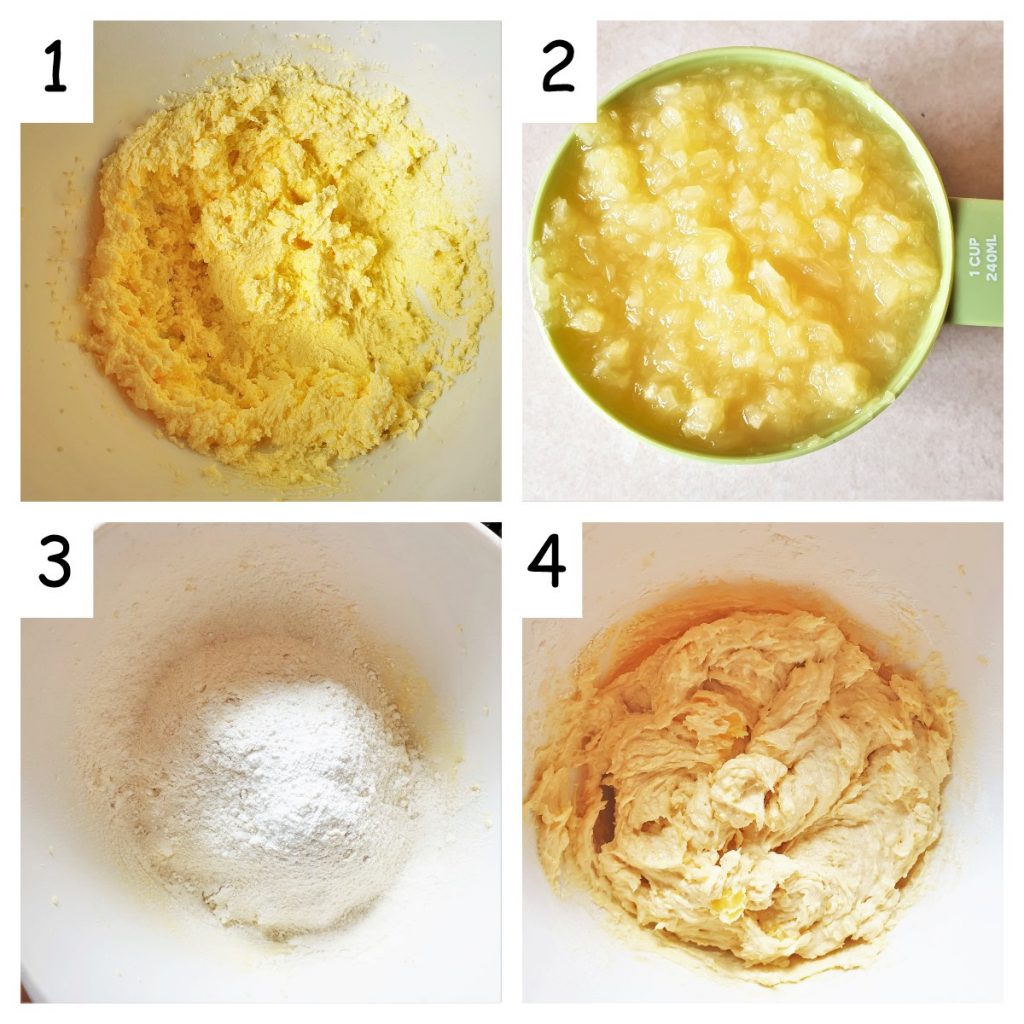 Start off by creaming the butter and sugar as you would for a normal cake. I like to use my electric hand-mixer for this as it saves a lot of effort. If you don't have a hand-mixer, you can just use a wooden spoon and a lot of elbow grease!
Separate the eggs and put the whites aside. Beat in the egg yolks (image 1).
Drain 3/4 of the pineapple juice from the tin and set aside. Place the pineapple chunks, along with the rest of the pineapple juice, into a blender and blend until the chunks are finely chopped. Scoop out one cup of the crushed pineapple (image 2) and mix into to the creamed butter, sugar and egg mixture. Pour the remainder of the crushed pineapple into the reserved juice.
The reason we remove most of the juice from the pineapple chunks before blending is because there would be too much liquid in the pineapple and the cake batter would be too wet.
Add the coconut to the batter and then sift in the flour and baking powder (image 3).
Mix until well combined. At this stage the mixture will be slightly thicker than a normal cake batter.
Add the beaten egg whites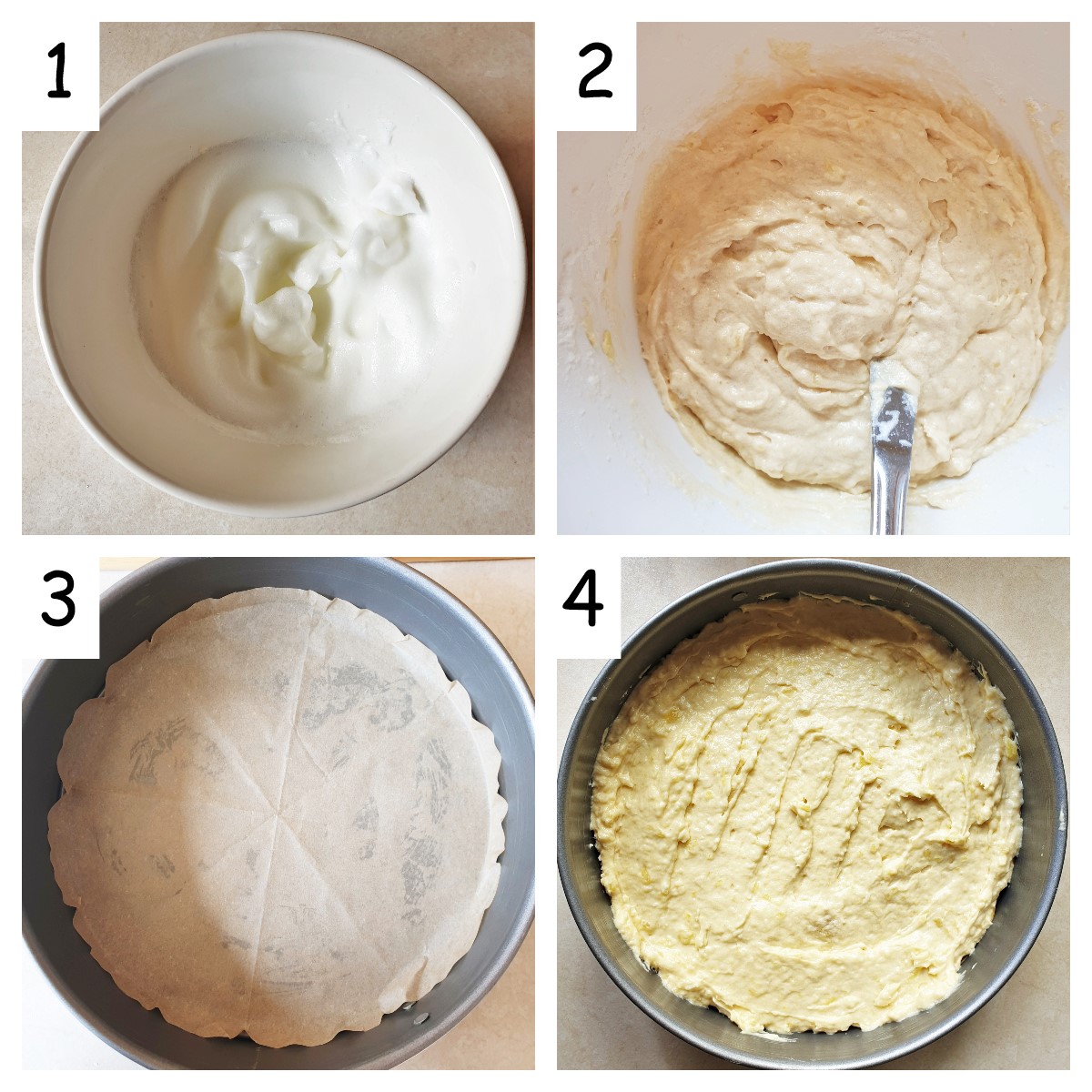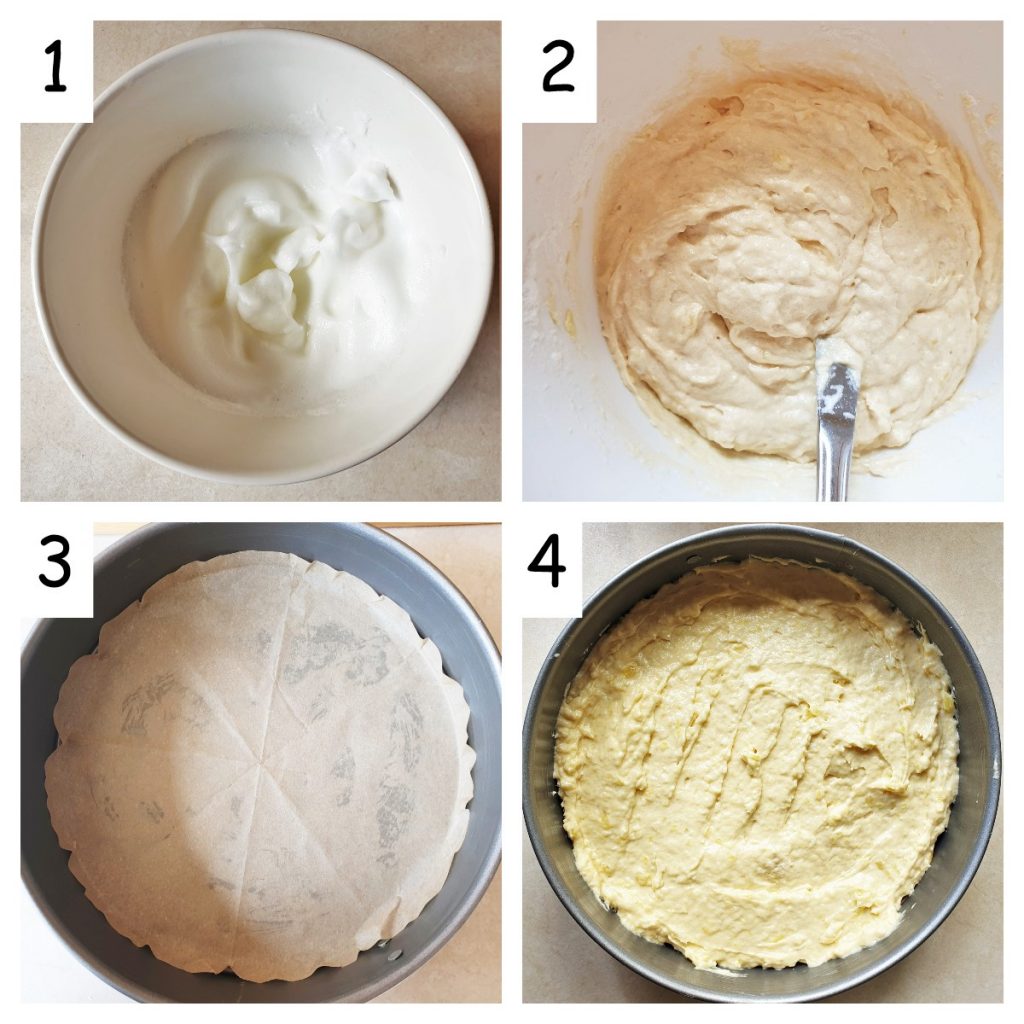 Now beat the egg whites until soft peaks are formed, fold the egg whites into the cake batter 1/3 at a time. Do not beat, just cut the egg whites through the batter with a knife until they are combined (image 2). The egg whites will thin the batter down slightly.
Grease a 9″ (23cm) round spring-form cake tin lightly with butter and then line the bottom with a round of baking parchment (image 3). The baking parchment will enable you to remove the cake from the tin easily. Pour the batter into the cake tin (image 4).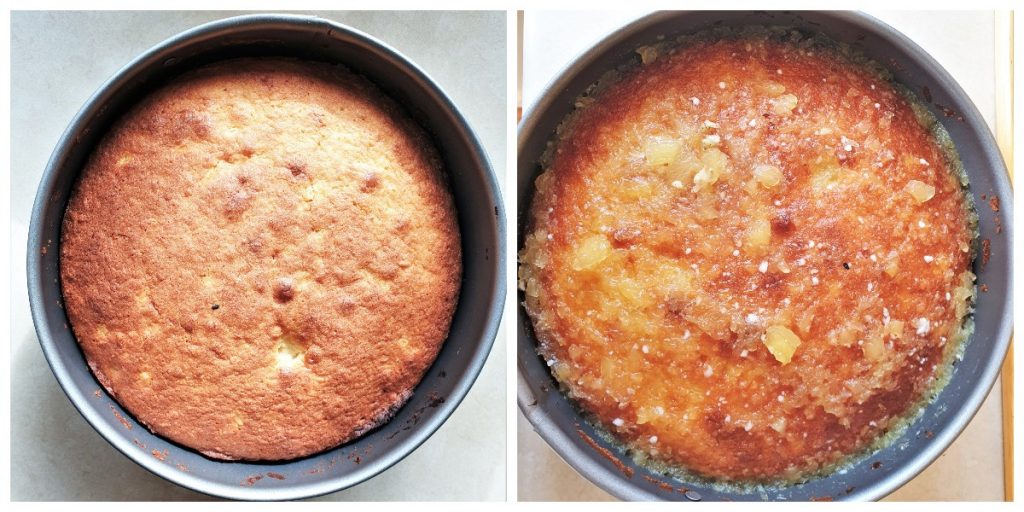 Place the cake tin into a pre-heated oven (180C / 375F) for about 35 minutes until the top of the cake is nicely browned and feels firm to the touch, and a wooden skewer inserted into the cake comes out cleanly.
Make the pineapple glaze
Mix the reserved crushed pineapple and juice with icing sugar (powdered sugar / confectioner's sugar) in a microwave-safe bowl. The mixture will be runny. Place the pineapple mixture into the microwave and cook for 3 minutes on high power. The pineapple mixture will have thickened slightly, but will still be quite runny. Pour the hot pineapple mixture over the cake (still in the baking pan) and allow to cool. Make sure the pineapple mixture covers the entire cake.
Remove from the pan and place on a serving plate.
This pineapple coconut cake will remain moist and fresh for up to 4 days if stored in a covered container in the kitchen.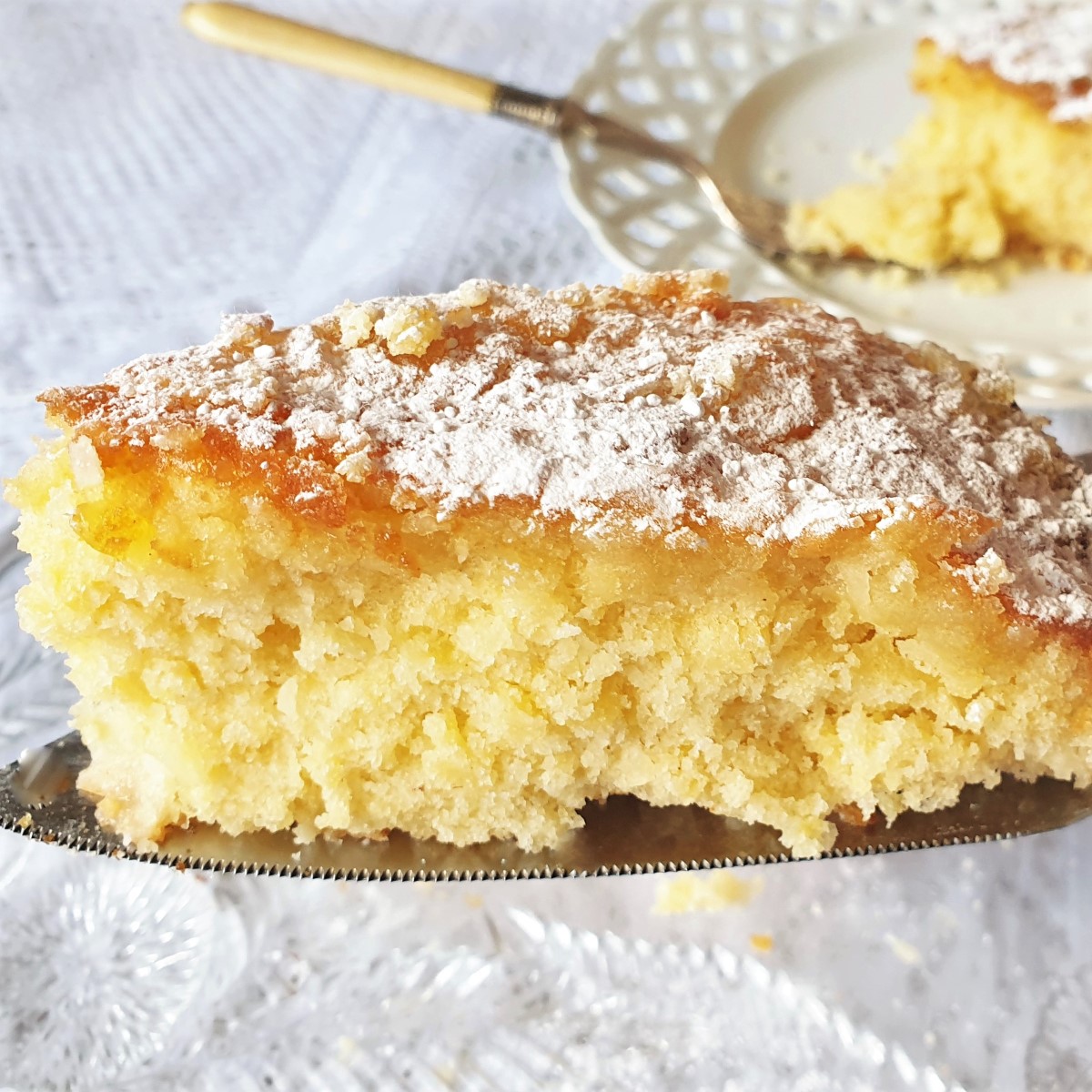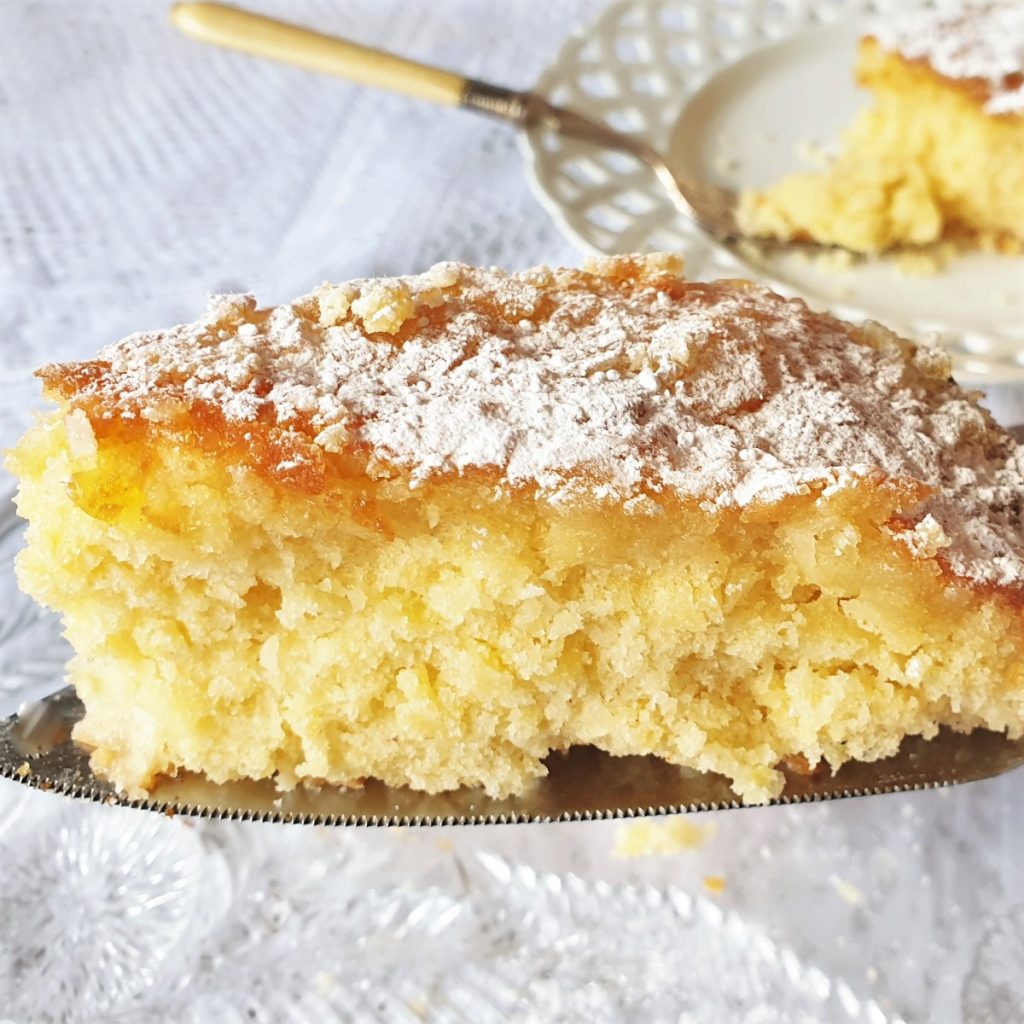 How to serve pineapple coconut cake
You can serve this pineapple coconut cake as is, or you can sprinkle the top of the cake with additional icing sugar (powdered sugar / confectioner's suger) before serving.
This cake is also delicious served as a dessert and either topped with a scoop of ice cream or covered with creamy custard.
If you want to keep up-to-date with my latest recipes why not follow along on Facebook or Pinterest. And don't forget to subscribe to my mailing list so you can get your FREE COOKERY BOOK
Convert grams to cups
To help you convert your recipes, I have created a handy Cookery Conversion Calculator which will convert ingredients between grams, ounces, tablespoons, cups and millilitres. I hope you will find it useful.
If you live at a high altitude you may find you need to adjust your baking recipes to compensate for this. You can read about how to do this in this post on baking at high altitudes.
Recipe – Easy pineapple coconut cake
I am not a nutritionist. The nutrition information has been calculated using an on-line calculator, and is intended for information and guidance purposes only. If the nutrition information is important to you, you should consider calculating it yourself, using your preferred tool.
If you made this recipe and enjoyed it, please don't forget to give me a star rating in the comments below. And if you'd like to get in touch, you can email me on foodleclub1@gmail.com. I'd love to hear from you. And don't forget to subscribe to my mailing list so you can grab yourself a copy of my FREE COOKBOOK!
If you'd like to continue browsing, just click on this link to all my recipes.