This last-minute Christmas cake is a life-saver for when you are running out of time trying to get on top of all the Christmas preparations. Filled with fruit, nuts, and cherries and flavoured with a hint of brandy, but mixed, baked, and ready to eat in less than two hours. No overnight soaking of fruit, no feeding with brandy for weeks on end – just a moist juicy Christmas fruit cake that tastes absolutely delicious – with minimal effort.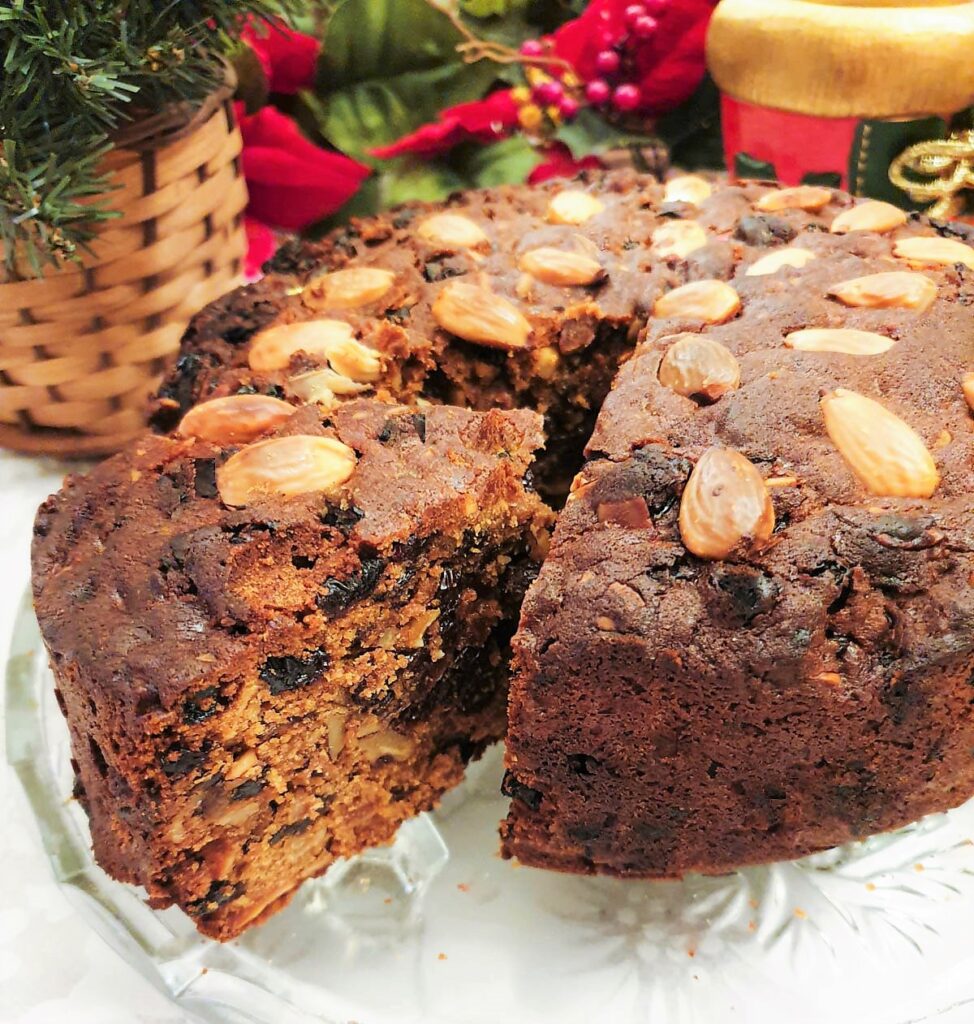 **As an Amazon affiliate, I earn from qualifying purchases.**
Last-minute Christmas cake
If you are anything like me, you always go into the festive season full of enthusiasm and good intentions for getting all the Christmas prep done by the beginning of December. Unfortunately, things don't always work like that in real life and I find myself scouring the shops in search of that must-have last-minute present on Christmas Eve, and the Christmas cake I was going to make in the middle of November nothing but a far distant memory.
That's why I devised this recipe for a last-minute Christmas cake. Honestly, you can even mix it up on Christmas Eve and it will be ready for eating on Christmas Day. No feeding with brandy for weeks on end, no letting it sit to mature for weeks at a time. This is truly the perfect recipe that you just mix and bake, and you can eat it almost as soon as it comes out of the oven (just let it cool first 🙂 ).
This last-minute Christmas cake is my go-to recipe for when I can't get myself organised (ie every year). There's no need to soak the fruit overnight. You can just use my cheat's shortcut and boil the dried fruit for 2 minutes in a mixture of alcohol (I like to use cherry brandy) and orange juice, and it turns from a packet of dried, rather hard raisins and sultanas, into a bowl of delicious plump and juicy fruit that you can just mix straight into the cake batter.
And as for the spices. Well, who has the time or inclination to measure out a few grams of cinnamon, a few more grams of cloves, a pinch of ginger etc. etc. etc. I've discovered Schwartz Mixed Spice, which is a fantastic blend of all the Christmassy spices in one bottle. All you have to do is measure it out by the teaspoon and you have the perfect mix of spices to add to your cake. Do yourself a favour and buy a bottle, then open it and take a sniff. Now tell me that doesn't smell like Christmas!
Once you've made the cake and baked it (it only takes an hour and a half to bake) you end up with a Christmas cake that's packed with fruit, cherries, and nuts, that is so moist and juicy that people will think you spent weeks feeding the cake with brandy and leaving it to mature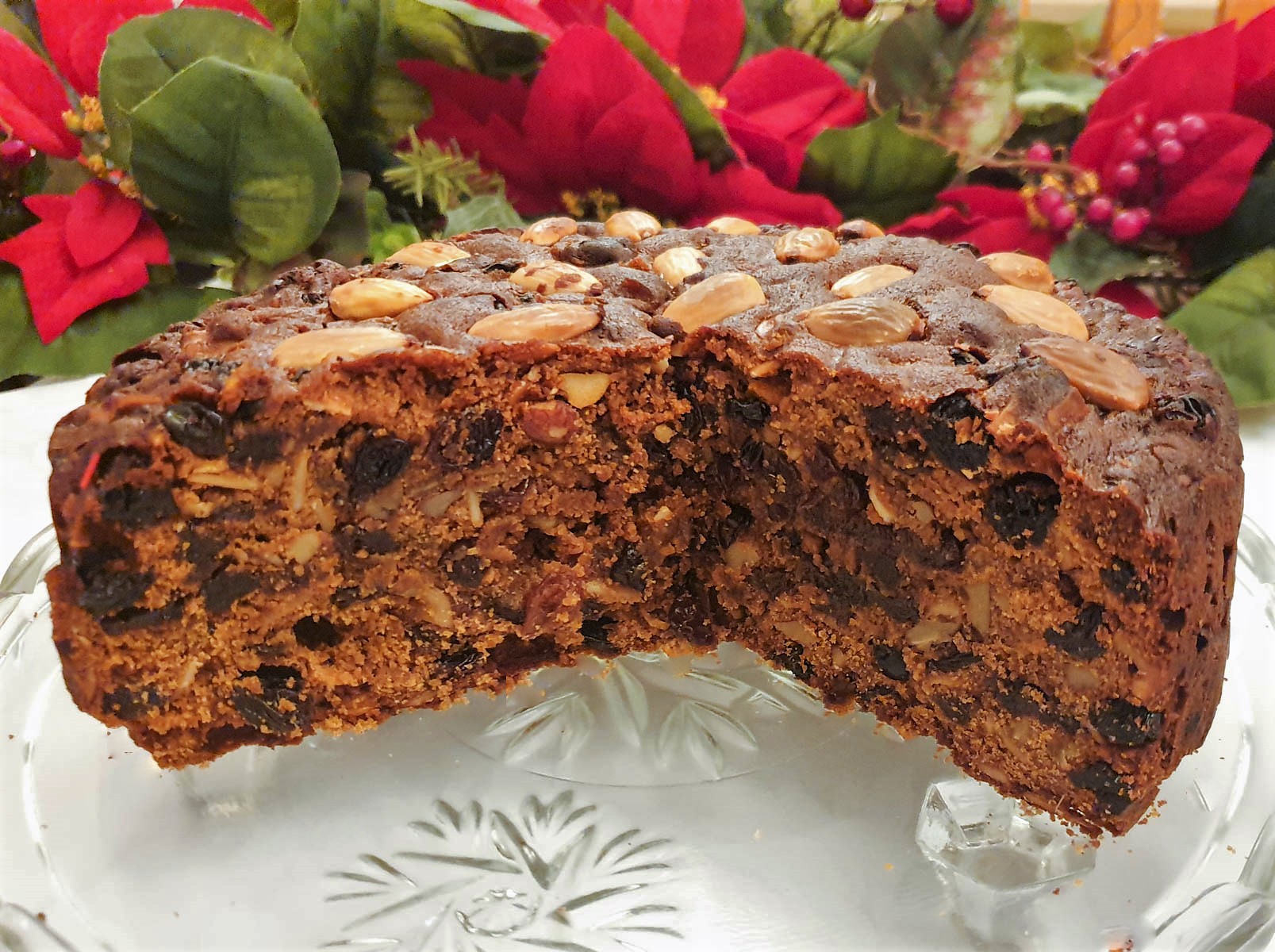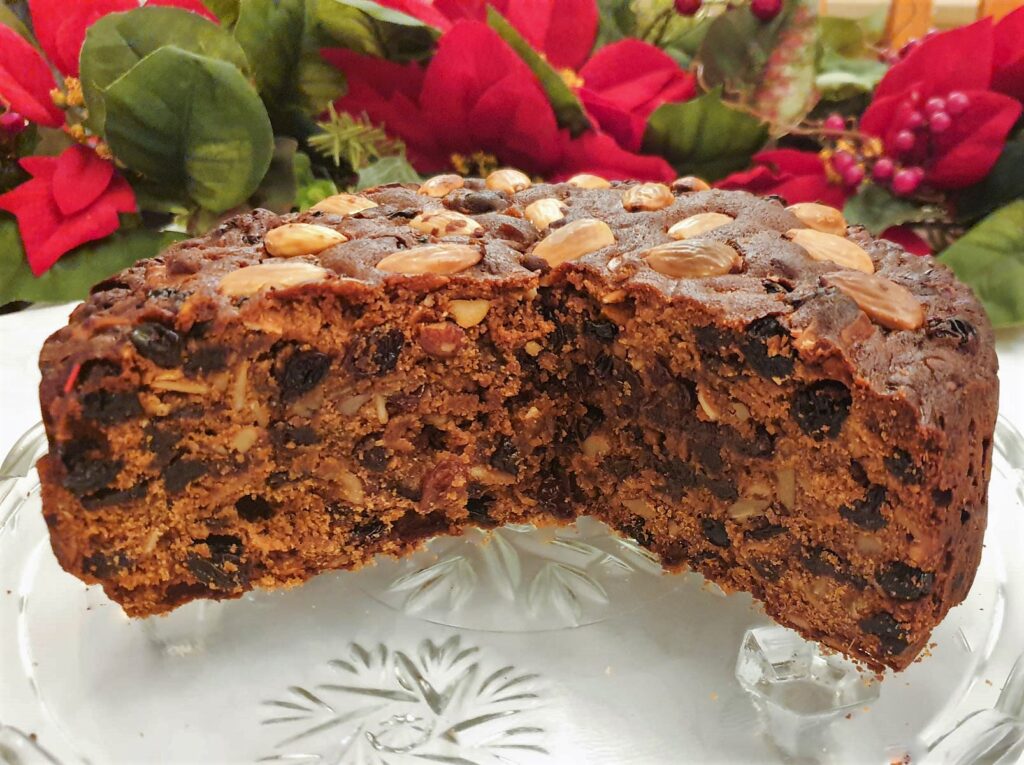 Ingredients
This recipe makes one 8″ round fruit cake, or you can use a similar-sized square pan.
**You can get the complete list of ingredients and full instructions for making this last-minute Christmas cake on the printable recipe card at the end of this post**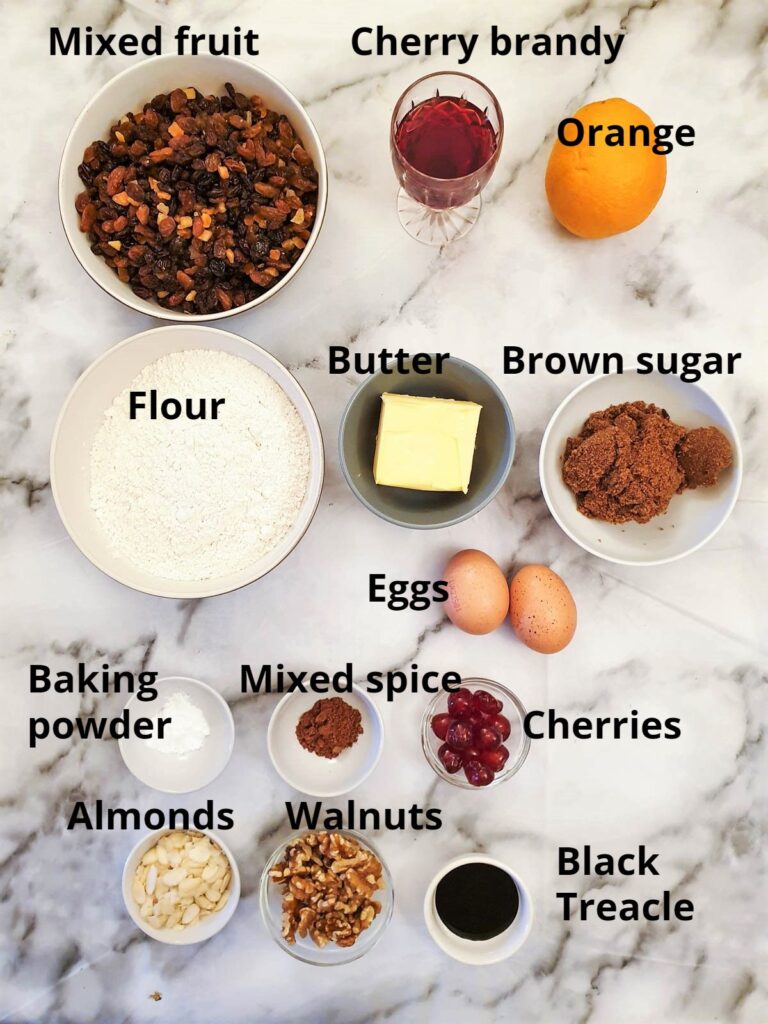 Fruit mixture
Dried fruit – this is a mixture of raisins, sultanas, currants, and dried orange and lemon peel. If you don't particularly like dried peel then look for a packet that does not include it, or you could just buy separate packets of raisins, sultanas, and currants and combine them in equal quantities.
Liquid – this is a mixture of alcohol and orange juice. For the alcohol component, I like to use cherry brandy as it adds a nice touch of fruitiness. You can substitute this for normal brandy or sweet sherry. If you don't want to use alcohol, substitute it with orange juice. For the orange juice, I use a freshly squeezed orange,
Cake batter
Flour – You can use either plain all-purpose flour (or cake flour), or self-raising flour. If you use plain flour then you will need to add baking powder.
Butter – for easier mixing, let your butter come to room temperature before using.
Muscovado sugar – or dark brown sugar. This adds a caramel taste to the cake. You can get away with using white granulated sugar, but you will lose out on the extra flavour that you get from muscovado sugar.
Eggs – this recipe calls for 2 large eggs – if your eggs are on the small side then use 3.
Black Treacle – this is optional, but in addition to the flavour it provides, it helps to keep the cake moist.
Mixed spice – this is a blend of cinnamon, coriander, caraway, nutmeg, ginger, and cloves. Rather than buying a bottle of each, and trying to get the balance of flavours correct I prefer to use a bottle of mixed spice that has been pre-blended. I've included a link to Amazon so you can see it for yourself. You can buy smaller bottles in the spice aisle in your supermarket.
Salt – this is optional, but I think the cake benefits from a half teaspoon of salt.
Additional ingredients
Other ingredients you will need are:
Glace cherries – finely chopped
Walnuts – also finely chopped. If you don't have walnuts you can substitute for pecans or other chopped nuts such as brazils or hazelnuts (or a mixture of them all).
Flaked almonds – these are small enough to measure directly from the packet.
And finally, if you want to decorate the cake before you bake it, you will need some blanched almonds.
How to make the last-minute Christmas cake
My top tip here would be to measure out all your ingredients and have them to hand before you start. This cake comes together quickly, and it makes it much easier to have all your ingredients pre-prepared.
You will need an 8-inch (20 cm) round springform pan. The springform makes it easier to get the finished cake out of the tin, but you can use a normal round cake tin if that's all you have.
Line the tin with baking parchment or greaseproof paper to prevent the cake from sticking, or grease the tin well with butter before adding the cake.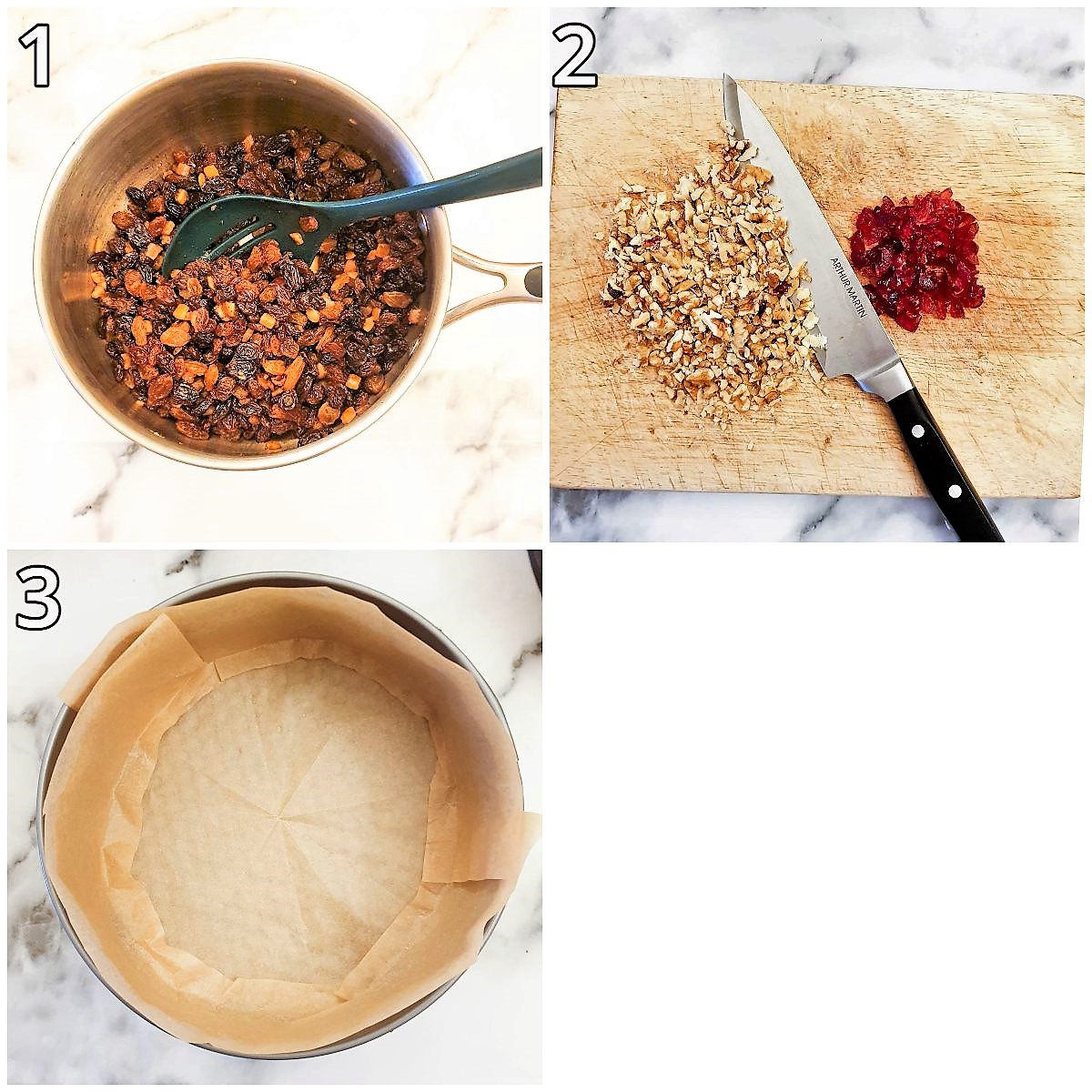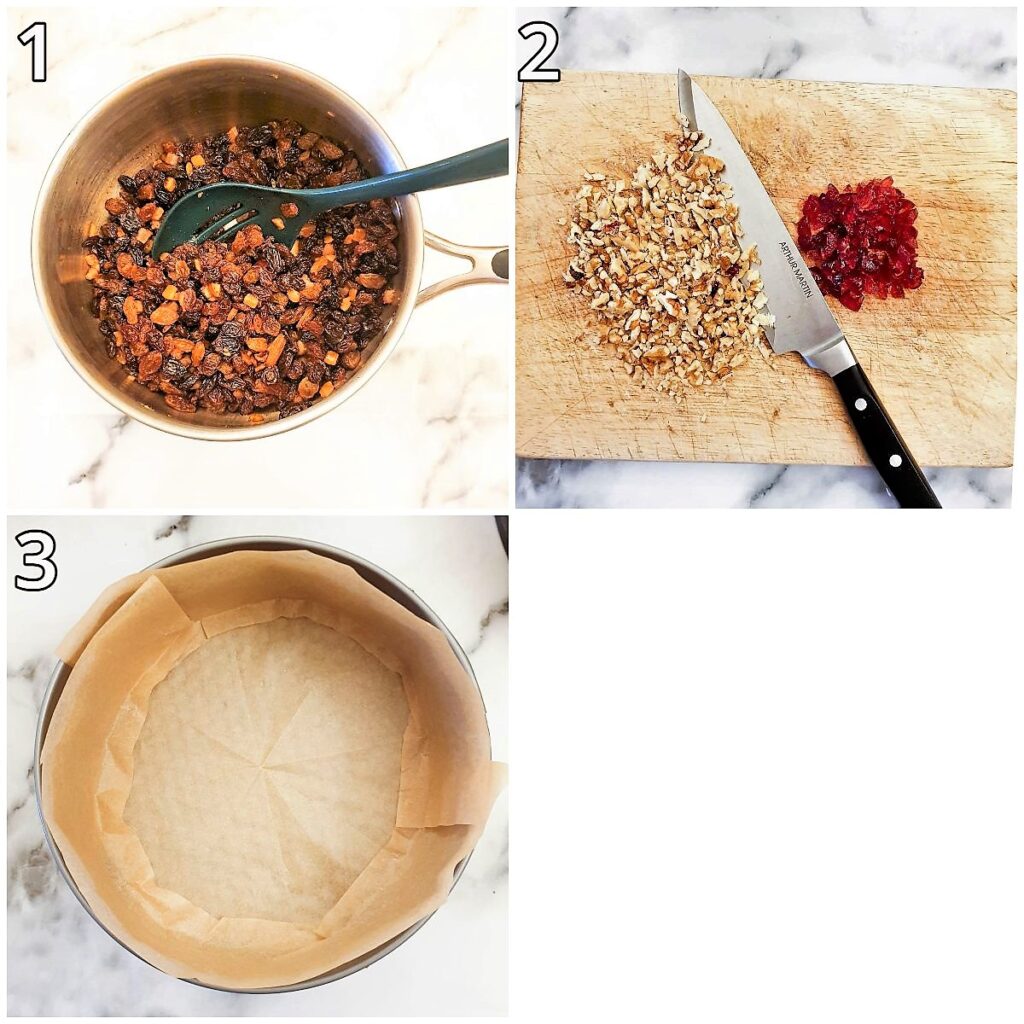 Prepare the dried fruit
Start by boiling the fruit. Place the dried fruit mixture in a saucepan and add the cherry brandy and orange juice.
Bring it to the boil and let it boil for 2 minutes (no longer). Then give it a good stir, turn off the heat, cover the saucepan with a lid and leave the mixture to cool for about 20 minutes. During this time all the liquid will be absorbed into the fruit.
While the fruit is cooling you can get on with the next steps.
Prepare the cherries and nuts
Chop the glace cherries into quarters and chop the walnuts finely. Set aside until you are ready to mix them into the cake.
Mix the cake batter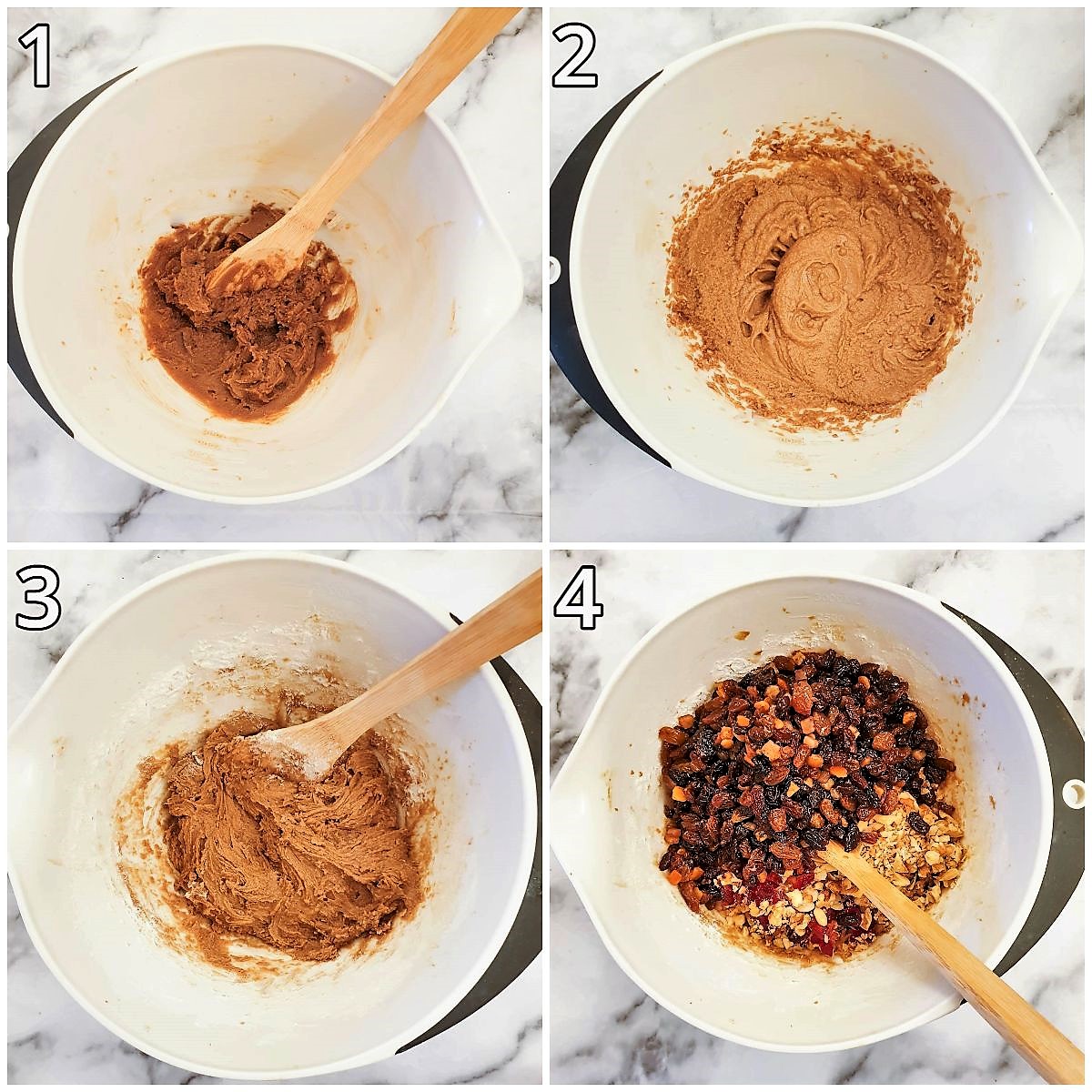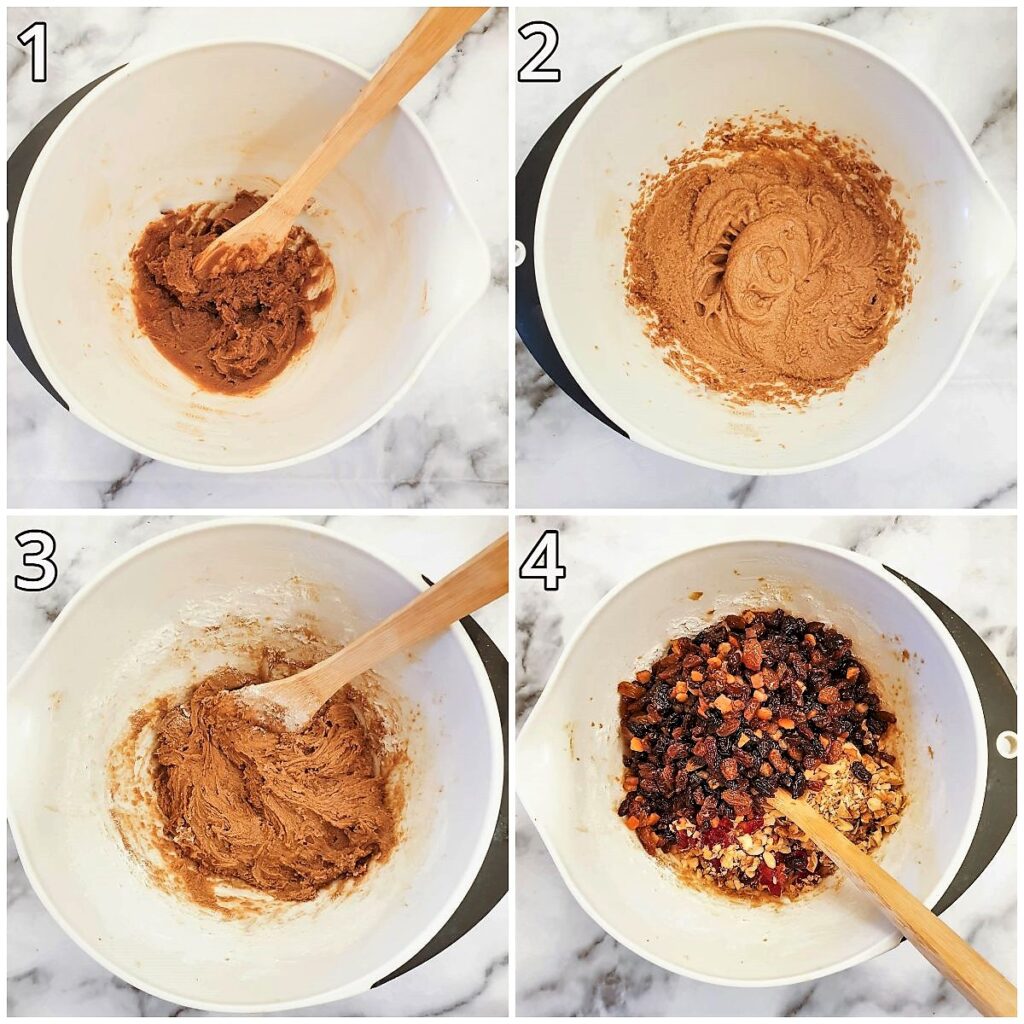 Place the butter and the muscovado sugar into a large mixing bowl and cream them together. You can use a wooden spoon for this, but if you have an electric hand mixer (or even a stand-mixer) you will find it much less work to use this instead.
Once the sugar and butter have been creamed, add the eggs one by one, beating well after each addition.
Add the black treacle and stir well to combine.
Now fold in the flour, baking powder, mixed spice, and salt.
Finally mix in the chopped cherries and nuts, and the cooled dried fruit.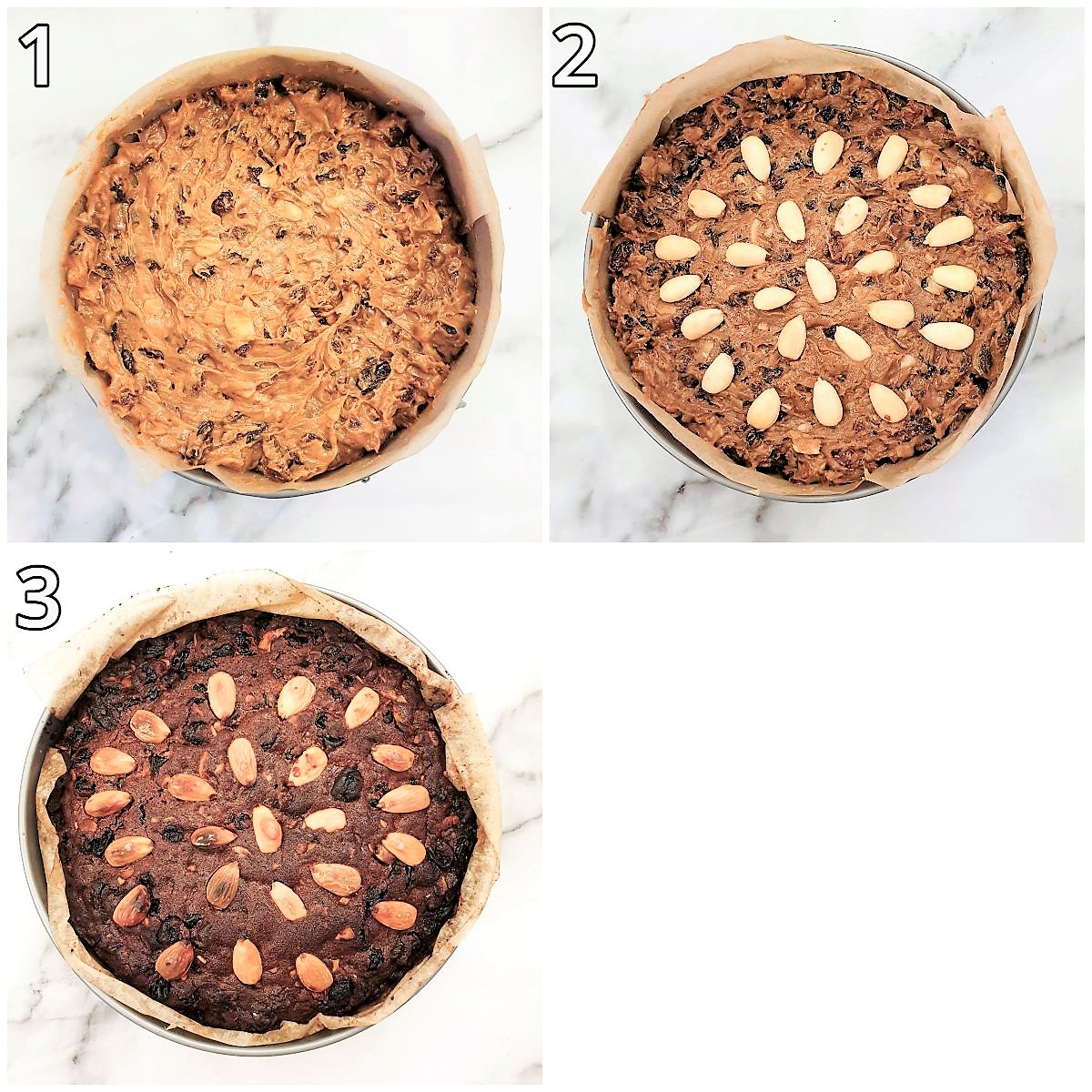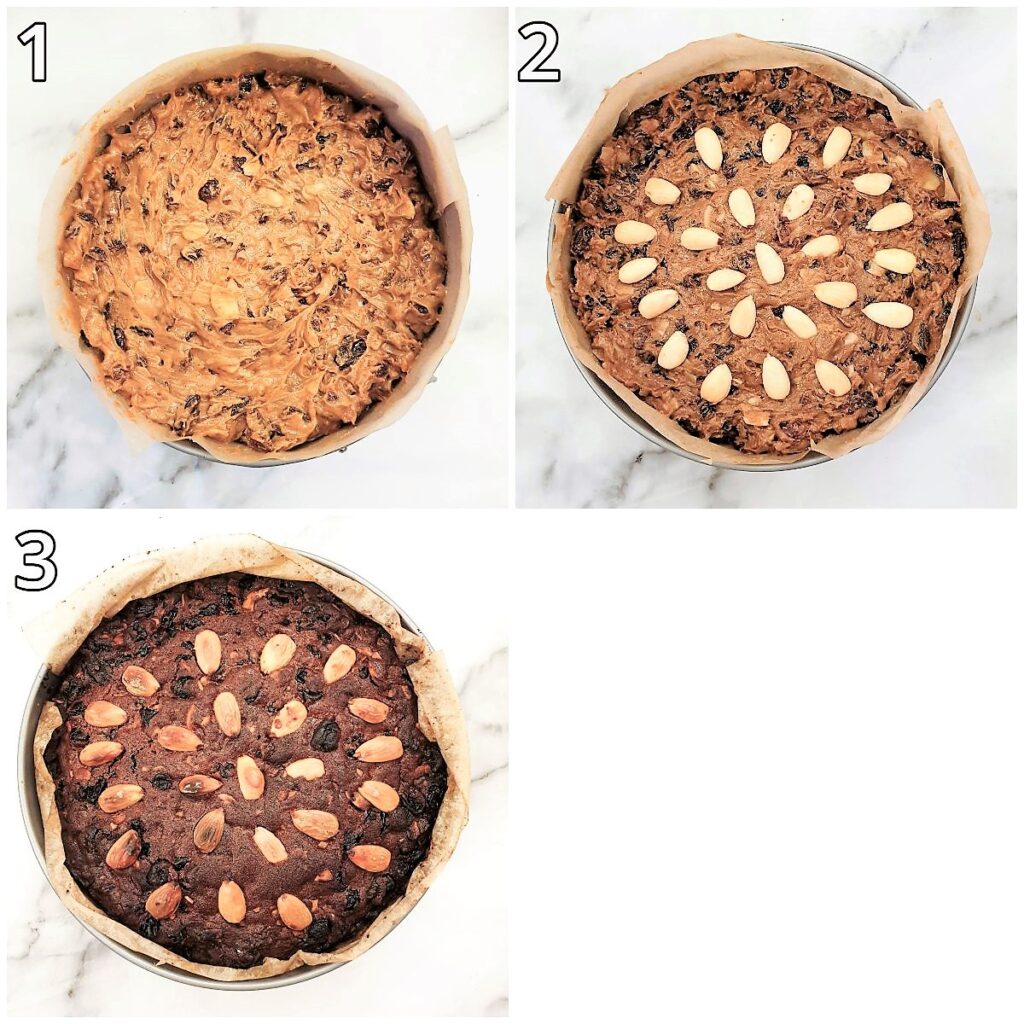 Pour the cake mixture into the prepared baking tin and smooth the top of the cake with a spatula to flatten it. If you are not going to ice the cake, you may like to decorate it with whole blanched almonds before baking. See below for how to blanch almonds.
Bake the cake in a preheated oven (160C / 320F) for 90 minutes. I like to cover the cake with a sheet of aluminium foil for the first hour to prevent the top from browning too much.
Check the cake after 80 minutes by inserting a toothpick or wooden skewer into the centre of the cake. It should come out cleanly, with no batter sticking to it. My cake was done after 85 minutes, but all ovens are different, so do start to check at around the 80-minute mark.
Remove the cake from the oven and leave it to cool in the tin, covered with the aluminium foil.
I'm not a lover of marzipan so I prefer to leave the cake plain. If you prefer you can decorate this last-minute Christmas cake with marzipan and fondant icing, as you would any Christmas cake.
Store the cake in an airtight tin, or wrap in aluminium foil, and it will stay fresh for up to a month (although this cake is so tasty it will probably be eaten long before that 🙂 ).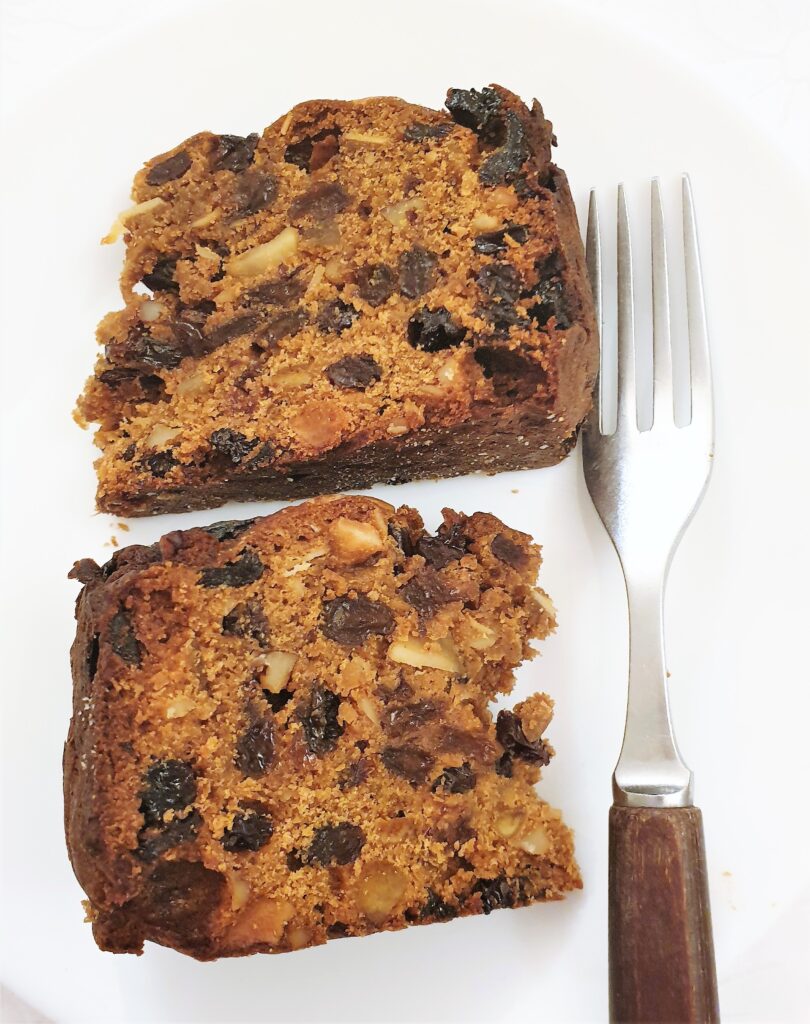 If you'd like to be notified of any new recipes, why not subscribe to my newsletter. As a thank-you gift, you will receive a free recipe e-book containing some of my most popular cakes and desserts.
How to blanch almonds
Whole shelled almonds are sometimes sold with their skins still on. It's a simple matter to remove the skins by blanching the almonds in boiling water.
Bring a small saucepan of water to the boil.
As soon as the water is boiling, tip in the almonds.
Leave for 60 seconds – no more, no less. Anything more will start to cook the almonds, and anything less means the skins will not slip off easily.
Immediately pour the almonds into a colander and then rinse with cold water to stop the cooking process.
Squeeze each almond in your fingers and the skins will slip straight off.
You can use them immediately to decorate your Christmas cake or you can store them in an air-tight container and use them later.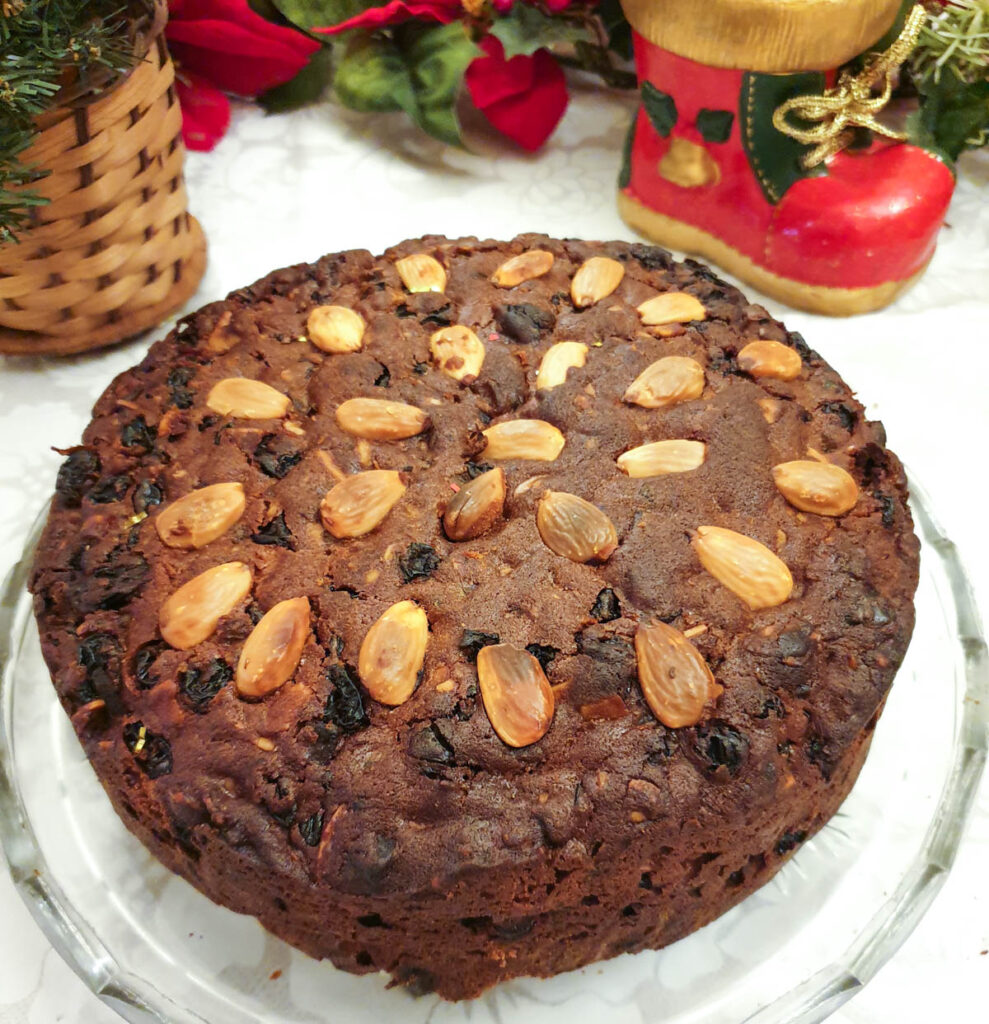 Pin for later
If you would like to make this last-minute Christmas cake why not pin the recipe to one of your Pinterest boards so you can find it easily. Just click on the image below.
Other recipes
If you'd like to try some of my other Christmas baking recipes, just click on the links below.
The recipe
If you made this recipe and enjoyed it, I'd love it if you could give me a star rating in the comments below. And if you'd like to get in touch, you can email me at [email protected]. I'd love to hear from you. And don't forget to subscribe to my mailing list so you can grab yourself a copy of my FREE COOKBOOK!
If you'd like to continue browsing, just click on this link to all my recipes.