Did you know that there is an old medieval Christmas saying that if you eat a mince pie on each of the 12 days of Christmas you will have good luck and happiness for the next 12 months? What are you waiting for – there's still time to bake a batch before Christmas Day!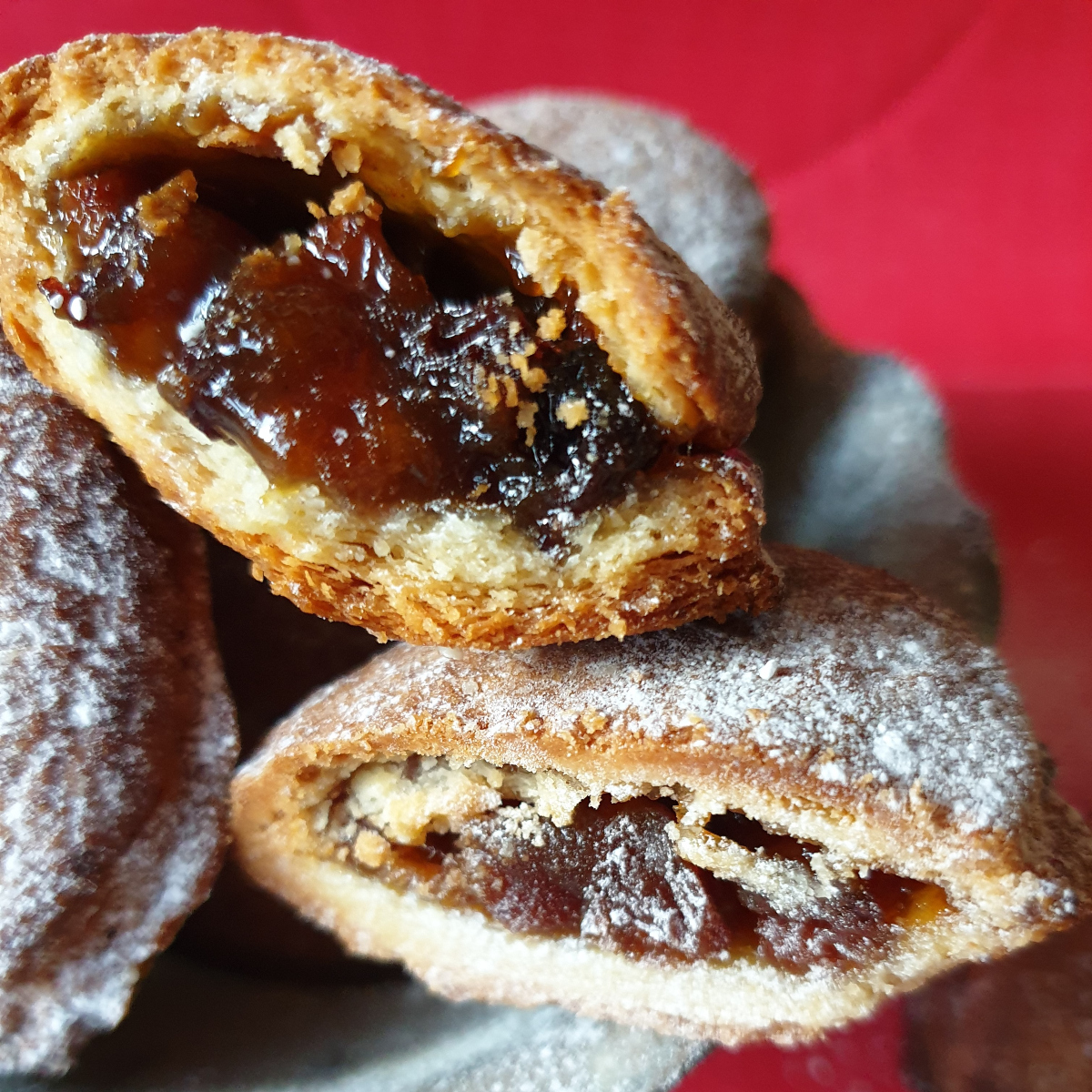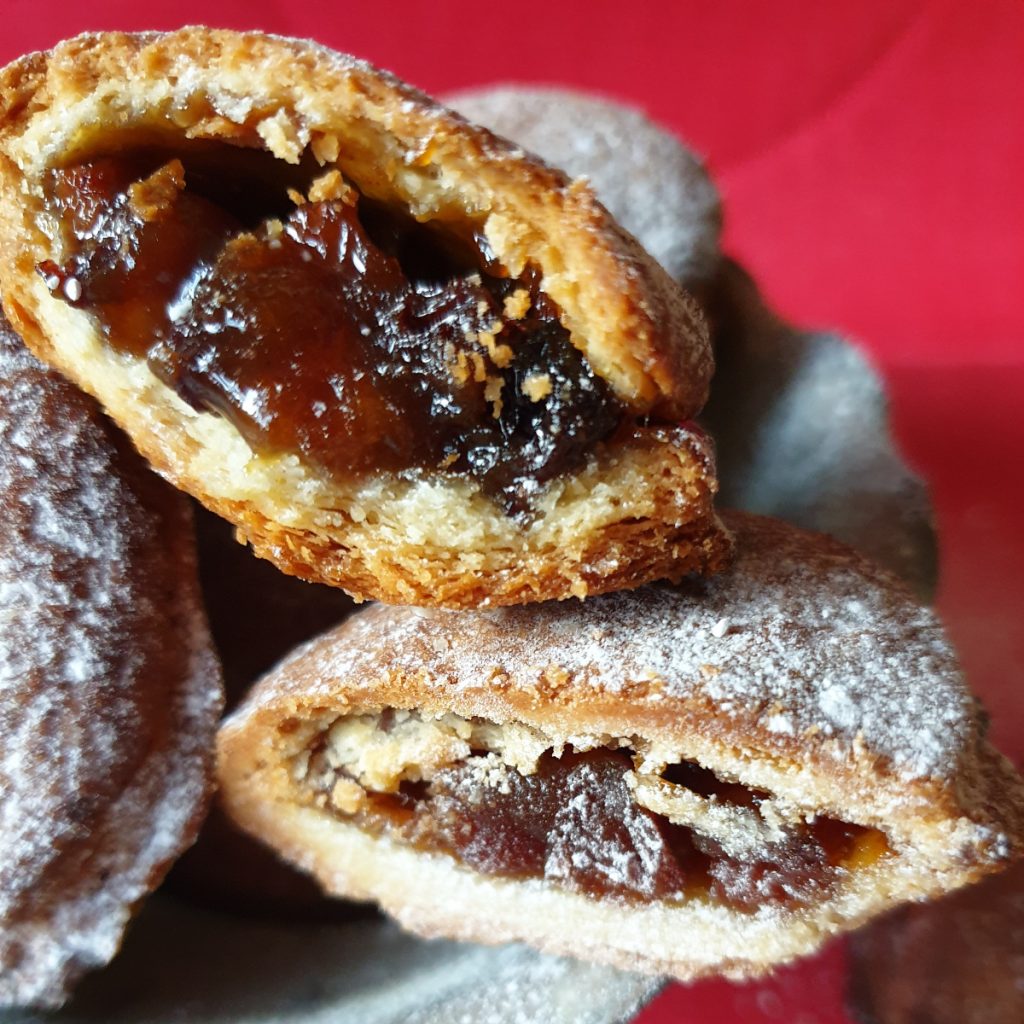 **As an Amazon affiliate, I earn from qualifying purchases.**
Festive Christmas mince pies
I love Christmas mince pies, and the melt-in-the-mouth pastry encasing deliciously fruity mincemeat. I'm always on the lookout for the first mince pies to hit the shops. This year I believe it was early October 🙂
I always make my own mince pies too of course, but I've never quite managed to get the same texture in the pastry as shop-bought. Until this year that is. This recipe for Christmas mince pies is a winner. The pastry is so soft and flaky and buttery that you won't want to stop eating them.
The secret is in the butter. You need to chill the butter in the freezer before you mix it into the pastry, and chill the pastry in the fridge before you roll it. That way the butter stays cold and doesn't melt into the flour. It only melts once you put it into the oven, which give the lovely flaky texture we are looking for.
I've mentioned the tradition of eating one mince pie on each of the 12 days of Christmas. But there's another tradition that is just as important. Santa loves mince pies (why do you think he's so fat?) and you should leave one out for him on Christmas Eve while he's delivering the presents. And don't forget a carrot for his reindeer!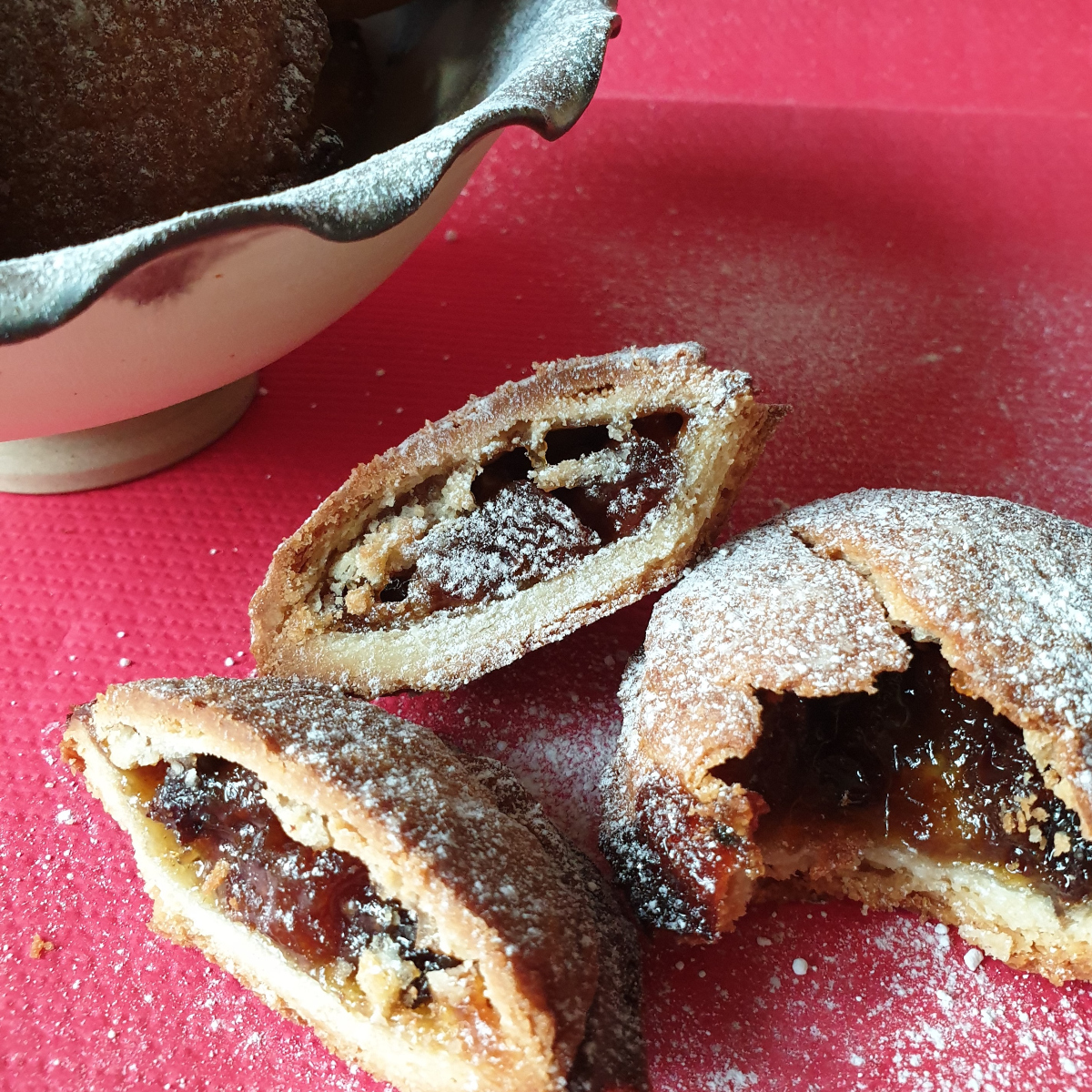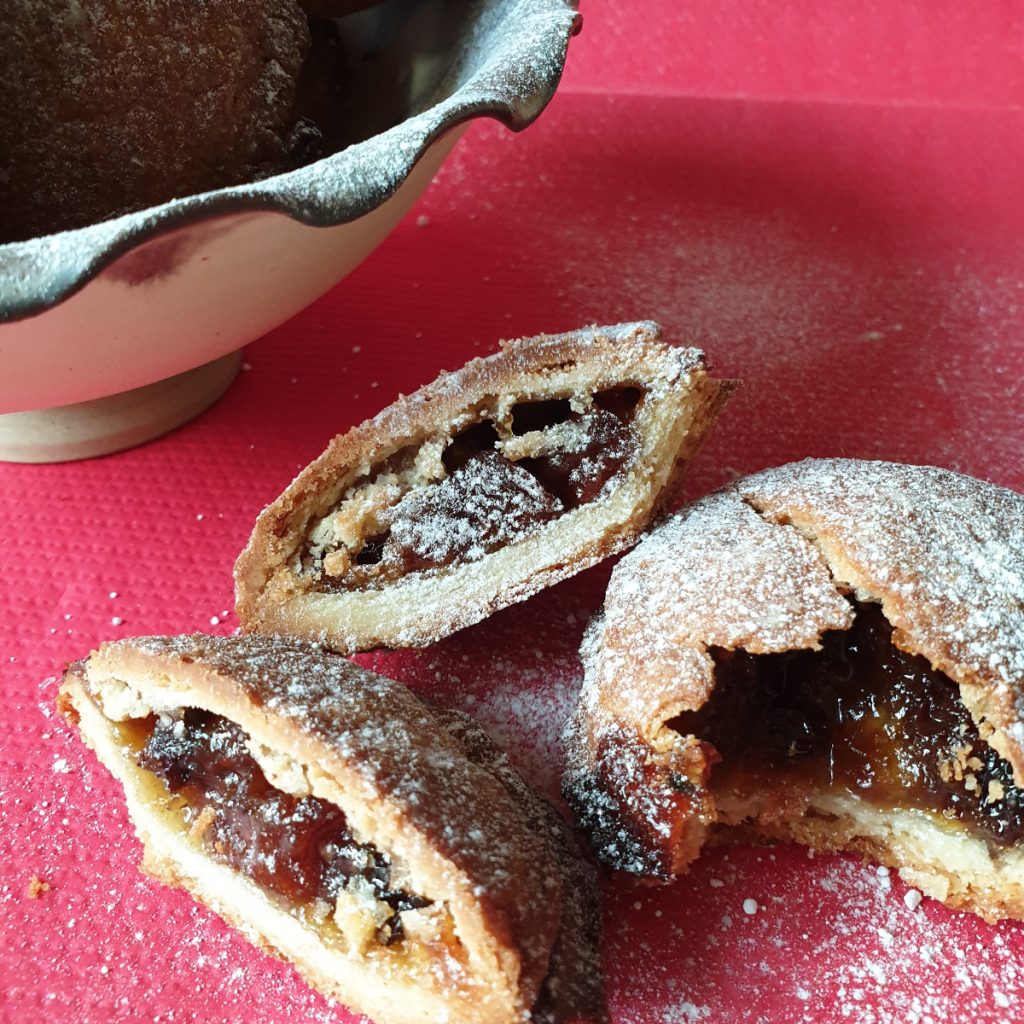 Ingredients for Christmas Mince Pies
**You can get the complete list of ingredients and full instructions on how to make this steak and kidney on the printable recipe card at the end of this post**
Christmas mince pies are made with sweetcrust pastry, otherwise known as pate sucree. This is a rich buttery pastry which is made by creaming the butter and sugar together, before mixing in the eggs and flour. This is different to the traditional shortcrust pastry which is made by rubbing the butter into the flour first, and binding with water.
Making the pastry in this way gives a delicious flaky buttery texture, which is what mince pies are all about.
You will need
1 jar of your favourite shop-bought fruit mincemeat. Buy a good quality mincemeat, you'll be glad you did.
Small amount of icing sugar for sprinkling.
1 small beaten egg for eggwashing the mince pies before baking
For the sweetcust pastry
375g plain flour or g . Use plain flour – this pastry does not require any levening agent.
225g butter or 6 oz. Keep the butter in the freezer and then chop it up with a sharp knife before mixing with the sugar.
125g caster sugar or 4.5 oz. If you don't have caster sugar you can use granulated sugar, but whizz it around in the food processor for a minute or two to grind it to a finer powder.
1 large egg yolk. This helps bind the dough together.
1/2 teaspoon salt. If you can't eat salt you can omit this.
How to make Christmas Mince Pies
Make the sweetcrust pastry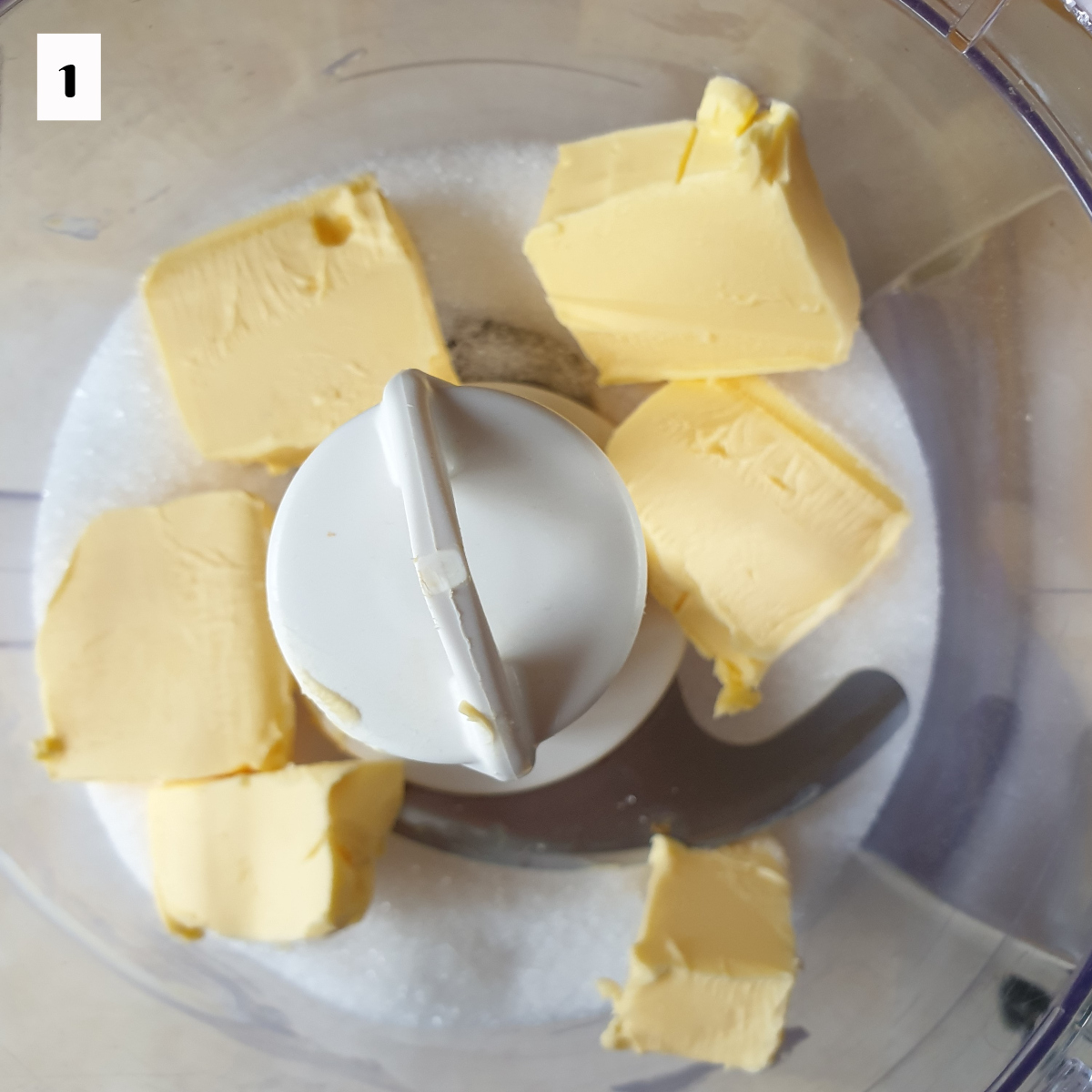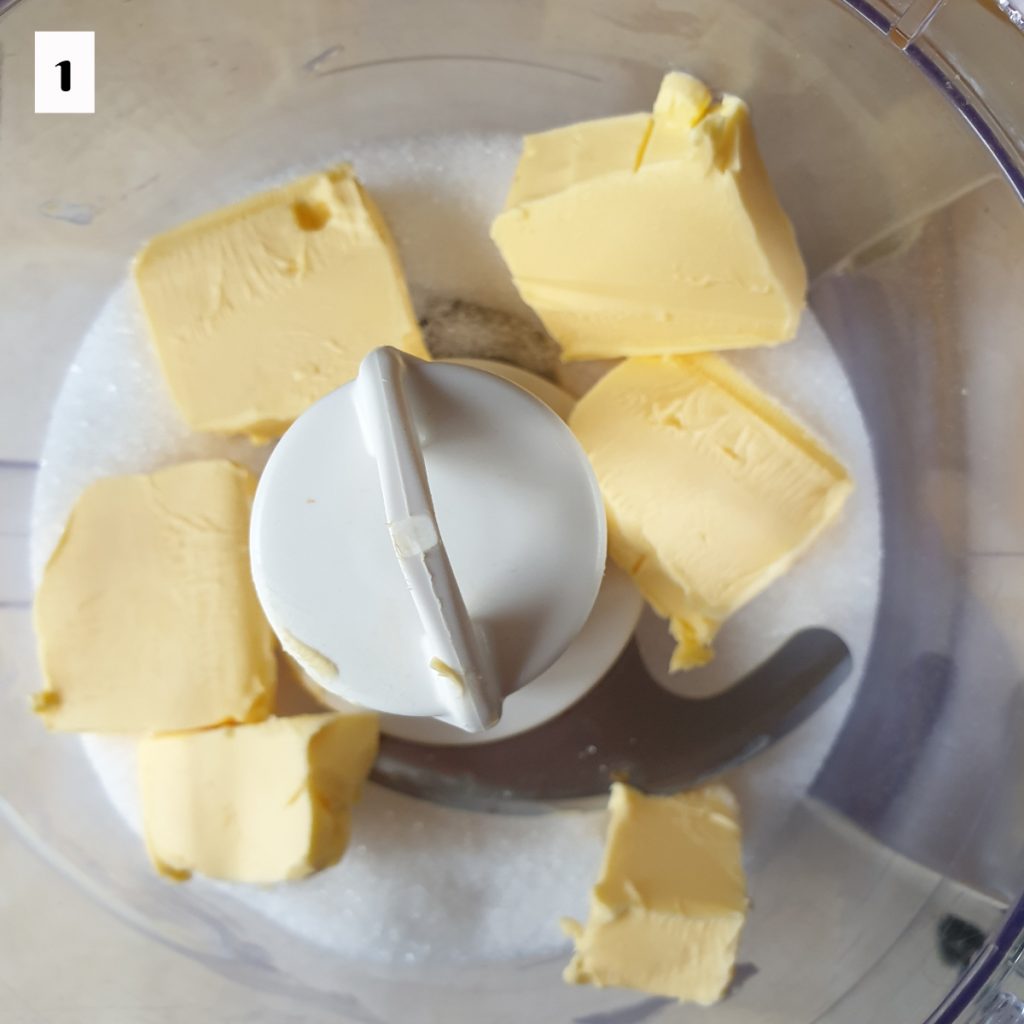 You can make this pastry either in a food processor or by hand in a mixing bowl. If you want to do it by hand, you can, but it will just take a bit longer to mix.
Chop the butter into small blocks and place in the food processor along with the sugar.
Set the food processor running and allow to mix until the butter and sugar are well combined and there are no grains of sugar visible.
Separate the egg and add the yolk to the butter mixture. Process until the mixture is pale yellow and creamy.
Tip – whenever you separate egg and don't know what to do with the egg white, just freeze it. When you have sufficient egg whites you can defrost in the fridge and then use them to make meringues.
Now add the sifted flour and pulse until the mixture starts to come together. If you squeeze a spoonful of the mixture in your hand and it sticks together then it is ready to be removed from the food processor.
If it doesn't stick together, or seems too dry, add 1 tablespoon of water and pulse again. Don't add too much water or your dough will be sticky.
Tip the mixture onto a floured surface and squeeze it together until it forms a ball.
Flatten into a disk, wrap in cling film and place in the fridge for at least half an hour to let the butter harden and to relax the gluten.
The previous step is very important. If you don't rest the pastry you will find that it will be difficult to roll and will crack as you roll it.
Assemble the mince pies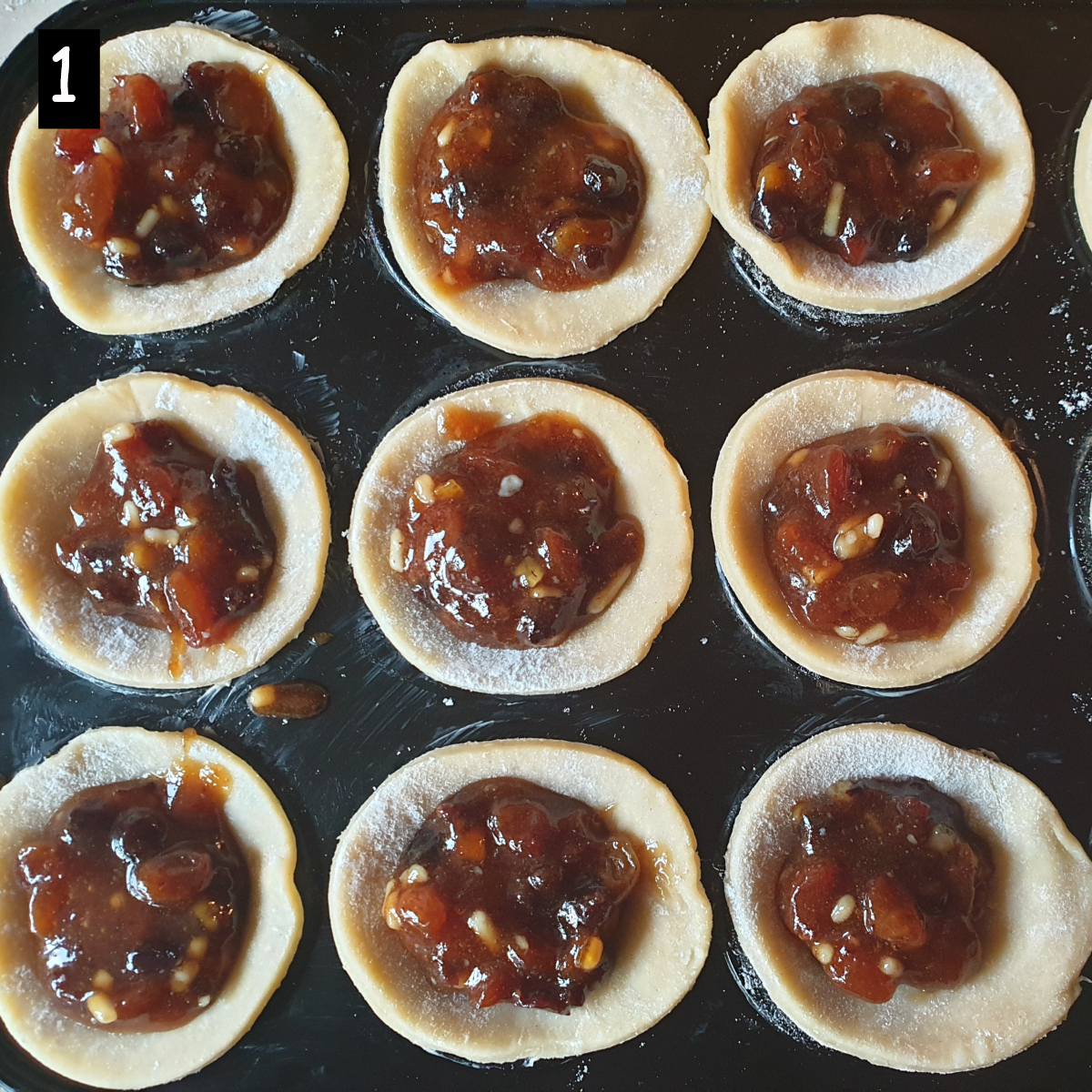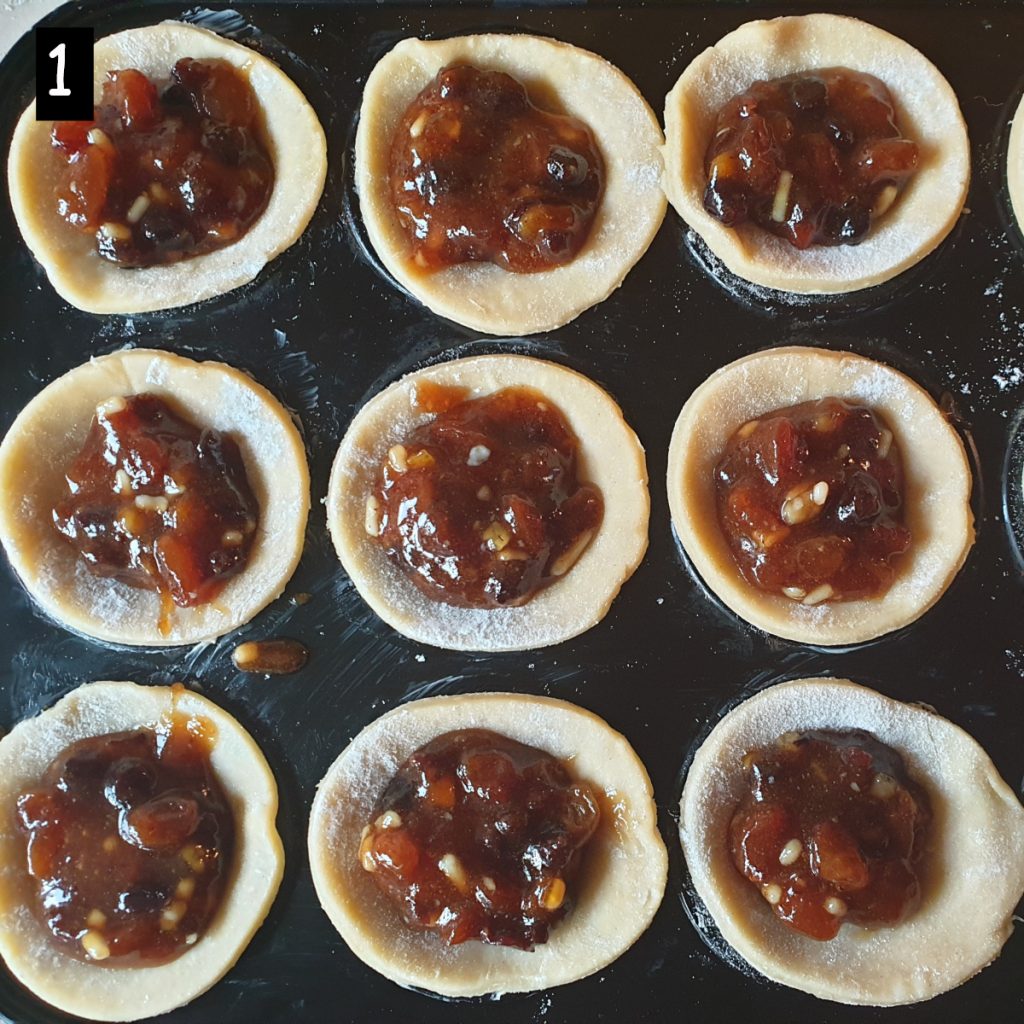 For this recipe I like to use a 12-hole jam-tart tin (see Equipment section further down this post). This recipe is sufficient for 24 mince pies so you will either have to bake a double batch, or, if your oven is large enough, use 2 tins to and bake them both at the same time.
Remove the pastry from the fridge, unwrap the cling film and place on pastry on a lightly floured surface.
Take half of the pastry and roll it out gently, until it is about 1/8″ thick.
Using a round cutter, cut circles in the pastry large enough to fill each hole.
Place about a tablespoon of mincemeat on each pastry circle.
Now roll the rest of the pastry and using a smaller cutter, cut lids from the pastry.
Take a cup of water and dip your finger in it. Moisten the edge of each of the pies in the muffin tin and then place the lid on top. Press gently around the edges to seal.
Prick the top of the pies with a fork to make holes to allow the steam to escape as they bake.
Brush each pie with beaten egg to encourage them to brown in the oven.
If you want a crunchier pie, you could sprinkle with icing sugar before baking.
Bake the mince pies
Pre-heat oven to 190C / 375F.
Place the tray in the pre-heated oven and bake for 12 – 15 minutes until the mince pies are golden brown. Keep your eye on them. This pastry burns very easily. Don't allow them to get too brown or the pastry will turn hard and crispy, like a biscuit, instead of being soft and buttery.
Remove from the oven and let cook in the tin, then sprinkle with icing sugar and enjoy.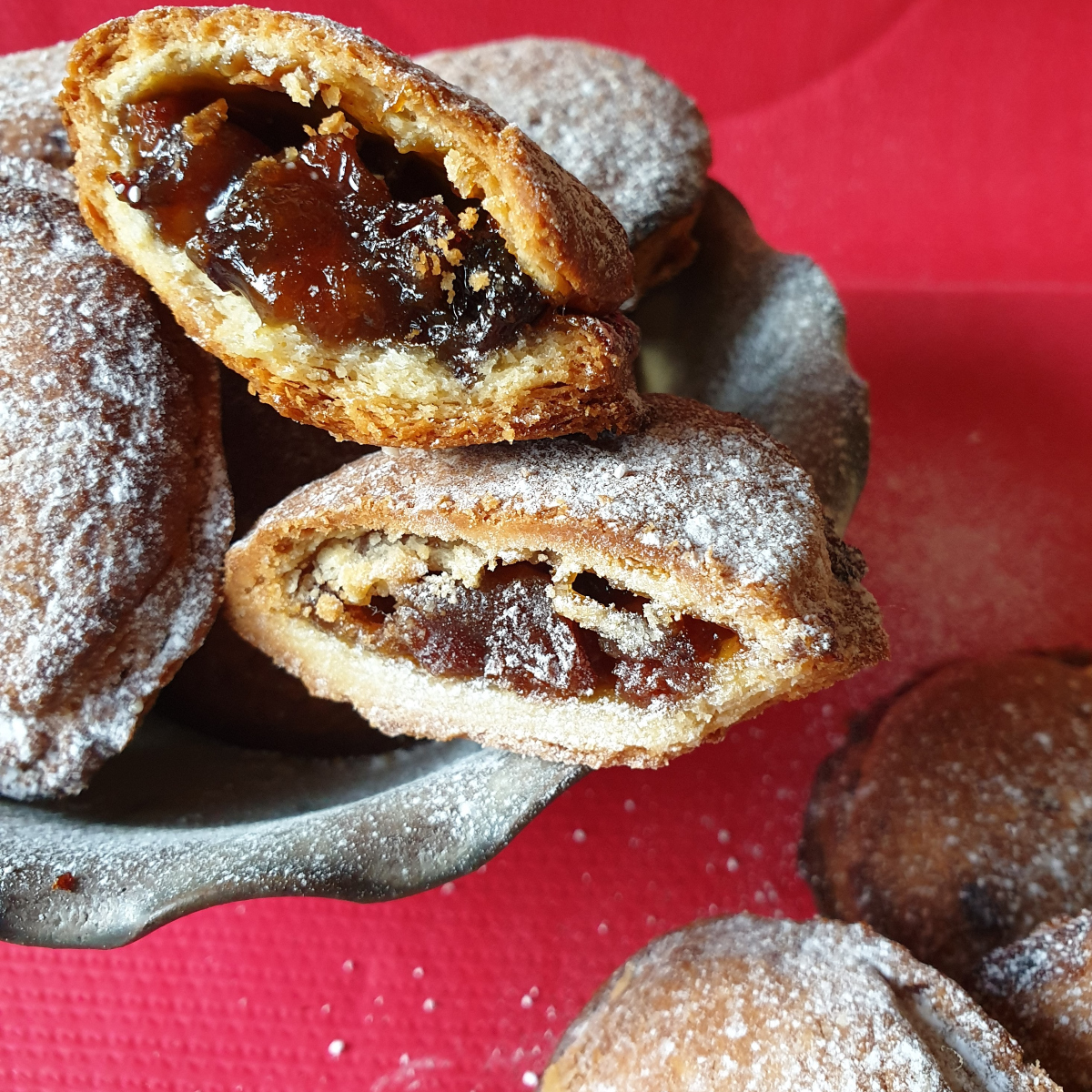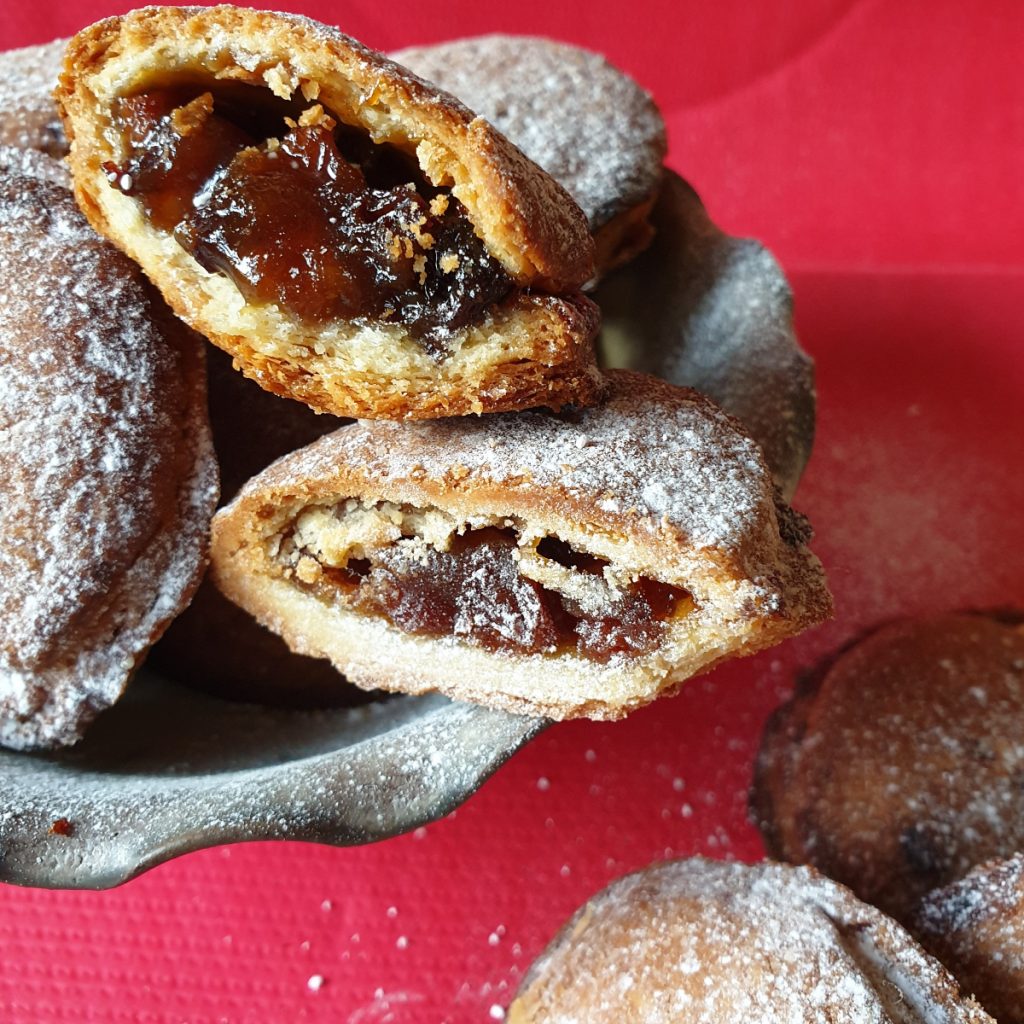 If you'd like to be notified of any new recipes, why not subscribe to my newsletter. As a thank-you gift, you will receive a free recipe e-book containing some of my most popular cakes and desserts.
Recipe – Christmas Mince Pies
If you made this recipe and enjoyed it, I'd love it if you could give me a star rating in the comments below. And if you'd like to get in touch, you can email me at [email protected]. I'd love to hear from you. And don't forget to subscribe to my mailing list so you can grab yourself a copy of my FREE COOKBOOK!
If you'd like to continue browsing, just click on this link to all my recipes.