Homemade sausage meat filling takes these pork and apple pigs in blankets to a whole new level. Grated apples and onions are combined with pork and spices before being wrapped in bacon and oven-baked to a crispy finish. These little festive morsels are guaranteed to fly off the plates!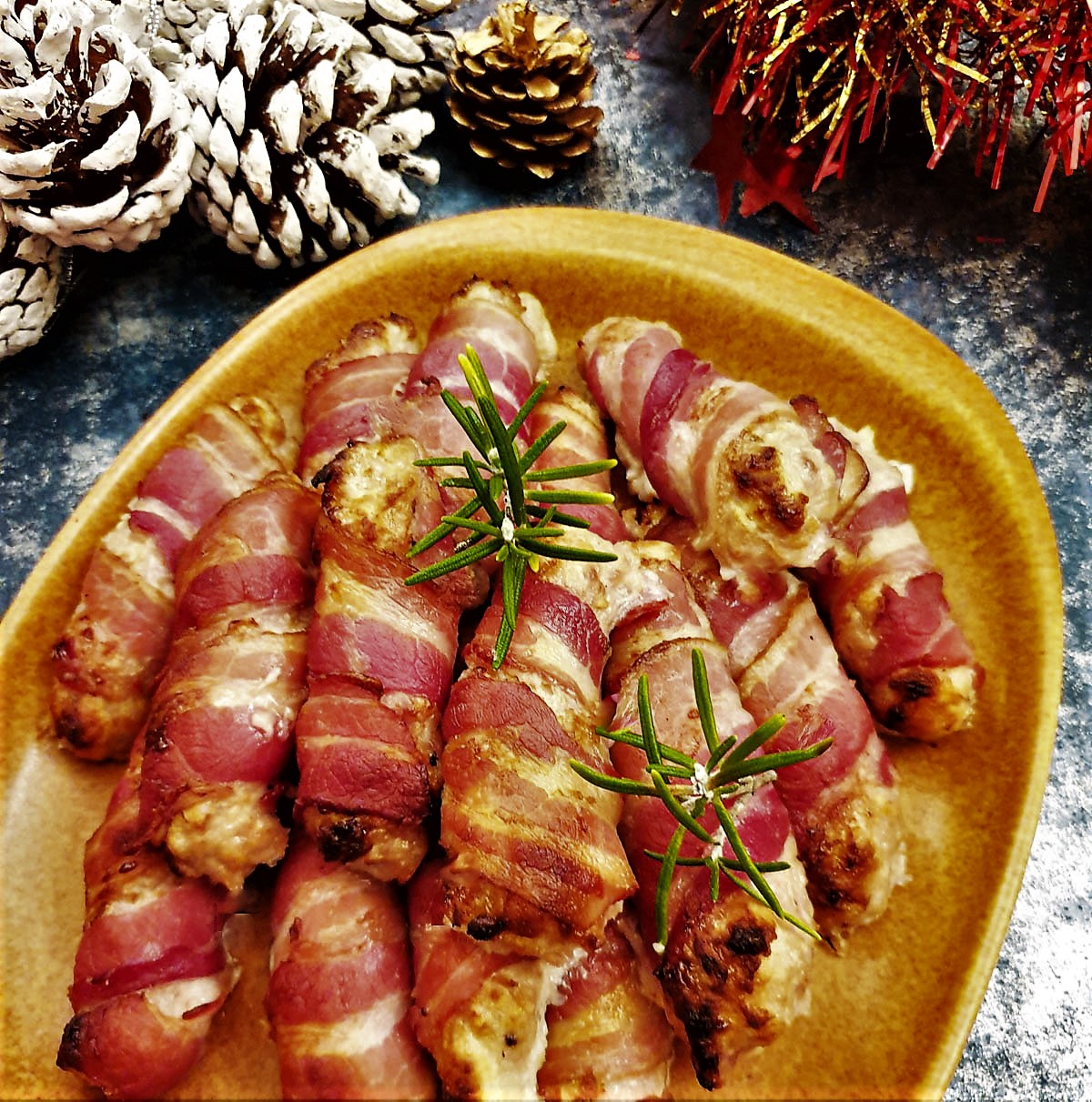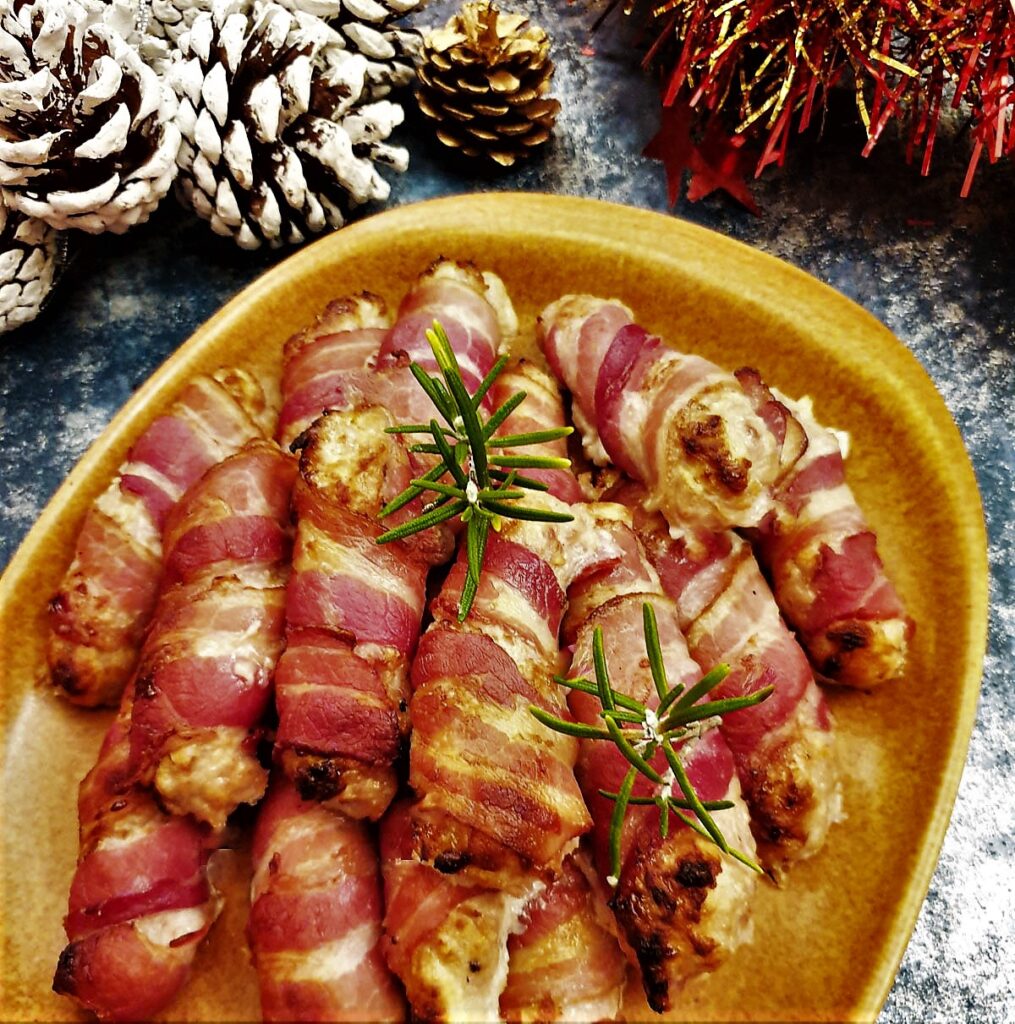 **As an Amazon affiliate, I earn from qualifying purchases.**
Everyone's favourite festive side
Pigs in blankets have to be everyone's favourite festive side dish. I can't imagine Thanksgiving or Christmas without a pile of these delicious morsels making an appearance. Crispy bacon wrapped around juicy pork chipolatas. What's not to love? For years I've been buying chipolata sausages and wrapping them in strips of bacon before baking them in the oven. Pigs in blankets are, after all, an integral part of the great British Christmas menu!
This year, however, because I love experimenting in the kitchen, I decided to do something a little different. Instead of using shop-bought sausages for the pigs in blankets I made my own sausage meat filling. And even if I have to say it myself, they were a resounding success!
These homemade pigs in blankets are made with ground pork, with the addition of grated onions and apples and a pinch of dried sage for extra flavour. If you want a more festive appearance, you could swap out the apples for finely chopped red pepper or cranberries, and if you don't like sage you can use your own favourite blend of herbs and spices. Fennel or paprika go amazingly well with pork.
And the filling is so easy to make – it's no more difficult than making a batch of meatballs.
Why not start a new family tradition and get the kiddies involved in making the Christmas pigs in blankets in the run-up to Christmas. They freeze really well, so all you will have to do on Christmas morning is take the frozen pigs in blankets out of the freezer and pop them in the oven to bake while the turkey is resting.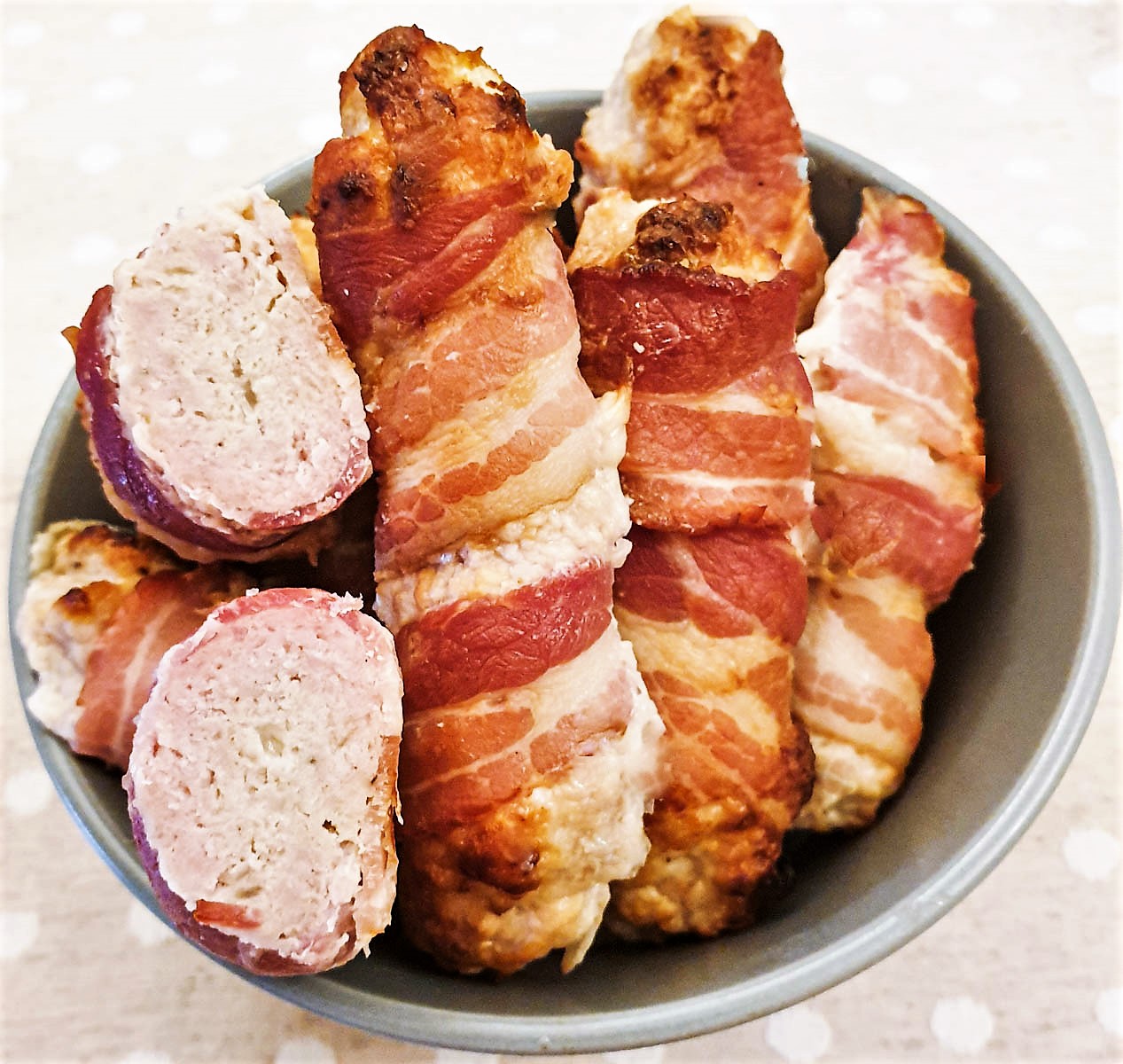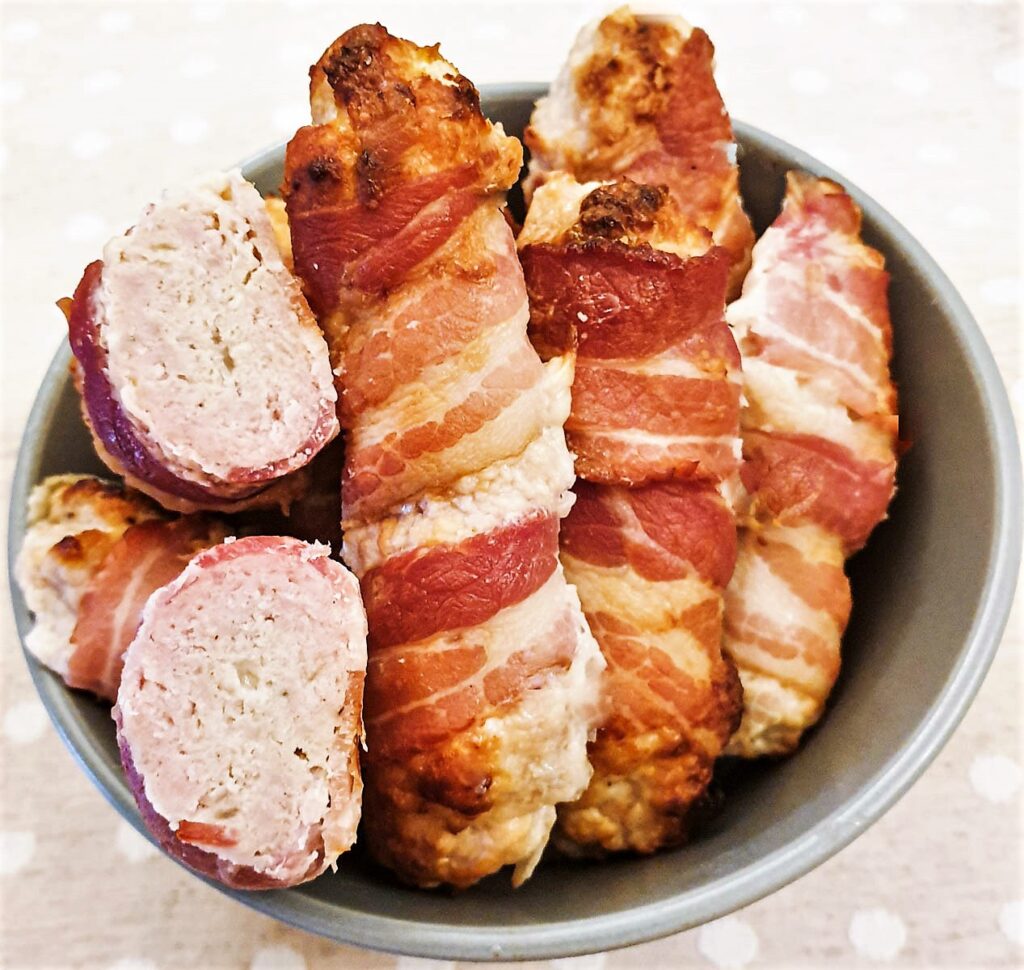 What you will need
**You can get the complete list of ingredients and full instructions for making your own pork and apple pigs in blankets on the printable recipe card at the end of this post**
If you would like to try these pigs in blankets for yourself, here are the ingredients you will need.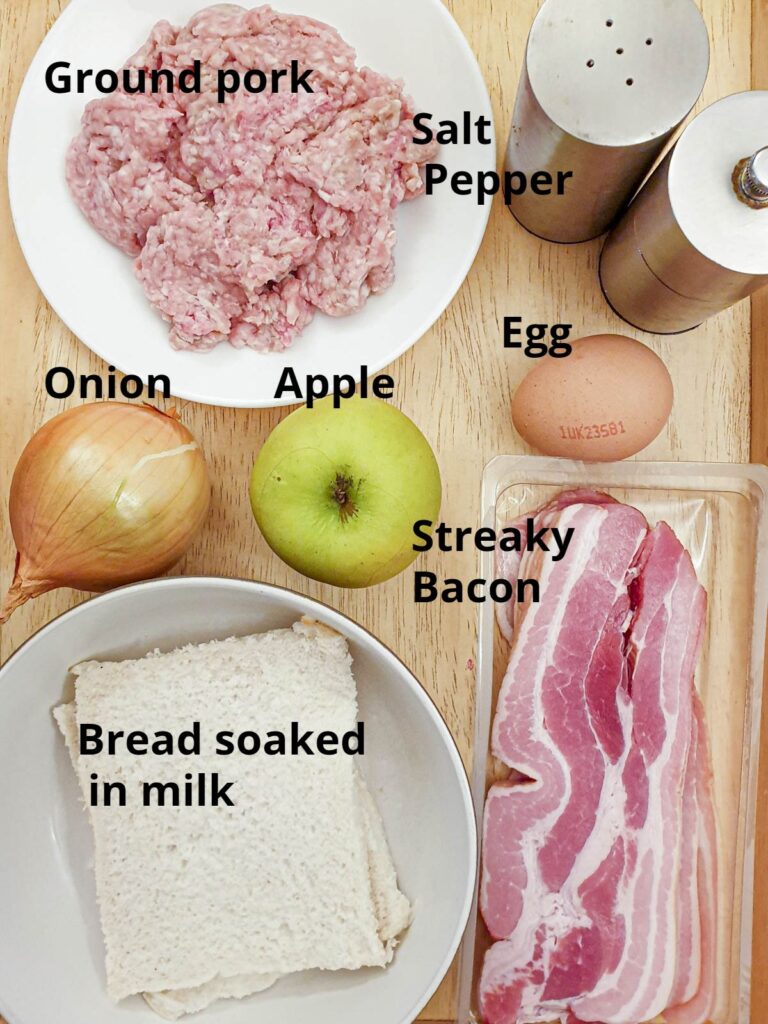 The recipe in the recipe card makes 16 pigs in blankets. If you want to make a larger batch, you can just double the recipe.
Ground pork – I used 225 grams (half a pound) of pork with a 5% fat content.
Streaky bacon – A 225 gram pack of streaky bacon in the UK normally contains 16 rashers of bacon, which is the perfect amount for this recipe. Back bacon slices are larger, and you normally only get 8 to a pack. I prefer using streaky bacon because I find it crisps up better in the oven. If you do decide to use back bacon, you should stretch the rashers with the back of a knife and cut them in half so that you have enough to wrap around the sausage meat.
Onion and apple – these shold be peeled and grated using the largest holes on a box (or cheese) grater, and then squeezed to remove most of the liquid. For 16 pigs in blankets you will need approximately 1 cup of grated apple and onion combined.
Egg – the egg helps bind the sausage meat together. I used a medium-sized egg.
Bread and milk – adds bulk and also helps bind the mixture. I used three medium-thick slices of white sandwich bread with the crust removed, and 3 tablespoons of milk. The bread should be soaked in the milk until all the milk has been absorbed and then squeezed to remove any excess milk. Once soaked and squeezed, the bread was about half a cup by volume.
Salt and pepper – the filling should be well seasoned with salt and finely ground black pepper. I used about 3/4 of tablespoon of salt and half a teaspoon of black pepper. You should season to your own taste.
Herbs and spices – this is a matter of preference. The sausage meat has plenty of flavour without any addiitionl herbs and spices. If you do want to spice it up here are my suggestions:

half a teaspoon of dried sage; or
one teaspoon of ground paprika; or
half a teaspoon of dried fennel seeds; or
half a teaspoon of dried garlic granules.
How to make pigs in blankets
To make these pigs in blankets couldn't be easier. It's almost just like making meatballs!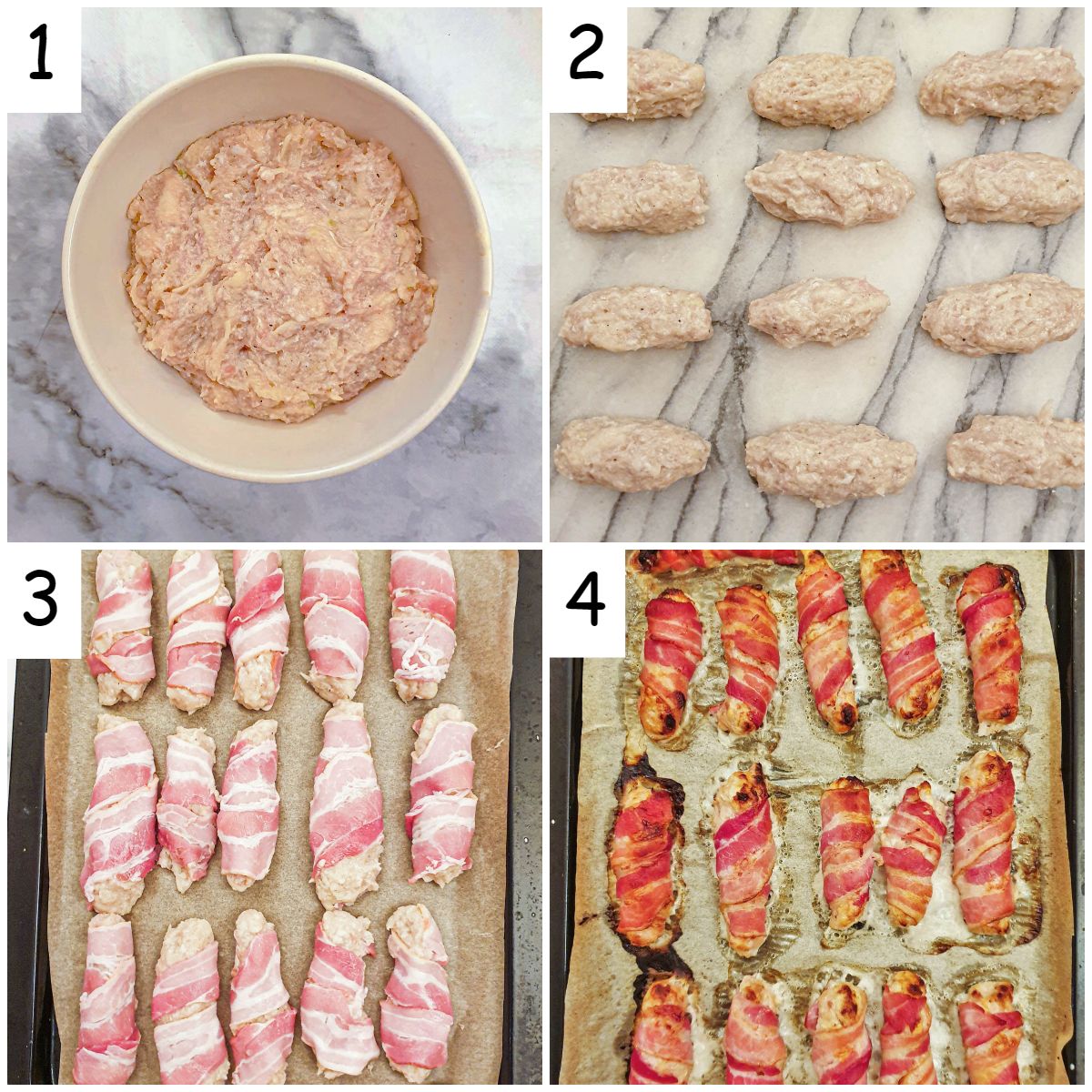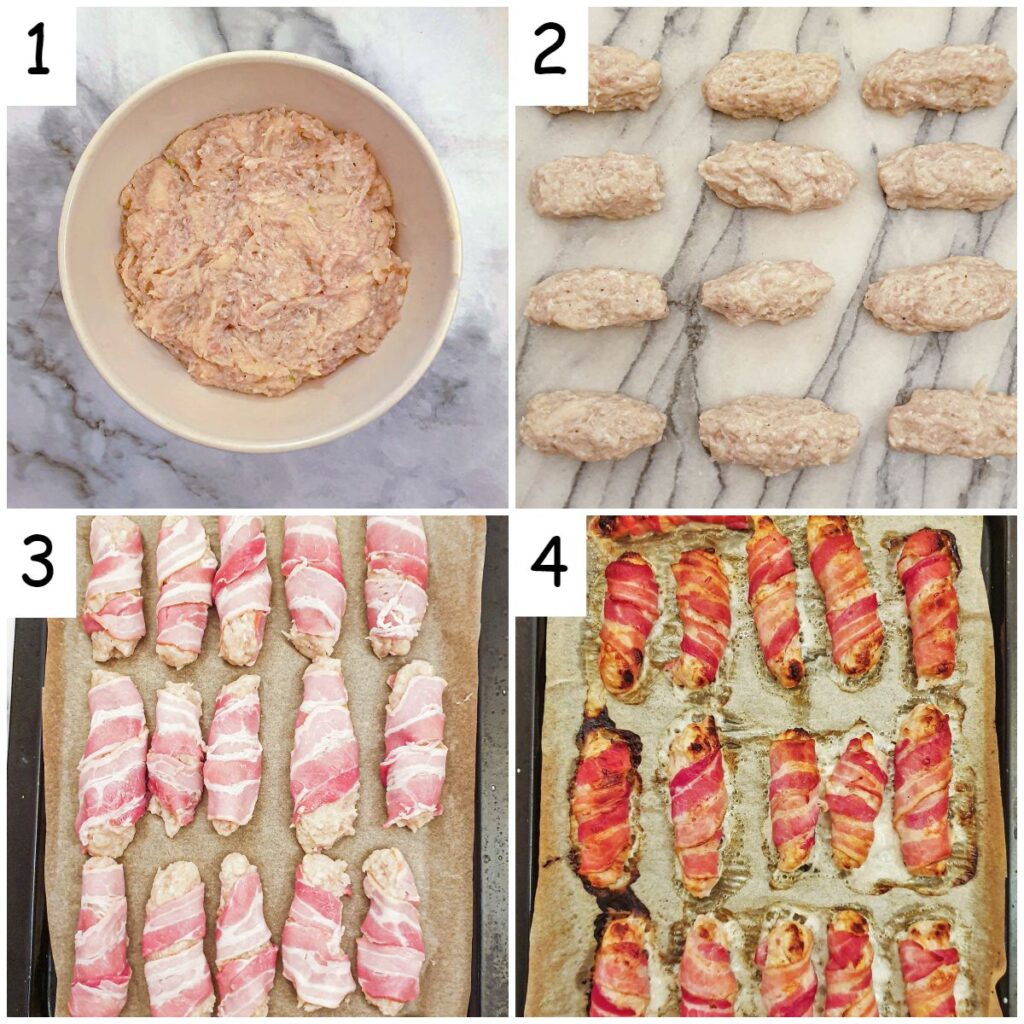 Put all the ingredients (except the bacon) into a mixing bowl and mix very thoroughly to combine. Squeeze the mixture through your fingers to make sure the vegetables and spices are evenly distributed. You should end up with a thick paste-like texture (image 1 above).
Divide the mixture into 16 evenly-sized pieces then roll each piece into a cylindrical (or sausage) shape (image 2).
Top tip – keep a bowl of clean water next to you to dip your hands into while rolling the sausages – the meat will not stick to wet hands.
Carefully roll each formed sausage in a rasher of streaky bacon. There should be no need to secure the bacon with a toothpick. It will stick nicely to the sausage meat. If you do find you need to secure the bacon with a toothpick, don't forget to remove it before serving.
Place each roll on a baking tray lined with baking parchment. The baking parchment helps keep the sausages from sticking to the tray (image 3).
Bake in a hot preheated oven (200C / 400F) for about 25 minutes until the bacon is crispy and the sausage meat is cooked through (image 4).
Serve hot with your Christmas or Thanksgiving roast dinner. These pigs in blankets also taste delicious served cold as part of a next-day buffet.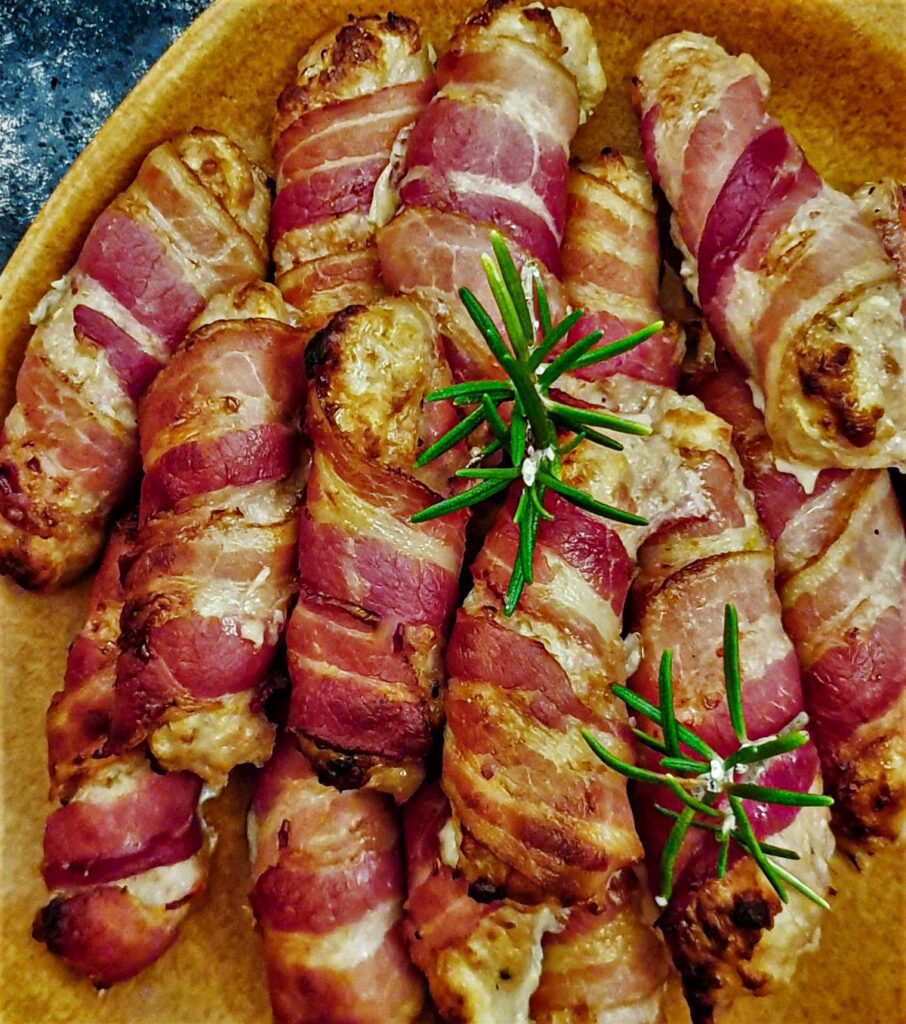 If you'd like to be notified of any new recipes, why not subscribe to my newsletter. As a thank-you gift, you will receive a free recipe e-book containing some of my most popular cakes and desserts.
How to freeze pigs in blankets
To freeze, let the pigs in blankets cool on the baking tray, then just place the baking tray into the freezer and leave for a few hours until the rolls are completely frozen.
Transfer them to a large plastic bag and freeze them for up to three months. Open freezing in this way ensures the pigs in blankets will stay separate in the freezer.
When you are ready to use them, remove as many as you will need from the freezer and place them on a baking sheet and bake at 200C / 400F for 30 minutes.
Make in advance
You can make also make these up to two days in advance and store them in a covered container in the refrigerator until you are ready to bake them.
Pin for later
If you would like to try making your own homemade pigs in blankets why not save this recipe to one of your Pinterest boards so you can find it easily when you need it. Just click on the image below.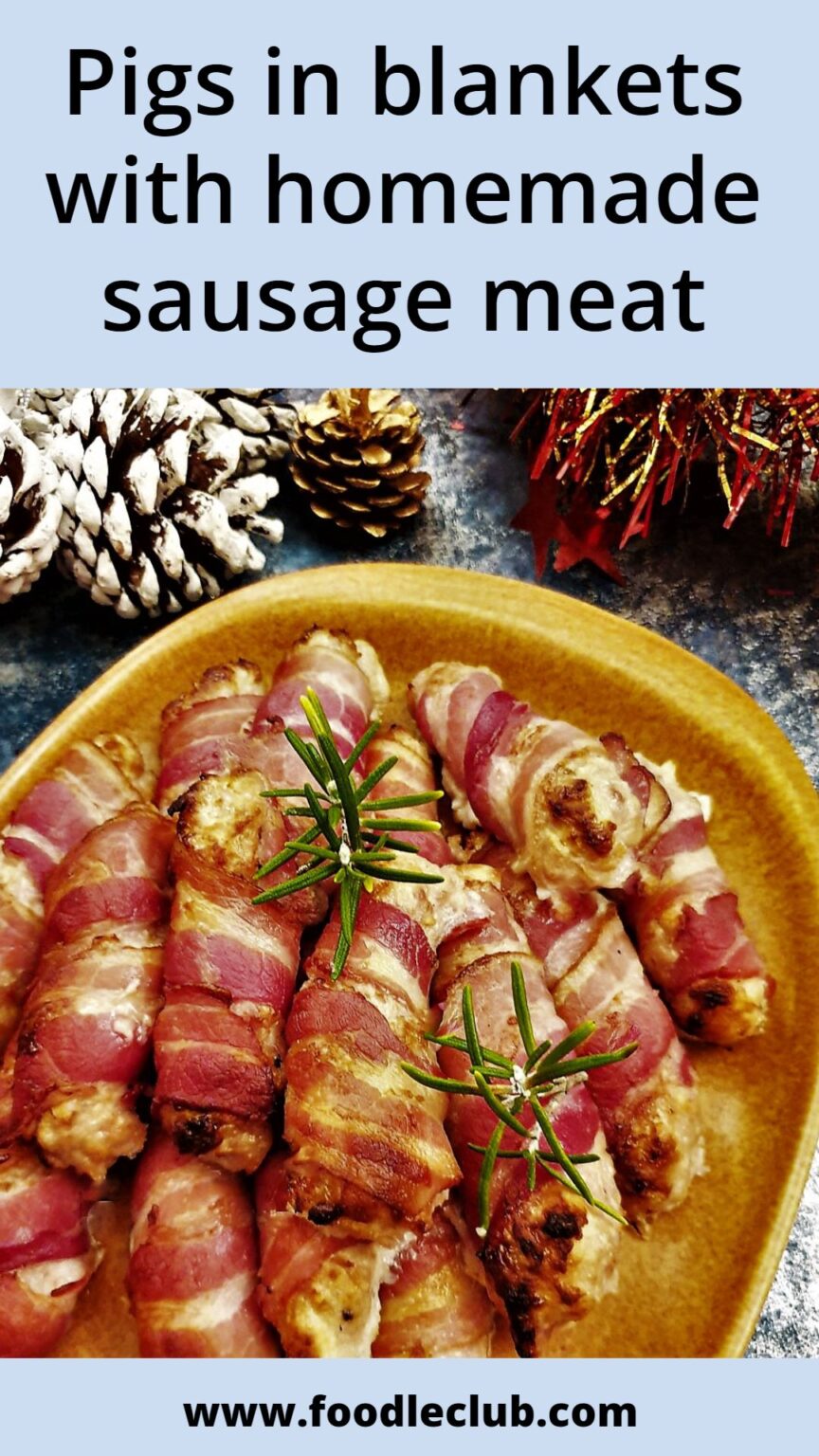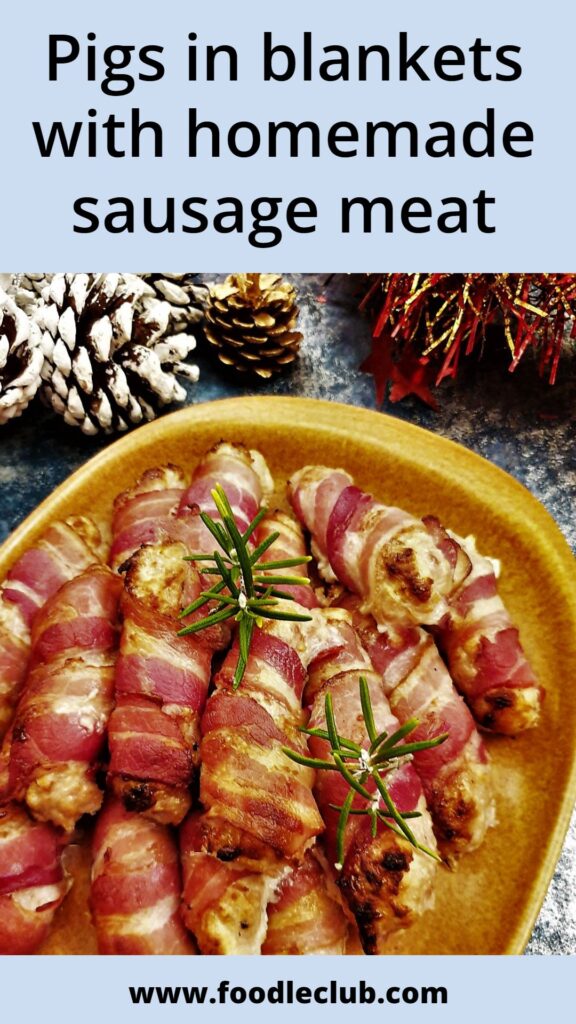 Other recipes
Why not take a look at some of my other festive side dishes.
If you made this recipe and enjoyed it, I'd love it if you could give me a star rating in the comments below. And if you'd like to get in touch, you can email me at [email protected]. I'd love to hear from you. And don't forget to subscribe to my mailing list so you can grab yourself a copy of my FREE COOKBOOK!
If you'd like to continue browsing, just click on this link to all my recipes.