It's so easy to make your own homemade sage and onion stuffing for your chicken or turkey. And you can even pimp it up by mixing in some good quality pork sausage meat. It takes only minutes to make and tastes WAY better than the boxes of stuffing that you buy in the supermarket.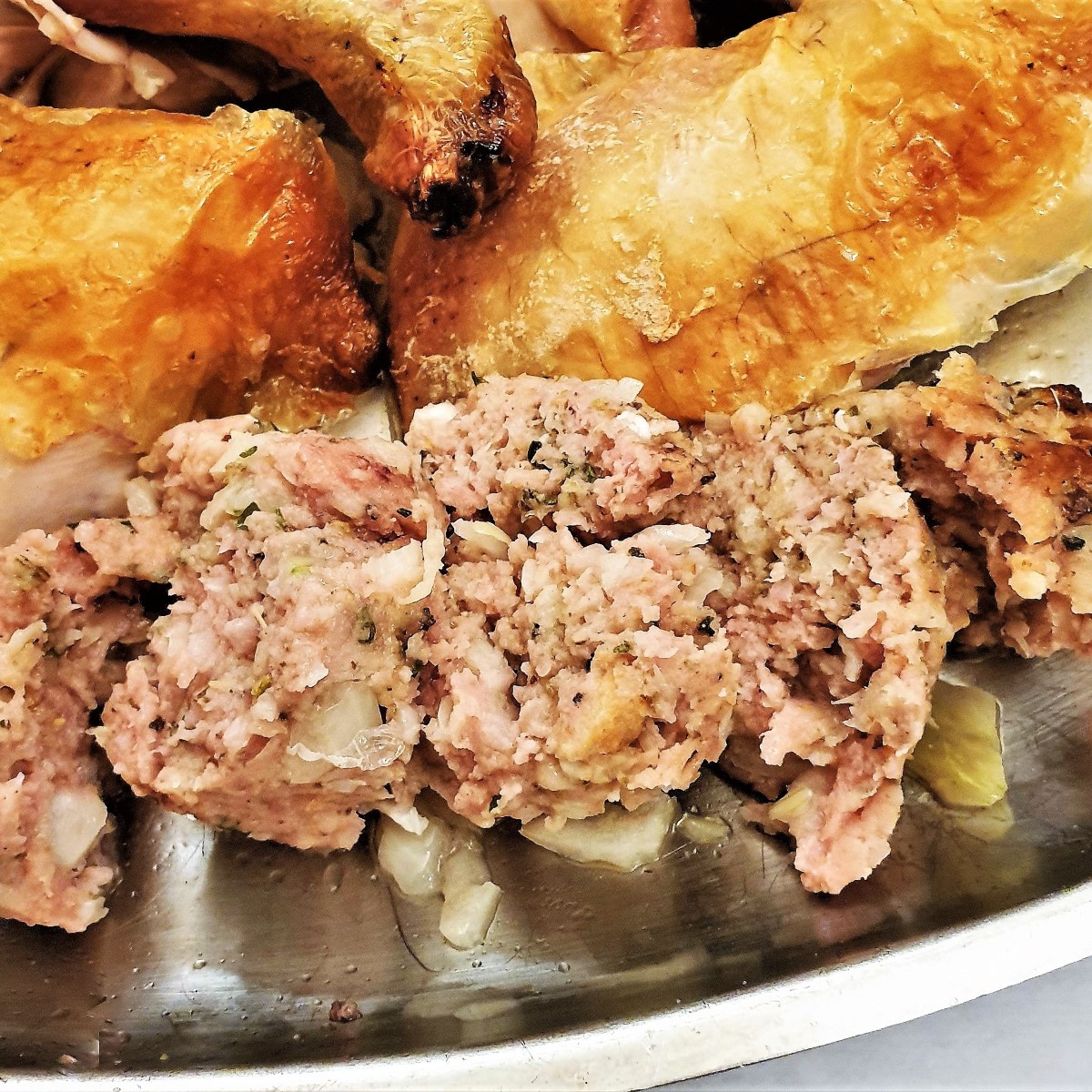 The best ever stuffing recipe
Just imagine a plump juicy chicken stuffed with homemade sage and onion stuffing. And this isn't just any old stuffing made by mixing a box of dried, seasoned breadcrumbs with boiling water. Oh no, this my special homemade sage and onion stuffing with sausage meat. Be prepared for a flavour sensation. I promise you, once you've tasted this stuffing you will never go back to the boxed stuff again.
Now, I know you are going to say 'but the boxed stuff is so easy to mix together'. And yes, of course it is. But if I were to tell you that this is just as easy, but delivers 100% more flavour, would you try it? Of course you would!
The beauty of this stuffing is that you can mix up a large batch, use some for your chicken, and freeze the rest for later meals. So to be honest, this is actually a real time-saver.
Just imagine a chicken stuffed with this magnificent stuffing. As the chicken roasts, the fat from the seasoned sausage meat run out into the chicken, and at the same time, the cooking juices from the chicken baste the stuffing, giving you additional flavour, both in the chicken and in the stuffing. It's a win-win situation.
And of course, you don't have to cook this sausagemeat stuffing inside a chicken. You can roll it into balls and pop them in with your roast potatoes and serve stuffing with every roast meal.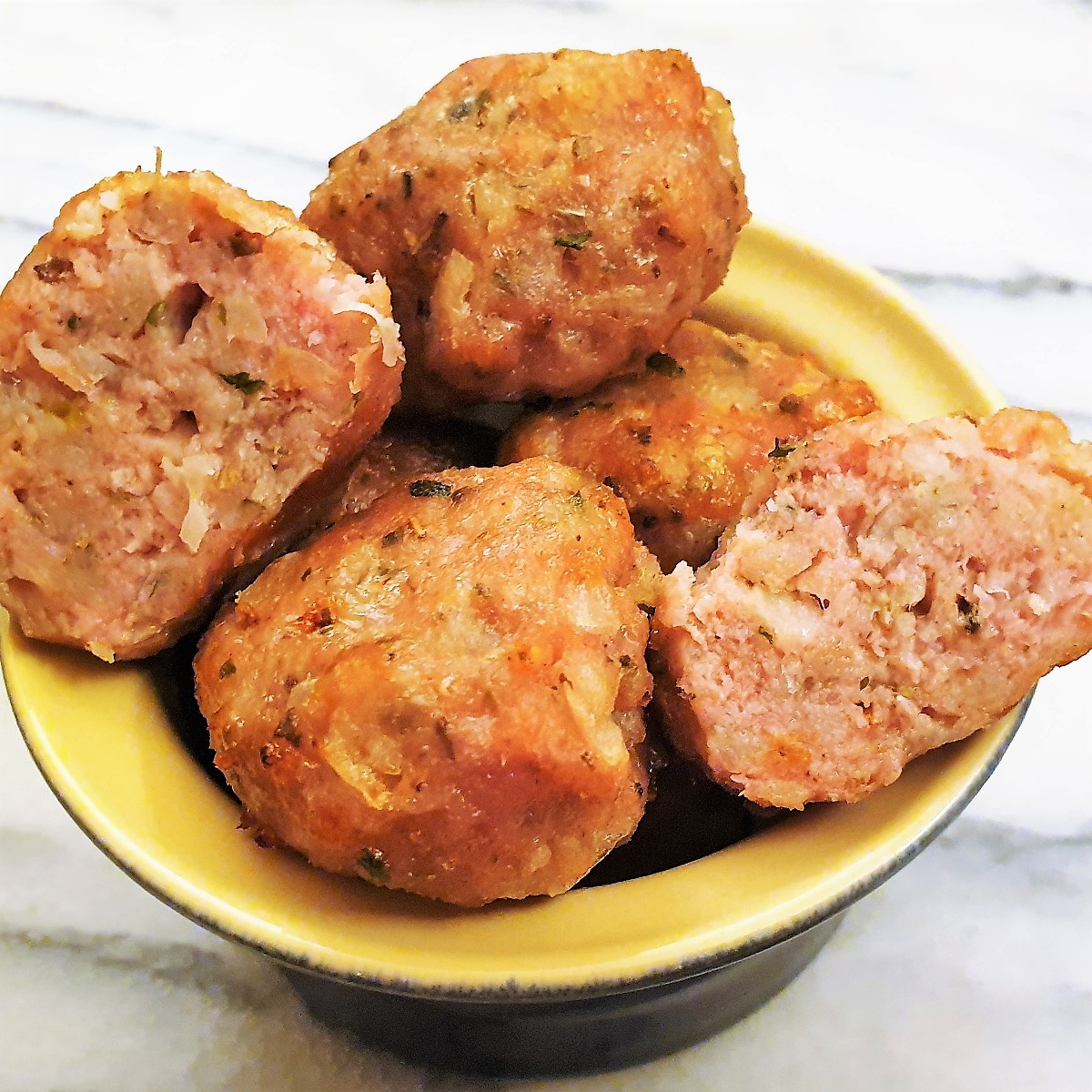 What do you need?
To make sage and onion sausage meat stuffing you only need 5 ingredients:
fresh breadcrumbs
a packet of pork sausages
chopped onion
dried sage and parsley.
This recipe makes about 16 stuffing balls or enough for 2 stuffed chickens. So you can use half to stuff one chicken, and either shape the other half of the stuffing to fit a second chicken, or roll into balls before freezing for another meal.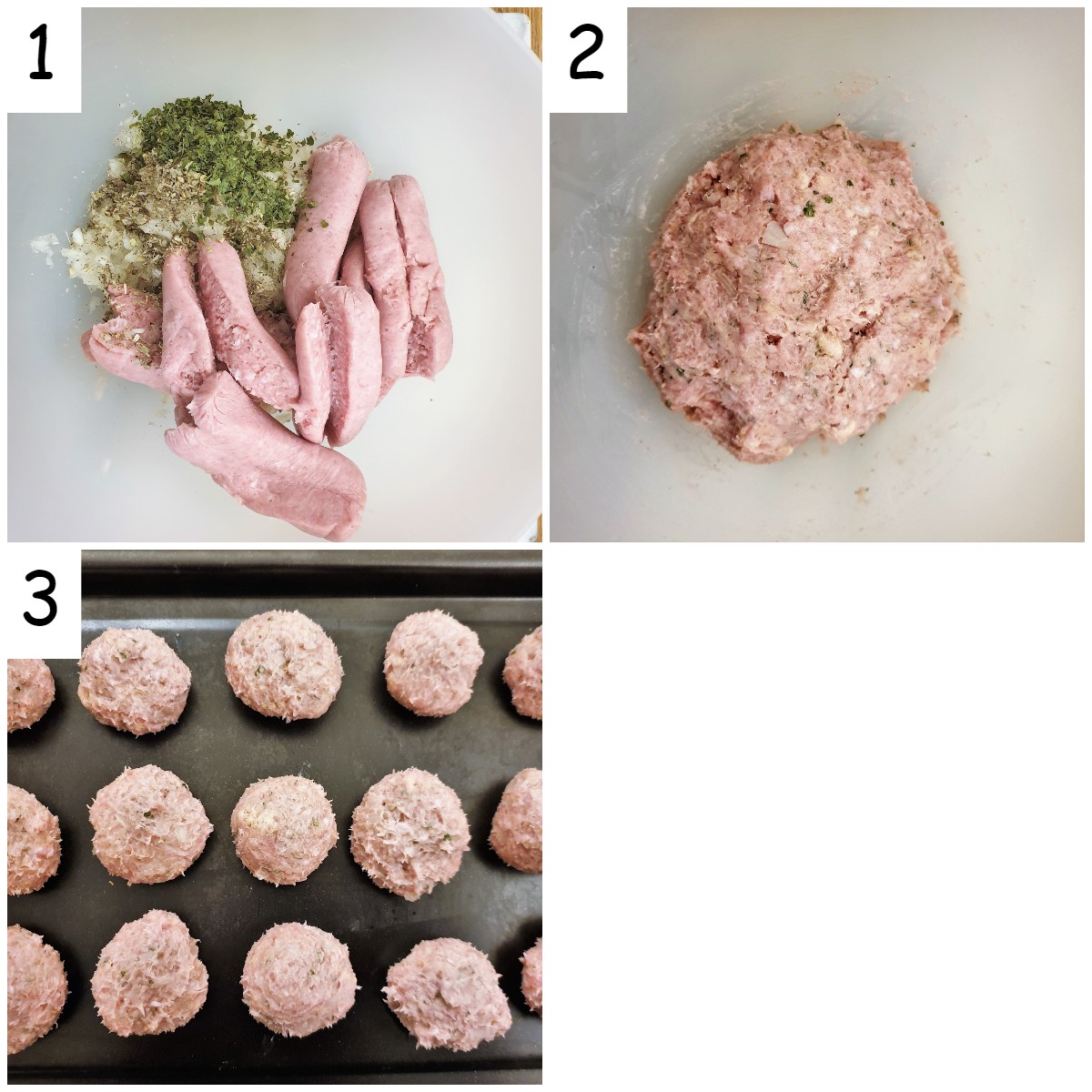 Breadcrumbs
The amount of breadcrumbs that you add to this stuffing depends on how loosely-packed you like your stuffing to be. The more breadcrumbs the lighter the texture of the stuffing. I like a denser stuffing and I have used 3 slices of bread. Adjust this to suit your own taste.
To make the breadcrumbs, just whizz 3 slices of bread in a food processor and them transfer the crumbs to a mixing bowl. If you don't have a food processor you can grate the bread on a cheese-grater instead.
Pork sausages
Use a good quality pork sausage – ones that you would actually fry and eat. A cheaper sausage will do the trick, but they normally contain a higher percentage of grain, and just don't have the same taste. You need a good meaty sausage. To make approximately 16 gold-ball sized stuffing balls you will need 1 pound of sausages (that's about 450g in metric measurements).
Slit the skins of the sausages, remove the sausage meat and add to the breadcrumbs in the mixing bowl.
Onions
I like to whizz my onions around in my food processor to chop them very finely. Once again, if you don't have a food processor you can chop the onions with a sharp knife, but do try to get them as finely chopped as possible. About the size of rice grains is ideal. You can also grate the onions on a cheese grater, but I would recommend squeezing the resultant juice out of the onions before mixing into the stuffing as the juice from grated onions can be inclined to be bitter.
Add the chopped onions to the mixing bowl.
Dried sage and parsely
For 1 pound of sausages I add 2 teaspoons of dried sage and 1 teaspoon of dried parsley.
You can use fresh herbs if you prefer but bear in mind that dried herbs are much more pungent than fresh herbs, and you will need 3 times the amount of fresh.
What to do
Once you have prepared all the ingredients and added to the mixing bowl, all you have to do is mix everything together very thoroughly. I find it easier to use my hands to do this, but you could use a spatula or wooden spoon instead.
As far as shaping the stuffing goes, you can either form it into golf-ball sized balls, or make into a sausage shape and use it to stuff a chicken or turkey.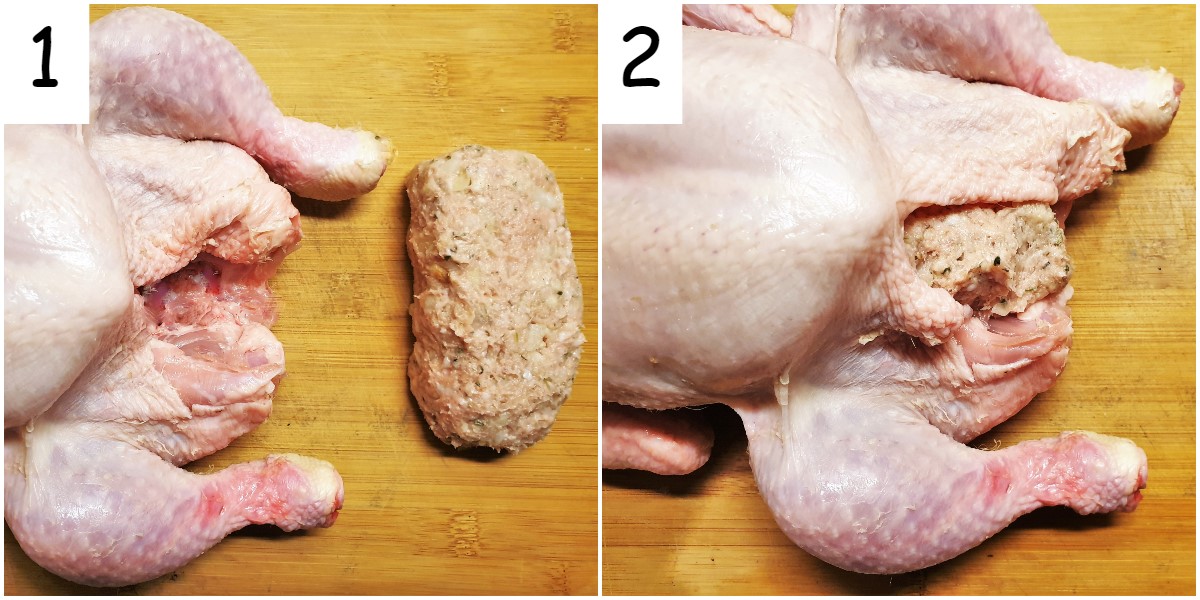 If you are putting the stuffing into the chicken, just roast the chicken as you would normally do. If you have made balls of stuffing, you could put them in the roasting pan with your roast potatoes. The stuffing balls will take approximately 20 minutes to cook, so take this into account if you do cook them in with the potatoes.
Leave the stuffing in the chicken while the chicken rests. Then remove the stuffing from the chicken and cut into slices before serving.
Of course, you could also just fill a small casserole dish with the stuffing and bake it in the oven for 20 minutes while the chicken is resting. That way you get to serve up a large spoonful of stuffing, rather than a small stuffing ball!
If you want to keep up-to-date with my latest recipes why not follow along on Facebook or Pinterest. And don't forget to subscribe to my mailing list so you can get your FREE COOKERY BOOK
How do you freeze stuffing?
This sage and onion sausage meat can easily be frozen. I normally make a big batch and cook half with my roast. The remainder gets rolled into balls and placed on a baking tray in the freezer to open-freeze.
Once the stuffing balls are frozen solid, just transfer them to a large ziploc freezer bag and store them for up to 3 months.
To use, just remove as many stuffing balls as you think you will need (plus one or two extra – believe me, they WILL get eaten) and place the frozen balls in with your roast potatoes. Do this about 20 minutes before the potatoes are ready.
If you prefer you could just place the frozen stuffing balls on a baking tray and bake in a hot oven (200C / 400F) for 20 minutes, turning once.
You could also just pack the mixed stuffing into a disposable aluminium baking dish and freeze. You can cook this from frozen too, but allow 25 minutes in a hot oven to give the stuffing time to cook through.

Why not try serving sage and onion sausage meat stuffing with one of these dishes:
Convert grams to cups
To help you convert your recipe measurements, I have created a handy Cookery Conversion Calculator which will convert ingredients between grams, ounces, tablespoons, cups and millilitres. I hope you will find it useful.
If you live at a high altitude you may find you need to adjust your baking recipes to compensate for this. You can read about how to do this in this post on baking at high altitudes.