Crispy roast duck, cooked to perfection and smothered in a delicious cherry sauce makes a delicious meal for those occasions when you are wanting to spoil the family. And it's easier to make than you would think. Just put it in a covered roasting tin for a couple of hours, then remove the lid to allow the skin to turn golden and crispy. Smother it with my delicious and easy cherry sauce, and you have a meal that wouldn't be out of place in a fancy restaurant, with hardly any effort on your part.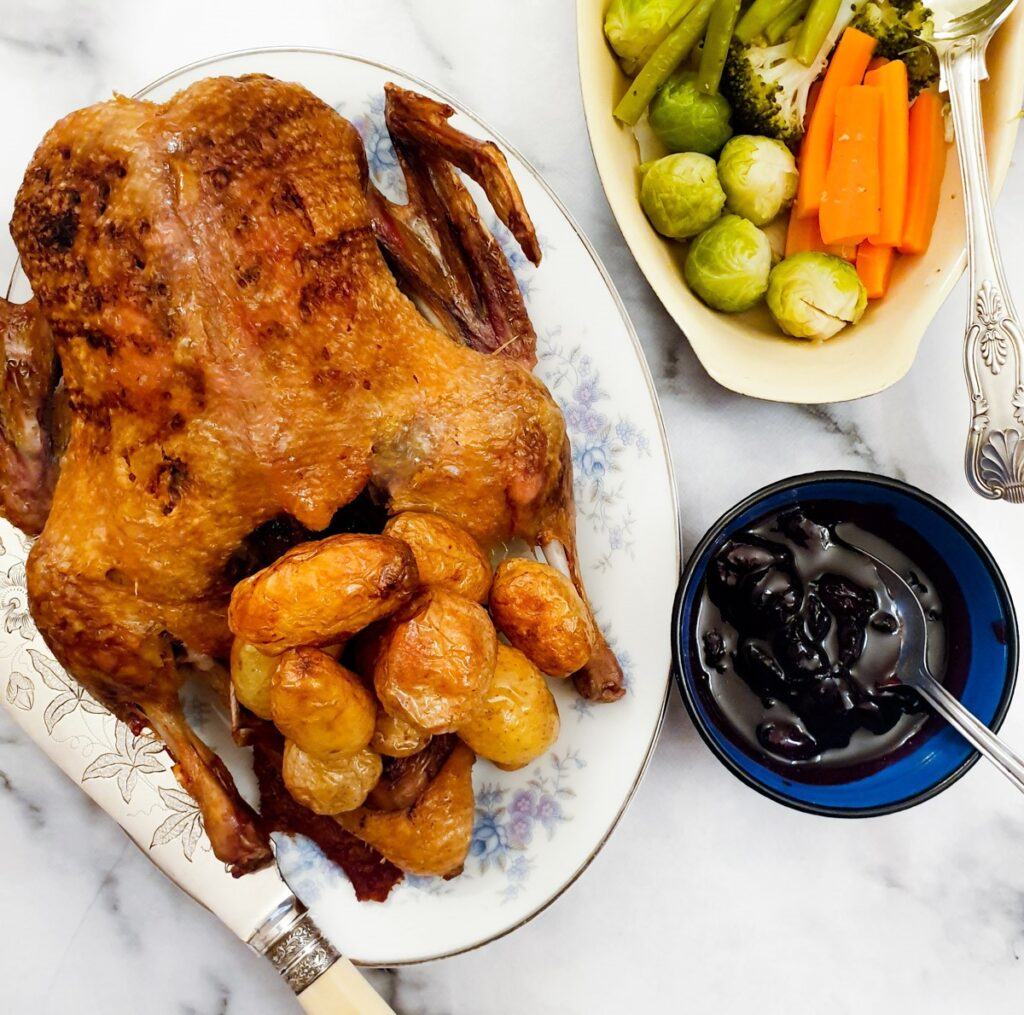 **As an Amazon affiliate, I earn from qualifying purchases.**
Crispy roast duck
A lot of people shy away from roasting a whole duck, mistakenly thinking it to be overly complicated and difficult. Which is a pity, because a duck is no more difficult to cook than a chicken, and to my mind tastes far superior.
A properly roast duck has a really crispy skin, which is the poultry-world equivalent of pork crackling. The meat beneath the skin is moist and tender, thanks to the fat that renders from beneath the skin as it roasts and bastes the meat before dripping down into the roasting dish.
There is not a huge amount of meat on a duck, compared to a chicken. Most of the meat is on the breast and legs, with very little on the carcass. To compensate you will need to buy a larger duck than you would a chicken. Given the exquisite taste of the roast duck though, it's worth a little extra expense to splash out on a meal like this occasionally.
The fat that cooks out of the duck can be saved and used for making the crispiest roast potatoes. And you can store any remaining duck fat in a bottle in the refrigerator for at least 6 months.
I like to serve this roast duck with roast potatoes (which have been cooked in some of the rendered duck fat) and a side dish of mixed steamed vegetables. And of course, the duck has to be smothered in the cherry sauce!
Cherry Sauce
I think this cherry sauce has to be the star of the show! It's sweet, it's tangy, it's thick and glossy, and it complements the flavour of the duck beautifully. Best of all it only takes 10 minutes to make.
If you have fresh cherries you can use those, but frozen cherries from the supermarket work just as well. Frozen cherries will cook faster than fresh, and they also have the advantage of being de-stoned so they save you a bit of time.
This cherry sauce not only goes with duck. It pairs beautifully with turkey or pork too. And it is especially good when served with a pork pie in place of chutney.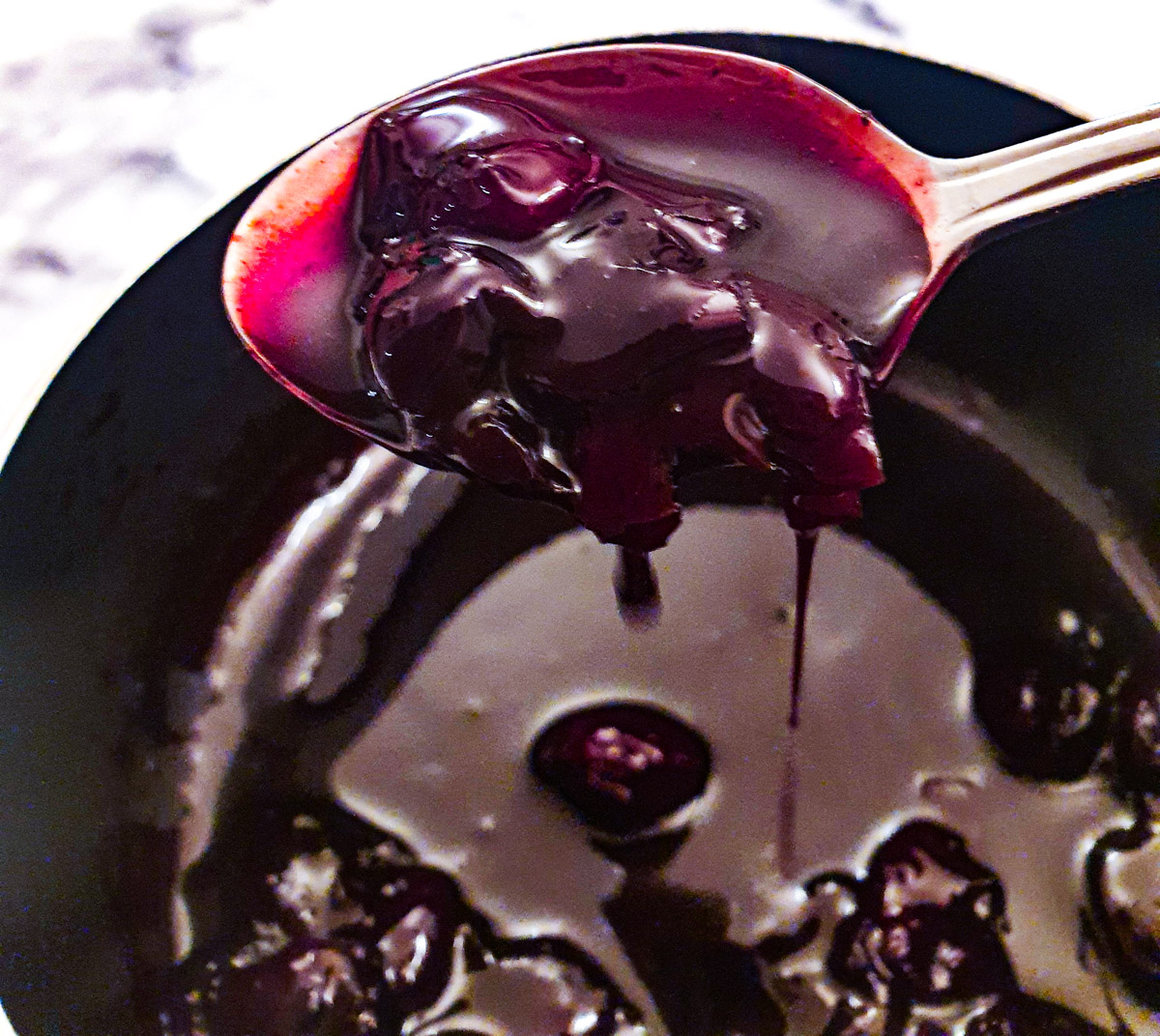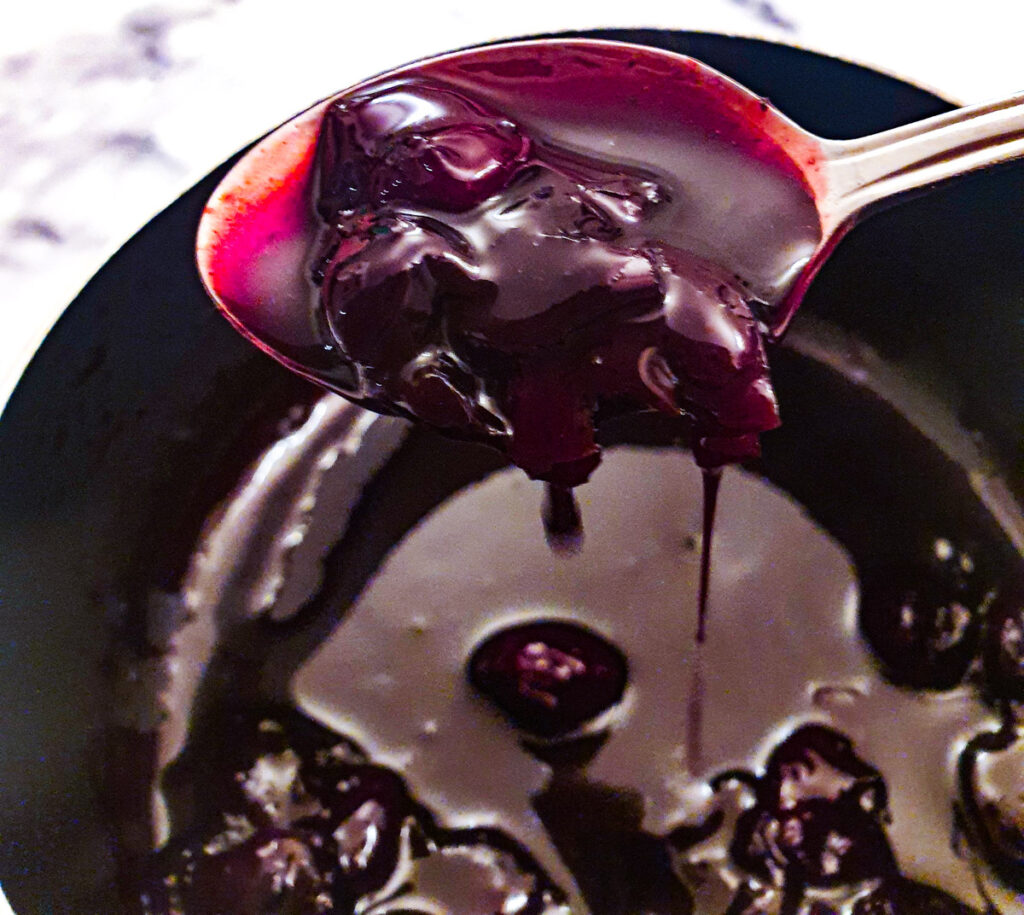 Tips for the best crispy duck
Roasting a duck is quite similar to roasting a chicken, but there are a few differences.
Get the duck skin as dry as possible. You can remove the duck from the packing and leave it uncovered on a shelf in the refrigerator either overnight, or at least for a couple of hours. Otherwise, just pat it with kitchen paper towels until it is completely dry.
If the duck has been in the refrigerator let it stand at room temperature for half an hour before cooking.
The skin of the duck should be scored or pricked to allow the layer of fat under the skin to render out properly. Some people like to cut criss-cross pattern or make diagonal cuts across the skin, but I prefer the skin to stay whole, so I just pierce the skin all over with the point of a sharp knife.
Remove any excess fat from the duck before putting it in the roasting tin. You will see that most of the extra fat is inside the neck cavity, and also on the flap of skin around the tail area. You can add this fat into the roasting tin with the bird so it can render, or you can discard it.
Rub the skin all over with salt before putting the duck in the oven.
Don't add any fat or oil to the roasting pan – there is more than enough fat in the duck.
Place the duck on a rack in the roasting pan to keep it out of the rendered fat. If you don't have a rack just scrunch up a few balls of aluminium foil and place the duck on those.
Cook the duck in a covered roasting pan. Half an hour before the duck is ready, remove the lid and pour off most of the rendered fat, then return the pan to the oven and cook uncovered for the final half hour to crisp the skin.
Always rest the duck for at least 20 minutes after cooking to allow the juices to settle back into the meat. If you don't do this, the juices will just run out of the meat when you carve the duck.
Ingredients
**Get the complete list of ingredients and full instructions for making this crispy roast duck with cherry sauce on the printable recipe card at the end of this post**
This will serve 4 people.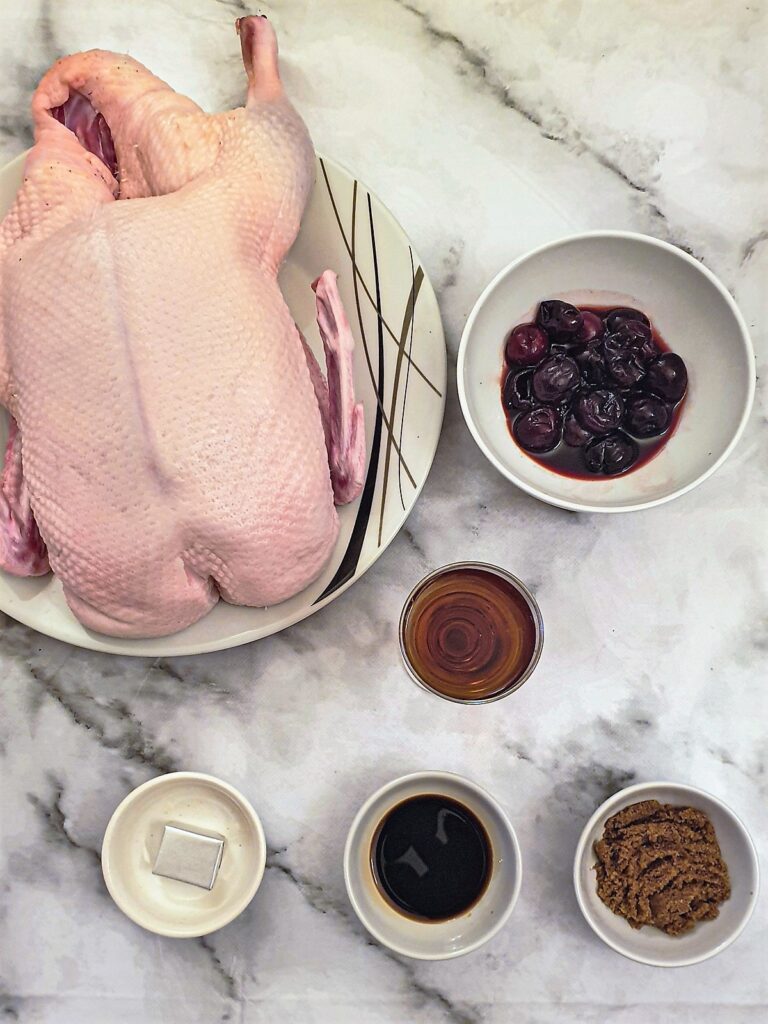 Duck – To feed a family of 4 people you will need a duck weighing between 5 and 6 pounds (that's 2.25 to 2 75 kilograms).
Cherries – frozen cherries work very well for this sauce. You could use fresh cherries when they are in season, but you would have to remove all the cherry stones. If you do use fresh cherries, you will have to simmer the sauce for about 10 minutes longer to give the fresh cherries time to break down.
Sherry – you can substitute this with port or even red wine. If you don't want to use alcohol, you can substitute with extra stock and an additional tablespoon of balsamic vinegar.
Brown sugar for sweetness and to counteract the tartness of the vinegar.
Balsamic vinegar – for tartness.
Stock cube – I used a vegetable stock cube dissolved in boiling water. You could use a chicken stock cube if you prefer. If you have fresh stock to hand by all means use that instead.
How to make it
Roast duck
Remove the giblets from the inside of the duck. You can use them to make duck stock, which can be added to casseroles or used as a base for gravy.
If you are preparing this a day ahead, place the duck on a large plate (uncovered) and leave it in the refrigerator overnight to allow the skin to dry. Dry skin = crispy skin. Otherwise, if you are in a hurry, just pat the skin as dry as possible with a few sheets of kitchen paper towel.
You can cut the wing tips off or leave them on. Some people enjoy crunching through the crispy wing tips 🙂
Turn the duck breast side up and then prick the skin all over with the point of a sharp knife. Just pierce the skin and fat – try not to cut into the meat.
Now rub the duck skin all over with about a teaspoon of salt.
Place the duck on a rack in a roasting tin, tuck the wings underneath, cover the roasting tin with the lid (or aluminium foil) and roast it in the oven at 170C / 340F for 1 hour and 50 minutes.
If you don't have a rack, just scrunch up a few balls of aluminium foil and rest the duck on those.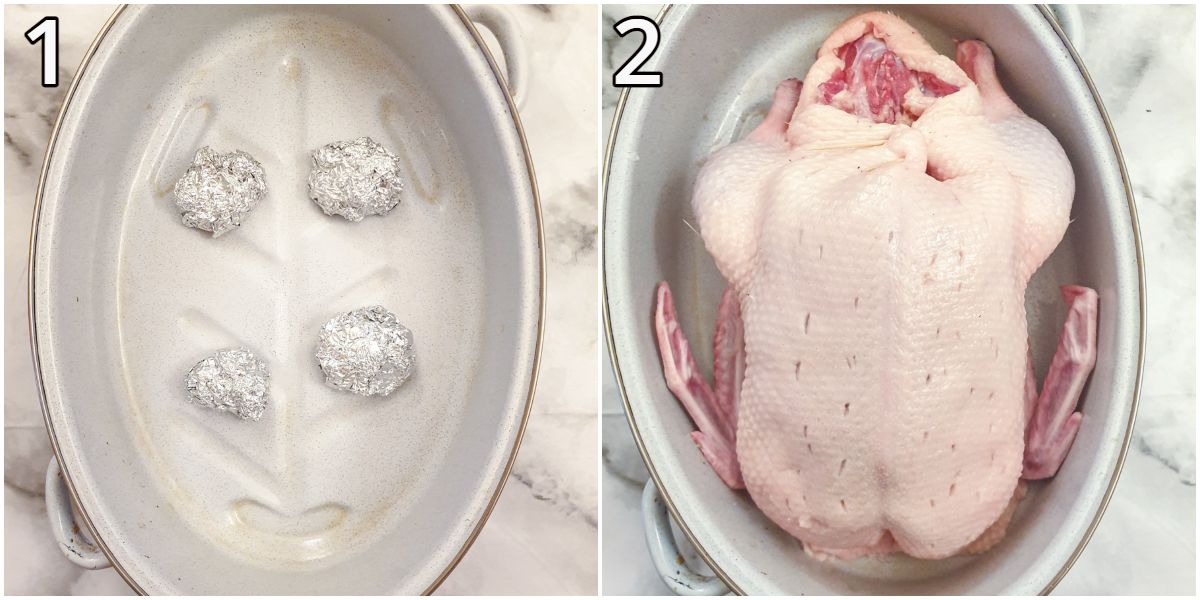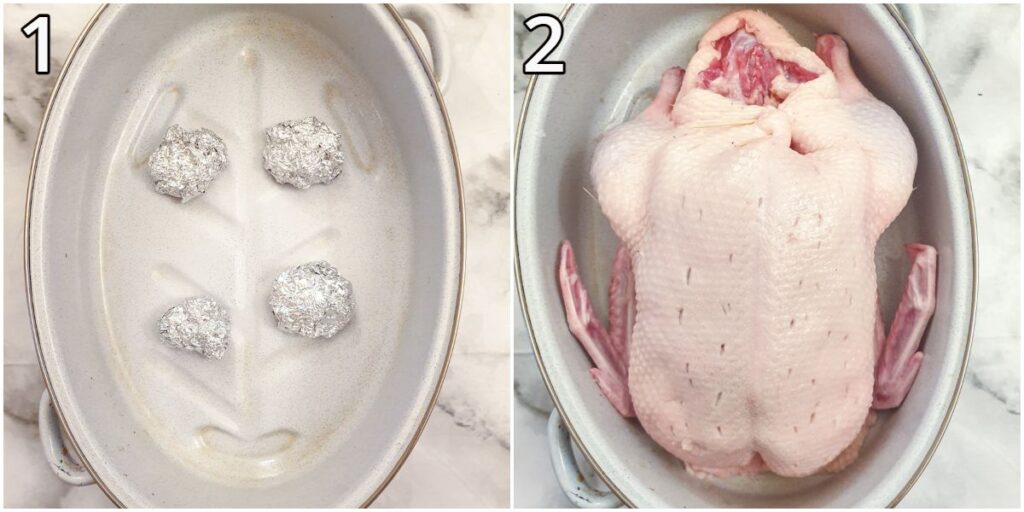 Once the cooking time is up remove the duck from the oven and pour off most of the duck fat. Save this for making crispy roast potatoes.
Return the duck to the oven (without the lid) and roast for a further 20 to 30 minutes until the skin is crispy and golden.
The internal temperature of a cooked duck should be at least 74C / 165F.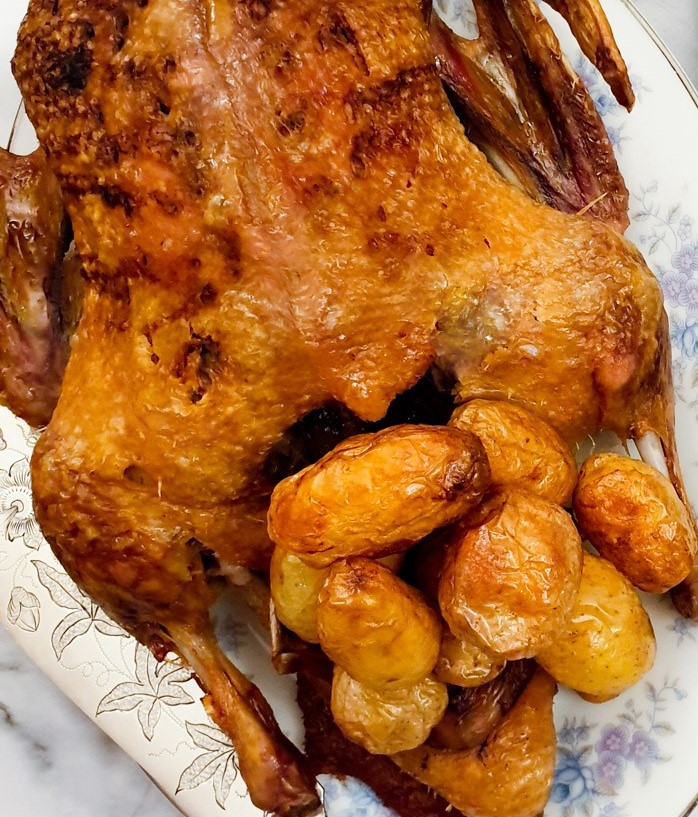 Remove the duck from the oven, cover it with the lid or with a sheet of aluminium foil and leave to rest for at least 20 minutes before carving and serving.
Cherry sauce
To make the cherry sauce, combine all the ingredients into a small saucepan and bring to the boil.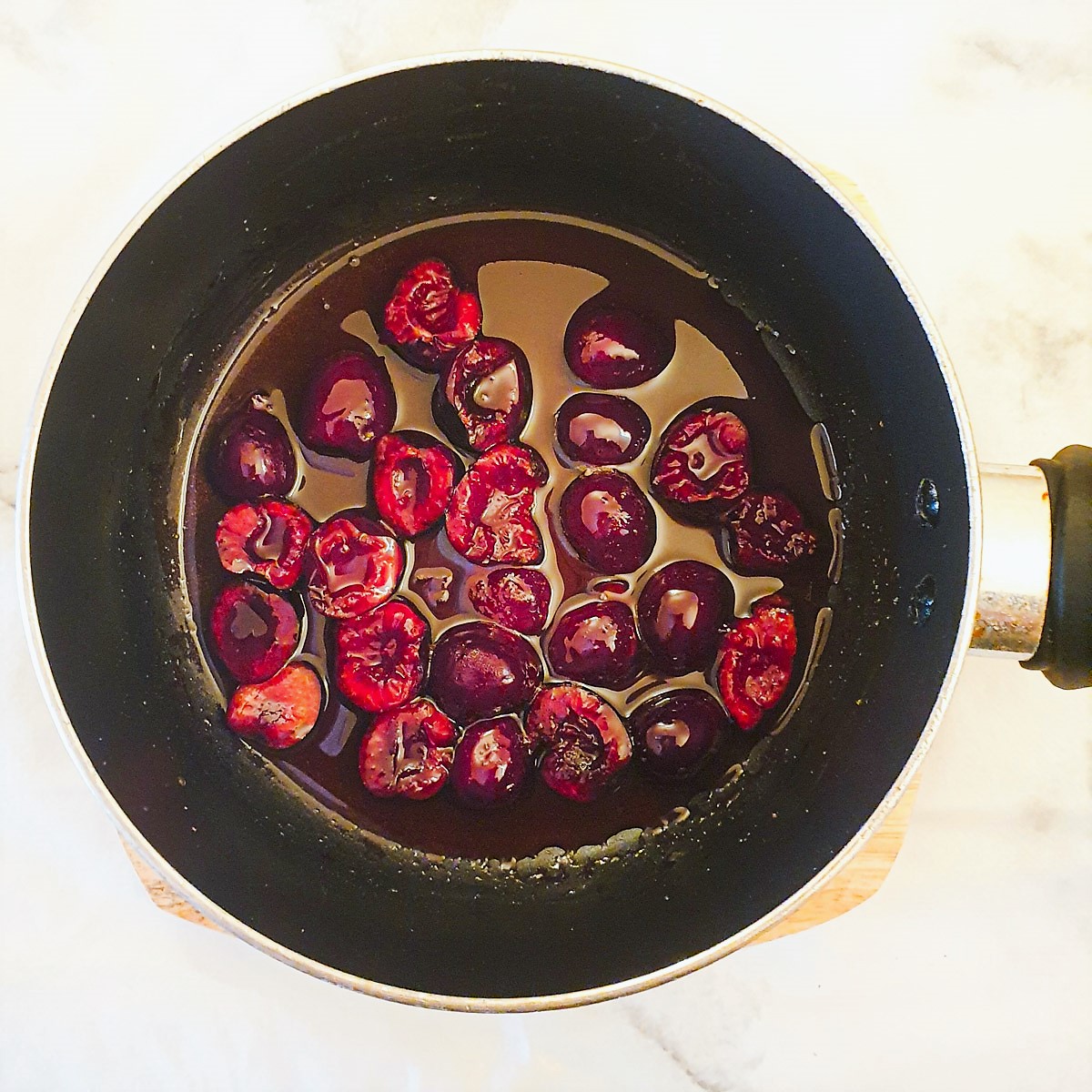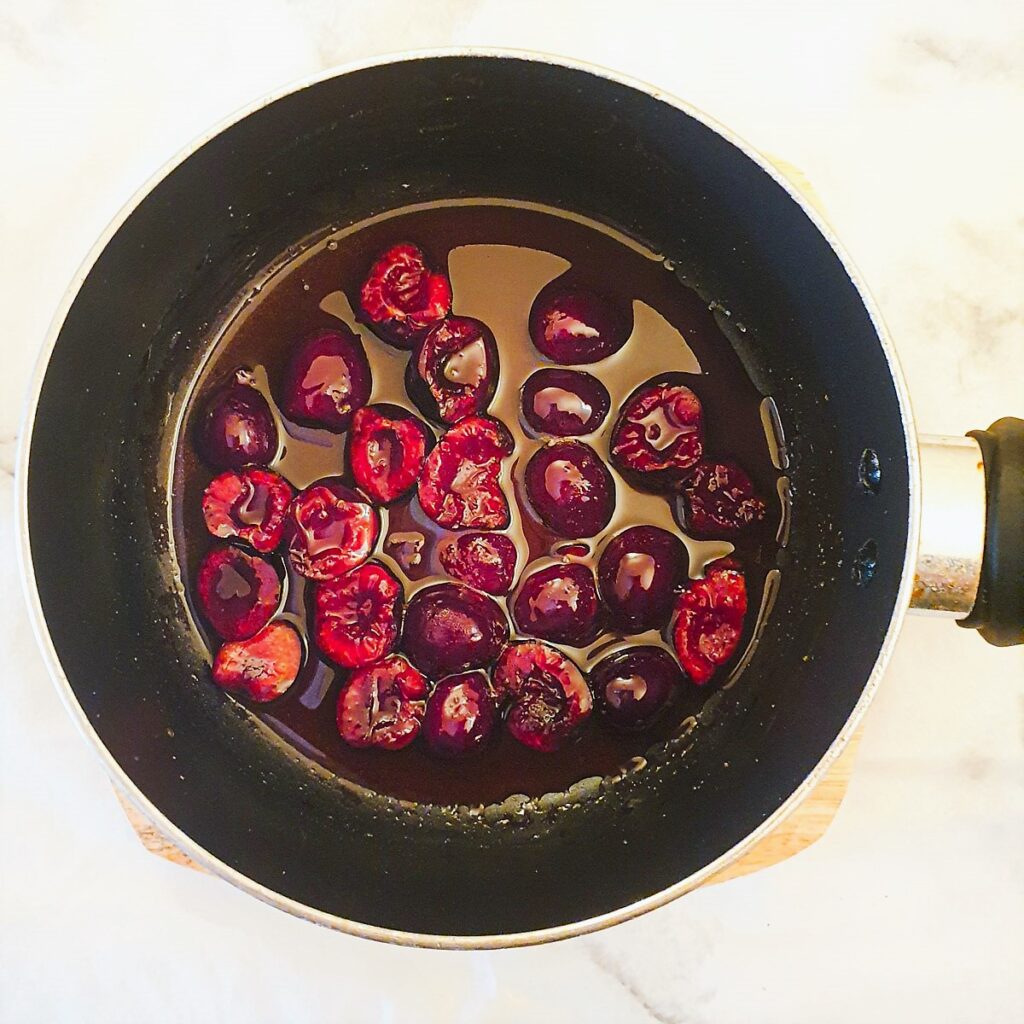 If you are using fresh cherries you may have to simmer for an additional few minutes.
Crispy roast potatoes
It wouldn't be fair if I didn't give you my method for making perfectly crispy roast potatoes (as shown in the photos with the duck) as an accompaniment.
I used baby potatoes in their skins because I love the way the skin crisps up like a mini baked potato. You can use your potato of choice and either peel them or not, whatever you prefer.
Place as many potatoes as you think your family will eat into a saucepan. Add salt to taste and then cover with cold water.
Bring the potatoes to a boil and leave them to cook for about 7 minutes until you can just pierce the potatoes with a knife.
Drain the potatoes.
Pour 4 or 5 tablespoons of duck fat into a roasting tray and allow it to heat in the oven for about 5 minutes.
Add the par-boiled potatoes. Turn the potatoes to coat them in the duck fat, then sprinkle with a little extra salt. This helps the potatoes crisp up.
Top tip – line the pan with aluminium foil before adding the duck fat and the potatoes – it makes washing up so much easier.
Place the dish of potatoes in the oven either next to or below the duck and leave them for about half an hour or until they are crispy and golden.
If your oven is on the small side, you can cook the potatoes while the duck is resting.
How to portion the duck
Once again this is a matter of preference.
You could just carve slices from the duck using a sharp carving knife.
I prefer to separate the breasts and the leg meat as follows:
Using a sharp knife, make a slit along one side of the breastbone and carefully cut away the breast. Repeat with the other side.
Cut each breast into slices so that you have a piece of meat, topped with the crispy skin.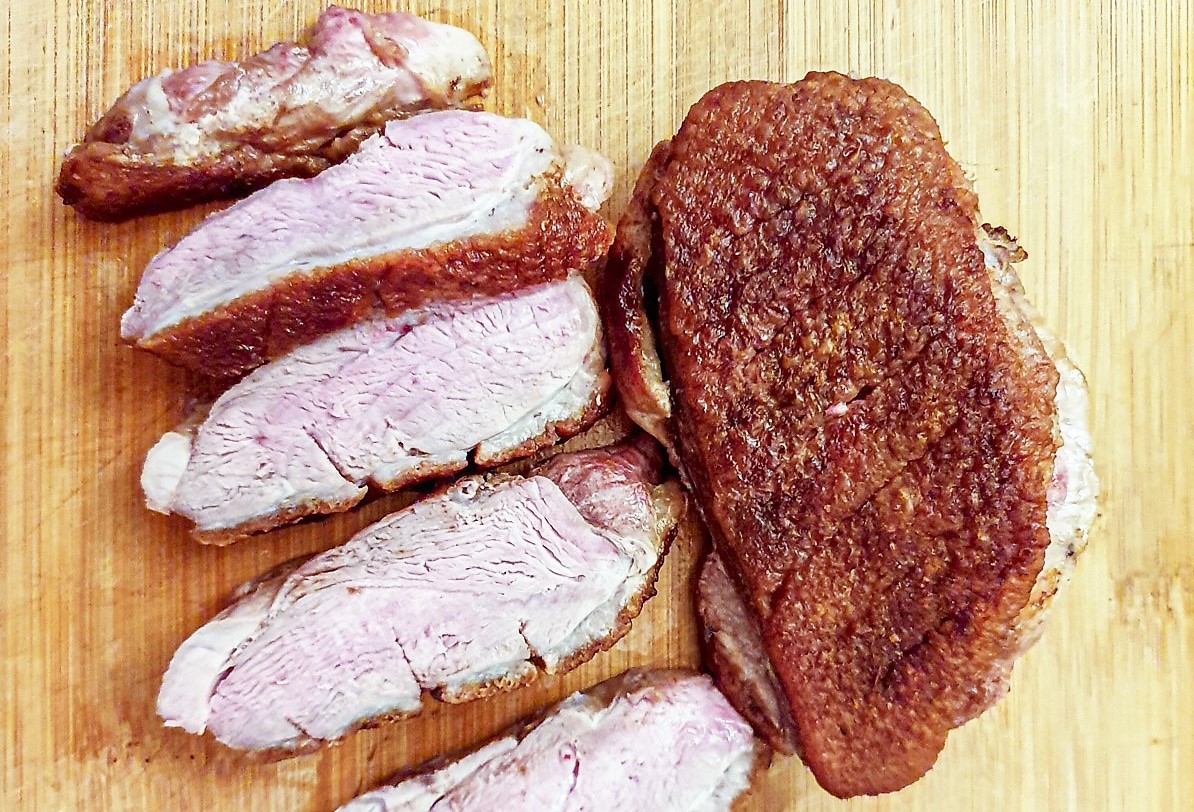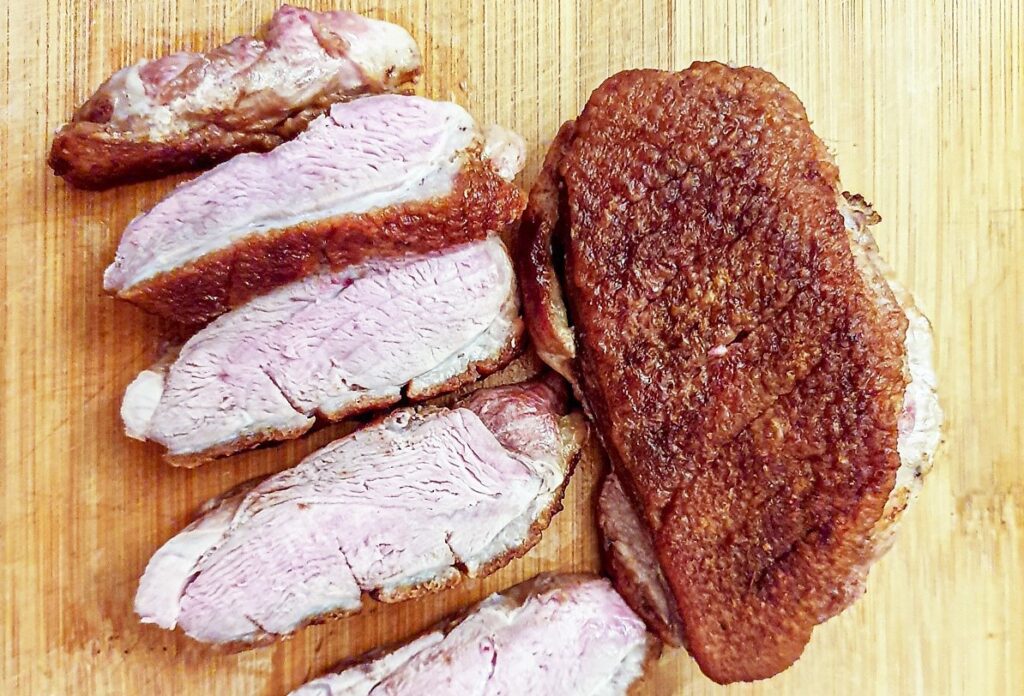 Pull the legs away from the carcass. They should come away easily but you may need a knife to help you. Then slice through between the thigh and the drumstick.
Cutting the duck in this way means that everyone can have some white meat (breast) and some dark (legs).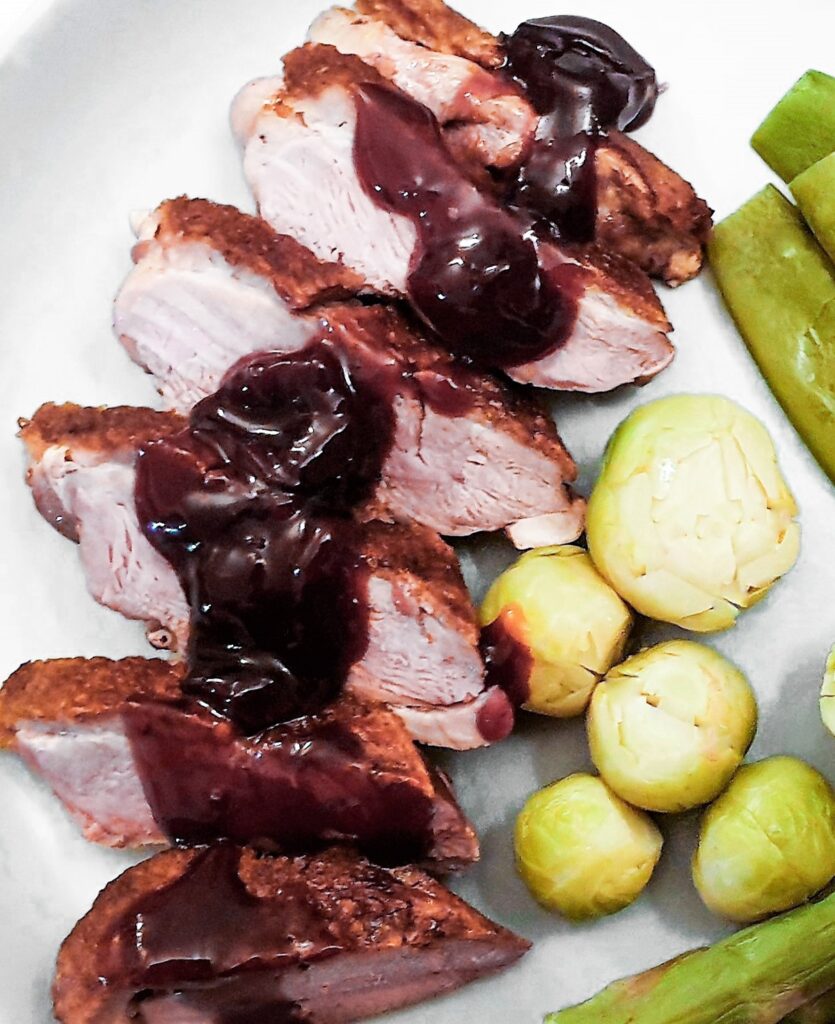 If you'd like to be notified of any new recipes, why not subscribe to my newsletter. As a thank-you gift, you will receive a free recipe e-book containing some of my most popular cakes and desserts.
What are the cooking times for duck?
Some websites recommend roasting a duck (uncovered) at quite a high temperature (200C/400F) for 40 minutes per kilogram, plus an extra 20 minutes. For a 2 kg duck this would work out at 100 minutes, or 1 hour and 40 minutes. I've found that this sometimes results in a duck that is quite tough.
I much prefer this way of roasting a duck (covered) at a lower temperature (170C/340F) for 45 minutes per kilogram plus an extra 20 minutes, which works out at 1 hour and 50 minutes for a 2 kg duck, and then allowing another 20 minutes or so to crisp the skin.
Pin for later
If you would like to try this crispy roast duck with cherry sauce for yourself, why not pin the recipe to one of your Pinterest boards so you can find it easily when you need it. Just click the image below.
Other recipes you may enjoy
If you want to try making a crispy duck in a pressure cooker, I've got a recipe here for that – how to cook duck in a pressure cooker.
For a Chinese meal that's better than any takeaway, take a look at this recipe for duck in garlic sauce with vegetables.
And if you are looking for ideas for leftover duck, why not try these crispy duck pancakes with hoisin sauce?
The recipe
If you made this recipe and enjoyed it, I'd love it if you could give me a star rating in the comments below. And if you'd like to get in touch, you can email me at [email protected]. I'd love to hear from you. And don't forget to subscribe to my mailing list so you can grab yourself a copy of my FREE COOKBOOK!
If you'd like to continue browsing, just click on this link to all my recipes.