This homemade spaghetti bolognese sauce tastes sooooooo much better than sauce from a jar. And it is so easy to make yourself. Just a few simple ingredients and you can be tucking into a delicious plateful tonight.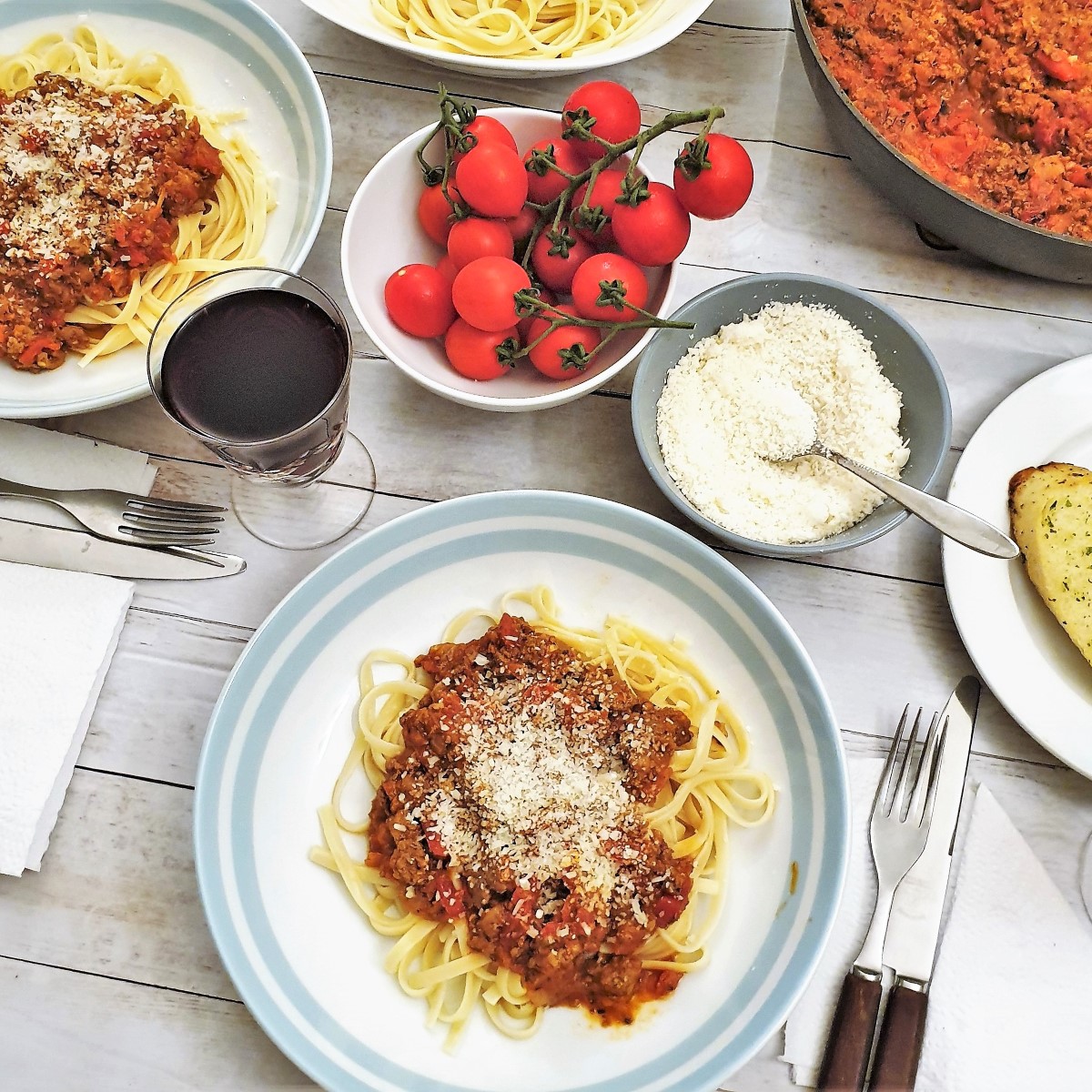 Easy homemade spaghetti bolognese sauce
A plate of good old spag bol has to be the recipe that I call for when I want a quick and easy supper that tastes amazing but doesn't mean hours in the kitchen.
Now, I know you can easily boil up a pot of spaghetti, pour over a bottle of store-bought sauce, and call it supper, but when you consider how quickly you can make your own bolognese sauce, and how much better it tastes, this is a no-brainer.
Start to finish, this sauce takes literally minutes to prep, then you just leave it to simmer away on the stove until you are ready to eat it. And what you get is a meaty tomato-based spaghetti sauce that will have everyone begging for seconds.
What I like about this recipe is how well it freezes. When I make this bolognese recipe I always double up on the ingredients and pop the freeze for a later meal. It saves on electricity, but more importantly, it saves on time.
And once this spaghetti sauce is in the freezer, the sky's the limit as to what you can do with it. Turn it into a lasagna, make cannelloni crepes with cheese sauce, rustle up a batch of delicious homemade bolognese sausage rolls or even stuff it into these 5 minute homemade vetkoek. You could also just have plain old spag bol 🙂 .
And of course, the family will be delighted. Because let's face it, everyone loves spaghetti bolognese!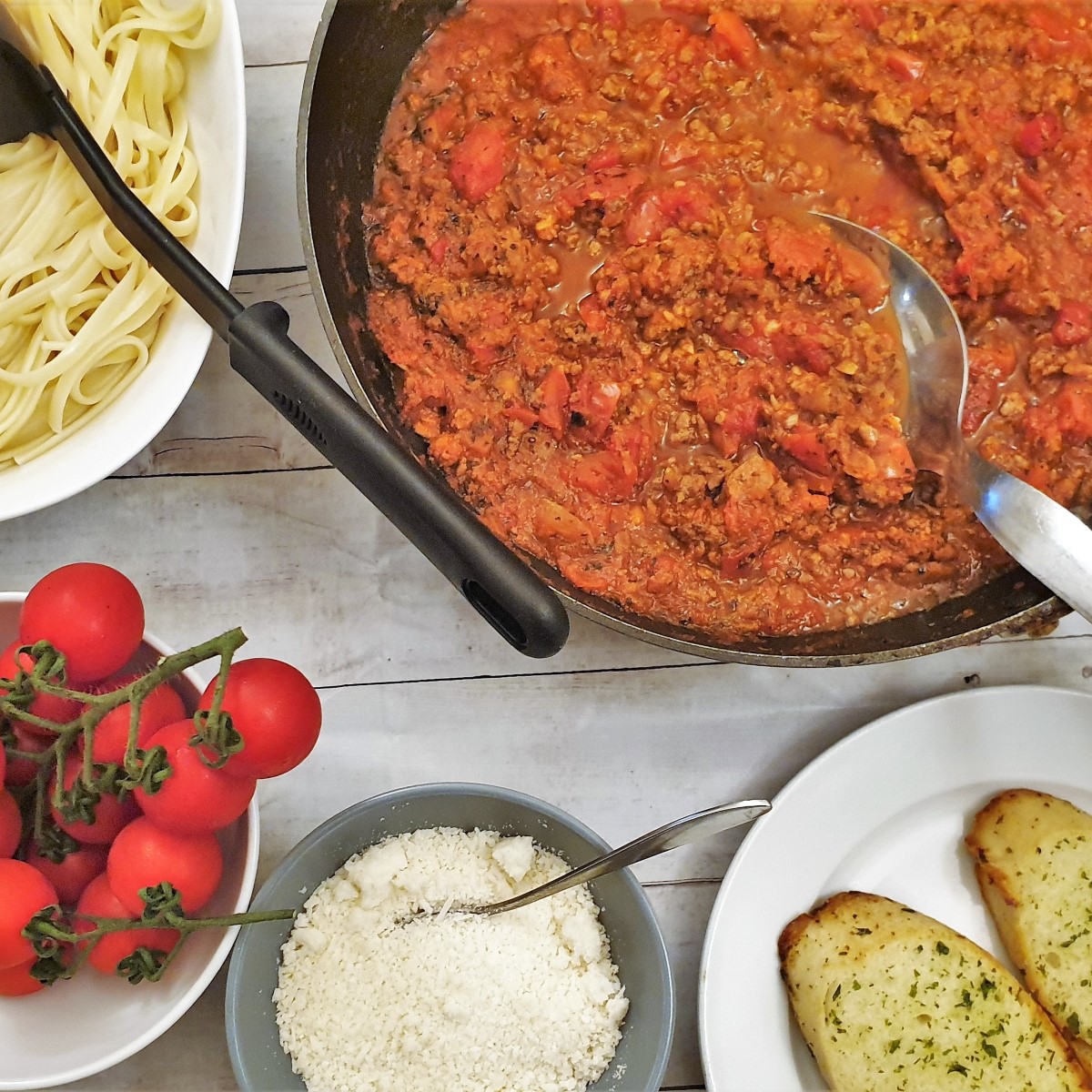 How to make spaghetti bolognese sauce
This recipe will serve make 4 generous helpings, and there might even be enough left over to freeze for later!
The ingredients you will need:
Equal quantities of ground beef and ground pork. You can use just ground beef if you prefer. I like to add pork because I think it adds an extra layer of flavour to the sauce.
Finely diced onion, grated carrot and chopped fresh tomatoes. -The carrot should be grated on the smallest holes of your grater, so that it can cook away into the sauce. And the onions and tomatoes should be very finely chopped.
Garlic minced or finely chopped. This is optional – traditional bolognese sauce does not normally contain garlic, but I like the flavour so I add it.
A can of chopped tomatoes and some tomato puree – there is a lot of tomato in this recipe, but it does not overpower the final dish.
For the spices, you will need dried oregano, basil and thyme
Sugar – I always add a small amount of sugar when cooking with tomatoes as it brings out the flavour and cuts through the tartness. You can leave this out if you prefer.
Salt, which as always is optional and to your own taste.
Freshly ground black pepper
Olive oil for frying
1½ cans water – I use the can that the tomatoes came in to measure the water.
Spaghetti – or other long pasta, such as linguine or tagliatelle.
Now follow these easy steps
Preparing the bolognese sauce is easy – you can have this dish prepared and simmering in 15 minutes. Then you just leave it to cook away by itself!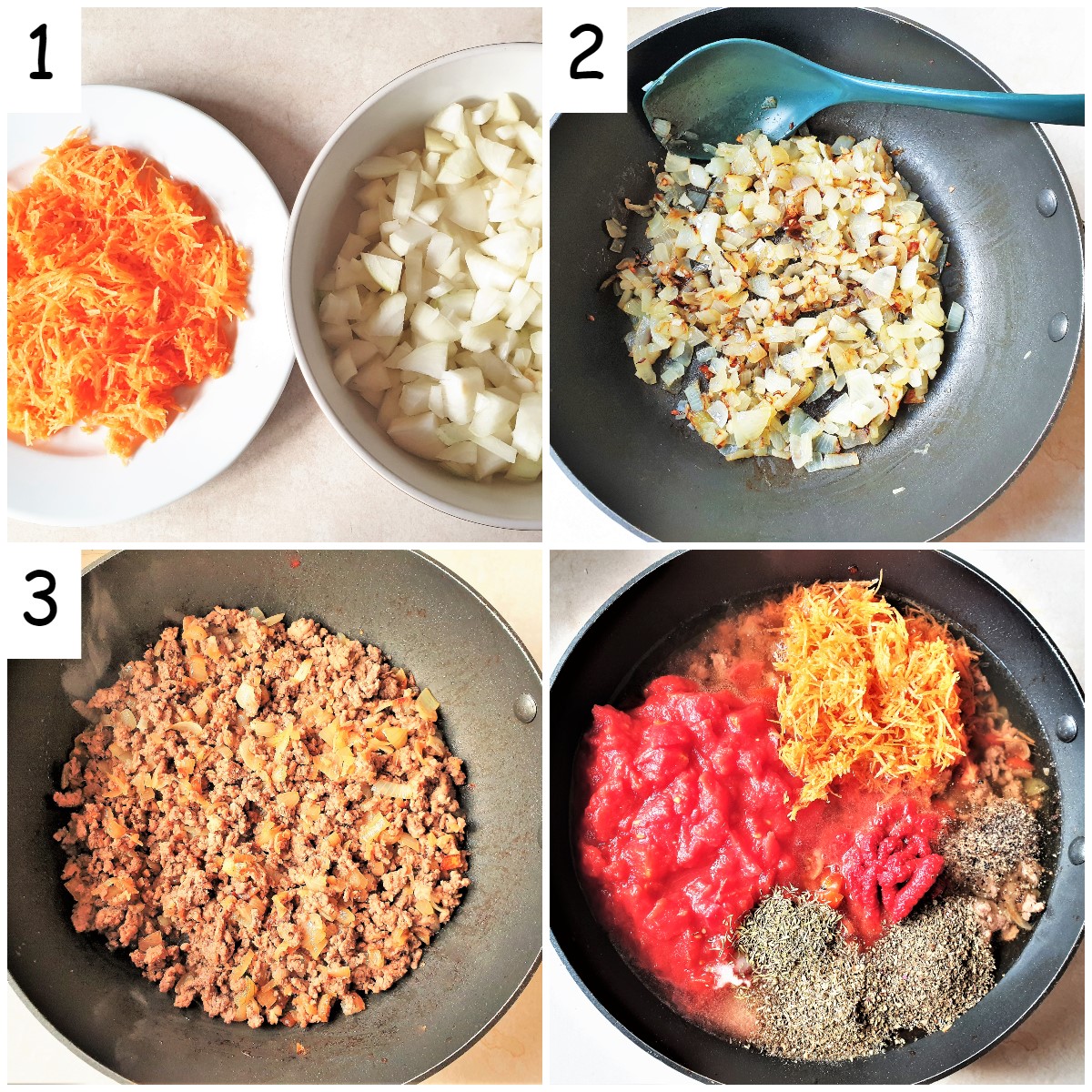 Prepare the vegetables. Grate the carrots and chop the onions and fresh tomatoes. See image 1 above for the size that the carrots should be grated.
Fry the onions in olive oil until they soften, then add the meat. Continue to fry, breaking up any lumps of meat with a spatula until the meat is brown and crumbly.
Add the rest of the ingredients. Use the empty tomato can to measure out the required amount of water.
Now stir well and bring to the boil, then reduce the heat. Cover the pan with a tightly fitting lid and leave to simmer on the lowest heat setting for at least 90 minutes. You can leave it longer, it won't come to any harm, but just check occasionally to see that it does not boil dry. Top up with additional water if necessary.
20 minutes before the sauce is ready, put a large saucepan of salted water on to boil. Once it is boiling, add the pasta and boil for the length of time given on the packet.
To serve, arrange a bed of pasta on each plate, spoon the bolognege sauce over the pasta, and sprinkle generously with parmesan cheese. If you are feeling really hungry, add a couple of slices of garlic bread and some cherry tomatoes, or a leafy green salad on the side.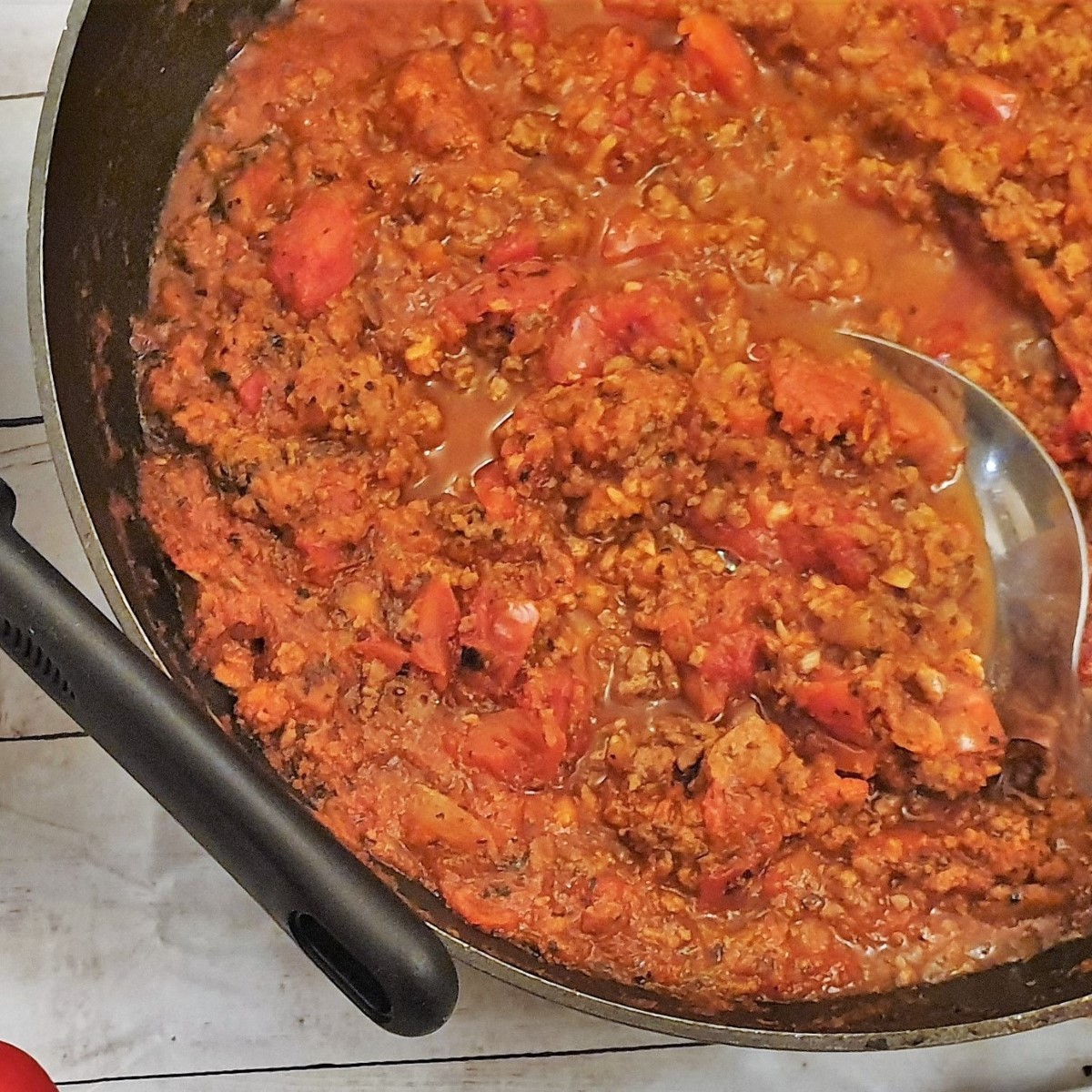 If you want to keep up-to-date with my latest recipes why not follow along on Facebook or Pinterest. And don't forget to subscribe to my mailing list so you can get your FREE COOKERY BOOK
Can I freeze bolognese sauce?
Yes, you can freeze this sauce. Just allow it to cool and then ladle into plastic containers. You can freeze this sauce for up to 4 months.
To defrost, leave in the fridge overnight, or tip the frozen sauce into a saucepan on a very low heat and defrost in the saucepan. Once the sauce has defrosted, increase the heat and bring to the boil.
Can I make it in advance?
You can make this bolognese sauce up to 3 days in advance and store in a covered container in the refrigerator.
When you are ready to use it, just reheat it in a saucepan on the stove.

If you enjoyed this bolognese recipe, you may also enjoy these other recipes made with ground beef.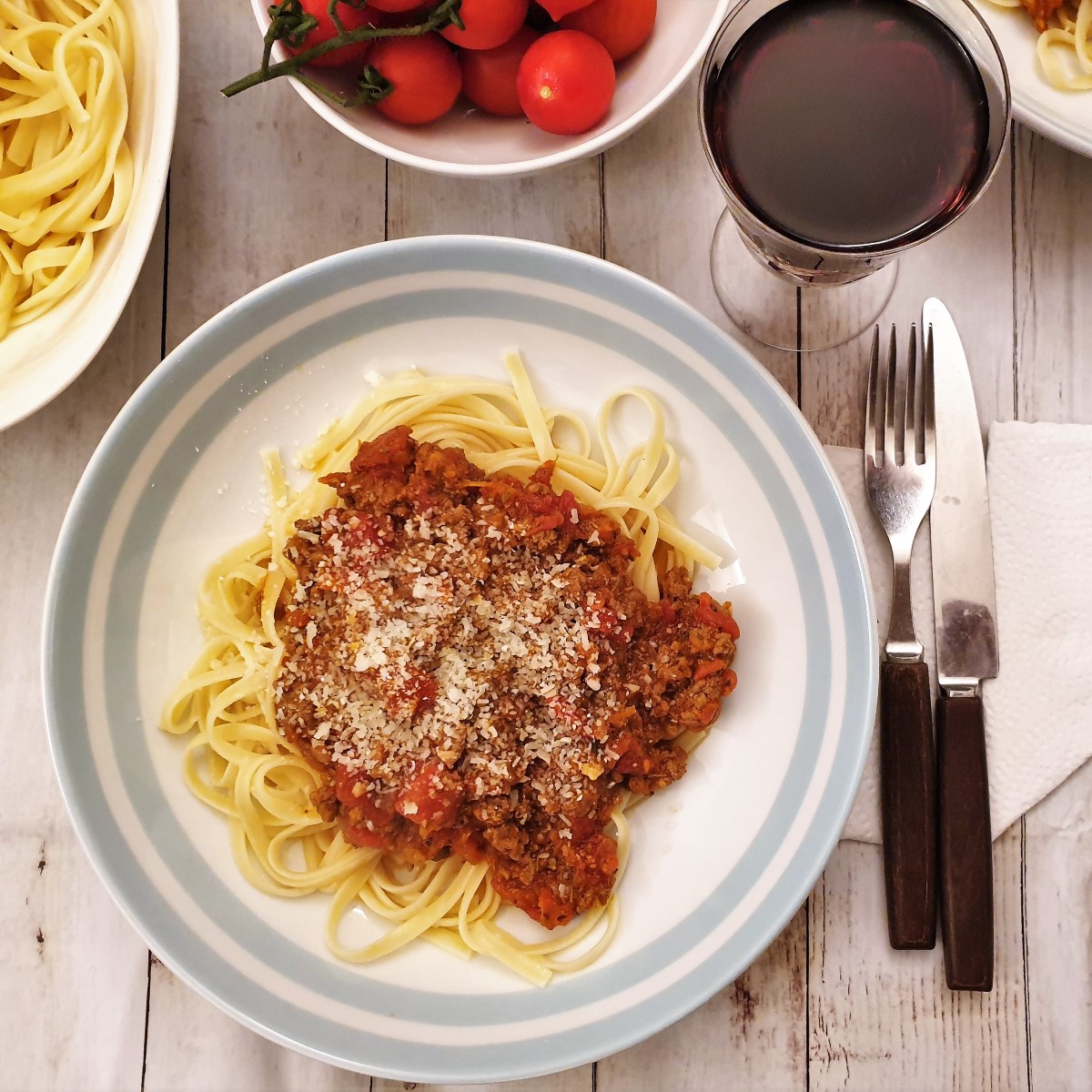 Convert grams to cups
To help you convert your recipes, I have created a handy Cookery Conversion Calculator which will convert ingredients between grams, ounces, tablespoons, cups and millilitres. I hope you will find it useful.
If you live at a high altitude you may find you need to adjust your baking recipes to compensate for this. You can read about how to do this in this post on baking at high altitudes.
Pin for later
Why not pin this recipe to your pinterest board so you can make it later. Just click the image below.
Easy homemade spaghetti bolognese sauce recipe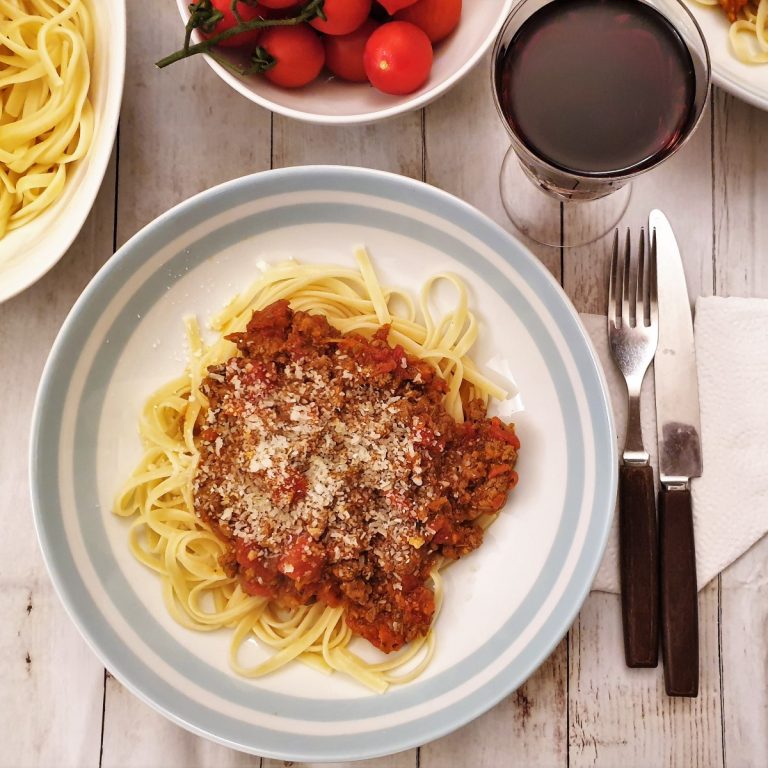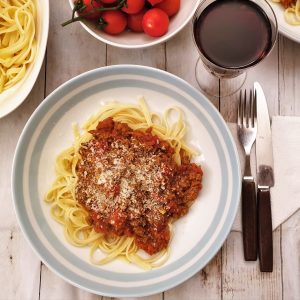 Spaghetti bolognese sauce
Tender ground beef and pork slow-cooked in an authentic Italian tomato-based sauce and, served on a bed of spaghetti.
Print recipe
Leave a comment
Adjustable servings – hover to scale:
4
people
Equipment
Sharp Knife

Chopping Board

Large saucepan with lid

Wooden spoon or spatula
Ingredients
8

oz

(425g) ground beef

8

oz

(425g) ground pork

1

large

onion

finely diced

1

large

carrot

grated

2

medium

tomatoes

coarsely chopped

2

cloves

garlic

minced or finely chopped (optional)

14½

oz

(400g) can chopped tomatoes

2

tablespoons

tomato puree

1

teaspoon

dried oregano

1

teaspoon

dried basil

1

teaspoon

dried thyme

1

teaspoon

sugar

1

teaspoon

salt

optional

½

teaspoon

freshly ground black pepper

2

tablespoons

olive oil

for frying

1½

cans

water

8

ounces

450g dried spaghetti
Instructions
Peel and finely chop the onion. Peel and finely grate the carrot. Chop the tomatoes. Peel and mince the garlic. (See notes 1 and 2).

Heat the olive oil in a large pan and stirfry the onion and garlic (if using) on a low heat until the onions start to soften and turn translucent.

Add the meat and continue to stirfry, until the meat is browned and crumbly. Break up any lumps of meat with a wooden spoon or spatula.

Add the rest of the ingredients. (See note 3).

Stir well to combine then bring to the boil. Once boiling, reduce the heat to a very low simmer, cover the pan with a tightly fitting lid and leave to simmer for about 1½ hours. (See note 4).

If the sauce is too runny after 1½ hours, remove the lid, turn up the heat slightly and allow to cook for a few minutes longer to reduce and thicken.

20 minutes before the sauce is ready, boil a pan of water, then cook the spaghetti for the length of time indicated on the packet.

Serve over spaghetti, sprinkled with parmesan cheese and accompanied with fresh cherry tomatoes and slices of garlic bread. (See note 5).
Notes
Note 1 – The onion should be chopped into approximately

½-centimetre

 dice.  Grate the carrot on the finest grater setting.  Cut the tomato into approximately 1-centimetre dice.  If you prefer, you can remove the tomato skins by making a small cross at the base of each tomato, and covering the tomatoes with boiling water.  Leave for 2 minutes then pour off the water.  The skins should peel off easily.
Note 2 – A true bolognese sauce does not contain garlic.  If you prefer to add garlic you should fry it with the onions.
Note 3 – You will need 1½ cans of water.  Use the empty tomato can to measure the water.
Note 4 – Keep your eye on the pan.  If the sauce starts to boil dry, top up with a small amount of extra water. One and a half hours is my suggested time.  You can leave this for longer with no danger of the sauce over-cooking.  This sauce benefits from a long cooking time over a very low heat.
Note 5 – This sauce is normally served with spaghetti or linguine, but you could also serve it over shell-shaped noodles, or even use it to make a lasagne.  Cook the pasta according to the directions on the package.  Allow 2 ounces (approx 50g) of dried pasta per person.
To freeze – allow to cool, then pack into plastic containers and store in the freezer for up to 4 months.  To use, defrost in the refrigerator and then reheat in a saucepan on the stove until piping hot.
Nutrition – the calorie count does not include any pasta that you may serve with this dish.
Nutrition
Share on Facebook
I am not a nutritionist. The nutrition information has been calculated using an on-line calculator, and is intended for information and guidance purposes only. If the nutrition information is important to you, you should consider calculating it yourself, using your preferred tool.
If you made this recipe and enjoyed it, please don't forget to give me a star rating in the comments below. And if you'd like to get in touch, you can email me on foodleclub1@gmail.com. I'd love to hear from you. And don't forget to subscribe to my mailing list so you can grab yourself a copy of my FREE COOKBOOK!
If you'd like to continue browsing, just click on this link to all my recipes.