Have you ever wondered what to do with your leftover bolognese mince? The obvious answer is to freeze it for another day, but if you mix it with Panko breadcrumbs and wrap it in pastry, you can turn it into the most delicious bolognese sausage rolls.
**As an Amazon affiliate, I earn from qualifying purchases.**
Leftover bolognese mince
Spaghetti bolognese often features on our weeknight menu. It's such an easy dish to throw together. The problem is that I always have a lot left over. I come from a big family, and I'm used to cooking large portions. Now that there's just Graham and myself at home, I'm finding it difficult to adjust my portion sizes to cater for only two people.
No matter how hard I try, I always seem to make too much and end up with half a pan of leftover bolognese mince. I tend to freeze it most of the time, and it does get eaten eventually, but it got me thinking. There must be so much you can do with leftover bolognese other than ladle it over spaghetti.
These bolognese sausage rolls are delicious and super easy to make. I like to make them with shortcrust pastry because I find it is a bit firmer than puff pastry and helps hold the shape of the sausage rolls. I use this quick shortcrust pastry recipe from my bacon and egg pie, or if you are really pressed for time you could use shop-bought shortcrust pastry.
What else can you make with leftover bolognese mince?
These are some of the ideas I came up with for using leftover bolognese mince. Some of them are based on recipes already on my site and I've included links to those recipes for you.
Mini beef and onion pies – add approximately 1 teaspoon flour for every cup of bolognese mince and use it as the pie filling in this recipe. The amount of flour will depend on how juicy your sauce is.
Baked potatoes – bake a potato in the oven or microwave, split it in half and cover with leftover bolognese mince sauce, cover with grated cheese and place under the grill until the cheese is melted and bubbly.
Meaty nachos – layer nachos, tomato salsa and bolognese mince in a baking dish. Cover with grated mozarella cheese and place under the grill until the cheese melts and becomes 'stretchy'. Serve with sour cream and guacamole.
Potato frittata – just add 1 cup leftover bolognese mince to the basic frittata mix.
Quick pasta bake – boil up some pasta shells, make a quick cheese sauce and mix everything together with the bolognese mince sauce. Sprinkle with grated cheese and pop in the oven until the cheese is melted.
Stuffed crepes or pancakes – roll leftover bolognese mince in crepes or pancakes, and cover with a cheese sauce for instant lasagne.
Bolognese gougeres – swap the chicken filling for in this recipe with the leftover bolognese mince sauce.
Pile the mince on toast, with a side helping of baked beans for a quick lunch or easy supper.
Do you want other ideas? Check out this post from Sainsbury's magazine for more inspiration.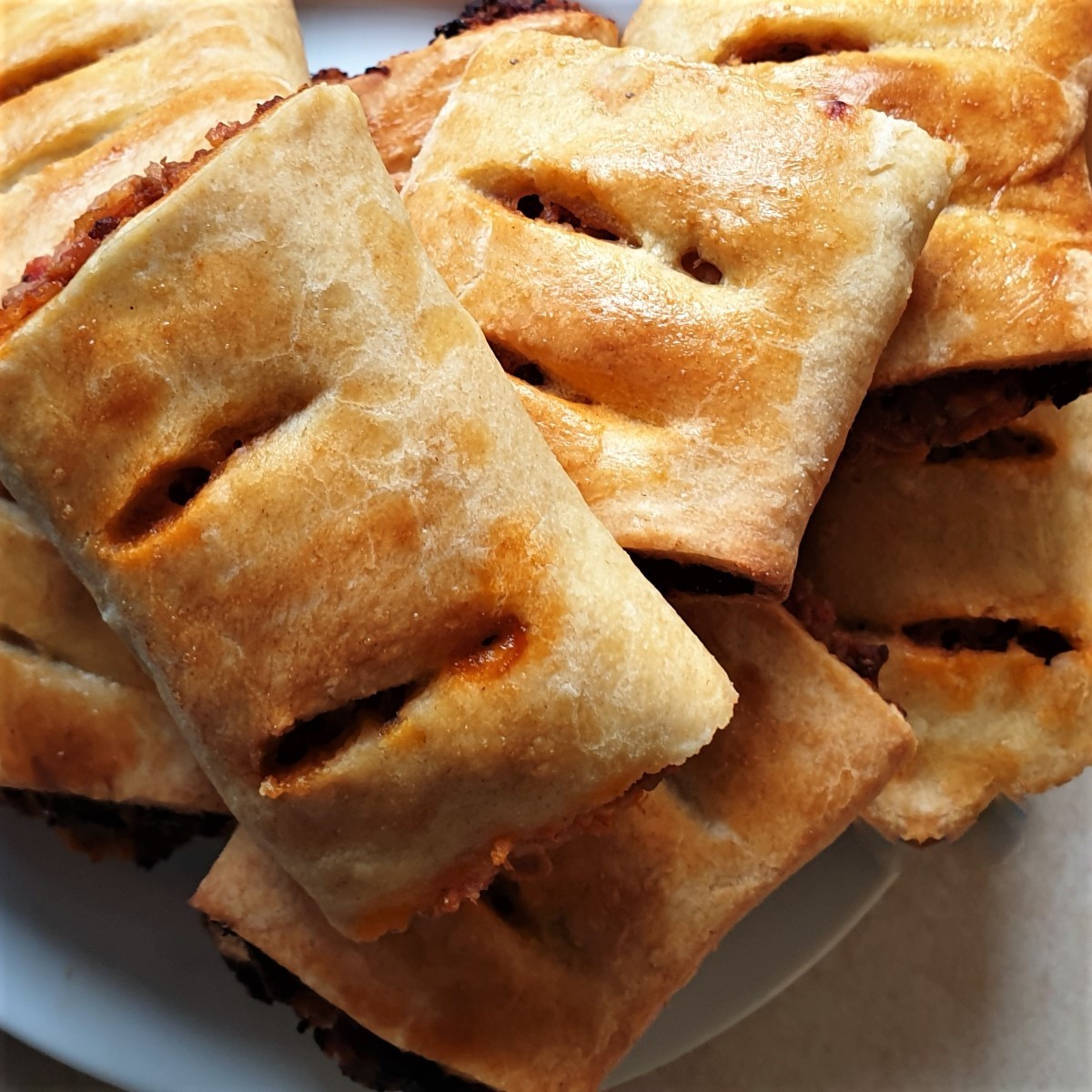 Ingredients for bolognese sausage rolls
You can get the complete list of ingredients and full instructions on how to make bolognese sausage rolls on the printable recipe card at the end of this post.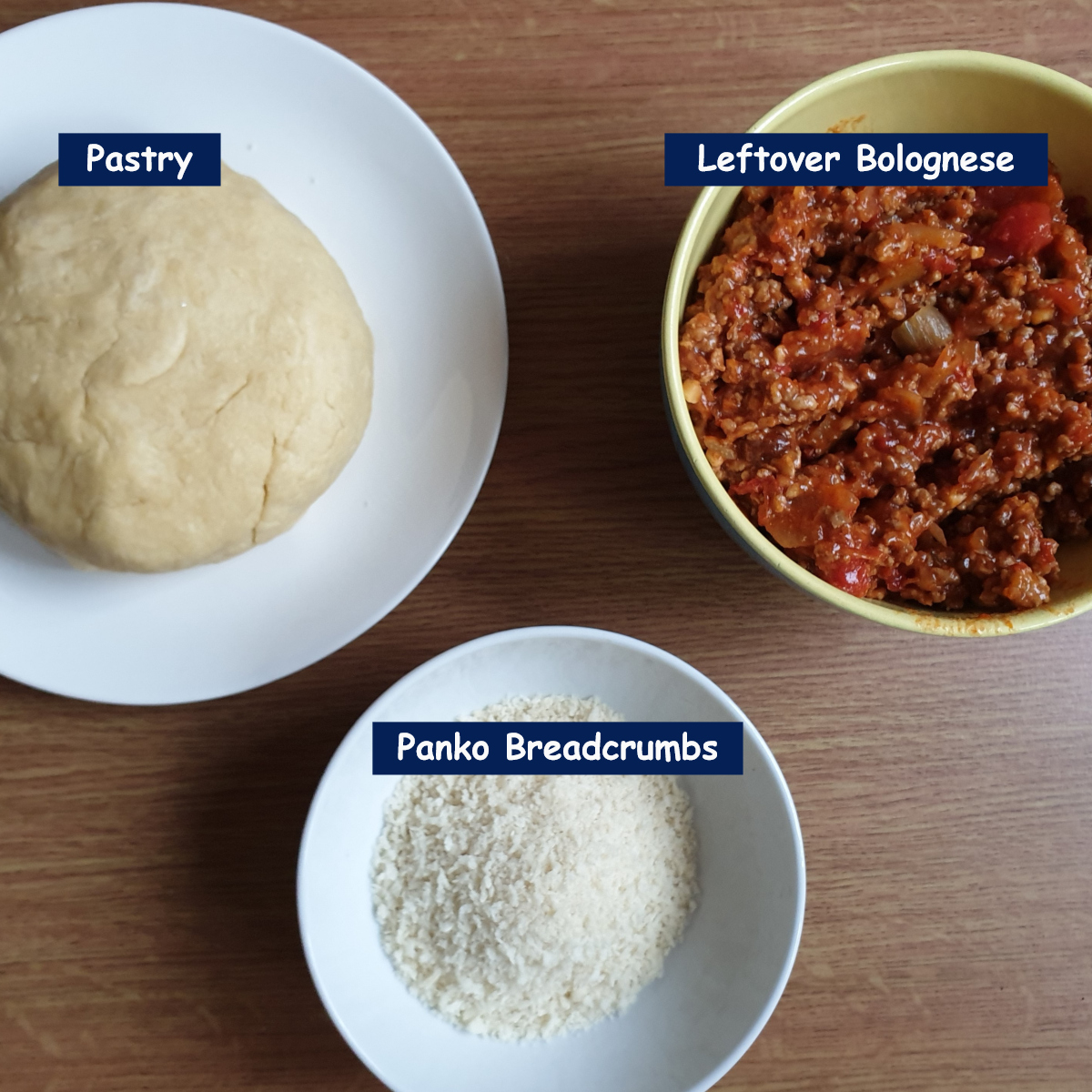 You will only need 3 ingredients –
Pastry – shop-bought shortcrust pastry, or make your own from this recipe for bacon and egg pie. The amount of pastry you will need depends on how much leftover bolognese you have.
Panko breadcrumbs – these are added to the bolognese sauce to help bind the sausage roll filling, and soak up the juices
Leftover bolognese mince sauce – I used my own recipe for bolognese mince because it has a nice thick texture and is not too runny. If your bolognese mince is too runny it won't be suitable for this dish.
For 12 to 14 sausage rolls you will need 2 cups leftover bolognese mince, and 1 cup of Panko breadcrumbs. You will also need 1 packet of shop-bought shortcrust pastry or 1 quantity of homemade shortcrust pastry made with 250g flour.
How to make bolognese sausage rolls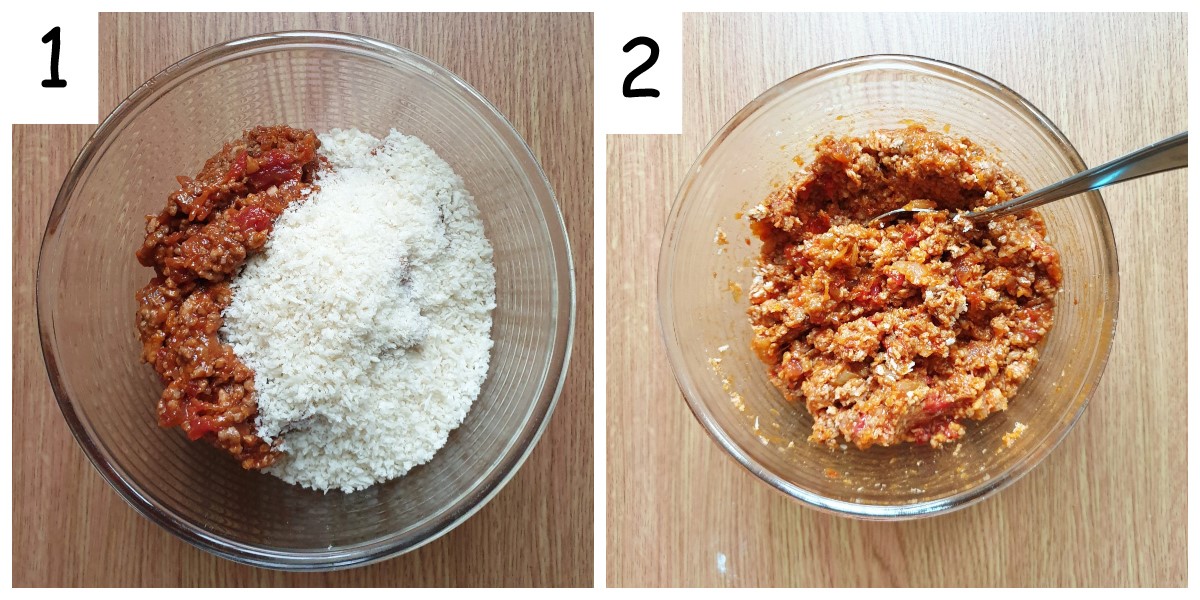 Mix the leftover mince and Panko breadcrumbs together in a mixing bowl.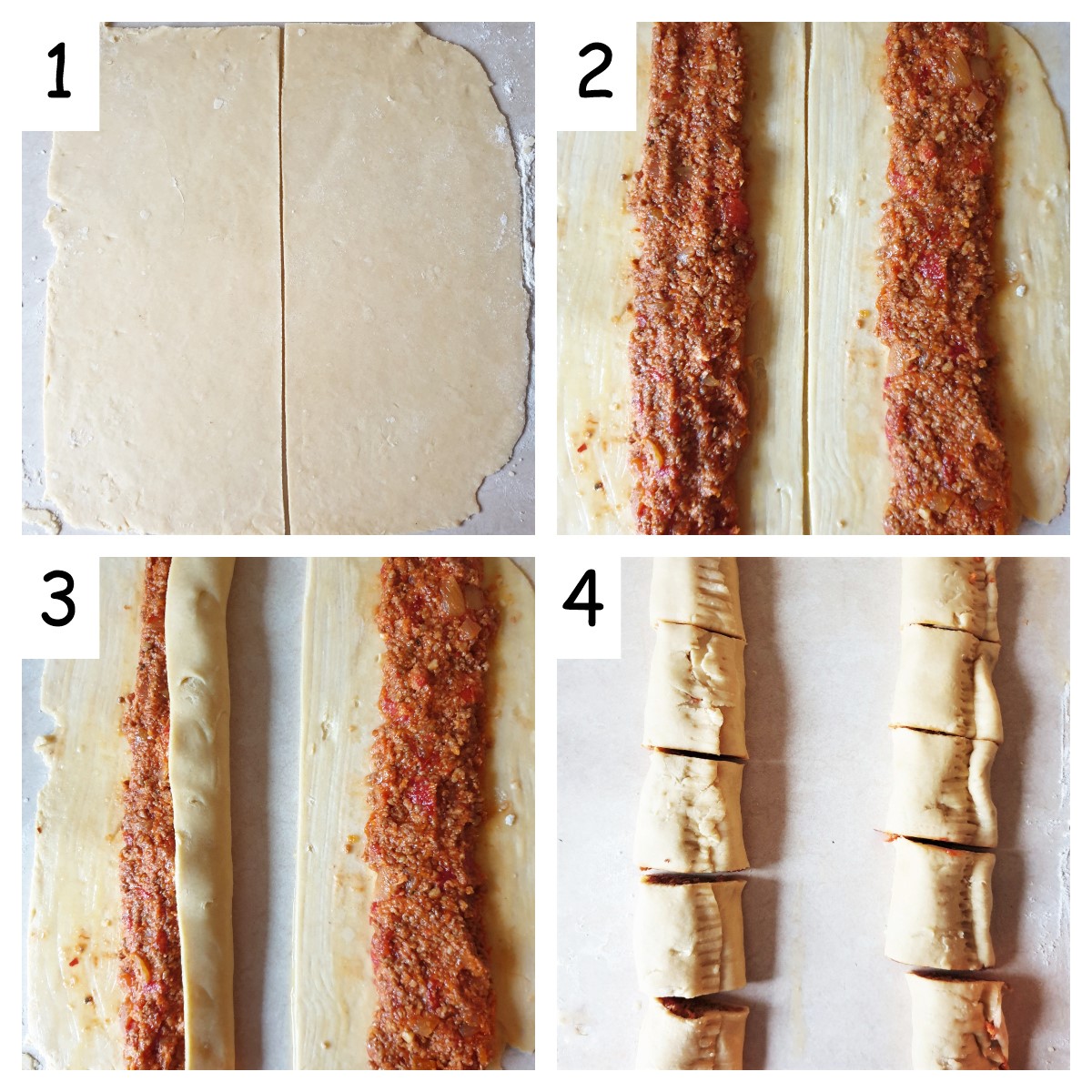 Roll out the pastry into a rectangular shape and cut in half.
Arrange a layer of bolognese and Panko mixture down the middle of each piece of pastry.
Brush one edge of each pastry roll with water. Fold the dry edge up over the filling, then fold the wet edge on top and press lightly to seal.
Cut each roll into approximately 3″ lengths.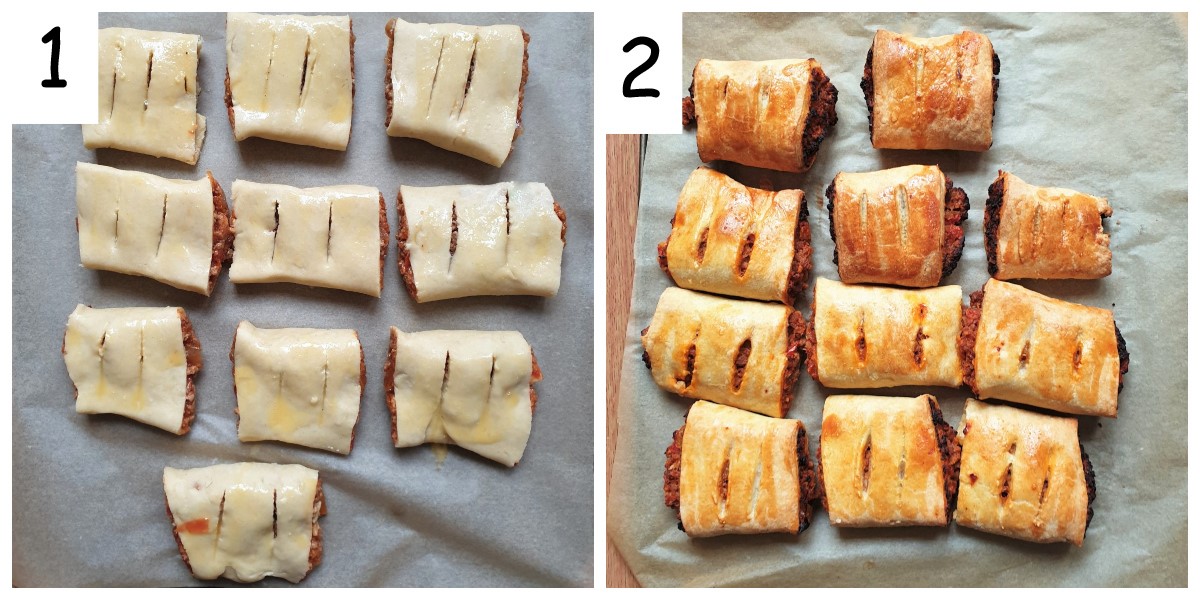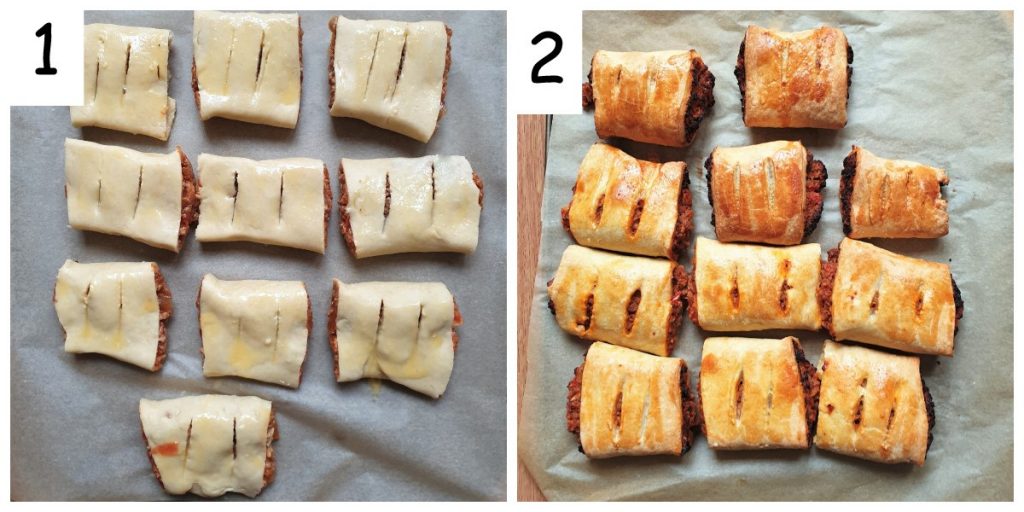 Place each sausage roll onto a baking tray lined with baking parchment, cut two slits on the top of each with a sharp knife, and brush lightly with egg-wash.
Bake in a pre-heated oven (200C / 400F) for 12 to 15 minutes until golden brown.
Remove from the oven and allow to cool.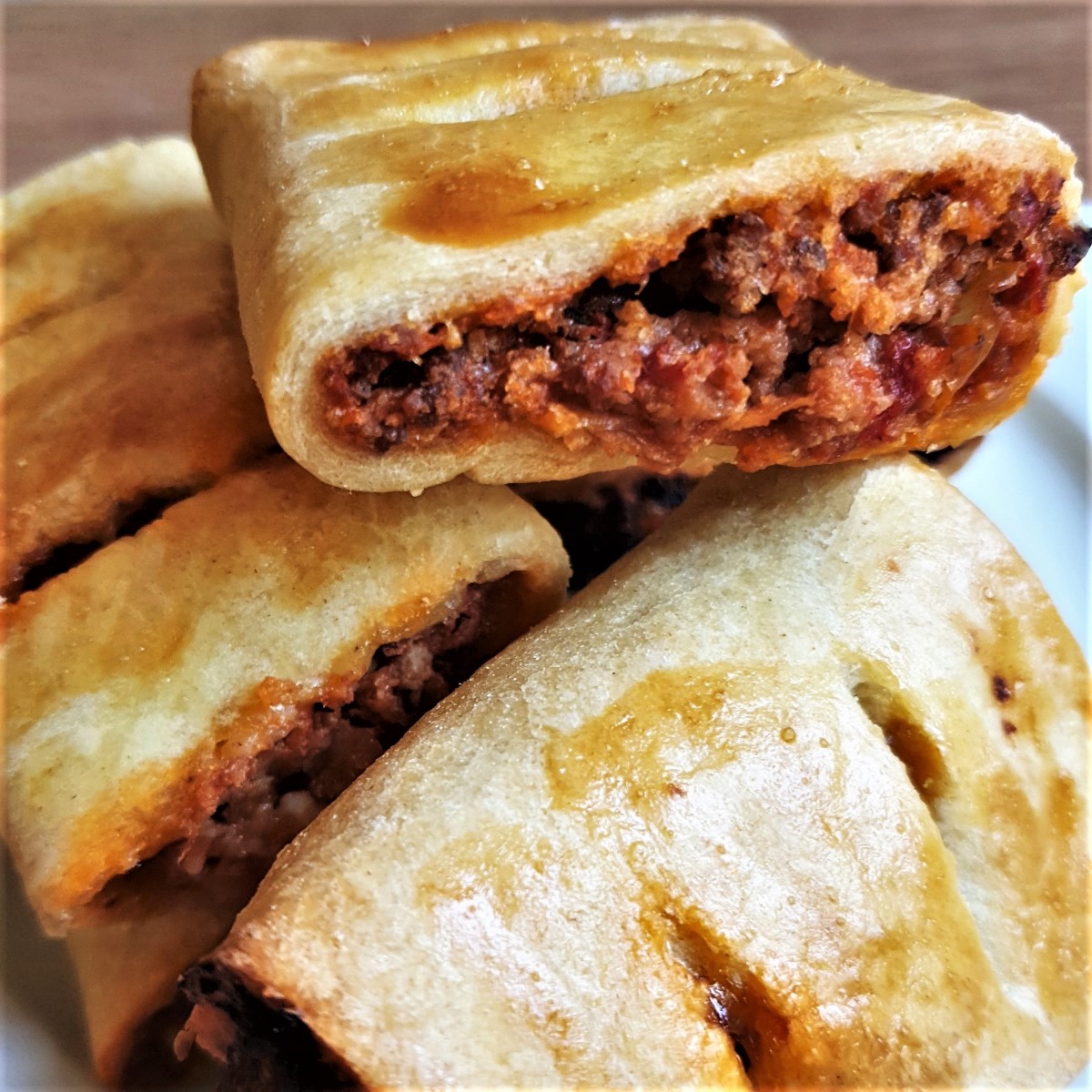 If you'd like to be notified of any new recipes, why not subscribe to my newsletter. As a thank-you gift, you will receive a free recipe e-book containing some of my most popular cakes and desserts.
Pin for later
Why not pin this recipe so you can make these sausage rolls later.
Recipe – Bolognese sausage rolls
If you made this recipe and enjoyed it, I'd love it if you could give me a star rating in the comments below. And if you'd like to get in touch, you can email me at [email protected]. I'd love to hear from you. And don't forget to subscribe to my mailing list so you can grab yourself a copy of my FREE COOKBOOK!
If you'd like to continue browsing, just click on this link to all my recipes.