This recipe for easy chilli con carne makes a hearty comforting dish. Top with cheese or sour cream for a quick and easy meal. If you want to turn it into an family supper, just add a fresh green salad and a slice of crusty bread. Either way, you'll be making this dish again and again.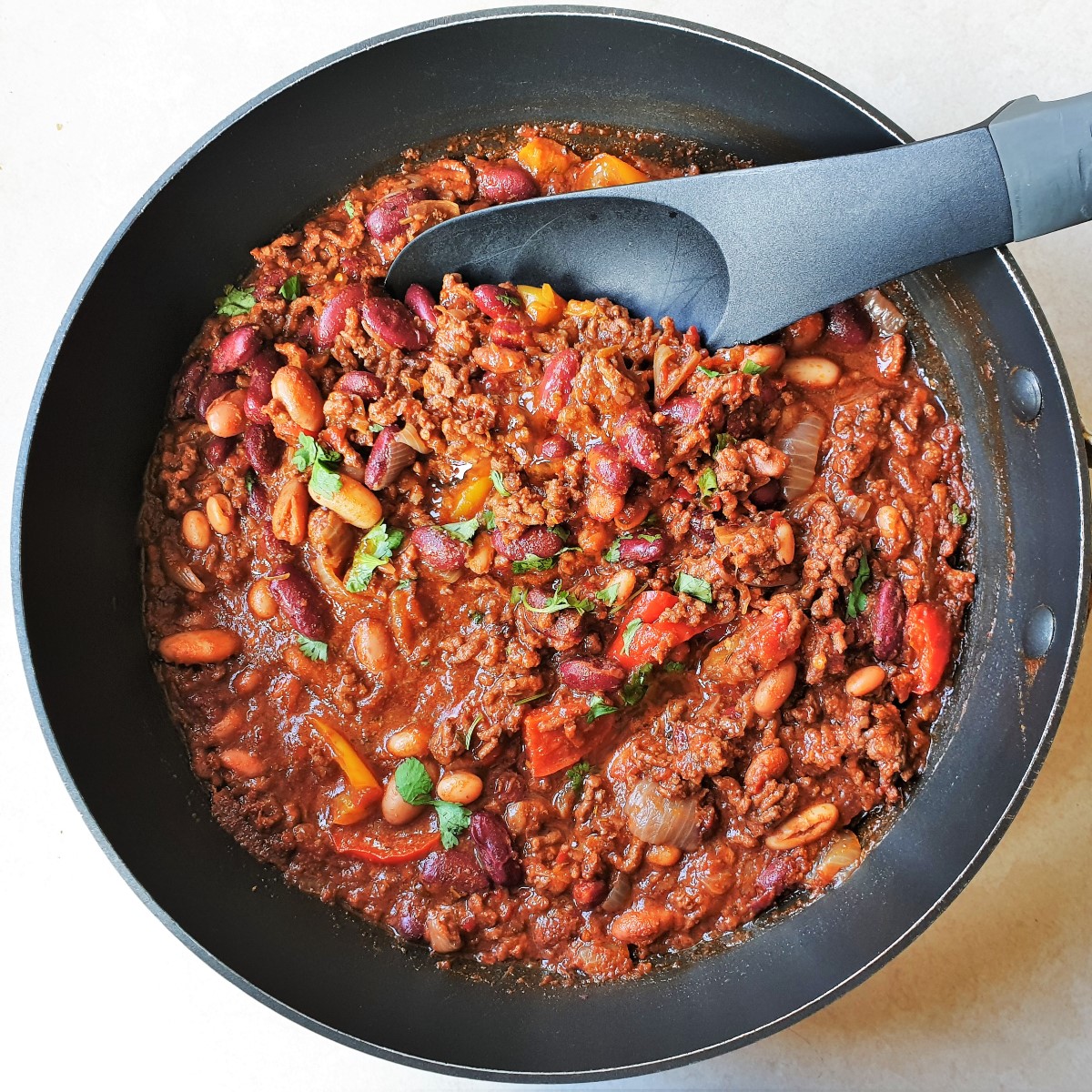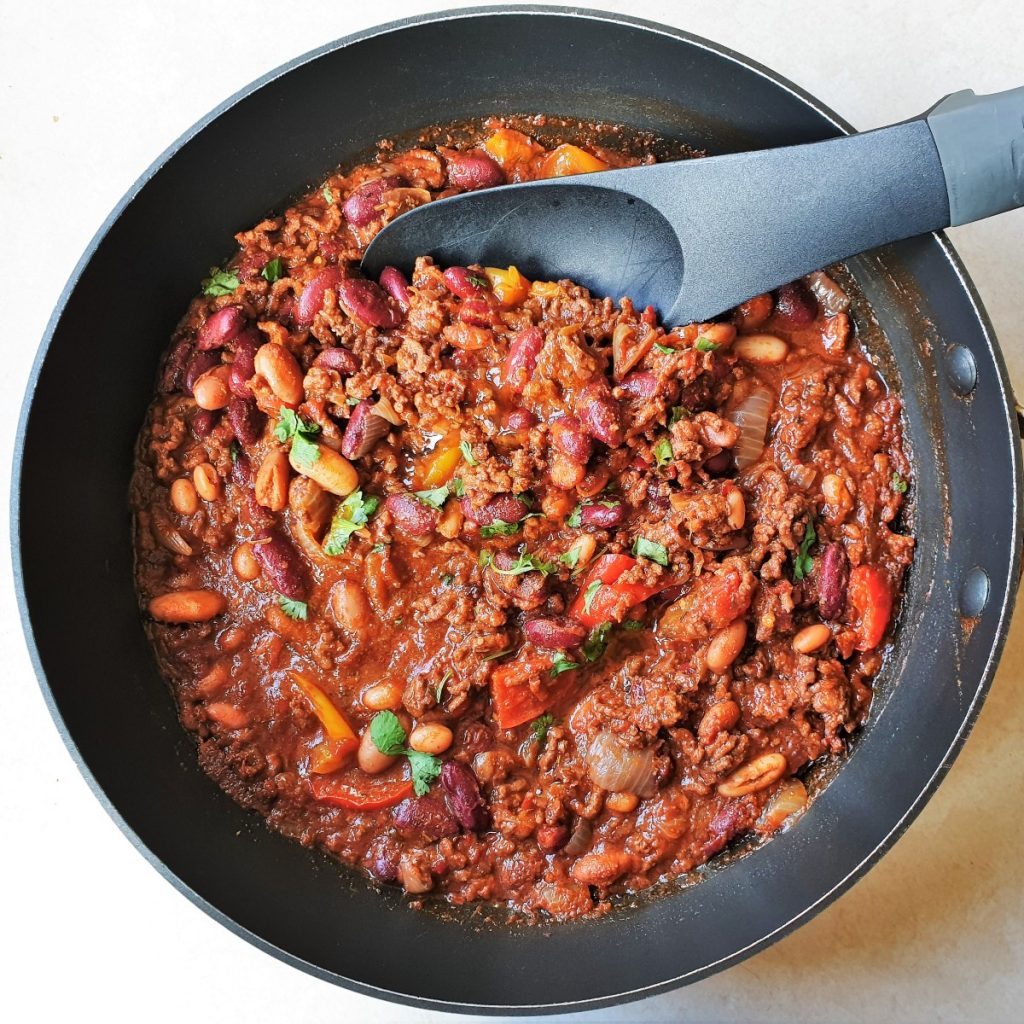 Easy chilli con carne recipe
Whenever I think of comfort food, the first thing that pops into my mind is chilli con carne. There's something about a bowl of well-cooked deliciously spicy ground beef and beans in a rich tomato sauce that just makes you want to keep on eating until you have mopped every last morsel from the plate.
Depending on where you live in the world, you may know this dish as chilli con carne, or chilli. If you live in the US, you probably know it as 'chili'. It doesn't really matter what you call it though. The delicious taste is the same the world over.
I've been making this easy recipe for as long as I can remember, and it never fails. I've put together some tips for making chilli that I gathered over the years, and I'd like to share them with you so you can make the best chilli ever.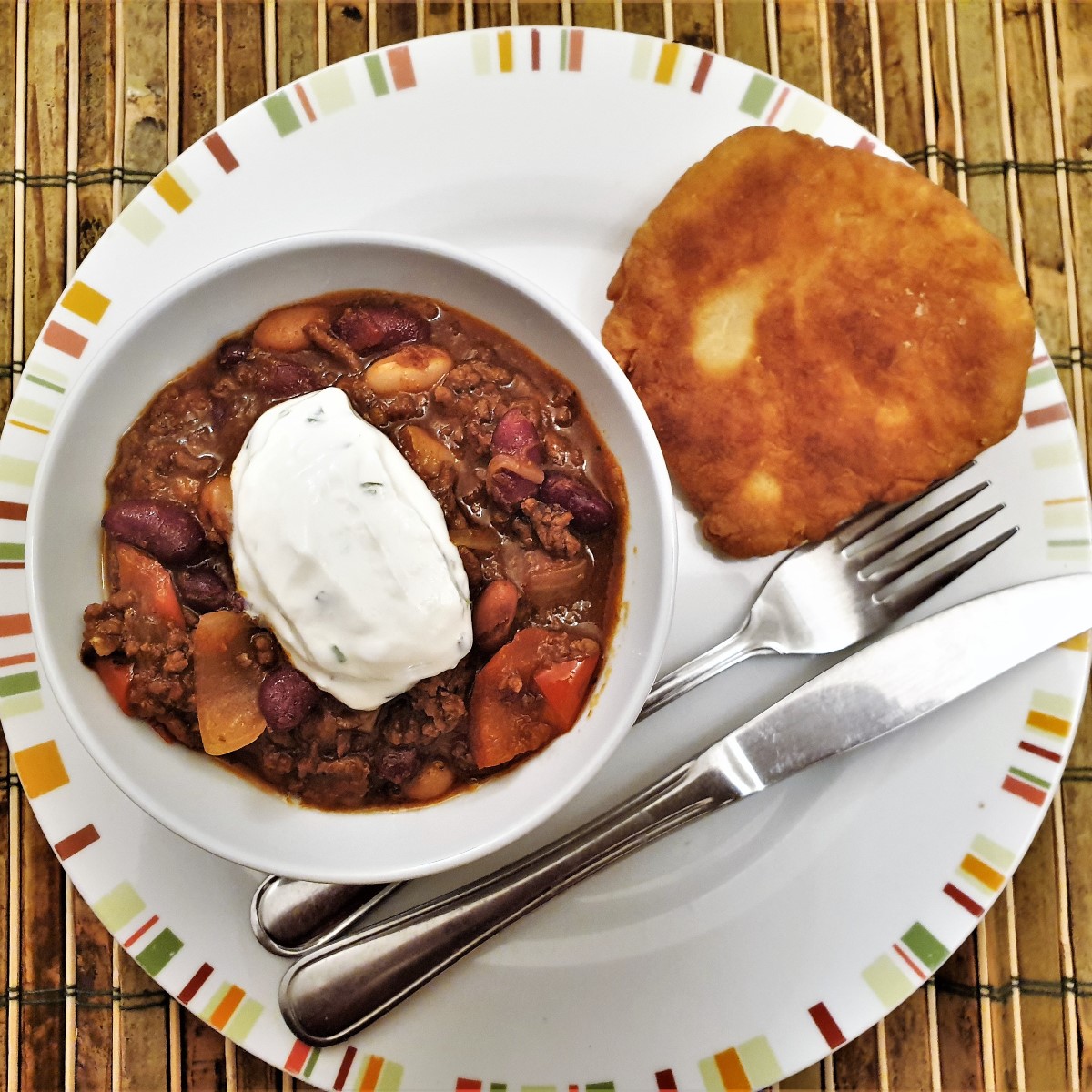 Tips for making chilli con carne
Properly cooked, chilli is amazing. However, sometimes it can turn out bland, watery and unappetising. If you follow these tips your chilli will turn out perfectly every time.
Tip no 1 – Brown the meat first
Always brown the ground beef in a frying pan, making sure to break up all the lumps. Remember, browned meat = more flavour. Always make sure the meat is completely browned and crumbly. Lumps of grey, unbrowned minced beef are incredibly unappealing.
Tip no 2 – Cook the spices early
The spices should be cooked up front too, to release their flavours. I always add the spices when I'm browning the meat so that the flavours really sink in to the beef.
Tip no 3 – Saute the vegetables
Just as the meat benefits from being browned before cooking, so do the vegetables. Sauteing the vegetables first means they are soft and juicy when they are added to the beef, and they will be more inclined to pick up the lovely spice flavour.
Tip no 4 – Mix your own spices
Of course, it is possible to make a delicious chilli with a shop-bought spice mix. However, I find that by mixing my own spices I am more in control of the heat and spiciness of the finished dish.
Tip no 5 – Add a slug of red wine
Red wine really enhances the flavour of chilli con carne. It adds a layer of richness to the gravy, that you don't get by using stock alone. But don't use just any old red wine … for the best flavour it has to be a wine that you would actually drink. Don't think you can get away with using the cheapest bottle of 'plonk' that you can get your hands on. The rule here is to use a good full-bodied red wine. The taste of a bad wine won't improve with cooking, and may even end up with a bad tasting chilli! If you won't drink it, don't cook with it.
Tip no 6 – Don't rush the cooking process
Chilli really benefits from a long, slow cooking process. This gives the flavours time to mingle, so don't rush it. I always think it tastes much better the next day!
Tip no 7 – Serve with toppings
Even though a bowl of chilli is delicious on its own, I think it tastes even better topped with sour cream or shredded cheese.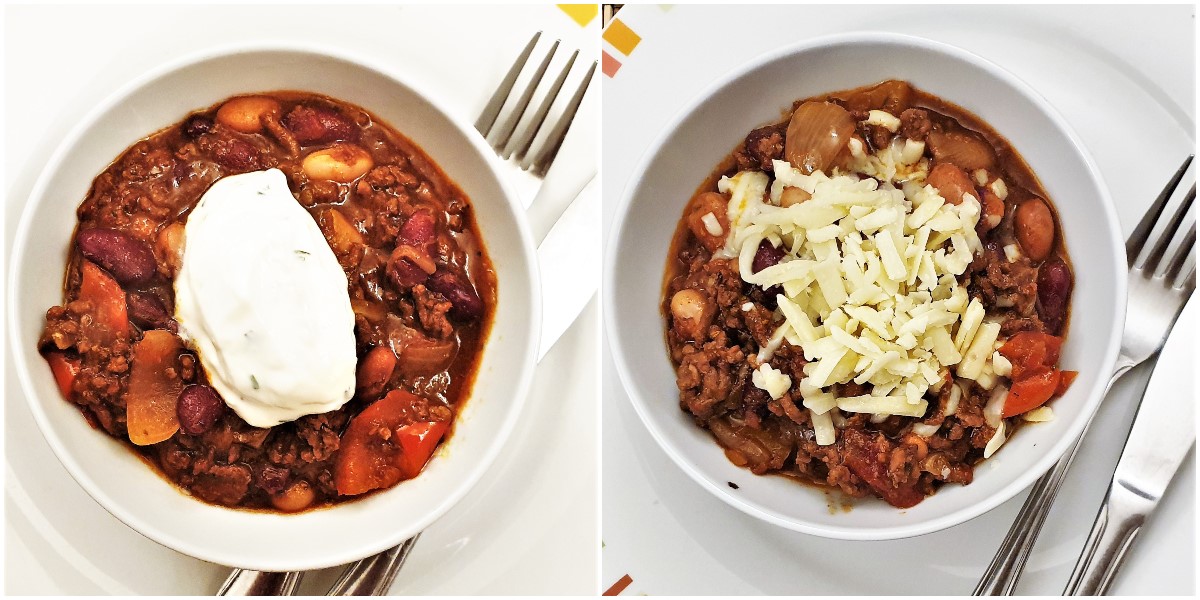 How to make chilli con carne
This is my version of chilli con carne, and the one I have been making for years. I hope you enjoy it as much as my family does.
You can find the complete list of ingredients and full instructions for making this recipe on the printable recipe card at the end of this post.
What goes in to chilli con carne?
There are 3 main components – the basics, the stock and the spices.
For the basics:
Ground beef
Red and yellow peppers
Onions
Tomatoes (both fresh and canned)
Canned kidney beans and mixed beans (drained)
For the stock:
Stock cubes – you can use beef stock if you have any to hand, but I find beef stock cubes dissolved in boiling water do the job just as well.
Red wine
Worcestershire sauce
Tomato puree / tomato paste
Sugar (just a small amount to cut through the tartness of the tomatoes)
For the spices:
Dried chilli flakes – this is where you can adjust the heat of the chilli
Ground cumin
Ground coriander
Dried oregano
Dried paprika
1 teaspoon minced garlic – you can chop up fresh cloves or use ready prepared garlic from a jar
What to do
Chilli con carne is very easy to make, and there are only a few steps.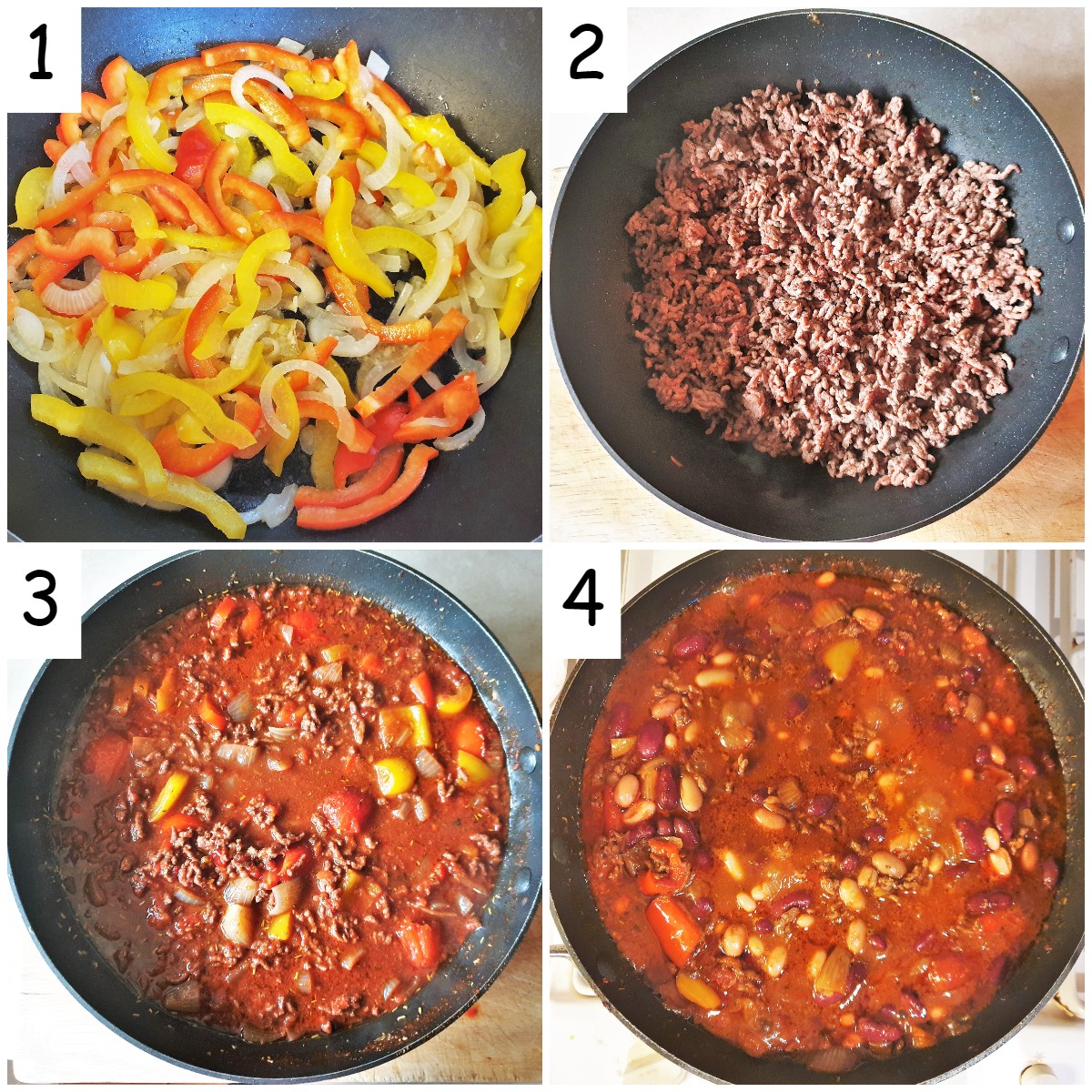 Prepare the stock by dissolving 2 stock cubes in 1.5 cups of boiling water. Then stir in the red wine, worcestershire sauce and the tomato paste
Fry the onions and peppers until the onions are translucent and the peppers have started to soften (image 1 above).
Remove from the pan onto a plate, and set aside while you brown the meat.
Fry the meat with the spices, breaking up any lumps of meat with a spatula, until the meat is brown and crumbly (image 2 above).
Add the fresh tomatoes and continue frying until they start to soften, then add the onions and peppers back to the pan and pour in the stock and canned tomatoes (image 3 above).
Cove with a lid and allow to simmer gently for about 20 minutes.
Add the drained beans and continue to simmer (covered) for another 10 minutes.
Thicken with a slurry of cornflour and water if necessary.
Sprinkle with freshly chopped coriander just before serving.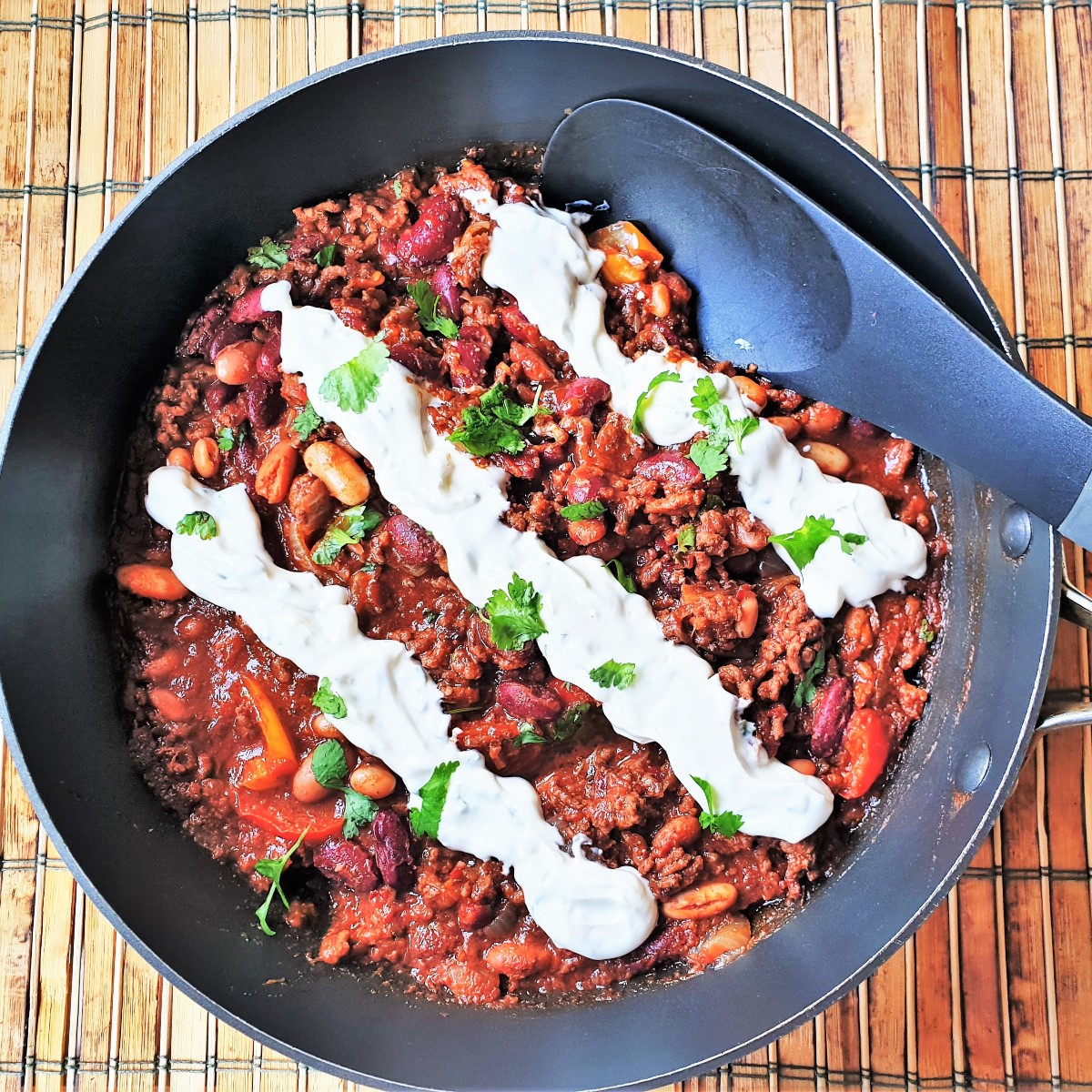 How do I serve chilli con carne?
Serve this chilli in a bowl, either plain or topped with sour cream or grated cheese.
I like to serve with crusty bread on the side. This chilli goes particularly well with these crusty Portuguese rolls or these 2-ingredient vetkoek.
You could also serve chilli con carne with a bowl of white rice and tortilla chips.
Or why not serve it on top of a baked potato.
If you want to keep up-to-date with my latest recipes why not follow along on Facebook or Pinterest. And don't forget to subscribe to my mailing list so you can get your FREE COOKERY BOOK
Can I freeze chilli con carne?
Yes, this dish freezes very well. Just allow to cool and then ladle into either rigid plastic containers or large ziploc freezer bags, and store in the freezer for up to 4 months.
To use, just defrost in the refrigerator and then heat either in the microwave or in a saucepan on the stove until piping hot.
Can I make chilli con carne in advance?
Yes, in fact the flavours improve with standing.
You can make this up to 3 days in advance and store, covered, in the refrigerator.
Reheat either in the microwave, or in a saucepan on the stovetop, until piping hot.
Leftover chilli con carne
If you have any leftover chilli con carne there is a lot you can do with it.
Turn it into a toasted sandwich, or a sloppy joe.
Prepare a lasagne by layering the leftover chilli between quick-cook lasagne sheets, covering with a cheese sauce and baking in the oven for 25 minutes.
Make some curry dough balls but fill them with leftover chilli instead of curry.
Make chilli dogs by spooning the chilli over a hot dog in a bread roll.
Mix the leftover chilli with rice, spoon it into halved red peppers, sprinkle with grated cheese and bake in the oven for 20 minutes.
Spoon over a pile of french fries, sprinkle with grated cheese and serve with a helping of guacamole
Turn it into a chilli pizza. Just whip up a batch of 2-ingredient dough (get the recipe for the dough from this easy vetkoek recipe), roll the dough into a pizza round, spread with the leftover chilli and top with cheese. Bake for 15 minutes.
Use it as a filling for homemade hand pies or sausage rolls. Get the recipe for the pastry from my bolognese sausage roll recipe.
Convert grams to cups
To help you convert your recipes, I have created a handy Cookery Conversion Calculator which will convert ingredients between grams, ounces, tablespoons, cups and millilitres. I hope you will find it useful.
If you live at a high altitude you may find you need to adjust your baking recipes to compensate for this. You can read about how to do this in this post on baking at high altitudes.
Pin for later
Why not pin this easy chilli recipe to your pinterest board so you can make it later. Just click the image below.
Recipe – Easy chilli con carne
Easy chilli con carne
Ground beef, beans, peppers, onions, garlic and lots of spicy flavours combine into a deliciously warming supper dish – all in one pan.
Equipment
Frying pan with lid

Sharp Knife

Chopping Board

Spatula
Ingredients
Meat and vegetables
1

pound

450g ground beef

1

large

onion

chopped into 1cm dice

1

medium

red pepper

sliced

1

medium

yellow pepper

sliced

2

medium

fresh tomatoes

chopped into cm dice

1

can

chopped tomatoes (400g / 14oz)

1

can

kidney beans (400g / 14oz)

drained

1

can

mixed beans (400g / 14oz)

drained

2

tablespoons

olive oil
Spices
1

teaspoon

dried chilli flakes

more or less to taste

1

teaspoon

ground cumin

1

teaspoon

ground coriander

2

teaspoon

dried oregano

1

teaspoon

minced garlic

fresh cloves or from a jar

1

teaspoon

dried paprika
Stock
1½

cups

beef stock

made with stock cubes and boiling water

½

cup

red wine

4

tablespoons

worcestershire sauce

2

tablespoons

tomato puree/tomato paste

1

teaspoon

sugar
Other
1

tablespoon

cornflour/cornstarch

3

tablespoons

cold water

sour cream

for serving (optional)

shredded cheese

for serving (optional)

chopped fresh coriander

for serving (optional)
Instructions
Preparation
Dissolve 2 beef stock cubes in 1½ cups boiling water the stir in the wine, tomato puree/tomato paste, worcestershire sauce, sugar and salt. Set aside until needed.

Remove the seeds and membrane from the peppers and cut into slices

Chop the onion and tomato into 1cm dice

Peel and finely chop the garlic cloves

Open the cans of beans and tip the beans into a colander to drain.
Fry the vegetables and ground beef
Heat the olive oil in a large frying pan (or a large saucepan) then add the sliced pepper, garlic and onions and fry gently for about 5 minutes until they start to soften and the onions turn translucent.

Remove from the pan onto a plate.

Now add the ground beef and spices to the same pan, turn up the heat and fry, breaking up and lumps with a spatula, until the meat is brown and crumbly, and totally separated.
Cook the chilli
Add the chopped fresh tomatoes to the meat and and fry for 2 minutes, stirring continuously.

Return the onions and peppers to the pan and pour in the prepared stock.

Cover with a lid, reduce the heat to a simmer, and leave for 30 minutes.

Now add the beans and continue to simmer for a further 10 minutes.

If the chilli needs thickening, make a slurry with the cornflour and cold water, and drizzle in slowly, stirring until the mixture thickens. You may not need to use all the slurry.

Top with sour cream or shredded cheese and sprinkle with chopped fresh coriander/cilantro just before serving.
I am not a nutritionist. The nutrition information has been calculated using an on-line calculator, and is intended for information and guidance purposes only. If the nutrition information is important to you, you should consider calculating it yourself, using your preferred tool.
If you made this recipe and enjoyed it, please don't forget to give me a star rating in the comments below. And if you'd like to get in touch, you can email me on foodleclub1@gmail.com. I'd love to hear from you. And don't forget to subscribe to my mailing list so you can grab yourself a copy of my FREE COOKBOOK!
If you'd like to continue browsing, just click on this link to all my recipes.