Creamy meatball stroganoff is a delicious quick and easy supper that's perfect for busy weeknights. Tasty homemade meatballs are pan-fried, then simmered in a creamy mushroom stroganoff sauce before being ladled onto a pile of tender tagliatelle. Even picky eaters will love this dish because everyone loves a good meatball – right?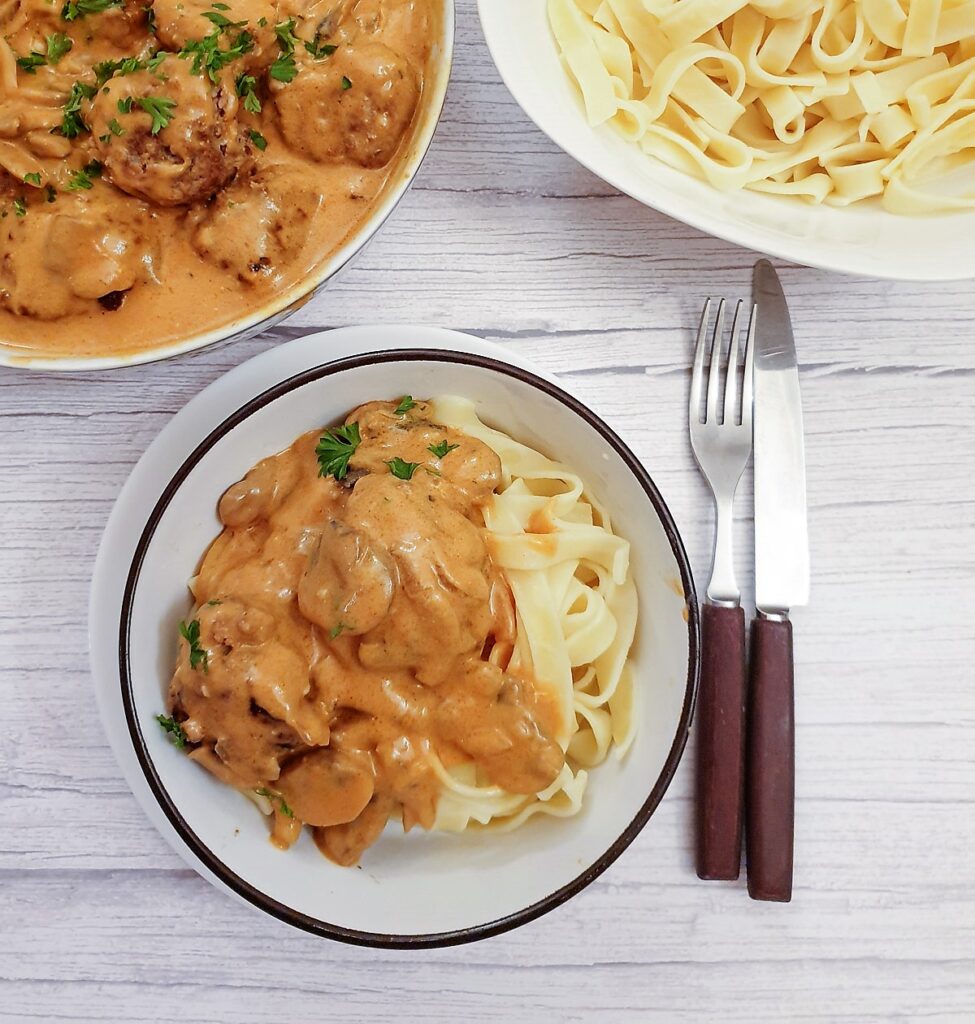 **As an Amazon affiliate, I earn from qualifying purchases.**
Meatball stroganoff
Creamy meatball stroganoff is my take on the classic beef stroganoff that everyone knows and loves. The only difference is that it is made with homemade meatballs instead of traditional (expensive) steak. The creamy stroganoff sauce is packed with mushrooms and onions, and flavoured with garlic, mustard and paprika.
When you are a single parent with three small children to support, you tend to become very creative with ways in which you serve ground beef so you don't get comments like 'oh no – not mince again' at mealtimes!
Over the years I've devised many recipes using meatballs that you might like to try.
But my hands-down favourite way of serving ground beef has to be this recipe for creamy meatball stroganoff.
The meatballs are lightly flavoured with paprika which adds an extra layer of flavour.
You can make the meatballs in advance and freeze them, then it's just a matter of making the sauce and pasta and you can have this meal on the table in less than 30 minutes.
The sauce is packed with flavour and you can change it to suit whatever ingredients you have in the fridge. Swap out the sour cream for a carton of cream cheese, or even substitute with milk and a tablespoon of lemon juice.
You can serve any leftovers the following night in a burger bun with french fries and call it 'mushroom burgers' 🙂
It freezes like a dream – so you can make a double batch and freeze half for those days when you really don't feel like cooking.
So without further ado let's see how to make it.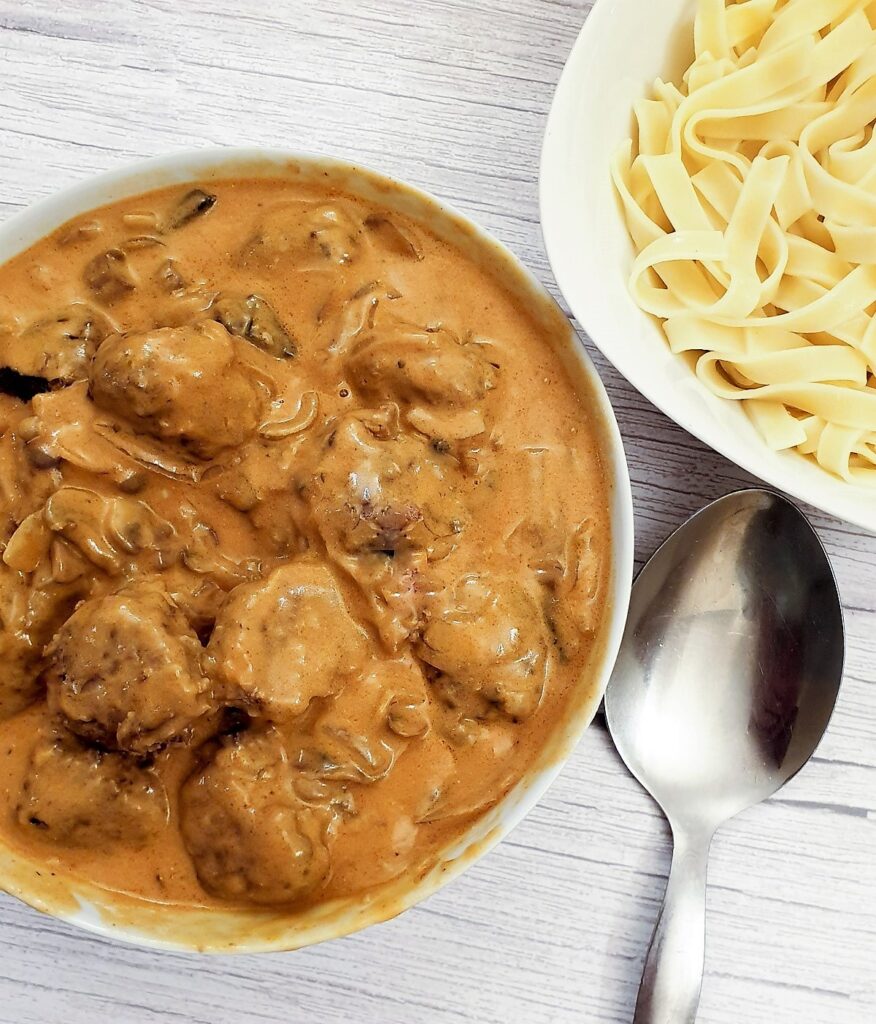 What you will need
**The complete recipe for making this creamy meatball stroganoff can be found on the printable recipe card at the end of this post**
Equipment
You don't need much by way of equipment. You'll need a mixing bowl for mixing up the meatballs, and a large frying pan for frying the meatballs and making the sauce. You will also need a box grater, and a spatula or a pair of tongs.
Ingredients
This recipe feeds 4 people and makes 18 to 20 golf-ball-sized meatballs.
I've split the ingredients into those for the meatballs and those for the sauce.
First of all – the meatballs.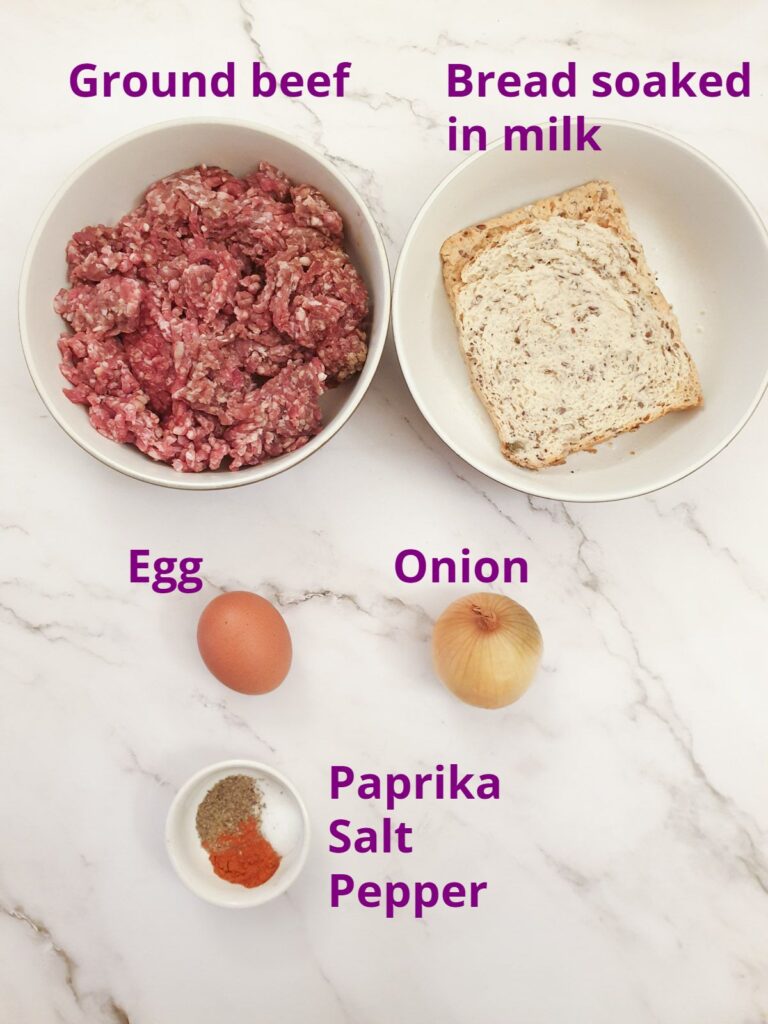 Beef mince – get beef mince with 5% fat content if possible. Anything higher than that and the meatballs will release too much fat when cooking.
Bread soaked in milk – you can use white bread or wholewheat bread. I like to use wholewheat because I think the seeds add to the texture of the meatballs.
Egg – this helps bind the meatballs.
Onion – finely grated, and adds loads of flavour
Paprika, salt and black pepper – these are the seasonings. Salt is optional, but I wouldn't leave out the paprika and black pepper.
Moving on to the stroganoff sauce: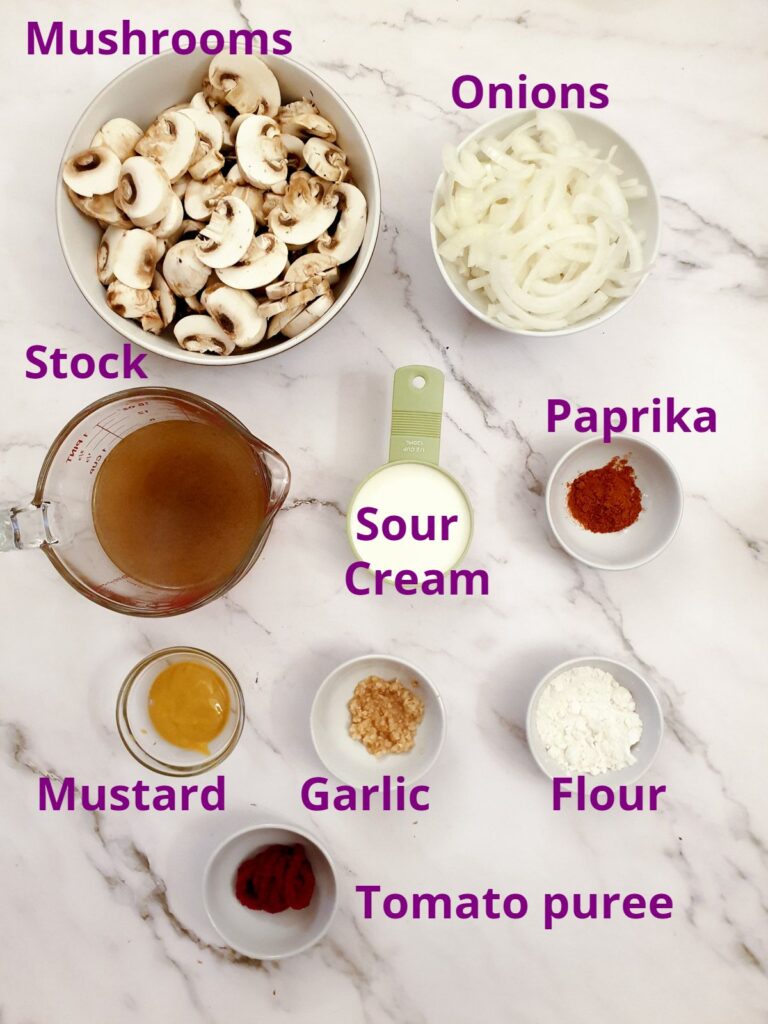 Sliced mushrooms – you can use closed cap white mushrooms, chestnuts or even sliced portobello mushrooms
Sliced onions – I've used white onions, but you can use red onions if you prefer.
Stock – if you don't have ready-made stock, you can make your own by dissolving a beef stock cube in a cup of boiling water.
Sour cream – if you don't have sour cream you can substitute with the same quantity of milk and a tablespoon of lemon juice. You can also substitute this for the same quantity of cream cheese.
Mustard – use whatever you have in your pantry – Dijon mustard, English mustard or even wholegrain mustard.
Paprika – even though there is paprika in the meatballs, a little paprika adds an extra level of flavour to the sauce.
Garlic – because garlic makes everything taste better. You can use freshly minced garlic cloves, or for convenience, use ready-crushed garlic from a jar.
Tomato puree – this is concentrated tomatoes, not to be confused with tomato sauce or tomato ketchup.
Flour – for thickening the sauce
Make the meatballs
Squeeze any excess milk out of the bread. Peel the onion and grate it on the largest holes of a box grater.
Place all the meatball ingredients into a mixing bowl.
Get your hands in and mix thoroughly until all the spices have been well-distributed throughout the meat (image 1).
Form the mixture into golf-ball-sized balls.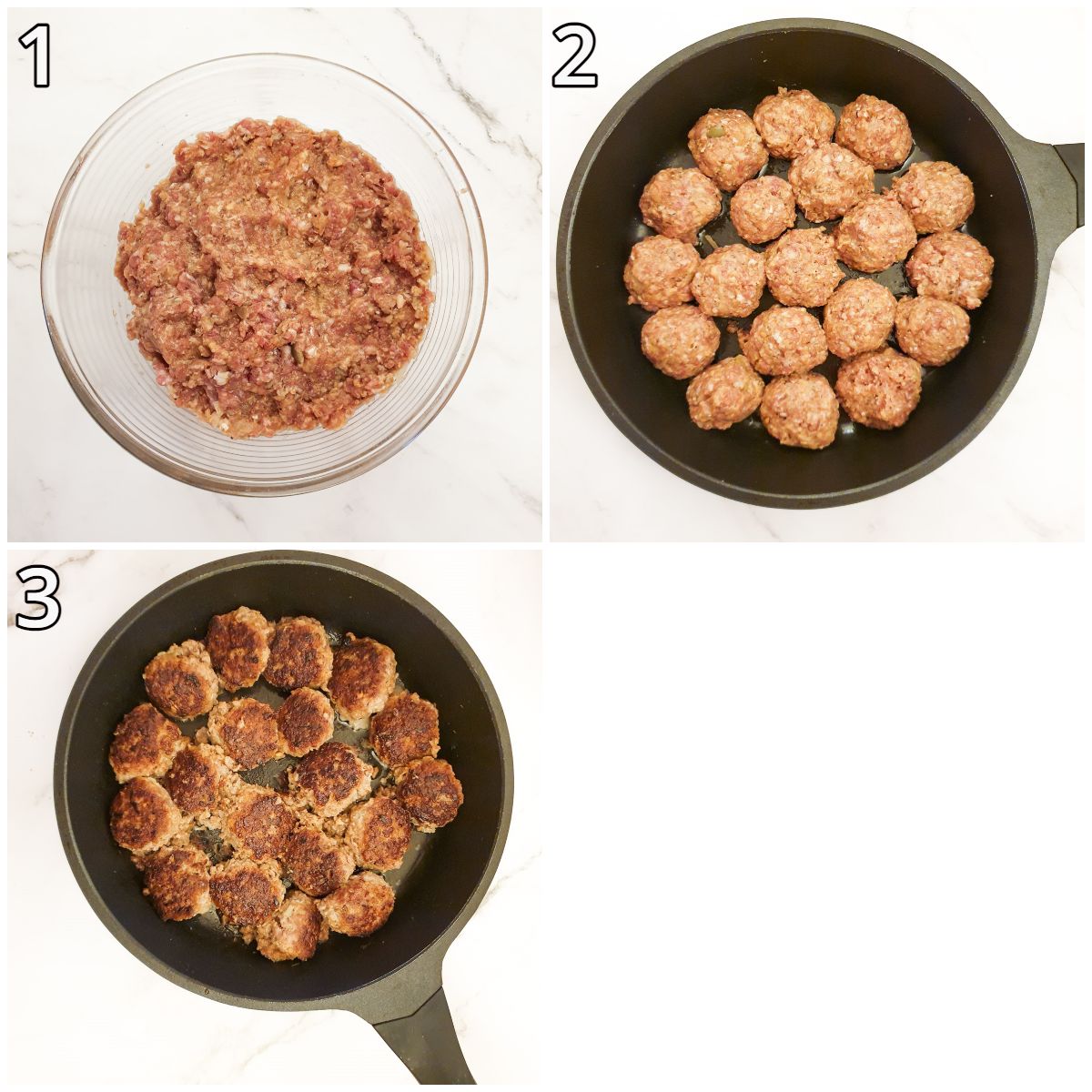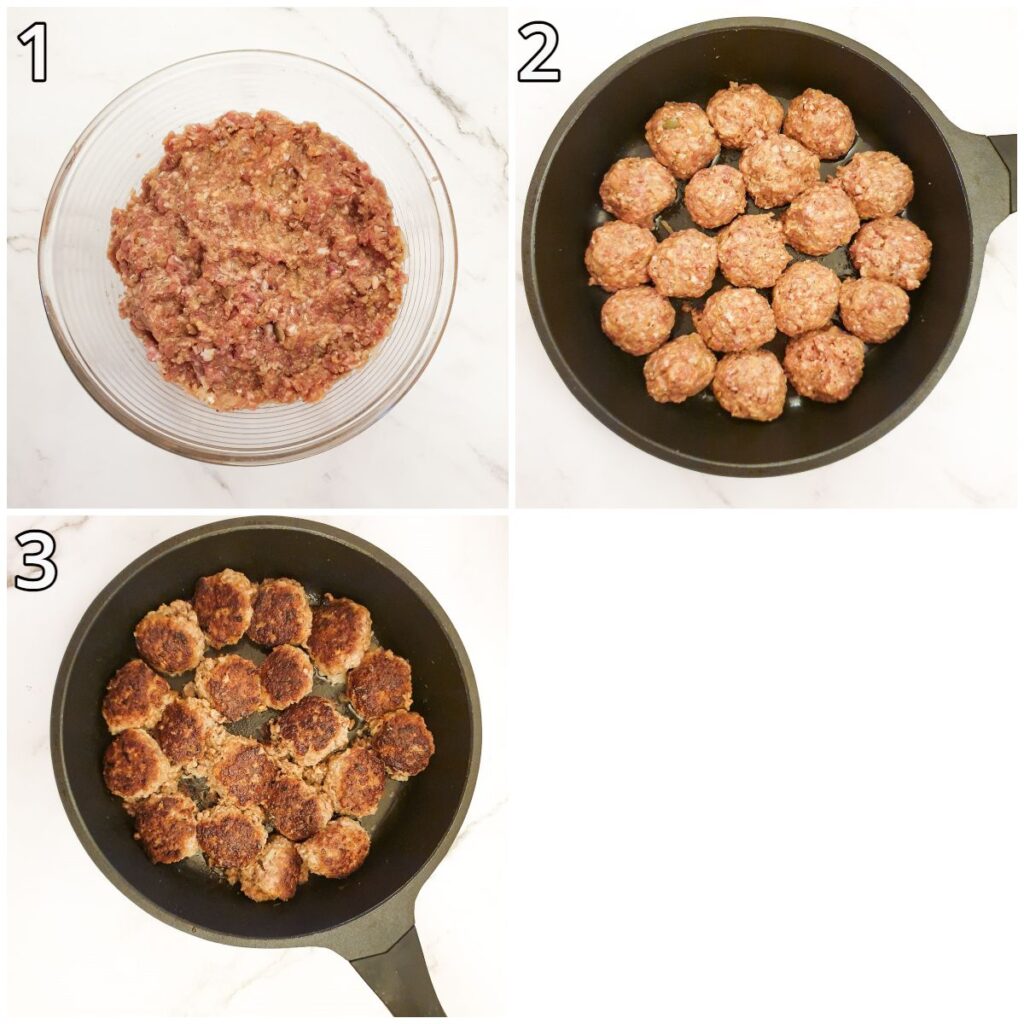 Heat a couple of tablespoons of sunflower oil in a frying pan and fry the meatballs, for 3 to 4 minutes per side, turning them carefully with tongs, until they are golden brown and cooked through.
The meatballs are quite soft, so turn them carefully to avoid breaking them up.
Transfer the meatballs to a plate and keep them warm while you make the sauce.
Make the stroganoff sauce
Slice the mushrooms and onion and fry them with the crushed garlic in the same pan that you used for the meatballs. There should be sufficient oil leftover from the meatballs, but you can add another tablespoon of sunflower oil if necessary (image 1).
Fry gently until the onions have softened and the mushrooms have released their moisture and are starting to brown.
I like to turn the heat down to very low and cover the pan with a lid while the onions and mushrooms are cooking. It should take about 7 minutes for them to cook.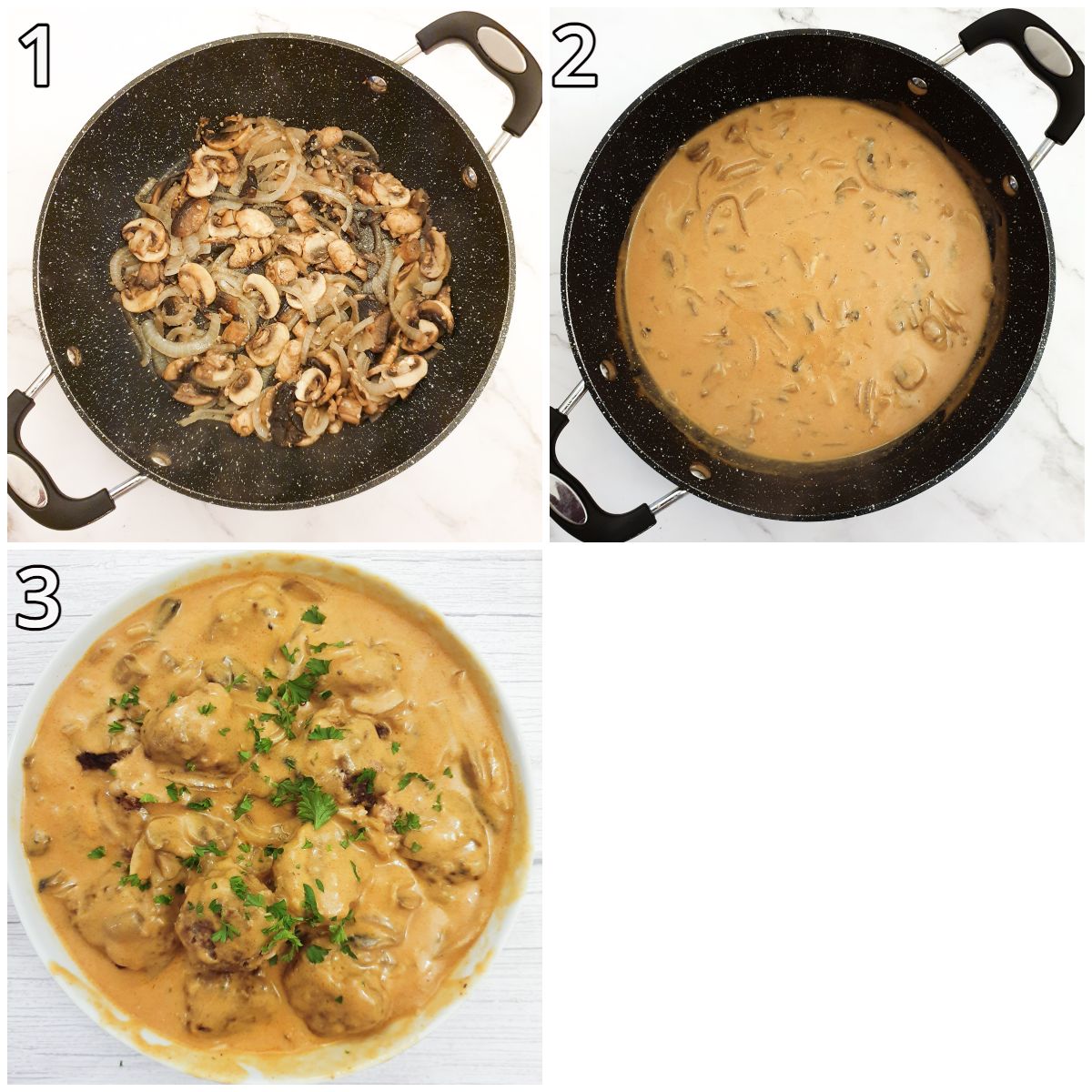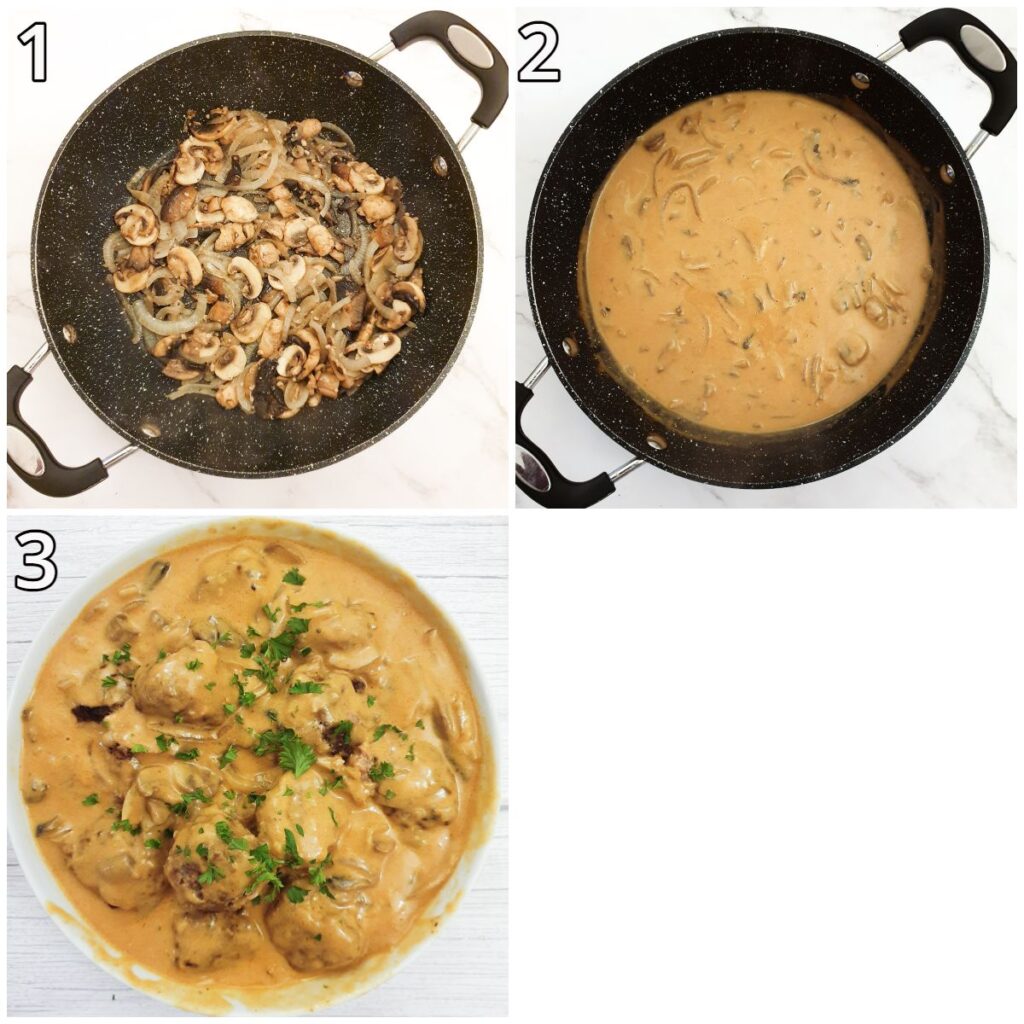 Once the onions are softened, remove the pan from the heat and stir in the flour, taking care to get rid of any lumps.
Mix the mustard, tomato puree and paprika into the stock and add to the onions (image 2)
Return the pan to the heat and bring to the boil, stirring continuously until the mixture has thickened.
Stir in the cream and taste for seasoning. Season with salt and black pepper if you think it needs it.
Finally, stir in the meatballs and leave on a low heat until the meatballs are heated through.
Transfer the meatballs to a serving dish and garnish with chopped parsley (image 3).
Serve with a bowl of freshly cooked tagliatelle or noodles.
If you'd like to be notified of any new recipes, why not subscribe to my newsletter. As a thank-you gift, you will receive a free recipe e-book containing some of my most popular cakes and desserts.
How to freeze beef stroganoff
You can freeze both the cooked and the uncooked meatballs. To freeze them arrange them in a single layer on a flat baking sheet and place them in the freezer until they are solid. Transfer to a plastic bag and freeze them for up to 4 months.
To use :
uncooked meatballs, fry from frozen on a low heat for 4 to 5 minutes per side until they are golden brown and completely cooked through.
cooked meatballs, allow them to defrost in the refrigerator (or defrost them in the microwave) then add them to the sauce and heat through.
You can also freeze the meatballs in the stroganoff sauce. Allow it to cool and pack it into a plastic container such as Tupperware. Store for 4 months in the freezer.
To use – defrost it overnight in the refrigerator (or use the microwave). Transfer the stroganoff to a saucepan and heat until piping hot.
Make in advance
You can make the meatballs in advance and store them in a covered container in the refrigerator for a day. Cooked meatballs can be stored for 2 days.
The sauce can also be stored for 2 days in the refrigerator.
You can also keep leftovers in the refrigerator for 2 days.
What to serve with meatball stroganoff
I like to serve meatball stroganoff with tagliatelle or noodles.
You can also serve it with creamy mashed potatoes and peas, or just spoon it over rice.
Leftover meatballs make a delicious hamburger, garnished with one or two tablespoons of the creamy mushroom sauce.
Pin for later
If you'd like to try this creamy meatball stroganoff for yourself, why not pin the recipe to one of your Pinterest boards so you can find it easily. Just click on the image below.
Other recipes
Not quite what you're looking for? Why not try one of these other recipes using ground beef.
The recipe
If you made this recipe and enjoyed it, I'd love it if you could give me a star rating in the comments below. And if you'd like to get in touch, you can email me at [email protected]. I'd love to hear from you. And don't forget to subscribe to my mailing list so you can grab yourself a copy of my FREE COOKBOOK!
If you'd like to continue browsing, just click on this link to all my recipes.