This recipe for meatball wellingtons with marinara sauce is one of those recipes that you can adapt for any occasion. You can serve them on a bed of marinara sauce with a side helping of freshly steamed vegetables and you have a quick and easy supper. Or you can serve them as a snack or appetiser and use the marinara sauce as a tasty dip. You can even pack them into a lunchbox for a tasty midday treat. Everybody needs a recipe like this in their repertoire!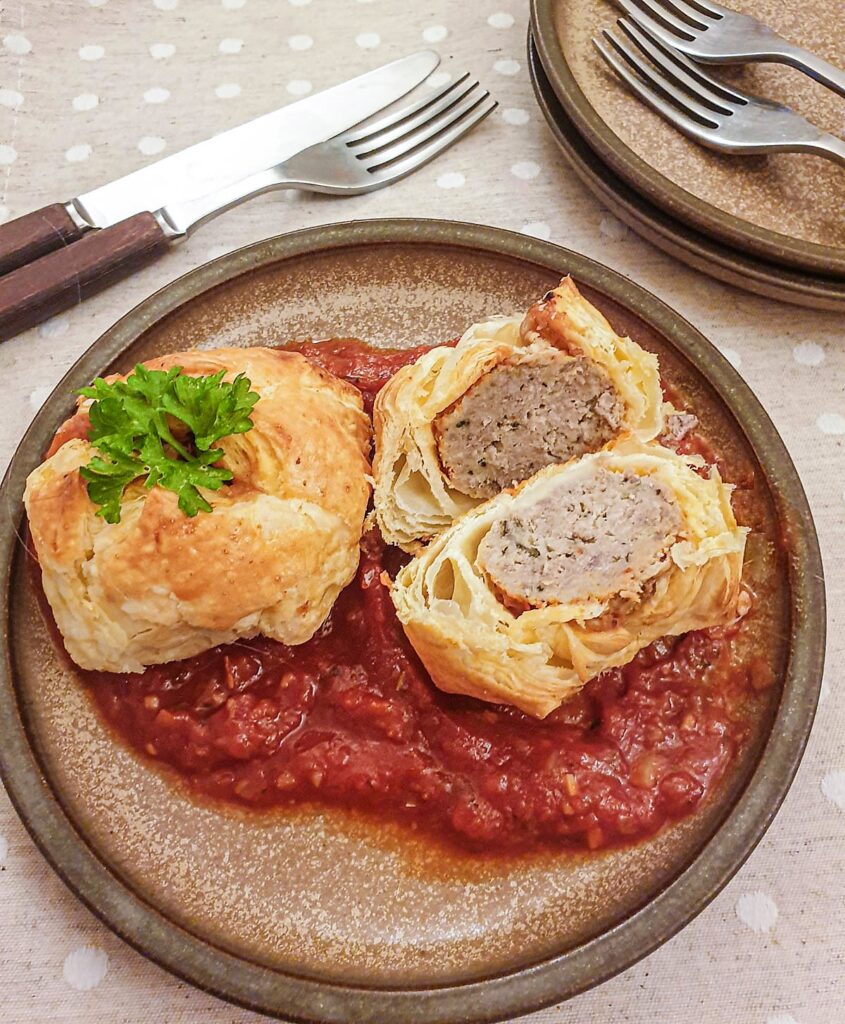 **As an Amazon affiliate, I earn from qualifying purchases.**
Meatball wellingtons
I've got to admit it, I do love a sausage roll. In fact, I've got a few sausage roll recipes on my website. I'm not sure whether I prefer these tasty pork and apple sausage rolls, or these bolognese sausage rolls made with leftover bolognese sauce. Both are equally delicious.
But even I have to admit that these meatball wellingtons take some beating in the sausage roll stakes. Even though they are not a true sausage roll, I think the best way to describe them would be 'posh sausage rolls'! But then it wouldn't do justice to how delicious these meatball wellingtons really are.
They are made by encasing homemade meatballs and a delicious marinara sauce in puff pastry and then baking them in the oven until they are puffed up and golden. The marinara sauce adds an extra dimension of flavour to the juicy meatballs and turns them into something really special.
Why I think you'll love them too
First of all, they are economical. To make 12 of these meatball wellingtons (which will easily feed 4 people), you only need a packet of puff pastry, 8 ounces (225g) of ground beef, and a few pantry staples.
Meatball wellingtons are versatile. They make an excellent family-friendly meal. But in addition to that, you can serve them as an appetiser or even pack them into a lunch box. They are delicious both hot and cold.
They are quick to make. The sauce only takes 20 minutes to cook, and while it is cooking you can mix and assemble the meatball wellingtons. Then it's 20 minutes in the oven and you're done!
They taste amazing. But don't just take my word for it, try them for yourself and see!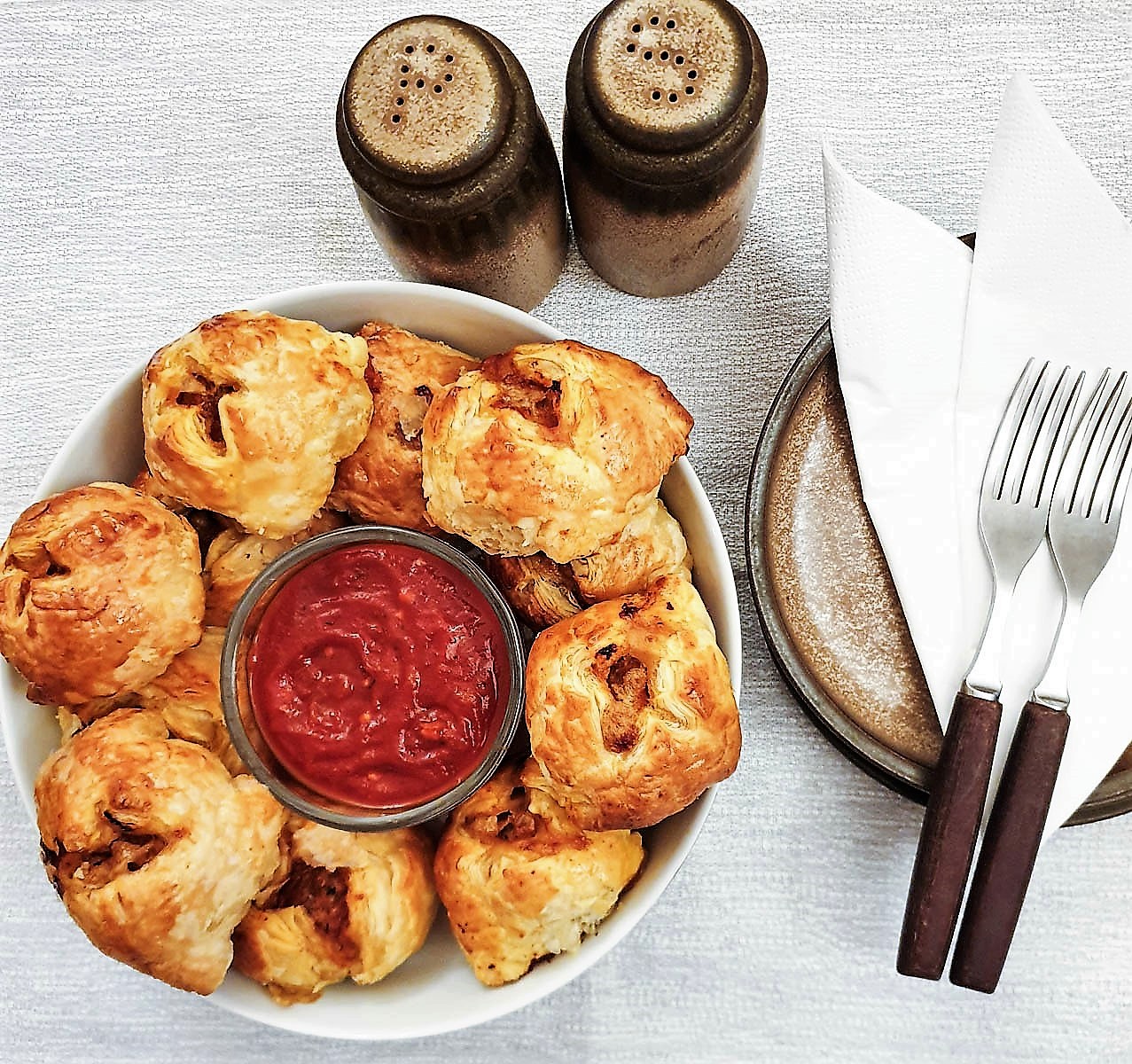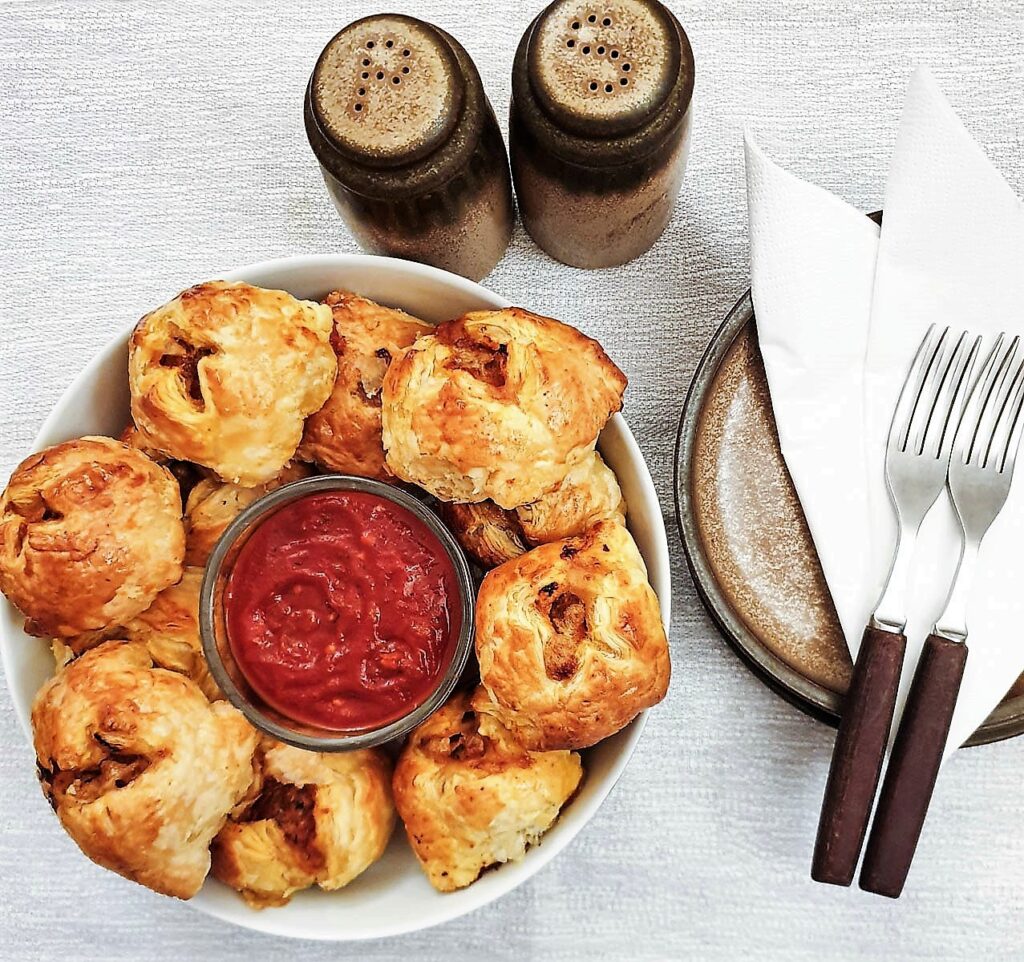 Ingredients
**You can get the complete list of ingredients and full instructions for making meatball wellingtons on the printable recipe card at the end of this post**
Note – the recipe makes 12 meatball wellingtons, but you will get about 16 meatballs out of these ingredients. You can either fry the extra meatballs in a frying pan or just pop them onto the baking tray with the meatball wellingtons.
For the meatballs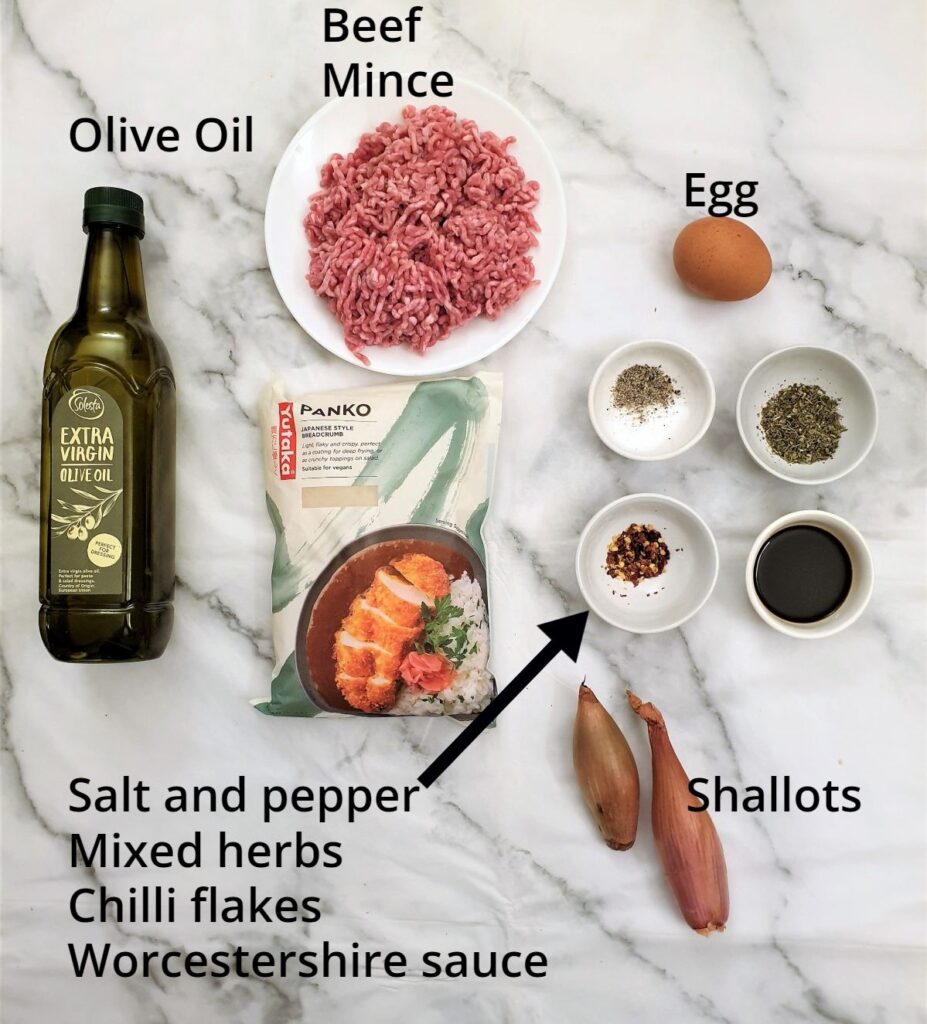 Beef mince – I would recommend you use beef mince with a maximum of 12″ fat content. Any more than that and you run the risk of the meatballs releasing too much fat and making the pasty greasy. If you prefer, you can use a mixture of both pork and beef mince.
Panko breadcrumbs – Unlike regular meatballs which are mixed with bread soaked in milk, these meatballs are mixed with dry breadcrumbs which helps prevent excess moisture from making the pastry turn soggy. I like using Panko breadcrumbs because they are super light and absorbent and they lighten the texture of the mince perfectly. If you can't get hold of Panko you can make your own breadcrumbs by grating day-old bread on a cheese grater and toasting it lightly in a dry frying pan until it starts to dry out and turn brown. Do watch it carefully, however, because it can burn easily.
Puff pastry – which I forgot to include in the photo. If you have your own favourite puff pastry recipe, by all means make the pasty yourself. I just find it much more convenient to use store-bought puff pastry.
Egg – this is used to bind the meatballs.
Shallots – very finely chopped. A food processor makes light work of chopping the onions (and saves watery eyes) but a sharp knife will do the job just as well. Try to cut the shallots so that they are approximately the same size as a grain of rice. You could also grate the shallots on a box grater.
Mixed herbs – this is a blend of basil, marjoram, oregano, and thyme.
Worcestershire sauce – for extra flavour.
Dried chilli flakes – for a touch of heat. You can substitute the chilli flakes for cayenne pepper or leave it out if you don't like chilli. Use your own discretion as to how much you use.
Salt and pepper – for seasoning.
Olive oil – this is optional. You may prefer to fry your shallots in a little olive oil to soften them before adding them to the meatball mixture. I don't bother to do this. I find that as the shallots are chopped so finely they are completely cooked by the time the meatball wellingtons come out of the oven.
For the marinara sauce
The marinara sauce is made with 4 main ingredients:
Tomato passata – this is sold in cartons or bottles in the UK. Passata is simply whole tomatoes that have been processed and then sieved to remove the pips and any bits of skin. The result is a smooth, thick tomato sauce – not to be confused with tomato ketchup.
Shallots – these have a much milder, sweeter taste than normal red, white or yellow onions. If you can't get shallots, red onion would be the next best option.
Mixed herbs
Garlic – you can use freshly minced cloves of garlic or for convenience you can use crushed garlic from a jar.
Sugar – I like to add a teaspoon of sugar when I am cooking with tomatoes as I find it cuts through the tartness. You can leave this out if you prefer.
Salt – for seasoning, but optional.
Olive oil – for frying
What to do
Marinara sauce
Start off by making the marinara sauce. If you get started on this first, it will have time to cook while you are mixing the meatballs.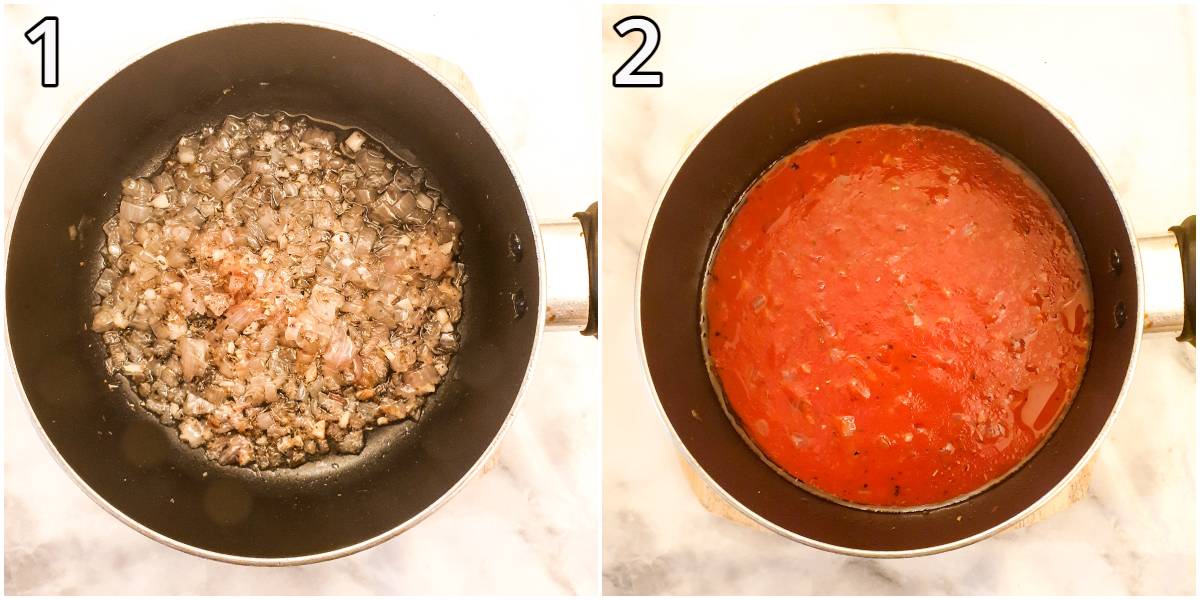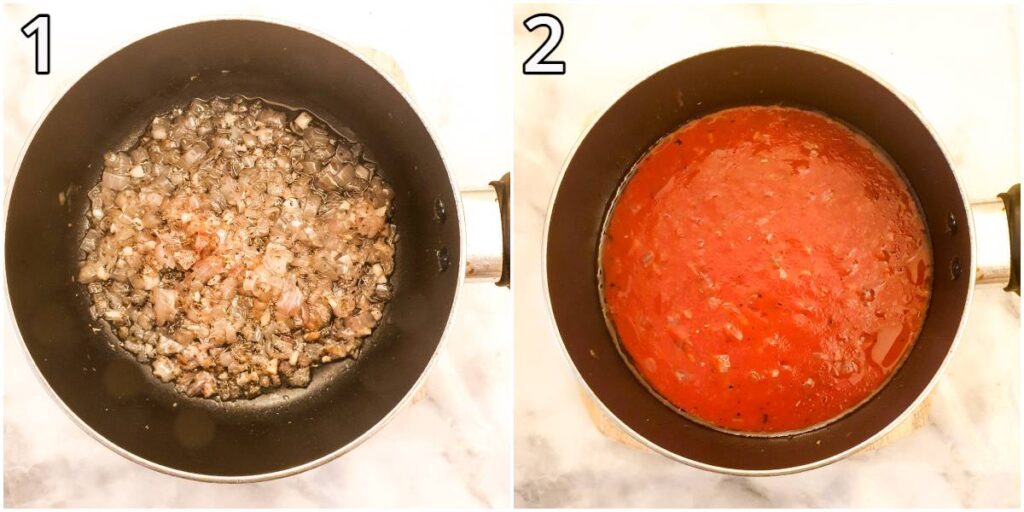 Peel and finely chop the shallots, and peel and crush the garlic. You should aim to get the shallots to be about the size of a grain of cooked rice. You can do this in a food processor, or use a sharp knife. If using a food processor, be careful not to over-process.
Fry the onions and garlic with the herbs, in a little sunflower oil. Use a low heat and let them sweat slowly. Take care not to let them brown – the onions will turn translucent when they are ready.
Now add the passata and a teaspoon of sugar. Turn the heat down as low as possible, cover the saucepan with a lid and leave to simmer for about half an hour until the sauce has thickened.
Taste for seasoning and add a little salt if necessary.
Leave the marinara sauce to cool while you prepare the meatballs.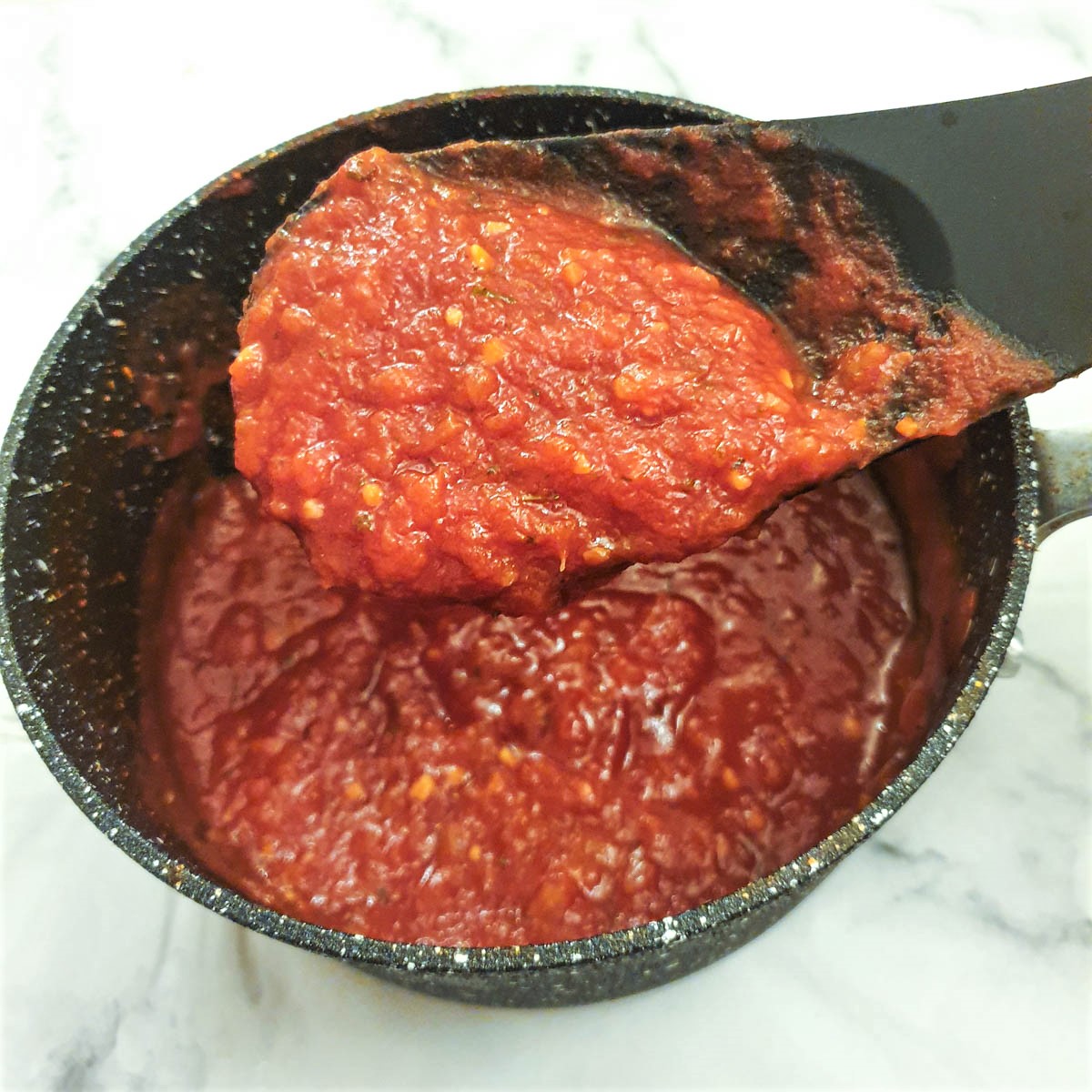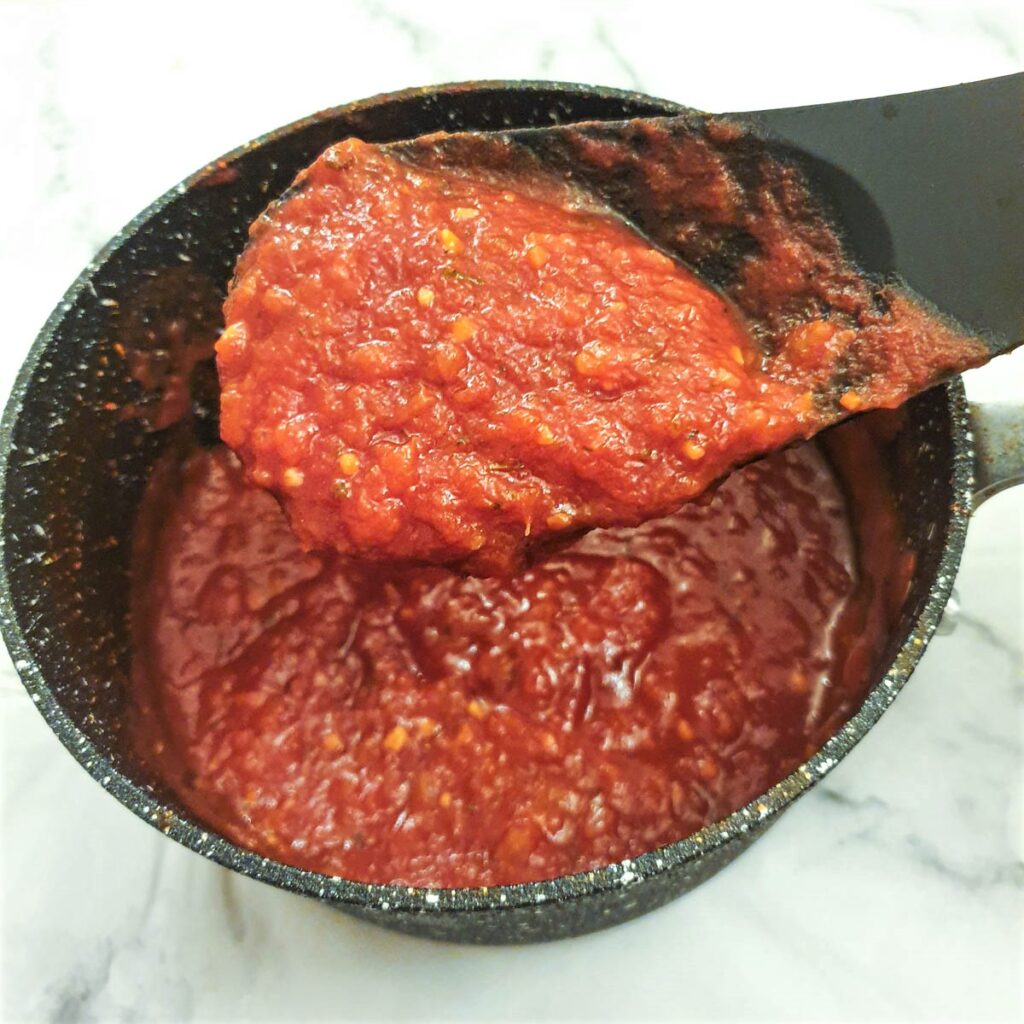 Meatballs
If you want to pre-cook the shallots, fry them gently in a splash of olive oil until they start to turn translucent. Do not allow them to brown. Leave them to cool.
Place all the meatball ingredients into a mixing bowl.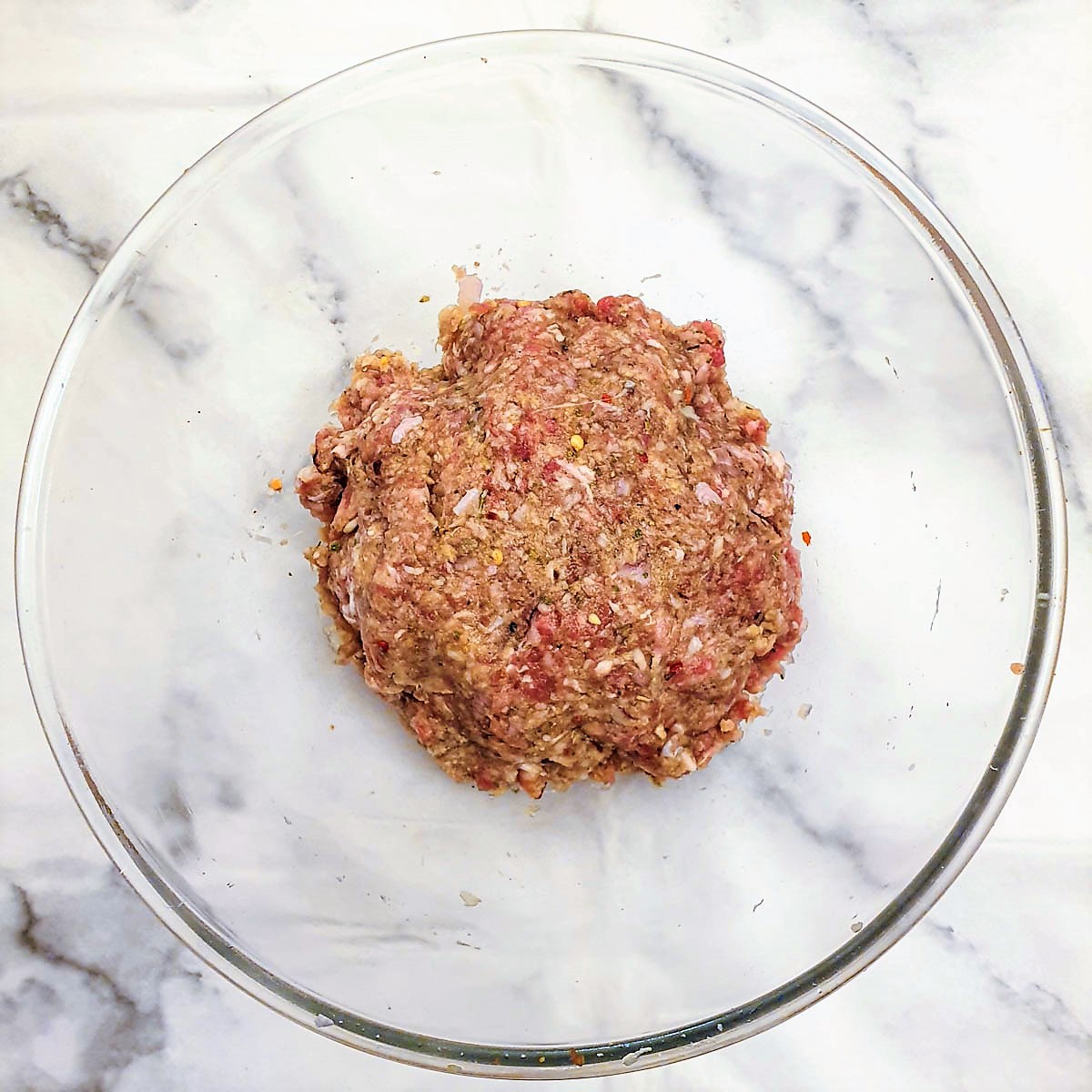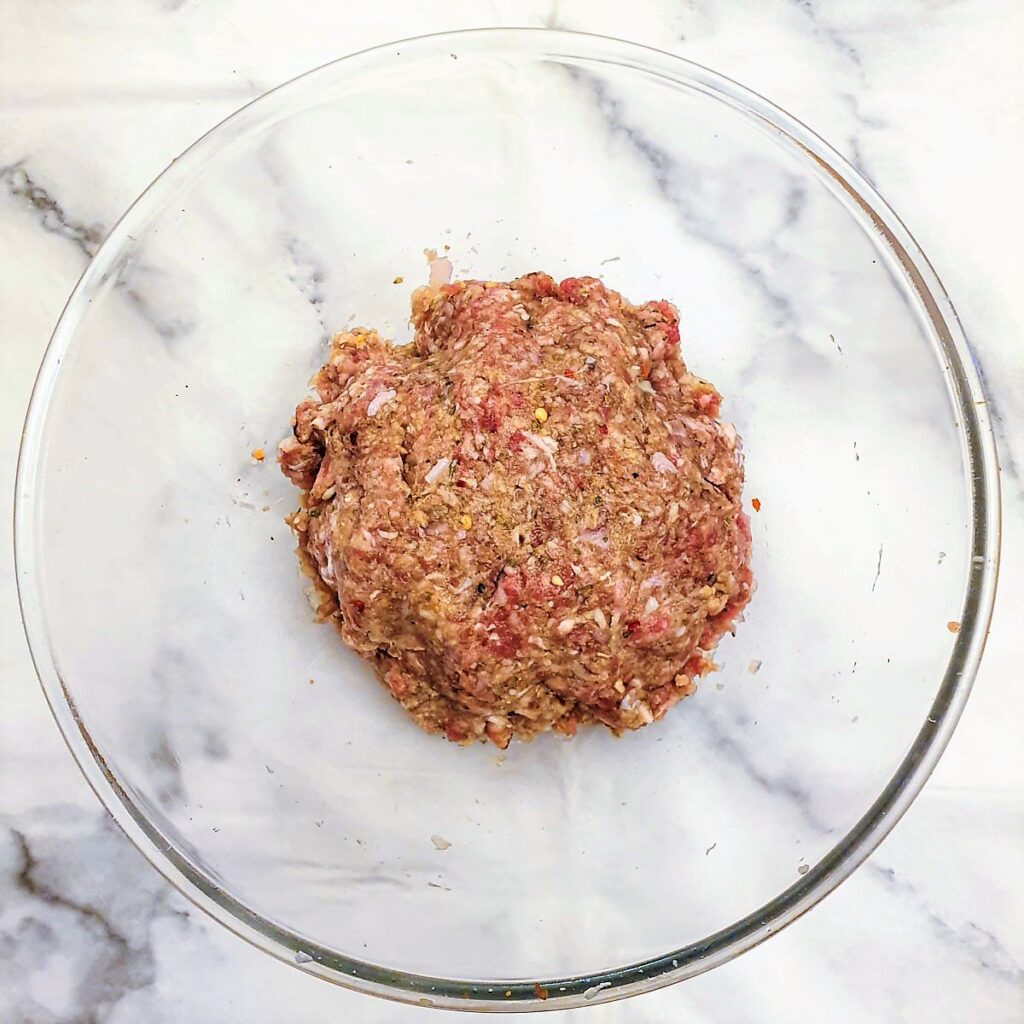 Set it aside while you prepare the pastry.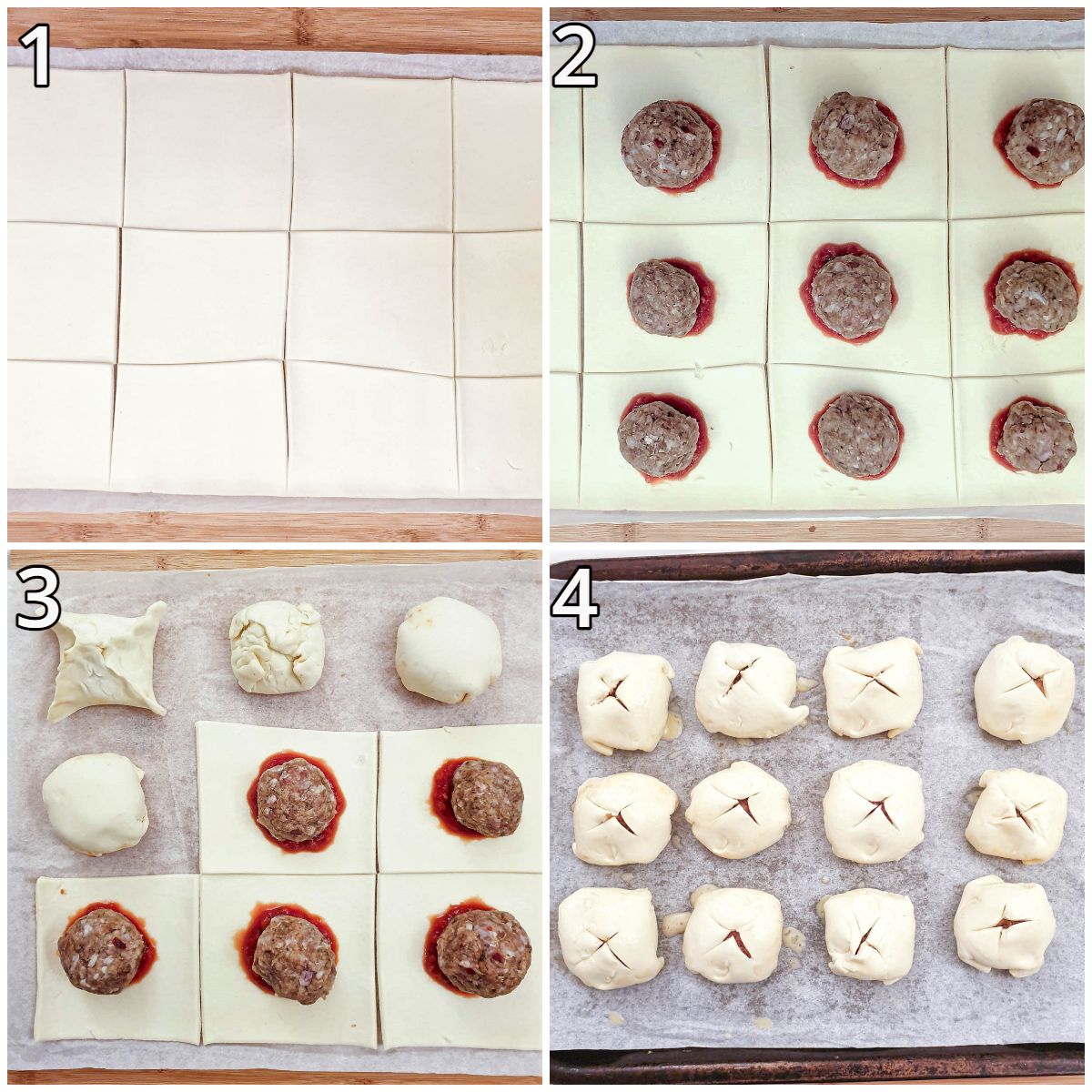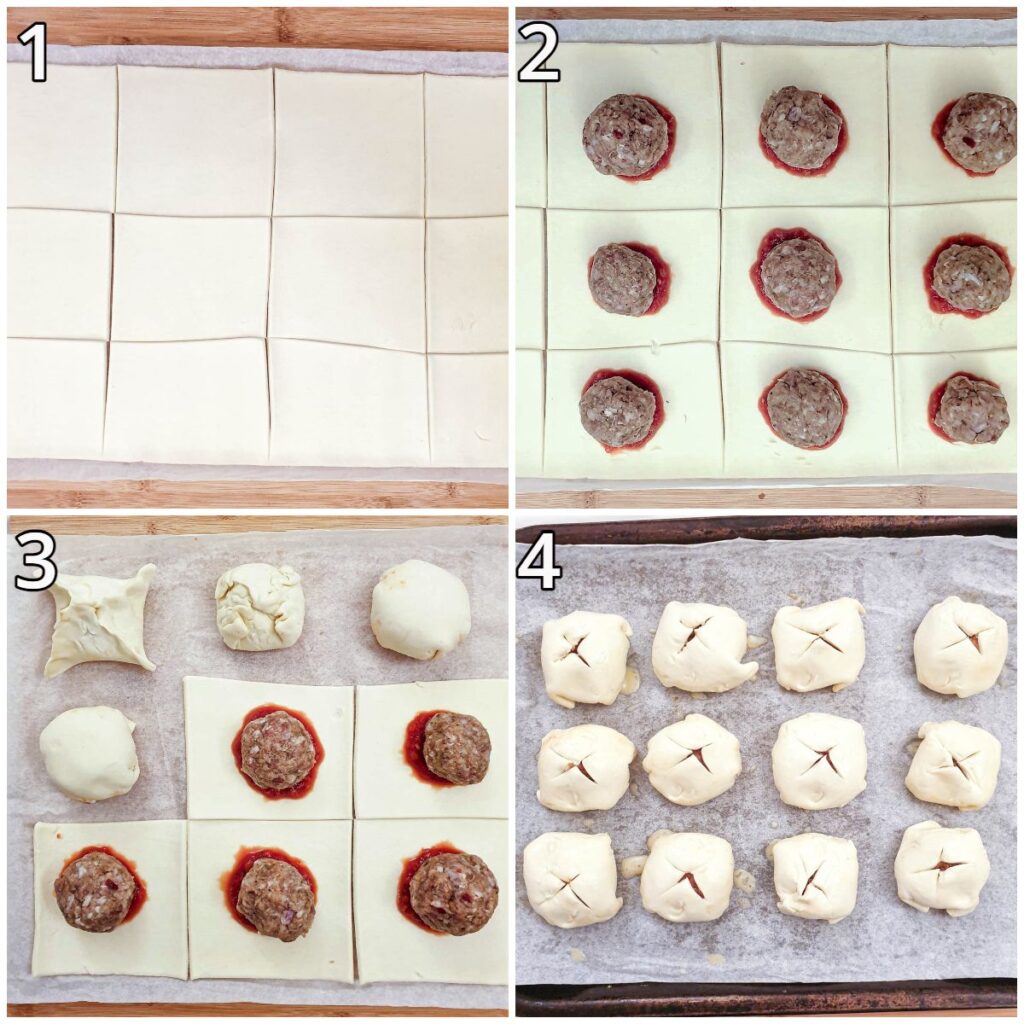 Unroll the puff pastry and cut it into 12 equally-sized squares (image 1). If you have bought a slab of pastry rather than a roll, just roll it out with a rolling pin into a rectangle approximately one-eights of an inch thick (or 10″ by 13″ in size).
Place a tablespoon of marinara sauce into the centre of each square.
Roll the mince mixture into golf-ball-sized balls and place each one on top of the marinara sauce on the puff pastry (image 2).
Top tip – keep a bowl of clean cold water nearby to dip your hands into when rolling the meatballs – the meat will not stick to wet hands.
Fold the opposite corners of the pastry up over the meatballs and press the sides together to seal. Repeat with the other two opposite corners (image 3).
Press the sides of the pastry down to form a roughly circular shape and place each ball upside down (with the joins at the bottom) on a baking tray lined with baking parchment.
Brush each ball with beaten egg and cut a cross on the top with a sharp knife (image 4).
Place the baking tray into the centre of a preheated oven (200C/400F) for 20 minutes until the pastry is cooked and golden.
Note – if you have enough of the meat mixture to make extra meatballs, either fry them in olive oil in a frying pan or place them on the baking tray alongside the meatball wellingtons. They make a tasty snack!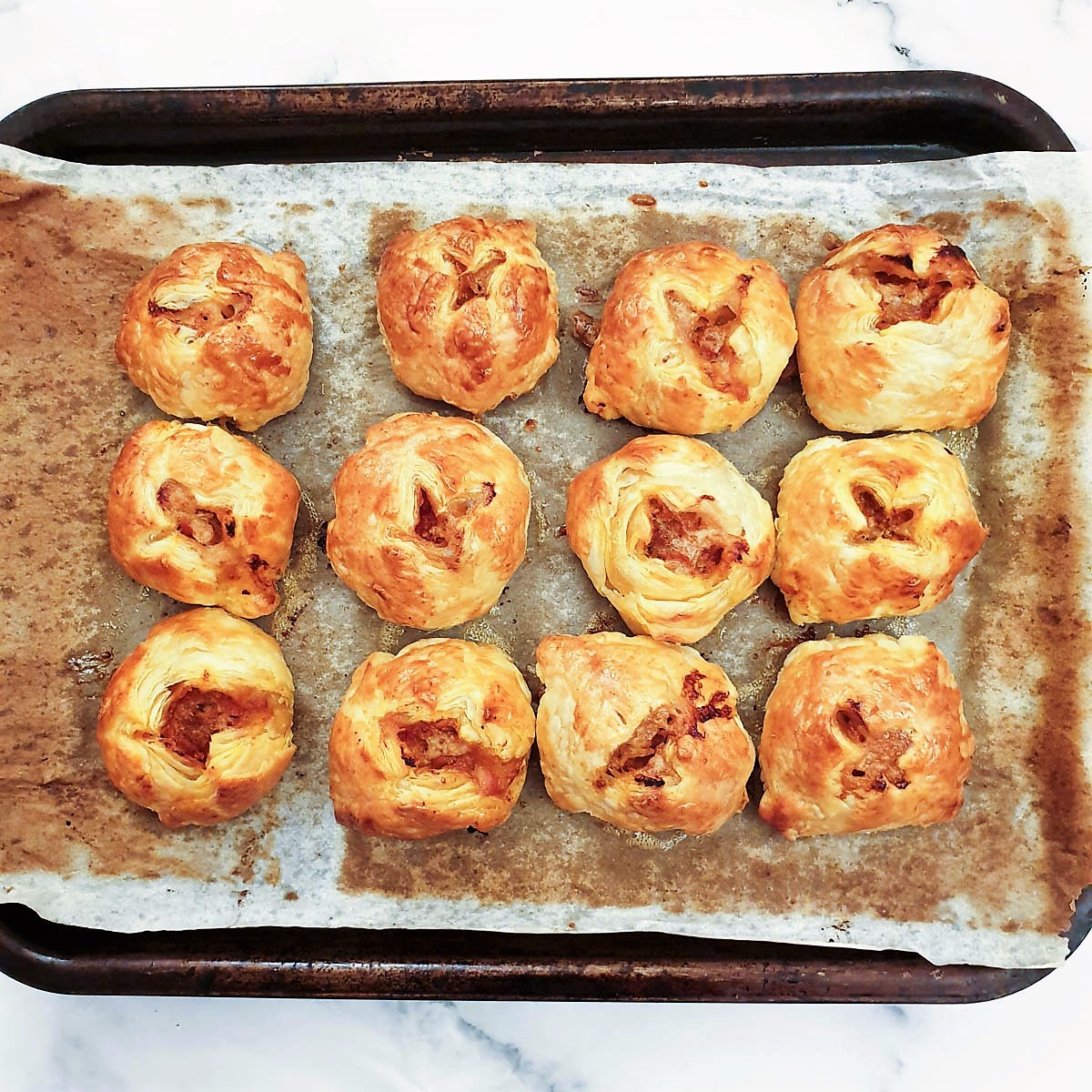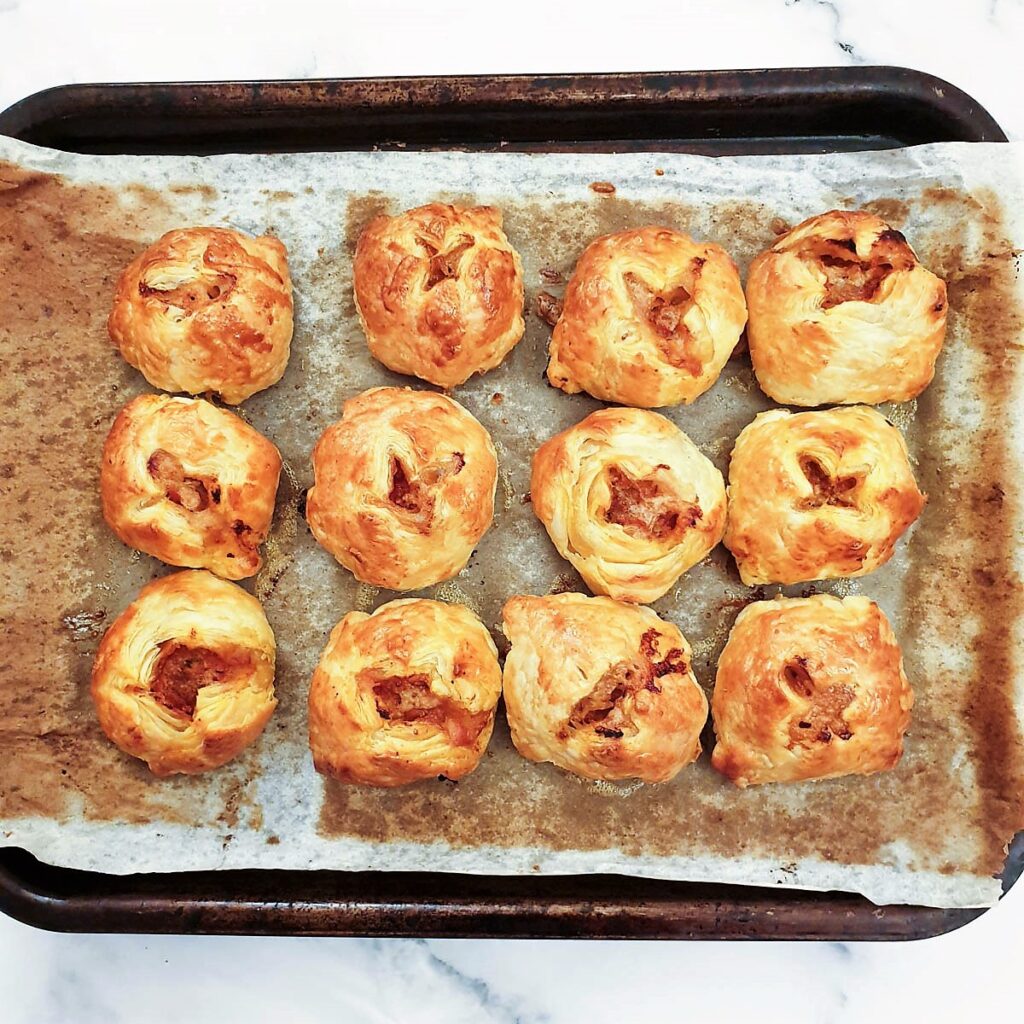 To serve
These meatball wellingtons can be served in a number of ways:
Serve them as a quick and easy supper. Arrange 2 or 3 meatball wellingtons on a helping of marinara sauce and serve with a side helping of steamed vegetbles.
One meatball wellington on a bed of marinara sauce makes a delicious (and different) dinner party starter.
Pack them in a lunchbox for a tasty midday snack, or pack into your picnic basket as part of an alfresco meal.
Hand them round as canapes at a get-together – although as they are quite large, you may want to cut them in half first!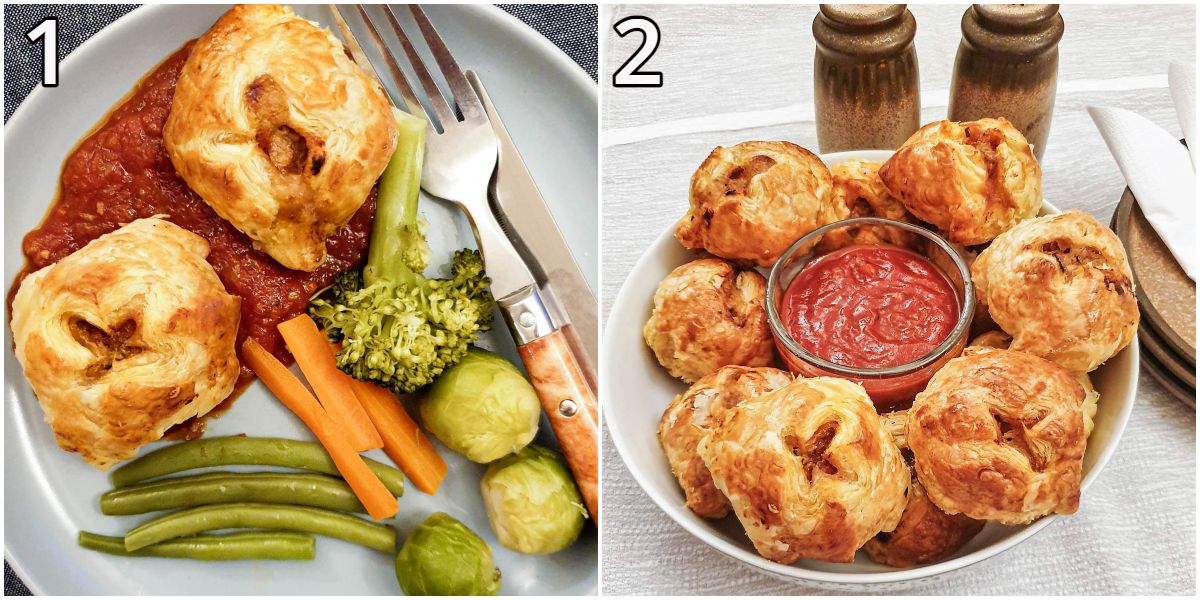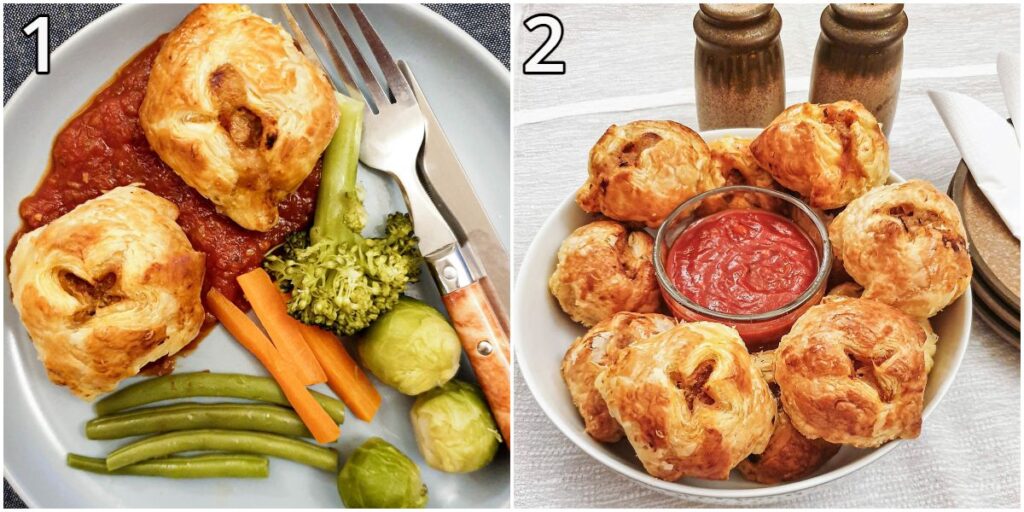 If you'd like to be notified of any new recipes, why not subscribe to my newsletter. As a thank-you gift, you will receive a free recipe e-book containing some of my most popular cakes and desserts.
Get ahead
Freezing
If you want to get ahead with your meal prep, you can prepare the meatballs and sauce ahead of time and freeze them separately. When you are ready to make the meatball wellingtons, just remove the containers from the freezer and allow them to defrost in the refrigerator.
Once defrosted, assemble with the puff pastry and bake according to the recipe instructions.
To freeze the meatballs, arrange them on a baking tray lined with baking parchment (to prevent sticking) and place them in the freezer. Once they are solid, transfer them to a freezer bag and freeze them for up to 4 months.
To freeze the marinara sauce, allow it to cool and then transfer to either a plastic bag or a rigid plastic container such as Tupperware or similar. Freeze the sauce for up to 6 months.
Storage
You can keep the cooked meatball wellingtons and the marinara sauce in covered containers in the refrigerator for 3 to 4 days.
Reheat the meatball wellingtons on a baking tray in a hot oven for 8 o 10 minutes until piping hot.
Reheat the marinara sauce either in the microwave or in a saucepan on the stove.
Pin for later
If you would like to try these meatball wellingtons for yourself, why not pin this recipe to one of your Pinterest boards. Just click on the image below.
Other recipes
You may also enjoy these other meatball recipes:
The recipe
If you made this recipe and enjoyed it, I'd love it if you could give me a star rating in the comments below. And if you'd like to get in touch, you can email me at [email protected]. I'd love to hear from you. And don't forget to subscribe to my mailing list so you can grab yourself a copy of my FREE COOKBOOK!
If you'd like to continue browsing, just click on this link to all my recipes.