This creamy leek and brussels sprouts bake is a deliciously different way of preparing brussels sprouts! With a crispy cheesy topping covering the nutty brussels and the creamy leeks, this dish is a winner! Plus it only takes minutes to make.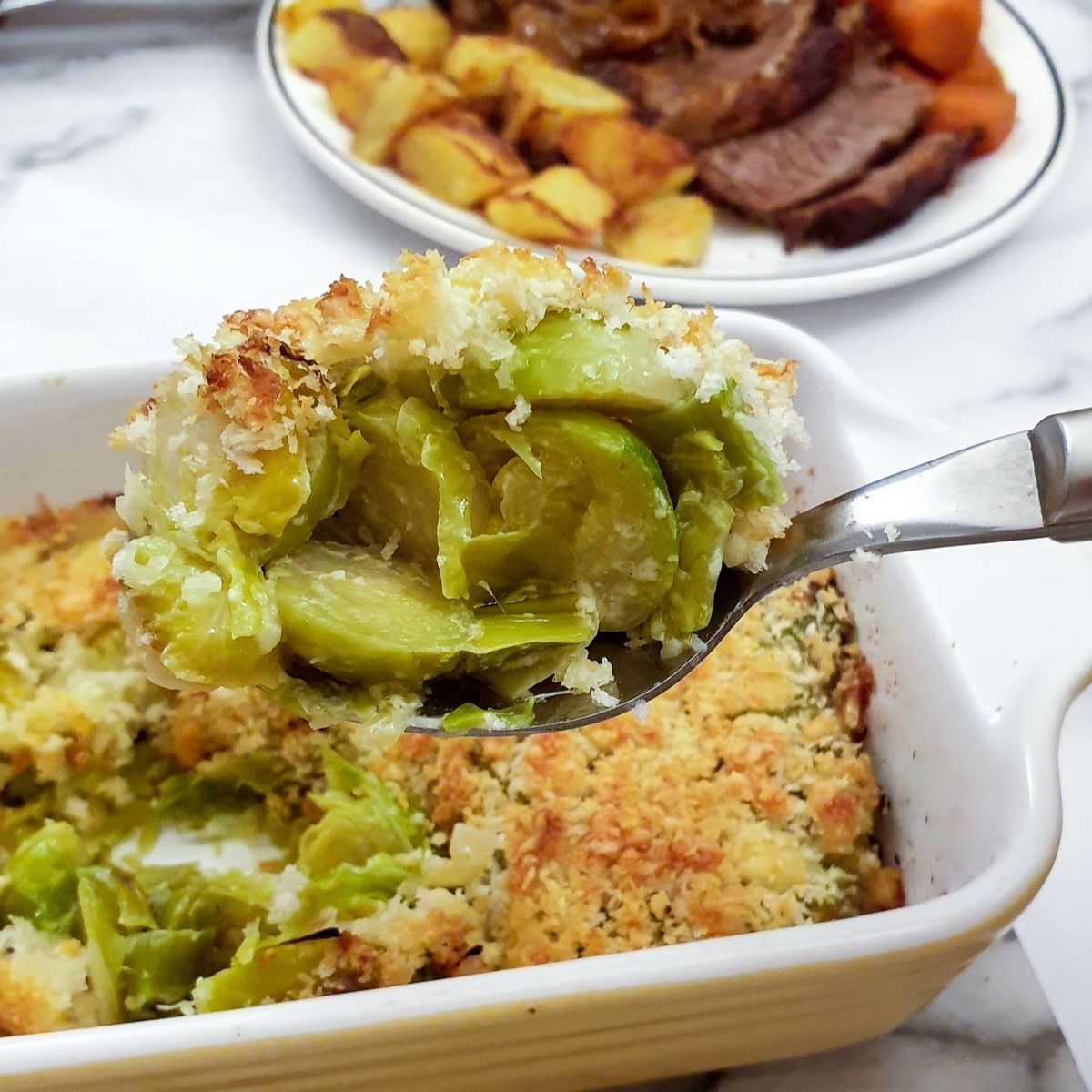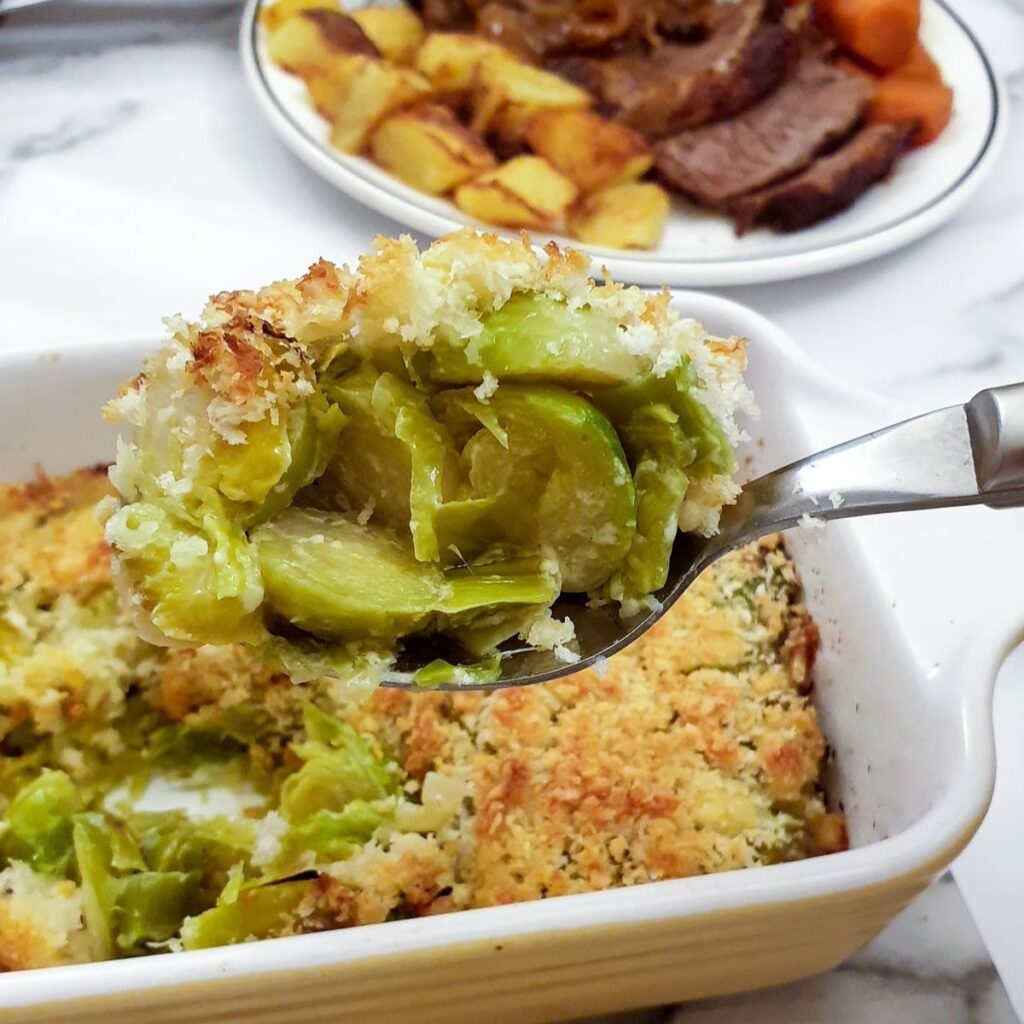 **As an Amazon affiliate, I earn from qualifying purchases.**
A new way to prepare brussels sprouts
Brussels sprouts – you either love them or hate them. Luckily my family loves them. And we can't get enough of this yummy leek and brussels sprouts bake.
And if you like brussels, I think you'll love it too!
The vegetables are steamed in butter until they are just tender, and mixed with a little cream to give a deliciously creamy and buttery taste.
Then they are topped with a mixture of cheese and breadcrumbs before being browned in the oven, resulting in a crispy, crunchy topping.
You only need a few ingredients, and you have this creamy leek and brussels sprouts bake ready to eat in less than half an hour.
So what are we waiting for? Let's see how to make it!
Ingredients
You don't need many ingredients. I haven't included salt in the photo as not everyone likes to cook with salt.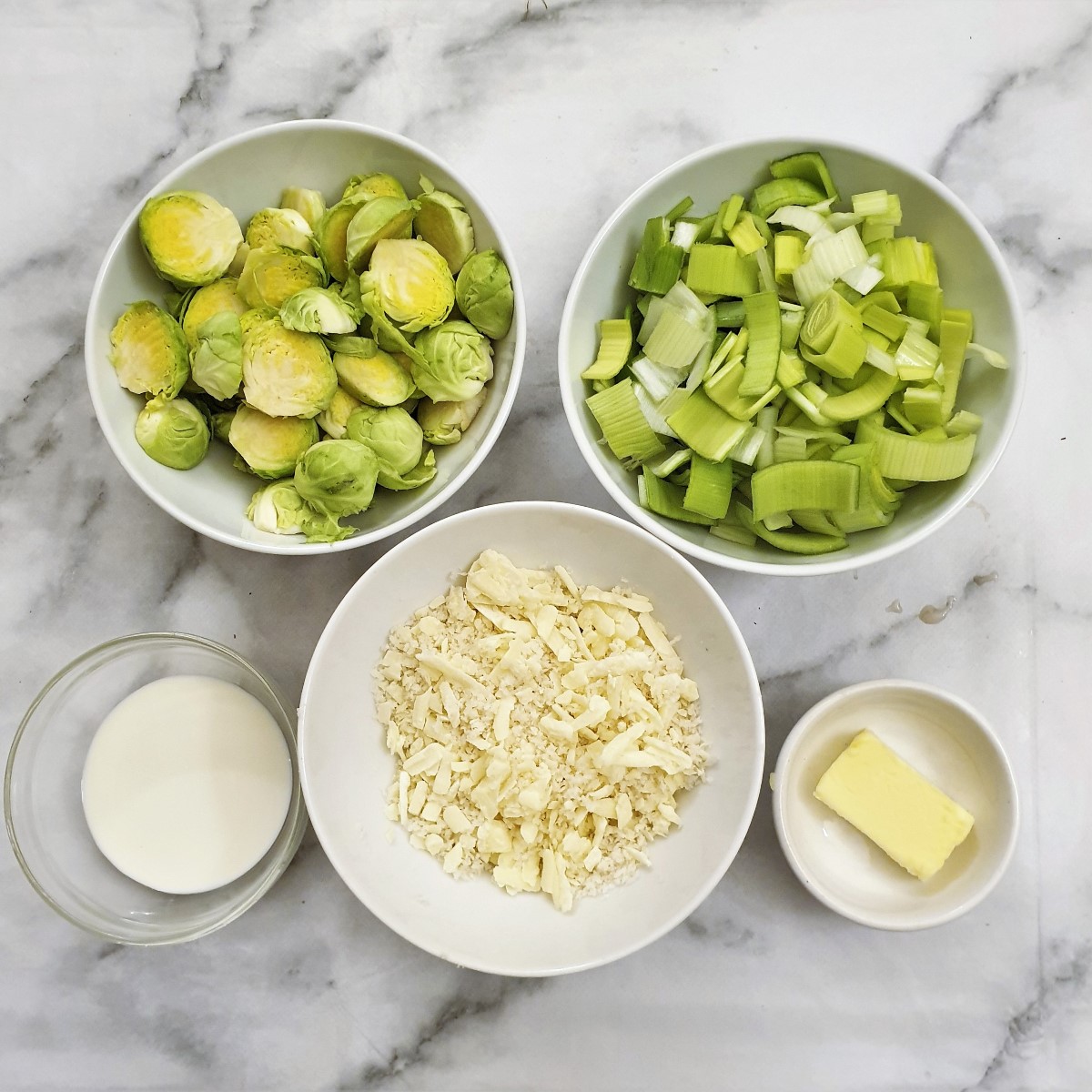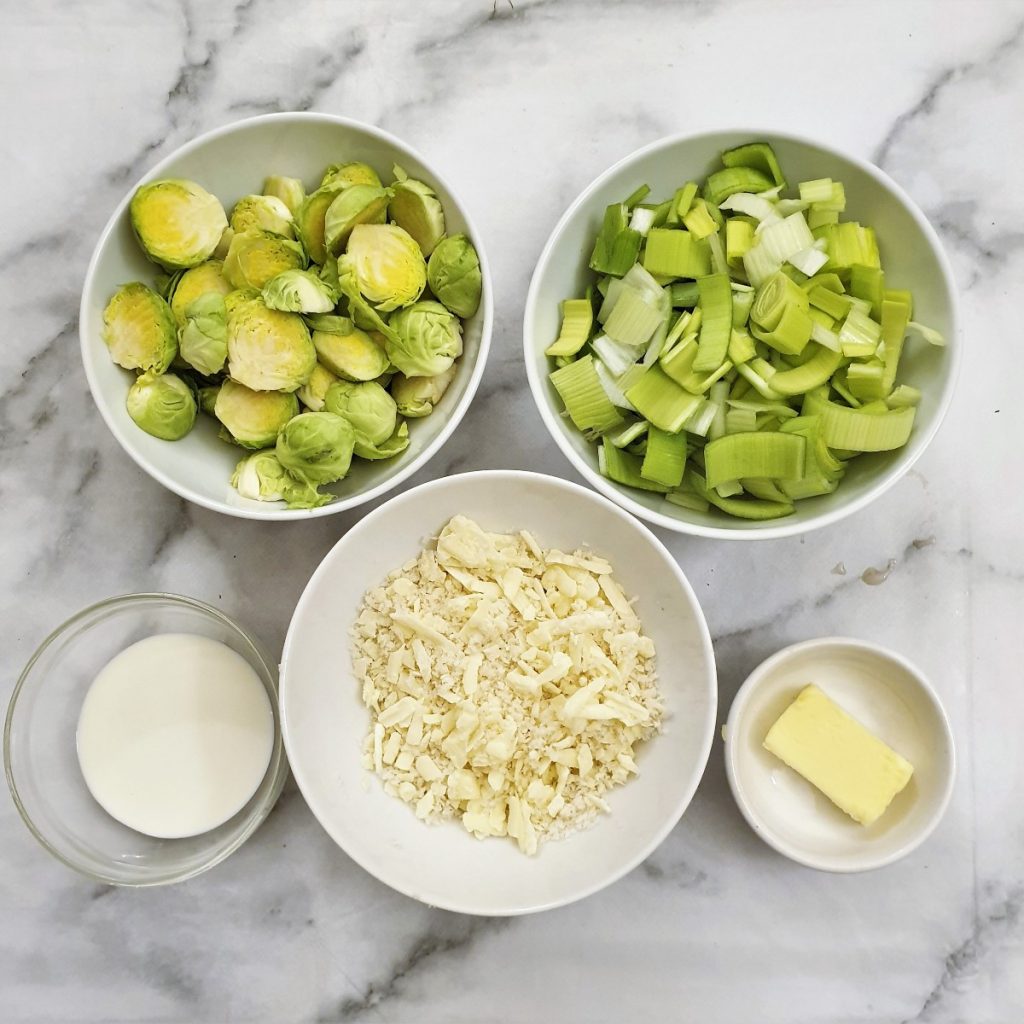 Get the complete list of ingredients and full instructions on the printable recipe card at the end of this post.
The recipe is sufficient for 4 people as a side dish, but you can easily scale it up or down to serve more or fewer people.
Brussels sprouts and leeks – you should allow half a cup each of brussels sprouts and leeks per person. This is based on an average vegetable portion size per person of half a cup. If your family has a larger appetite, by all means, add extra.
Butter – this is used for cooking the vegetables and you will need about one ounce or 30 grams for every 2 cups of vegetables.
Single cream – this is mixed with the vegetables once they are cooked and you will need one tablespoon of cream for each cup of vegetables.
Topping – this is a mixture of breadcrumbs and grated cheddar cheese. You will need 1 tablespoon of each per cup of vegetables. I've used cheddar, but you can use your own preferred brand of cheese.
I like to use Panko breadcrumbs, which make a really crispy topping. If you don't have Panko, just make your own breadcrumbs by grating stale bread on a cheese grater, or by whizzing it around in the food processor for a few minutes. If you do make your own breadcrumbs and would like to crisp them up a bit, just toast them in a dry frying pan.
Salt – I always add a small amount of salt (a scant half teaspoon) to the vegetables as they are cooking, but this is totally optional.
How to make it
Start off by preparing the vegetables
Trim the leeks and then cut them in half down the length.
Rinse under cold running water to get rid of any dirt that may be lurking.
Then slice them into semi-circles.
Remove the outer leave from the brussels and cut the brussels into slices – 3 to 4 slices per sprout, depending on the size.
Cook the vegetables
Melt the butter in a saucepan and then add the leeks.
Turn the heat down to low, cover with a lid and leave to cook slowly for 3 minutes. Make sure the leeks do not turn brown, they should just start to soften.
You don't need to add any water.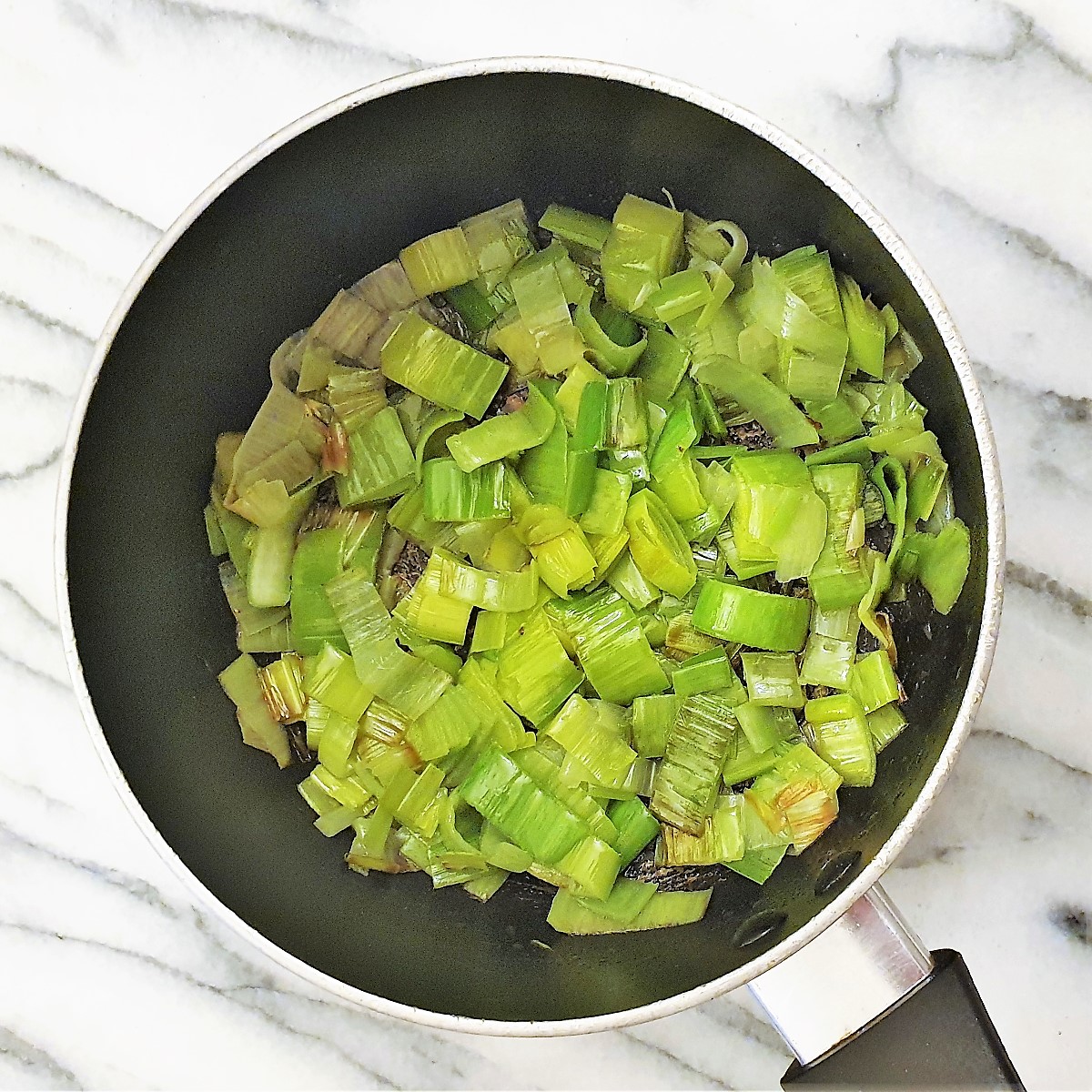 Add the brussels sprouts, stir and cover again and leave for another 2 minutes. Once again, be careful not to brown.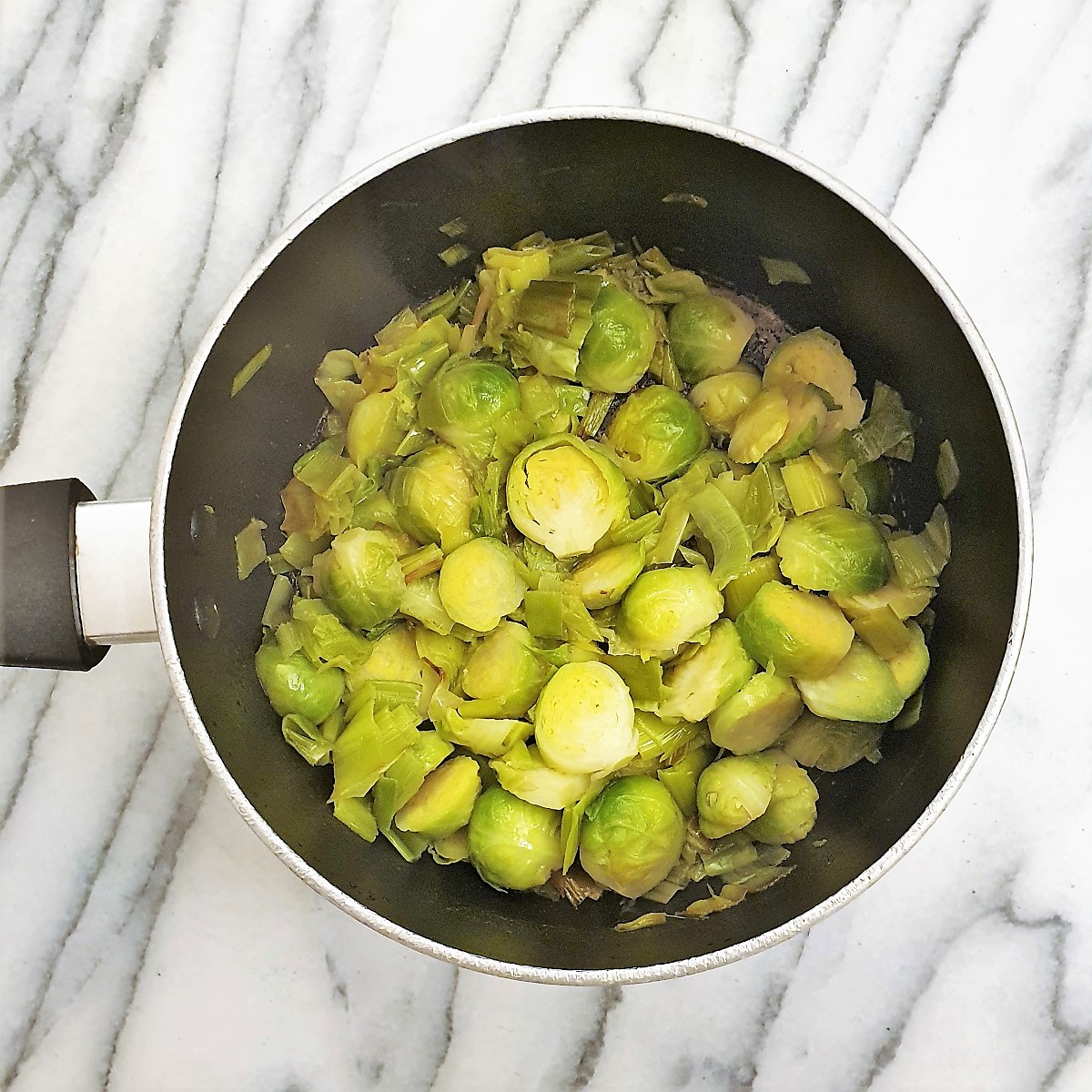 Season with salt if using, then stir in the cream.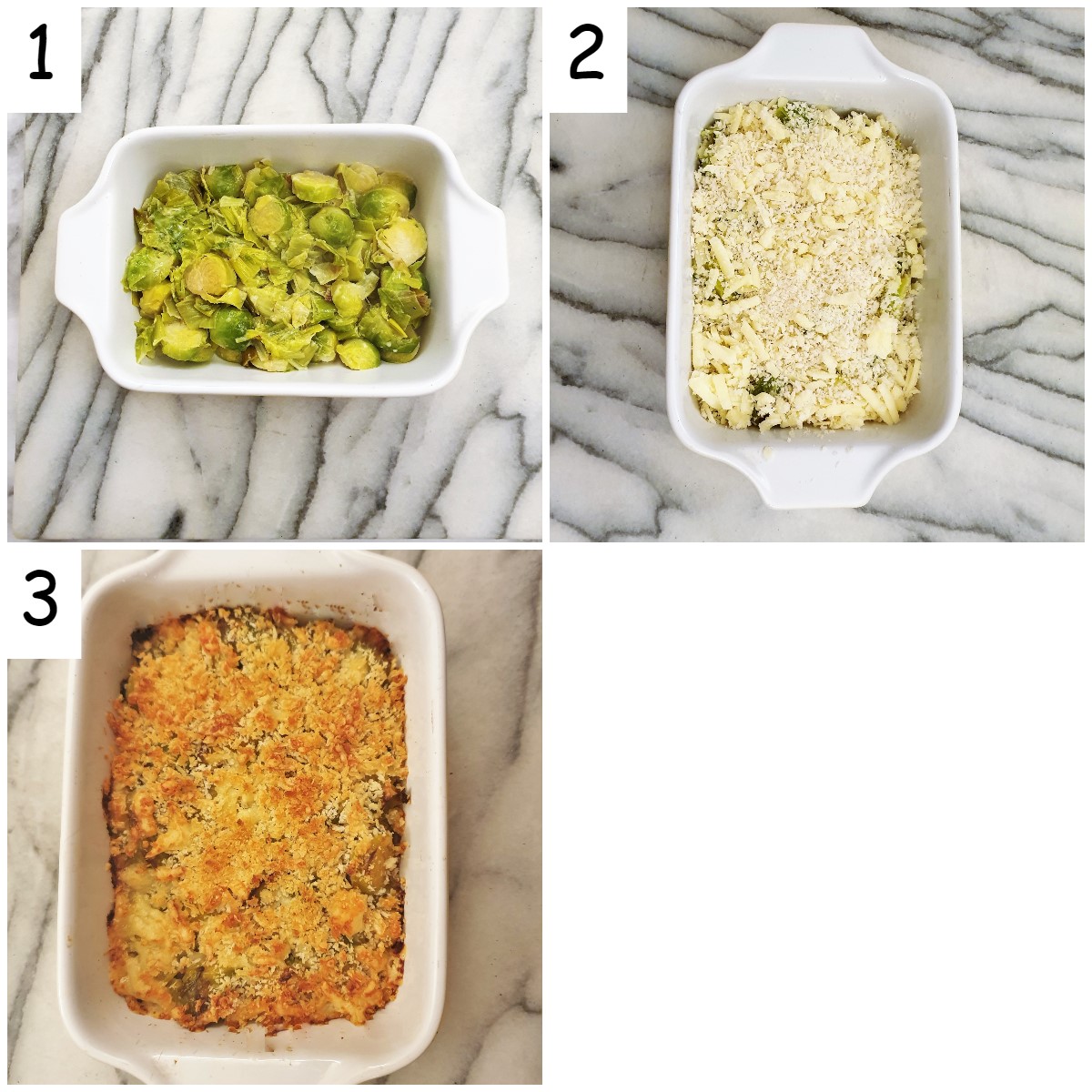 Tip the vegetables into a small oven-proof dish (image 1 above).
Cover the vegetables with a mixture of cheese and breadcrumbs.
Bake in a hot oven (200C / 400F) for 10 minutes until the breadcrumbs start to turn brown and the cheese has melted.
Serve immediately a side dish with your favourite roast.
If you'd like to be notified of any new recipes, why not subscribe to my newsletter. As a thank-you gift, you will receive a free recipe e-book containing some of my most popular cakes and desserts.
Can I freeze the leek and brussels bake?
I like to make a big batch of this and store meal-sized portions in the freezer.
Use disposable aluminium freezer containers to assemble the dish. These containers are oven-safe so you can just take them straight from the freezer to the oven.
Prepare the dish up to the point where it has been covered with the cheese and breadcrumbs, then allow it to cool, cover with the lid and seal the edges.
You can store the leek and brussels sprouts for up to 4 months in the freezer.
To use, just remove from the freezer, discard the container lid and bake from frozen in a medium oven (175C / 350F) for 12 to 15 minutes.
The longer cooking time means the dish has time to defrost and heat through before the breadcrumbs are browned, and the lower temperature ensures the breadcrumbs do not over-brown before the dish has heated.
Make ahead
You can make this leek and brussels sprout dish ahead of time.
Prepare the dish up to the point where it has been covered with the cheese and breadcrumb mixture.
Then store it, covered with clingfilm or plastic wrap, in the refrigerator for up to 3 days.
When you are ready to eat it, remove it from the refrigerator and discard the plastic wrap.
Bake in a hot oven for 10 minutes and serve.