This recipe for creamed cabbage elevates boiled cabbage from the mundane to the magnificent. I've been making creamed cabbage for years – it's so easy to make and everyone comes back for seconds!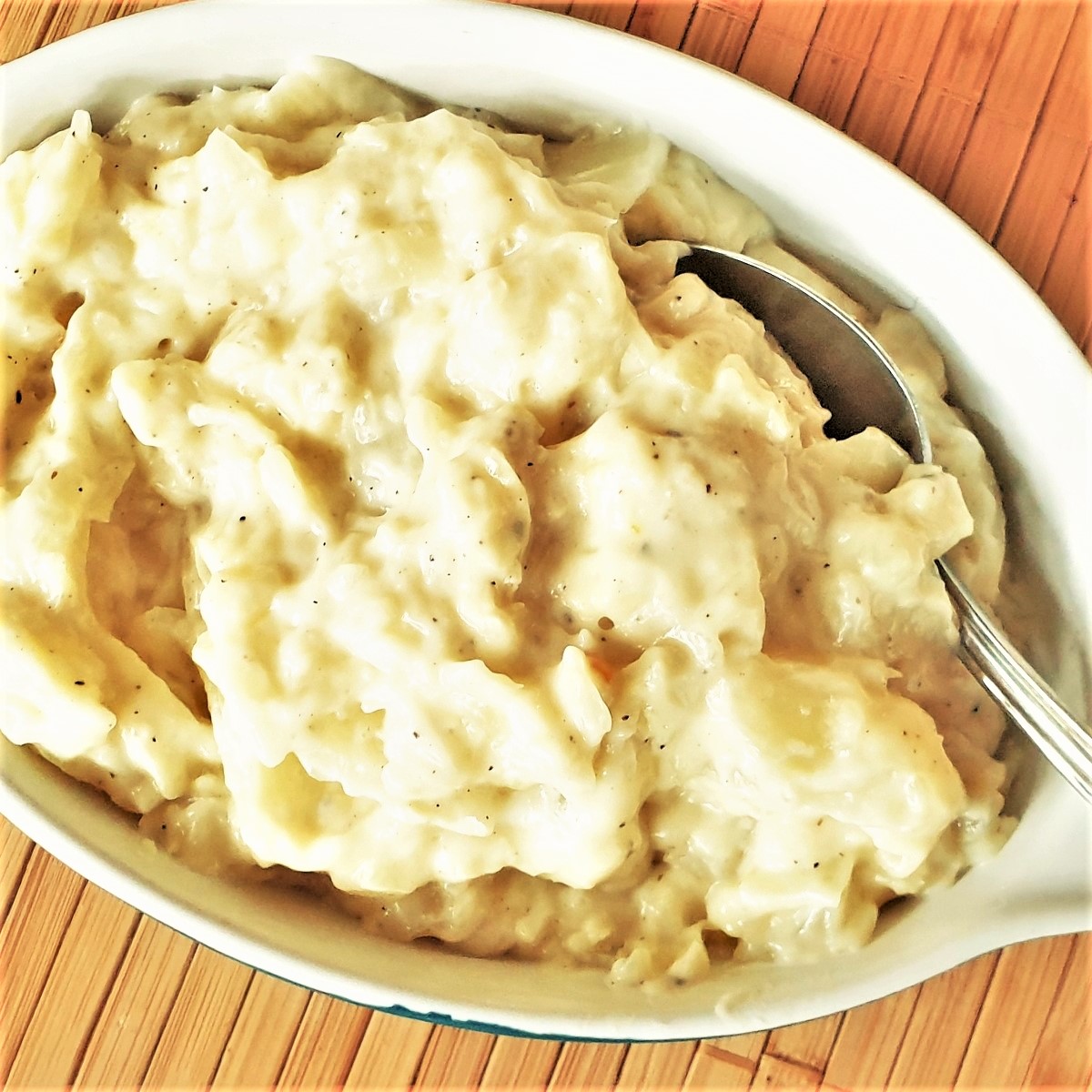 Creamed cabbage
I've been making cabbage in this way for years, ever since the children were small. I found it the only way I could get them to eat cabbage. Watery boiled cabbage can be rather bleh and unappetising, but this creamy cabbage dish is delicious and just begs to be eaten.
This dish tastes so creamy, you'd swear it was loaded with cream. In actual fact there is no cream at all in the dish. The boiled cabbage is mixed with cornstarch (cornflour), butter and milk to form a delicious creamy sauce. The cornstarch acts to absorb the water left in the boiled cabbage, so the dish isn't watery either. Add a generous sprinkling of ground black pepper and you have a dish of cabbage fit for a king.
As a bonus, the cabbage and the creamy sauce are all cooked in the same pan, so there's less washing up!
I had friends over for a roast dinner the other night, and one of the side dishes I served was this creamed cabbage. It went down a treat, they'd never eaten cabbage prepared in this way before and everyone had seconds. Luckily I'd made a big dishful. As they were leaving, one of my friends said 'can I be cheeky and take the leftover creamed cabbage with me'. I'd call that a successful outcome.
The other thing they said was 'oh you have to put this cabbage recipe on your website'. So here it is. I hope you enjoy it too 🙂 .
How to make creamed cabbage
You can get the complete recipe and full instructions on how to make creamed cabbage on the printable recipe card at the end of this post.
What you will need to make this creamed cabbage is of course 1 white cabbage. You could use a savoy cabbage too, it will work just as well. To make enough for 4 people as a side dish you will need approximagely 1/2 of a medium cabbage – about 450g or 1 pound in weight.
Prepare and boil the cabbage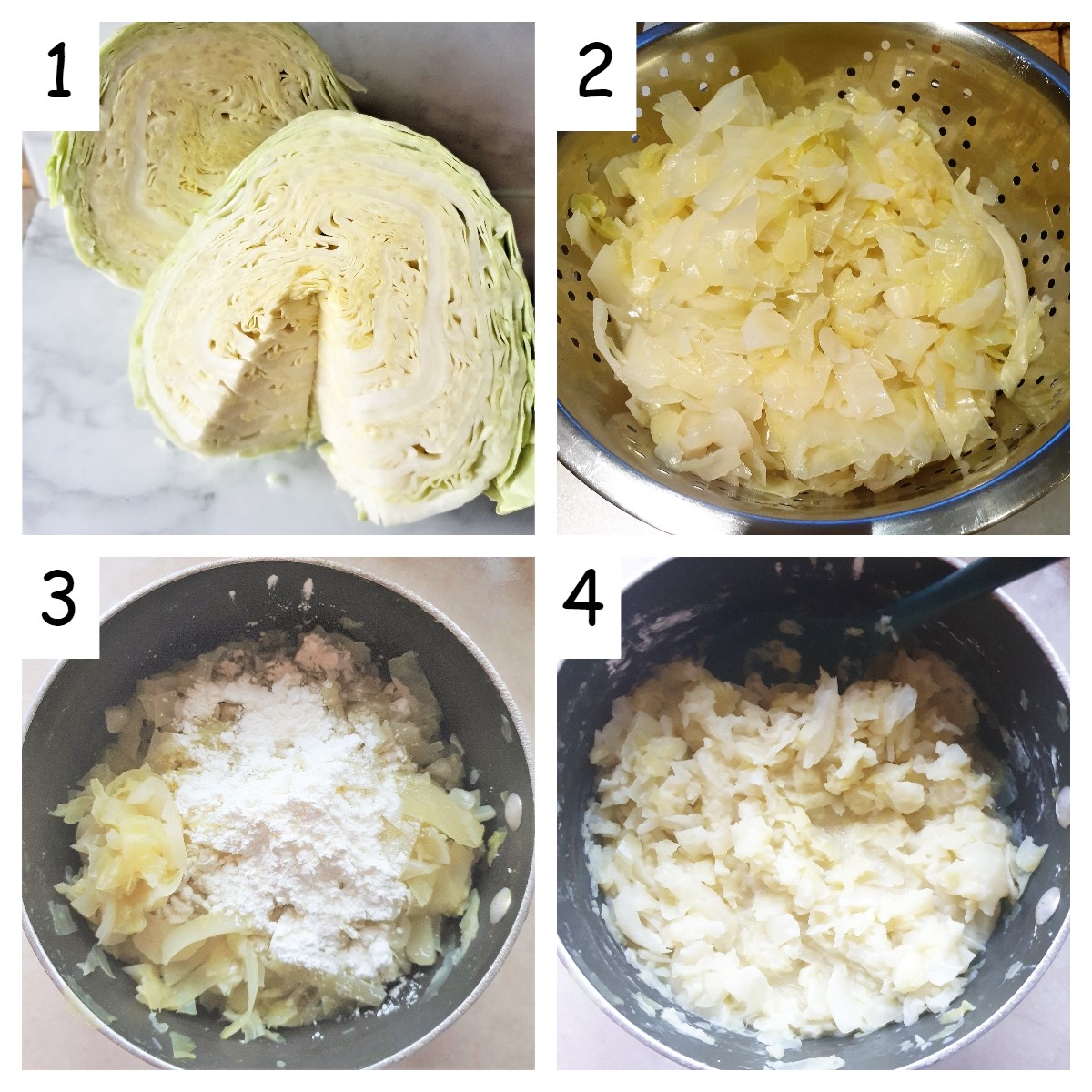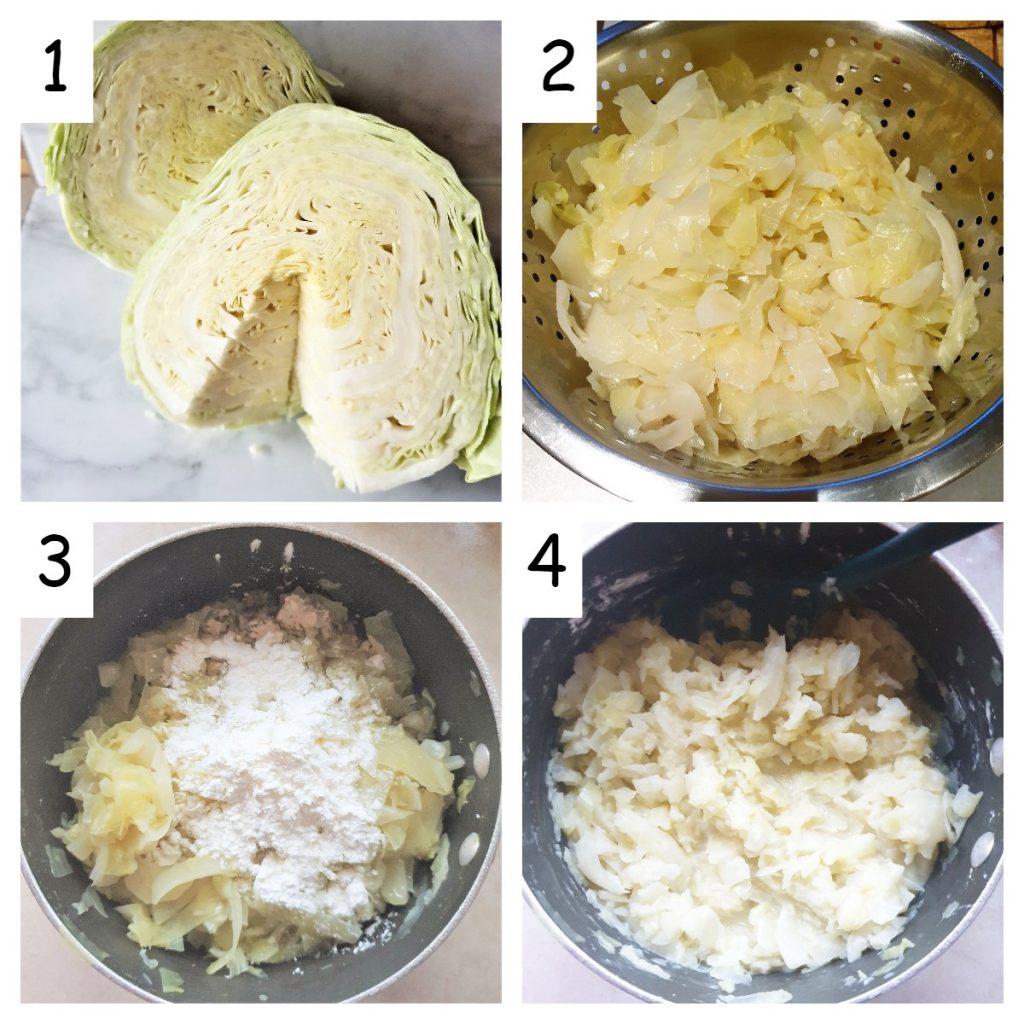 Remove the core and outer leaves from the cabbage and then shred it into about 1cm (1/2″) slices, then cut the slices in half so that you end up with smallish pieces of cabbage.
Place the cabbage in a saucepan of cold salted water, bring to the boil and leave it until the cabbage is soft enough to eat (about 20 minutes). Then drain the cabbage through a colander (image 2 above) and return to the saucepan. Don't worry if there is still a small amount of liquid on the cabbage. In the next step we will be adding cornstarch and that will absorb the rest of the liquid.
Now add 20g (3 tablespoons) cornstarch (image 3 above) and mix through the cabbage until there are no lumps and the cabbage has been coated with the cornstarch (image 4 above).
Make the sauce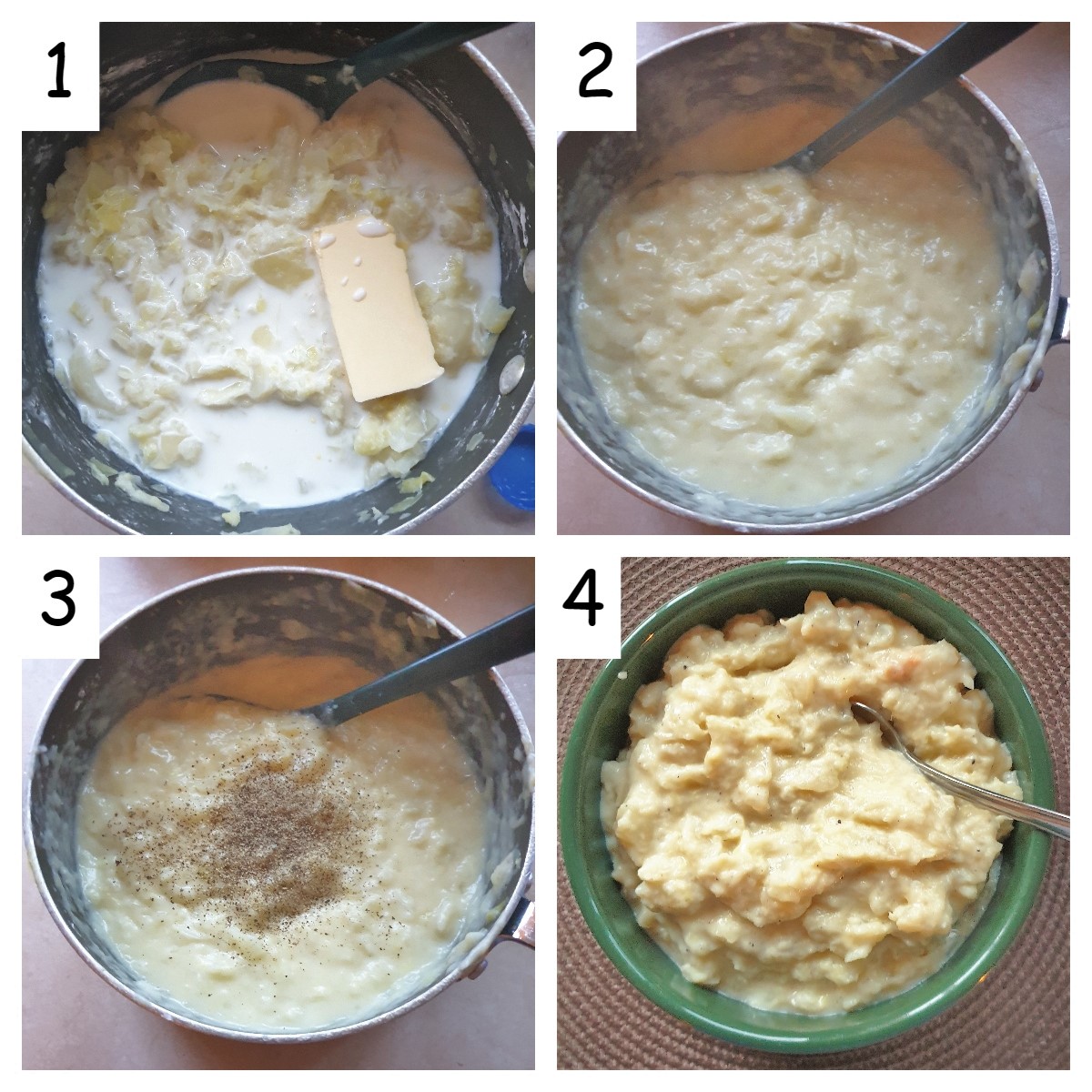 Turn the heat to low and add 1 cup of milk and 50g of butter (2 ounces). If you want to make this dish extra creamy you could use half single cream and half milk, but I think it is creamy enough made with just milk.
Stir over a low heat until the butter has melted and the cabbage has thickened. Continue to cook, stirring all the while, for another 2 minutes.
Add approximately 1/2 teaspoon of freshly ground black pepper and mix through.
Taste for seasoning and all more salt or black pepper if necessary. This dish benefits from a lot of black pepper.
Serve hot as a side vegetable with a roast dinner.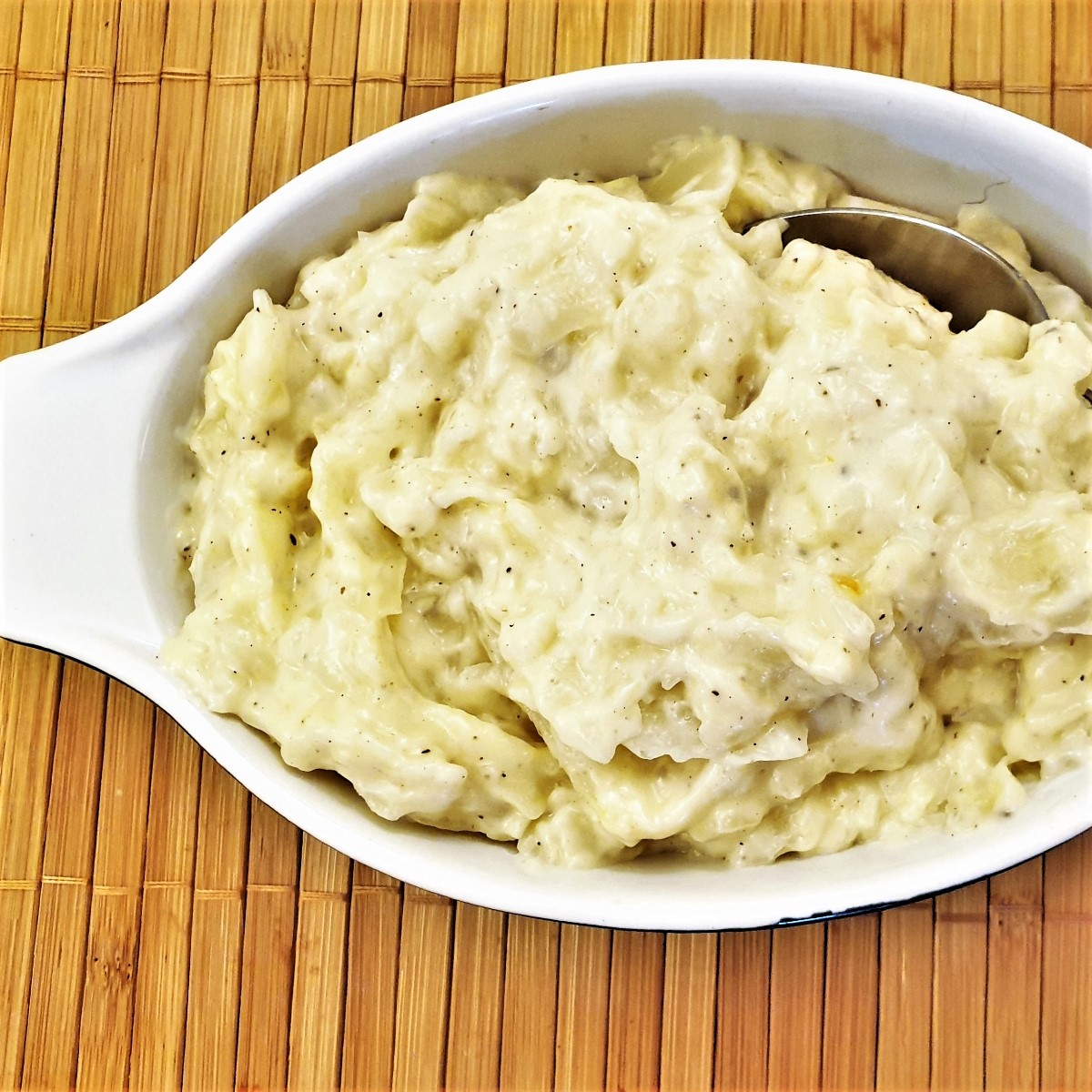 Can I freeze creamed cabbage?
Yes, any leftover cabbage can be successfully frozen. Whenever I make this dish I always use a whole head of cabbage even though I am normally just cooking for two. Once the cabbage has cooled I just pack it into suitable meal-sized containers. You can use plastic ziploc bags to save space in the freezer, or small plastic containers with air-tight lids.
The cabbage can be frozen for up to six months.
To reheat in the microwave – remove the frozen cabbage from its freezer container and place into a microwave-safe dish. Use the defrost setting to defrost the cabbage, then heat on full power for one or two minutes (depending on the wattage of your microwave) until piping hot. You may find that once the cabbage has defrosted it will have drawn a little water. Just pour this water away before heating.
To reheat on the stove – allow the cabbage to defrost, either in the fridge or on the kitchen counter then tip it into a saucepan. Heat slowly until the cabbage is piping hot. Stir occasionally. Serve immediately.
If you want to keep up-to-date with my latest recipes why not follow along on Facebook or Pinterest. And don't forget to subscribe to my mailing list so you can get your FREE COOKERY BOOK
Convert grams to cups
To help you convert your recipes, I have created a handy Cookery Conversion Calculator which will convert ingredients between grams, ounces, tablespoons, cups and millilitres. I hope you will find it useful.
If you live at a high altitude you may find you need to adjust your baking recipes to compensate for this. You can read about how to do this in this post on baking at high altitudes.
Pin for later
Why not pin this recipe to your Vegetable Recipes pinterest board so you can make it later. Just click the image below.
Recipe – Creamed cabbage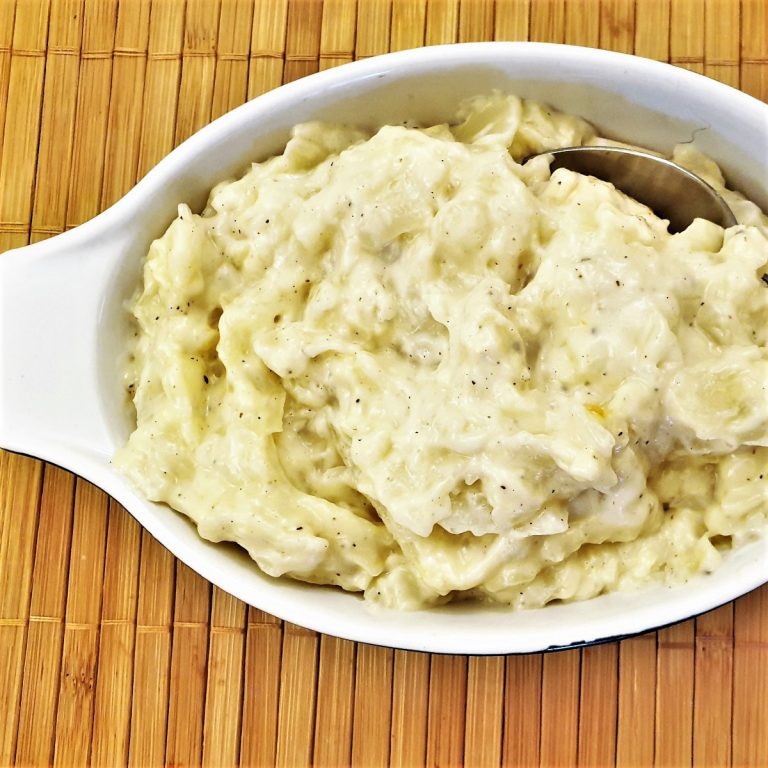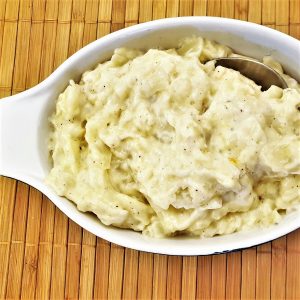 Creamed cabbage
Cabbage in a creamy sauce flavoured with black pepper. Serve as a side dish with a roast.
Print
Pin
Rate
Equipment
Saucepan

Cutting board

Sharp Knife

Colander
Ingredients
1

pound

white cabbage (450g)

shredded

3

tablespoons

cornstarch / cornflour

1

cup

milk

1/2

teaspoon

ground black pepper

or more to taste

1

teaspoon

salt

for boiling the cabbage (optional)
Instructions
Remove the core and outer leave from the cabbage, then shred into approximately ½" (1cm) slices and cut the slices in half.

Place the cabbage in a saucepan of cold salted water, bring to the boil and leave it until the cabbage is soft enough to eat (about 20 minutes).

Drain through a colander then return the cabbage to the saucepan.

Stir in 3 tablespoons cornflour / cornstarch until there are no lumps.

Add 1 cup of milk and 2 ounces of butter.

Stir over a low heat until the butter has melted and the milk starts to boil. Continue stirring over a low heat for a further 2 minutes until the cabbage is thick and creamy.

Taste for seasoning and all more salt or black pepper if necessary.

Transfer to a serving dish and serve immediately as a side dish to accompany a roast.
Nutrition
I am not a nutritionist. The nutrition information has been calculated using an on-line calculator, and is intended for information and guidance purposes only. If the nutrition information is important to you, you should consider calculating it yourself, using your preferred tool.
If you made this recipe and enjoyed it, please don't forget to give me a star rating in the comments below. And if you'd like to get in touch, you can email me on foodleclub1@gmail.com. I'd love to hear from you. And don't forget to subscribe to my mailing list so you can grab yourself a copy of my FREE COOKBOOK!
If you'd like to continue browsing, just click on this link to all my recipes.