This fragrant Thai green chicken curry is so spicy and aromatic. You need surprisingly few ingredients to make this curry, but it packs a punch that Mohammed Ali himself would have been proud of. Add your own choice of vegetables and make this easy dish yourself in only 30 minutes.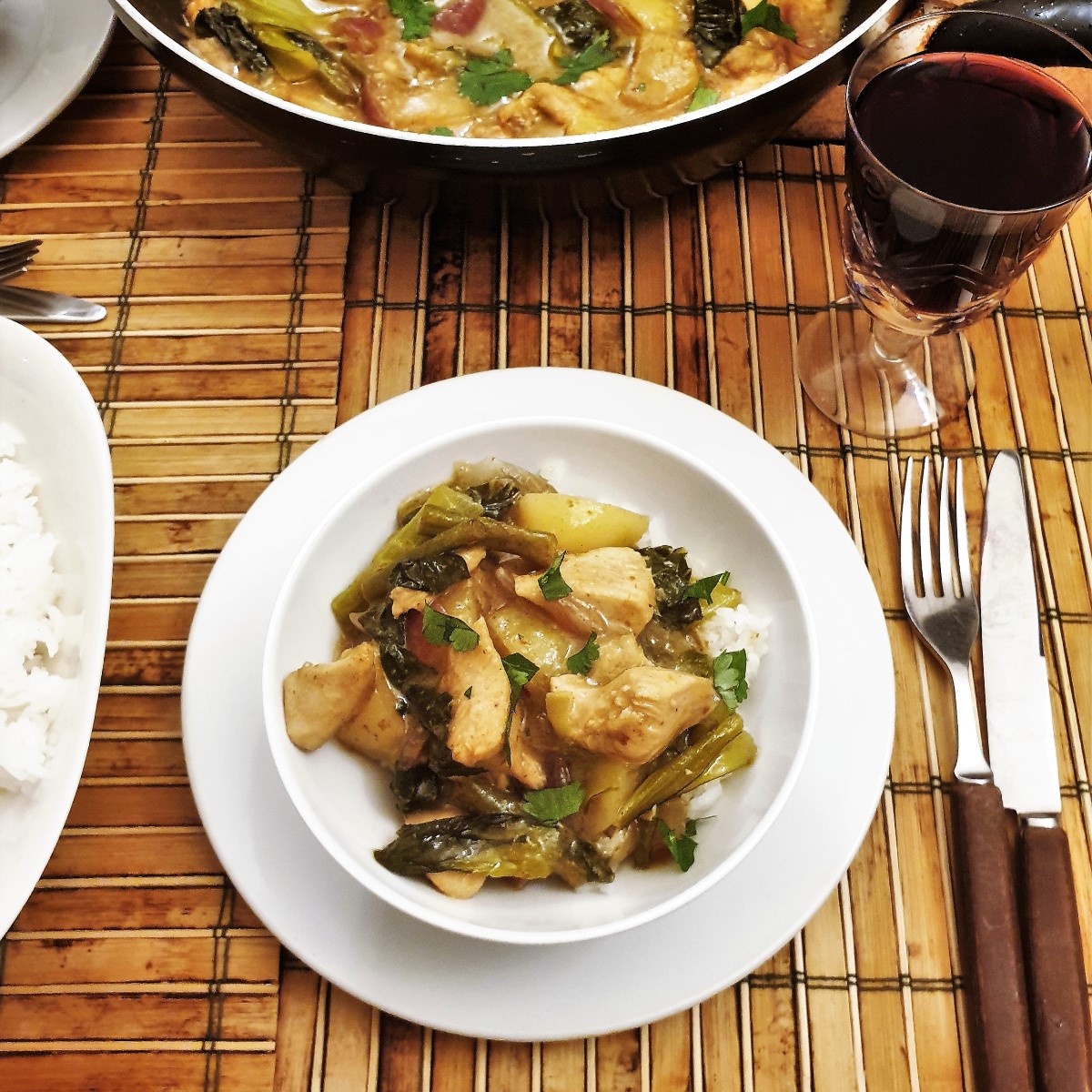 Thai green chicken curry
This Thai green chicken curry is an explosion of flavour. It's fragrant and aromatic, yet spicy at the same time. It has sweetness from coconut milk and sourness from limes. It has bitterness from lemongrass, saltiness from fish sauce and heat from the Thai curry paste. This is a dish that will make you want to lick your plate clean.
It also contains lots of vegetables, so all you will need to turn this delicious Thai green chicken curry into a family feast is a dish of fragrant Jasmine white rice.
Yet in spite of all the flavours it is surprisingly easy to make, and needs only a few ingredients.
If you enjoy Thai food as much as I do, you are going to love this recipe. Why not try this other recipe for Pad Thai Noodles too.
What ingredients do you need?
You will need chicken. I like to use chicken breasts because the short cooking time in this recipe leaves them so moist and juicy, but you could use boneless chicken thighs instead if you prefer.
For flavouring you will need Thai green curry paste from a jar, but if you have extra time on your hands you could make your own homemade Thai green curry paste. I used approximately half of a 197g (7oz) bottle of paste – 1 tablespoon for the marinade and the rest for the curry sauce.
To enhance the flavours of the curry paste, add some lemongrass paste, garlic and ginger. Other flavourings that you will need are fish sauce, sugar and the juice and zest of one small lime.
For convenience, you can use bottled lemongrass paste but if you happen to have fresh lemongrass you can use that instead.
For the vegetables, you will need potatoes (optional), onions, pak choi and green beans. I've used red onions as that was all I had, but you could use white onions instead. You can actually use whatever vegetables you like in this dish. Broccoli and sugar snap peas, baby corn and courgettes, the choice is yours.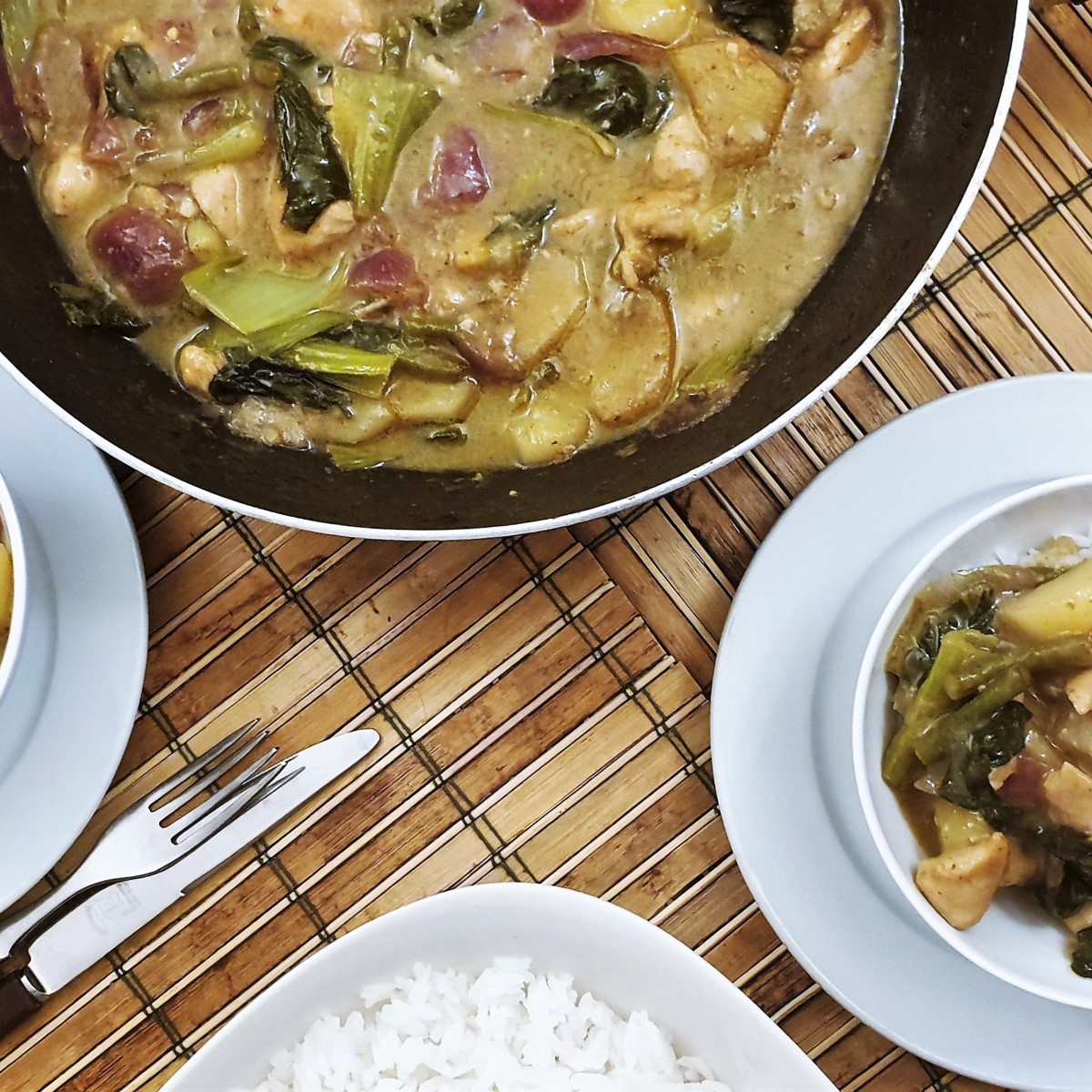 How to make Thai green chicken curry
Once the easy prep is done, this dish is ready in less than half an hour.
You can get the complete list of ingredients and full instructions on the printable recipe card at the end of this post.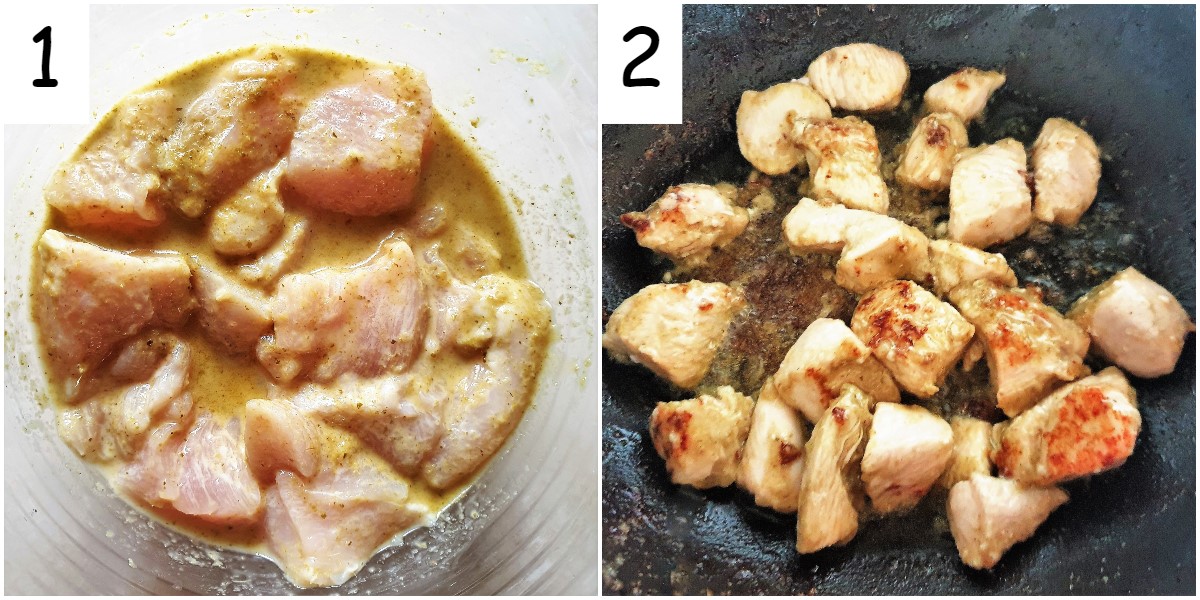 The first step is to cut the chicken into bite-sized pieces and get it into a marinade. The marinade is simply made by mixing one tablespoon of Thai green curry paste with 2 tablespoons of cornflour and then coating the chicken. Leave the chicken in the marinade for a few minutes while you prepare the vegetables and then fry the chicken in a little sunflower oil until it starts to brown.
Fry it in batches over a high heat so that it browns nicely. A low heat will cause the chicken to lose moisture and will make it tough. Reserve any leftover marinade to add the the sauce.
Once browned remove the chicken from the pan and set aside. There is no need to cook the chicken through completely. It will finish cooking in the curry sauce.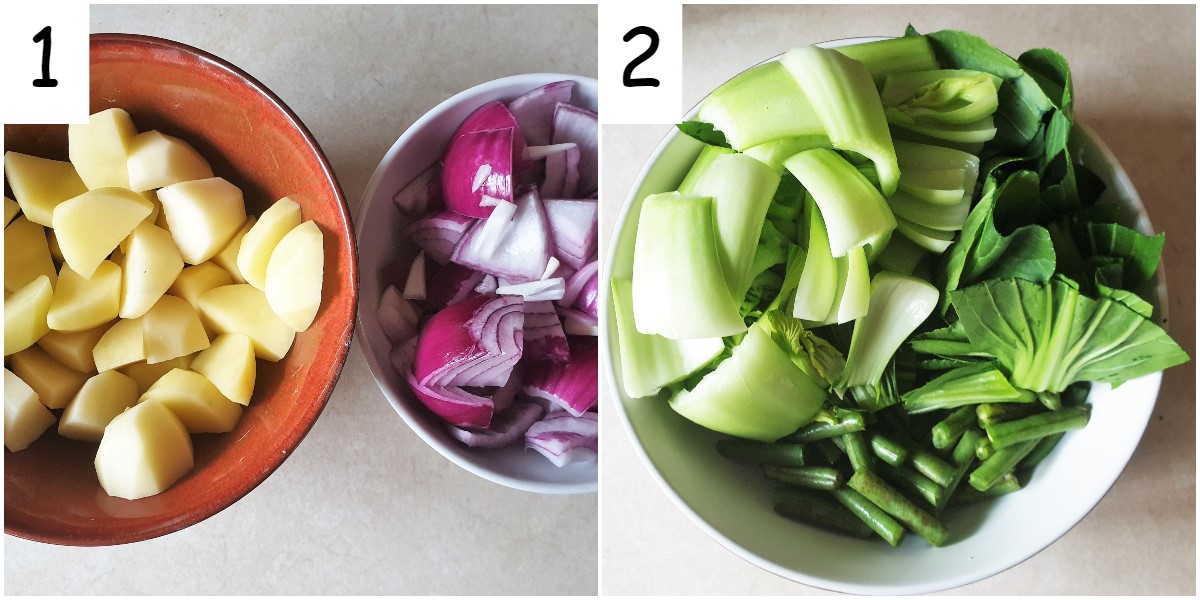 Prepare the vegetables
While the chicken is marinating you can prepare the vegetables. Peel and chop 4 medium-sized potatoes (one per person), put them in a pan of cold salted water and bring to the boil. Let the potatoes boil for 4 minutes (no longer) then drain and set aside. I like to par-boil the potatoes as this gives them a head-start in the cooking process, and ensures that they will be fully cooked when the sauce is ready.
Cut the onions into approximately 1″ pieces, cut the beans into 2″ lengths and roughly chop the pak choi.
Zest the lime, taking care to take only the outermost green part. Then cut the lime in half and squeeze the juice into a cup.
Peel the ginger and garlic and chop very finely. Alternatively, you could use the equivalent amount of garlic and ginger from a jar.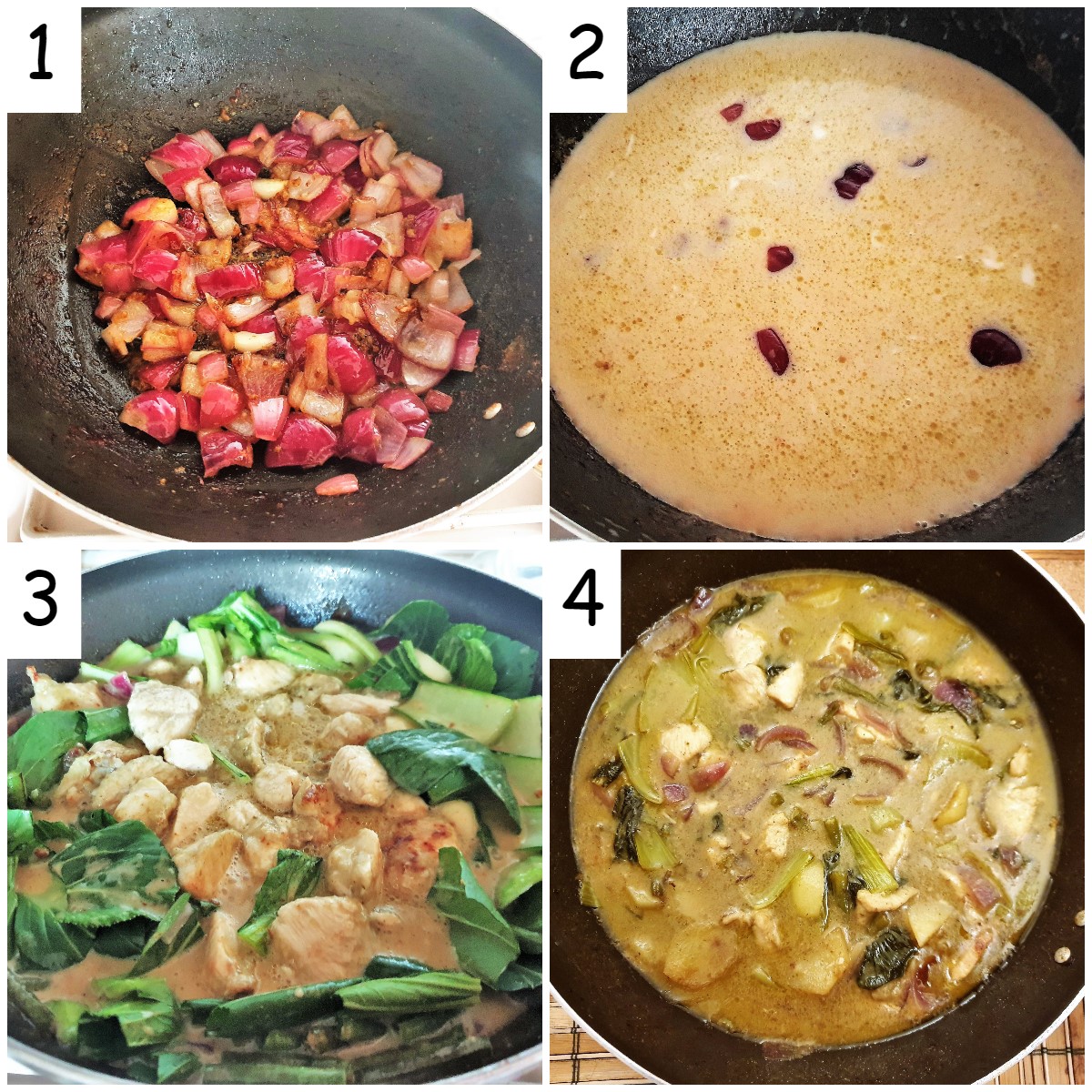 Make the sauce
Fry the onions with the garlic and the curry pasts in the same pan that the chicken was fried (you may need an additional tablespoon of oil) until the onions turn translucent. Frying the curry past first allows the flavours to develop. Add the coconut milk, the lemongrass, the ginger, the fish sauce, the lime (juice and zest) and the sugar. If there is any leftover marinade, add this too. If you want a touch more sourness, add the squeezed lime halves and remove them just before serving.
Bring the sauce to a boil and taste for flavour. Adjust if necessary. Then add the chicken, the par-boiled potatoes, the green beans and the pak choi. Cover with a lid, turn down the heat and let it simmer for about 20 minutes until the chicken is cooked through and the vegetables are tender.
I haven't included salt in this recipe as the fish sauce is quite salty. Taste and add salt if required.
If the sauce is too thin you can thicken it with a slurry of cornflour and water. Just drizzle it into the curry slowly, over a low heat, stirring all the while, until the sauce has thickened to your liking.
Garnish with chopped coriander and serve immediately with a side dish of jasmine rice.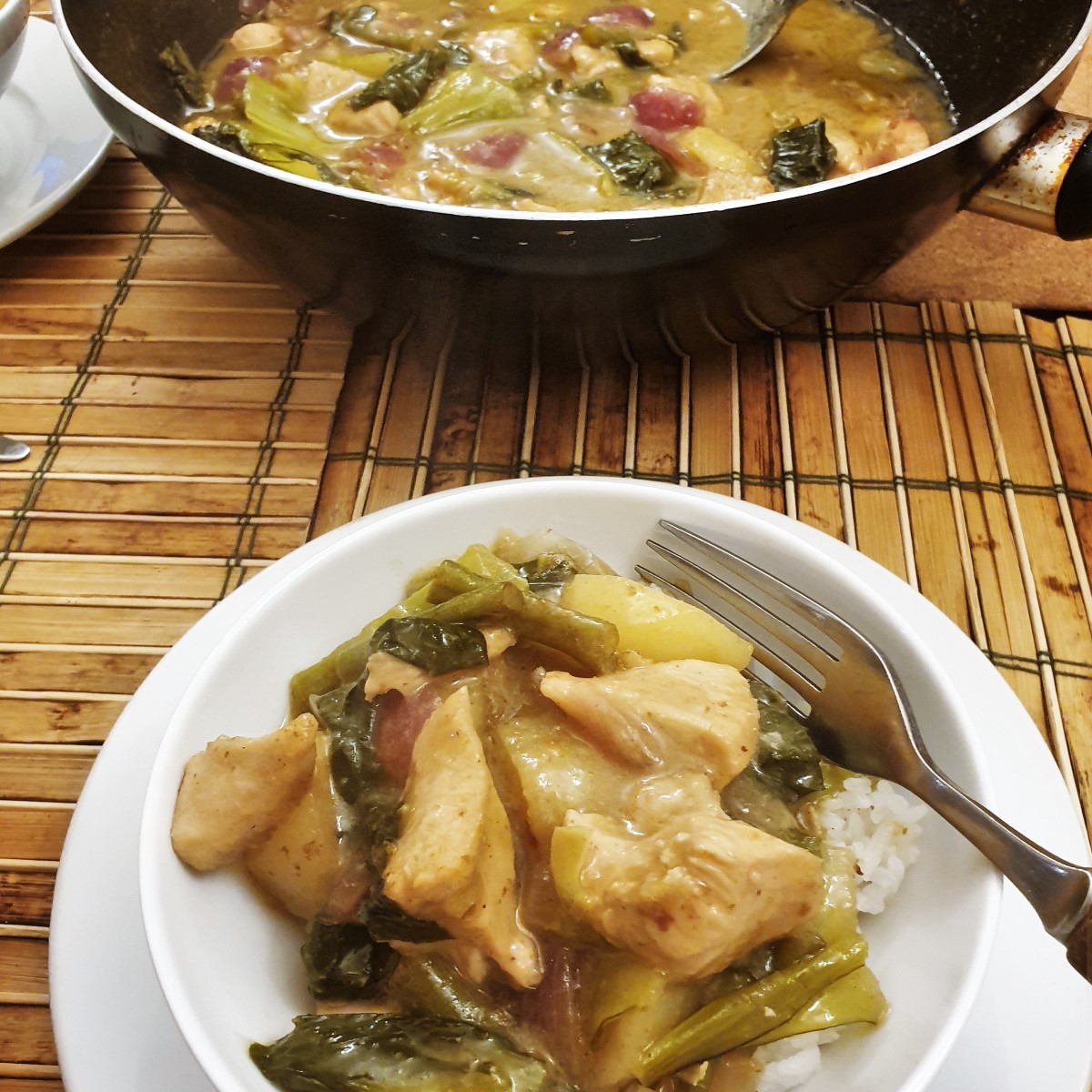 If you want to keep up-to-date with my latest recipes why not follow along on Facebook or Pinterest. And don't forget to subscribe to my mailing list so you can get your FREE COOKERY BOOK
Can I freeze Thai Green Chicken Curry?
Yes, you can freeze any leftovers. Just allow them to cool and then pack them into a rigid plastic container. Freeze for up to 3 months.
Just bear in mind when freezing this curry that the texture of the vegetables may alter slightly on freezing and they may lose their crispness once defrosted and re-heated.
To reheat – defrost and then tip into a large saucepan. Heat gently until piping hot.
Any leftover rice can also be successfully frozen and reheated.
Can I make this dish in advance?
Yes, you can make this dish and store it, covered, in the refrigerator for up to 3 days.
Reheat in a saucepan on the stove or in the microwave.
The rice can also be stored in the refrigerator for the same length of time.
What can I use instead of chicken?
You can make this Thai green curry recipe with a variety of different proteins.
Any of these will work well
raw shrimp or prawns – marinate as per the chicken, fry until they turn pink, but only add to the curry once the vegetables are softened, about 5 minutes before the end of the cooking time.
firm white fish (such as cod or haddock) cut into cubes. Marinate as per the chicken and fry carefully until just cooked. Add the fish cubes to the curry once the vegetables are softened, about 5 minutes before the end of the cooking time. Take care not to stir in too vigorously or the fish make break into flakes.
pork – use a cut of pork from the leg, or even the tenderloin, as this will require less cooking time than shoulder or belly pork. Slice the pork thinly, then follow the recipe, substituting the pork for chicken.
beef – use any good cut of beef steak, or topside or sirloin, thinly sliced. Follow the recipe, substituting the beef for the chicken.

You may also like to try these other spicy recipes
Convert grams to cups
To help you convert your recipes, I have created a handy Cookery Conversion Calculator which will convert ingredients between grams, ounces, tablespoons, cups and millilitres. I hope you will find it useful.
If you live at a high altitude you may find you need to adjust your baking recipes to compensate for this. You can read about how to do this in this post on baking at high altitudes.
Pin for later
Why not pin this recipe for green Thai chicken curry to your pinterest board so you can make it later. Just click the image below.
Recipe – Green Thai chicken curry
Thai Green Chicken Curry with Jasmine Rice
Tender chicken chunks in a fragrant Thai green curry sauce. Serve with a bowl of Jasmine rice
Equipment
Small mixing bowl

Chopping Board

Sharp Knife

Wok or large frying pan with lid

Spatula
Ingredients
Chicken
12

oz

(340g) chicken breast fillets

1

tablespoon

Thai green curry paste

from a jar

2

tablespoons

cornflour / cornstarch

2

tablespoons

sunflower oil

for frying the chicken
Spices
2

tablespoons

Thai green curry paste

1

tablespoon

lemongrass paste

3

cloves

garlic

minced

1

inch

ginger

peeled and finely chopped

2

tablespoons

fish sauce

14

oz

(400g) can Coconut milk

1

teaspoon

sugar

1

small

lime

juice and zest only
Vegetables
1

large

onion

chopped to 2cm dice

4

medium

potatoes

cut into 1" pieces

2

heads

pak choi

coarsely chopped

1

cup

green beans

chopped to 2" lengths
Instructions
Preparation
Cut the chicken into bite-sized pieces and marinade in a 1 tablespoon of Thai green curry paste and 2 tablespoons cornflour/cornstarch.

Peel and chop the vegetables.

Place the potatoes in a pan of lightly salted cold water and bring to the boil. Cover and boil for 4 minutes. Drain and set aside. See note 1.

Zest the lime and squeeze the juice into a cup.
Chicken
Heat the oil in a wok or frying pan and fry the chicken pieces until they brown. Do this over a fairly high heat so the chicken sears on the outside. Fry in batches so as not to overcrowd the pan. Then remove to a plate and set to one side. Reserve any leftover marinade. See note 2.
Sauce
Fry the onions with the garlic and curry paste until the onions are translucent. Do this over a low heat so as not to burn the curry paste.

Add the remaining spice ingredients, including the lime and the coconut milk, and any reserved marinade, and bring to the boil. See note 3.

Taste for flavour and adjust if necessary. See note 4.

Return the chicken to the pan and add the vegetables.

Cover the pan with a lid, turn the heat down to a simmer and leave for about 20 minutes until the vegetables are tender and the chicken is cooked through. See note 5.

Thicken the sauce with a slurry made from a tablespoon of cornflour/cornstarch and 2 tablespoons of water (optional). See note 6.

Remove from the heat and sprinkle with chopped parsley or coriander. Serve with a bowl of jasmine rice.
Notes
Note 1 – the potatoes should be par-boiled to give them a head start on the cooking process.  If you just add raw potatoes to the curry sauce they may not cook through in the time the sauce and chicken are cooked.
Note 2 – the chicken does not need to be cooked through in this step.  It should be just browned and seared on the outside.  It will continue cooking when you add it to the sauce.
Note 3 – if you want additional lime flavour in the sauce, add the squeezed lime halves to the sauce.  Remove before serving.  
Note 4 – I always like to taste the sauce once it has boiled to make sure the flavours are correct.  If you think it needs more sweetness add a little more sugar.  For more saltiness add extra fish sauce.  If you need more heat either add additional curry paste or add dried chilli flakes to your own taste.
Note 5 – The length of time you need to cook this dish will depend on a number of factors – the size of the chicken pieces and the size of the chopped vegetables.  The chicken should be completely white on the inside if you cut a piece in half and the vegetables should be tender.  It is perfectly fine to leave the dish to simmer for a few minutes longer if you feel it needs more cooking time.
Note 6 – If you feel the sauce is not thick enough, you can thicken as described in the recipe.  This step is optional – there may have been sufficient cornflour/cornstarch in the leftover marinade to thicken the sauce.  To thicken the sauce just drizzle in the cornflour/cornstarch slurry, stirring continually over a low heat, until the sauce is the desired consistency.
I am not a nutritionist. The nutrition information has been calculated using an on-line calculator, and is intended for information and guidance purposes only. If the nutrition information is important to you, you should consider calculating it yourself, using your preferred tool.
If you made this recipe and enjoyed it, please don't forget to give me a star rating in the comments below. And if you'd like to get in touch, you can email me on foodleclub1@gmail.com. I'd love to hear from you. And don't forget to subscribe to my mailing list so you can grab yourself a copy of my FREE COOKBOOK!
If you'd like to continue browsing, just click on this link to all my recipes.