Spicy and fragrant, this Thai pork mince stir fry is a taste sensation. You only need a few ingredients, and you can have it on the table in less than half an hour. Now that's what I call a quick and easy meal!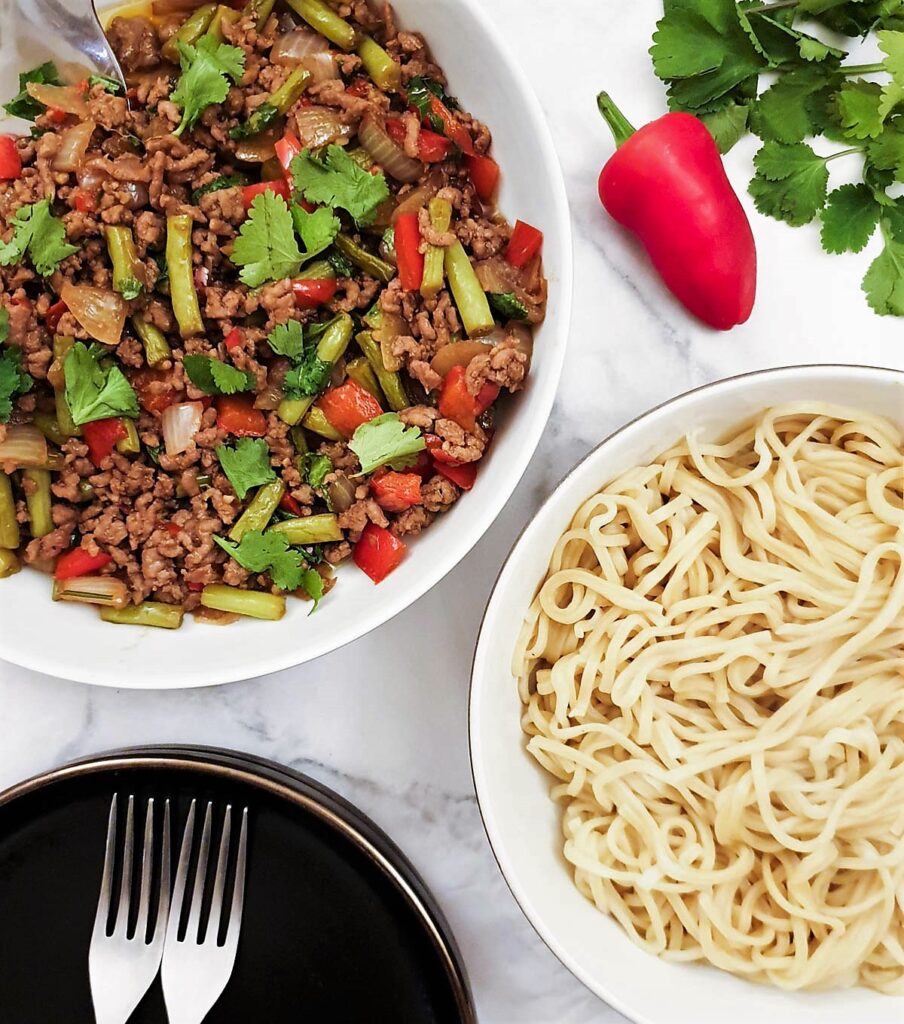 **As an Amazon affiliate, I earn from qualifying purchases.**
Thai pork mince stir fry
We were lucky enough to visit our favourite Thai restaurant during the recent holidays. We haven't been out much lately due to the restrictions on gatherings, so it was nice to be able to go out for a meal and pretend that things were back to normal. The tables were all well spread out and we had to book a time slot to attend, so even though it was a buffet-style meal, the restaurant wasn't crowded and there were no long queues to get to the food.
One of the dishes on offer was Thai pork mince stir fry with green beans. I've never had ground meat in a stir fry before. I'm more used to the traditional beef or chicken. So this was something different, and I'm so glad I tried it. It was fragrant and spicy, and utterly delicious.
Out came the noteboook, and I wrote down all the ingredients I could identify. I tried it at home a few days later and this is the result. I can't guarantee that it's an authentic Thai recipe, but this is my version of Thai pork mince stir fry, and I hope you enjoy it!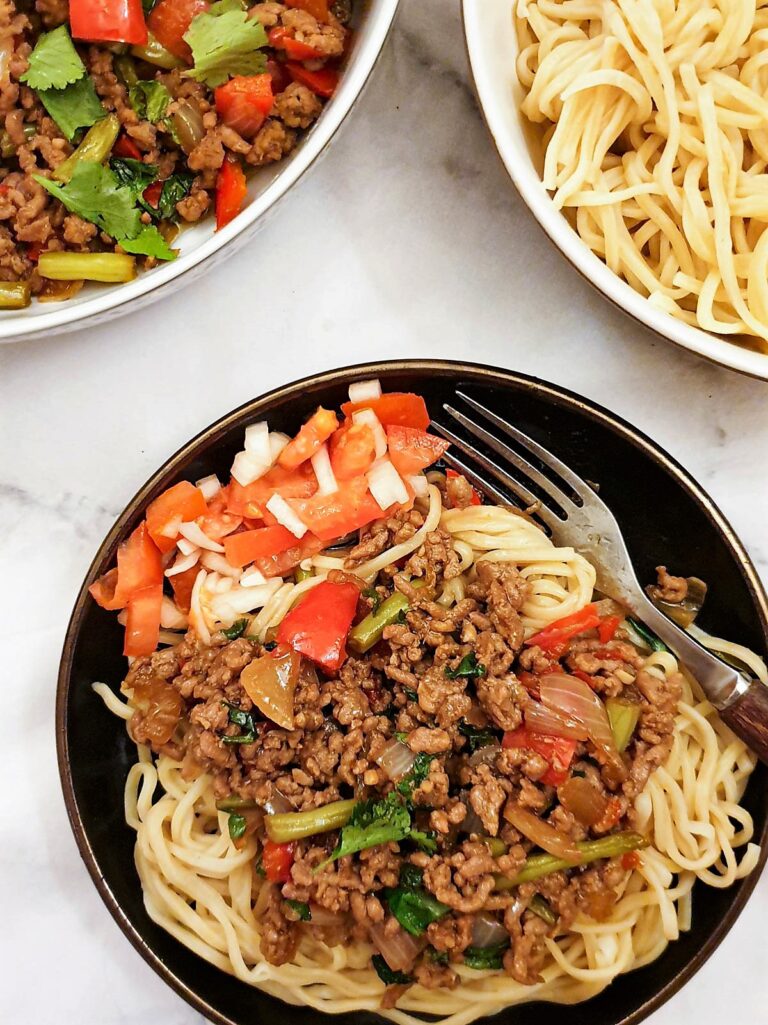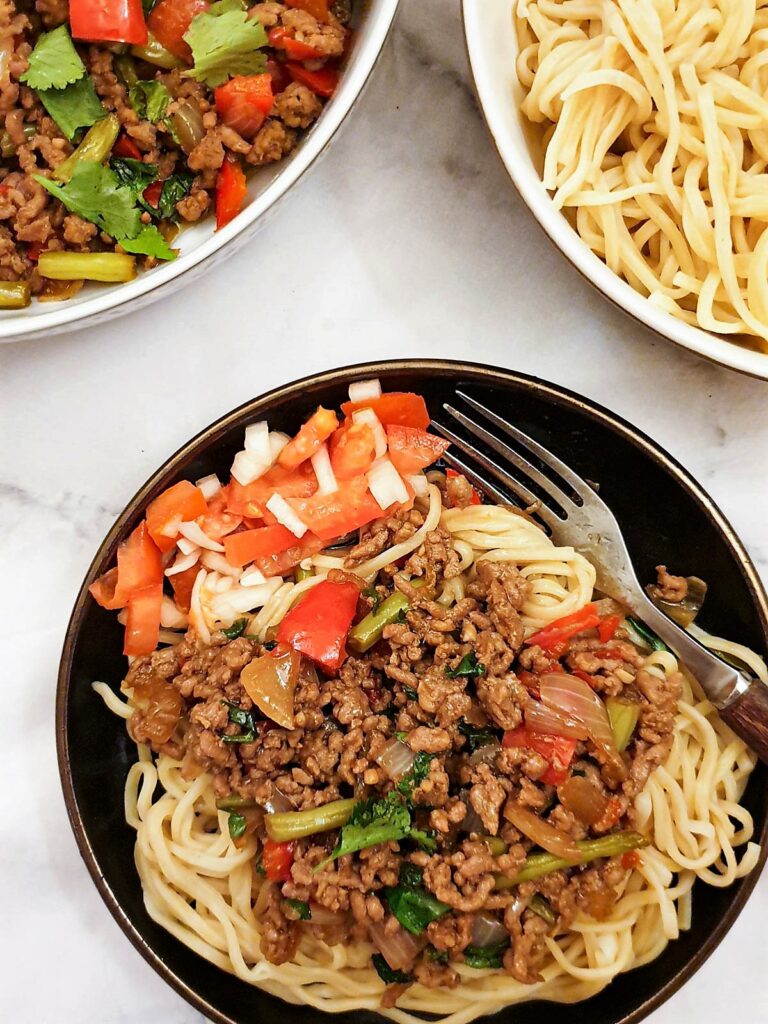 Ingredients
This will make enough for 4 people. To make a larger amount you can double up on all the ingredients except the chilli. Adjust the chilli according to your own taste.
**You can get the complete list of ingredients and full instructions for making Thai pork mince stir fry on the printable recipe card at the end of this post**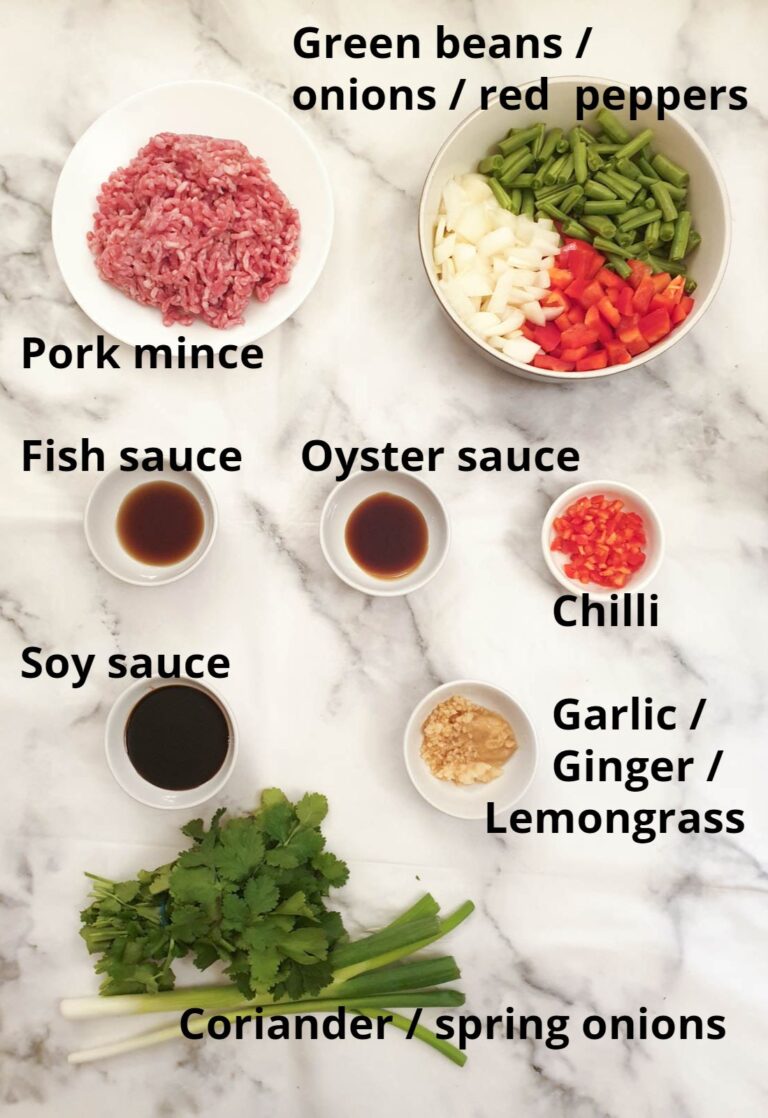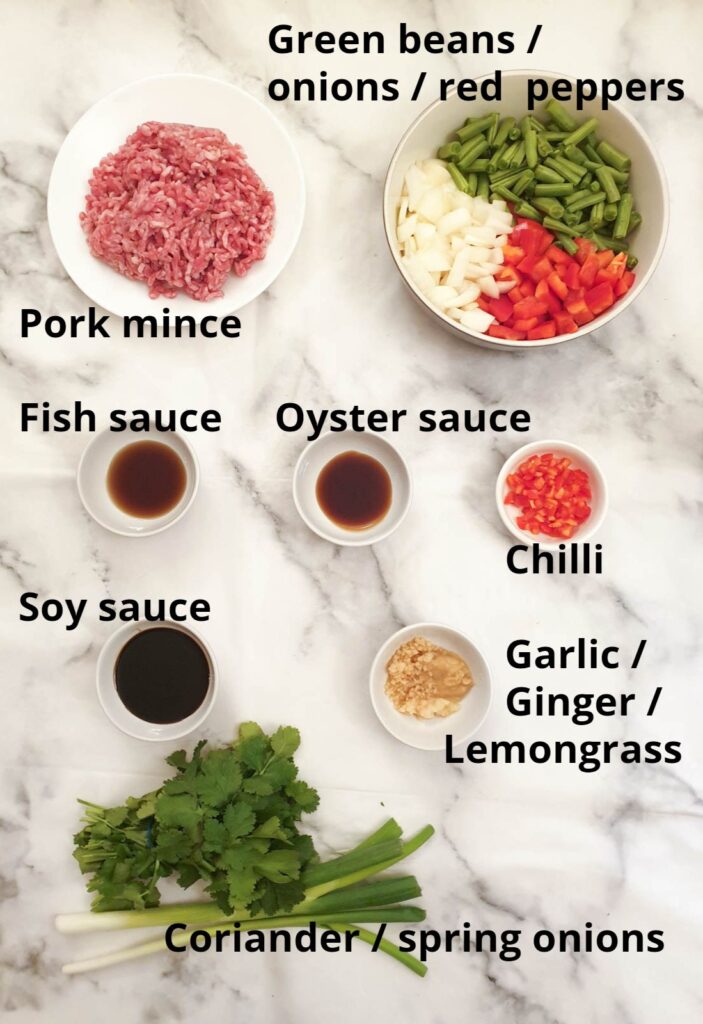 Pork mince – this can be quite fatty, so try and get pork mince with only 5% fat content. If the pork does release a lot of fat while it is cooking you can drain it off before adding the other ingredients
Vegetables – green beans, onions and red peppers. The beans should be cut into to approximately 1″ in length and the onions and red pepper should be chopped to half-inch dice. Because this dish is made with ground pork, the vegetables should not be cut too large.
Fish sauce – found in the Asian aisle in any large supermarket. You only need a small amount, so a bottle will last indefinitely in your pantry.
Oyster sauce – found in the Asian aisle in any large supermarket. This is my favourite Asian sauce. (I like to steam broccoli and then stir one of two teaspoons of oyster sauce into the broccoli before serving).
Sweet soy sauce – you can actually buy 3 types of soy sauce – light soy, which is quite salty; dark soy sauce which adds colour to your dish or sweet soy sauce. For this recipe, I used sweet soy.
Chilli – this is to your own taste. I used one red birds eye chilli. Use more or less according to your own heat tolerance.
Garlic – I always use ready chopped garlic from a jar, for convenience. You can use one or two freshly chopped garlic cloves if you prefer.
Ginger – once again, I prefer to use ginger paste from a jar. If you have fresh root ginger you will need about one thumb-sized piece, peeled and grated.
Lemongrass paste – it's not always easy to source fresh lemongrass in the supermarket so I always keep a jar of lemongrass paste in my refrigerator.
Brown sugar – if you only have white sugar you can use this instead
Fresh coriander – this is added to the stir fry and also used for garnish.
Spring onions – used for garnish.
Sunflower oil – for frying the vegetables and pork.
How to make Thai pork mince stir fry
This takes about 30 minutes in total. Most of the work is in the preparation of the vegetables.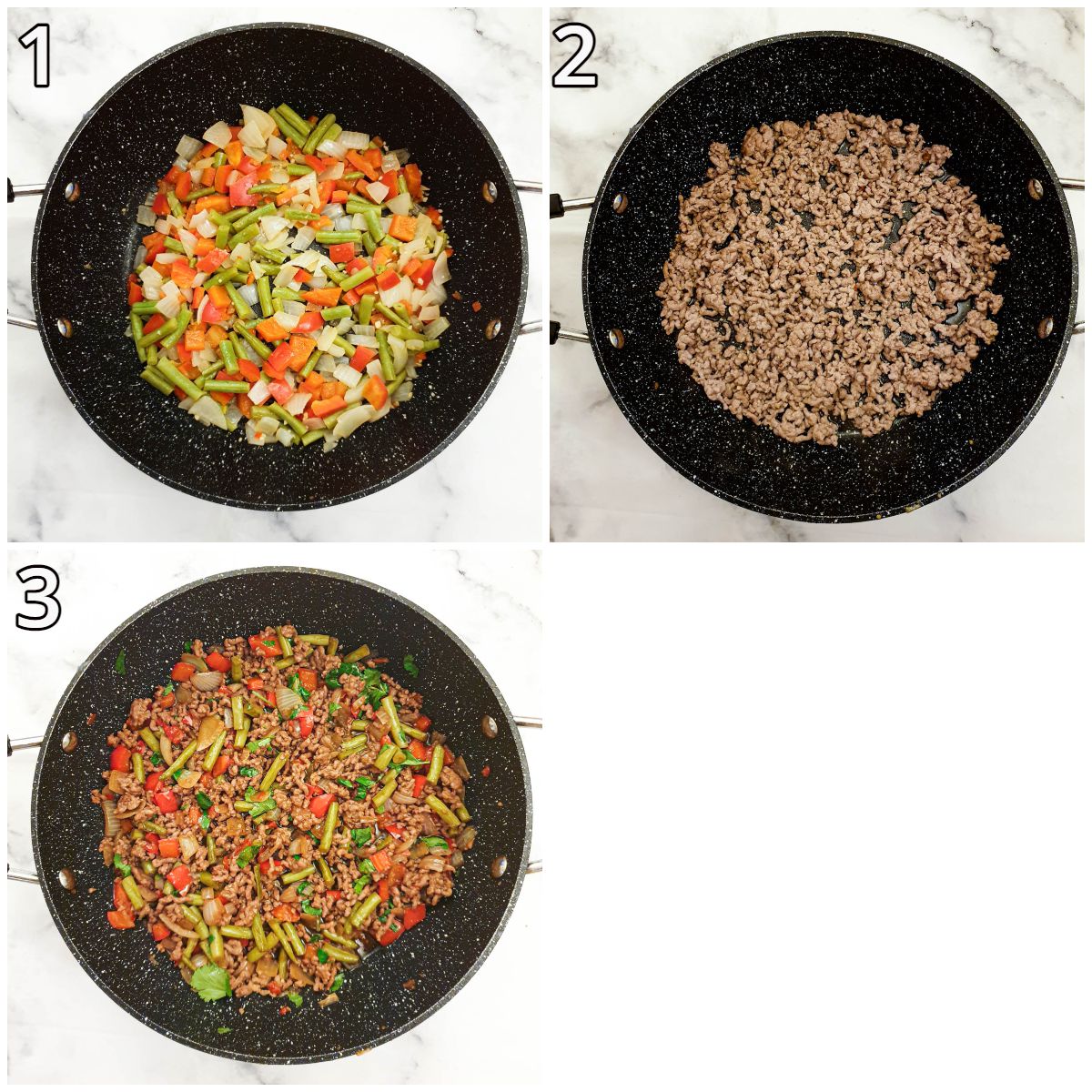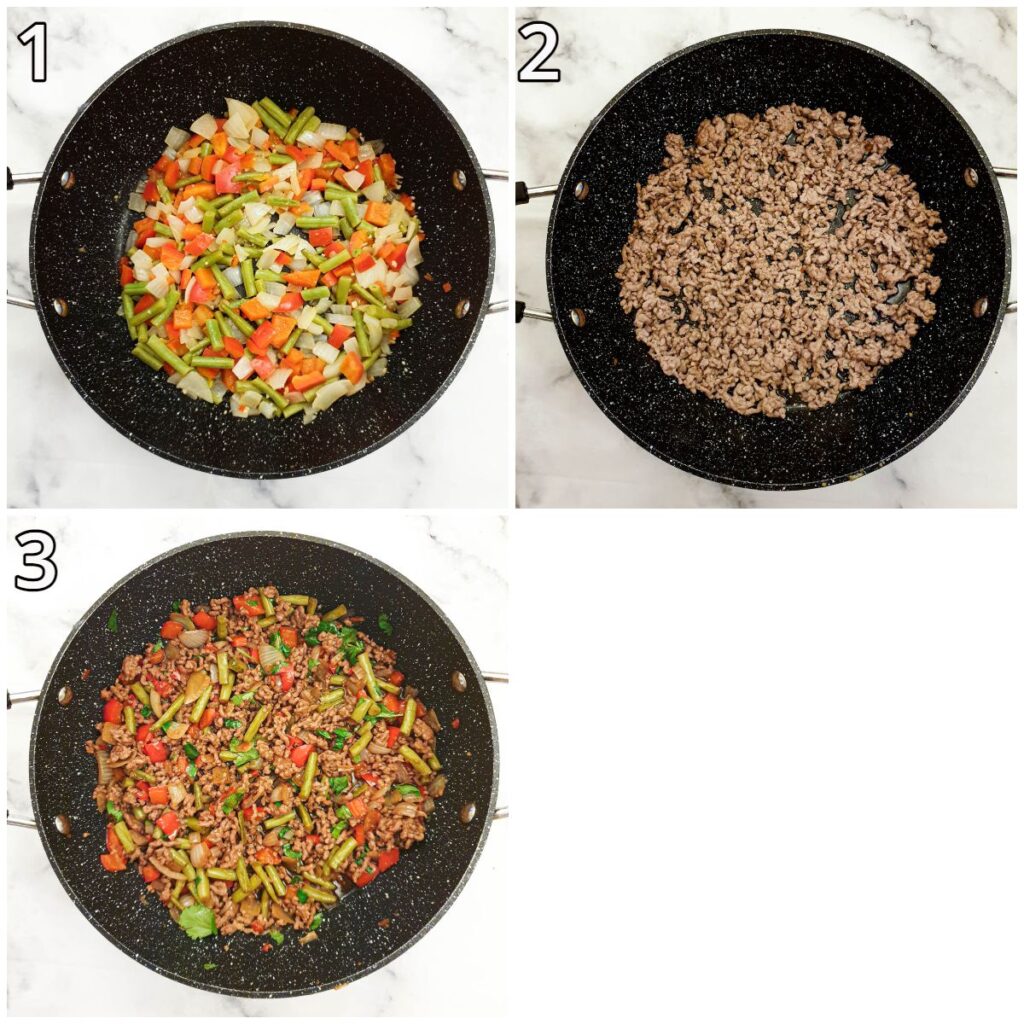 Peel the onions and chop them into approximtely half-inch pieces.
Remove the seeds and membranes from the red pepper and chop it into approximtely half-inch pieces.
Top and tail the green beans and cut them into approximately one-inch lengths.
Remove the seeds and membranes from the chilli and chop finely.
Heat 2 tablespoons of sunflower oil in a frying pan and add the vegetables along with the chilli, garlic and ginger.
Fry the vegetables on a medium heat until the onions start to turn translucent and the peppers and beans have started to soften (image 1).
Top tip – Turn the heat down to medium-low and cover the pan with a lid. Then leave for about 5 minutes. Keep your eye on it and don't let the onions brown. Give it a stir every now and then.
Once the vegetables have softened, remove them from the pan and set aside.
Now add the meat to the pan and stir until it has browned all over and has become 'crumbly' (image 2). If the meat has released a lot of fat, drain most of it away, leaving just a tablespoon.
Add the softened vegetables back to the pan along with the brown sugar, lemongrass paste, oyster sauce, soy sauce, and fish sauce. Also, add one-quarter cup of water and stir to combine.
Keep the heat to medium-low and put the lid back on the pan. Leave for 5 minutes, then remove the lid and stir fry until all the water has evapourated and the meat is cooked through and the vegetables are al dente. There should not be too much sauce in this dish.
Taste for seasoning and add salt if necessary.
Stir in a handful of chopped coriander then remove from the heat and serve hot, spooned over white rice or noodles.
Garnish with extra coriander and chopped spring onions (which I totally forgot to do 🙂 )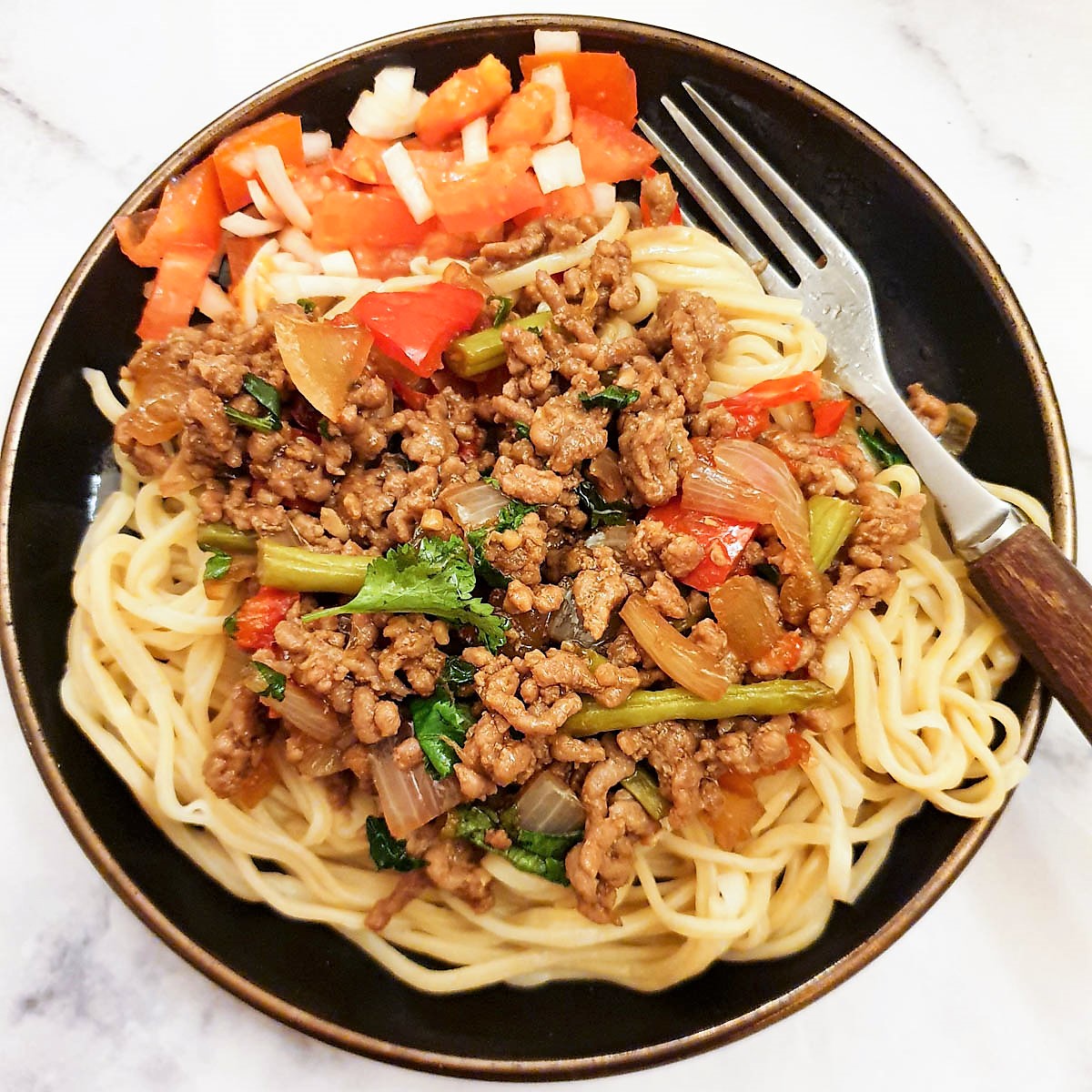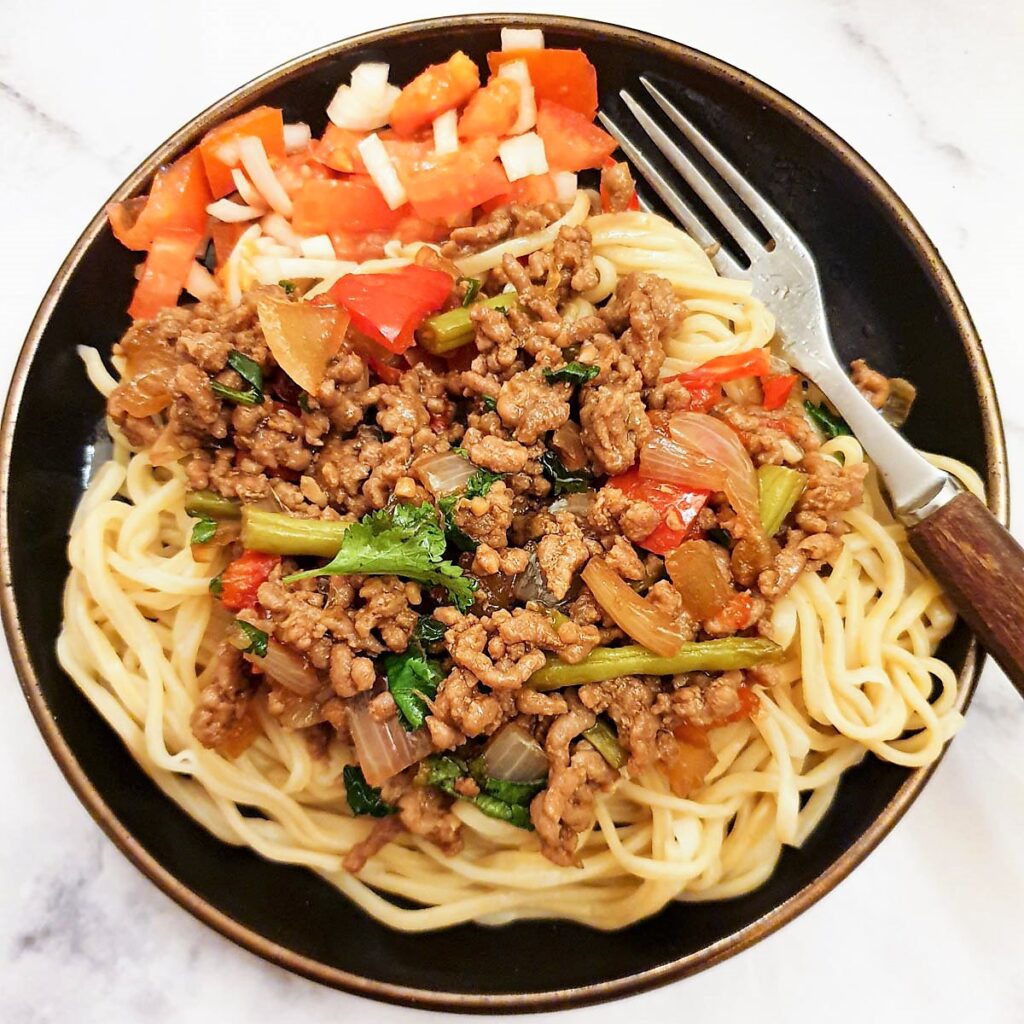 If you'd like to be notified of any new recipes, why not subscribe to my newsletter. As a thank-you gift, you will receive a free recipe e-book containing some of my most popular cakes and desserts.
Variations / substitutions
Instead of using pork mince, you can make this dish with ground beef or chicken.
Use whatever vegetables you have handy:

julienned carrots
halved baby mushrooms
broccoli florettes
throw in a handful of beansprouts

When swapping out the vegetables, just bear in mind that vegetables like broccoli take less cooking time, so be careful not to overcook them.
How do I scale this recipe?
This recipe feeds 4 people. If you would like to scale the recipe these tips may help.
Do not double the chilli – adjust this according to your own taste.
1cup of vegetables per person.
100 grams of pork mince per person or 3.5 ounces.
Freezing and storage
This Thai pork mince stir fry freezes well. Once cool, transfer it to a plastic container and store it for up to three months.
To use, defrost it in the refrigerator and then reheat in a saucepan on the stove until it is piping hot. Serve immediately.
You can also make this dish ahead of time and store it in the refrigerator for up to 3 days before reheating it in a saucepan on the stove.
Pin for later
If you would like to try this Thai pork mince stir fry for yourself, why not save it to one of your Pinterest boards so you can find it easily. Just click on the image below.
Other recipes
You may also enjoy these other spicy Thai-inspired meals
The recipe
I have linked this recipe to #CookBlogShare Week 3 2022, run by Sisley and Chloe and hosted by Kate at Gluten Free Alchemist
If you made this recipe and enjoyed it, I'd love it if you could give me a star rating in the comments below. And if you'd like to get in touch, you can email me at [email protected]. I'd love to hear from you. And don't forget to subscribe to my mailing list so you can grab yourself a copy of my FREE COOKBOOK!
If you'd like to continue browsing, just click on this link to all my recipes.