If you're looking for an easy lasagne recipe, then you've come to the right place. This is my tried and tested recipe for cheesy lasagne that I've been making for longer than I care to remember! It's one of my favourite recipes to make, and with good reason. There are only three easy steps, and most of the cooking time is hands-off, so the oven does all the work!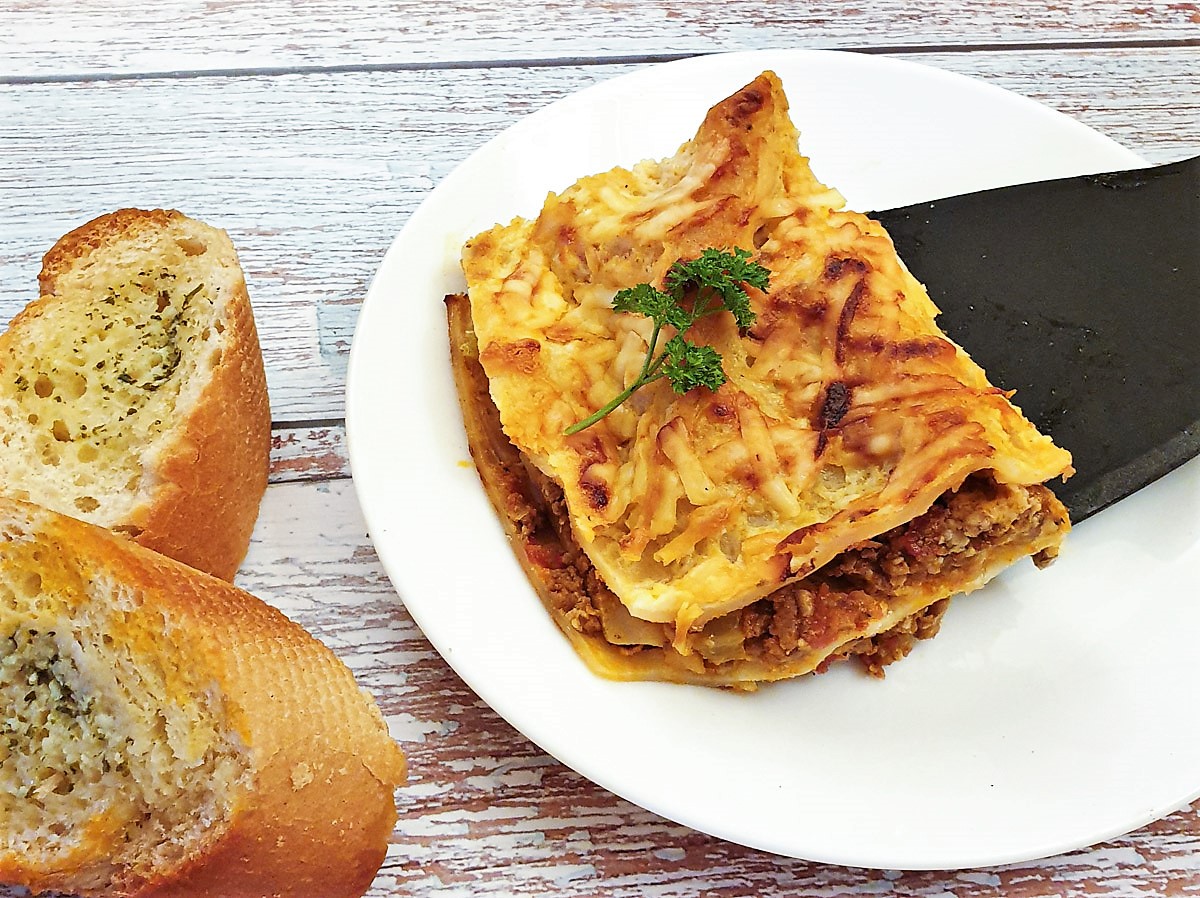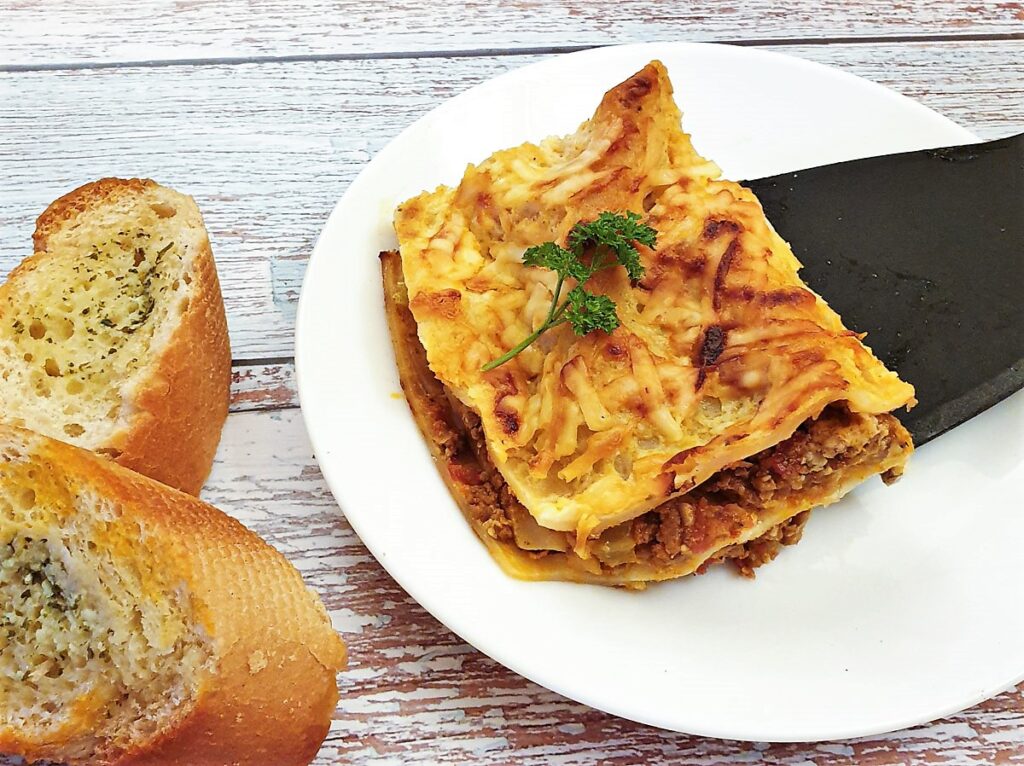 **As an Amazon affiliate, I earn from qualifying purchases.**
What is lagagne?
Lasagne is an Italian pasta dish made from a rich meaty sauce, layered between sheets of tender pasta and cheesy bechamel sauce. It is topped with a layer of grated cheese which melts and turns golden brown in the oven, resulting in a delicious and economical family meal.
This recipe for cheesy lasagne has double cheese in it, because not only is it covered with grated cheese, there is half a carton of soft cheese in the bechamel sauce.
The meat sauce does take quite a while to cook. You have to let it simmer for at least 90 minutes (or longer if you have the time). But believe me, it is absolutely worth the time it takes to get the thick luscious meaty sauce that almost melts in your mouth as you eat it.
The three steps
This is an easy lasagne recipe and there are only three steps involved.
Make the meat sauce.
Make the bechamel sauce.
Assemble and bake.
With the prep and cooking time, this cheesy lasagne takes about 2 and a half hours to cook so you will need to take this into account and make an early start. However, most of the hands-on cooking time is spent preparing the vegetables and browning the meat. The rest of the time is hands-off while the sauce simmers on the stove and while the finished dish is baking in the oven.
To save time, you could make the meat sauce the day before and store it in the refrigerator until you are ready to make it.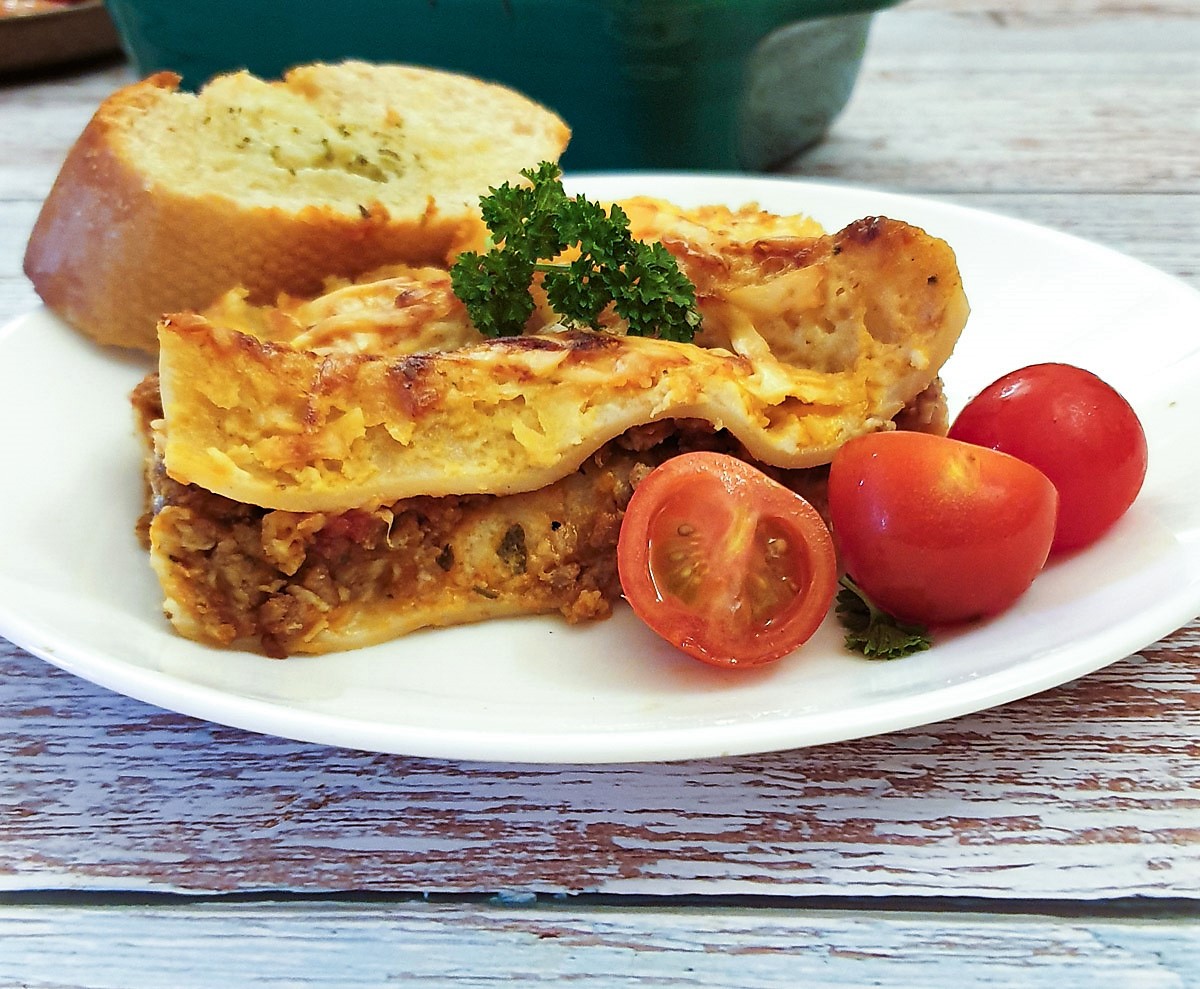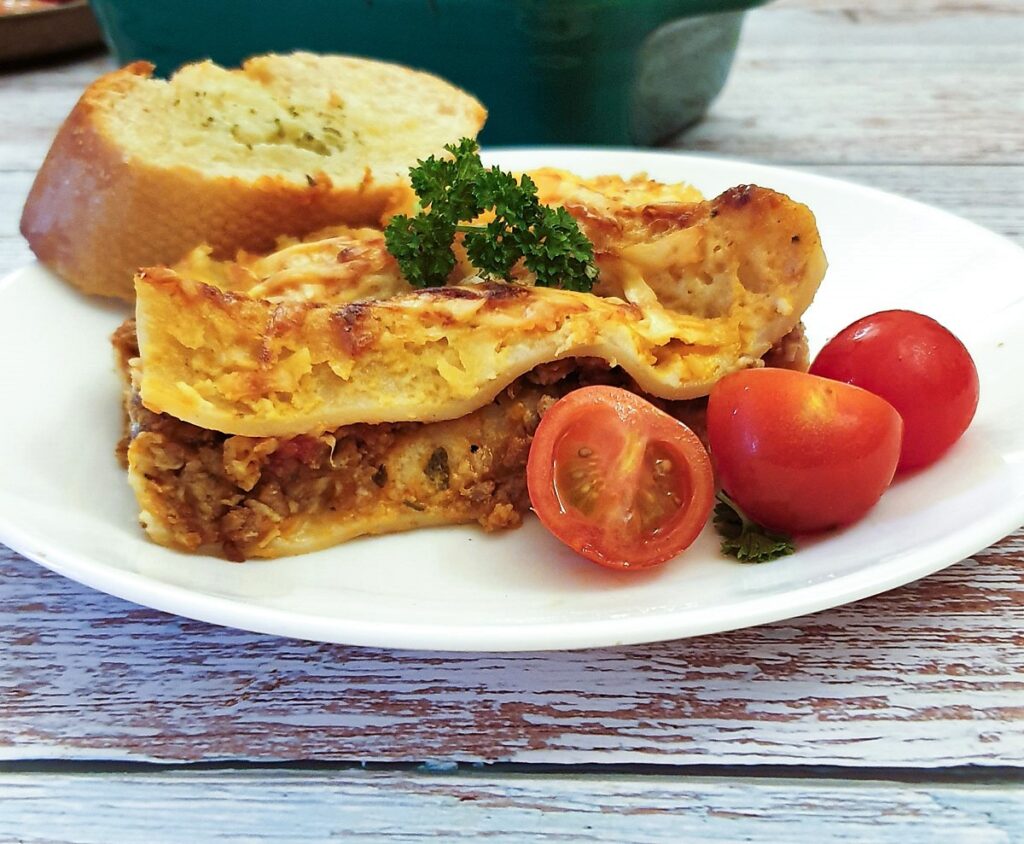 Ingredients
**You can get the complete list of ingredients and full instructions for making this easy lasagne on the printable recipe card at the end of this post**
This recipe will feed 4 hungry people.
Lasagne sheets – I use lasagne sheets that don't require any pre-cooking and can be used straight from the packet. The packet should be labelled as such.
Beef mince – try to get beef mince with a low fat content – 5% or 12% is fine. Anything higher will result in too much fat in the sauce.
Vegetables – I use carrots, onions, celery and garlic.
Canned tomatoes – if possible get a can of chopped tomatoes, otherwise if you can only get whole tomatoes you should chop them up before adding to the sauce.
For the seasoning you will need dried mixed herbs, tomato paste, salt and sugar. A small amount of sugar improves the flavour of the tomatoes.
Stock – if you have beef stock you can use that, otherwise substitute with a beef stock cube dissolved in a cup of boiling water.
Oil – for frying the meat and vegetables – you can use sunflower oil or olive oil.
Milk – either full-fat or semi-skimmed.
Soft cheese – you can use your favourite brand of cream cheese or Ricotta cheese.
Butter – if you use salted butter you may want to leave out the salt.
Flour – this is used for thickening the sauce.
Grated cheese – I've used cheddar, but you can use any cheese that grates well.
How to make lasagne
Step 1 – make the meat sauce
Prep: 15 minutes
Cooking time: 90 minutes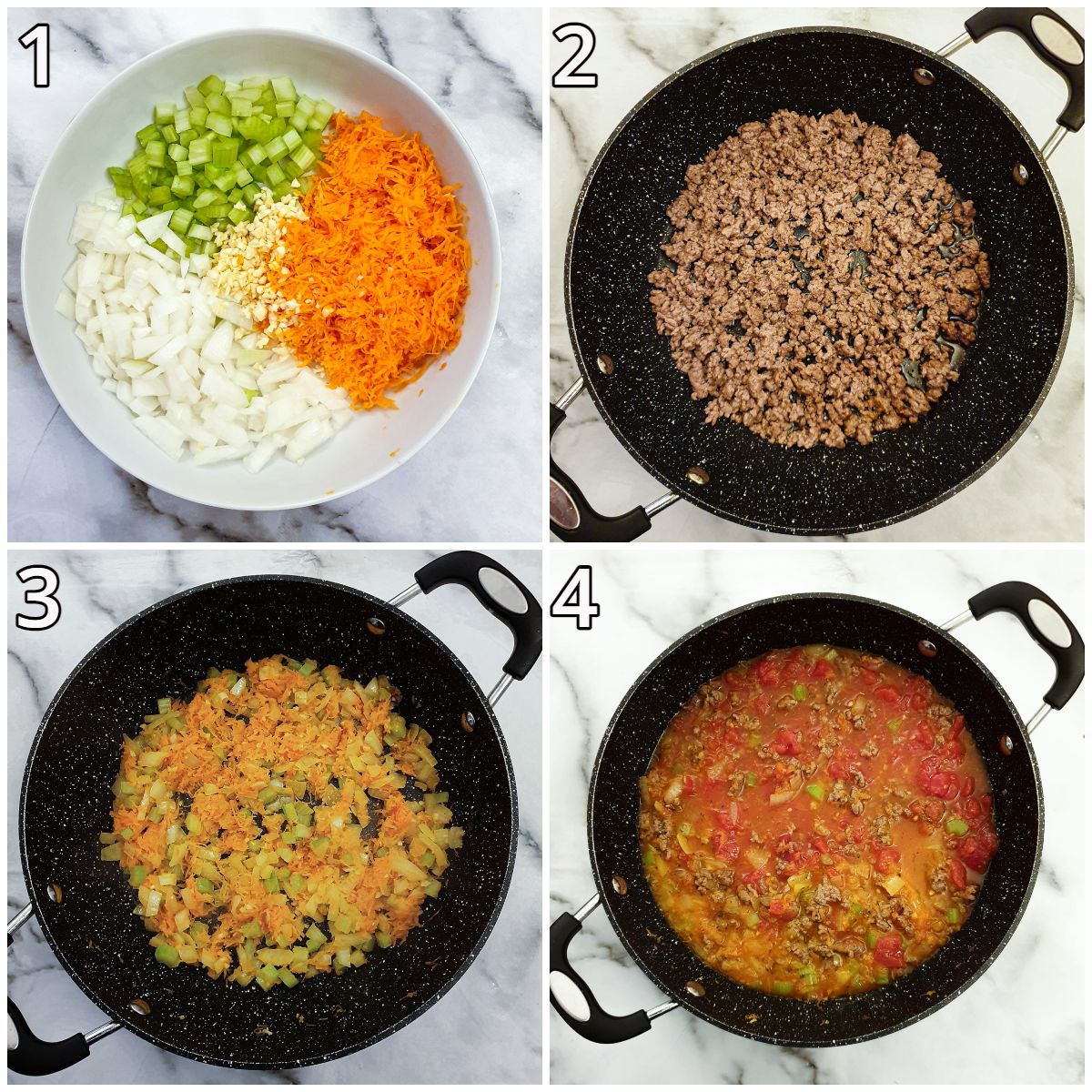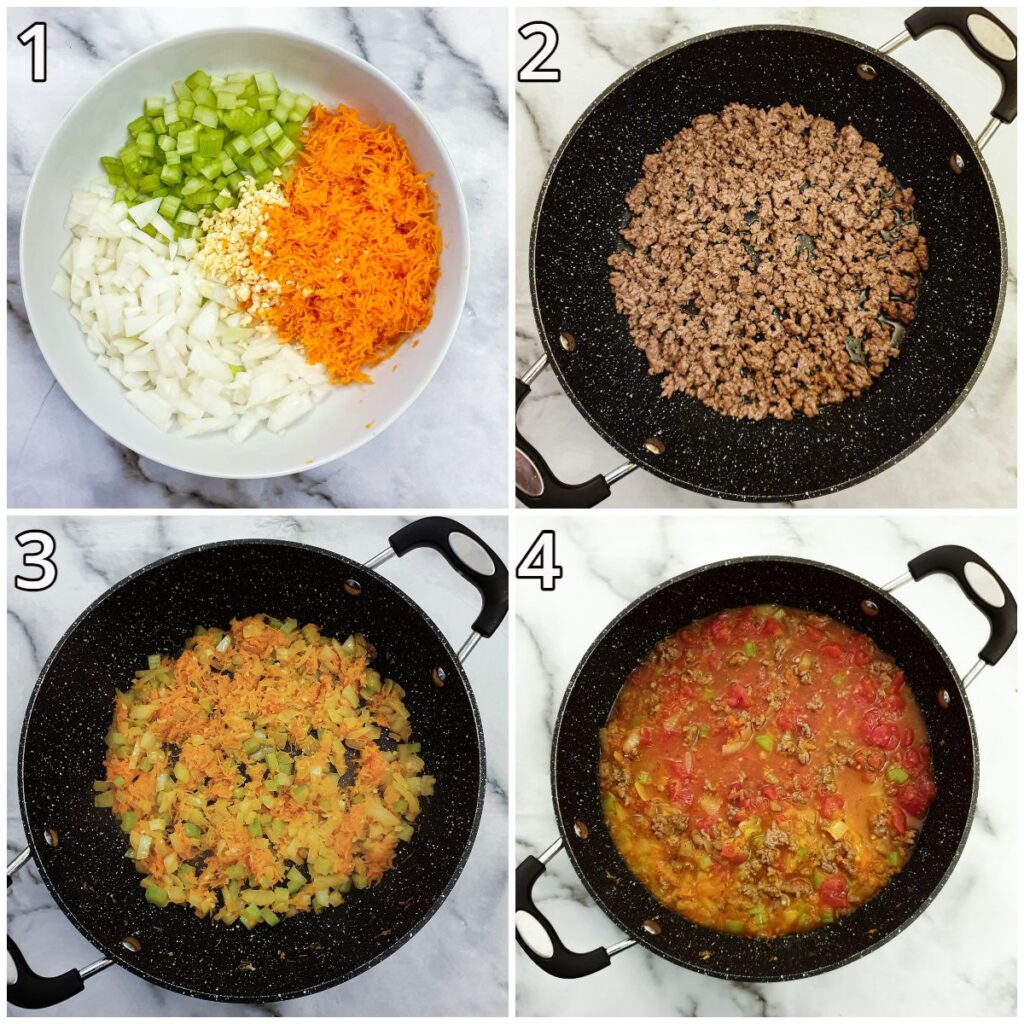 The onions and celery should be chopped into a small dice and the garlic should be either minced or very finely chopped. I like to grate the carrot on the smallest hole of a cheese grater as this means the carrots cooks away to almost nothing, helping to thicken the sauce.
The next step is to fry off the mince in a little olive oil until it is nicely browned and crumbly. Be sure to break up any clumps of meat with a spatula so the meat is all separated.
Remove the meat from the pan, leaving any oil still in the pan and add the prepared vegetables. You may need to add extra oil depending on how much was left over from frying the meat. Turn the heat down as low as it will go, cover the pan with a lid and let the vegetables steam gently for about 5 minutes, until they are just starting to soften.
At this point add the meat back to the pan along with the mixed herbs, the tomato paste, and the salt, black pepper and sugar. Give it all a stir and then tip in the canned tomatoes and the stock.
Bring it all to a boil and then turn down the heat to low and cover the pan with a lid. Leave the sauce to simmer for at least one and a half hours.
The sauce should be thick, without too much moisture. If the sauce hasn't thickened sufficiently you can do one of two things:

Remove the lid and let the sauce cook until some of the excess liquid evapourates; or
Make a slurry with one heaped teaspoon of cornflour and 2 tablespoons of water and stir it slowly into the sauce until it thickens. You may not need all of the cornflour slurry.

Taste for seasoning and adjust if necessary.
Step 2 – Make the bechamel sauce
Cooking time: 10 minutes
Make this bechamel sauce while the meat sauce is simmering.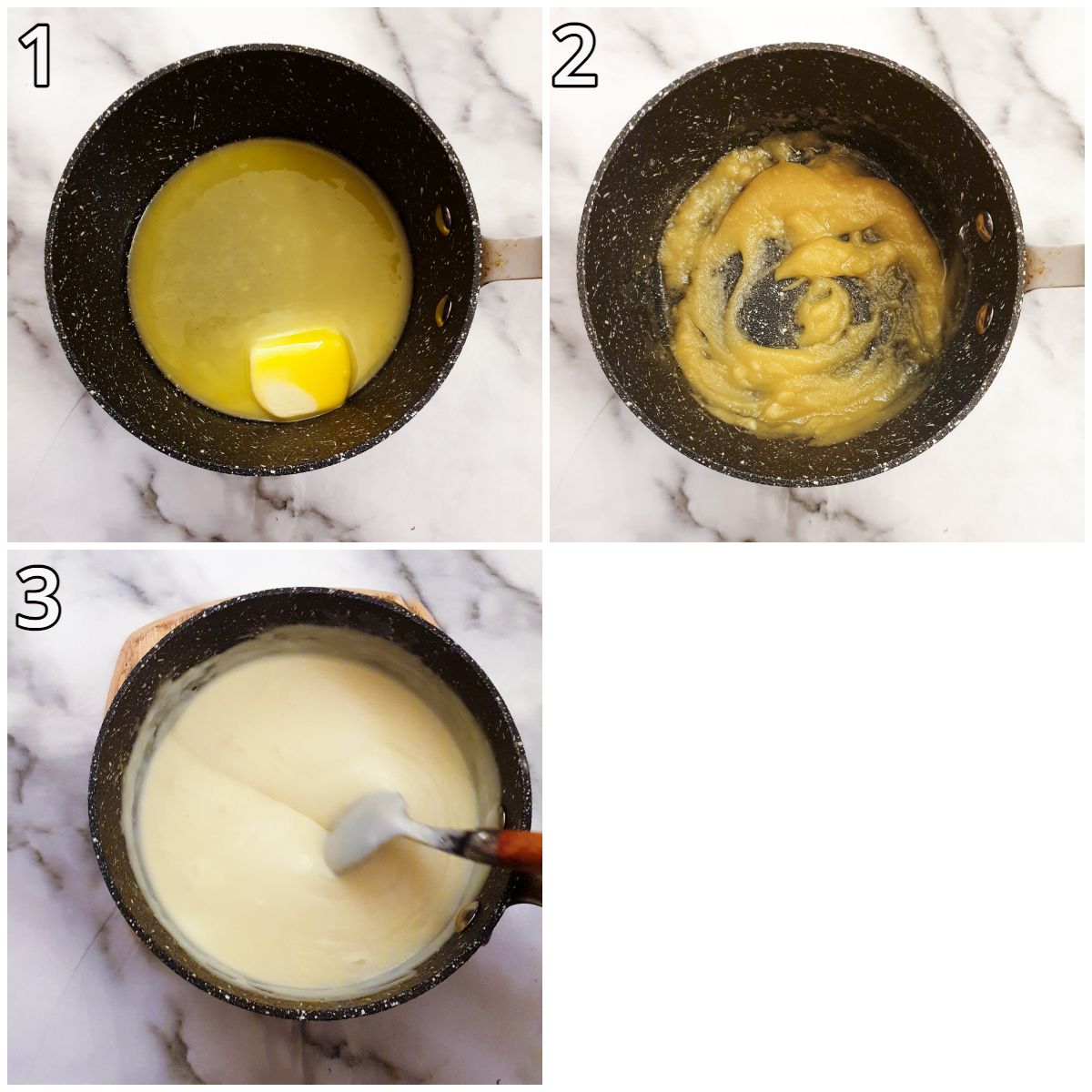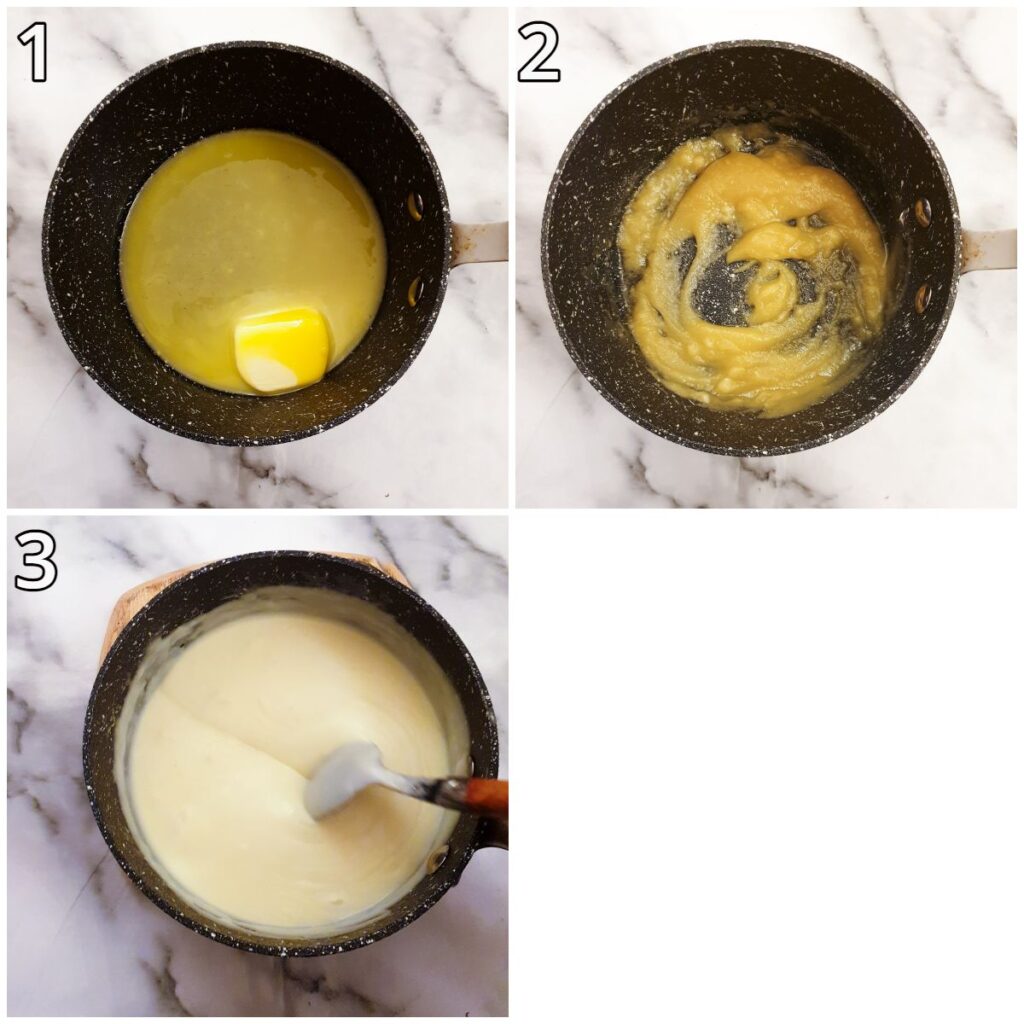 Melt the butter in a saucepan.
Once the butter has melted, remove the pan from the heat and stir in the flour, taking care not to leave any lumps of flour.
Add the milk and return the pan to the stove on a medium heat and stir until the sauce comes to a boil and thickens. The sauce should not be too thick, just thick enough to leave a slight trail when you draw a spoon through it.
Once the sauce is thick, stir in the soft cheese over a gentle heat, and continue stirring until the cheese has dissolved.
Season with salt and black pepper to taste.
Step 3 – Assemble and bake
Prep: 5 minutes
Cooking time: 30 minutes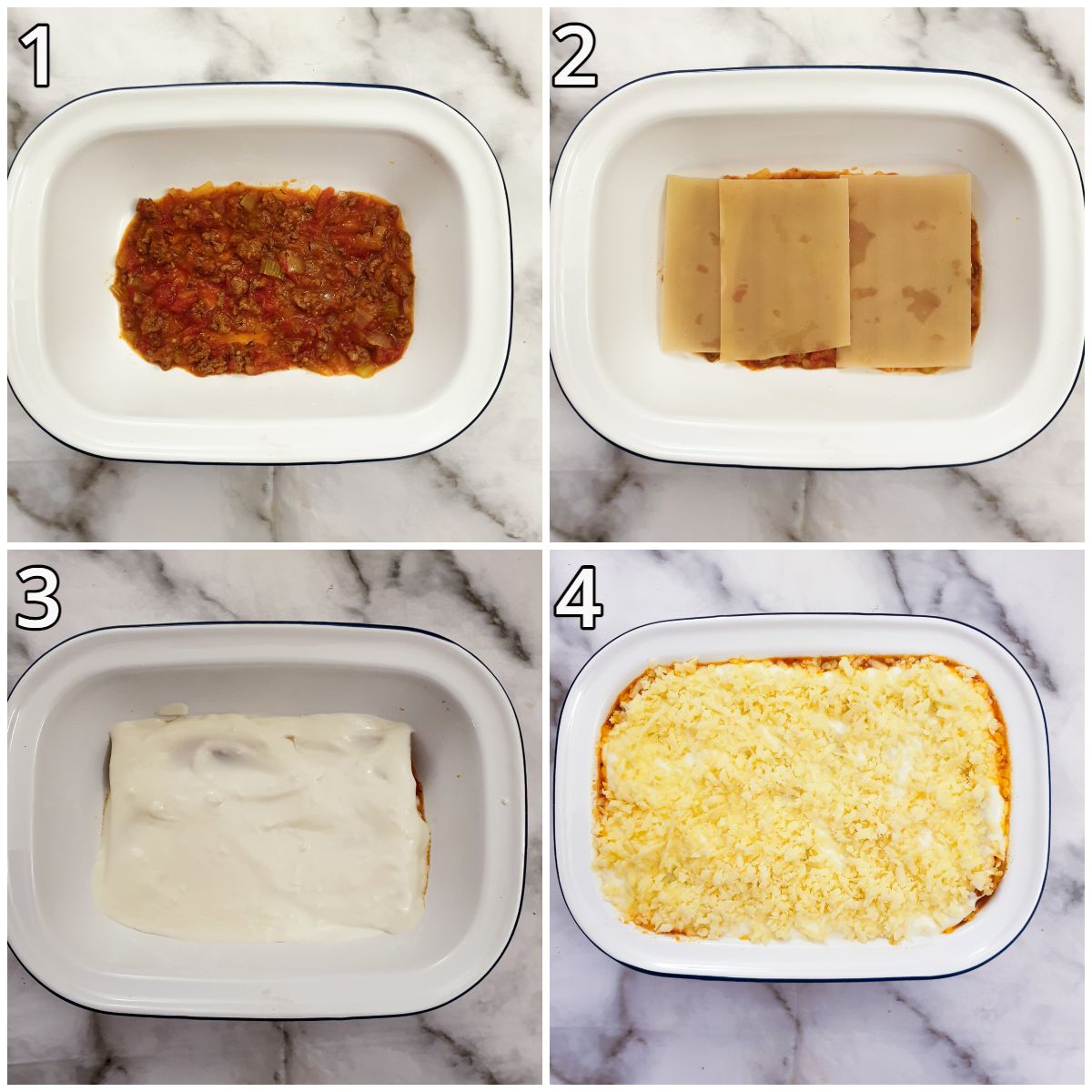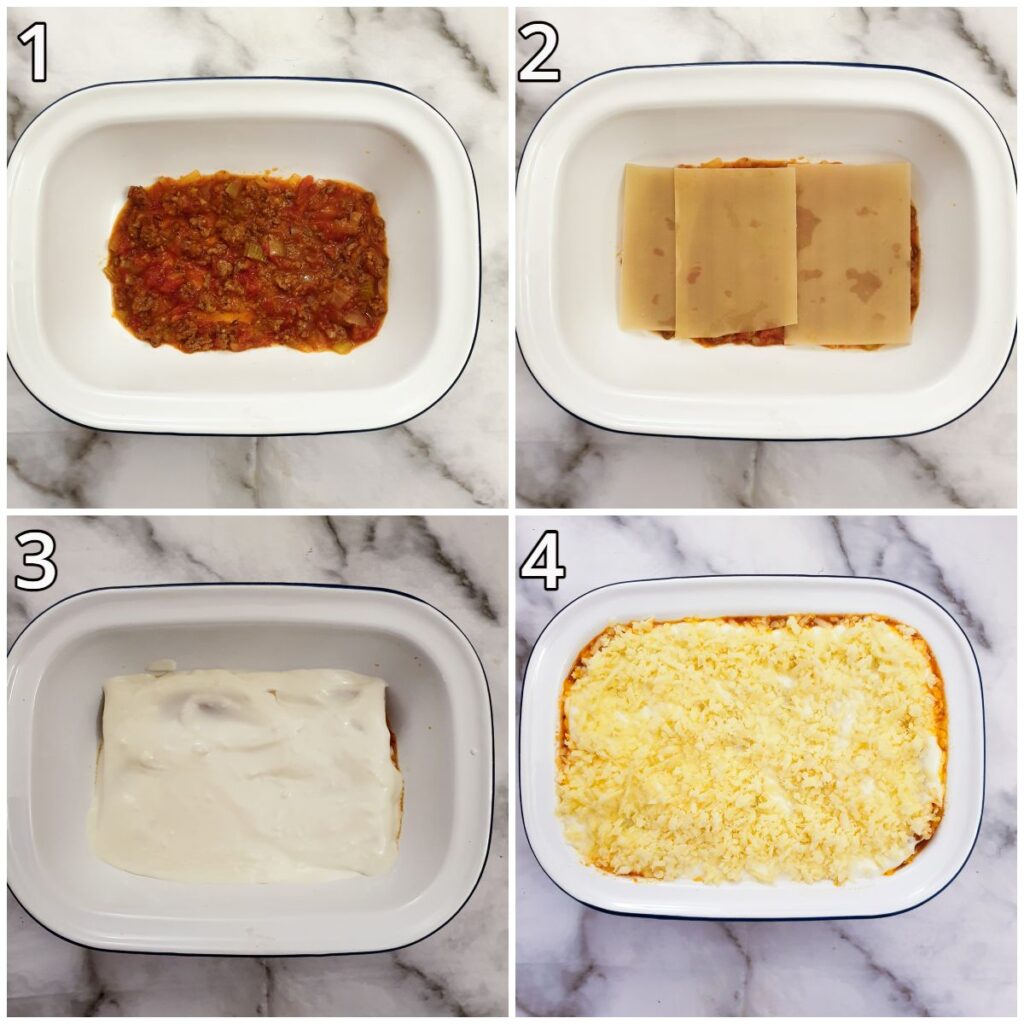 Spoon a thin layer of sauce onto the base of your baking dish. This will stop the lasagne from sticking to the dish.
Arrange a single layer of lasagne sheets on top of the meat sauce.
Cover the lasagne sheets with a thin layer of bechamel sauce.
Repeat the three layers (meat sauce / lasagne sheets / bechamel sauce) until all the sauce has been used. Make sure to end with a final layer of bechamel sauce.
Sprinkle the grated cheese on top.
To bake – place the lasagne into a hot oven (200 degrees C / 400 degrees F) for 25 to 30 minutes until the cheese is melted and golden.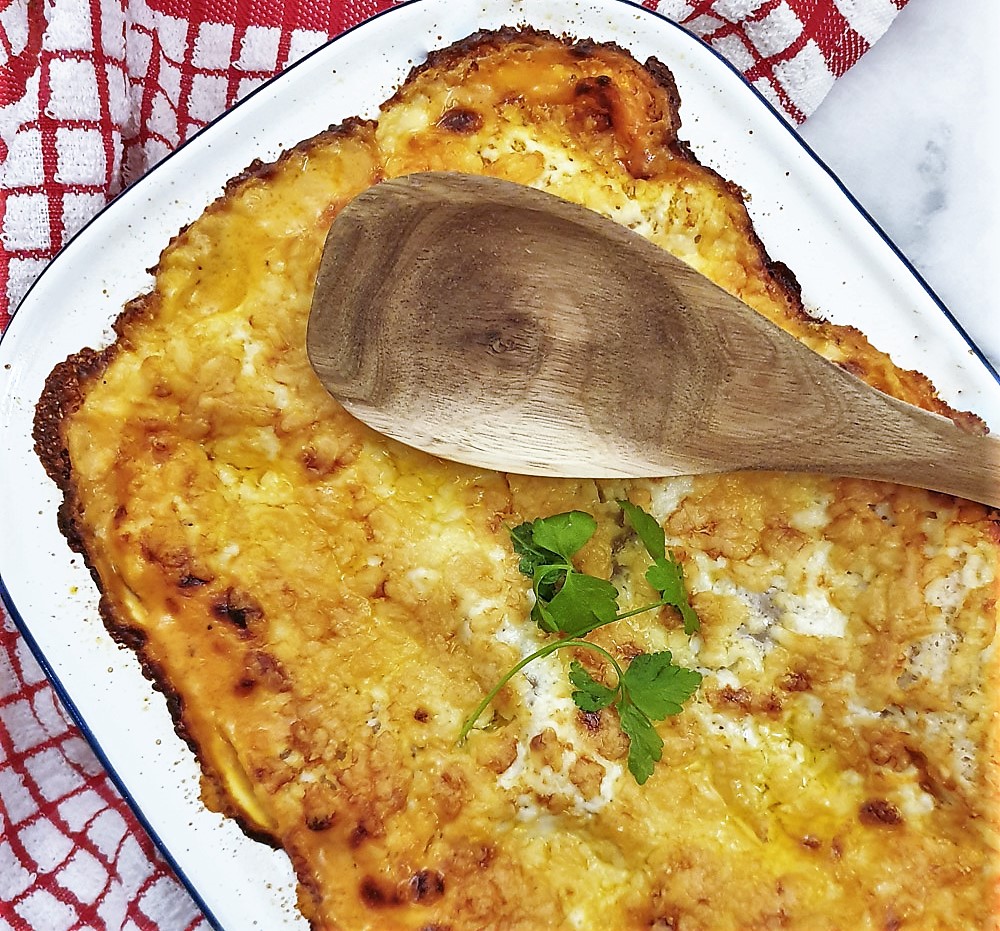 Serve hot with a fresh green salad and slices of garlic bread.
If you'd like to be notified of any new recipes, why not subscribe to my newsletter. As a thank-you gift, you will receive a free recipe e-book containing some of my most popular cakes and desserts.
Freezing
This lasagne freezes very well. You can freeze it in one of two ways:
Uncooked – assemble the lasagne and make sure it has cooled to room temperature before freezing. Cover the top of the lasagne with a layer of tinfoil, then wrap the dish in a double layer of plastic wrap. Freeze for up to 4 months.
Cooked – allow to cool and then cover with tinfoil and wrap in plastic wrap as above. Freeze for up to 4 months.
To use:
Uncooked – cook from frozen in a pre-heated oven at 200C/400F for 35 minutes.
Cooked – allow to defrost in the refrigerator and then reheat in a hot oven (200C/400F) for 15 minutes.
Top tip – if you intend to freeze the lasagne, why not assemble it in a disposable aluminium container so that you don't have to take up space in the freezer with a bulky baking dish.
You can also freeze the meat sauce by itself for up to 4 months. Let the sauce defrost in the refrigerator before using it to make the lasagne.
Get ahead
You can prepare the meat sauce ahead of time and leave it in a covered container for up to three days in the refrigerator.
When you are ready to make the lasagne, all you will have to do is make the bechamel sauce, assemble and bake!
Pin for later
To save this cheesy lasagne recipe to Pinterest, just click on the image below.
Other easy pasta recipes
If you enjoyed this cheesy lasagne recipe, you may like to try some of these other easy pasta recipes.
The recipe
If you made this recipe and enjoyed it, I'd love it if you could give me a star rating in the comments below. And if you'd like to get in touch, you can email me at [email protected]. I'd love to hear from you. And don't forget to subscribe to my mailing list so you can grab yourself a copy of my FREE COOKBOOK!
If you'd like to continue browsing, just click on this link to all my recipes.