Close your eyes and imagine a pie made with tender chunks of beef, tasty mushrooms with plenty of vegetables all swimming in a thick meaty gravy, and covered with a crispy layer of puff pastry. This delicious steak and mushroom pie with crispy puff pastry can be on your menu tonight if you follow my easy instructions.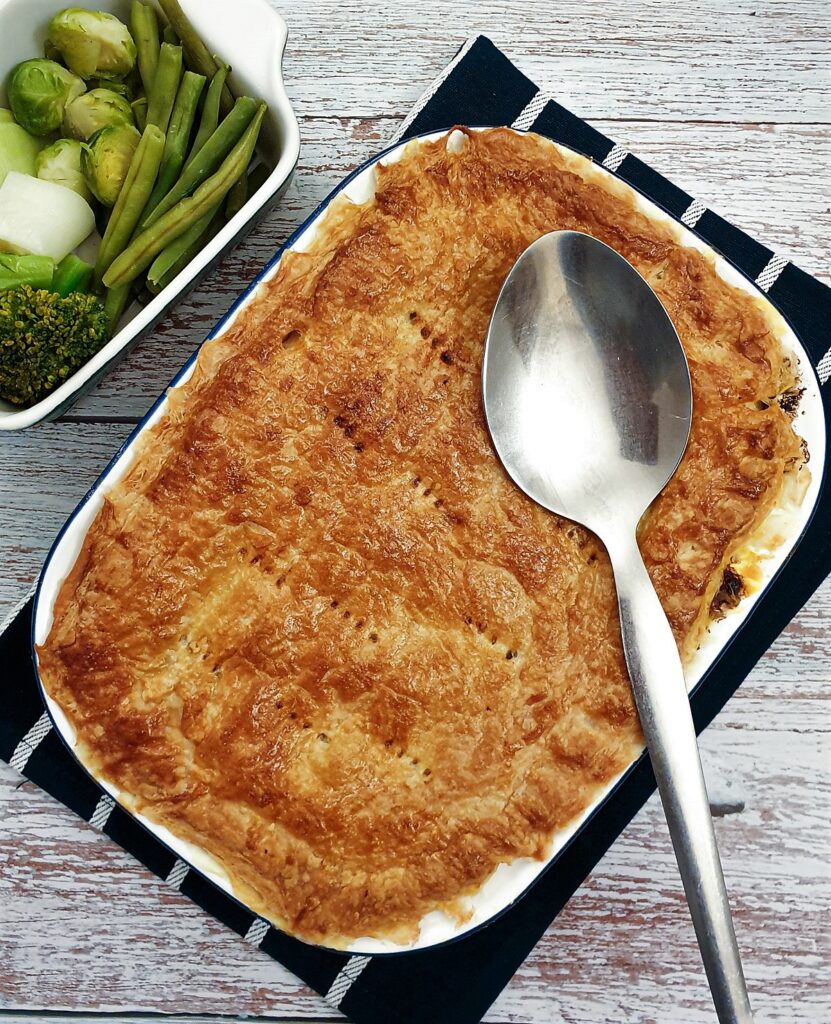 **As an Amazon affiliate, I earn from qualifying purchases.**
The tastiest steak and mushroom pie
My steak and mushroom pie has to be one of the tastiest pies I've ever made, and I've made some good ones in my time. Just take a look at Granny's homemade chicken pie and this raised beef and onion pie if you don't believe me!
This steak and mushroom pie is packed with juicy chunks of tender beef, plenty of mushrooms, and lots of vegetables, with a thick meaty gravy that's been enriched by the addition of red wine. The puff pastry topping is perfectly browned and crispy and is the perfect accompaniment to the meaty pie filling.
I've also got a couple of tricks up my sleeve to add even more flavour to this pie. Find out more about my two secret ingredients further down the post.
This is the perfect comfort food to serve to the family to banish away the last of the winter blues.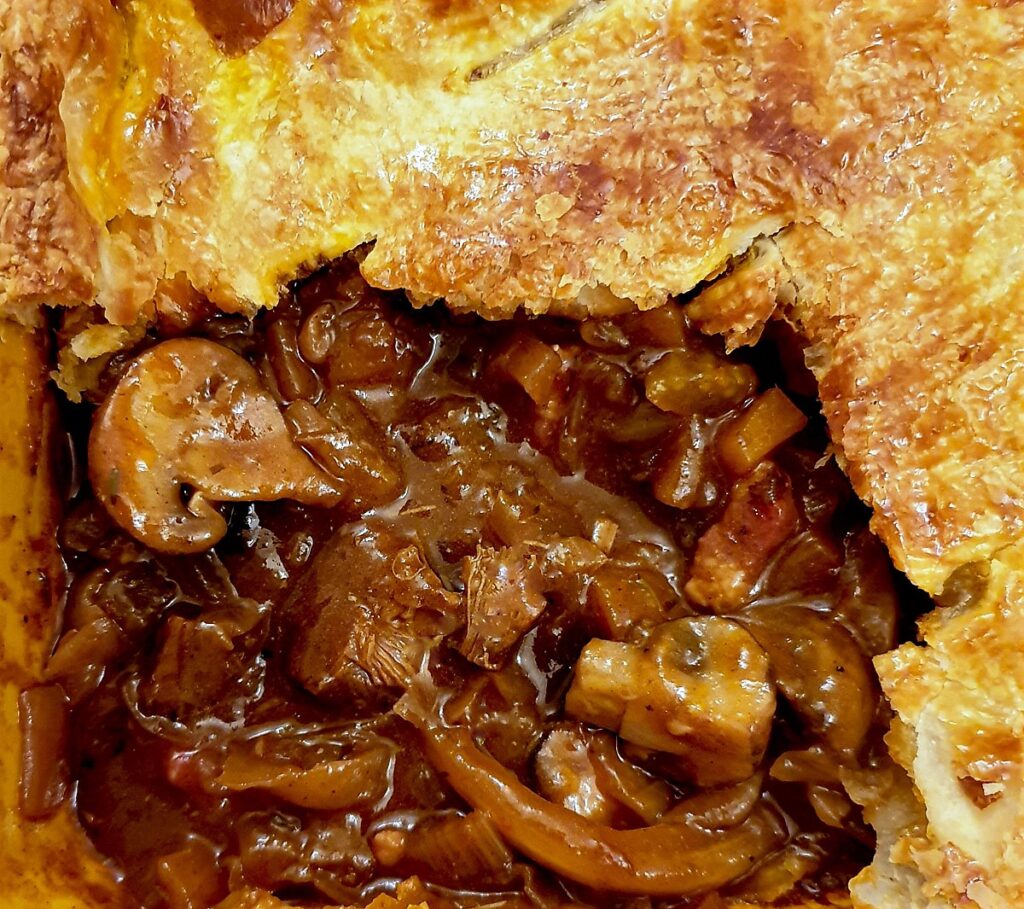 Why I think you'll love it too

Steak and mushroom pie is very easy to make – most of the work is hands-off. Once you've browned the meat and sauteed the vegetables, you just pour in a jug of flavoured stock and leave it to simmer for an hour until the beef has turned into tender chunks. Then transfer the mixture to a pie dish, cover it with a sheet of puff pastry and pop it into the oven for half an hour.
It's economical – because the pie is packed with vegetables you can make a little meat go a long way.
It saves on energy – the steak filling is simmered over a low heat on the stove and only goes into the oven for the last 30 minutes to cook the pastry.
It's full of flavour – the stock is enriched with red wine and flavoured with thyme, paprika, Worcestershire sauce and tomato puree to make a rich full-bodied gravy.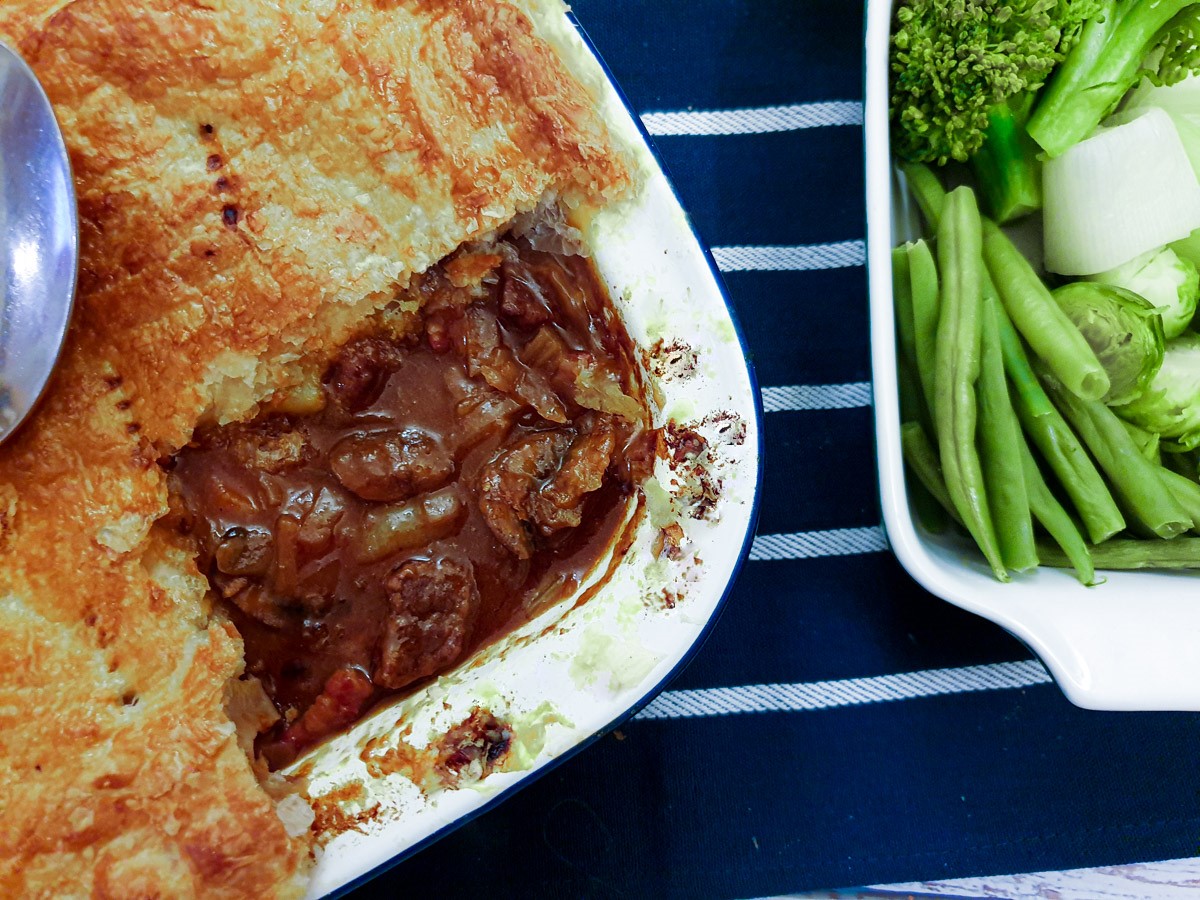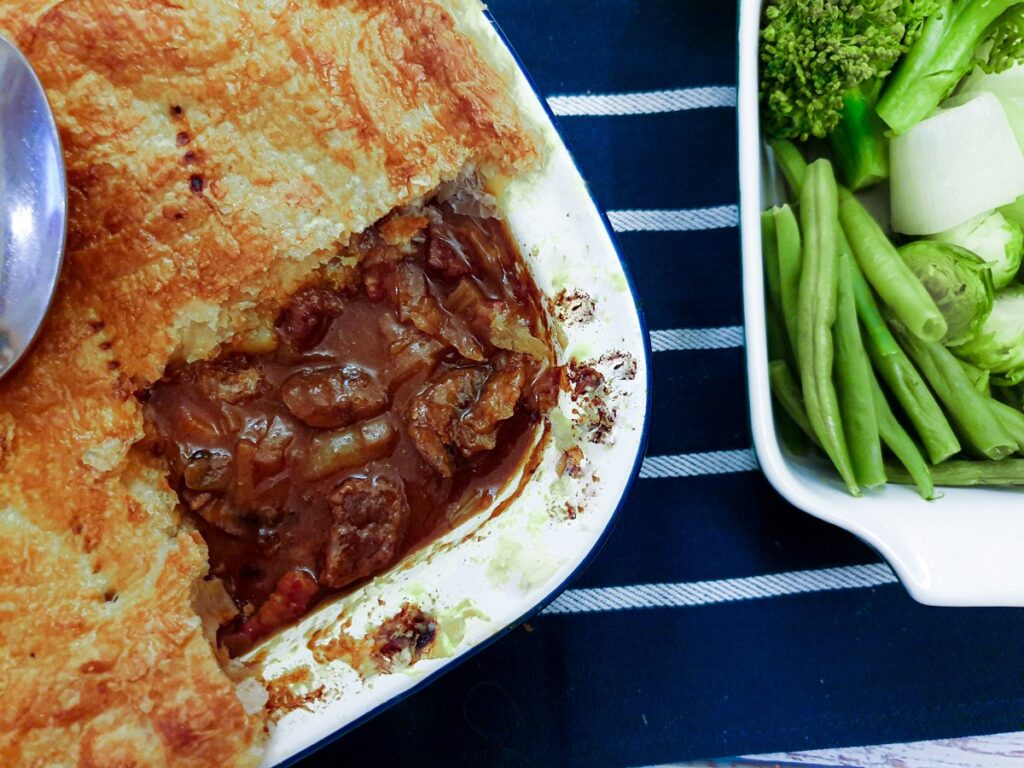 What you will need
Equipment
To make this steak and mushroom pie you will need a lpie dish large enough to hold all the filling. I like these enamel ones from Amazon because they have a rim that you can stick the pastry on to. The dish should be at least 9″ x 7″ x 2.5″ deep (23cm x 17 cm x 6 cm deep).
You will also need a large frying pan with a lid for browning the meat and vegetables and simmering the filling before it goes into the pie dish. I like this one, firstly because it is non-stick, and secondly, because it doesn't have a metal handle so there's less chance of accidentally burning yourself.
Ingredients
**You can get the complete list of ingredients and full instructions for making this beef and mushroom pie on the printable recipe card at the end of this post**.
This recipe will feed 4 hungry people, and probably leave some leftovers for lunch the next day.
Pie filling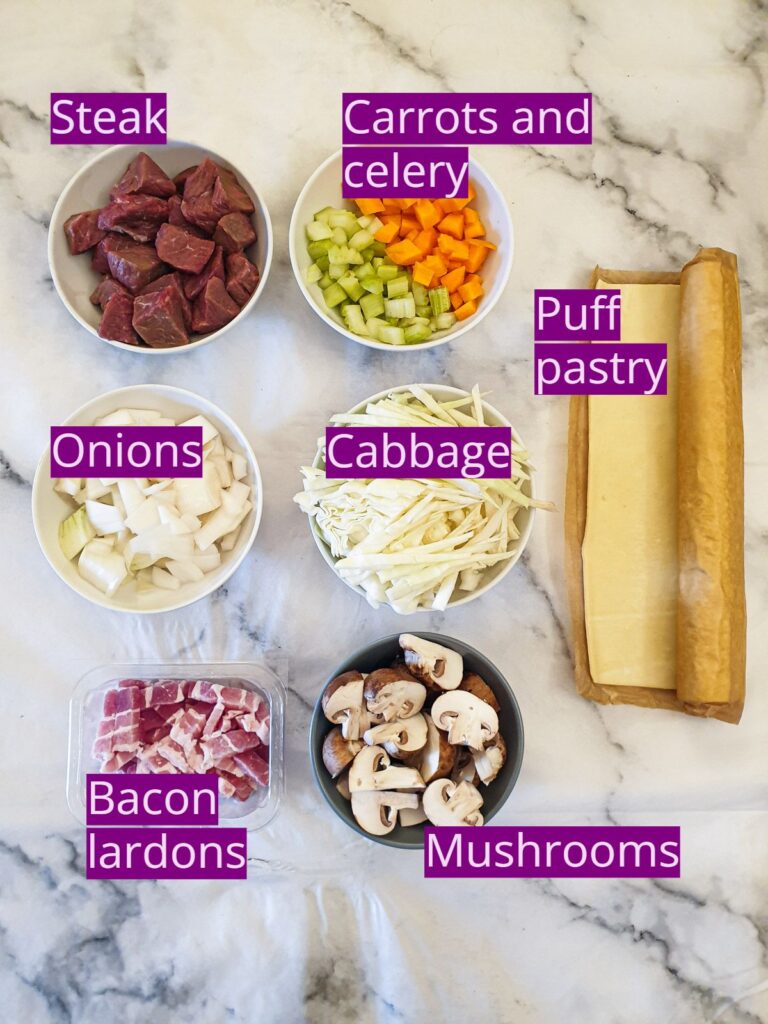 Steak – the best cut of meat to use is either topside or chuck steak. You want to get a tougher cut of meat that benefits from a slow cooking process which gives the connective tissue time to break down. In the supermarkets in the UK you can buy ready-diced stewing steak, which is probably a mixture of topside and chuck and which is perfect for this pie.
Carrots, celery and onions – this is the holy trinity (or mirepoix if you are posh) of vegetables. This combination provides loads of flavour and is often used as a base for stock, soups and stews.
Cabbage – this is my secret ingredient number 1. I like to use a firm white cabbage, but you could also use savoy cabbage. The cabbage should be finely shredded so that it almost disintegrates during the cooking process leaving tons of flavour. You won't even notice the cabbage in the pie. Trust me!
Bacon lardons – these are just pieces of fatty bacon that you can find at any processed meat counter in the supermarket. They are sometimes referred to as 'poor man's pancetta'. This is my second secret ingredient to add a little saltiness and umami to the pie.
Mushrooms – lots of them – this is a steak and mushroom pie after all! I've used chestnut mushrooms, that I've quartered, but you can use whichever variety you prefer. Whole white button mushrooms would be especially good.
Puff pastry – shop-bought puff pastry is so good it's not worth the time it takes to make your own. You will probably only need half the roll.
Extras – You will also need flour and salt for coating the steak cubes before you fry them, sunflower oil for browning the meat and a beaten egg to brush on the pastry before baking.
Gravy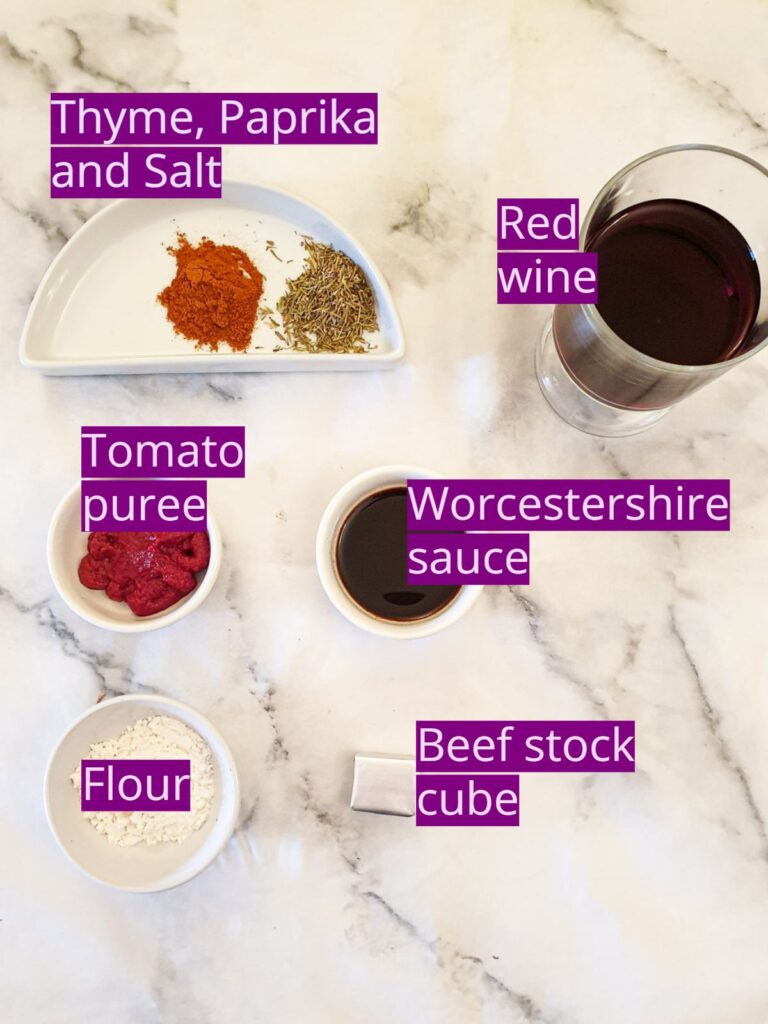 Red wine – you don't need too much or the flavour of the wine will overpower the other ingredients, but a good slug of red wine really goes well with beef. Use a wine that you would actually drink – a bad-tasting wine isn't going to improve with cooking. I've said this many times, and I'll say it again 'if you wouldn't drink it, don't cook with it'.
Tomato puree (sometimes known as tomato paste) – is made from highly concentrated tomatoes, and is sold in tubes or small cans. If you look at the photo of the ingredients you can clearly see how mine was squeezed out of a tube!
Worcestershire sauce – the good old English favourite flavouring. If you live in the north of England you might want to substitute this with Henderson's relish 🙂
Flour – used for coating the beef, and also for thickening the gravy.
Beef stock cube – dissolved in one and a half cups of boiling water. You can substitute this with fresh beef stock if you have it handy.
Seasonings – salt, paprika and thyme – be careful with the dried thyme and don't add too much. It can be quite overpowering. If you don't like the taste of thyme you can leave it out altogether. Paprika is the perfect spice to use with beef. This recipe for Hungarian beef goulash is a perfect example.
How to make steak and mushroom pie
Elapsed time is about 2 hours – but most of the cooking time is hands-off so you can get on with other things while it's cooking.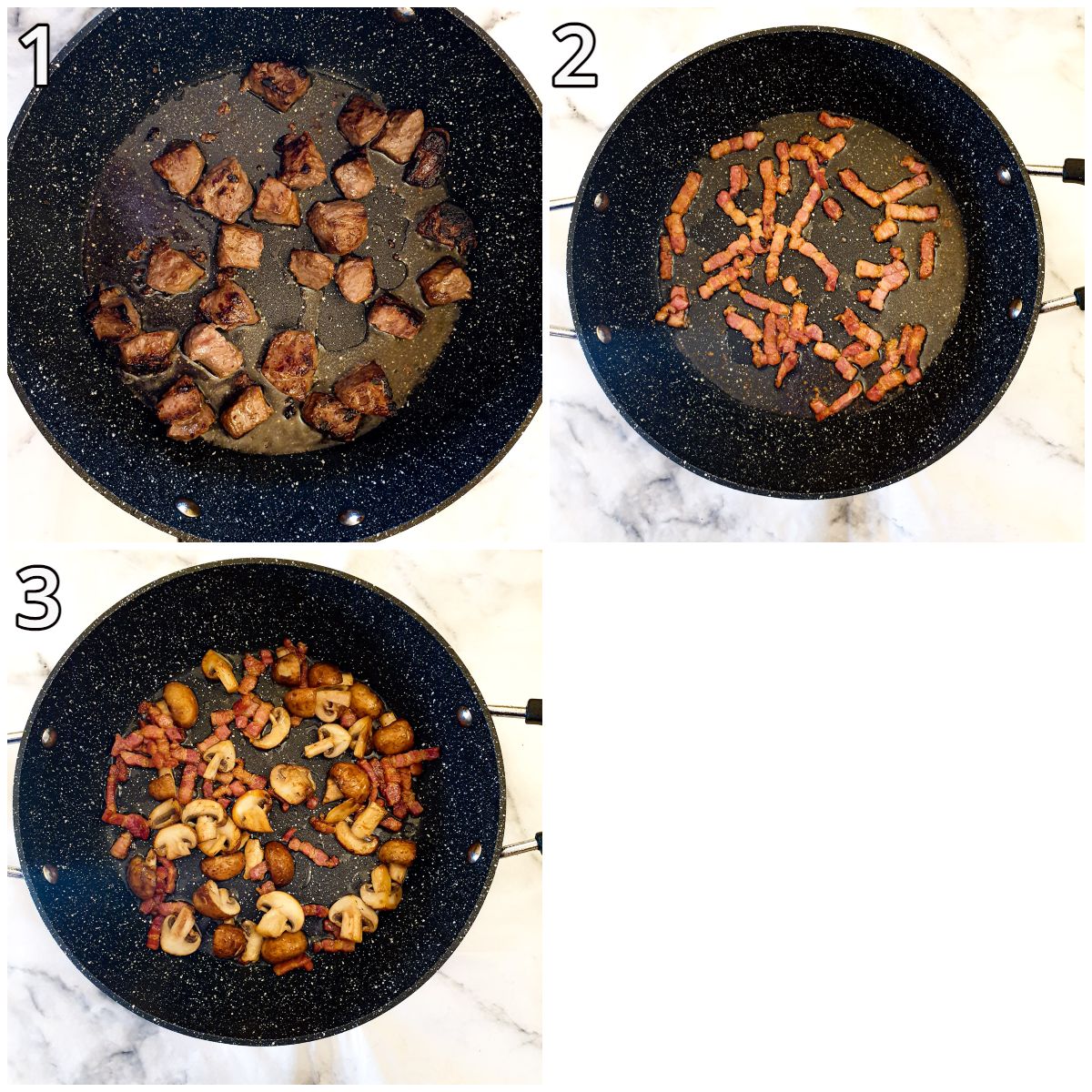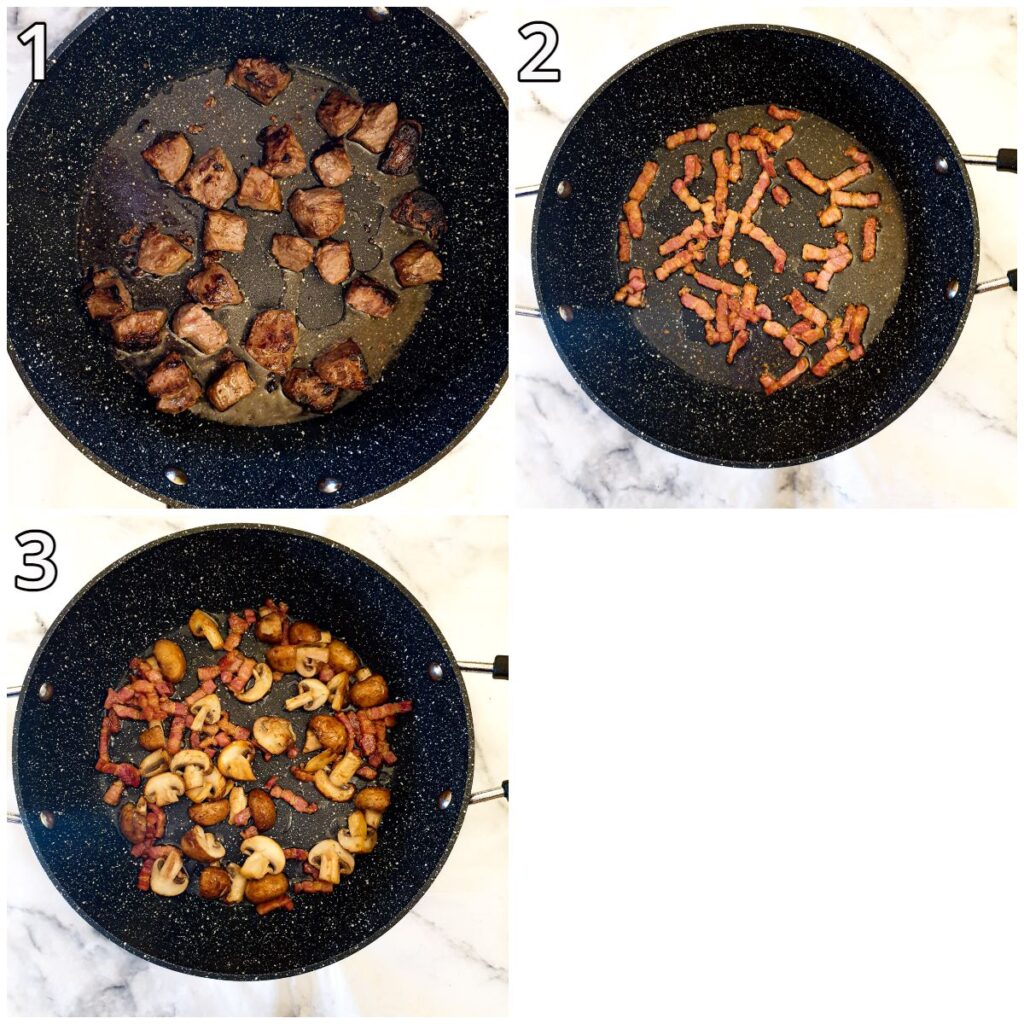 First of all, cut the meat into bite-sized pieces and coat it in a mixture of flour and salt.
Heat 2 tablespoons of sunflower oil in a large frying pan and fry the pieces of meat on quite a high heat until they start to brown. Stir to ensure that the meat browns on all sides.
Fry the meat in batches so you don't overcrowd the pan.
Once the meat has browned, remove it to a plate and set it aside.
Now fry the bacon lardons in the same pan. You shouldn't need any extra oil. Stir the lardons until they have released their oil and are turning brown, then add the sliced mushrooms.
Continue to stir fry until the mushrooms start to turn brown, and then transfer them to the steak on the plate.
Mushrooms are like little sponges and they will soak up all the oil in the pan. This is perfectly fine – they've picked up all the flavour from the bacon and they will release this into the filling when we add them back to the pan.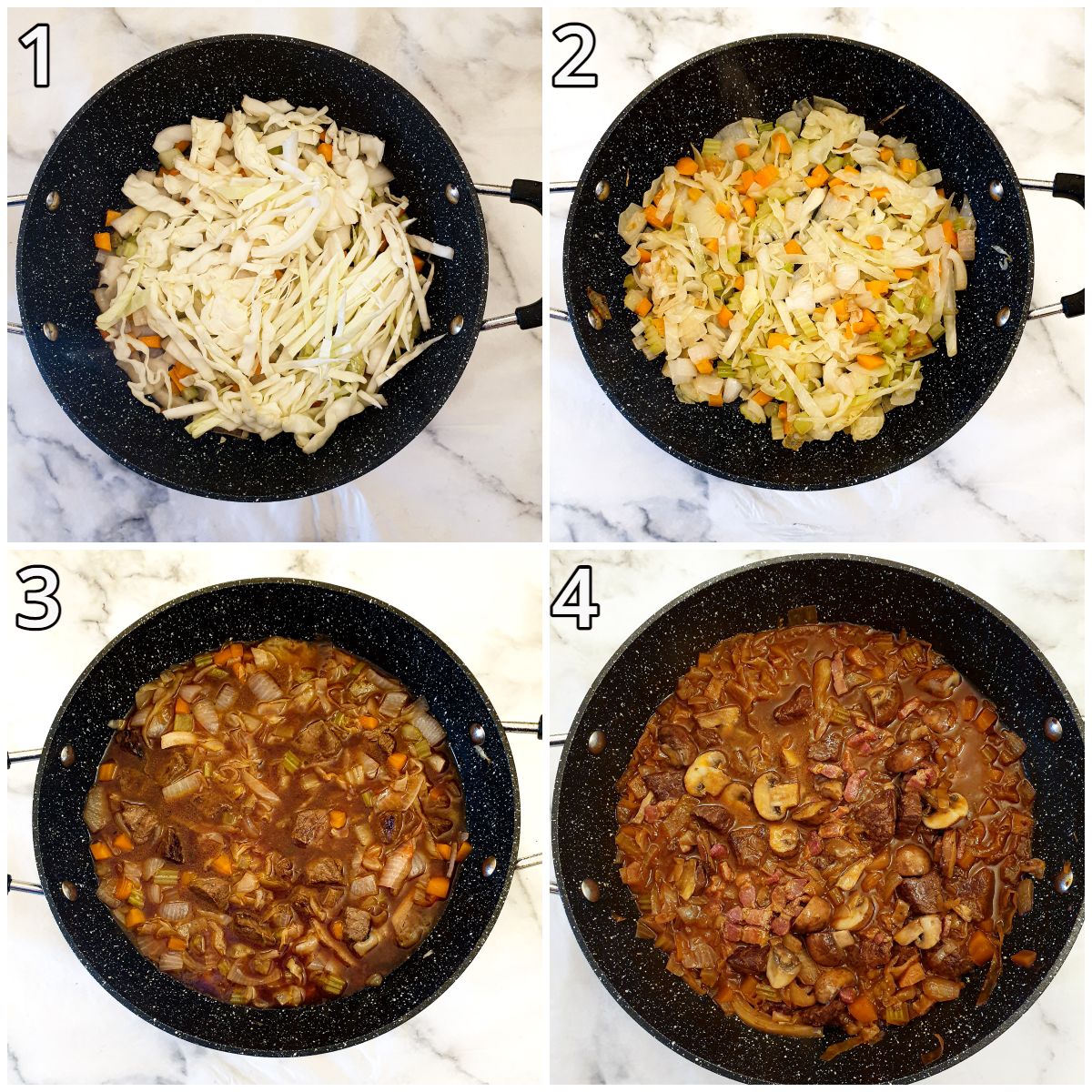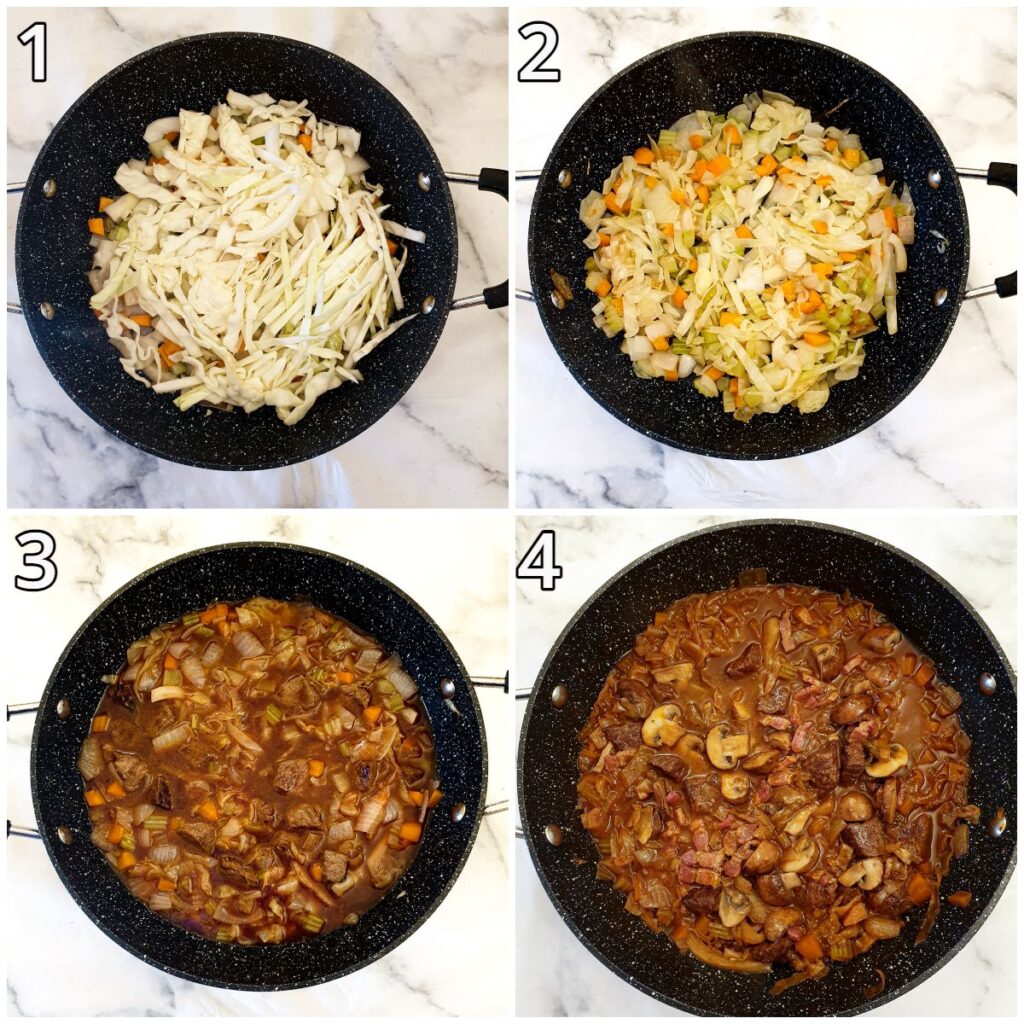 If the mushrooms have soaked up all the oil, add another tablespoon of oil. Heat the pan then add the onions, carrots and celery and stir fry for a minute to get them coated with oil. Add the shredded cabbage one-quarter of a cup of water, turn the heat down to low and cover the pan with a lid.
Let the vegetables steam for about 10 minutes or until the cabbage has softened. Keep your eye on it and add another splash of water if it looks as though it's in danger of burning. You just want the vegetables to soften – not brown.
While the vegetables are steaming, dissolve the stock cube in one and a half cups of boiling water. Add the red wine, tomato puree, Worcestershire sauce, dried thyme and paprika. Don't add the salt just yet – you can season later if it's needed. And don't add the flour – this will be used for thickening later.
Add the stock to the softened vegetables and stir in the meat and mushrooms along with any juices that may be on the plate. Cover the pan with a lid and leave on a low simmer for one hour. Check occasionally to see that it doesn't boil dry. Top up with extra water if necessary.
Taste for seasoning and add salt if needed.
If the gravy needs to be thickened, mix the flour to a smooth paste with two tablespoons of water and stir it gradually into the gravy while the pan is still on a low heat. You may not need all of the flour. The consistency of the gravy should be thick, but still pourable.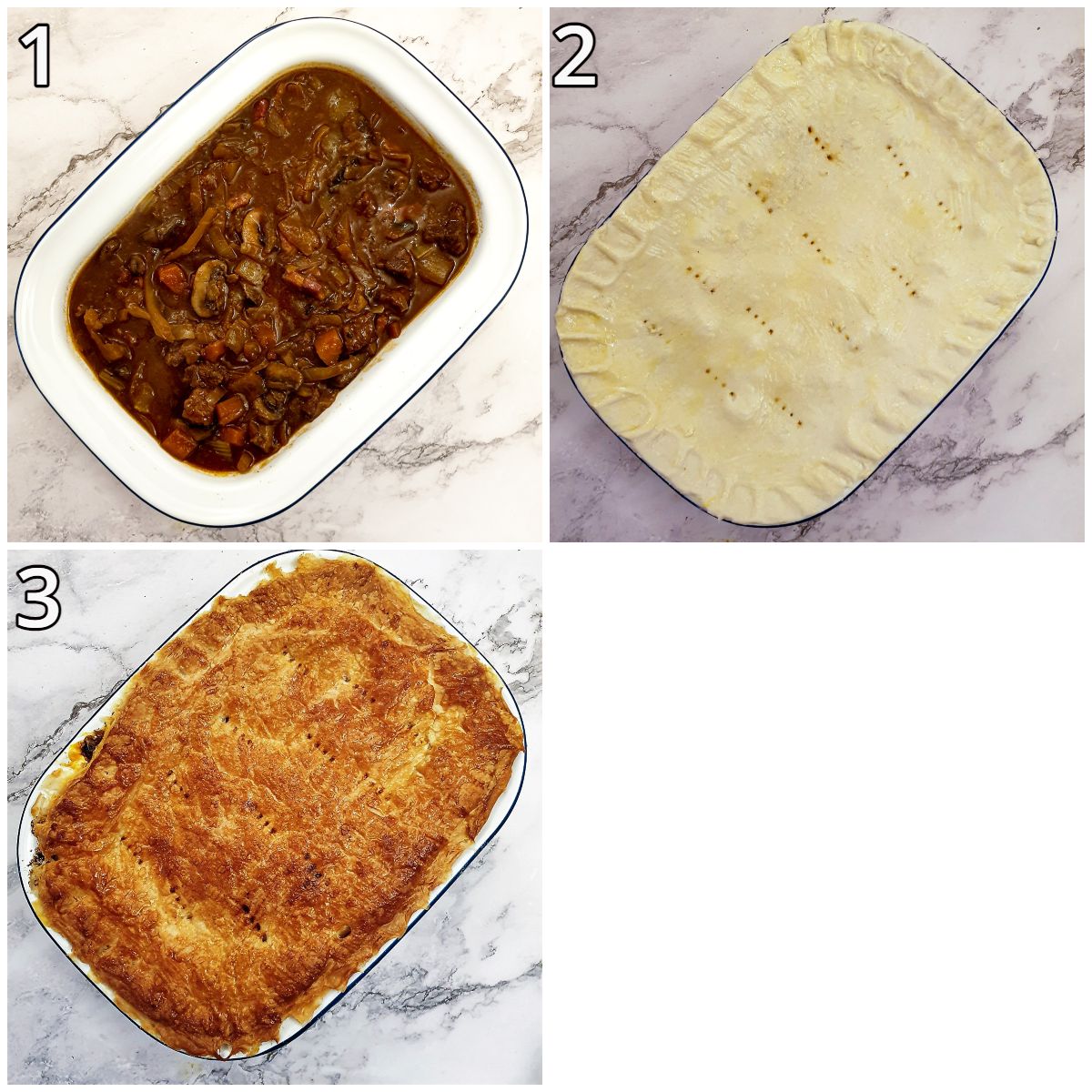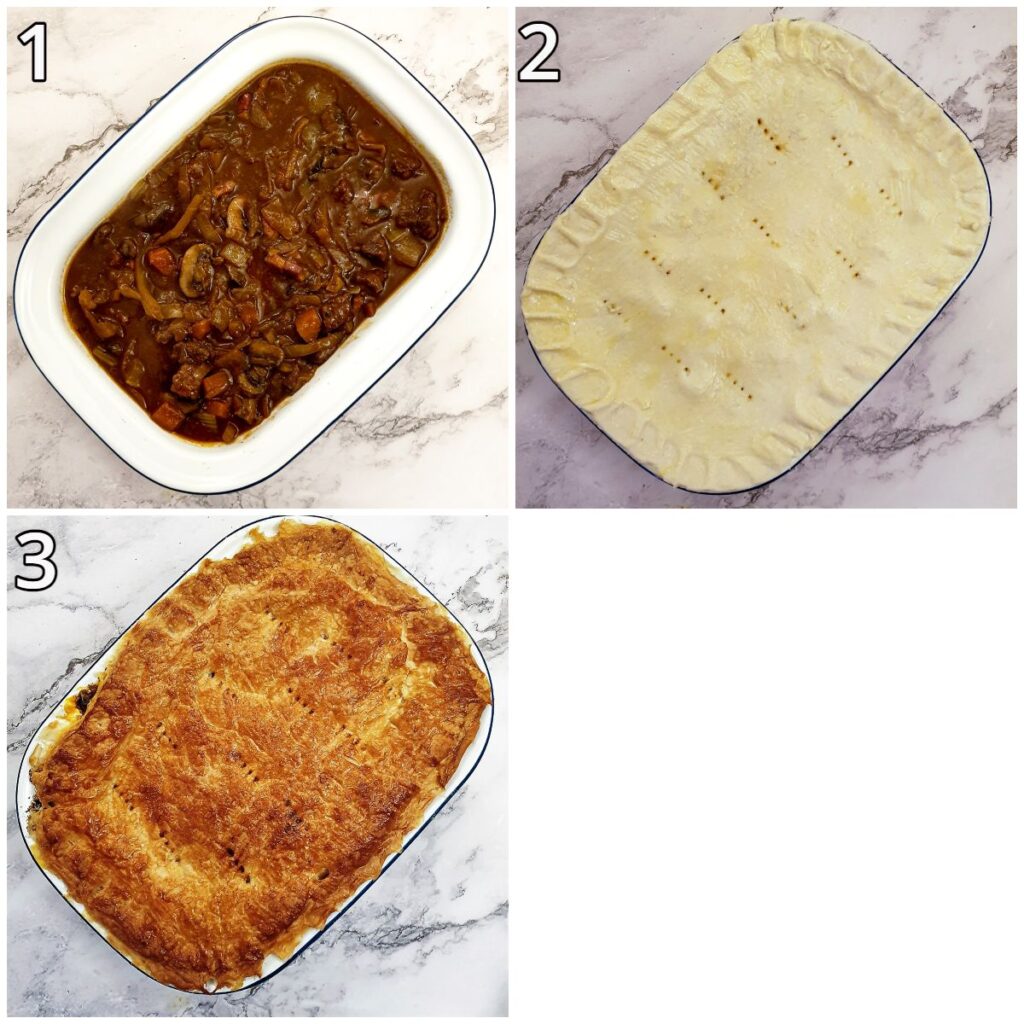 Transfer the meat mixture to a suitable pie dish and set it aside to cool.
Unroll the pastry. If you have bought a block of puff pastry rather than ready-rolled, roll the pastry out to approximtely one-eighths of an inch thickness. You will probably only need half a roll of pastry to top the pie with. You can store any leftover pastry in a plastic bag in the refrigerator for 2 to 3 days and use it in another recipe.
Top the cooled pie with the pastry and use your thumb to press it onto the rim of the pie dish.
Make a few holes in the pastry with a fork to allow the steam to escape as the pie is cooking. Brush the pastry with beaten egg.
Bake the pie in a hot oven (200C / 400F) for 20 to 25 minutes until the pastry is puffed up and golden.
What to serve with steak and mushroom pie
I like to serve this pie with a selection of freshly steamed vegetables. I think the pastry provides sufficient carbohydrates so I don't bother with potatoes.
However, that said, there's absolutely nothing to stop you serving the pie on top of a pile of creamy mashed potatoes of fluffy white rice to help soak up the gravy!
If you'd like to be notified of any new recipes, why not subscribe to my newsletter. As a thank-you gift, you will receive a free recipe e-book containing some of my most popular cakes and desserts.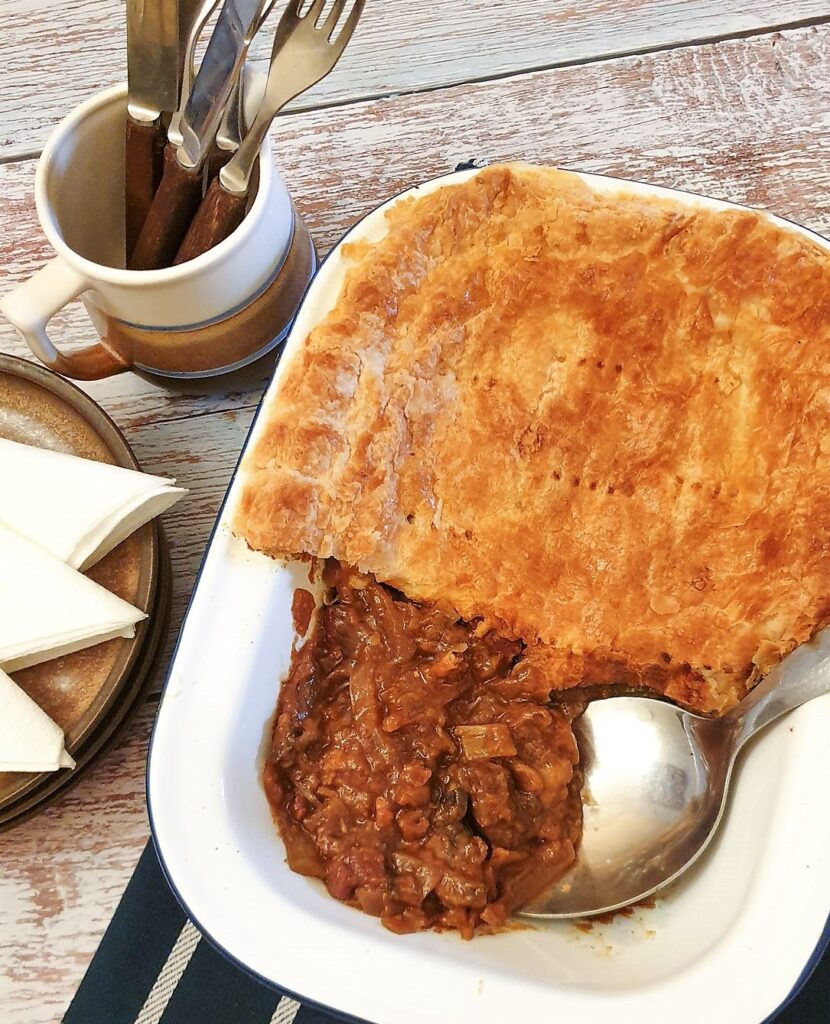 Freezing, storage and reheating
You can freeze the cooled meat and gravy filling for up to 4 months. To use, let it defrost in the fridge overnight, then transfer the filling to a pie dish and cover with puff pastry. Bake for the time and temperature given in the recipe.
The complete unbaked pie can also be frozen. If you are going to do this I would suggest assembling the pie in a disposable aluminium container. Wrap the pie in foil wrap and then cover with a double layer of plastic wrap and freeze for up to 4 months. To use, bake from frozen, adding an additional 10 minutes to the time given in the recipe.
Leftovers can be stored for up to 3 days in the refrigerator. Cover the pie dish with aluminium foil before storing. To reheat place the pie dish (still covered with aluminium foil) in a hot oven for 10 minutes until the pie is heated through.
Pin for later
Why not pin this recipe for steak and mushroom pie to one of your Pinterest boards so you can find it easily. Just click on the image below.
Other recipes
Here are some of my other pie recipes you may enjoy:
The recipe
I have linked this recipe to #CookBlogShare run by Sisley & Chloe which was hosted by Nancy at NOMSS
If you made this recipe and enjoyed it, I'd love it if you could give me a star rating in the comments below. And if you'd like to get in touch, you can email me at [email protected]. I'd love to hear from you. And don't forget to subscribe to my mailing list so you can grab yourself a copy of my FREE COOKBOOK!
If you'd like to continue browsing, just click on this link to all my recipes.