Granny's homemade chicken pie is a real old-fashioned pie made the way that pies are supposed to be made! This chicken pie has a crispy shortcrust pastry both on the top and on the bottom and is packed full of plenty of tender chicken and juicy mushrooms swimming in a rich creamy sauce. If you follow my easy instructions below, you can be tucking into this pie yourself – tonight!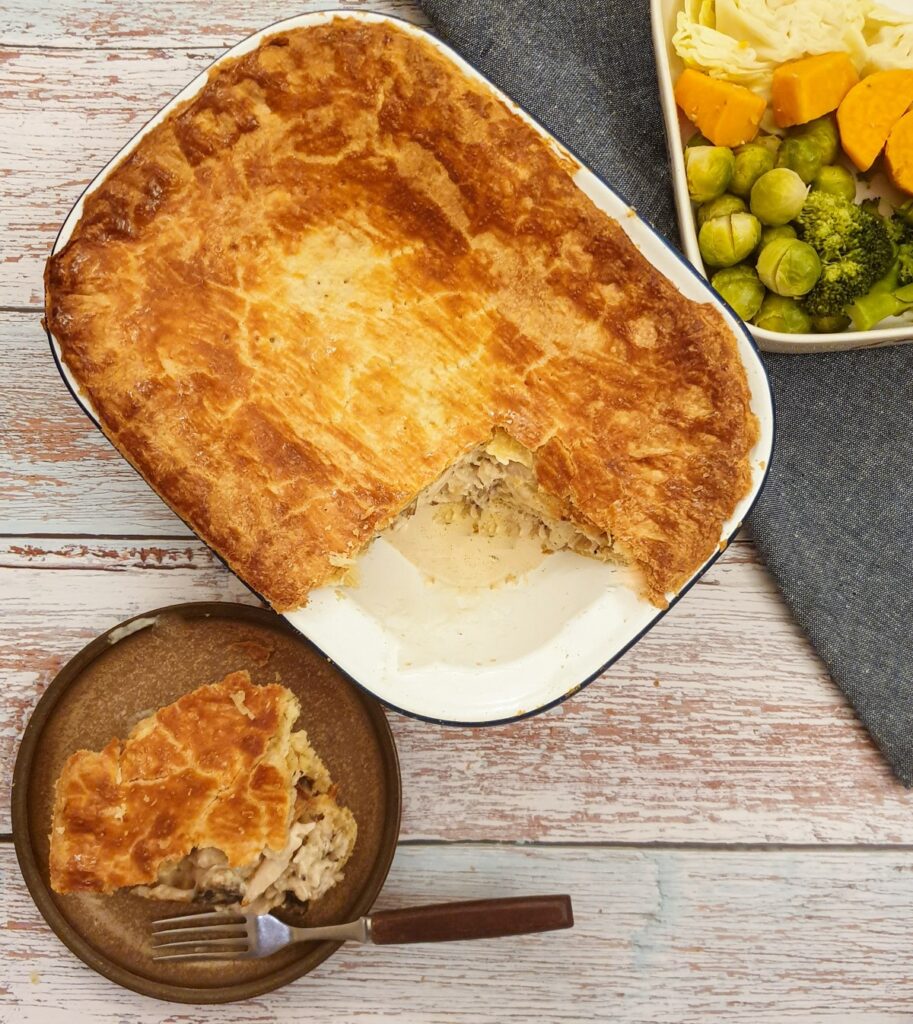 **As an Amazon affiliate, I earn from qualifying purchases.**
Why I think you'll love Granny's chicken pie
There are so many reasons you're going to love this chicken pie.
It's a proper pie, made with pastry both on the top and on the bottom, which means you can easily pick up a slice a eat it in your hands.
You can make it with leftover chicken which makes it very economical. Don't worry if you don't have leftover chicken, I've included instructions for poaching the chicken further down in the post.
You and eat it both hot and cold. A piece of cold chicken pie makes a delicious addition to any lunchbox, and it's great for packing in your picnic basket on your next day out.
If you're having it hot for supper, all you need to serve it with is a bowl of freshly cooked vegetables and a jug of tasty gravy.
You can make it in advance and let it warm up in the oven while you are cooking the vegetables, so it's a great time-saver.
I've adapted this recipe from a chicken pie recipe that my mother-in-law used to make many years ago. She had a very large family and she made this pie with 2 whole chickens. She baked it in an enormous old roasting tin, and there were always cold leftovers for lunch the next day. To be perfectly honest, I'm not sure whether I prefer to eat this chicken pie hot or cold! It's equally good either way.
I've since scaled down the ingredients somewhat, and this recipe will make a pie that is more than sufficient for 4 people, with possibly a couple of slices leftover for lunch.
Ingredients
To make Granny's chicken pie you will only need 7 main ingredients. You can get the complete list of ingredients and full instructions to make this chicken pie yourself on the printable recipe card at the end of this post.
You will also need a 9″ x 7″ x 2.5″ deep (23cm x 17 cm x 6 cm deep) baking dish. Amazon sell a set of 3 enamel baking dishes at quite a reasonable price. I like these because they have a nice rim that makes it easy to seal the pastry around the edges of the dish.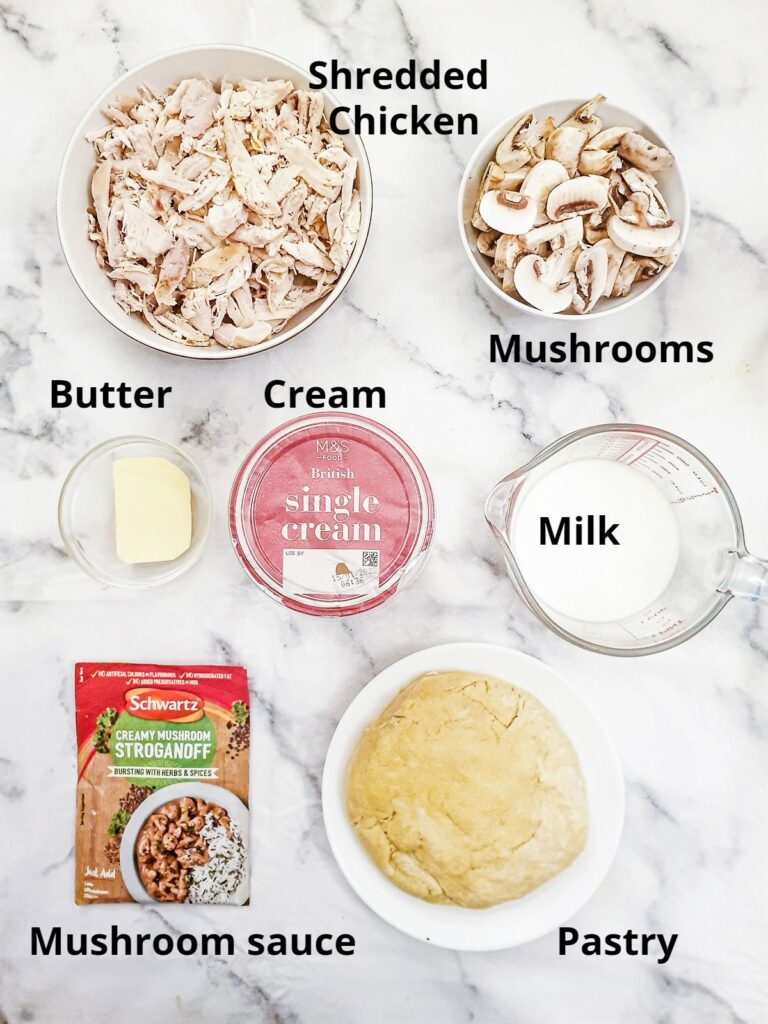 Chicken – this can be freshly cooked or you can use leftover chicken from a roast. You will need about 350 grams of cooked shredded chicken. Don't get too hung up on the quantity of the chicken – if you've got extra chicken it will just feed more people, or you will have more leftovers!
Milk – you can use full-fat or semi-skimmed milk. It doesn't matter.
Cream – single cream. Just a quick note here – the milk and cream together make up one cup. If you've added extra chicken, add a little more milk and cream to compensate.
Mushrooms – depending on the size of the mushrooms, they should be either sliced or quartered. You can use any mushrooms – white or chestnut, or even sliced Portobello mushrooms.
Butter – for frying mushrooms. The mushrooms have to be fried before adding them to the filling to get rid of the moisture content. If you don't fry them first they will release too much moisture and the filling will be too runny.
Packet mushroom soup – I would normally use powdered cream of mushroom soup for this recipe, but I made the mistake of asking hubby to go out and buy me some and he came home with a packet of mushroom stoganoff mix. Actually, it didn't turn out too bad! US readers can substitute this with McCormick Mushroom gravy mix. The reason for adding the mushroom soup mix, is firstly to enhance the mushroom flavour, and secondly to thicken the filling. We are not using cornflour to thicken the filling in this pie.
Shortcrust pastry – if you want to buy a roll of shortcrust pastry, then by all means do so. If you prefer to make your own, you can get the recipe for the pastry I used on my bacon and egg pie recipe. This recipe is made with 2 cups of flour and makes enough pasty for both the top and bottom of the chicken pie.
Salt and pepper – this is to your own taste, but be careful not to over salt. There is normally enough seasoning in the cooked chicken and the packet of mushroom soup.
How to make Granny's chicken pie
Shred the chicken and put it into a mixing bowl.
Chop the mushrooms and fry them in the butter until they are nicely browned and all the moisture has been released.
Let the mushrooms cool slightly and then add the to the chicken in the mixing bowl.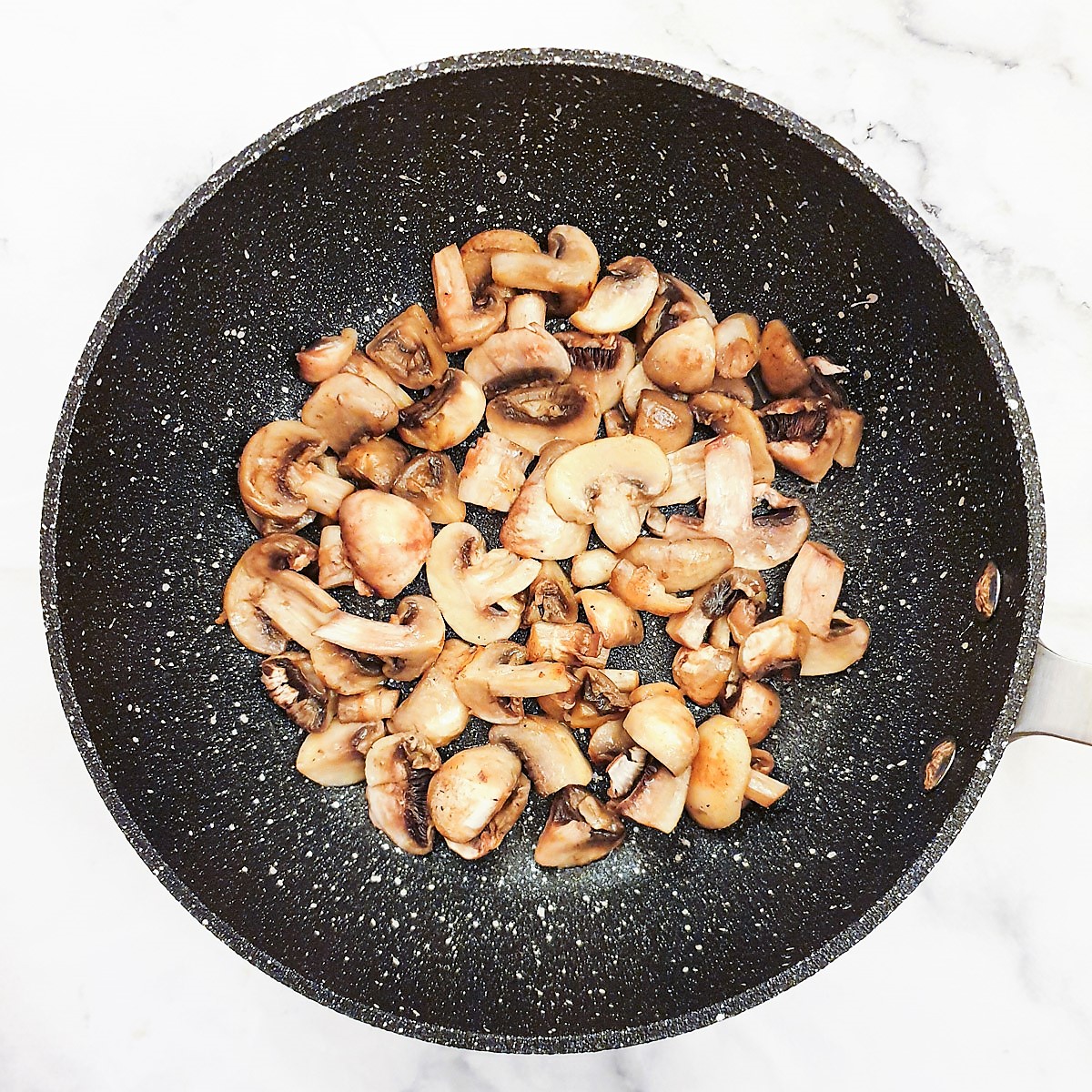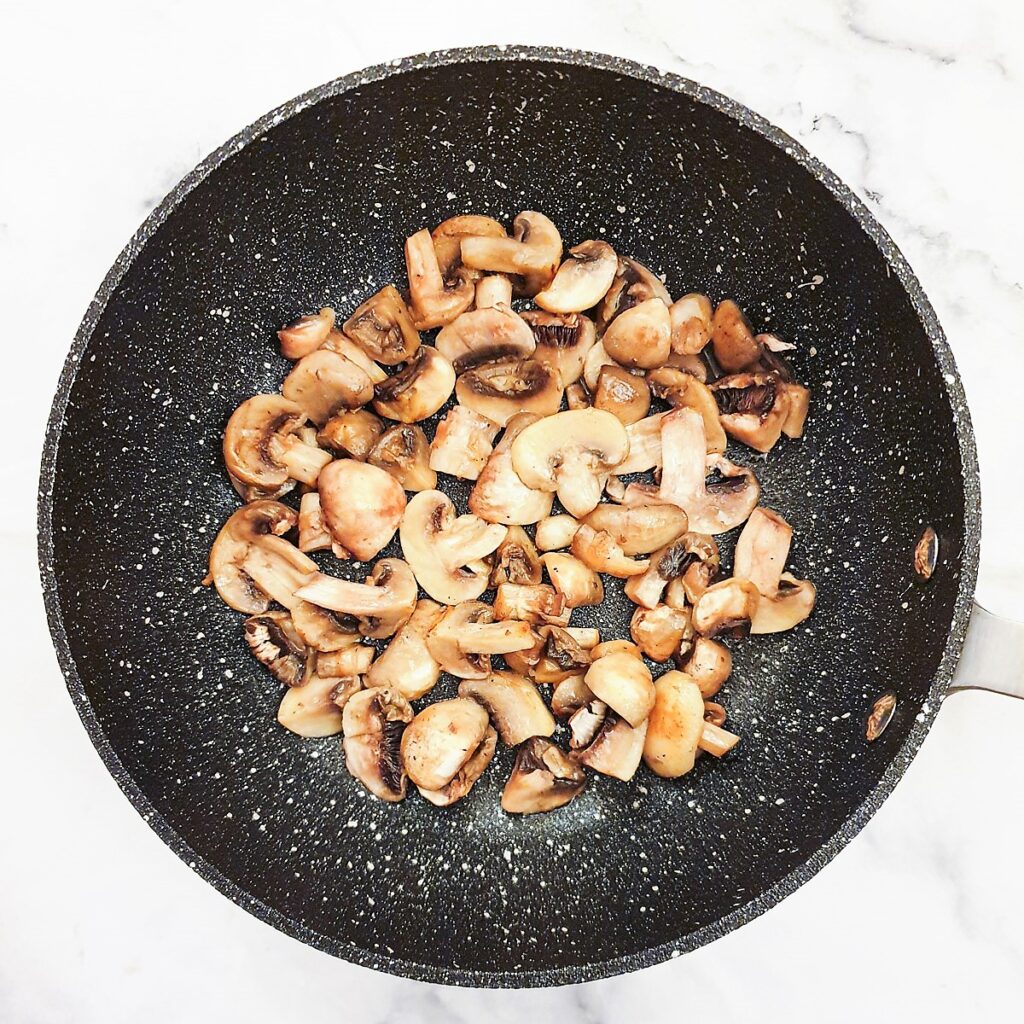 Mix the powdered soup with the milk and stir until all the lumps have been removed, then mix in the cream.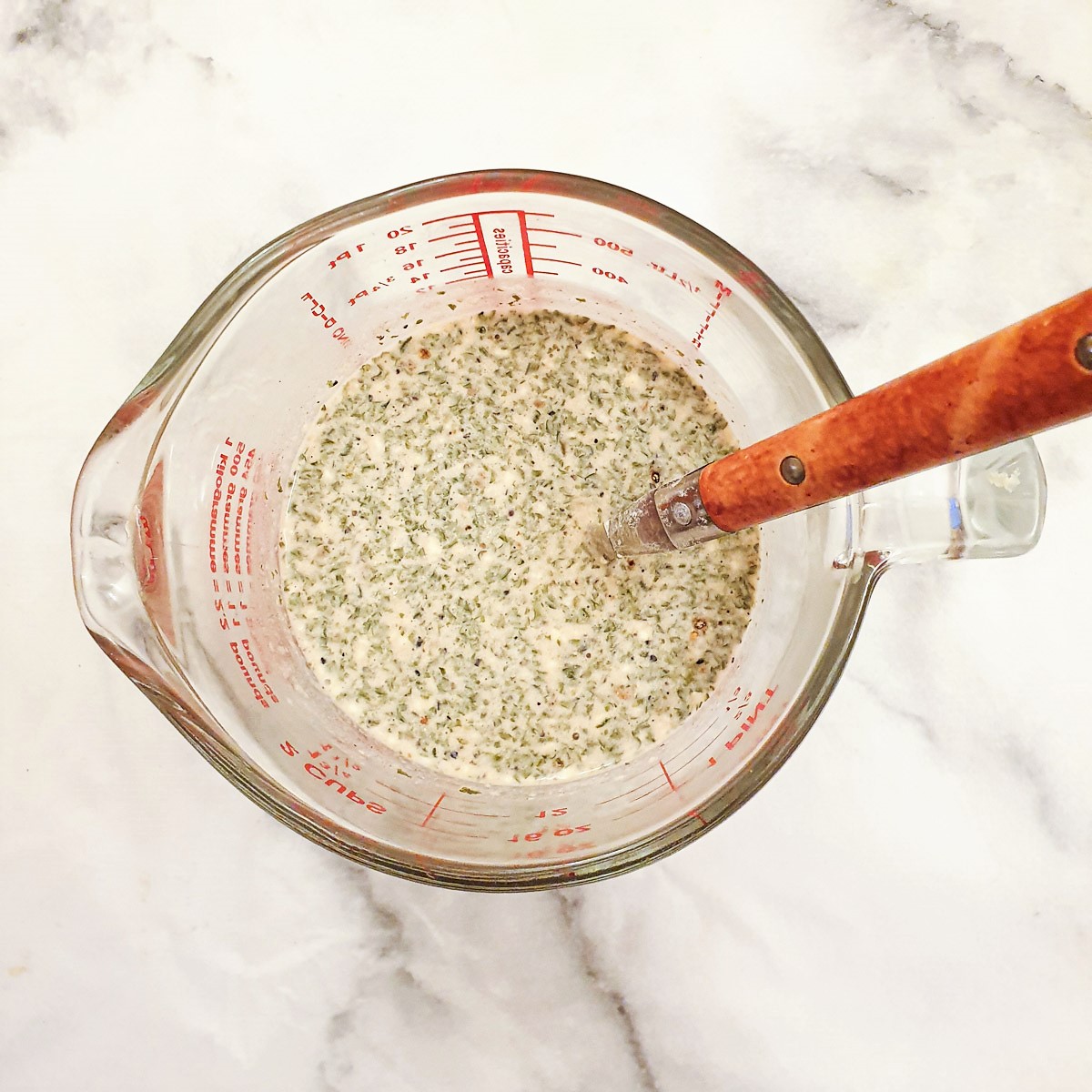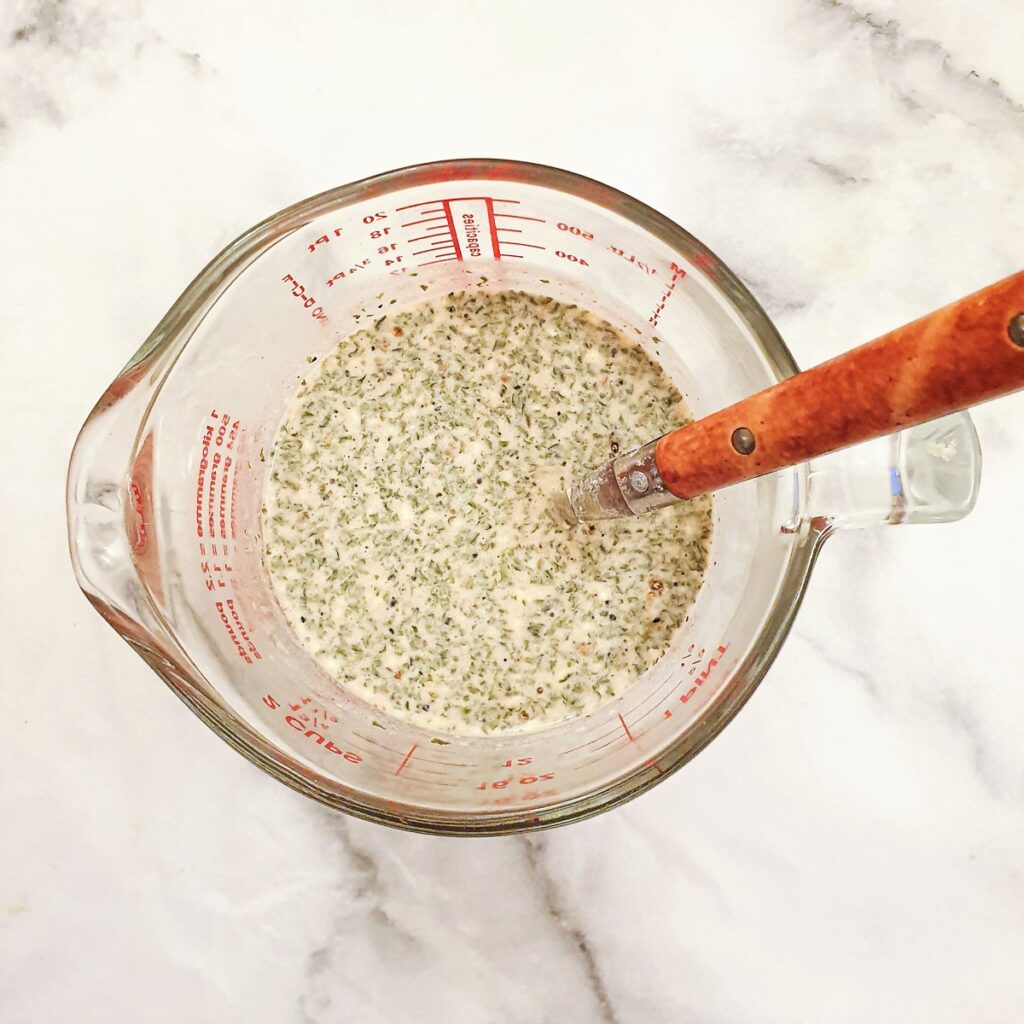 Pour the soup mixture over the chicken and mushrooms and stir well to combine.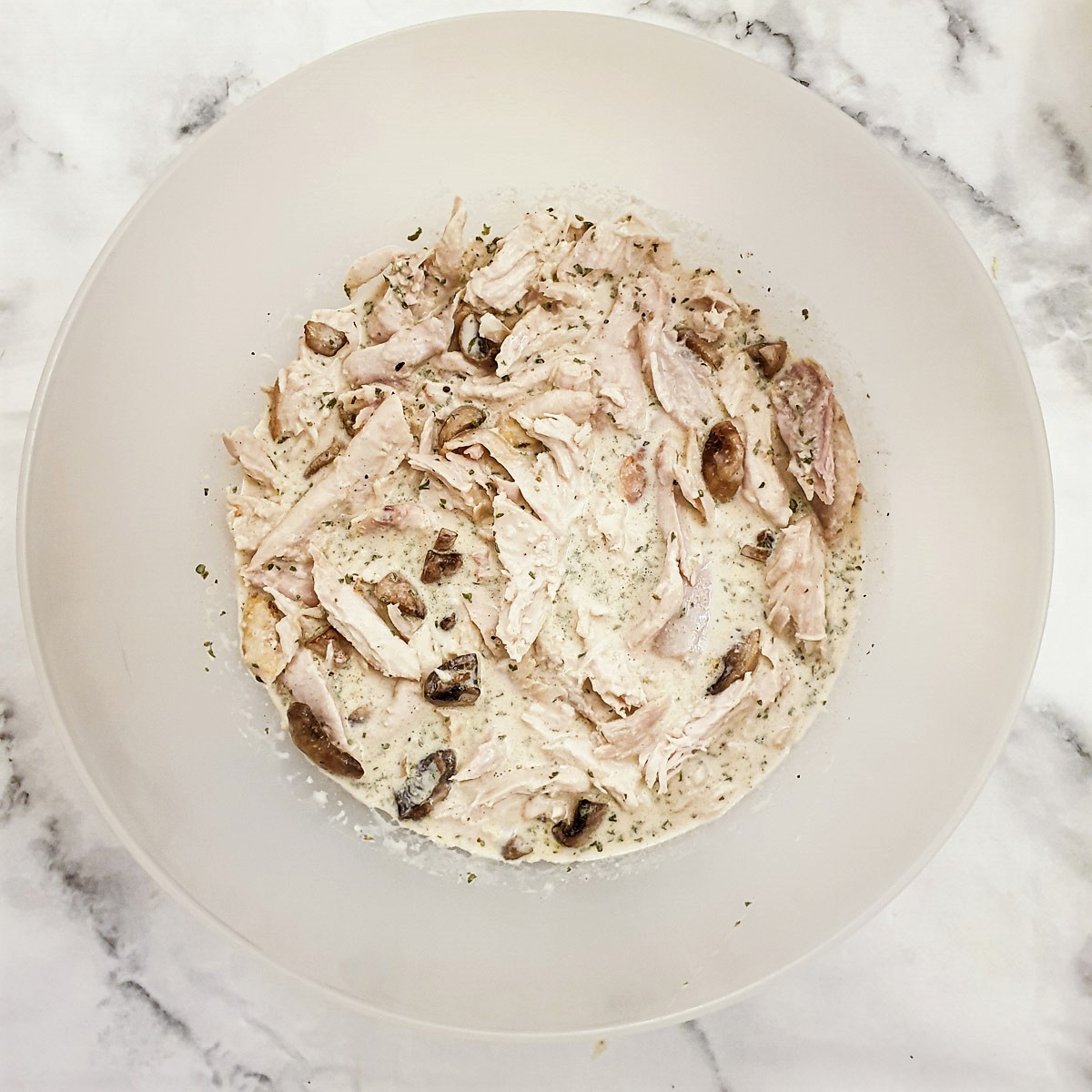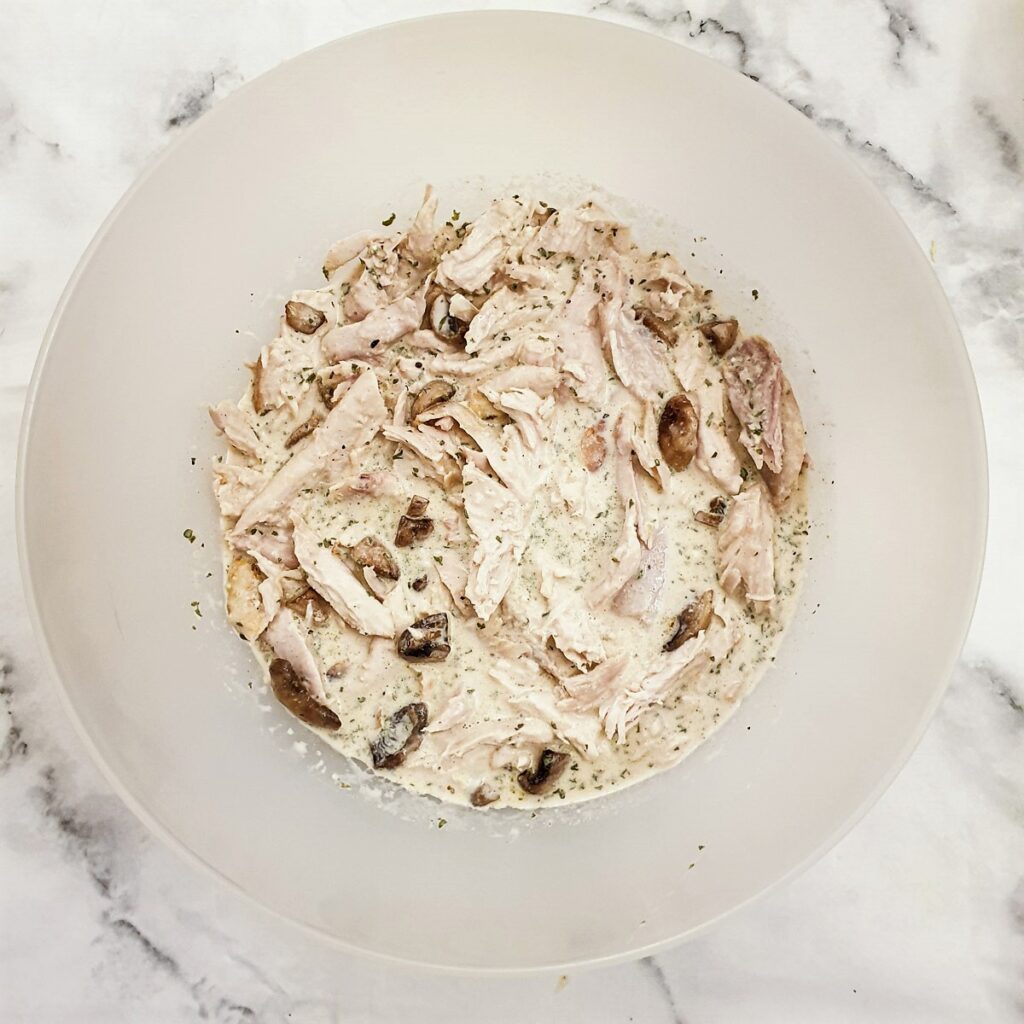 Roll out 2/3 of the pastry to a rectangle large enough to line your baking dish, and about 1/8″ thick (about the thickness of a £1 coin.
Lightly grease the dish, and then line it with the pastry.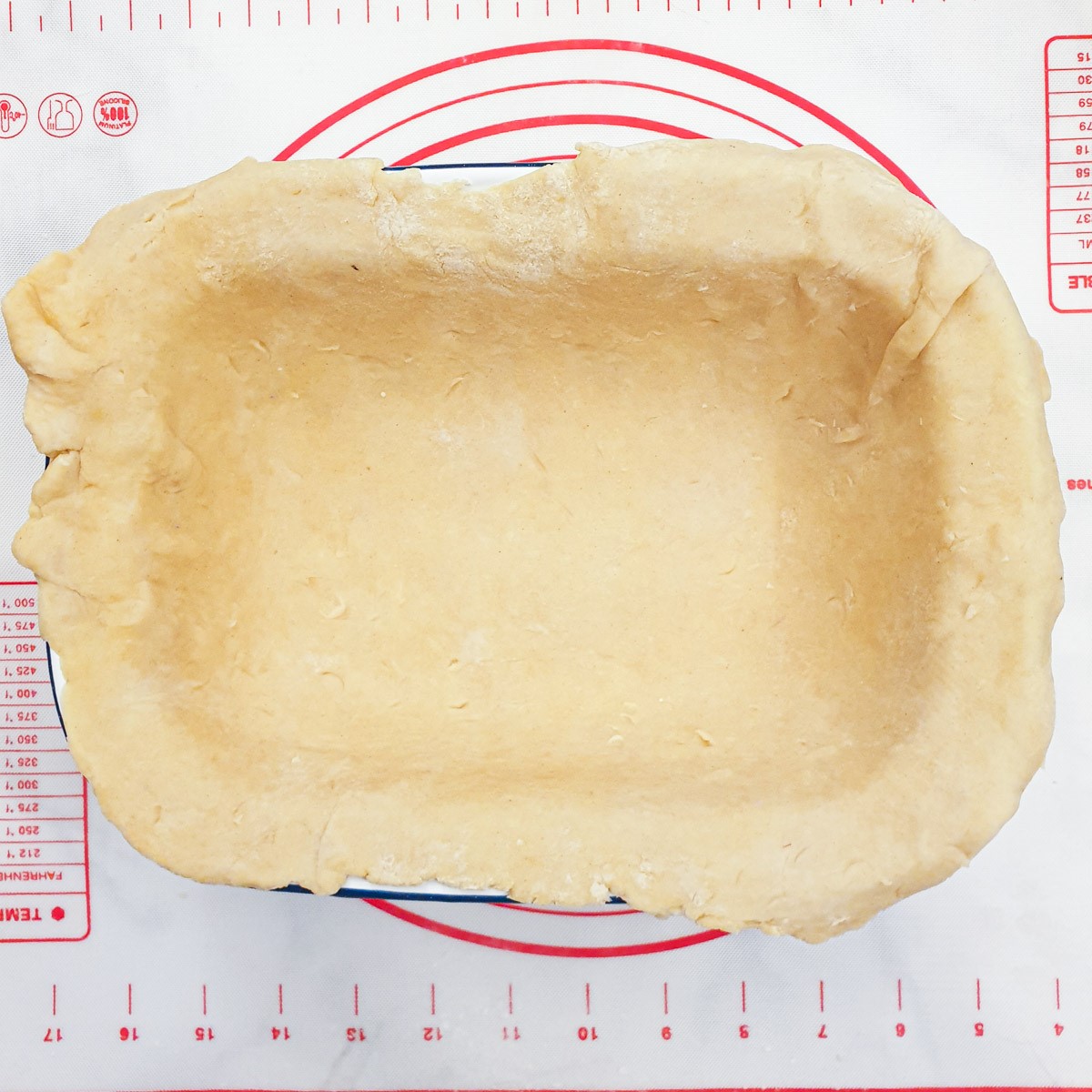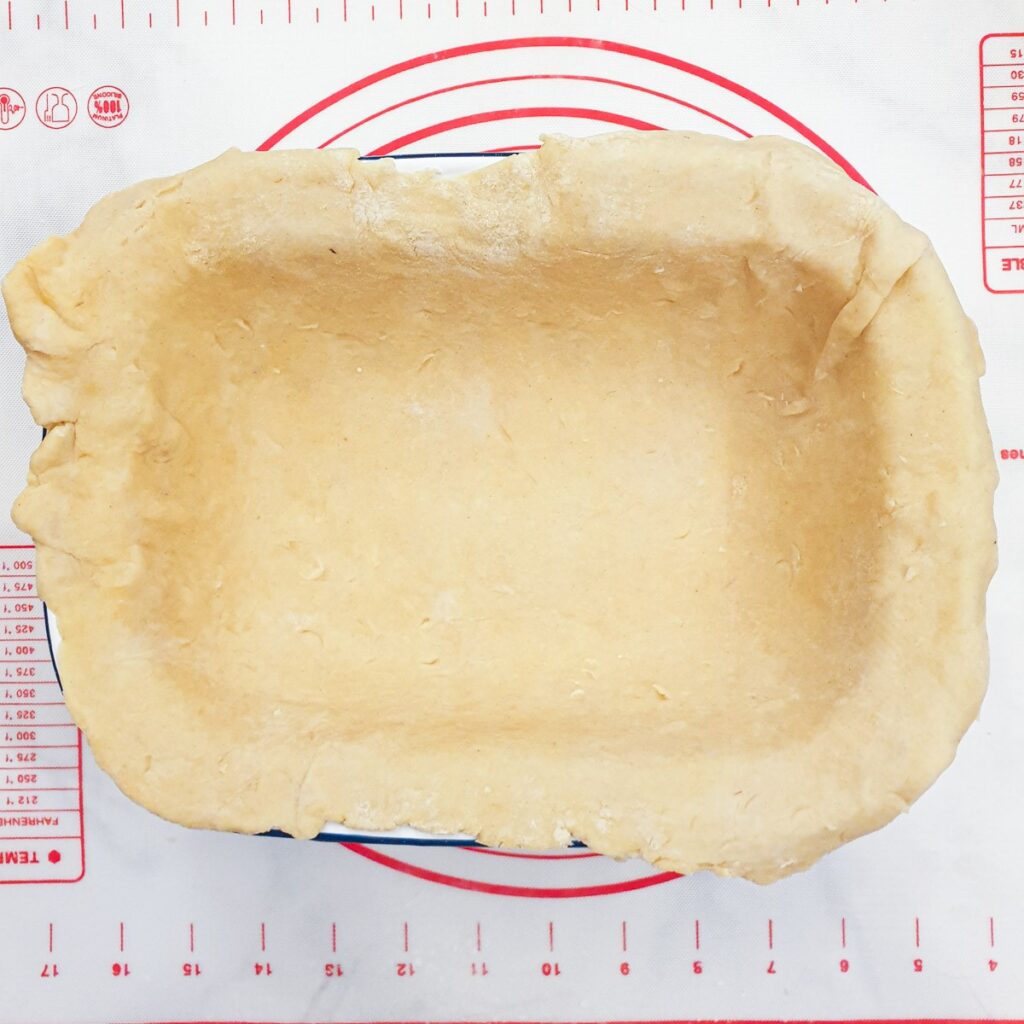 Pour the filling into the pie dish.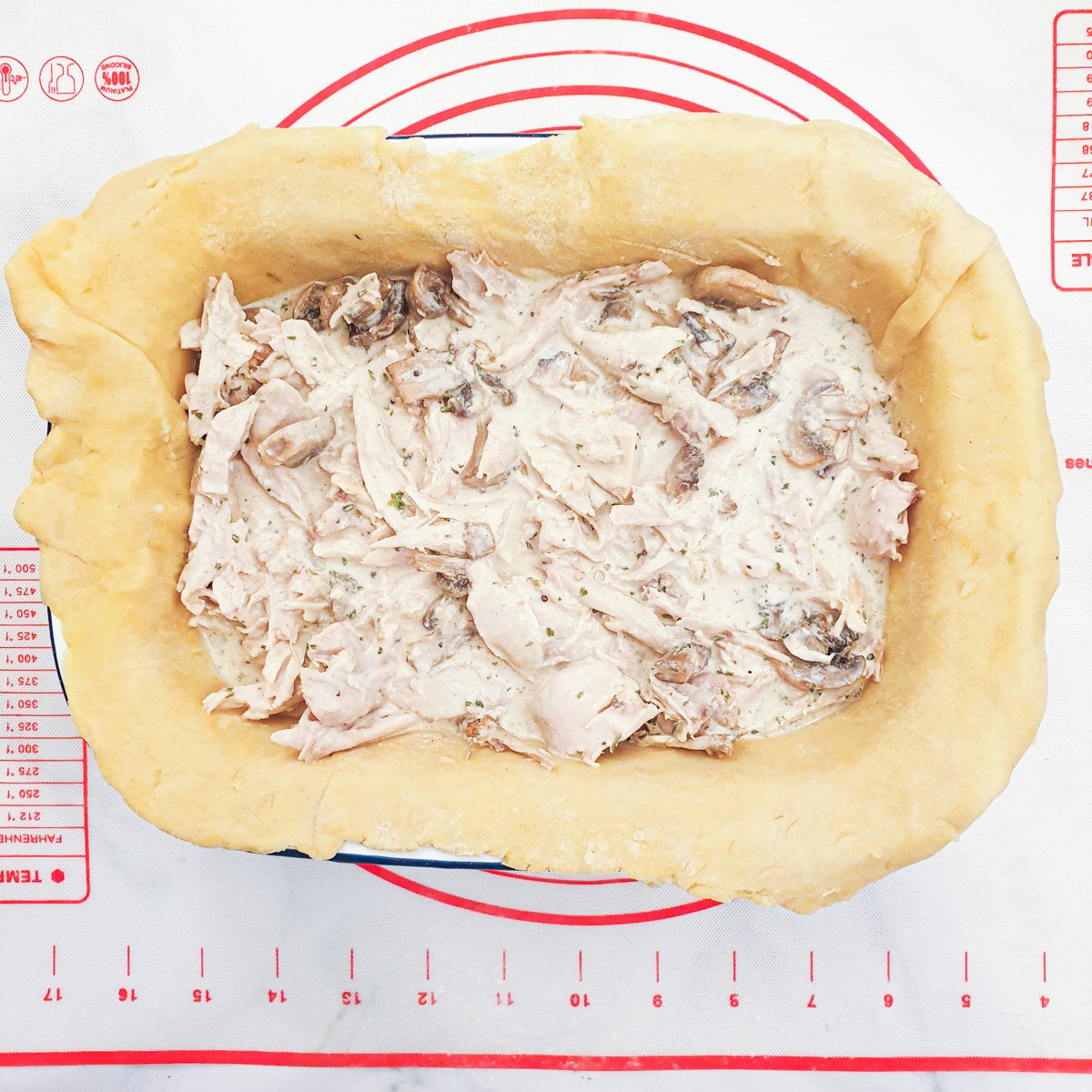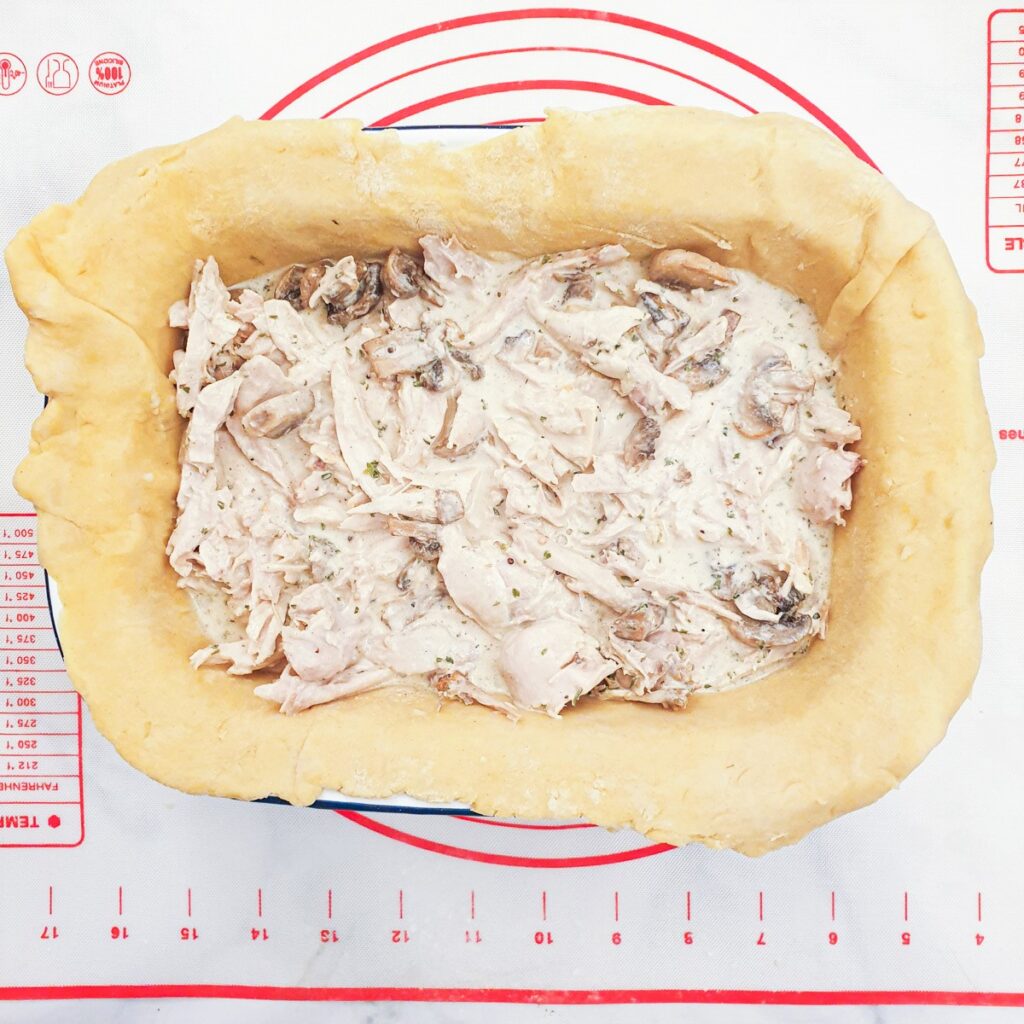 Roll out the remaining 1/3 of the pastry and use it to form a lid.
Use your thumb to press the edges of the pastry to seal it.
Trim away any excess pastry and then brush the top of the pie with beaten egg.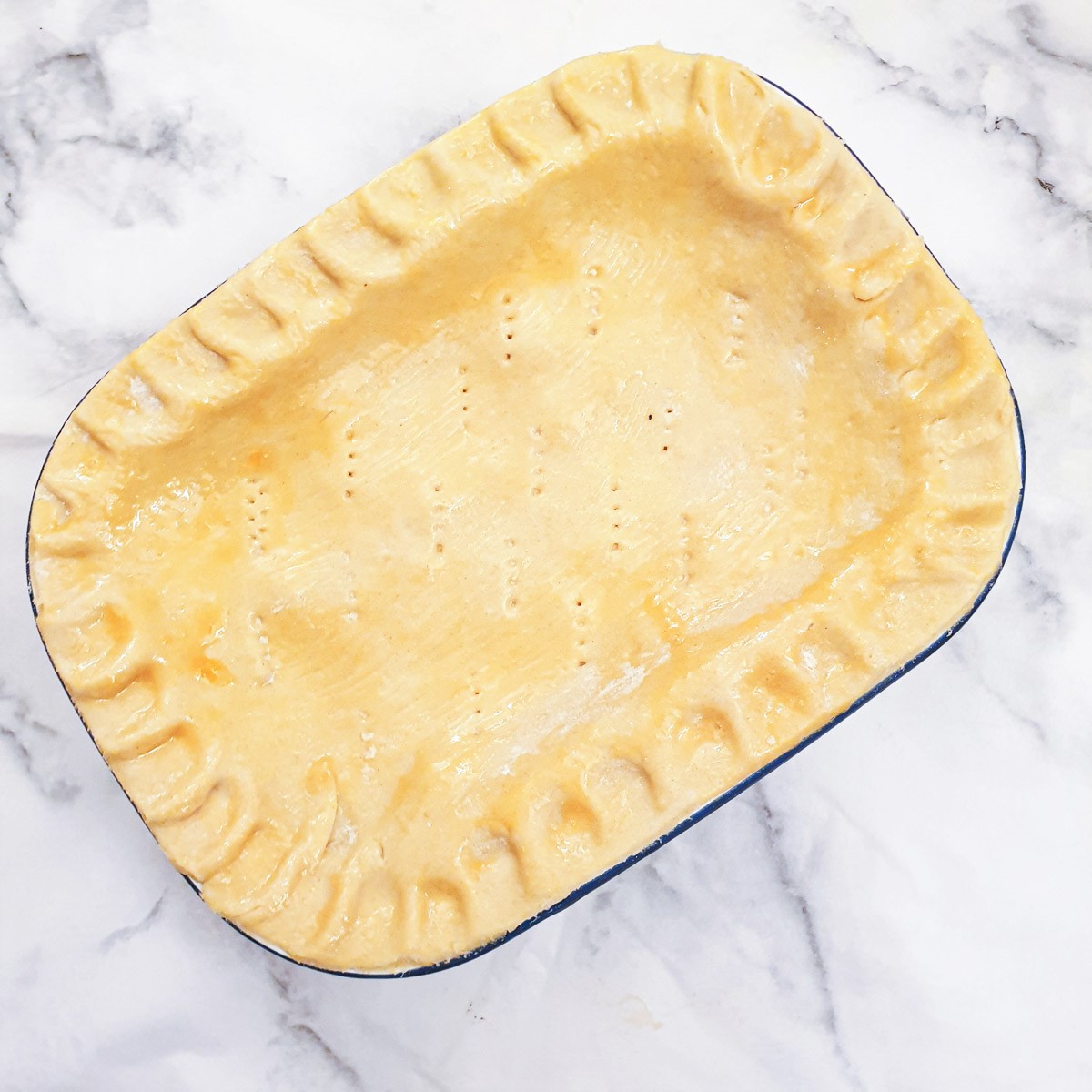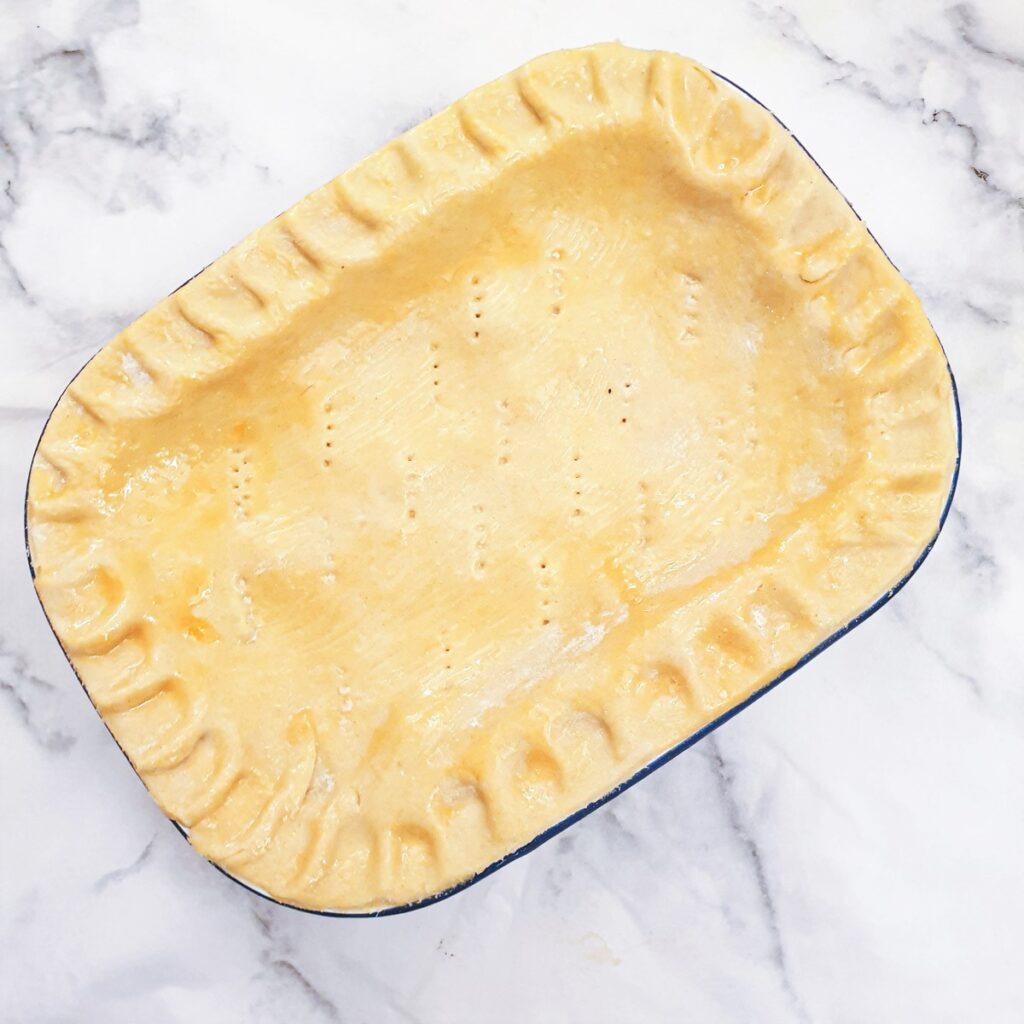 Bake the pie for 30 minutes in a preheated oven (200C / 400F) until nicely golden on top.
All ovens are different, so check after 25 minutes to make sure the pie isn't browning too much. If the pie still hasn't browned enough after 30 minutes, leave it a few minutes longer.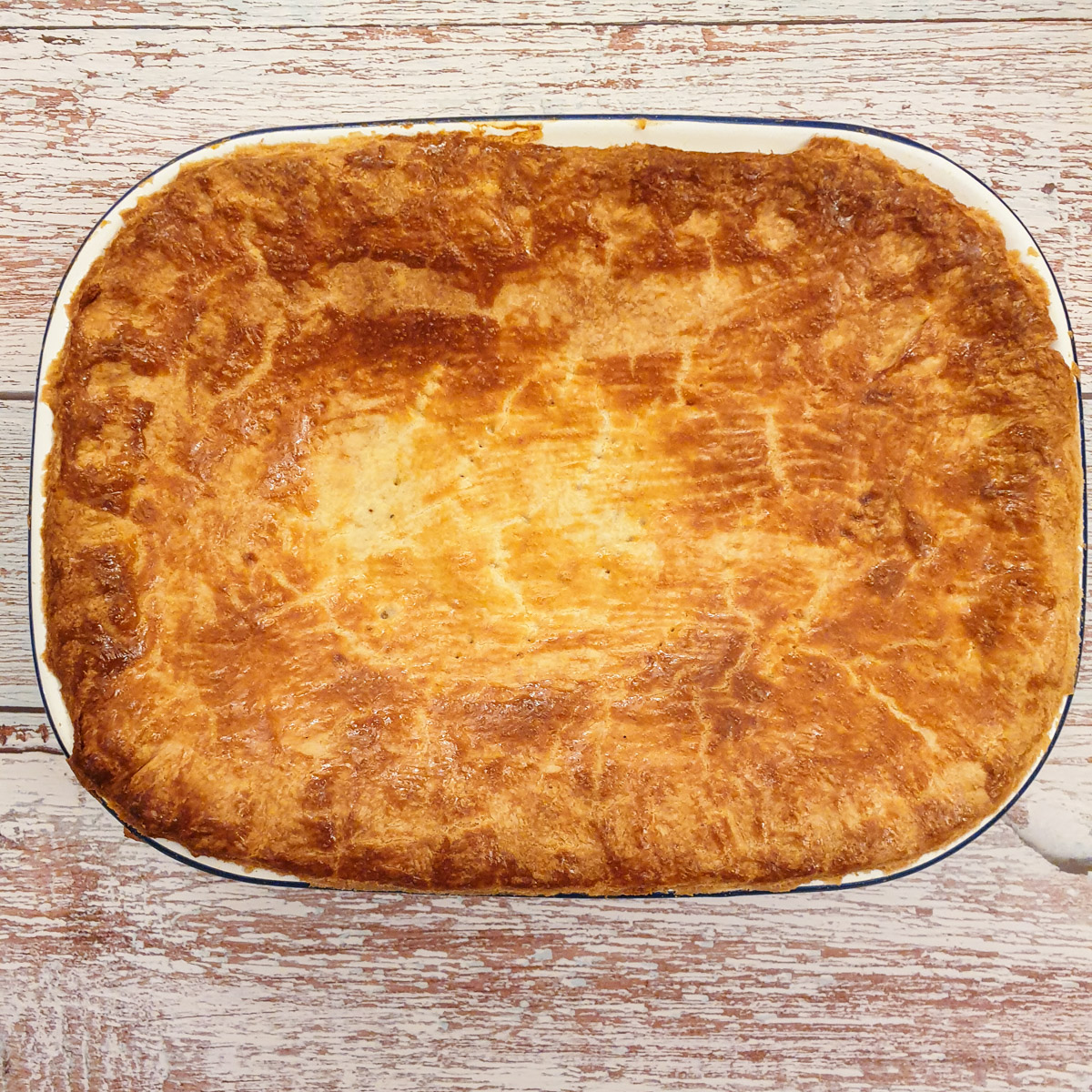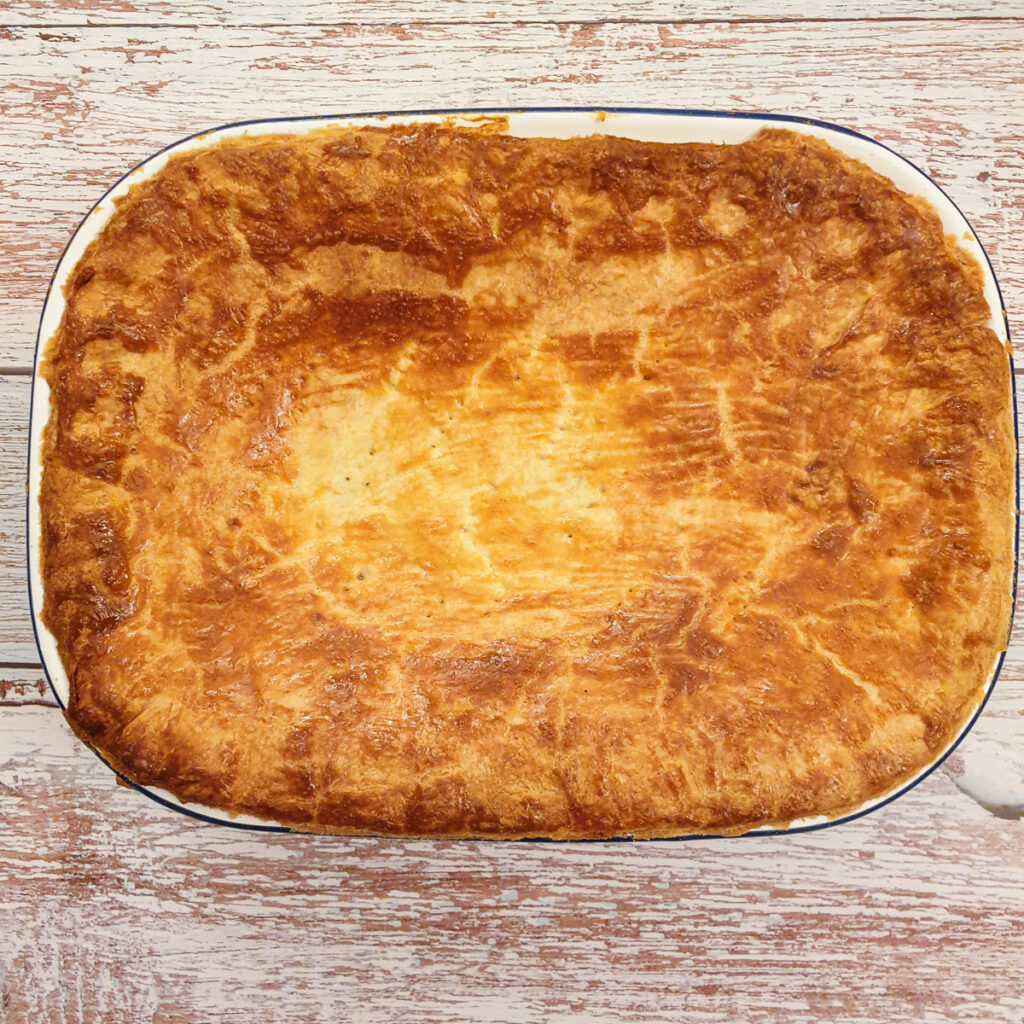 How to cook chicken
If you don't have any leftover roast chicken, here are two ways of cooking chicken that you can try.
1 Poach the chicken
This is what I would do if I was cooking chicken breast fillets.
Place the chicken breasts in a saucepan of cold water, seasoned with salt and pepper.
Cover the pan with a lid and bring it to the boil.
Turn off the heat and leave the chicken to cool in the water (about 15 minutes).
Remove the chicken from the water and cut into thin slices, or shred with two forks, and use in place of the leftover chicken.
The residual heat from the boiling water will poach the chicken. Chicken poached in this way will be tender and juicy.
If there is still a slight pinkness in the chicken, it won't matter as the chicken will finish cooking in the pie.
2 Boil the chicken
This is the way I would boil a whole chicken (or chicken pieces still on the bone)
Remove any excess fat from inside the neck cavity, and optionally remove the skin from the chicken.
Place the chicken in a pan of cold salted water, with 6 whole black peppercorns, a small carrot, a stick of celery and a small onion. There's no need to peel the vegetables – they are only there to add flavour to the chicken.
Cover the pan with a lid and bring to the boil, then reduce the heat to a simmer and leave to simmer for 30 to 35 minutes. The chicken juices should run clear when you pierce the meat with a sharp knife.
Allow to cool, then remove the chicken from the pan, pull the meat from the bones and shred the chicken.
The cooking liquid makes great chicken stock. Strain it through a fine sieve to remove the vegetables, and then pour it into glass bottles and store it in the refrigerator for up to a week.
Alternatively, you could pour it into thick plastic bags and store it in the freezer for up to 6 months.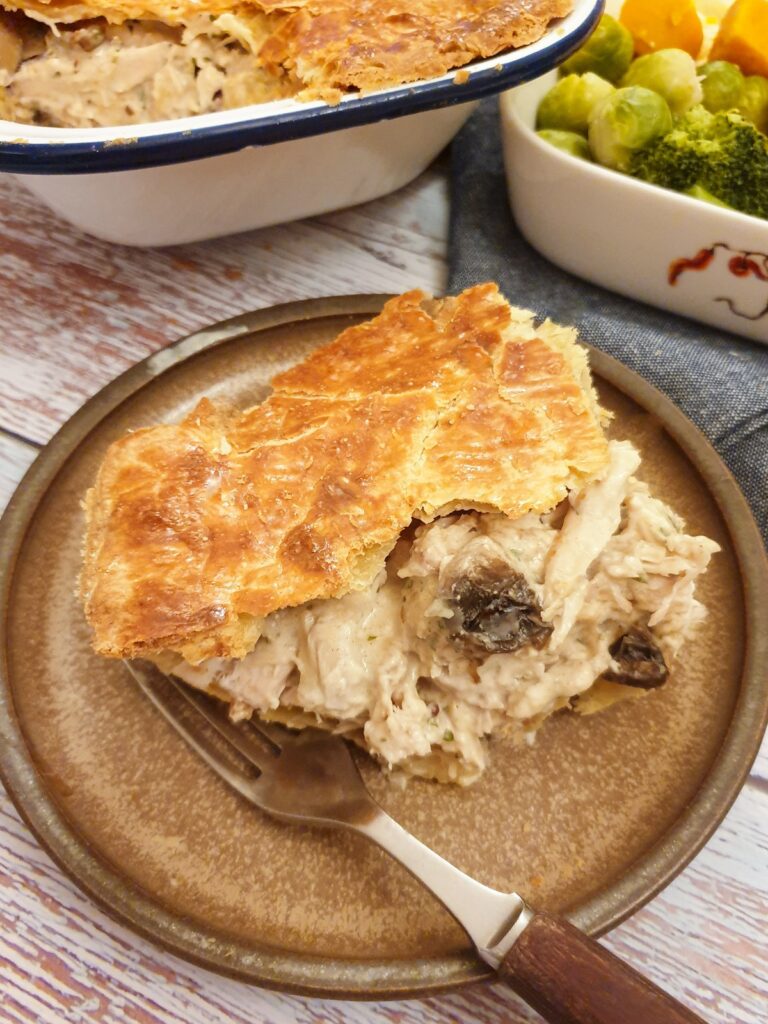 If you'd like to be notified of any new recipes, why not subscribe to my newsletter. As a thank-you gift, you will receive a free recipe e-book containing some of my most popular cakes and desserts.
Freezing and storage
Tip – if you are intending to freeze this pie, consider assembling the pie in a disposable aluminium baking tray. This way you won't need to freeze your baking dish.
To freeze the unbaked pie:
Cover the pastry with a layer of tin foil.
Wrap the entire pie in a double layer of plastic wrap.
Freeze for up to 3 months.
Bake from frozen, in an oven preheated to 190C / 365F for 40 to 45 minutes. Check the pie after 40 minutes to see whether it is brown enough.
To freeze the baked pie:
Cover the pastry with a layer of tin foil.
Wrap the entire pie in a double layer of plastic wrap.
Freeze for up to 3 months.
Allow to defrost in the refrigerator and then bake in a preheated oven (200C/400F) for 10 minutes until heated through.
You can also store any leftovers in a covered container in the refrigerator for up to 3 days.
Pin for later
If you would like to make Granny's chicken pie yourself, why not pin this recipe to one of your Pinterest boards so you can find it easily. Just click on the image below.
Other recipes
If this recipe isn't quite what you are looking for, why not take a look at some of my other chicken recipes.
The recipe
If you made this recipe and enjoyed it, I'd love it if you could give me a star rating in the comments below. And if you'd like to get in touch, you can email me at [email protected]. I'd love to hear from you. And don't forget to subscribe to my mailing list so you can grab yourself a copy of my FREE COOKBOOK!
If you'd like to continue browsing, just click on this link to all my recipes.