When you want a quick and easy supper, but don't know what to make, this chicken and mushroom quiche is the answer. The filling is made with only 3 main ingredients and you can even use shop-bought pastry if you want to. Try it tonight – the family will love it!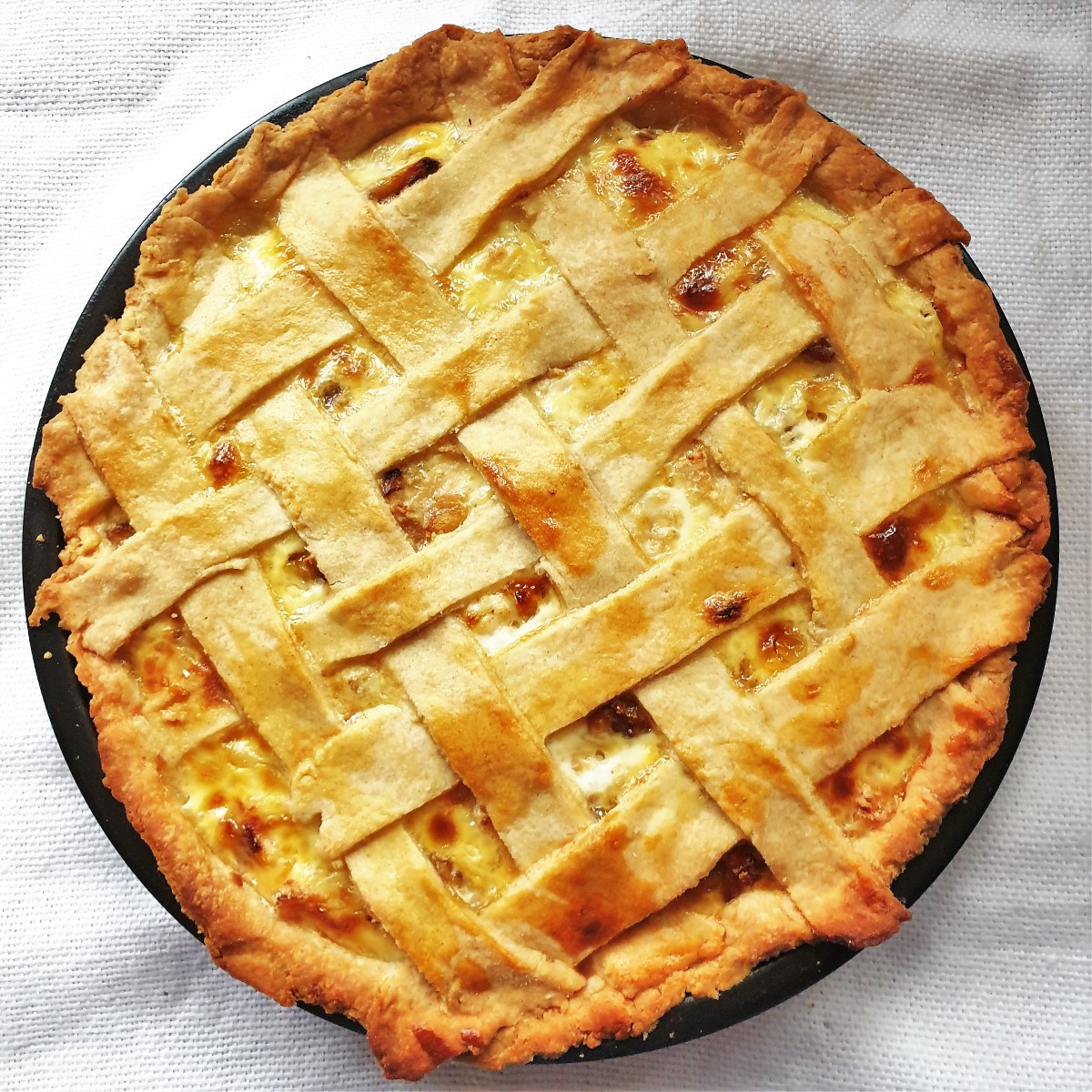 **As an Amazon affiliate, I earn from qualifying purchases.**
Easy Chicken and mushroom quiche
I've been making this Chicken and mushroom quiche for years. It's one of those recipes that everyone needs in their repetoire. Whether you just need a light supper, or a quick and easy meal to throw together when unexpected guests arrive, this recipe is perfect.
Just imagine it! Succulent chicken pieces, mixed with savoury mushrooms and onions, in a crispy melt-in-the-mouth pastry. It's equally delicious whether you serve it hot with a bowl of mashed potatoes and peas, or cold with a side salad of tomatoes and lettuce or a bowl of orzo pasta salad. And when it's cold, it firms up and sets, so you can pick up a slice and eat it with your fingers.
Take a look at all the benefits this recipe gives you –
Quick and easy to prepare – you can use shop-bought ready-rolled shortcrust pastry (or make your own using the pastry recipe from this bacon and egg pie.
Minimum ingredients – the filling has only 3 main ingredients – shredded chicken, mushrooms and onions – plus a couple of eggs and a cup of milk and cream.
Economical – I actually devised this recipe as a way of using up leftover chicken from a roast. But if you don't have leftover chicken, don't worry. I've included instructions on how to poach a chicken breast in 10 minutes.
Versatile – you can serve it either hot or cold, and the leftovers are perfect for popping in your lunch box for the next day.
Everybody loves it – nothing more to say!!!!
Just look at this succulent chicken and gorgeous crispy pastry!!!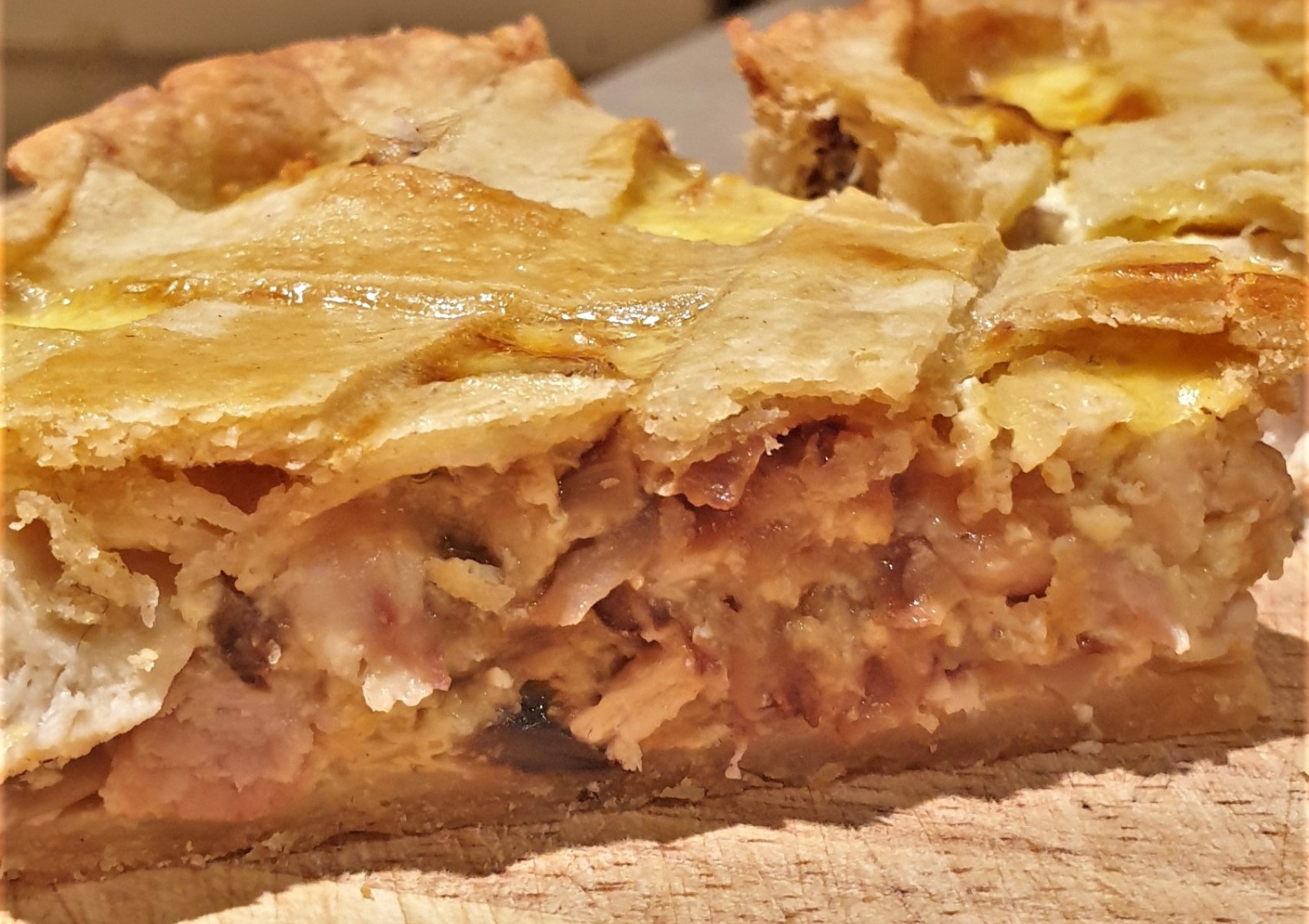 How to make chicken and mushroom quiche
You can get the complete list of ingredients and full instructions on how to make this chicken and mushroom pie on the printable recipe card at the end of this post.
Ingredients
The instructions given are for a 9″ quiche. If you want to make a larger quiche, or even 2 quiches, just increase the quantities for the filling accordingly.
Chicken – If you have sufficient leftover roast chicken you can use this. Otherwise follow my instructions below on how to poach chicken breasts in a quick and easy way.
Mushrooms – use white button or chestnut mushrooms for this recipe. They should be chopped into smallish pieces
Onions – these add additional flavour and should be chopped into approximately 1cm dice.
Egg, milk and cream – to pour over the quiche to bind the ingredients. You will need single cream, not double cream.
Cornflour – just a teaspoon is all you will need to make sure the egg and milk set nicely.
Sunflower oil – for frying onions and mushrooms
Shortcrust pastry – shop bought or make your own from this recipe for bacon and egg pie.
Steps to make chicken and mushroom quiche
Line the baking tin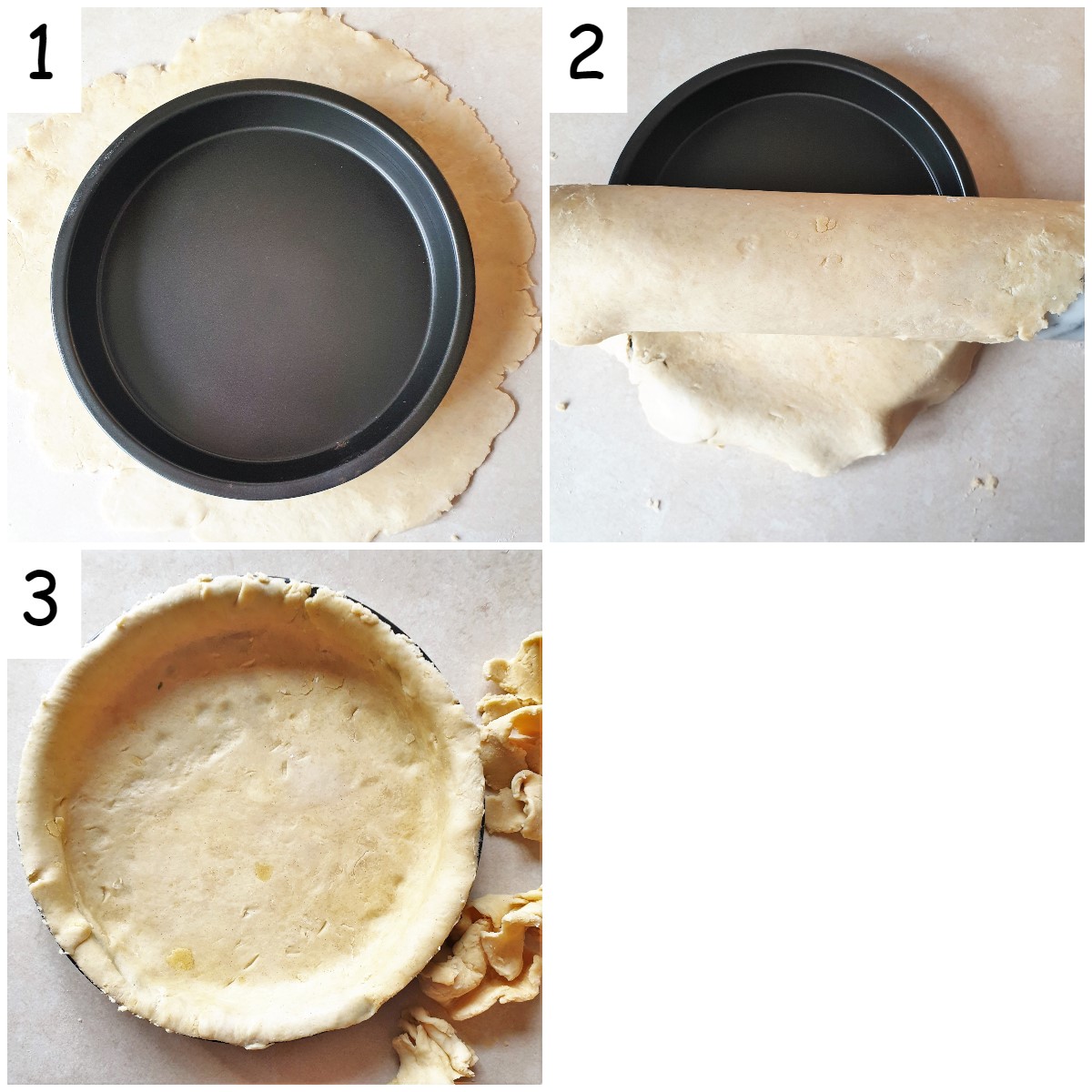 Grease a 9″ baking pan with a little sunflower oil.
Tip – pour one teaspoon of oil into the pan and use a piece of kitchen paper towel to rub the oil over the surface.
Roll the pastry into a circular shape large enough to fit into your baking pan
Wrap the pastry around your rolling pin and transfer it to the baking pan.
Press the pastry firmly into the baking pan and trim the edges.
Make the filling and assemble pie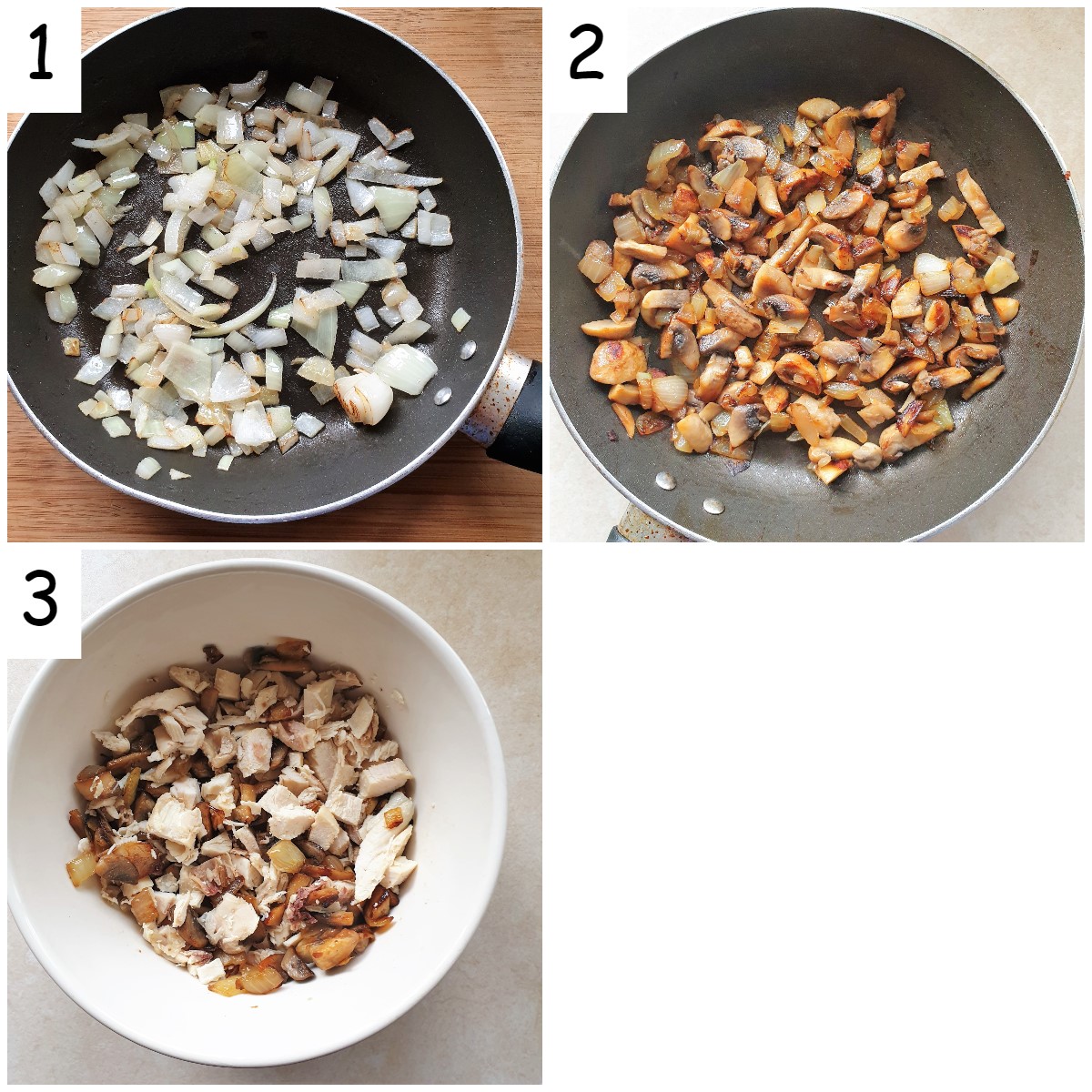 Fry the onions in a little sunflower oil until they start to soften. Add the mushrooms and continue frying over a gentle heat, until the mushrooms stop releasing their moisture. The aim here is to get the mushrooms and onions as dry as possible. If they still have a lot of moisture when you add them to the quiche, the quiche will not set.
Shred the chicken into a mixing bowl and mix in the mushrooms and onions.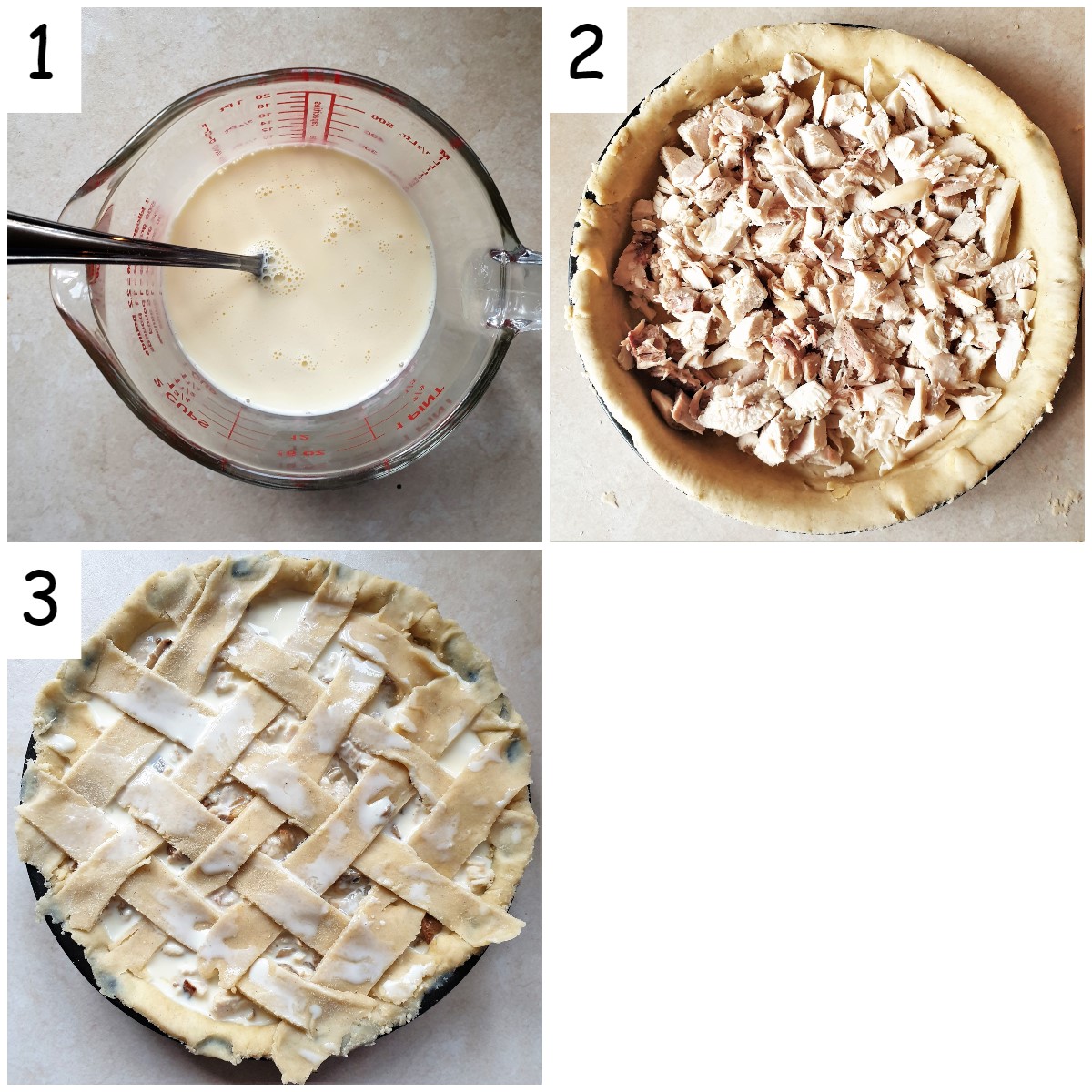 Break 1 egg into a measure jug and add 100 ml single cream. Top up with milk until you have 1 cup (250ml) liquid in the measuring jug. Season with salt and freshly ground black pepper to taste. Add 1 teaspoon cornflour. Mix well to combine the milk and cream with the egg and remove any cornflour lumps.
Place the chicken mixture into the pastry case and pour over the egg and milk mixture. Be careful not to overfill or it will spill out during baking. Reserve 1 tablespoon of the liquid for egg-washing the pie before baking.
Make a lattice on top of the pie from the pastry trimmings, and brush with the reserved egg and milk mixture
Bake
Place in a pre-heated oven and bake for 25 minutes until the pastry is golden.
Remove from the oven and either serve hot with mashed potatoes and peas, or allow to cool and serve cold with a salad.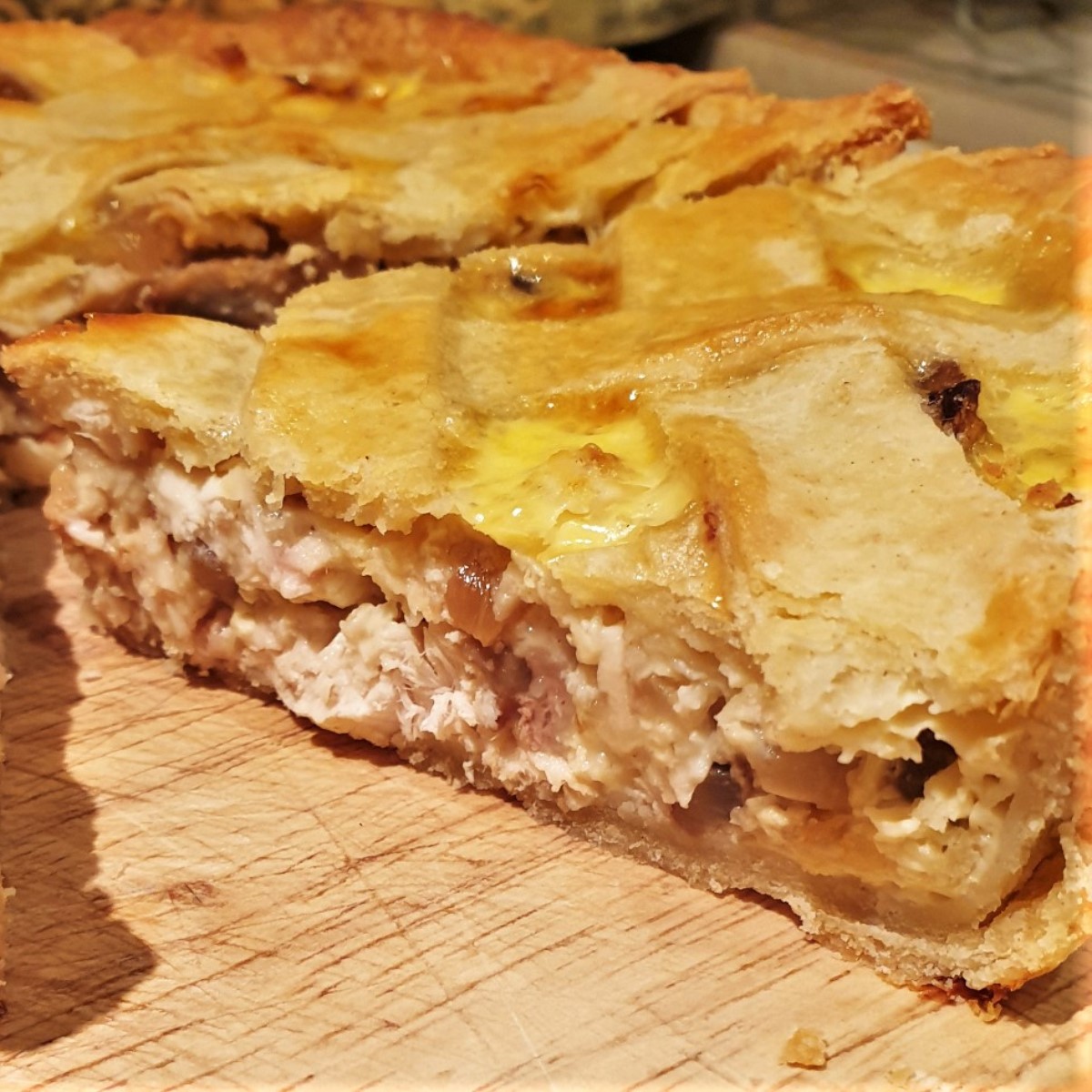 How to poach chicken
Whenever I need cooked chicken for a recipe I poach it in this way.
Place the chicken breasts in a saucepan and cover with cold water. Add salt to taste.
Bring the chicken to the boil and as soon as it is boiling remove from the heat.
Leave the chicken to stand in the hot water until the water cools.
When the water is cool enough (luke warm is fine) remove the chicken from the water and pat dry with kitchen towel.
Slice or shred and use in your recipe.
You will see that when you cut your chicken it is cooked through and is white on the inside. If there is still a little pink showing, don't worry, the chicken will continue cooking in the baking process.
Chicken breast cooked in this way remains juicy and succulent and does not dry out.
Can I freeze chicken and mushroom quiche?
This quiche freezes very well. In fact I normally make a double batch, have one for supper and freeze the other.
Just wrap the cooked quiche in cling film (you can leave it in the baking dish to prevent it breaking in the freezer) and pop into the freezer until you are ready to eat it.
To use, remove from the freezer and let it defrost in the fridge. Then pop it in the oven at 200C/400F for about 10 minutes until heated through.
If you'd like to be notified of any new recipes, why not subscribe to my newsletter. As a thank-you gift, you will receive a free recipe e-book containing some of my most popular cakes and desserts.
Pin for later
Why not pin this chicken and mushroom pie recipe so you can make it later.
Recipe – Chicken and Mushroom Quiche
If you made this recipe and enjoyed it, I'd love it if you could give me a star rating in the comments below. And if you'd like to get in touch, you can email me at [email protected]. I'd love to hear from you. And don't forget to subscribe to my mailing list so you can grab yourself a copy of my FREE COOKBOOK!
If you'd like to continue browsing, just click on this link to all my recipes.
This recipe has been shared with #CookBlogShare