This homemade creamy chicken liver pate is perfect for spreading on crispbread and crackers. It also makes a welcome addition to a cheeseboard alongside a dish of fruity chutney.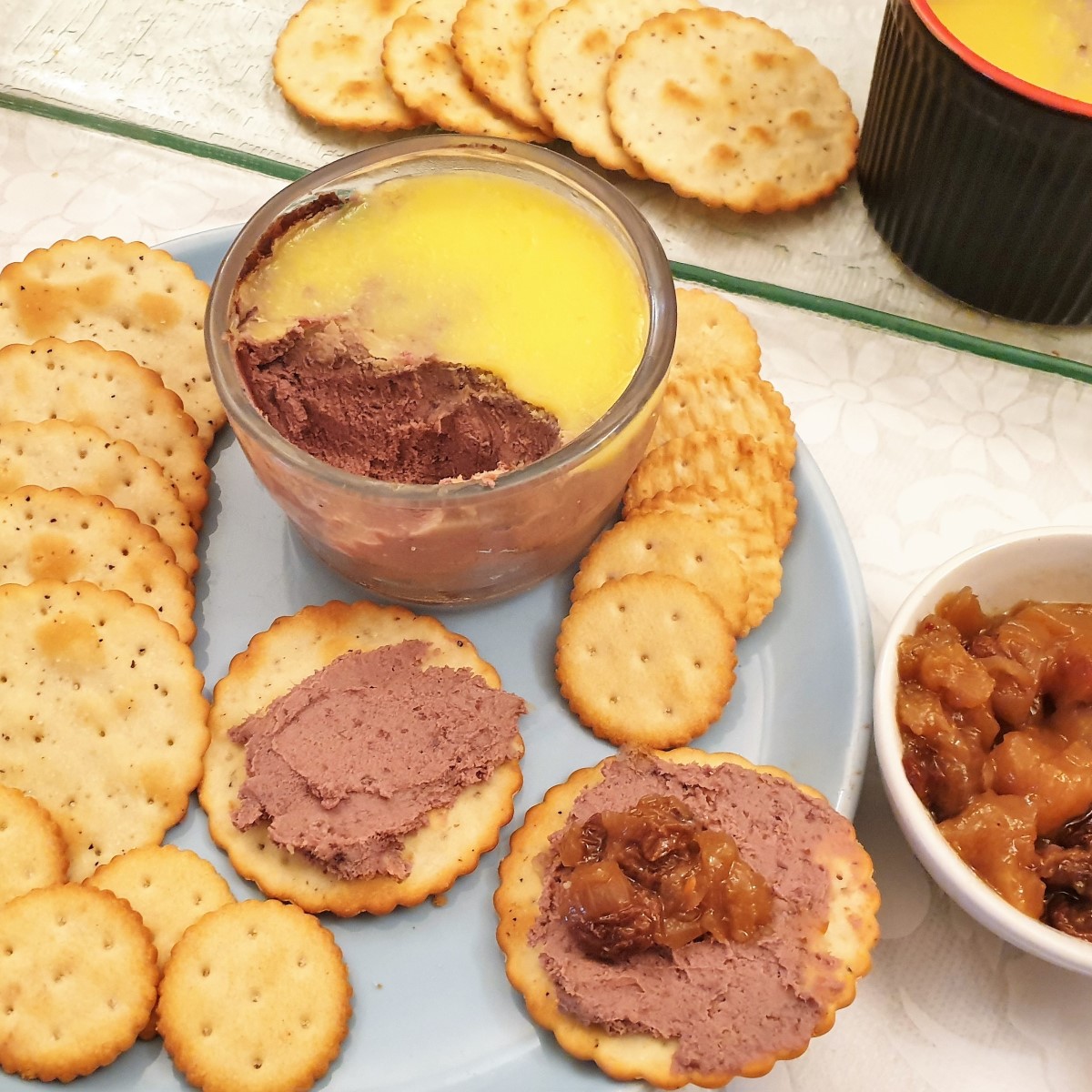 **As an Amazon affiliate, I earn from qualifying purchases.**
The perfect spreadable snack
Chicken liver pate is one of those foods that needs to be in every refrigerator. If you have a bowl of this delicious creamy pate handy, you can whip up a delicious cocktail snack in minutes; and it makes the perfect light lunch, served with crusty bread, a hunk of cheese and a dish of fruity pear and onion chutney
I've always made my own pate. And it's become our family tradition to make this pate at Christmas. Even my family, who are now spread out all over the world are carrying on the tradition. I got a phone call from my son in Australia. 'Mom, I can't find the recipe for chicken liver pate on your website – please can you send it to me'. The reason he couldn't find it was because I hadn't posted it, so I'm sharing it today so that you can try it for yourselves.
What does chicken liver pate taste like?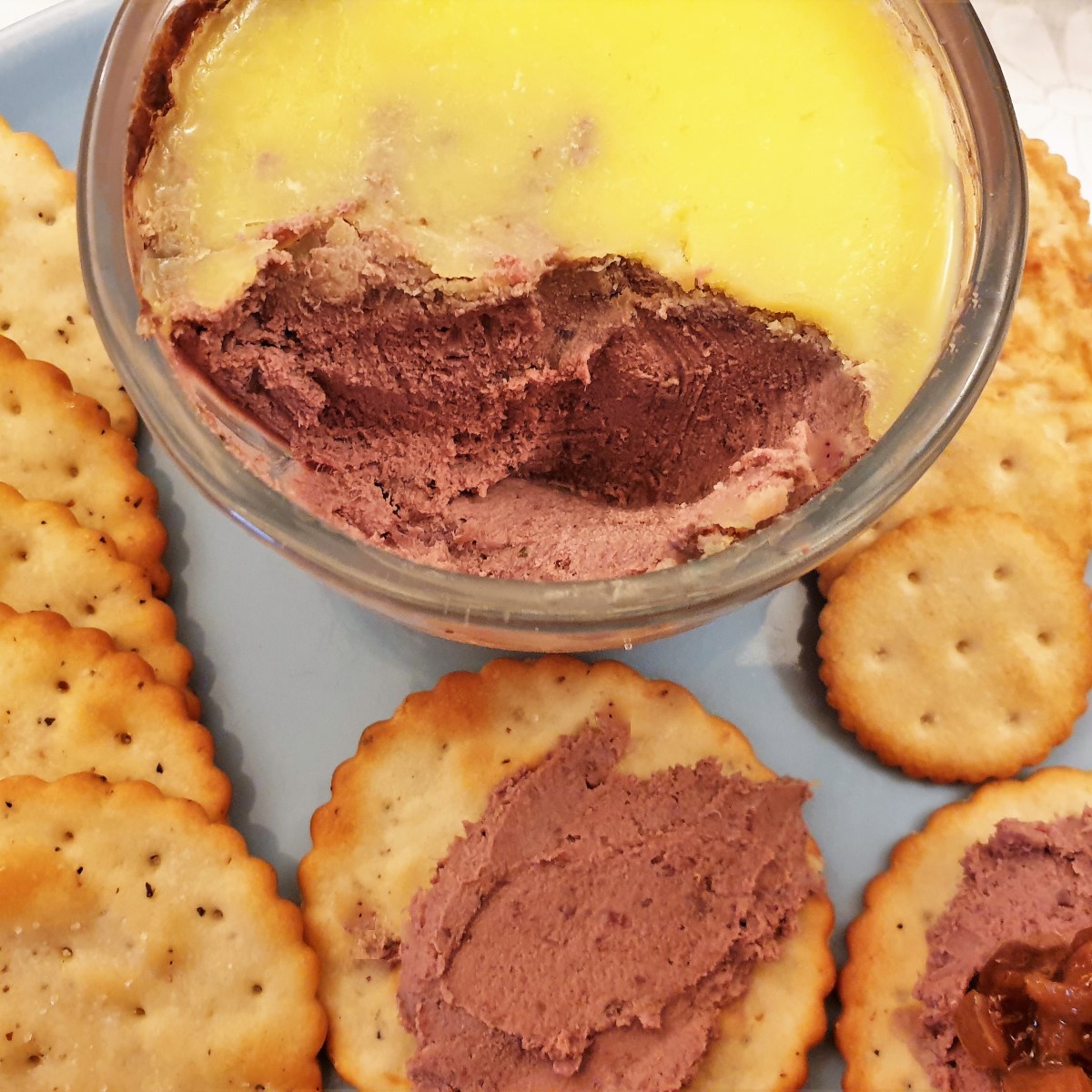 Chicken liver pate has a very distinctive flavour. It's savoury and meaty, with a hint of sweetness from the brandy and onions, and a hint of saltiness from the bacon. It has a creamy smooth texture and a spreadable consistency.
Some people like to soak the chicken livers in milk before cooking them, as they believe that it tones down the 'liver' taste. I have never done this as I find that the cream that gets added does much the same job (plus I enjoy the taste of chicken liver).
You can vary the taste to suit yourself, by adding different herbs to the mixture. I like to add thyme, some people prefer sage or even rosemary; I like to add a touch of brandy, others swear by adding sherry. You can even leave the alcohol out if you prefer. It doesn't matter. This is a very forgiving recipe and as long as you get the base ingredients right you can add whatever takes your fancy.
So what do you need?
The basic ingredients for my version of chicken liver pate are chicken livers, chopped onions, diced bacon, butter and cream.
The butter should be divided into 5 parts. One fifth is to be used to fry the onions, bacon and livers. Three-fifths of the butter will be blended in the pate, and the final fifth will be melted and poured on top of the pate to seal it.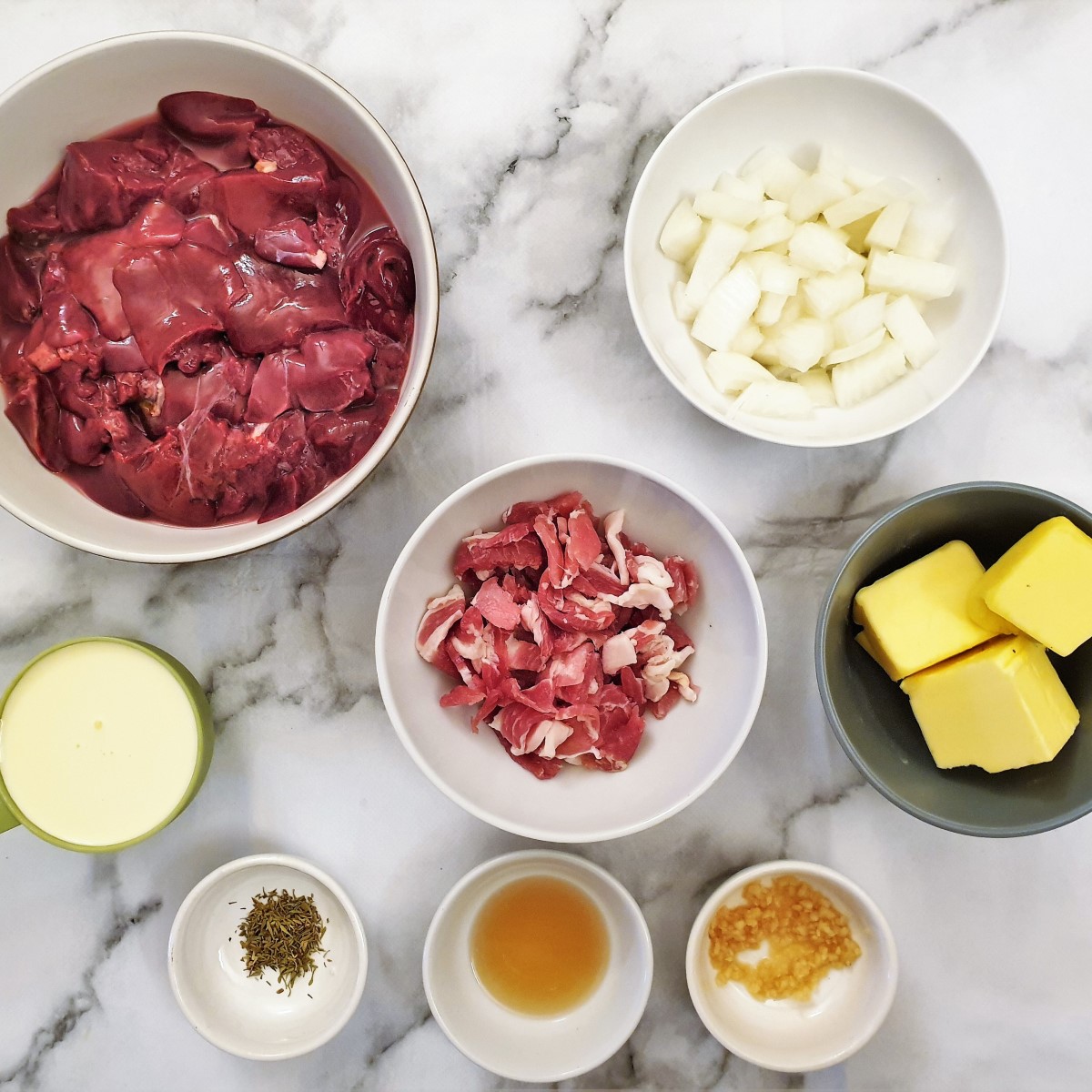 For flavour you can add whatever other flavours you prefer – I've chosen thyme, brandy and garlic.
To vary the taste:
swap the thyme out for sage, rosemary or another herb of your choice;
exchange the brandy for sherry, or leave it out altogether;
if you don't like the taste of garlic you can leave it out.
How do I make it?
Prepare the ingredients
Chicken liver pate is very easy to make, especially if you prepare everything up front so the ingredients are easily to hand as you cook.
You will need a blender or a food processor get the smooth texture of the pate.
Rinse the chicken livers in a colander under cold running water and let them drain. Then take each piece of chicken liver and remove any white sinews and membranes and cut each liver into large chunks.
These days, chicken livers are sold properly cleaned. However, if you do find a green sac attached to the liver, you should remove and discard this, taking care not to pierce it. This is the gall bladder and if any of the gall should get into the pate it will give a very bitter taste.
Peel the onion and chop into approximately 1cm (or half inch) chunks.
Cut the bacon into 1cm pieces.
Cook the pate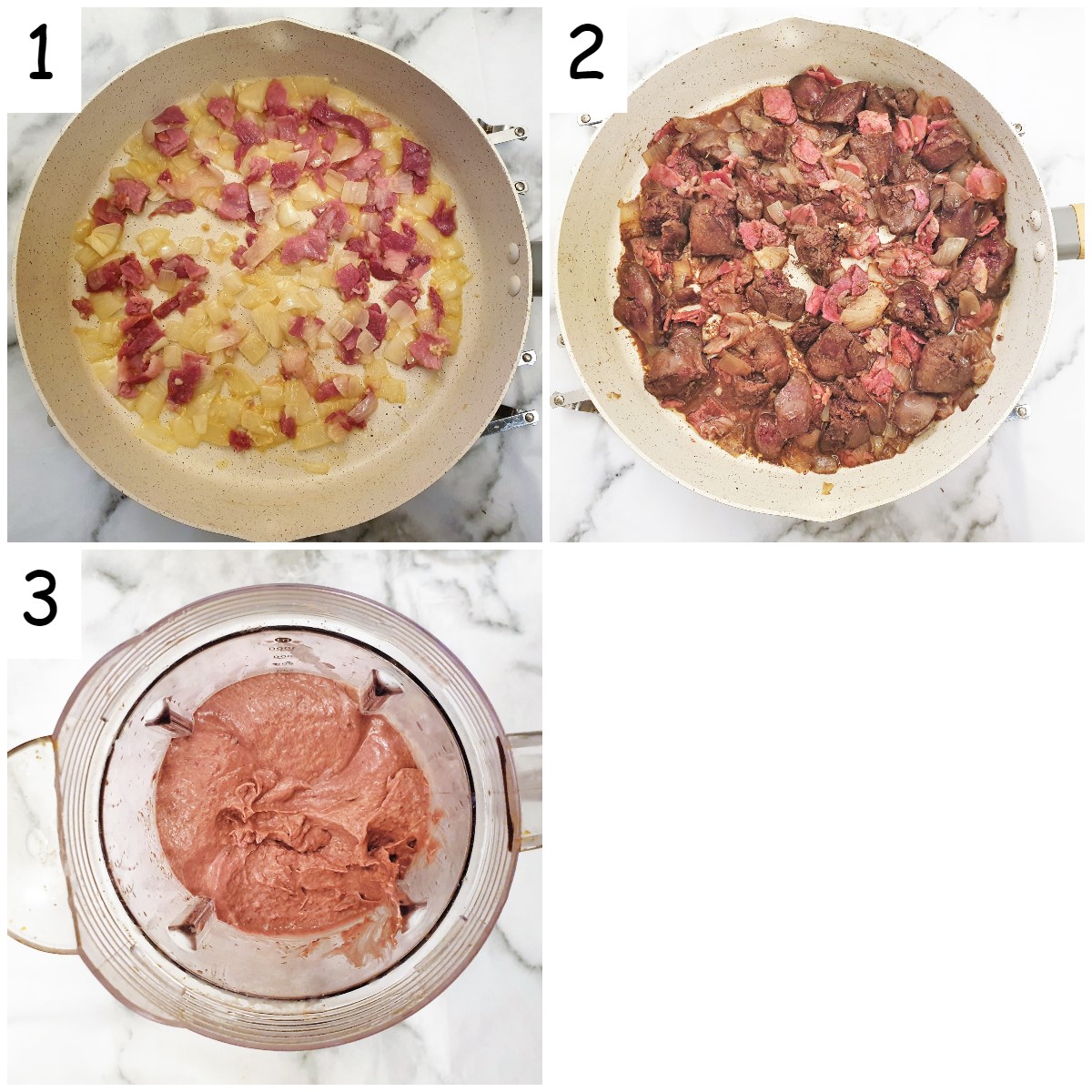 Now fry the onions, garlic and bacon in about one-fifth of the butter until the onion turns translucent and the bacon starts to release its fat. Take your time over this step – don't allow the onions to brown or it will change the taste of the pate. Use a low heat and stir often. This step will take about 5 minutes (image 1 above).
Add the chopped livers, the thyme and the brandy and continue to cook until the livers change colour and are cooked through. This should take another 5 minutes (image 2 above).
Set aside and allow to cool for about 30 minutes.
Once cool, transfer the mixture to a blender (or food processor fitted with a metal blade). Add three-fifths of the butter and the cream, and blend until smooth (image 3 above).
Blend and assemble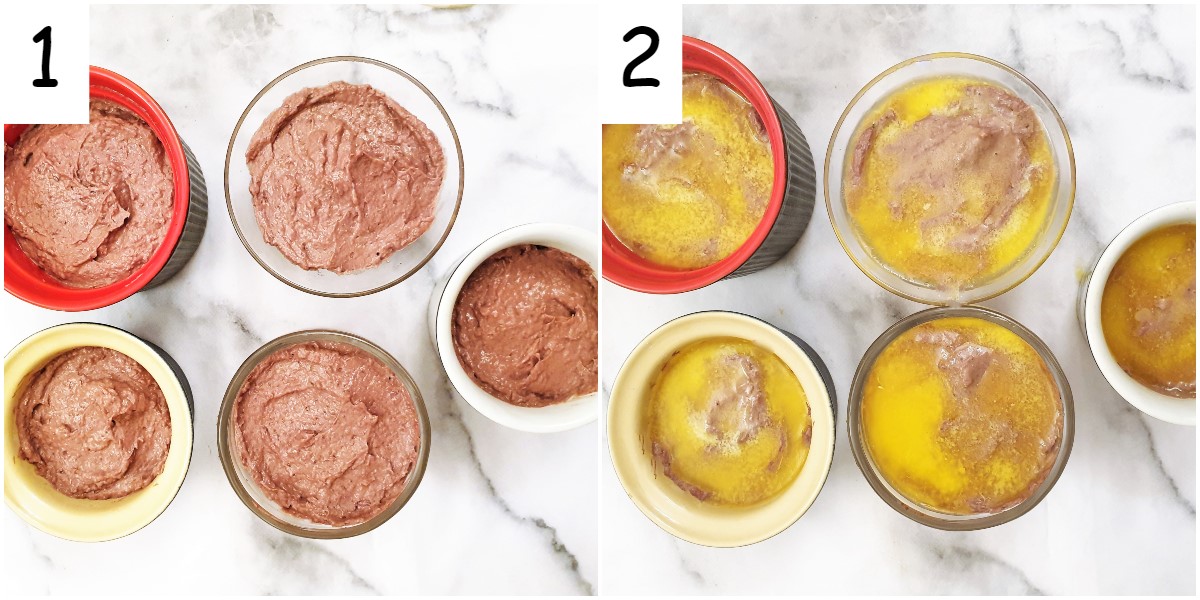 Pour the blended pate into 5 small ramekins and smooth the top of the pate with the back of a spoon.
Melt the final one-fifths of butter and pour over the pate.
Store the pate in the refrigerator and serve cold, spread on melba toast or crispy crackers.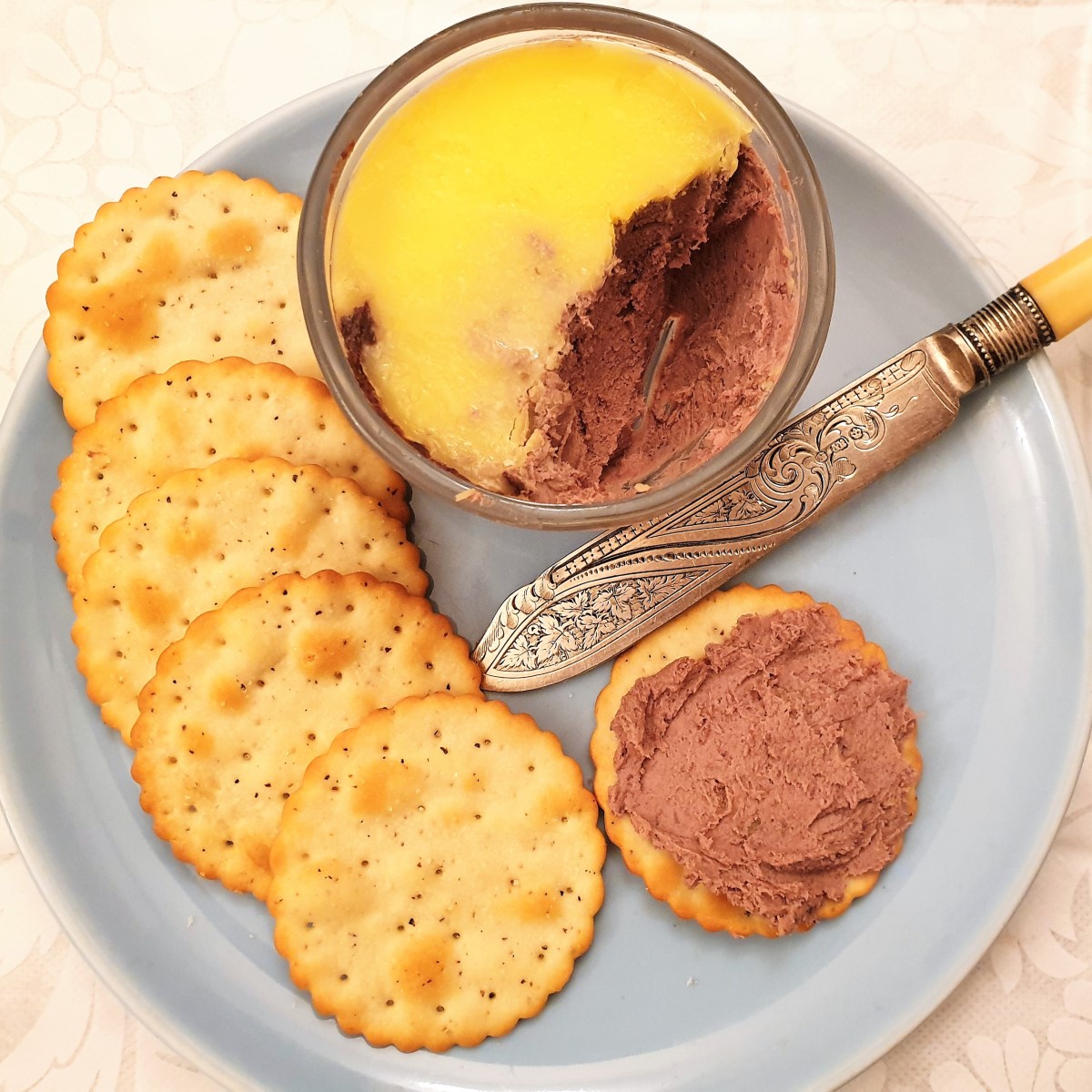 If you want to keep up-to-date with my latest recipes why not follow along on Facebook or Pinterest. And don't forget to subscribe to my mailing list so you can get your FREE COOKERY BOOK
How long can I store chicken liver pate?
Once made, chicken liver pate can be stored in the refrigerator, and should be eaten within 4 days.
You can also freeze chicken liver pate for up to 2 months. Just cover the ramekin with plastic wrap and place in a freezer bag before freezing.
To use, transfer the frozen pate to the refrigerator and allow to defrost before eating. Use within 4 days.
If you enjoyed this chicken liver pate you may like to try some of my other party snacks:
Additional resources
Don't forget to check out my handy Cookery Conversion Calculator if you want to convert any of your recipe measurements from grams to cups, ounces, tablespoons or millilitres and vice versa. You can also use the calculator for converting oven temperatures between Fahrenheit, Celsius and Gas marks.
If you live at a high altitude you may find you need to adjust your baking recipes to compensate for this. You can read all about it in this post on baking at high altitudes.
Pin for later
Why not pin this recipe to your pinterest board so you can make it later. Just click the image below.
Chicken liver pate with bacon recipe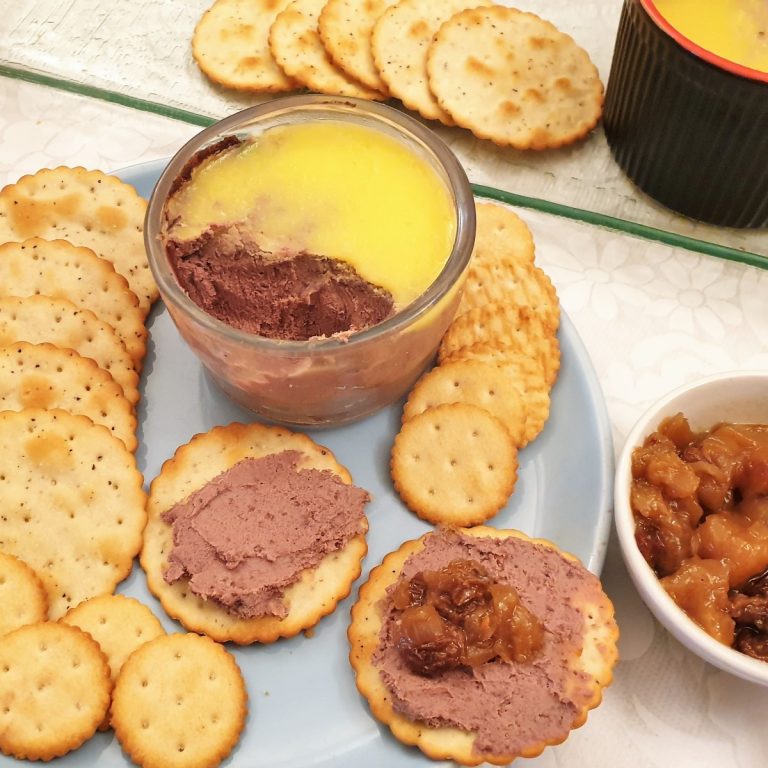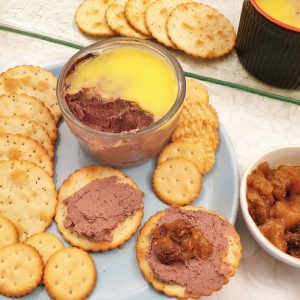 Chicken liver pate with bacon, cream and brandy
Chicken liver pate spread on crispy crackers or melba toast make a delicious party canape. You can also serve this pate with a fruity chutney and brown seeded bread as a quick and easy starter.
(Click the stars to rate this recipe)
Servings:
5
small ramekins
Print
Pin
Comment
Bookmark
Saved!
Equipment
Sharp Knife

Chopping Board

Spatula

Small ramekins
Ingredients
1

lb

(

450g

) fresh chicken livers

1

medium

onion

diced (approximately

100g

)

4

oz

(

100g

) bacon

diced

1

tablespoon

brandy

optional

4

oz

(

120g

) butter

divided (see notes and instructions)

½

cup

(

120g

) single cream

½

teaspoon

dried thyme

1

teaspoon

crushed garlic

(

2

cloves)

salt and black pepper to taste
Instructions
Peel and dice the onion. Dice the bacon. Peel and mince the garlic (if using fresh). Rinse the chicken livers in cold water, then chop coarsely, taking care to remove any sinews. (See notes)

1 medium onion

,

4 oz (

100g

) bacon

,

1 teaspoon crushed garlic

Melt

20g

butter in a frying pan and gently fry the bacon with the garlic and onion until the onion is translucent and the bacon has released its fat. This will take approximately 5 minutes.

Add the chopped chicken livers, the thyme and the brandy. Season with salt and black pepper to taste, and continue to fry for another 5 minutes until the chicken liver is no longer pink.

1 lb (

450g

) fresh chicken livers

,

½ teaspoon dried thyme

,

1 tablespoon brandy

Allow to cool for approximately 30 minutes.

Once cool, transfer to a blender (or food processor fitted with a metal blade). Add

80g

of butter and the cream.

4 oz (

120g

) butter

,

½ cup (

120g

) single cream

Taste for seasoning and add salt and freshly ground black pepper to taste.

salt and black pepper to taste

Pour into ramekins and smooth the top of the pate.

Melt the remaining

20g

butter and pour a thin layer over the top of each ramekin.

Store in the refrigerator, and serve cold with melba toast or crackers.
Notes
The butter is divided as follows:
20g

for frying the onions and chicken livers

80g

for blending into the pate

20g

for melting and pouring on top of the pate
When cleaning the chicken livers, take care to remove any sinews and membranes.  If the gall bladder is still attached to the chicken livers, remove and discard this carefully, taking care not to break it.  Gall is very bitter and you don't want to get any onto the chicken livers.
Storing – the pate may be stored in the refrigerator for up to 5 days.  You can also freeze the pate by wrapping each ramekin in plastic wrap and then enclosing in a ziploc bag.  Pate may be frozen for up to 2 months.  Defrost in the refrigerator before serving.
Nutrition
Calories –
454
kcal
|
Carbohydrates –
4.4
g
|
Protein –
30.6
g
|
Fat –
33.2
g
|
Saturated Fat –
16.6
g
|
Cholesterol –
581
mg
|
Sodium –
656
mg
|
Potassium –
421
mg
|
Fiber –
0.5
g
|
Sugar –
1
g
|
Calcium –
50
mg
|
Iron –
11
mg
I am not a nutritionist. The nutrition information has been calculated using an on-line calculator, and is intended for information and guidance purposes only. If the nutrition information is important to you, you should consider calculating it yourself, using your preferred tool.
Share on Facebook
Share on Twitter
If you made this recipe and enjoyed it, I'd love it if you could give me a star rating in the comments below. And if you'd like to get in touch, you can email me at [email protected]. I'd love to hear from you. And don't forget to subscribe to my mailing list so you can grab yourself a copy of my FREE COOKBOOK!
If you'd like to continue browsing, just click on this link to all my recipes.