What's better than Chocolate Cake? Chocolate MAGIC Cake, that's what. Fudgy base, covered with creamy ganache and topped off with a layer of super soft sponge. All made out of one batter mix. How good is that?
Chocolate Magic Cake
Magic cakes have been around for quite a while now, so many of you will probably be familiar with them. For those of you who have come across these cakes before, please treat this as a refresher. For the rest of you, you are in for a treat.
A magic cake is simply a cake that is baked out of a single batter, but which transforms magically into 3 layers during the baking process. At the bottom there is the fudgy base, in the middle is a delicious custardy ganache, and it is all topped off with a layer of the lightest of light sponge cake.
I got the inspiration for this recipe from Jo Cooks, who is the queen of Magic Cakes. I've adapted it slightly to reduce the amount of cocoa as I found the chocolate flavour was a little too strong for my taste. I increased the amount of flour to compensate. You need 190g flour/cocoa in total – you can adjust to suit your own taste.
How is this possible?
I did some research to find out how this all works. Spoiler alert … it's not really magic – it's all based on science.
Apparently there are 3 factors that influence the way the cake separates during baking:
the high ratio of liquid to flour
the beaten egg whites in the final step
the lower cooking temperature
Because of the lower cooking temperature, some of the flour has time to settle at the bottom of the cake forming the delicious fudgy base.
Then the liquid and the egg yolks coagulate and set into the creamy custard centre.
Finally the air in the egg whites causes the rest of the ingredients to rise to the top forming the light and airy sponge cake.
I also discovered that Magic Cakes are believed to have originated in Romania, and are called Prajitura Desteapta. Google translates this literally as 'Smart Cake' which is pretty appropriate.
---
How to make Chocolate Magic Cake
Ingredients
To make a chocolate magic cake you will need the following ingredients
4 large Eggs – separated
1 Tablespoon Water
170 g (¾ cup) Sugar
125 g (1/2 cup or 1 stick) Butter melted
140 g (1 1/4 cups) Flour
50 g (1/4 cup)Cocoa powder
2 cups (1 pint) Milk
1 pinch salt
1 teaspoon Vanilla Essence
---
Steps
Start with the eggs
Separate the eggs and beat the egg white until stiff peaks form.
Here's some more magic for you – if the egg whites are stiff enough you should be able to hold the bowl upside down over your head and the egg whites will magically stay in the bowl.
Beat the egg yolks with the water and the sugar, until the mixture almost doubles in size and turns a pale yellow. This cake is all about incorporating as much air as possible – so keep beating.
Beat in the butter
Melt the butter and allow to cool. Add the vanilla and salt to the butter and slowly drizzle that into the egg mixture, beating all the time. The consistency of the batter will resemble a pancake mixture.
Add the flour
Sift the flour and cocoa and mix 1/3 of it into the cake batter.
Repeat this twice more until all the flour has been incorporated and there are no lumps.
Fold in the egg whites
Finally fold in the egg whites. You should do this very gently. You don't need to break down the lumps of egg white. The result should be a batter with small lumps of egg white floating in it.
Bake the chocolate magic cake
Prepare a 9″ square cake tin by greasing it lightly with a little butter, then sprinkle with a small amount of cocoa powder. This will ensure the cake does not stick to the pan.
Pour the batter into the prepared tin, and place in a pre-heated oven.
This is a picture of my batter in the cake tin. I actually think I could have left a little more egg white floating around. Looking at the picture of my cake though, I think it turned out pretty well.
The temperature of the oven is important – it should be 150C / 325F, which means you need a longer cooking time than a normal cake. A slow cooking time is what makes which the 'magic' happen. Depending on your oven you will need to bake this cake for anywhere between 45 minutes to 1 hour. My cake took 50 minutes.
As the cake bakes, it will look as though the edges are rising and the middle is sunken. Don't worry, the middle catches up eventually. You can see from the picture below what the finished cake looks like.
The cake will be ready when the sponge topping springs back when you press it with your finger, and if you shake the tin, the cake should not jiggle.
This is a picture of my finished cake. It has a bit of a crack on the top, possibly because I may have over-baked it slightly. If this happens to yours, just cover it with whipped cream – no one will know, and it will still taste amazing.
---
Equipment
To make this recipe you will need the following equipment. In case you are missing something I have included some links to my Amazon shop pages, where you might just find the item you are looking for.
Egg separator – just in case you need a little assistance in separating the eggs.
Mixing bowl – For mixing the egg whites and the batter.
9″ square cake tin – a cake tin with a loose base will enable you to remove the cake from the pan easily.
Did you know that you can get free delivery from Amazon on any item displaying the Prime logo. Join Amazon Prime today and save on your next purchase. They'll deliver right to your door, the very next day. Or you can specify an 'Amazon Day' and all your orders will arrive together on the same day.
As an Amazon Associate I earn from qualifying purchases. These are affiliate links which means I get a small commission (at no additional cost to you) if you click through and make a purchase.
If you want to keep up-to-date with my latest recipes why not follow along on Facebook or Pinterest. And don't forget to subscribe to my mailing list so you can get your FREE COOKERY BOOK
---
Recipe – Chocolate Magic Cake
Print Recipe
Chocolate Magic Cake
Three layers of delicious cake, all from one batter. Fudgy base, layered with creamy ganache and topped of with a soft sponge.
Ingredients
4

large

Eggs

separated

1

Tablespoon

Water

170

g

(¾ cup) Sugar

125

g

(½ cup or 1 stick) Butter

melted

140

g

(1¼ cups) plain Flour

50

g

(¼ cup) Cocoa powder

2

cups

(1 pint) Milk

1

pinch

salt

1

teaspoon

Vanilla Essence
Instructions
Preheat oven to 150°C / 325°F

Grease and flour a 9 inch square cake pan.

Separate the eggs and beat the whites until stiff

Place the egg yolks, water and sugar in a mixing bowl and beat very well until pale yellow in colour and the sugar is dissolved.

Add the melted butter, vanilla and salt and beat well.

Sift in the flour and cocoa and add 1/3 then mix well until combined. Repeat twice more until all the flour has been used. The mixture will be very runny at this stage.

Add the beaten egg whites and stir through until combined. The consistency should resemble a thin pancake batter.

Pour the mixture into the prepared cake pan and place in the preheated oven

Bake for approximately 50 minutes.

Allow to cool and cut into squares.
Notes
Tip – if you are making a chocolate cake then flour the tin with a little cocoa rather than flour.  
Beat well at each step to ensure that all the ingredients are well incorporated.
Don't beat all the air out of the egg whites, just mix through gently. It is OK if there are still small lumps of egg white showing.
Keep your eye on the cake, don't over-cook it.  Different ovens will behave differently.  The cake is done when it springs back when pressed with a finger (feels spongy) and no longer wobbles or jiggles.  You may need to adjust the cooking time by a few minutes either way.
Calories have been calculated per slice, based on cutting the cake into 9 squares.
The calorie count has been calculated using an on-line calculator and is provided for information purposes only.  If the calorie count is important to you, you should consider calculating it yourself, using your preferred tool.
If you made this recipe and enjoyed it, please don't forget to give me a star rating in the comments below. And if you'd like to get in touch, you can email me on [email protected] I'd love to hear from you.
---
Related Recipes
If you enjoyed this cake, perhaps you'd like to try some similar recipes.
South African Milk Tart, a traditional South African tart, very similar to an English custard tart
Easy coconut pie is a one batter recipe that magically converts into a tart, with a soft pastry base, covered with a creamy custard filling and a crunchy coconut topping.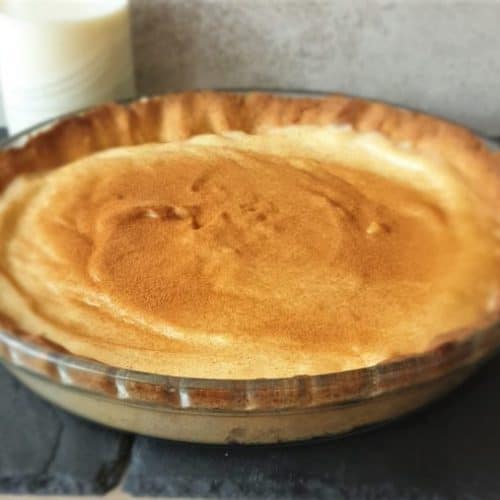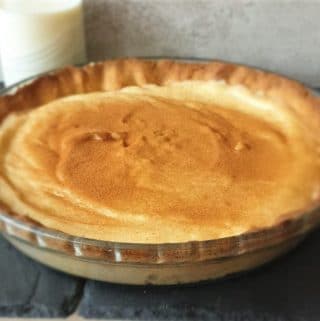 Milk Tart
Milk Tart, a creamy South African custard dessert. Delicious served cold from the fridge.
View recipe
Easy Coconut Pie
Easiest ever coconut pie. Mix all the ingredients in one dish and as it bakes it forms a crust at the bottom with a custard filling and a crispy coconut topping.
View recipe
Why not pin this recipe for later, or save it to your Yummly recipe box. And don't forget to subscribe to my mailing list so you can grab your FREE COOKBOOK!