Zucchini and goat cheese tarts are the perfect party snack. Easy to prepare, easy to eat. Serve them as a side dish at a party, or eat them with a salad as a light lunch. Either way, all you have to do is sit back and wait for the compliments.
Zucchini and Goat Cheese Tarts
Back in the day, when I did a lot of entertaining with family and friends, one of my favourite party appetisers was zucchini and goat cheese tartlets. Believe me, a plate of crispy homemade shortcrust pastry tarts filled with sweet zucchini and salty goat cheese didn't stay on the table for very long. They are the ideal snack to serve with your favourite sun-downer, whether it be a cold frosty beer or a glass of your favourite wine.
The saltiness of the goat cheese combined with the sweetness of the zucchini makes a delicious tart filling. Couple this with a casing of crispy homemade pastry and you'll have your guests coming back for seconds. You'd better make a double-batch, because these little beauties won't last long.
Ingredients for zucchini and goat cheese tarts
Whenever I read a recipe I like to have a look at the ingredients to see whether I have everything I need. To make it easy for you – I've listed the ingredients below. You can get the full list of ingredients and quantities in the printable recipe card further down in the post.
Shortcrust pastry – you can use your own homemade recipe for shortcrust pastry, or use the recipe from this post for homemade bacon and egg pie. If you prefer you can use a roll of shop-bought pastry instead.
Zucchini (courgettes/baby marrow – call it what you will). This should be spiralized or grated.
Goat Cheese – chopped into small pieces
Cheddar Cheese – grated
Chives – finely chopped (optional but adds extra flavour)
Single Cream combined with milk and eggs – to make a custard for pouring over the tarts.
Salt and pepper to taste
How to make zucchini and goat cheese tarts
Make the pastry
Make up a batch of shortcrust pastry (or unroll the shop-bought pastry). Use it to line a 12-hole muffin tin.
One batch of pastry will line 12 muffin pans and leave a bit of pastry over. I've allowed for this in the recipe for the filling so you can make 12 standard sized tarts and then use the leftover pastry to make a small quiche.
Prepare the filling
Wash the zucchini and either grate or spiralize it.
Crumble the goat cheese into small pieces and grate the cheddar cheese.
Chop the chives if using.
Combine it all together and set aside
Mix the cream milk and eggs together in a mixing jug and season with salt and pepper.
Line and fill the muffin tray
Roll out the pastry to about 1/8 inch thickness and cut circles from the pastry. Line the muffin tin with the pastry circles.
Hint – If you do not have a rolling pin you can use a clean empty wine bottle to roll the pastry.
Spoon the zucchini and cheese filling into the pastry cases.
Pour the cream, milk and egg mixture over the zucchini in the muffin tin. Pour until about 1/8″ from the top of the pastry cases. Don't overfill as the filling will expand on cooking and may overflow, causing the tarts to stick to the muffin trays.
Bake
Place the muffin tin in a pre-heated oven (200C / 400F) and bake for approximately 30 minutes until golden on top. The filling should feel firm to the touch when the tarts are cooked.
When they are done, remove from the oven and allow to cool.
As with all baking recipes, the time to bake may vary from oven to oven, and also depends on factors such as altitude, and even country. My advice is always to check at least 5 minutes before the cooking time is up.
Leftovers
If you have a little left over pastry and filling, you can turn it into a mini zucchini and goat cheese quiche and bake it in the oven alongside the tarts.
To serve this just cut it into squares and arrange on a plate.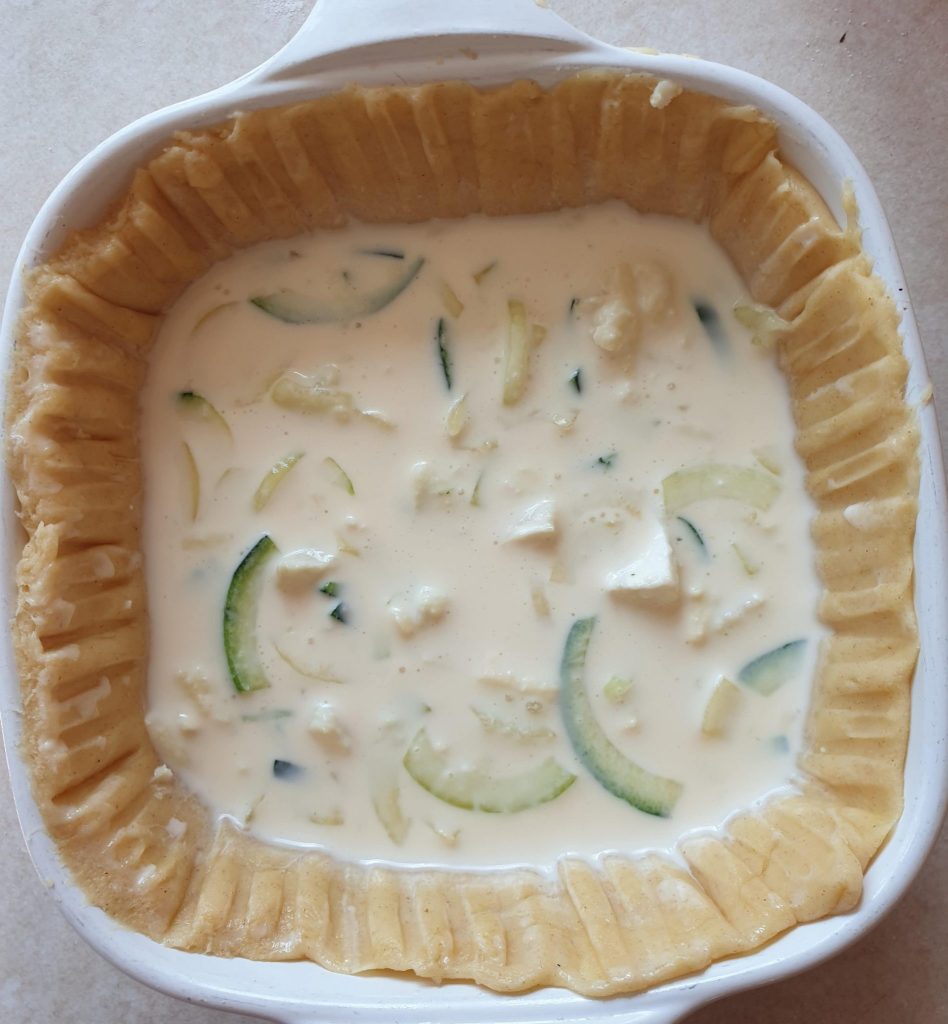 If you want to keep up-to-date with my latest recipes why not follow along on Facebook or Pinterest. And don't forget to subscribe to my mailing list so you can get your FREE COOKERY BOOK
Watch how to make it
Convert grams to cups
To help you convert your recipes, I have created a handy Cookery Conversion Calculator which will convert ingredients between grams, ounces, tablespoons, cups and millilitres. I hope you will find it useful.
If you live at a high altitude you may find you need to adjust your baking recipes to compensate for this. You can read about how to do this in this post on baking at high altitudes.
Recipe – Zucchini and Goat Cheese Tarts
Zucchini and Goat Cheese Tarts
Flaky shortcrust pastry filled with zucchini, goats cheese and cheddar. The perfect party snack to impress your guests.
Servings: 12 tarts
Calories: 135kcal
Equipment
Spiralizer or grater

Mixing bowl

Rolling Pin

12-hole muffin-tin

Pastry cutter
Ingredients
2 largish Zucchini (baby marrow) approximately 2 cups grated volume
100 g Goat Cheese (chopped into small pieces)
100 g Cheddar Cheese (grated)
2 Tablespoons Chives (finely chopped) optional
200 ml Single Cream
100 ml Milk
3 medium Eggs
Salt and pepper to taste
Instructions
Preheat the oven to 200°C / 400°F

Make a batch of shortcust pastry according to your favourie recipe, or use shop-bought shortcrust pastry.

Spiralize the zucchini and chop into short lengths

Chop the goat cheese into small blocks and add to the zucchini

Add the cheddar cheese to the zucchini

Season with salt and pepper to taste

Add the chives if you are using them.

Whisk the cream, milk and egg together and season with salt and pepper

Roll the pastry to approximately 1/8 inch thickness

Use the pastry to line a 12-hole greased muffin tin

Place spoonfuls of the zucchini mixture into the pastry cases

Pour the cream mixture over the zucchini to about 1/8 inch from the top

Place the baking tray in the oven and allow to bake for approximately 30 minutes

Cool on a wire rack
Notes
You can use shop-bought shortcrust pastry for this recipe, or use the pastry recipe from my Bacon and Egg Pie.
If you don't have a spiralizer you can grate the zucchini on a normal kitchen grater.
I use a large coffee cup to cut out the pastry rounds.  The one I have is the perfect size to fit a muffin tin.
Don't overfill the pastry cases with the cream/milk/egg mixture or it will overflow and the tarts may stick to the muffin tin.
Calorie count is calculated is per tart.
I am not a nutritionist. The nutrition information has been calculated using an on-line calculator, and is intended for information and guidance purposes only.  If the nutrition information is important to you, you should consider calculating it yourself, using your preferred tool.
If you made this recipe and enjoyed it, please don't forget to give me a star rating in the comments below. And if you'd like to get in touch, you can email me on foodleclub1@gmail.com. I'd love to hear from you.
You can click the buttons below if you'd like to save the recipe to Pinterest or your Yummly recipe box. And don't forget to subscribe to my mailing list so you can grab yourself a copy of my FREE COOKBOOK! If you'd like to continue browsing, just click on this link to all my recipes.