I love fishing in the Lincolnshire Fenlands, it's so remote and peaceful there. Nobody in sight for miles around.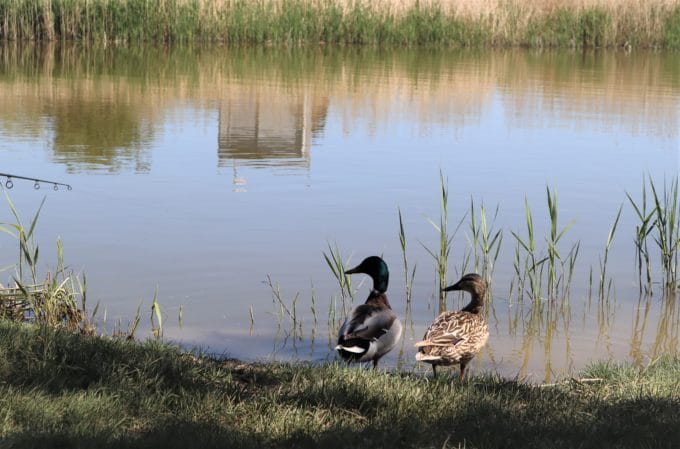 The only visitors I had today were these 2 ducks, patiently waiting to see what I was going to catch.
Interesting facts about the Fens
The Fenlands is a very low-lying area, most of it within just a few metres of sea-level, and most of the area was originally flooded. The land has now been drained and is a very arable area, comprising half of the grade 1 agricultural land in England.
Although there are some signs of Roman and medieval drainage works, land drainage only really began during King Charles I's reign in 1630. The scheme was opposed by the locals, who were losing their livelihoods based on fishing, reed cutting and wildfowling. Fenmen known as the Fen Tigers tried to sabotage the drainage efforts and tore down the newly built dykes and set the reed beds on fire. Despite this, the drainage system was completed by the end of the 17th century.
The area is home to the lowest land point in the United Kingdom, Holme Fen in Cambridgeshire is around 2.75 meters below sea level.
Within the Fens, there are a few hills, which have historically been called "islands" as they remained dry when the low-lying fens around them were flooded. The largest of the fen islands is the Isle of Ely on which the cathedral city of Ely was built, with its highest point being just 39m above sea-level.
And finally – some fishing facts
In 1086, William of Malmesbury wrote in the Domesday Book, "here is such quantities of fish as to cause astonishment in strangers."
The Liber Eliensis, a 12th-century English chronicle originally written in Latin, described: "fish innumerable, eels, large water wolves, pickerel, perch, roach, burbots and lampreys".
The wildlife of the fens in those days must have been amazing.