Turkey and ham lasagne bake is a new twist on the classic lasagne we all know and love. Tender pasta sheets layered with turkey and ham in a tangy garlic tomato sauce and covered with gooey cheese. Comfort food doesn't get much better than this.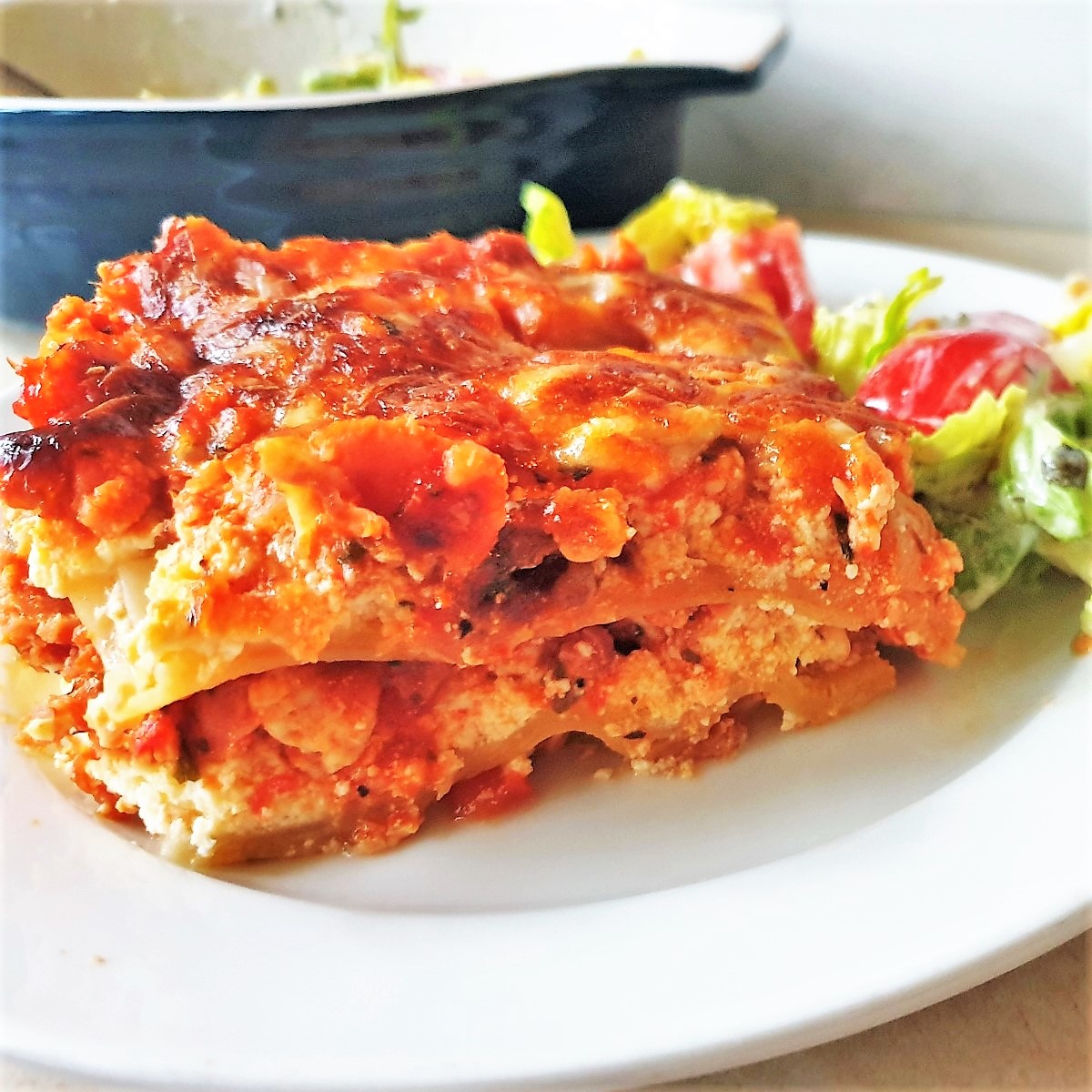 Turkey and ham lasagne bake
Who doesn't love a hearty plate of classic lasagne? Tender sheets of pasta, layered with juicy, meaty tomato sauce and thick creamy bechamel sauce, topped with a layer of melted golden cheese. The only trouble with a classic lasagne is 1) the amount of time it takes to make, and 2) it's quite heavy on the calories.
So I devised this turkey and ham lasagne bake, which has all the flavour of a classic lasagne, but takes half the time to make. And as a bonus it has far less calories.
The preparation time or turkey and ham lasagne bake is around 30 minutes, and with another 35 minutes in the oven, you can have this dish on the table in around an hour.
What you will love about this turkey and ham lasagne bake
I think you are going to love my version of turkey and ham lasagne.
It's quick to make – this lasagne bake doesn't contain any bechamel sauce. I've used a mixture of ricotta, parmesan and beaten egg in place of the sauce layer, so you don't have to spend time stirring up a white sauce. In addition, I've used no-boil lasagne sheets so you can just layer the dry lasagne straight in the baking dish.
It's packed with flavour – turkey and ham pair so well together. And in addition it packed with tomatoes, garlic and onions, which combine with the turkey and ham to make the delicious meaty layers
It's economical – turkey is one of the cheaper cuts of meat, and you can use up any leftover slices of ham that you happen to have in the fridge.
It's light on calories – turkey and ricotta cheese both contain less than half the calories of ground beef and cheddar cheese.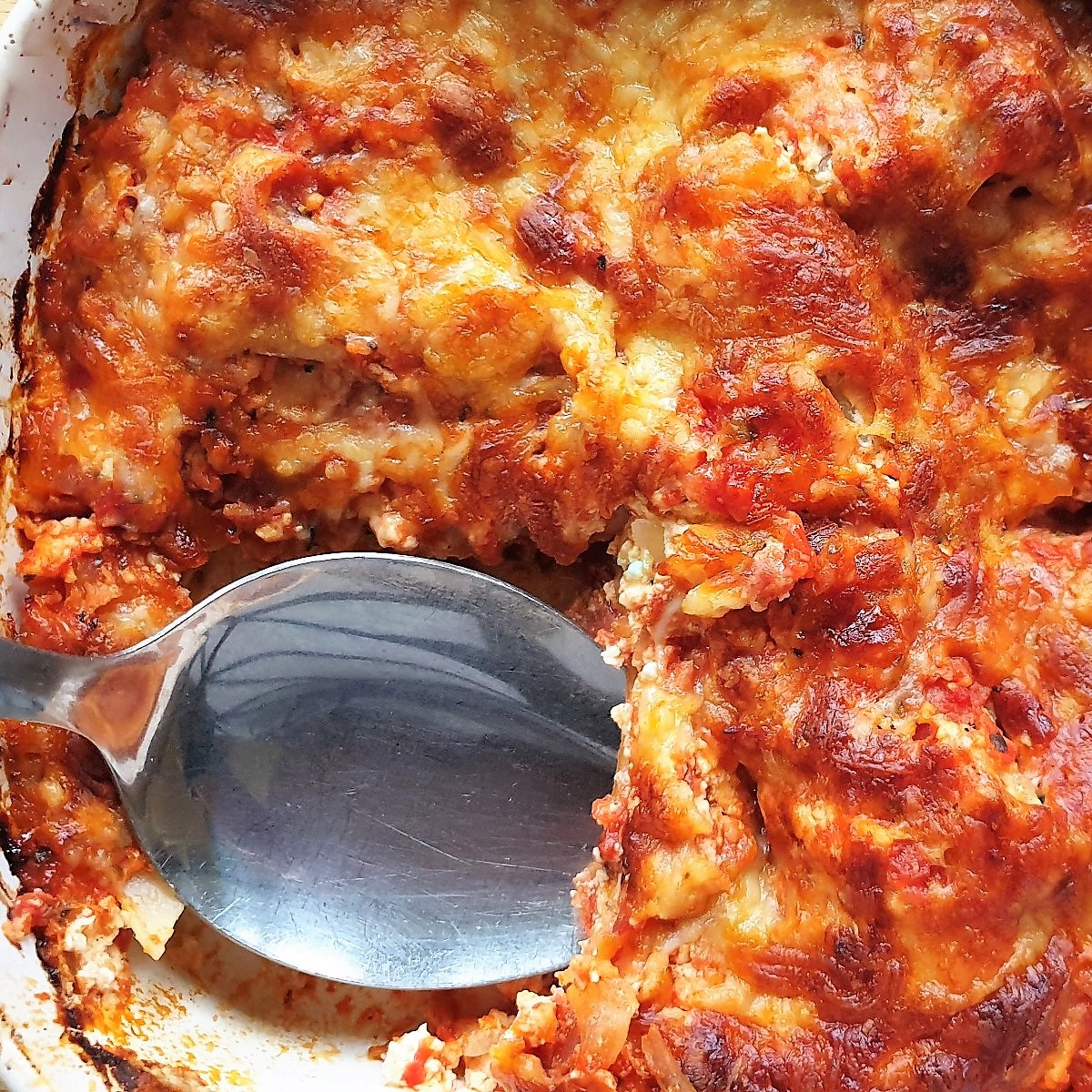 How to make turkey and ham lasagne bake
This dish will serve 4 people. You can get the complete list of ingredients and full instructions for making this turkey and ham lasagna bake on the printable recipe card at the end of this post.
Three easy steps
Make the meat sauce
Mix the cheesy layer
Assemble and bake
You will need
Meat sauce –
equal quantities of ground turkey and chopped ham – for 4 people I used 125g (4.5 ounces) of each. For the ham you can just use any sliced ham that you would normally buy to put on sandwiches.
canned tomatoes, minced garlic, chopped onions and tomato paste. If you don't have fresh garlic you can use crushed garlic from a jar.
dried herbs – basil, oregano, parsley. If you prefer, you can use fresh finely chopped herbs instead.
Cheesy layer
ricotta and parmesan
1 egg
Assembly
no-boil lasagne sheets – you can get these in the pasta section of any large supermarket. The type I use has a statement printed on the box that says 'It is not necessary to pre-cook these pasta sheets. They can be used straight from the packet'.
a mixture of grated cheddar and mozarella.
What to do
Start by making the meat sauce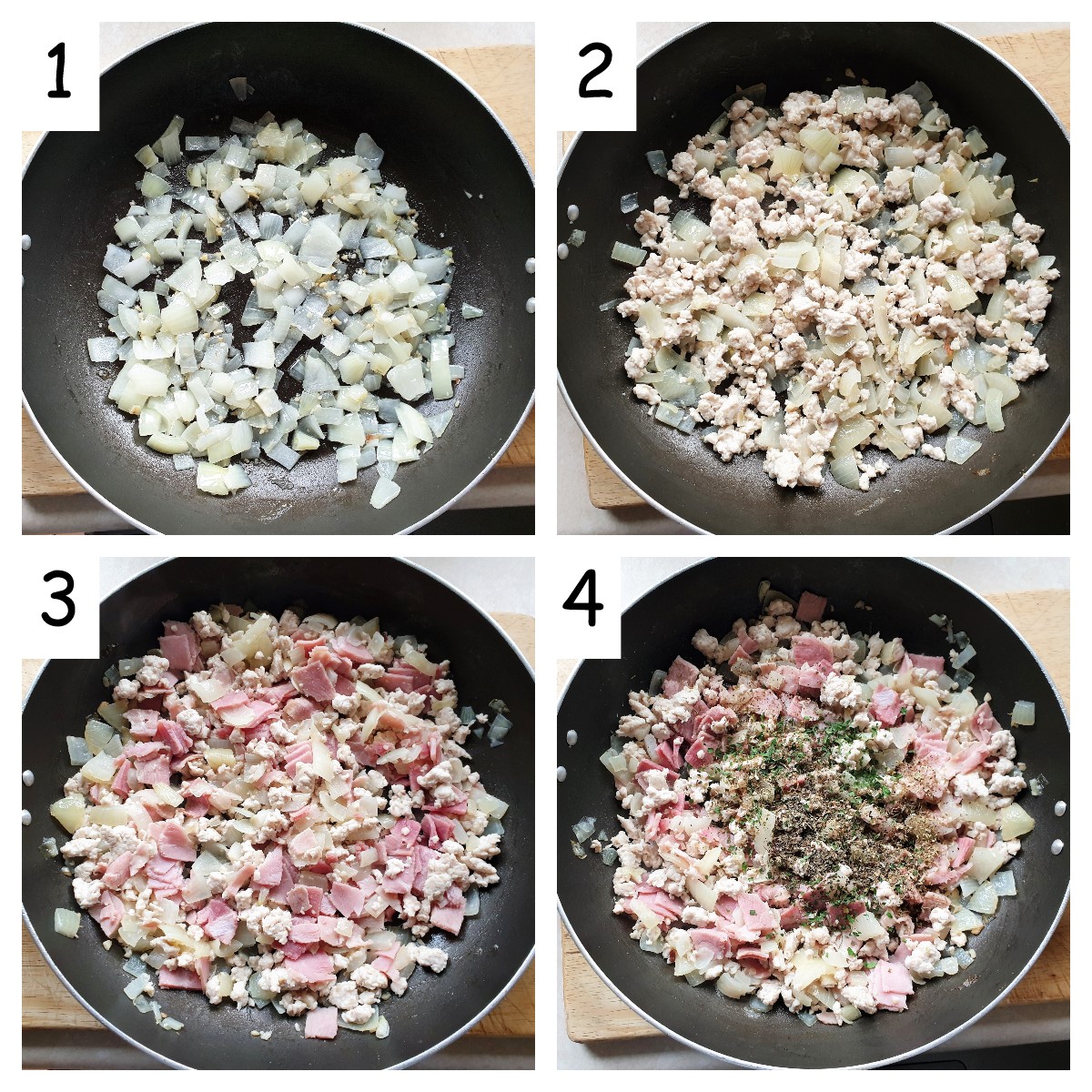 Chop the onions into 1cm (1/2″) pieces and fry gently in olive oil, with the garlic, until the onions become translucent (image 1).
Add the ground turkey and stirfry with the onions until it is no longer pink (image 2).
Add the ham (image 3) and then stir in the parsley, oregano and basil (image 4).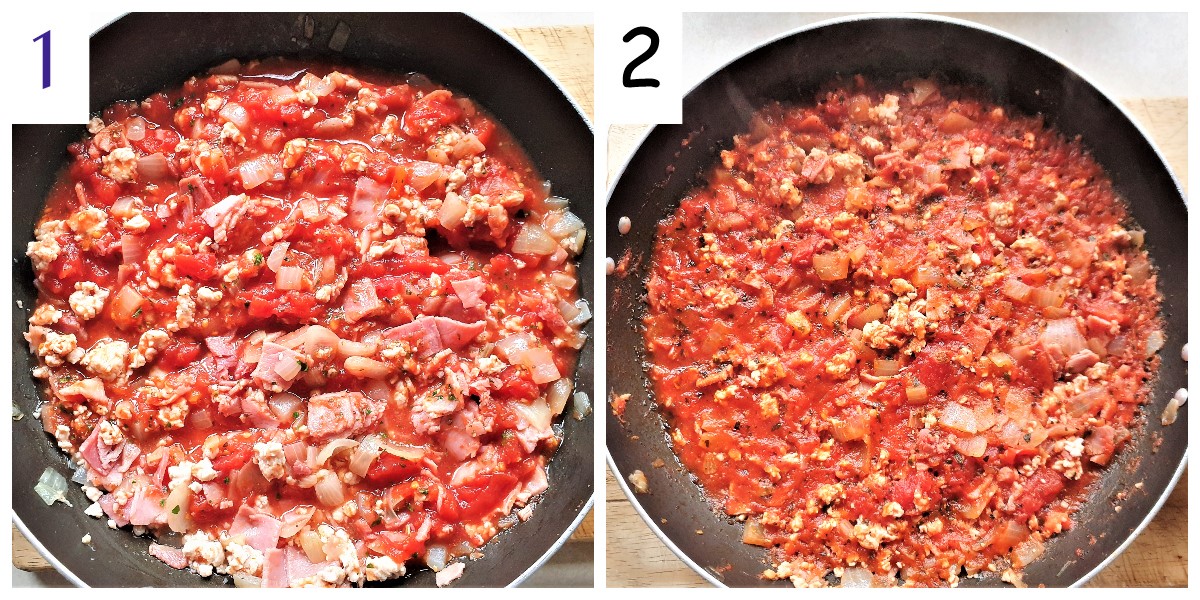 Stir in the canned chopped tomatoes and add the tomato paste. At this point I like to add 1 teaspoon of sugar to the tomatoes as I find that it cuts through the tartness of the tomatoes. This is entirely up to you whether you add the sugar or not. Season with salt (as always this is optional) (image 1).
Cover with a lid and simmer over a very low heat for 20 minutes until the onions are cooked. The sauce will be quite thick, so stir in 1/2 to 1 cups of water to thin it out a little. The extra water is needed to ensure there is sufficient liquid to cook the lasagne sheets.
Now mix the cheeses and start assembling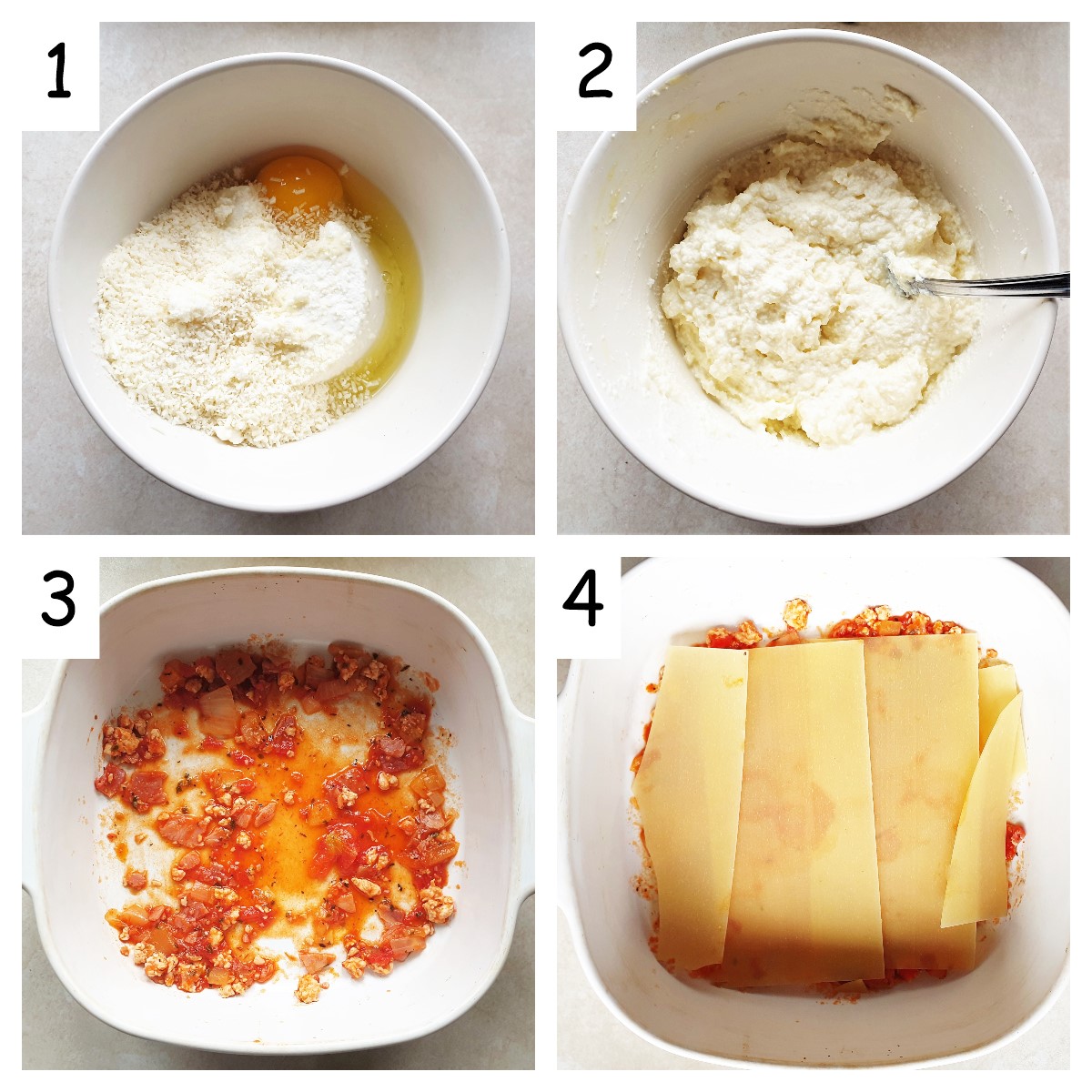 Place the ricotta and parmesan cheese into a mixing bowl and break in one egg (image 1) and mix well to combine (image 2).
Spread 1 large spoonful of the filling on the bottom of an 8″ x 8″ (20cm x 20cm) baking dish. This is to prevent the lasagne sticking to the dish (image 3).
Arrange a layer of lasagne sheets on top of the sauce. You may have to break them to fit (image 4).
Assemble and bake
Finish off the assembly.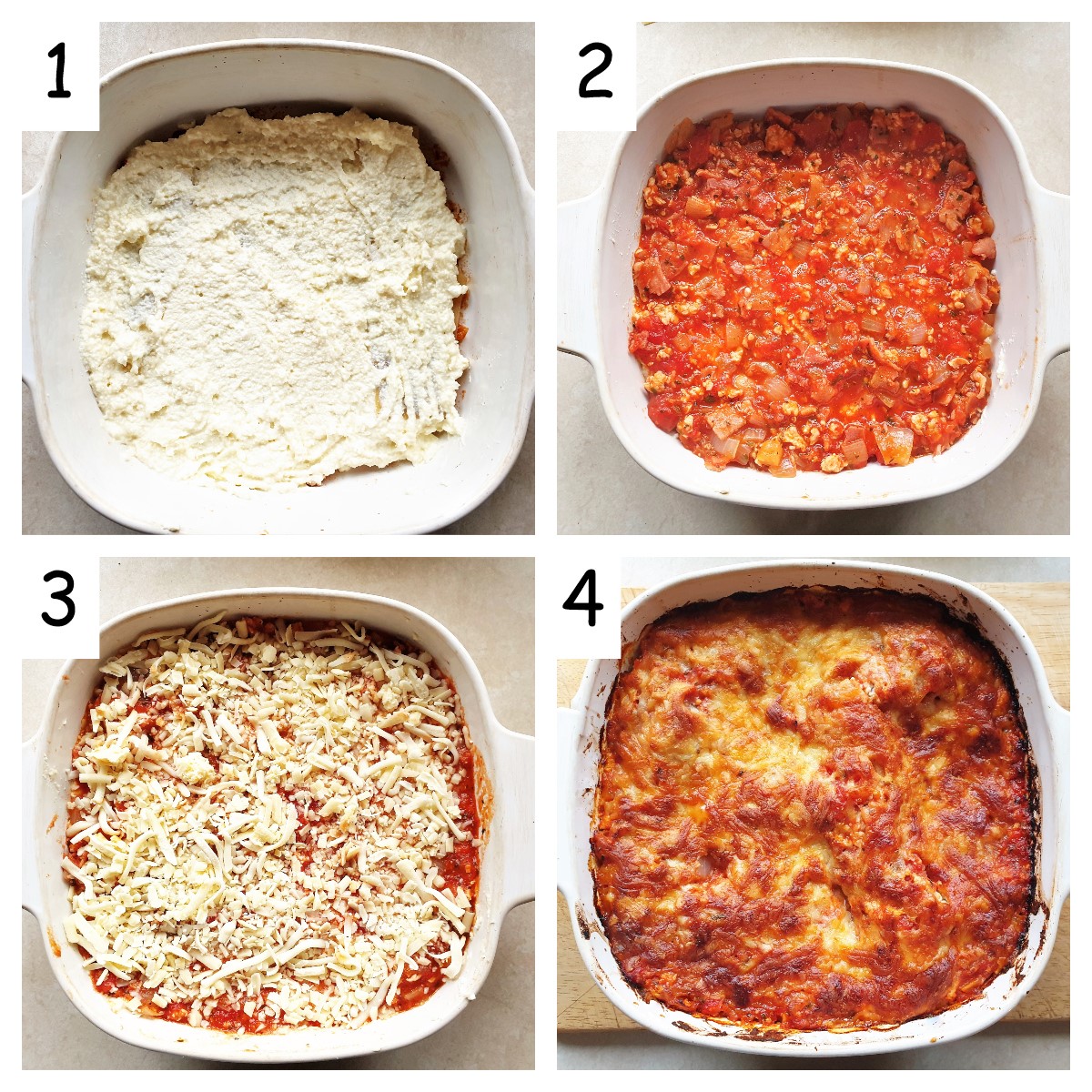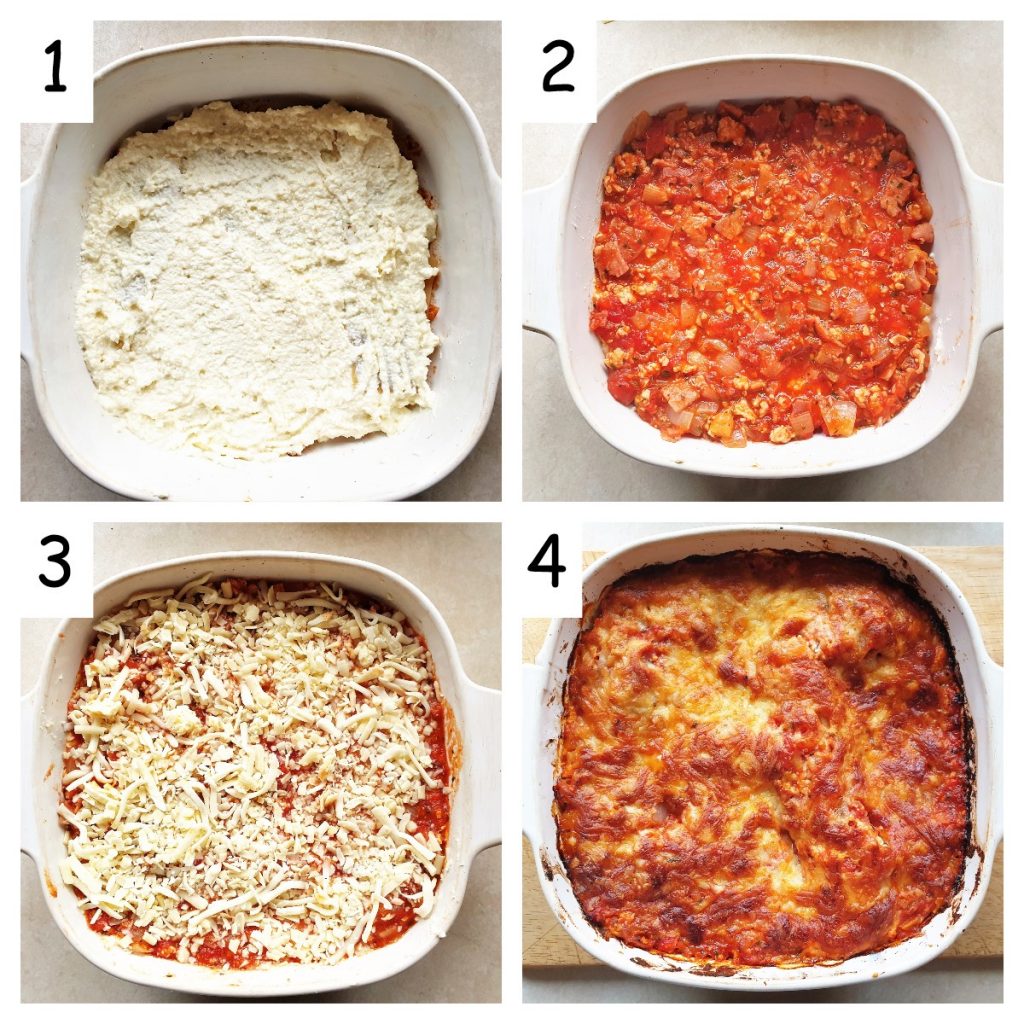 Cover the lasagne sheets with half of the ricotta/parmesan mixture (image 1). Then spoon half of the sauce over the cheese (image 2).
Add another layer of ricotta/parmesan and the rest of the sauce and then sprinkle with grated cheese (image 3).
Bake in a preheated oven (190C / 375F) for 35 minutes until the lasagne sheets have softened and the cheese is melted and golden (image 4).
Top tip – to see whether the lasagne is cooked, pierce the lasagne bake with a sharp knife. The knife should slide through to the bottom of the dish without any resistance.
Serve with a simple salad of chopped tomatoes, lettuce and onions covered with homemade ranch dressing, and slices of toasted garlic bread.
Leftovers can be stored, covered, in the refrigerator, for up to 3 days and reheated in the microwave.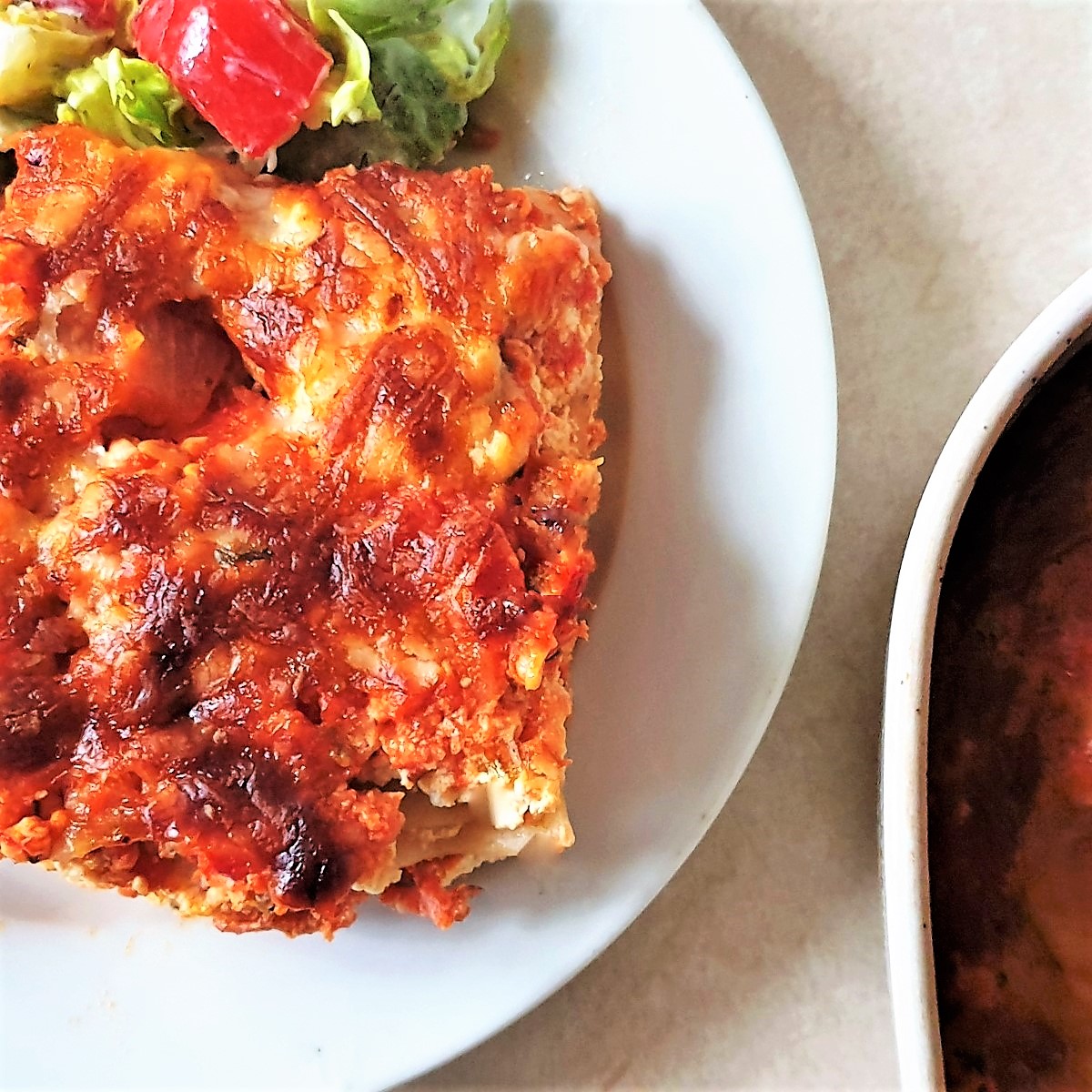 Can I freeze turkey and ham lasagne bake?
If you are going to freeze this dish, it would be a good idea to assemble the dish in aluminium freezer containers and freeze those, to free up your baking dish for something else.
The dish can be frozen for up to 4 months.
To use allow to defrost and then bake in the aluminium container for 35 minutes at 190C / 375F.
If you want to keep up-to-date with my latest recipes why not follow along on Facebook or Pinterest. And don't forget to subscribe to my mailing list so you can get your FREE COOKERY BOOK
Convert grams to cups
To help you convert your recipes, I have created a handy Cookery Conversion Calculator which will convert ingredients between grams, ounces, tablespoons, cups and millilitres. I hope you will find it useful.
If you live at a high altitude you may find you need to adjust your baking recipes to compensate for this. You can read about how to do this in this post on baking at high altitudes.
Pin for later
Why not pin this recipe to your pinterest board so you can make it later. Just click the image below.
Recipe – Turkey and ham lasagne bake
Turkey and ham lasagne bake
Oven-baked layers of lasgne sheets, cheese and turkey and ham, in a tasty tomato sauce.
Equipment
Sharp Knife

Chopping Board

Wok or frying pan

Mixing bowl

Spatula

8" x 8" Baking dish
Ingredients
125

g

ground turkey

(4.5 ounces)

125

g

sliced cooked ham

(4.5 ounces) chopped into 1cm squares

1

large

onion

chopped (or 2 medium onions)

2

cloves

garlic

finely minced (or use crushed from a jar)

1

teaspoon

dried parsley

1

teaspoon

dried oregano

1

teaspoon

dried basil

400

g

canned chopped tomatoes

(14 ounces)

1

tablespoon

tomato paste

1

teaspoon

sugar

optional

250

g

ricotta cheese

(8½ ounces)

50

g

grated parmesan cheese

(1¾ ounces)

1

large

egg

150

g

lasagne sheets

(5¼ ounces) or sufficient to assemble the dish

1/2

cup

grated cheddar/mozarella cheese

for the topping

2

tablespoons

olive oil

for frying the onions
Instructions
Preparation
Peel and chop the onion into approximately 1cm (½") chunks. Peel and chop the garlic.

Heat the oil in a wok or frying pan and fry the onions and garlic gently until the onions are translucent. Do not allow to brown.

Add the turkey and continue to fry until the turkey is no longer pink.

Stir in the ham and add the herbs (oregano, parsley, basil)

Add the can of tomatoes and the tomato paste and stir well. Optionally, add 1 teaspoon of sugar to cut through the tartness of the tomatoes.

Cover and allow to simmer or 20 minutes until the onions have softened. Keep your eye on it so it does not dry out.

Add 1/2 to 1 cup of water to thin out the sauce.

Mix ricotta, parmesan and egg in a mixing bowl.
Assemble and bake
Spoon a small amount of sauce into a baking dish. This will prevent the sauce from sticking to the dish.

Arrange a layer of lasagne sheets over the sauce.

Spread half of the ricotta/parmesan cheese mixture over the lasagne.

Spoon half of the tomato sauce over the cheese mixture.

Repeat with another layer of ricotta/parmesan followed by the remaining tomato sauce.

Sprinkle with grated cheese

Bake in a preheated oven for 35 minutes.
I am not a nutritionist. The nutrition information has been calculated using an on-line calculator, and is intended for information and guidance purposes only. If the nutrition information is important to you, you should consider calculating it yourself, using your preferred tool.
If you made this recipe and enjoyed it, please don't forget to give me a star rating in the comments below. And if you'd like to get in touch, you can email me on foodleclub1@gmail.com. I'd love to hear from you. And don't forget to subscribe to my mailing list so you can grab yourself a copy of my FREE COOKBOOK!
If you'd like to continue browsing, just click on this link to all my recipes.