I've been having a look at which recipes are the most popular on my website, and these are my top 20 recipes as viewed by you, the reader. Have YOU tried any of them?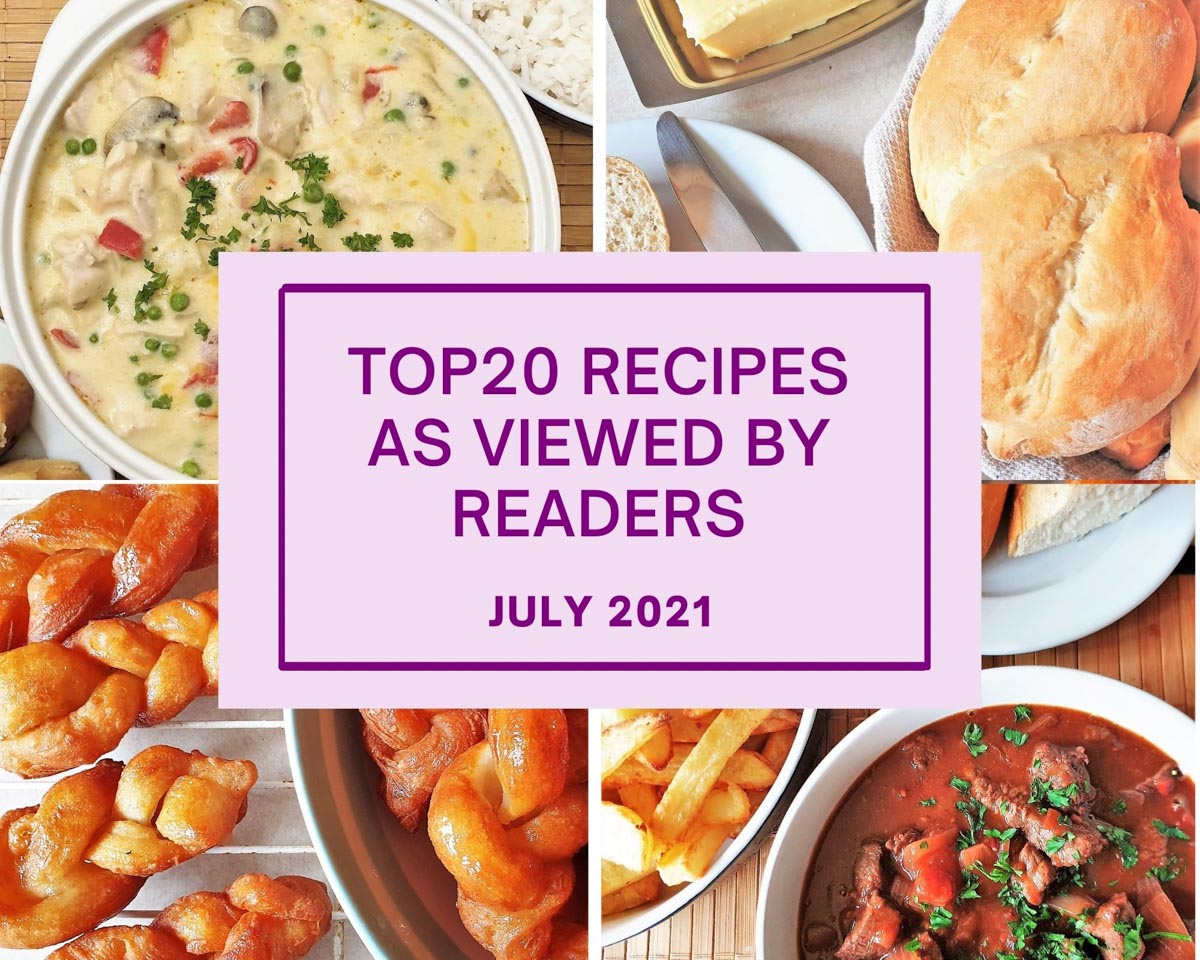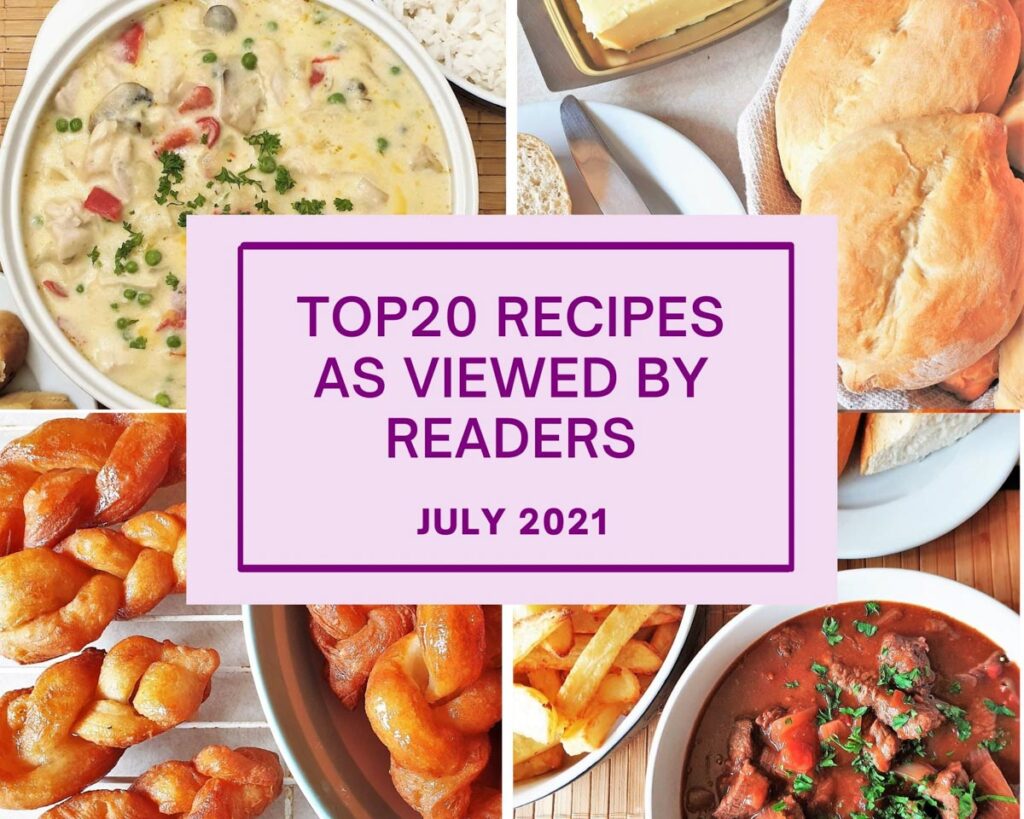 **As an Amazon affiliate, I earn from qualifying purchases.**
I always find it interesting to have a look at my top-performing recipes to see what all my visitors are looking at. It helps me to decide where to concentrate my efforts in planning my next recipe! There are some recipes on this list that surprised me. I really didn't think that my baby marrow recipe would prove to be as popular as it is, but it's currently sitting at number 11!
There are also some recipes that I thought would have been popular but nobody seems to be looking at them. I've included them at the end of the list so you can see the ones I'm talking about 🙂 . Perhaps I should publish a post on my most unpopular recipes!
Anyway, I hope you enjoy browsing through my top 20 recipes. I'd love to hear from you if your favourite recipe is on here, and I'd also like to hear what other recipes you would like to see. Leave me a comment or drop me an email, and I'll do my best to publish it for you.
1 Quick and easy vetkoek
I'm not surprised that these are so popular. They taste just as good as traditional yeast-based vetkoek, but you only need 2 ingredients to make them.
2 Vetkoek and curried mince
Despite having the worst photo imaginable, this recipe has been top of the list since I first published it 2 years ago. It's just been pushed out of the top spot by my quick and easy vetkoek. I really must find the time to make this again and take a photo that does it justice!
UPDATE – I did change the photo 🙂
3 Beef vegetable winter soup
Such a thick and hearty soup. Perfect for the colder weather currently being experienced in the Southern hemisphere. It's packed with meat and vegetables and all you'll need to serve with it is lots of crusty bread.
4 Slow cooker beef and kidney stew
This is one of my favourites. I love how soft and juicy the chunks of beef turn out. And I always add extra kidneys because I love them so much.
5 Crispy pork knuckle with saute potatoes
The saute potatoes in this recipe are so delicious I should really have given them a recipe to themselves!
6 Easy homemade fish cakes
This is a very economical recipe because you can just use leftover fish and mashed potatoes. I have included instructions for poaching fish if you don't have any leftovers.
7 Chelsea buns
The first of the sweet recipes comes in at a well-deserved number 7. I love these sticky buns. They're made with yeast, and take a bit of time to stand and rise, but are SO worth the effort. I'm currently playing around with a similar recipe, for coconut buns and I'd love to know if that's something you would like to try.
8 Easy custard slices
So easy to make – but so delicious! They're filled with my recipe for creme patissiere which I use to fill this German Bee Sting cake. (I've absolutely no idea why this bee sting cake isn't in the top 20).
9 Crusty Portuguese rolls
I have a few recipes for bread rolls on my site, but I have to say these are my favourite! You can even use the dough to make a free-form loaf that slices perfectly and is ideal for sandwiches.
10 Oat and coconut crunchies
These are ideal for packing into your lunch box to beat the mid morning hunger pangs.
11 Baby marrows with tomato and onion
Hubby always refused to eat courgettes, calling them bland and tasteless, but even he eats them if I prepare them in this way.
12 Easy chicken a la king
This is another easy recipe that uses leftovers. I often buy a rotisserie chicken in the supermarket and shred it to make this dish. Of course, you can poach fresh chicken pieces too, and I've given instructions for that in the recipe.
13 Old fashioned bacon and egg pie
I've called this recipe 'old fashioned', but it's as good to eat now as it was over 60 years ago when I first tasted my Granny's recipe.
14 Crispy French fries with a spicy coating
Everybody can fry up a plate of chips, but with very little more effort you can be enjoying these crispy French fries with a spicy coating.
15 Mrs Balls Chutney (copycat recipe)
Ask any South African to name their favourite chutney and 10 times out of 10 you'll get the answer 'Mrs Balls'! I experimented with lots of combinations of fruit and spices to come up with this recipe, and I think it comes pretty close to the original version.
16 Peri Peri Chicken Livers
This dish makes a great starter when you're feeding a crowd. I'm so pleased it's one of my top recipes because it honestly deserves to be. When I was living in South Africa, I often got the comment 'Thanks for inviting me to your barbeque. I'd love to come, but only if you're making chicken livers'.
17 Koeksisters
My recipe for koeksisters is quick and easy – these are made without yeast, but I defy you to tell the difference between these 'instant' koeksisters and the traditional yeast-based variety.
18 Peppermint crisp fridge tart
One of the most decadent desserts I've ever made. You will definitely only be able to manage one piece of this, but it is SO worth it.
19 Trinchado
This recipe is loosely based on the Trinchado we used to eat in Portuguese restaurants that are very popular in Johannesburg. It's normally served with french fries, but in my opinion, a slice of crusty bread does a much better job of mopping up the sauce!
20 Scalloped potatoes
I grew up in the north of England eating these – it was such a treat to get home from school and find scalloped potatoes on the menu! Serve these with a dollop of tomato ketchup for dunking, and you've got heaven on a plate.
Least searched recipes
And now, as promised, here are 10 of my recipes that no one seems to be searching for. It's a pity really because I think they are well worth making! I'd love to know whether these dishes are something you would enjoy eating. Why not leave me a comment and let me know.
Let me know what you think
I hope you enjoyed browsing through this list of my top 20 recipes. I'd love to know what you think, and if there's a recipe that you like to me make and publish, just let me know in the comments below.
If you'd like to be notified of any new recipes, why not subscribe to my newsletter? As a thank-you gift, you will receive a free recipe e-book containing some of my most popular cakes and desserts.