Here are my top 10 recipes for December 2019 as viewed by YOU, the reader. There's something savoury, something sweet and even something alcoholic. Have a browse and see if you can find YOUR next favourite recipe amongst them.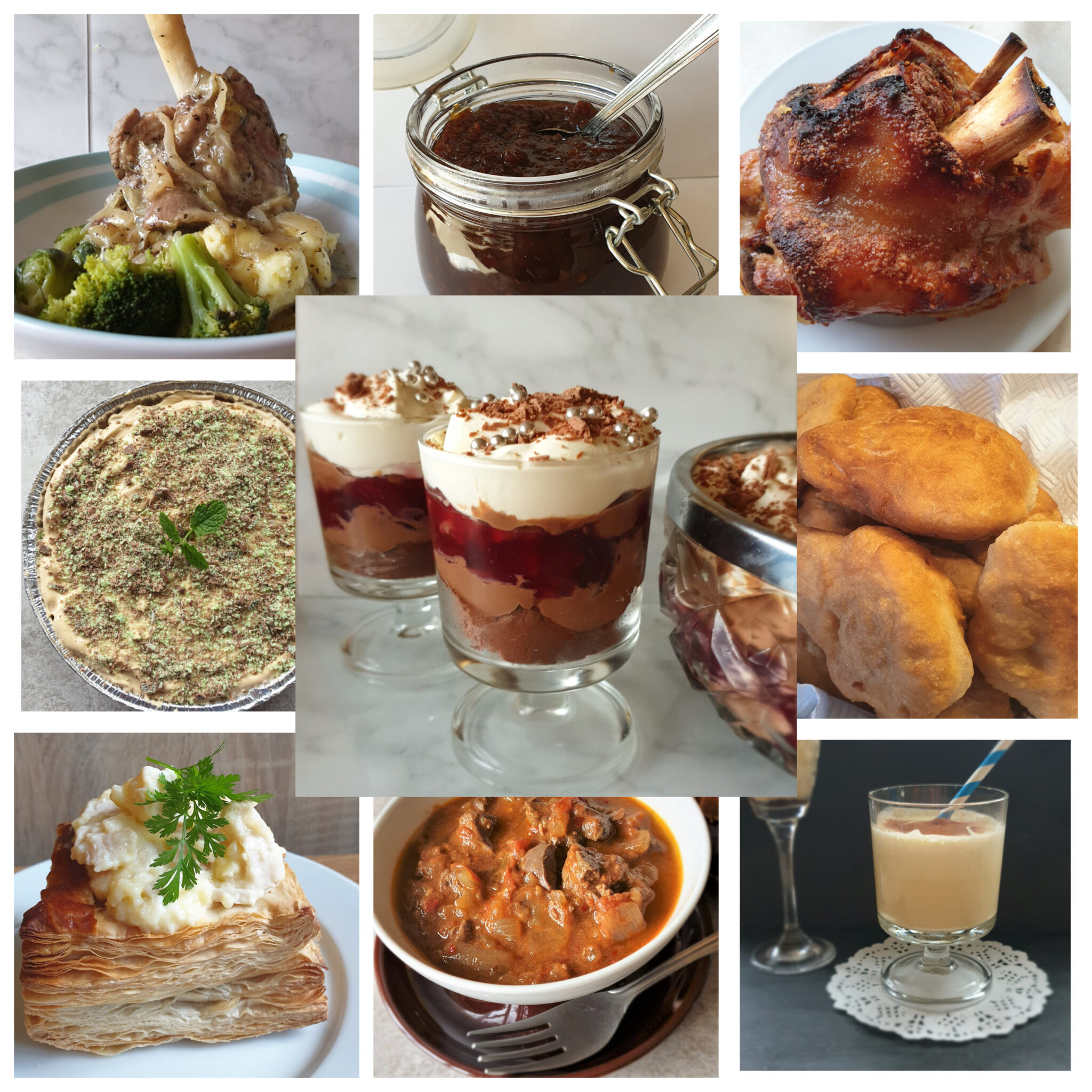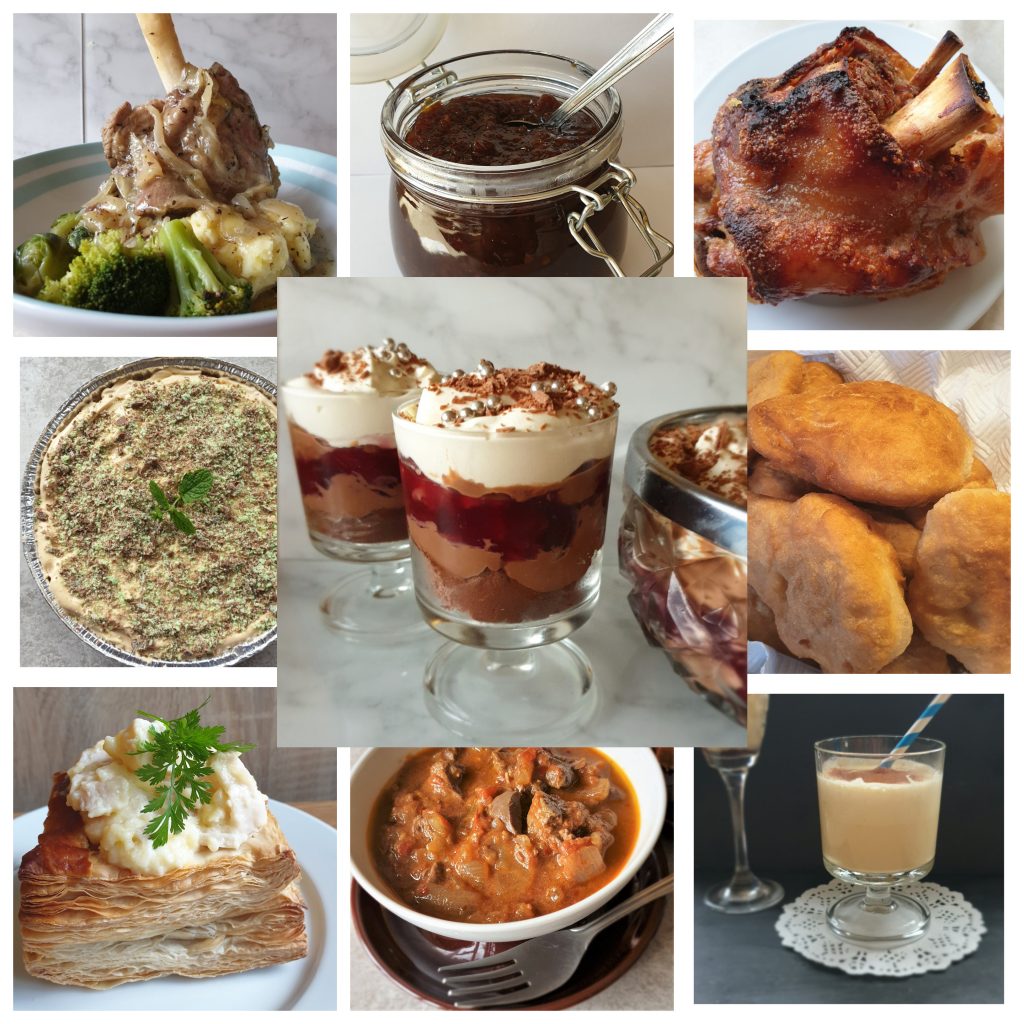 **As an Amazon affiliate, I earn from qualifying purchases.**
Mrs Balls Chutney – copycat recipe
My top recipe for December 2019 is Mrs Balls Chutney. This recipe has been a hit ever since I first published it. It's a tangy fruity chutney, loosely based on the recipe for the iconic (and delicious) South African Mrs Balls Chutney.
Ever since I first published this recipe back in June this year, it's been drawing readers like a magnet. I always keep a jar of this in the fridge (it stays fresh for months) and add it to stews an cassroles for a bit of extra oomph. And it is is great for spreading on sandwiches with leftover roast meat.
Peppermint Crisp Fridge Tart
In at number 2 is another South African favourite, Peppermint Crisp Fridge Tart. This is a rich creamy dessert made with cream, caramelised condensed milk and peppermint chocolate. It sounds a though it might be really sweet, but the coolness of the peppermint cuts through the richness, leaving you with a dessert that has people coming back for more.
Vetkoek and curried mince
Number 3 on the list is yet another South African classic (does anyone else notice a pattern emerging here?) Vetkoek and curried mince.
When I lived in South Africa, this was my normal Saturday evening meal. It went down a treat after the Rugby (and beers) 🙂 .
How to make vol-au-vents
Moving away from South Africa to France, the recipe coming in at number 4 is how to make vol-au-vents. This recipe guides you through the steps of making your own vol-au-vent pastry shells, using shop bought puff pastry. Now all you have to do is ladle in your favourite filling!
Crispy pork knuckle with Saute Potatoes
Over to Germay now for recipe number 5. Crispy pork knuckle with saute potatoes is my twist on the German Eisbein. The pictures really don't do justice to this delicious meal. Crispy pork crackling, surrounding the juiciest and most tender pork knuckle that has pulled away from the bone. This has to be tasted to be believed. As a bonus, I've included a recipe for saute potatoes, which are the perfect accompaniment to the Eisbein.
Lamb shanks with minted gravy
Finally, at number 6, we have a British entry. Lamb shanks with minted gravy which is my personal favourite. Succulent lamb, which is so tender you could cut it with a spoon, smothered with a delicious minted gravy, nestled on a pile of mustard mashed potatoes. Comfort food doesn't get much better than this.
Dom Pedro
Back to South Africa now for number 7 – the classic Dom Pedro cocktail. South African readers will need no introduction to this one, but for the rest of the world, this is a dessert/cocktail made by mixing cream and icecream, and lacing liberally with a shot of Bailleys Cream Liqueur. There are no words ….. you have to taste it for yourself!
Peri Peri Chicken Livers
My South African recipes are proving popular. Number 8 on this list is peri peri chicken livers. In posh restauarants chicken livers are often served 'au naturel', but I've spiced up my version to include a delicious tomato and onion gravy, which you can mop up with chunks of crusty bread.
Black Forest Trifle
Black Forest Trifle is a combination of countries – English trifle, but with a German Black Forest twist. I published this recipe half way through December, and it's already made its way into my top 10 recipes. Chocolate cake, custard, cream and juicy cherries, spiced up with cherry brandy. You can make this trifle any time of the year for an impressive dinner party dessert or a special family celebration.
Crepe cannelloni with meat sauce and cheese
The final recipe of my top 10 recipes for December 2019 collection is this crepe canneloni with meat sauce and cheese. When my grandsons were younger this was their favourite meal, especially when I made extra crepes and served them for dessert! I don't think there's a country associated with this dish, so let's just say it's a distant cousin of an Italian cannelloni.
So there you have it, my top 10 recipes for December 2019. It seems as though my South African recipes are proving popular. I've been posting quite a few traditional English recipes lately, like Lancashire Hotpot and Yorkshire meat and potato pie. Let's see what next month brings.
In the meantime, why not let me know your favourite recipe in the comments below. And don't forget to subscribe to my newsletter too. It's free, and as a thankyou for subscribing you can download a free recipe book with my compliments.