Sometimes the easiest recipes are the best. I love making scrambled eggs with smoked salmon for a quick weekend breakfast treat, or for a special occasion. The creaminess of the scrambled eggs pairs beautifully with the smoky flavour of the salmon. And it's so simple to make too – it's ready in less than 20 minutes.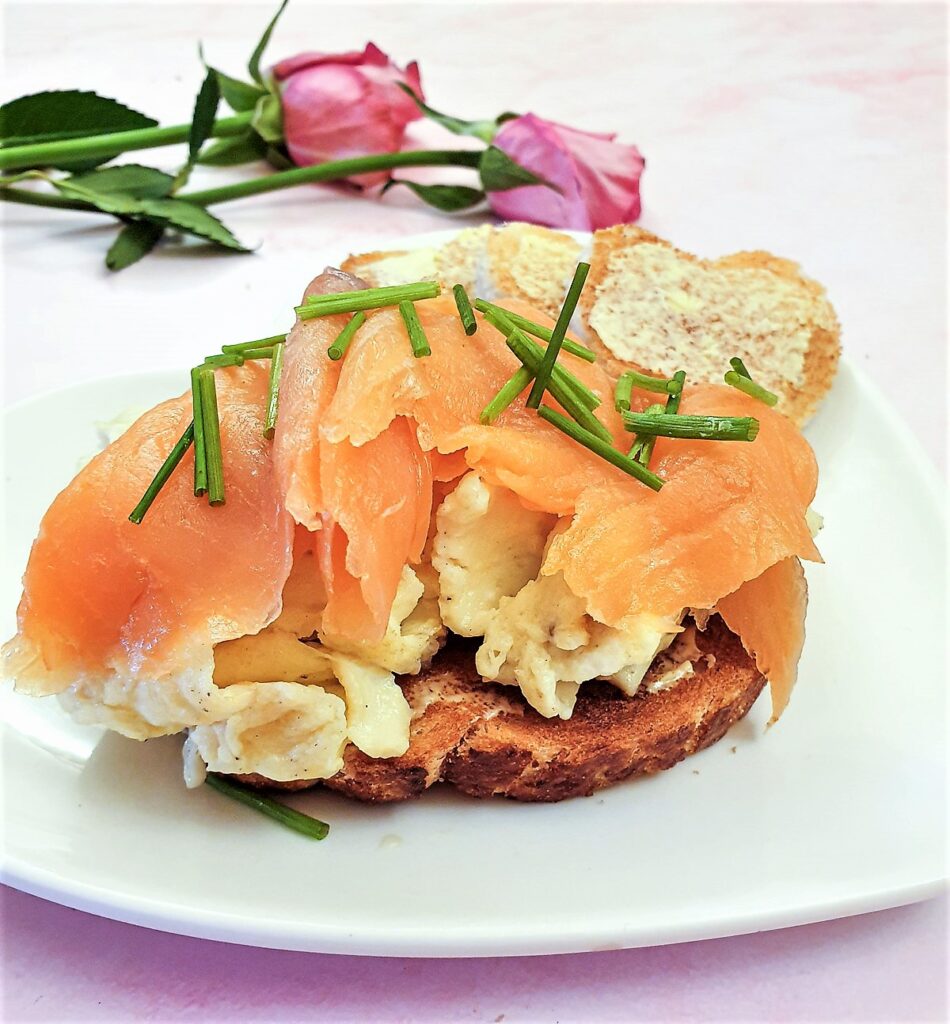 **As an Amazon affiliate, I earn from qualifying purchases.**
A quick and easy breakfast
I have to admit that this is more of a meal idea than an actual recipe, but it tastes so good that I had to include it on my website.
And what could be easier? All you have to do is buy a packet of sliced smoked salmon from the supermarket, make a pan of scrambled eggs, put a couple of slices of bread in the toaster, and you have a meal fit for a king in less time than it will take you to read this post.
If you're looking for a traditional eggs benedict recipe that calls for poaching eggs and making a hollandaise sauce to pour over the salmon, then I would suggest that you try this eggs benedict recipe from Nagi over at the RecipeTinEats website.
But if you are just looking for something simple to impress loved ones at the weekend or for a special occasion such as Valentine's Day that you can throw together in less than half an hour, then read on.
I always make my scrambled eggs with cream. You don't need much, just one spoonful per egg, and it does make all the difference to the taste of the scrambled eggs.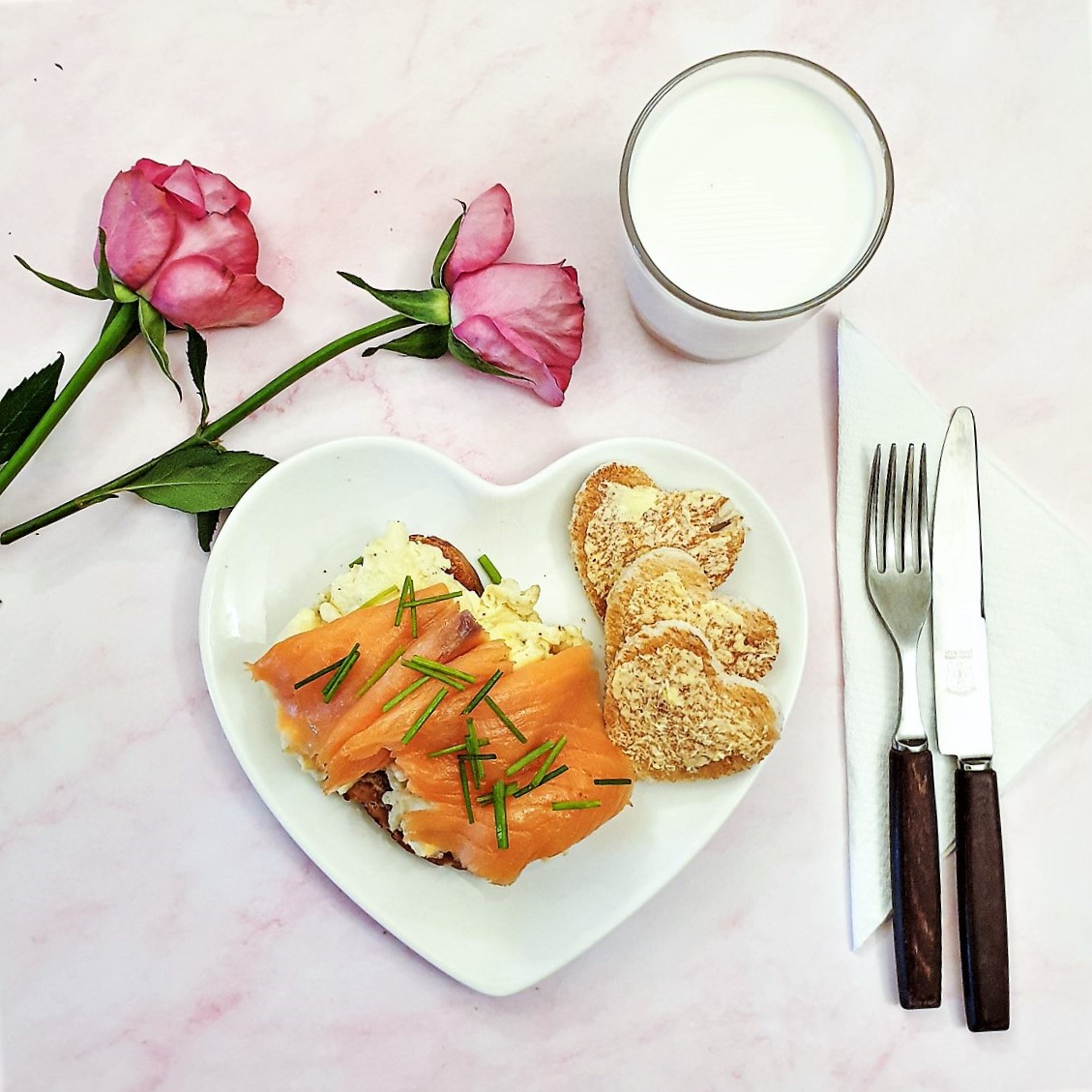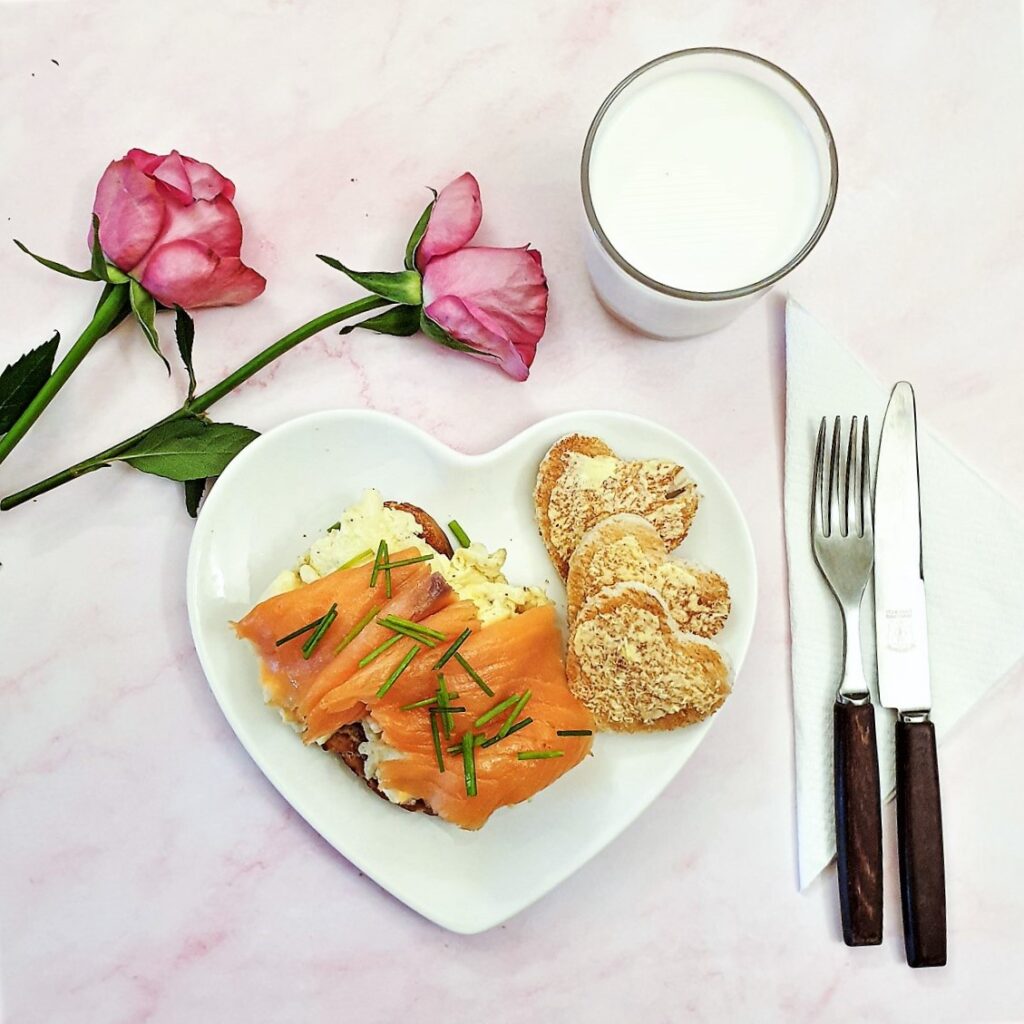 Ingredients
**You can get the complete list of ingredients and full instructions for making scrambled eggs and smoked salmon on the printable recipe card at the end of this post**
This recipe serves 2 people, but you can easily increase the ingredients to feed more people.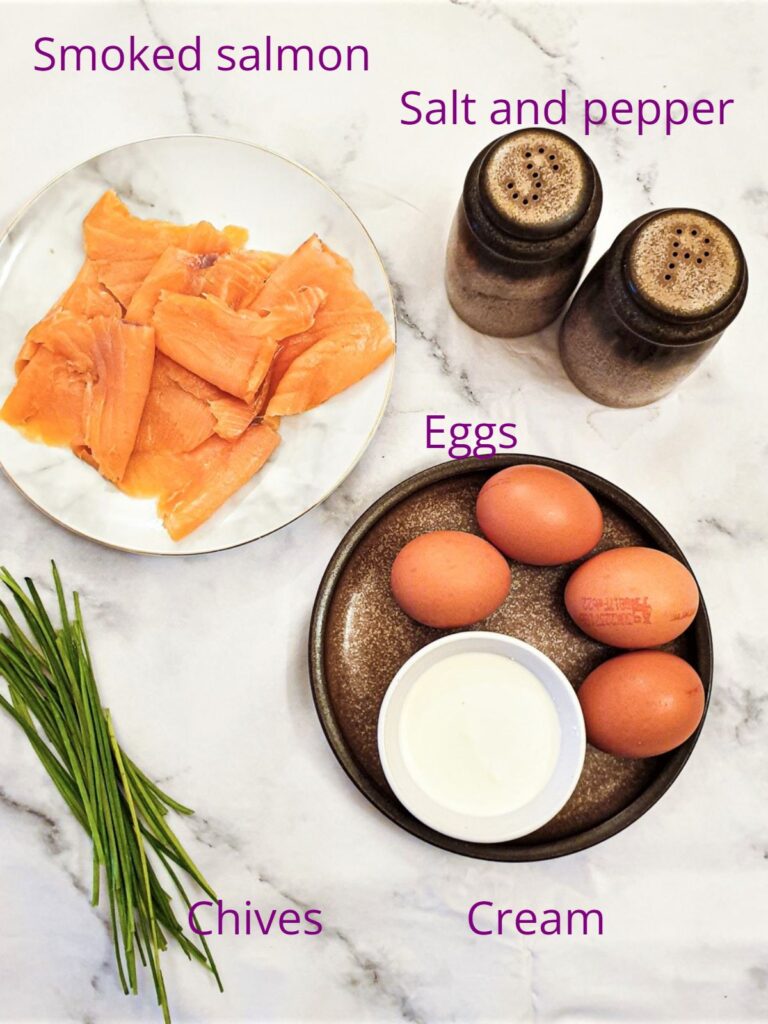 Smoked salmon – You can buy sliced smoked salmon at the fish counter of any large supermarket. It comes in various sizes from 60 grams to 250 grams (2 ounces to just over half a pound). 60 grams is ample for 2 people, but it is probably more economical to buy the larger sizes. You can freeze any leftover smoked salmon, so it won't go to waste if you buy a larger pack.
Eggs – one to two eggs per person, depending on appetite.
Single cream – this makes a huge difference to the creaminess of the scrambled egg. If you are watching your weight then you can substitute with either full-fat or semi-skimmed milk.
Chives – for a sprinkle of garnish.
Salt and pepper – for seasoning. I'd go easy on the salt in the eggs as smoked salmon can be a bit salty, but a good grinding of black pepper is essential.
Lemon – not pictured, and also optional. If you enjoy lemon with fish, then you could sprinkle a few drops of lemon juice on top of the salmon.
Butter – not pictured – for frying the eggs.
Bread – not pictured. Slices of crusty bread for toast. If you prefer you can also serve the scrambled eggs and smoked salmon on top of a toasted English muffin.
How to make it
Toast the bread in a toaster or under the grill in the oven. Spread with butter and keep warm.
Start off by breaking the eggs into a small mixing bowl. Season them with salt and pepper to taste and add one tablespoon of cream (or milk) per egg.
Heat a knob of butter in a non-stick frying pan on a low heat.
As soon as the butter is completely melted, pour in the beaten egg.
As soon as the egg shows signs of setting, gently push the edges of the egg towards the middle of the pan so that the runny parts of the egg run onto the base of the pan (image 2).
Keep pushing the egg around until there is no more 'runny' egg (image 3).
Use the spatula to turn the eggs over.
You should large fluffy pieces of perfectly cooked scrambled egg. Remove from the heat and spoon over slices of toast.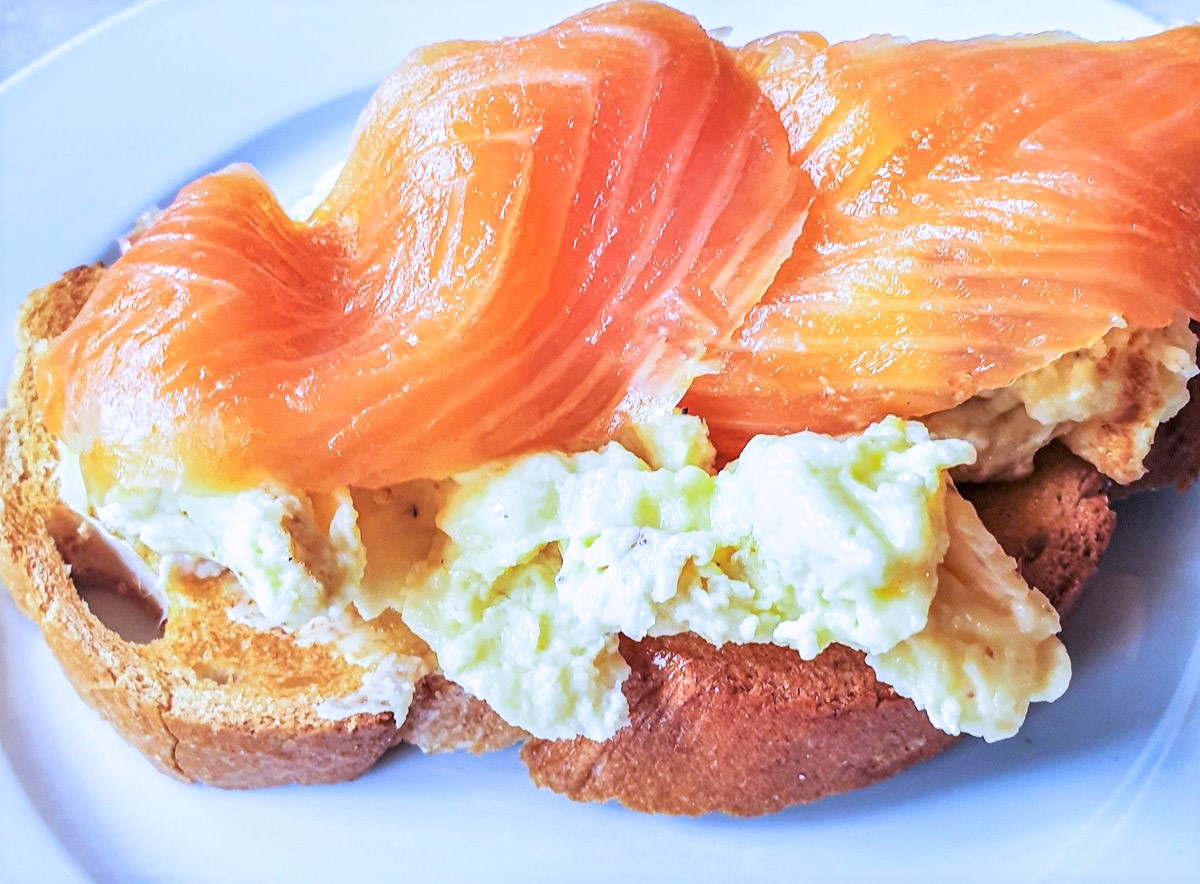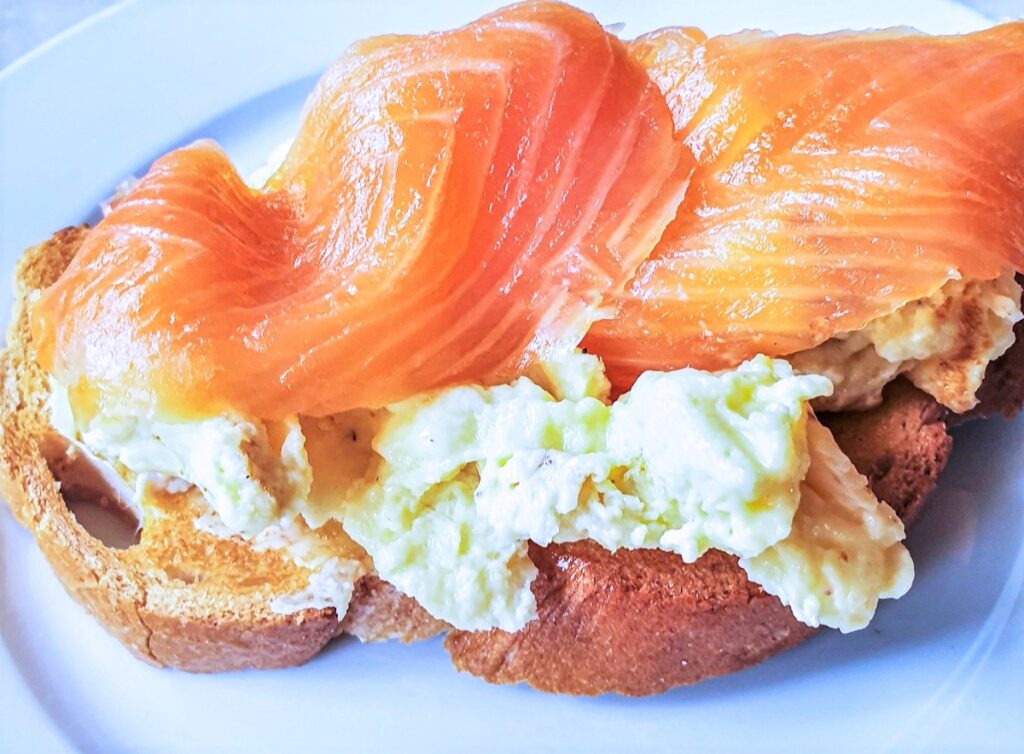 If you'd like to be notified of any new recipes, why not subscribe to my newsletter. As a thank you gift, you will receive a free recipe e-book containing some of my most popular cakes and desserts.
Variations
The above is just the basic recipe. You might like to try adding these extra ingredients to the eggs.
a teaspoon of chopped fresh dill – dill goes beautifully with salmon.
a few drops of tabasco (or sriracha) sauce for extra zing
one or two tablespoons of grated cheddar cheese. Sprinkle this on top of the eggs once you have added them to the pan so that the cheese can melt through the eggs as they cook.
And of course, you can add additional breakfast ingredients. My particular favourites are:
sliced mushrooms sauteed in butter until the mushrooms are golden brown.
grilled tomato slices
Freezing and storage
I wouldn't freeze the scrambled eggs.
Any leftover smoked salmon can be frozen in a plastic bag for up to 3 months. Let it defrost in the refrigerator before using.
Pin for later
If you'd like to make scrambled eggs with smoked salmon, why not pin the recipe to one of your Pinterest boards so you can find it easily. Just click on the image below.
Other recipes
If you liked this recipe, perhaps you'd like to try some of these too:
The recipe
If you made this recipe and enjoyed it, I'd love it if you could give me a star rating in the comments below. And if you'd like to get in touch, you can email me at [email protected]. I'd love to hear from you. And don't forget to subscribe to my mailing list so you can grab yourself a copy of my FREE COOKBOOK!
If you'd like to continue browsing, just click on this link to all my recipes.
I have linked this recipe to #CookBlogShare Week 5 2022, run by Sisley and Chloe and hosted by Sisley at Sew White