These sheet pan pork chops with broccoli, covered with a sticky honey garlic glaze, make a delicious and easy mid-week supper. Just put the glazed chops on a sheet pan, add broccoli and potatoes, bake in the oven and sit back and wait for compliments.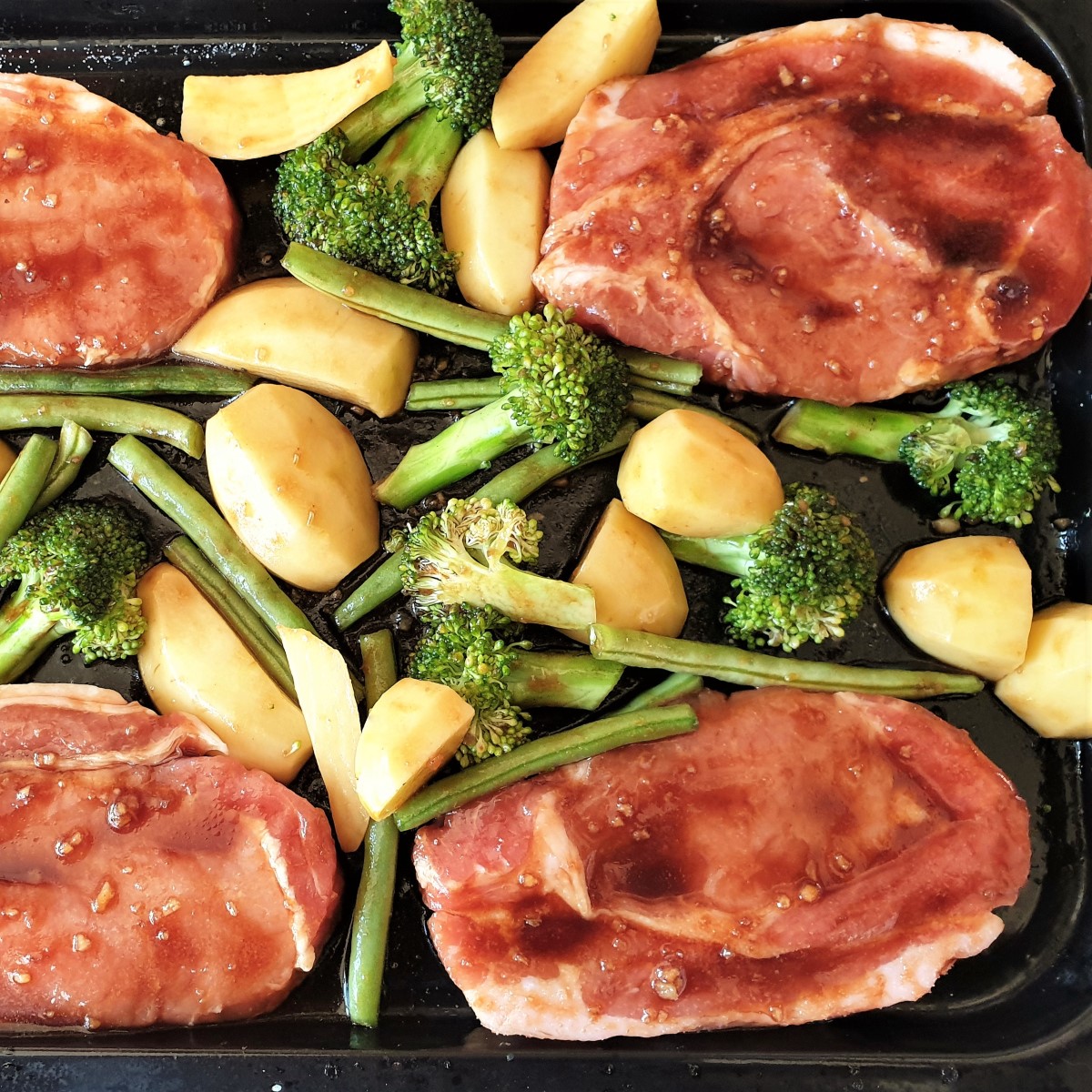 Sheet pan honey glazed pork chops with broccoli
I love how easy it is to make a sheet pan dinner. And this is one of my favourite recipes. Boneless pork chops are marinated in my special honey garlic glaze, and baked to perfection with broccoli and potates.
For extra flavour, and a bit of colour, I like to sprinkle the cooked pork chops with a little parmesan cheese and place back in the oven for 5 minutes longer, to let the cheese melt.
There's no fussing about with this recipe. Just arrange everything on a baking sheet – cover with a sheet of tinfoil and bake. What could be easier?
You can really use any vegetables you like for this sheet pan supper. I've used broccoli and green beans, because I love the taste of the sauce as it permeates the broccoli. But sweet potato, butternut or carrots would work just as well.
The marinade combines with the cooking juices and makes a delicious sauce. I think this meal can quite easily be served just as it is, but if you want something to spoon the delicious sauce over, you could serve it with a bowl of white rice.
Honey garlic glaze
This glaze goes with anything. I also use it as a marinade for this roast pork in garlic sauce and this easy garlic chicken stirfry, with the addition of a little chili.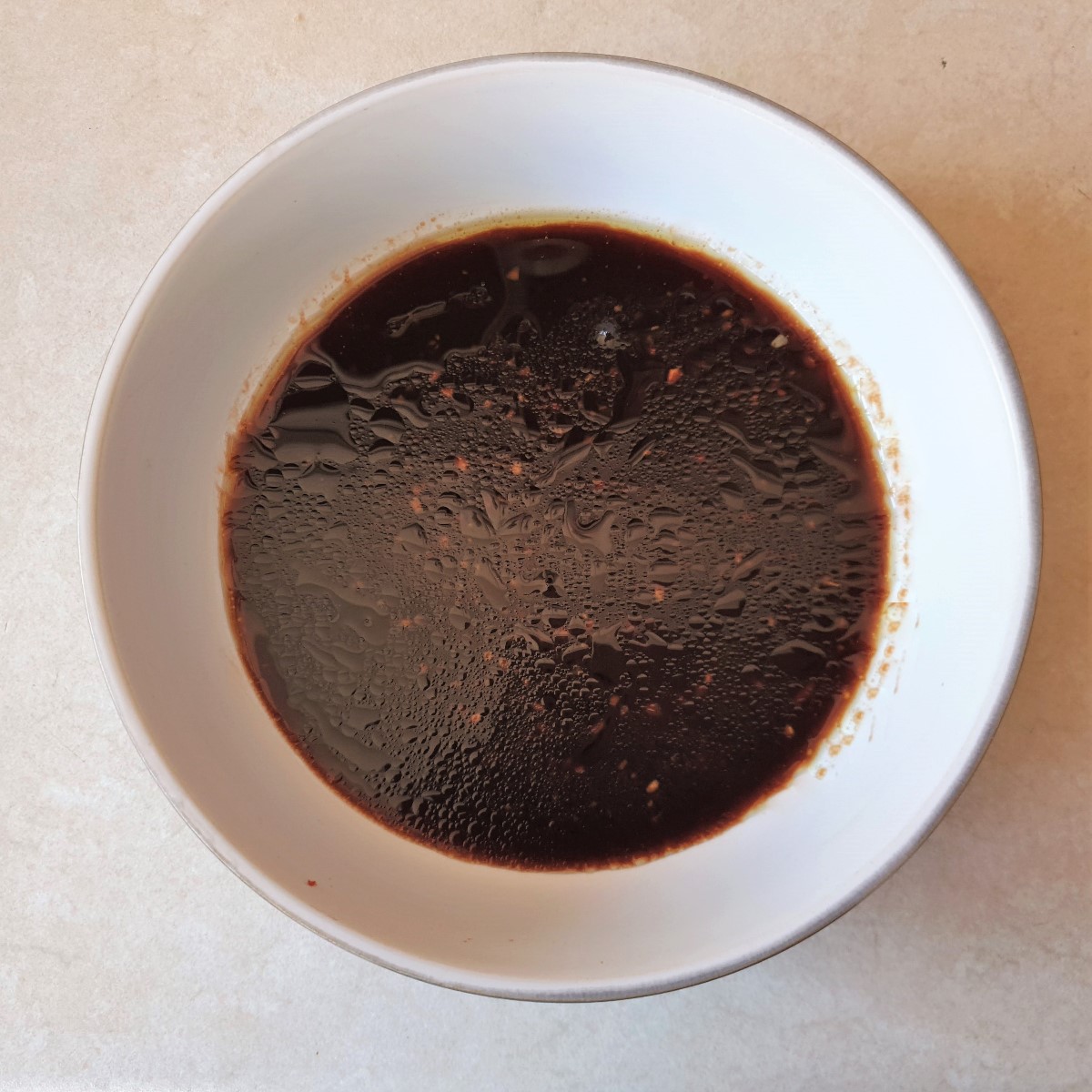 This honey glaze is so easy to make – just mix all the ingredients together in a small mixing bowl. The ingredients you will need are olive oil, garlic, ginger, soy sauce, honey, brown sugar, apple cider vinegar and tomato paste.
I know that it looks like quite a long list, but believe me these flavours work so well together, and you probably have most if not all of them in your cupboard already.
You can use fresh ginger and garlic, or if you don't have fresh available, just substitute with your favourite brand from a jar.
If you don't have apple cider vinegar you can use white or red wine vinegar, or even rice wine vinegar. Failing that, white spirit vinegar will be fine. Just don't use brown malted vinegar, the flavour will be wrong
How to make sheet pan pork chops with broccoli
Just follow these easy steps and you'll be eating these delicious sheet pan pork chops in no time. You can get the complete recipe on the printable recipe card at the end of this post.
This recipe will feed 2 hungry people. To feed more, just increase the recipe ingredients.
You should allow between 120g and 140g of pork per person (or between 4.25 to 4.5 ounces)
Coat the pork chops with the honey glaze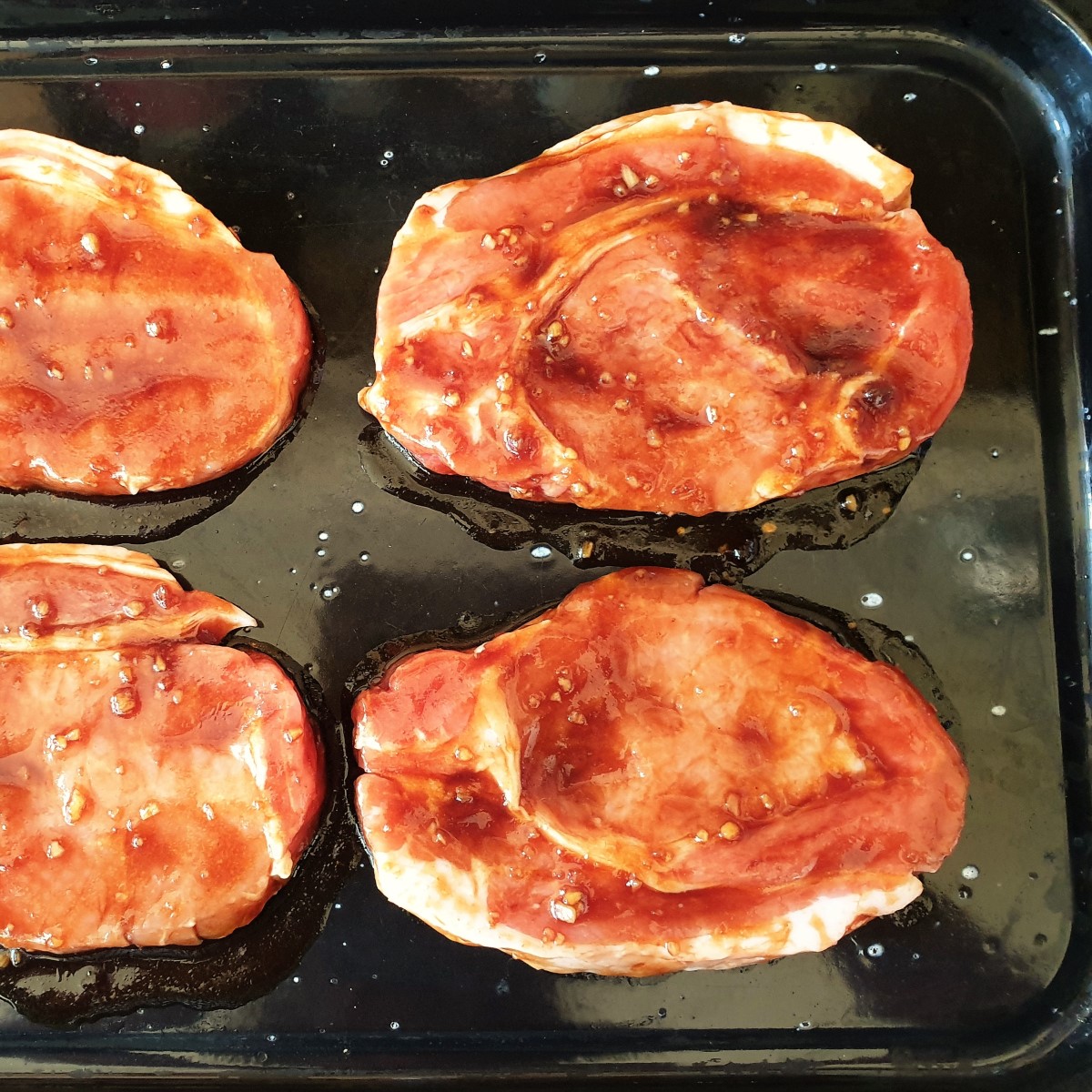 I like to use boneless pork chops with as little fat as possible. Because the chops are cooked covered in tinfoil any pork rind will not turn crispy so I trim any rind away before cooking.
Coat the pork chops on both sides with in the garlic honey glaze and arrange them on a baking sheet. If you like to cook with salt, then sprinkle the chops lightly, otherwise just leave it out.
Let the pork chops stand for 10 minutes to marinate in the honey garlic glaze.
Add the rest of the ingredients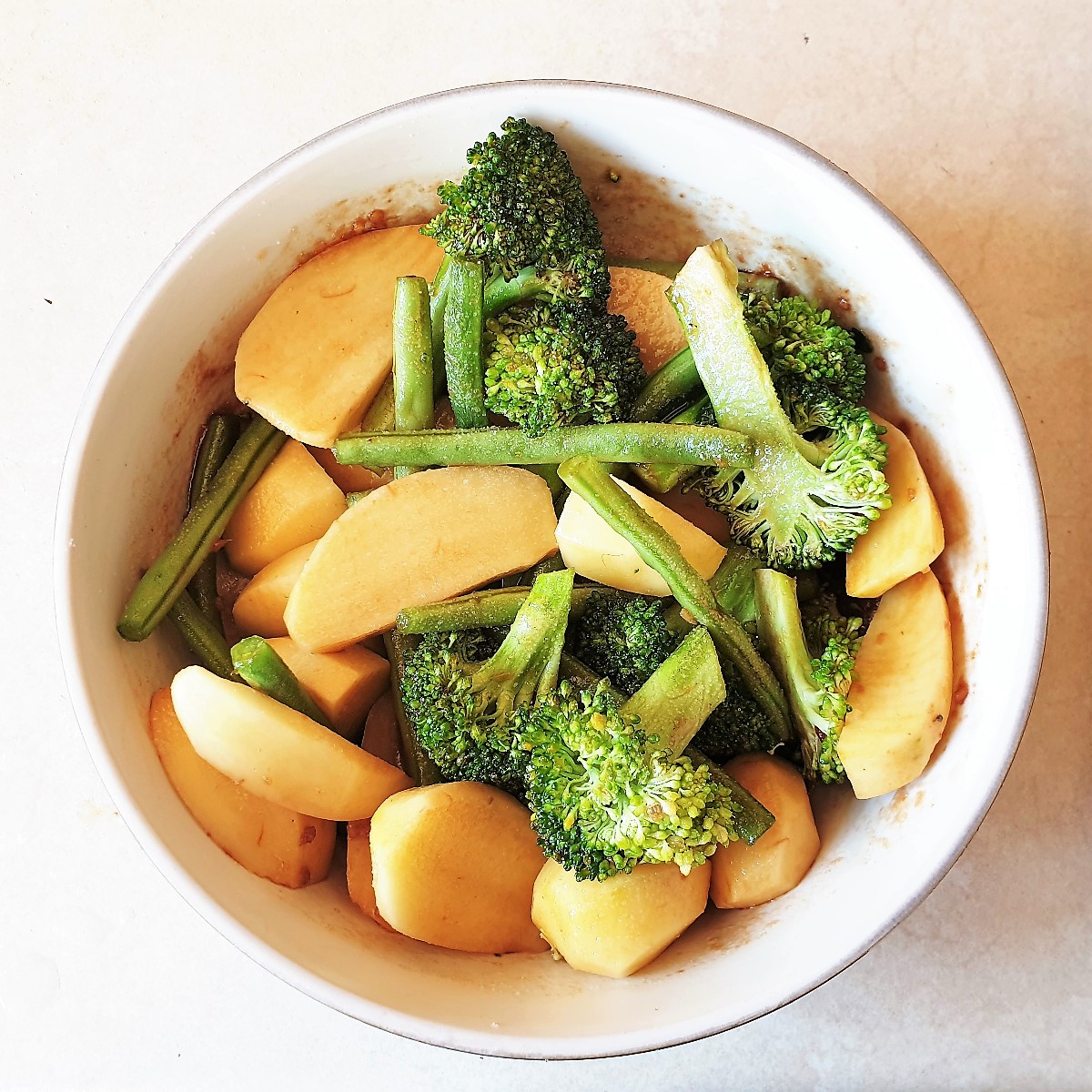 Chop the broccoli into florets and prepare any other vegetables you have selected. Make sure the potatoes are not cut into too large pieces or they will not cook through. I like to cut them into about 1 to 1.5 inch pieces.
Combine the broccoli with the remaining marinade, sprinkle lightly with salt (optional) …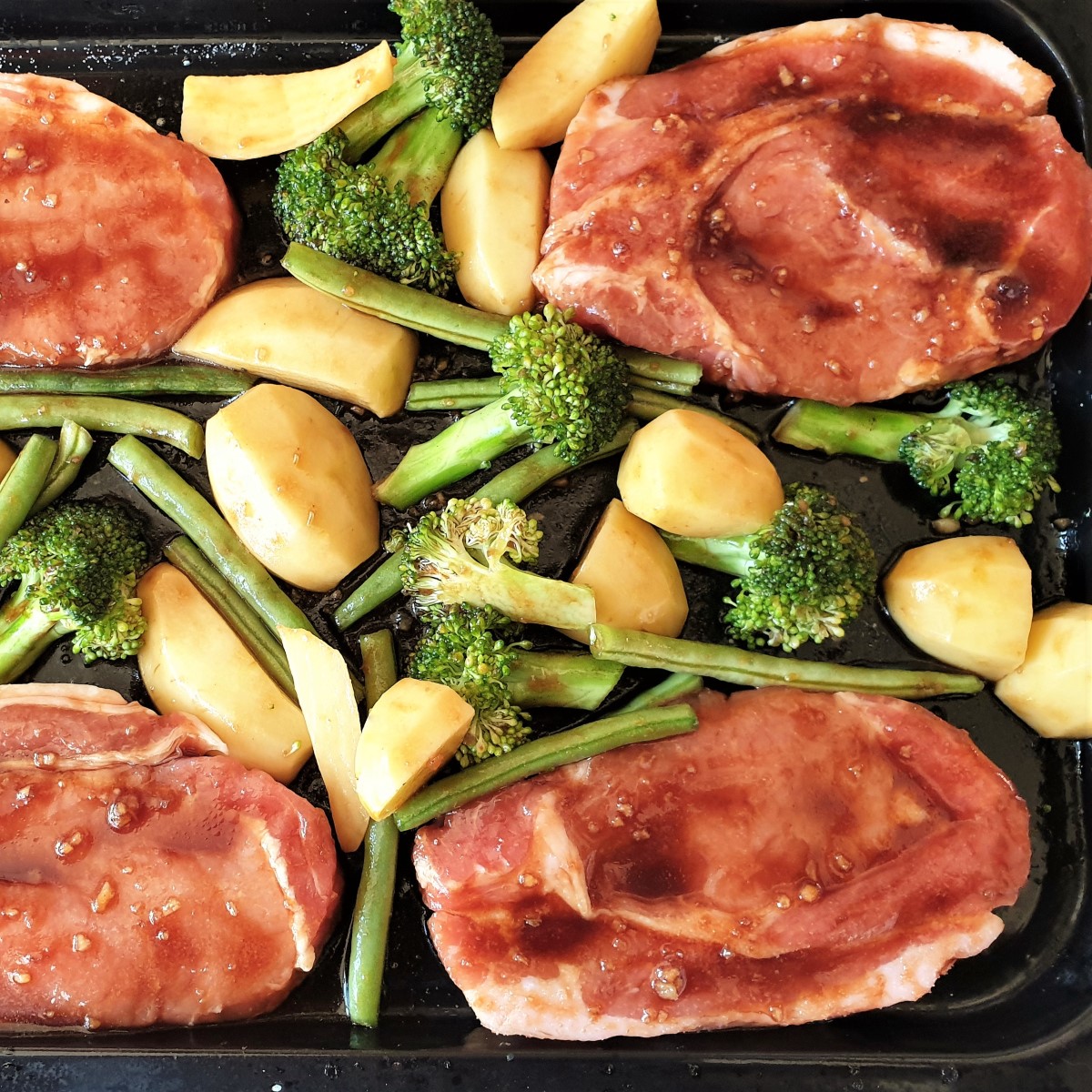 … and arrange the vegetables between the pork chops on the baking sheet.
Cover with a sheet of tinfoil and place in a pre-heated oven (200C/400F) for 35 minutes.
Add the parmesan cheese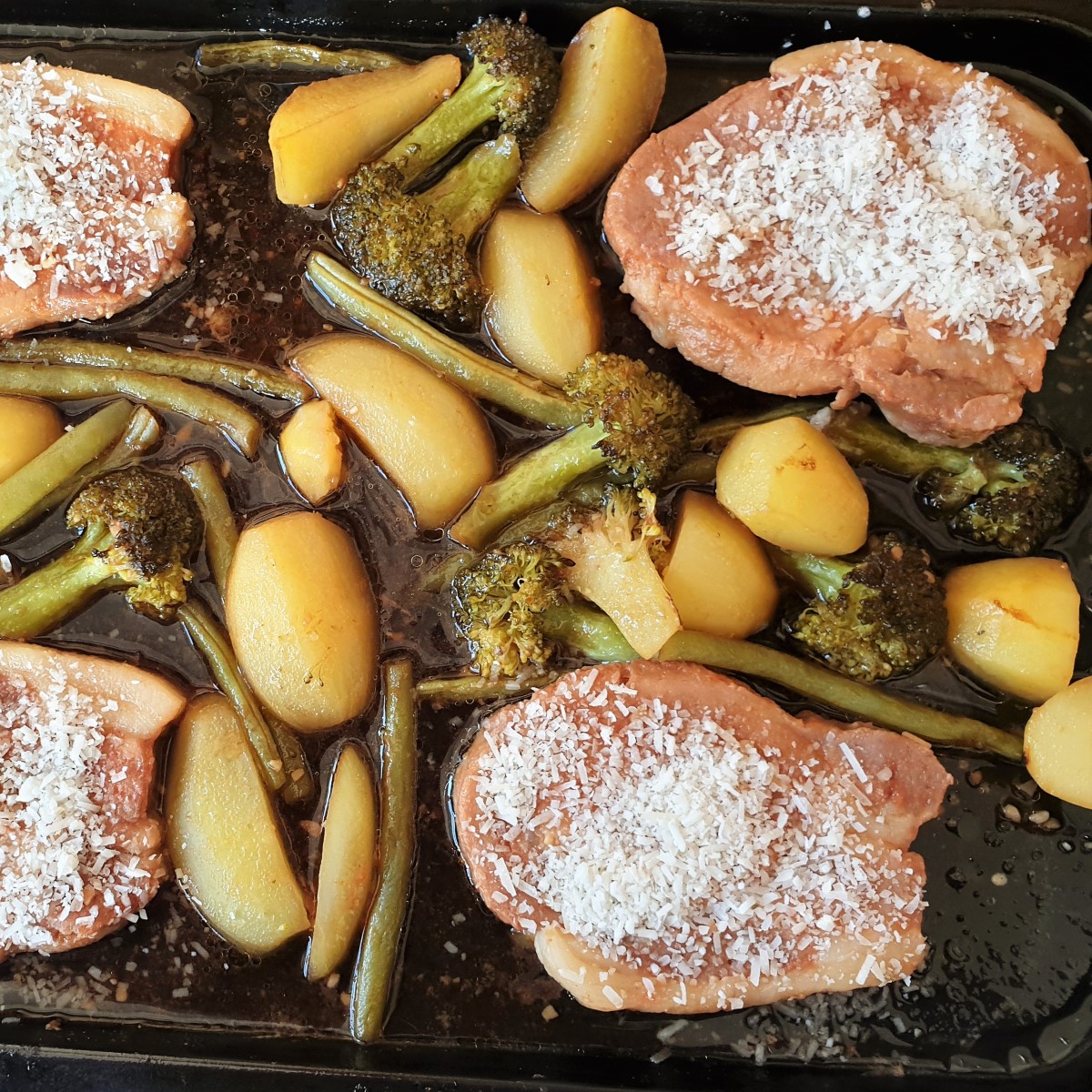 Remove the pork chops from the oven and carefully remove the tinfoil lid. Take care – there will be a lot of steam in there – I've burned myself more times than I like to think about on hot steam!
Sprinkle the pork chops with a little parmesan cheese and return them to the oven for 5 minutes or so until the cheese has melted.
Serve and enjoy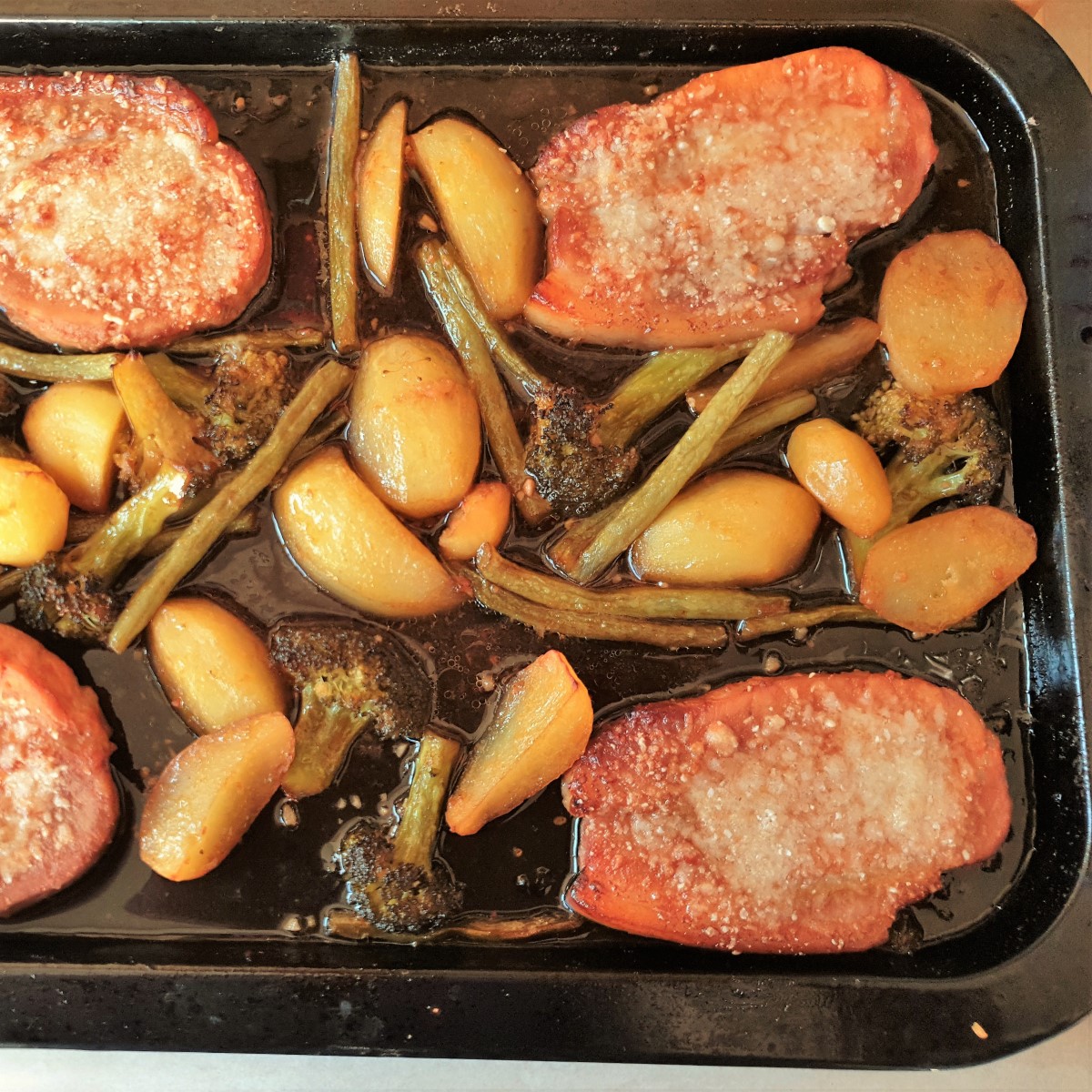 Because there are quite a lot of potatoes and vegetables in this you could serve it just as it is However, there will also be a lot of sauce on the tray. If you need something to soak up the sauce, serve with a bowl of white rice and spoon the sauce over the rice.
Can I freeze these pork chops?
Yes, you can freeze the pork chops once they have been coated in the honey garlic glaze. Just pack them into ziploc bags, pour in the rest of the glaze, and store in the freezer for up to 3 months.
To use, defrost in the refrigerator and then arrange them with potatoes and broccoli on a sheet pan and bake them as per the recipe instructions.
There should be sufficient honey garlic glaze left in the ziploc bag to mix with the vegetables. If not, just mix up another batch of the marinade to mix with the vegetables.
If you want to keep up-to-date with my latest recipes why not follow along on Facebook or Pinterest. And don't forget to subscribe to my mailing list so you can get your FREE COOKERY BOOK
Convert grams to cups
To help you convert your recipes, I have created a handy Cookery Conversion Calculator which will convert ingredients between grams, ounces, tablespoons, cups and millilitres. I hope you will find it useful.
If you live at a high altitude you may find you need to adjust your baking recipes to compensate for this. You can read about how to do this in this post on baking at high altitudes.
Pin for later
Why not pin this recipe to your pinterest board so you can make it later. Just click the image below.
Recipe – Sheet pan pork chops with broccoli and honey garlic glaze
Sheet pan pork chops with with broccoli in a honey garlic glaze
Pork chops in a honey and garlic glaze, baked on a sheet pan with broccoli and potatoes and topped with parmesan cheese
Equipment
Flat sheet pan or baking tray

Mixing bowl

Tinfoil
Ingredients
280

g

(4.5 ounces) pork loin chops

rind and excess fat removed

2

medium

potatoes

cut into 1" chunks

½

small

head of broccoli

broken into florets

14

green beans

4

teaspoon

(1 ounce) parmesan cheese

grated
Honey garlic glaze
2

tablespoons

olive oil

1

teaspoon

crushed garlic

use garlic from a jar if you don't have fresh

½

teaspoon

grated ginger

use ginger from a jar if you don't have fresh

2

tablespoons

dark soy sauce

don't use light soy sauce, it will be too salty

2

tablespoons

honey

1

tablespoon

brown sugar

1

tablespoon

apple cider vinegar

you can substitute with white spirit vinegar

1

tablespoon

tomato paste

½

teaspoon

salt

optional
Instructions
Preheat the oven to 200°C / 400°F

Combine all the ingredients for the glaze in a mixing bowl.

Dip the chops in the glaze to coat both sides

Arrange the glazed chops on a baking tray or sheet pan and leave for 10 minutes to marinate.

While the chops are marinating, peel and chop the potatoes, top and tail the beans, break the broccoli into florets.

Mix the vegetables into the remaining glaze and arrange between the chops, in a single layer, on the sheet pan

Cover the pan with a layer of tinfoil

Place in a preheated oven for 35 minutes

Remove from oven and carefully remove the tinfoil

Sprinkle each chop with 1 teaspoon of grated parmesan cheese and return the pan, uncovered this time, to the oven for 5 minutes to allow the cheese to melt.

Remove from the oven and serve with a bowl of fluffy white rice.
I am not a nutritionist. The nutrition information has been calculated using an on-line calculator, and is intended for information and guidance purposes only. If the nutrition information is important to you, you should consider calculating it yourself, using your preferred tool.
If you made this recipe and enjoyed it, please don't forget to give me a star rating in the comments below. And if you'd like to get in touch, you can email me on foodleclub1@gmail.com. I'd love to hear from you. And don't forget to subscribe to my mailing list so you can grab yourself a copy of my FREE COOKBOOK!
If you'd like to continue browsing, just click on this link to all my recipes.