This oven-baked teriyaki chicken is packed with vegetables and swimming in a delicious Asian flavoured sauce. And it's so easy to make, you just pop it in the oven and forget about it until you are ready to eat.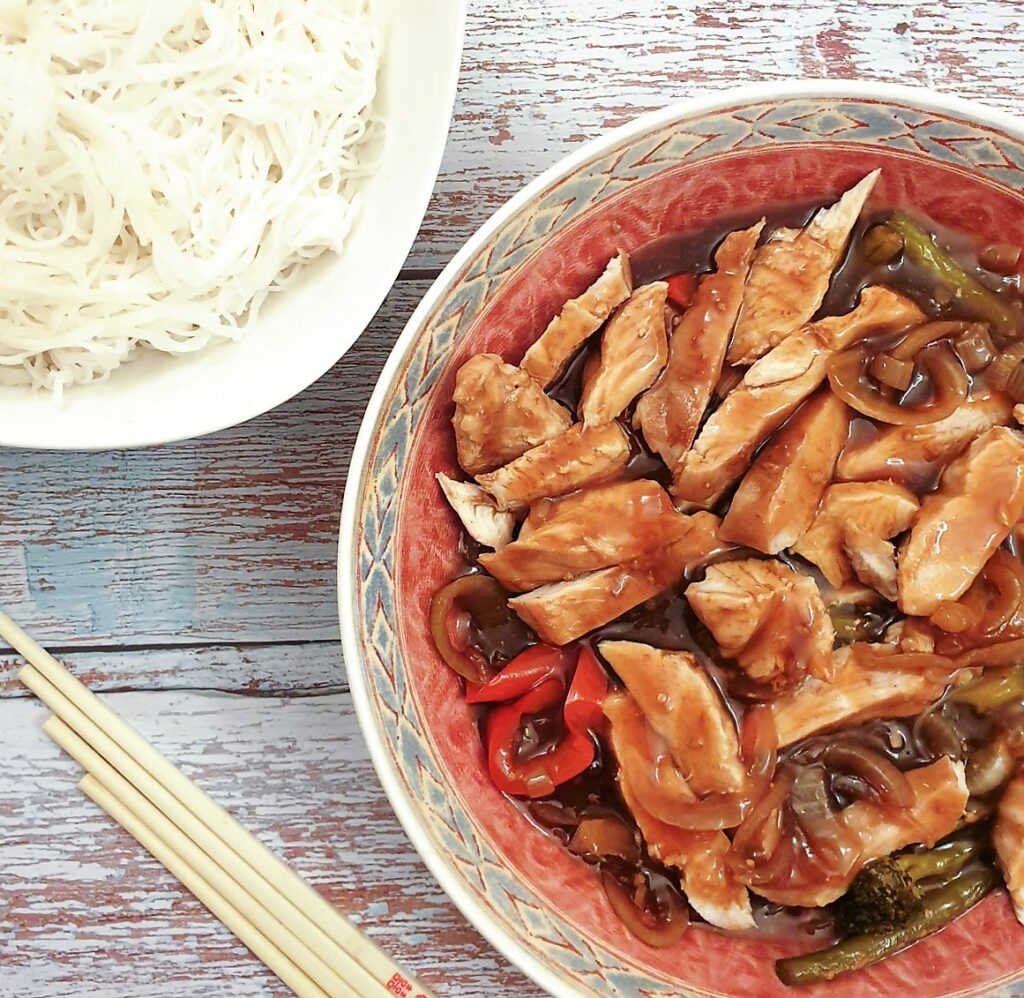 **As an Amazon affiliate, I earn from qualifying purchases.**
Almost a one-dish meal
Don't you just love it when you find a recipe for an easy meal that almost cooks itself? I do. And this is why I am sharing this recipe with you today. This oven-baked chicken teriyaki is almost a one-dish meal, you just have to boil up the teriyaki sauce first, so you do need to use an additional saucepan. However, you could cheat and use a bottle of store-bought sauce, but then you'd miss the delicious flavours that you get from making your own sauce.
I think the sauce is really the star of the show in this oven-baked teriyaki chicken. It elevates a rather boring dish of chicken and vegetables from the mundane to the extraordinary. And it's amazing to think how so few ingredients combine so well together to produce such complex flavours.
Teriyaki sauce is a sweet and tangy sticky sauce, with a savoury element provided by ginger and garlic. It also has a hint of nuttiness from sesame oil and umami from soy sauce. I like to make my own teriyaki sauce, because then I can control the taste. And of course, there are no added preservatives in homemade teriyaki sauce.
The chicken and vegetables are covered with teriyaki sauce before being baked in the oven, resulting in moist juicy chicken and tasty vegetables, which makes the perfect family supper served alongside a bowl of freshly cooked noodles or white rice.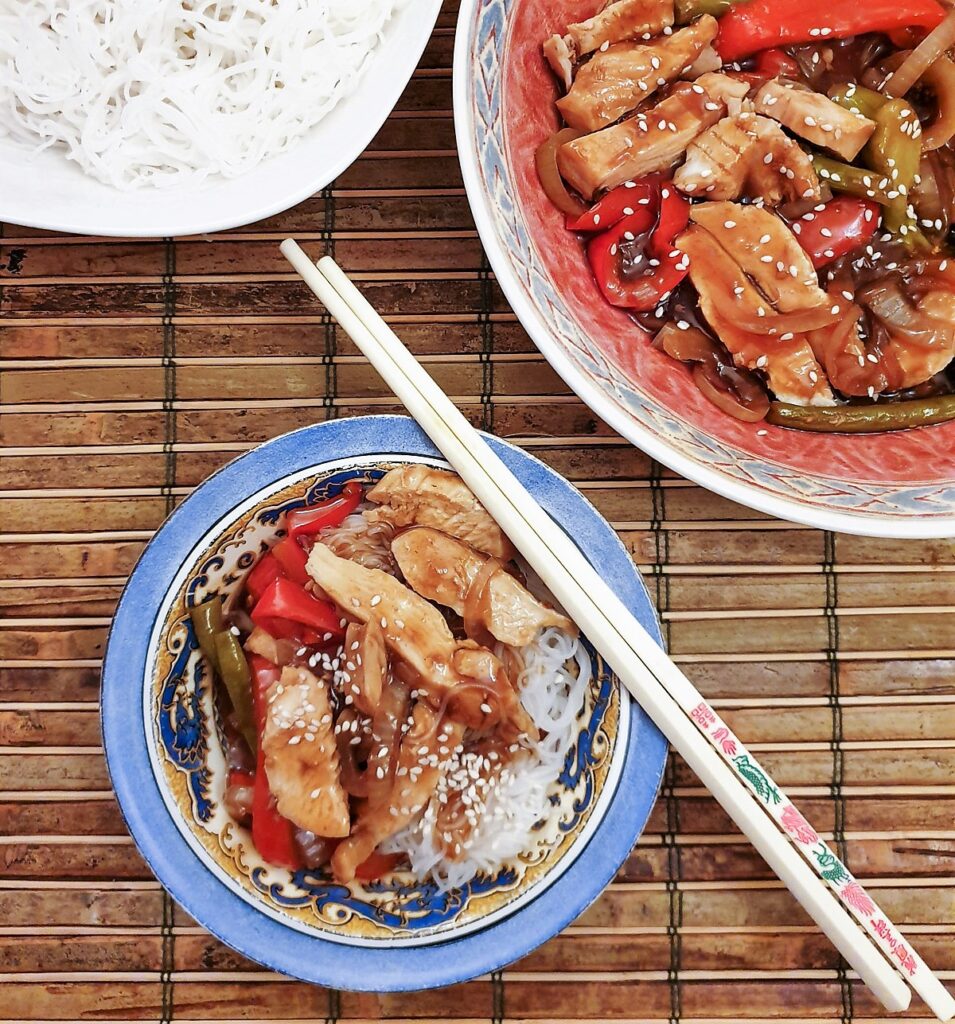 If you like to order chicken from your local takeaway, I think you are going to be pleasantly surprised with this recipe. In my opinion, this oven-baked teriyaki chicken tastes way better than any takeout, and you know exactly what's gone into it!
Ingredients you will need
You can get the complete list of ingredients and detailed instructions for making this teriyaki chicken on the printable recipe card at the end of this post.
For the teriyaki sauce
Note – authentic teriyaki sauce, as made in Japan, does not contain garlic, ginger or sesame oil. I've taken the liberty of including these extra ingredients in my version of this recipe to add an extra layer of flavour to the dish. If you want to try an authentic teriyaki sauce recipe you can find it on the japan.recipetineats.com website.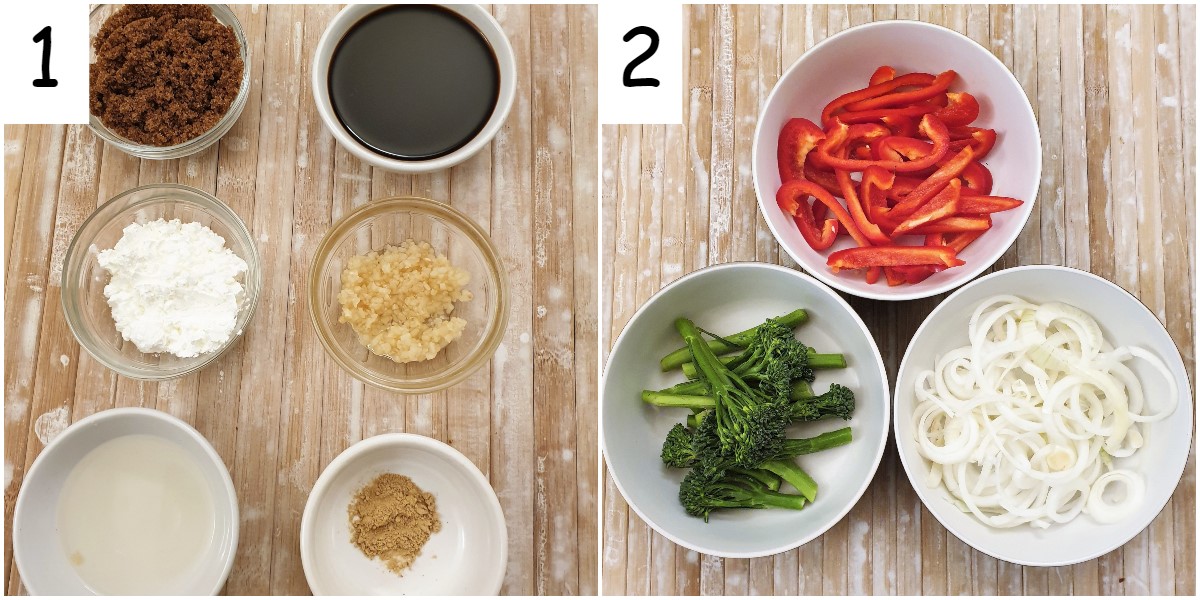 Dark soy sauce – this provides the saltiness and a hint of umami
Brown sugar – this provides the sweetness. I like to use dark brown sugar rather than white sugar because of the slight caramel flavour in the brown sugar. You can substitute the brown sugar with honey if you prefer.
Rice vinegar – this adds the sour element. You could use white wine vinegar or any fruit flavoured vinegar. Don't use malted brown vinegar – the taste will be wrong.
Garlic – you can use fresh cloves of garlic, or alternatively use crushed garlic from a jar.
Ginger – I like to use freshly grated ginger, but you could use ginger from a jar, or even dried ginger powder if that's all you have. If you are using ginger powder, you will only need a small amount as it is quite concentrated. Half a teaspoonful will be ample.
Sesame Oil – this provides a slight nuttiness. Sesame oil has a very strong taste and should never be used for frying food, it is only ever used for flavouring.
Cornflour – (also known as cornstarch) – this is used to thicken the sauce.
For the chicken and vegetables
Skinless chicken breast fillets – you could use chicken thigh fillets if you prefer the dark meat. One portion of chicken is between 3 and 4 ounces (or 85 to 110 grams).
Broccoli – I like to use tender stem broccoli or broccolini, but you can use broccoli florets if you prefer.
Red pepper or capsicum – thinly sliced, with the membrane and seeds removed.
Onions – thinly sliced. A mandolin is ideal for slicing the onions, or you could just use a sharp knife.
Green beans – topped and tailed. The teriyaki sauce adds a ton of flavour to plain green beans.
You could substitute any of the above vegetables with vegetables of your choice. Why not try a mixture of carrot ribbons, snow peas (sugar snaps), baby sweetcorn, pak choi or even asparagus.
Whatever vegetables you choose, you should allow approximately one cup of mixed vegetables per person. However, that said, you don't need to be too precise – you can add more vegetables if you want to bulk it out a bit.
How to make it
Teriyaki sauce
This is so easy to make. Just combine all the ingredients in a saucepan, and whisk over medium heat until the sugar has dissolved and the sauce has thickened. This should take about 5 minutes. The consistency should be that of thick gravy.
If the sauce doesn't thicken sufficiently, drizzle in a slurry of cornflour and water until the desired consistency is reached (image 1 below).
Assemble the dish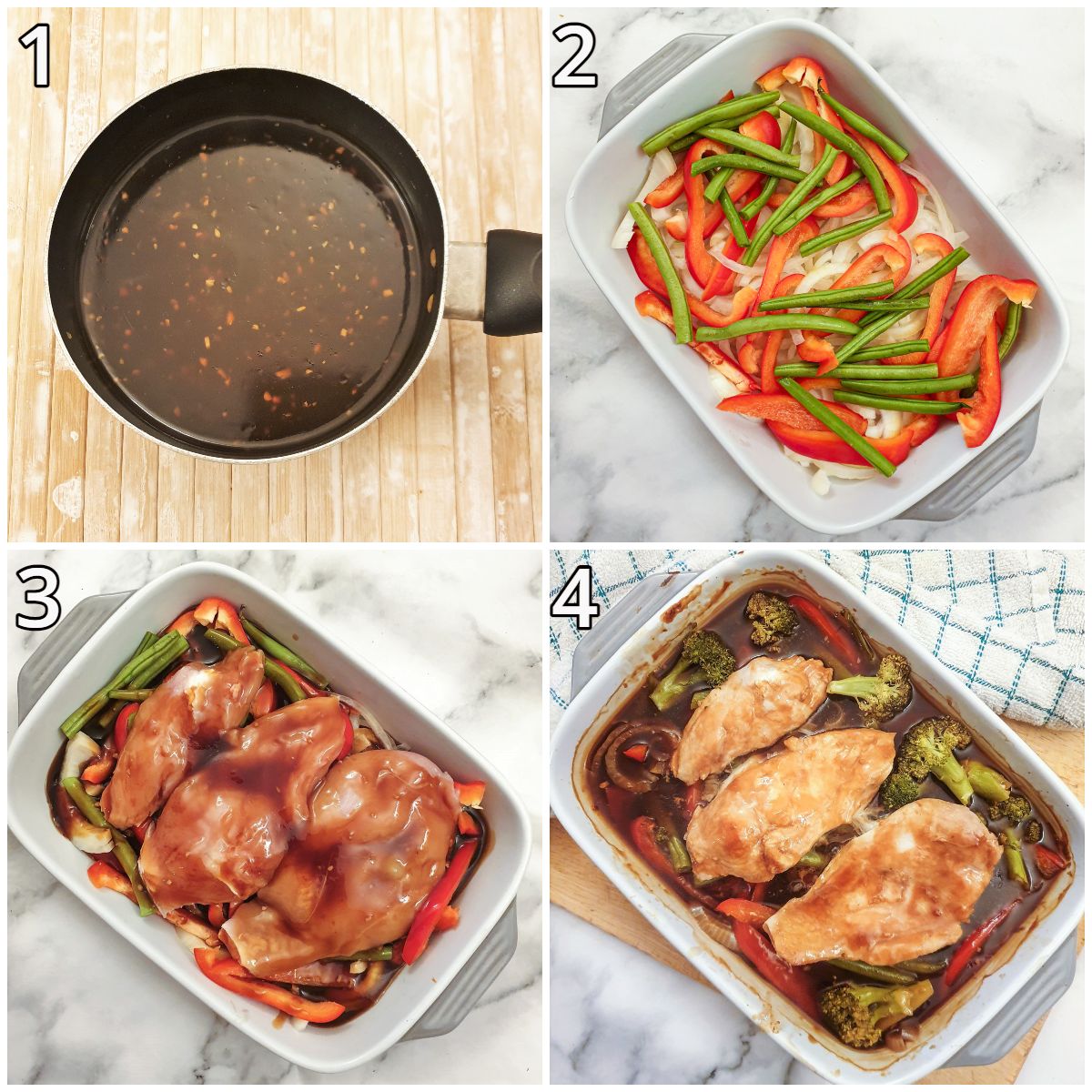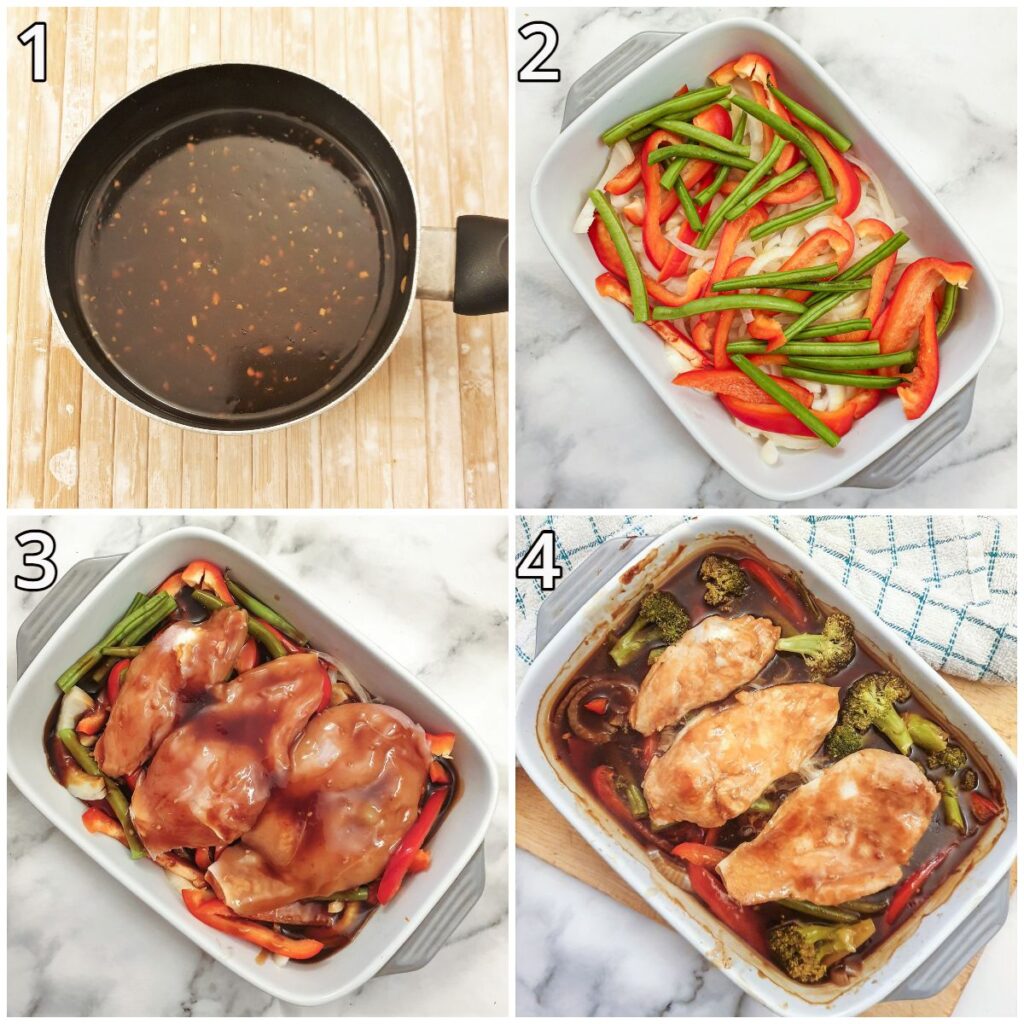 Slice the onions and red peppers and snip the ends off the beans. Arrange in a layer on the bottom of a casserole dish (image 2 above).
Season the chicken breasts with a little salt (optional) and arrange them on top of the vegetables and then pour the teriyaki sauce over the chicken and vegetables (image 3 above).
Cover the casserole dish with a lid and bake in a hot oven (200C/400F) for 20 minutes.
Remove the dish from the oven and arrange any softer vegetables you may be using, like broccoli or bean sprouts, between the chicken breasts.
Replace the lid and return to the oven for another 20 minutes until the chicken and vegetables are cooked (image 4 above). The internal temperature of the chicken should have reached at least 74C/165F.
Remove the dish from the oven. Remove the chicken breasts and slice them thinly.
Note – the vegetables should still be firm and crispy. If you prefer your vegetables to be a little softer, cover the dish (without the chicken) and return to the oven for a few minutes longer.
Transfer the vegetables to a serving dish and arrange the sliced chicken on top.
Spoon the remaining teriyaki sauce over the chicken and optionally sprinkle with sesame seeds.
Serve immediately with a bowl of freshly cooked noodles or white rice.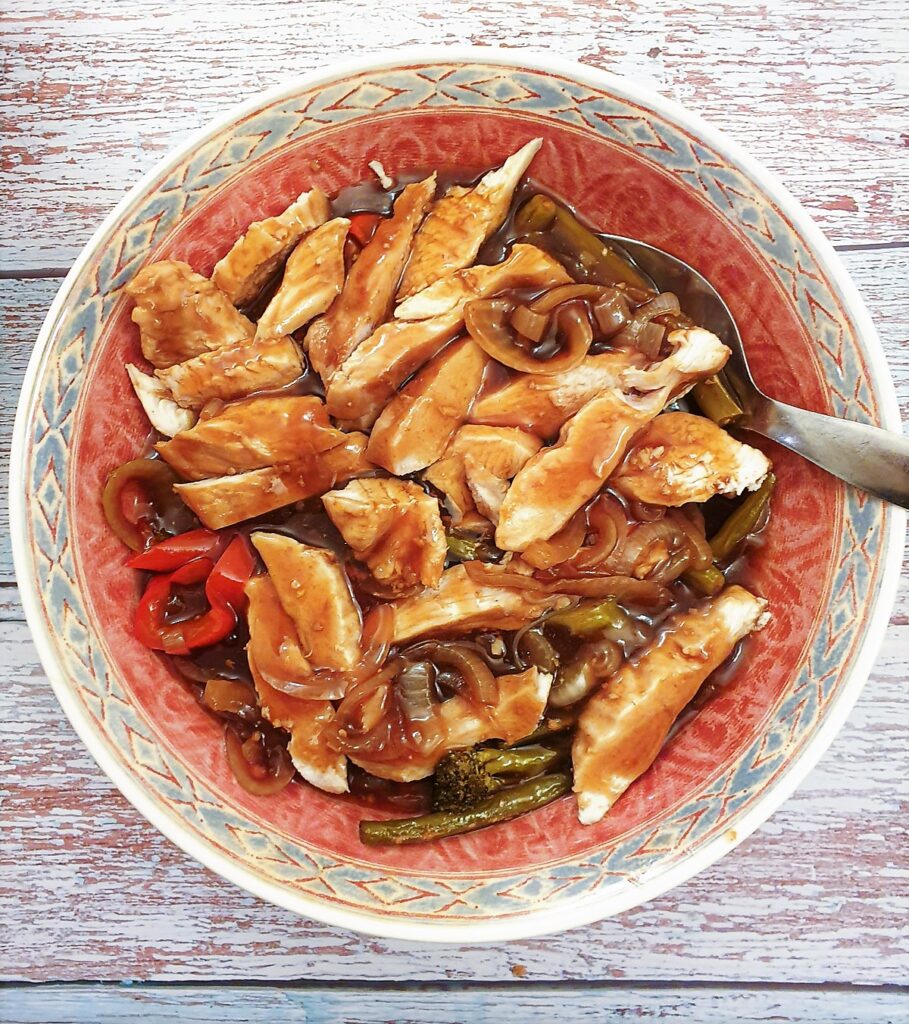 If you'd like to be notified of any new recipes, why not subscribe to my newsletter. As a thank-you gift, you will receive a free recipe e-book containing some of my most popular cakes and desserts.
Freezing and make-ahead instructions
You can freeze the cooked dish in a sealable plastic container for up to 4 months. However, the vegetables will probably lose their crispness on freezing and defrosting.
To use, let it defrost in the refrigerator and then transfer to a saucepan and heat through until piping hot.
You can make the teriyaki sauce in advance and store it in a screw-top jar in the refrigerator for at least 2 weeks.
You can also store the assembled dish in the refrigerator for up to 2 days before baking. Storing in this way is the equivalent of allowing the chicken to marinate and will improve the flavour.
Pin for later
Why not pin this recipe for oven-baked teriyaki chicken and vegetables to one of your Pinterest boards so you can make it later. Just click the image below.
Other recipes
If you enjoyed this recipe for oven-baked teriyaki chicken and vegetables, you may also enjoy some of my other Asian inspired meals.
The recipe
If you made this recipe and enjoyed it, I'd love it if you could give me a star rating in the comments below. And if you'd like to get in touch, you can email me at [email protected]. I'd love to hear from you. And don't forget to subscribe to my mailing list so you can grab yourself a copy of my FREE COOKBOOK!
If you'd like to continue browsing, just click on this link to all my recipes.