These days, the less we go to the shops the better. So instead of popping out to the shops to buy something to make for supper, why not use up leftovers instead. I've put together a list of 7 easy meals that you can make with leftovers that will not only keep you out of the shops, but will help ease the strain on the purse strings too. Why not make one of these meals with leftovers tonight.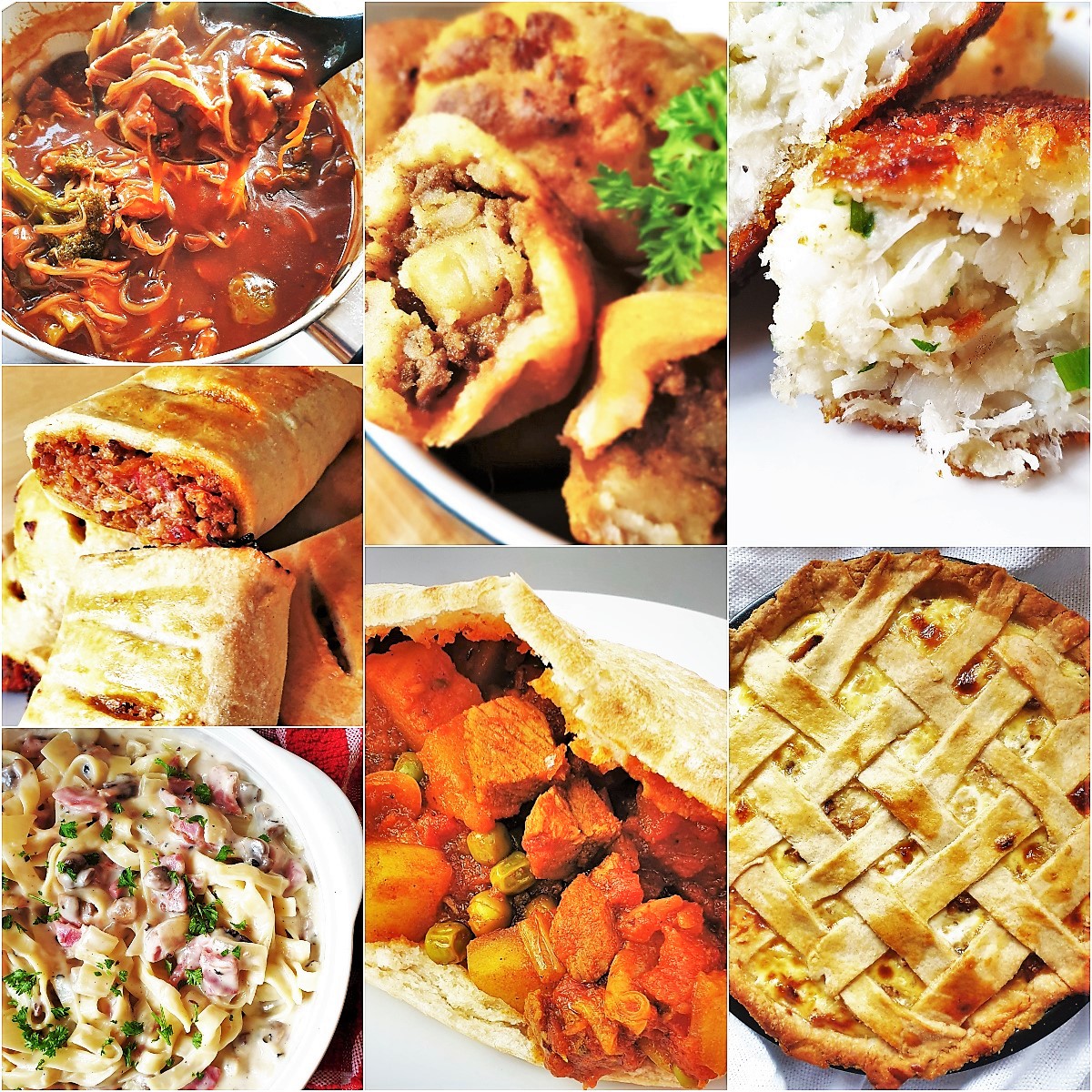 **As an Amazon affiliate, I earn from qualifying purchases.**
Don't throw away your leftovers – use these ideas to transform them into delicious meals that the family will love.
Pork in garlic sauce
Whenever I buy a pork roast, I always buy one larger than I need, purely so that I can have enough leftover to make this delicious pork in garlic sauce. It packed with broccoli, mushrooms and beansprouts and loaded with Asian flavours of ginger, soy and oyster sauce, with just a hint of chilli and a load of garlic.
This dish tastes better than any Chinese takeaway – or as hubby says 'I'd pay good money to eat this in a restauarant'.
Quick to prepare – once you've prepped your vegetables, it only takes 15 minutes to put together.
Versatile – you can swap out the vegetables for whatever you happen to have in the fridge at the time. Try making it with chopped onions and julienned carrots instead of the broccoli. (Or just add them in addition). You can also play around with the flavours. Want more heat – just add extra chilli; want to tone down the garlic – just add the amount you like.
Full of sauce – serve it over rice or chinese noodles to mop up all the lovely flavours.
Pork in Garlic Sauce
Roast pork in garlic sauce cooked with broccoli and brussels sprouts in a delicious sauce.  Make it with leftover roast pork and have it ready in half an hour. There are also instructions for making with fresh pork which only takes 15 minutes longer. What are you waiting for?
View recipe
Ham and mushroom tagliatelle
This is my favourite pasta dish. It's based on a recipe I found years ago which was originally intended as a dipping sauce to be served with potato wedges. I adapted the recipe to turn it into a pasta sauce to use up leftover ham or gammon, and it's now become a regular on our meal rotation.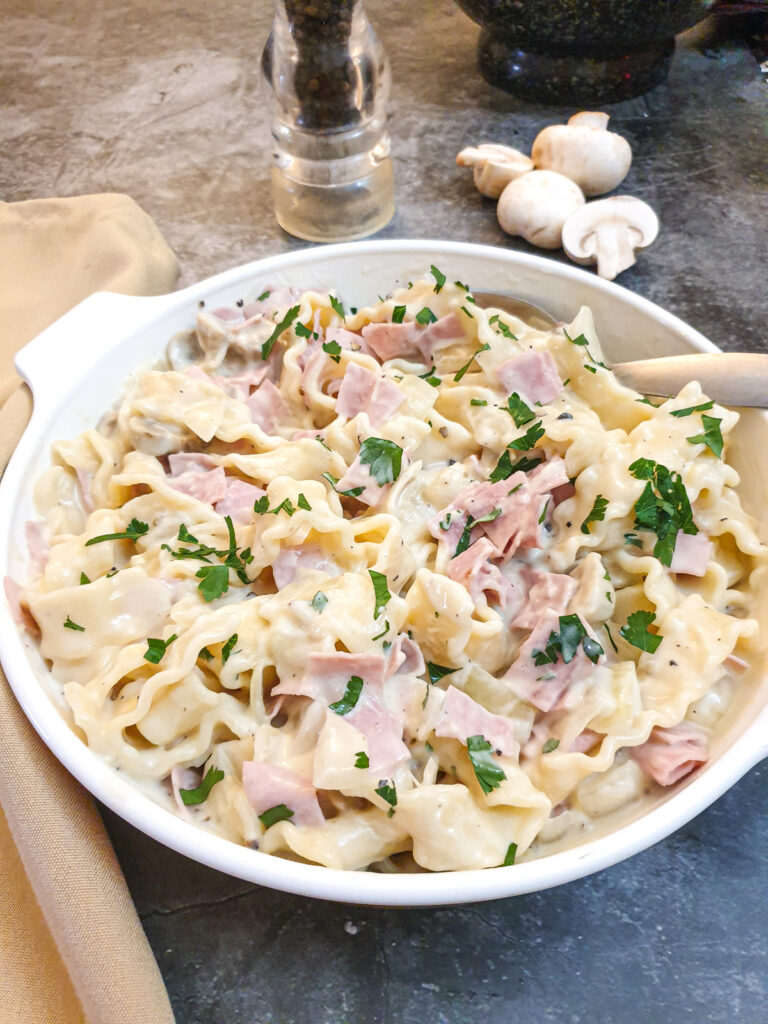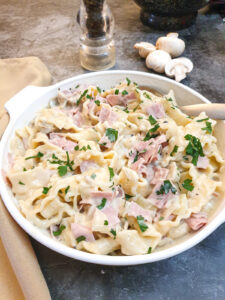 Ham and mushroom tagliatelle with black pepper sauce
If you like pasta you are going to love this ham and mushroom tagliatelle with black pepper sauce. It's a creamy pasta dish that can be on the table in less than half an hour – perfect for a mid-week supper.
View recipe
Curried dough balls
These little gems are made with the fabulously easy 2-ingredient dough. It's a great way of using up leftover curry, bolognese or chilli. Children love this – the dough balls are a bit like meat-filled doughnuts 🙂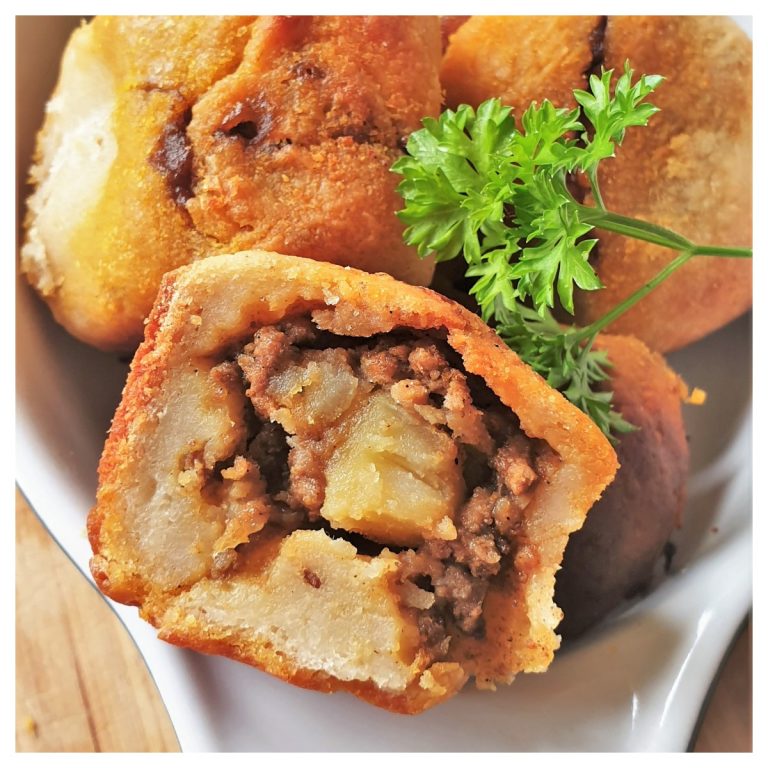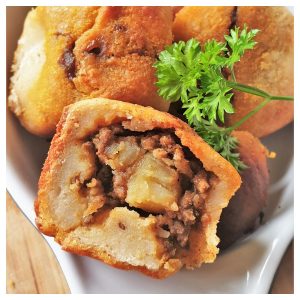 Curried Dough Balls
Curried dough balls are ideal for when the carb-craving hits.  Made with the famous 2-ingredient dough, baked in the oven and filled with spicy curry, they have all the taste and texture of South African Vetkoek, but none of the deep-fried side effects (like a guilt-trip).  Perhaps I should have called these Instant Healthy Vetkoek!
View recipe
Fish cakes with a crispy coating
If you've got leftover mashed potatoes why not mix them with fish and turn them into fishcakes. (If you've got leftover fish as well so much the better, although I do provide instructions for poaching your fish first).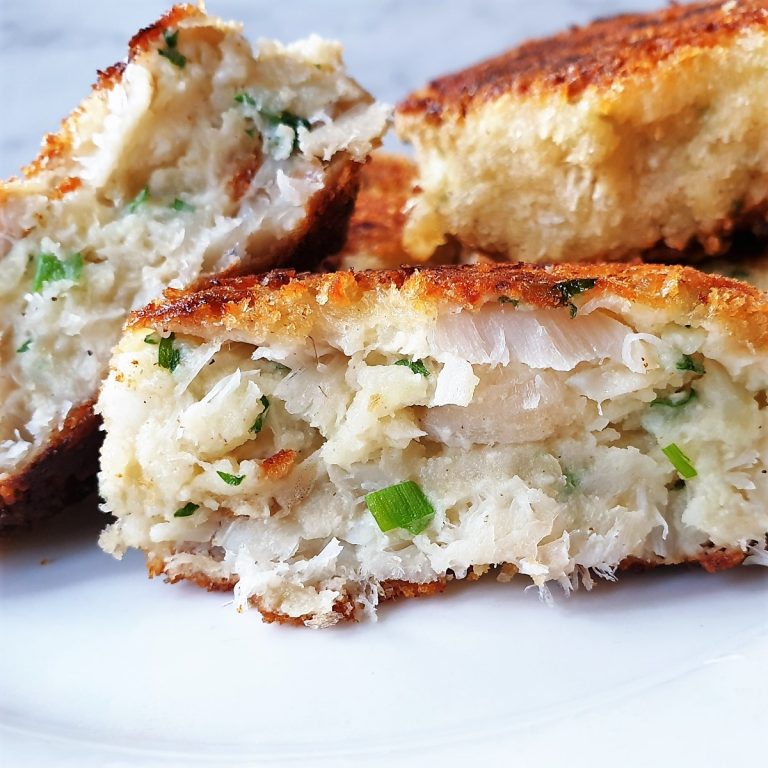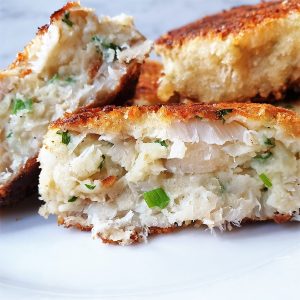 Easy homemade fish cakes
You can't go wrong with a meal of easy homemade fish cakes! Everyone loves them, even the fussiest eater. And what's not to love? Chunks of flaky fish mixed with creamy mashed potatoes, in a crispy crunchy coating. Serve with a salad for a light lunch or team with peas and chips for a more substantial supper. Either way, this is a winner!
View recipe
Lamb curry in pita
This is my favourite way of using up left over lamb. The curry recipe is based on a traditional South African Cape Malay curry recipe, which is quite mild. It is ideal for those who don't enjoy a spicy curry, although if you do prefer a hotter curry you can just increase the chilli.
Serve this curry inside a pita bread. It makes a nice change from eating curry served over rice.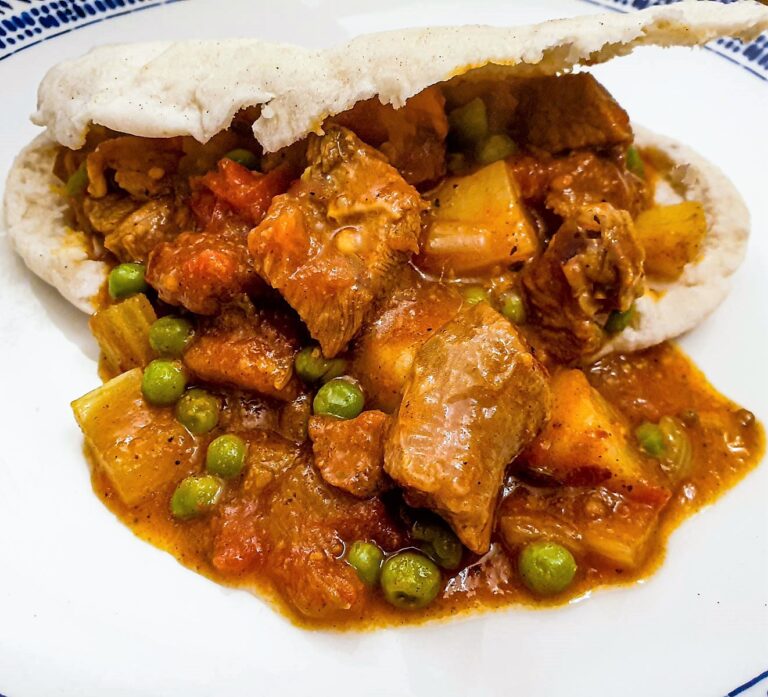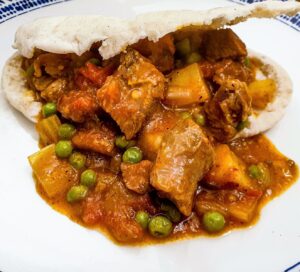 Leftover lamb curry in pita
Authentic South African lamb curry, made with leftover lamb and served in a soft fluffy pita bread to mop up all the delicious juices.
View recipe
Bolognese sausage rolls
Everybody loves a sausage roll. They make the perfect light lunch, or even just a snack if you're feeling peckish. Make them with homemade pastry and fill them with leftover homemade bolognese, or just use shop-bought pastry if you have some in your freezer.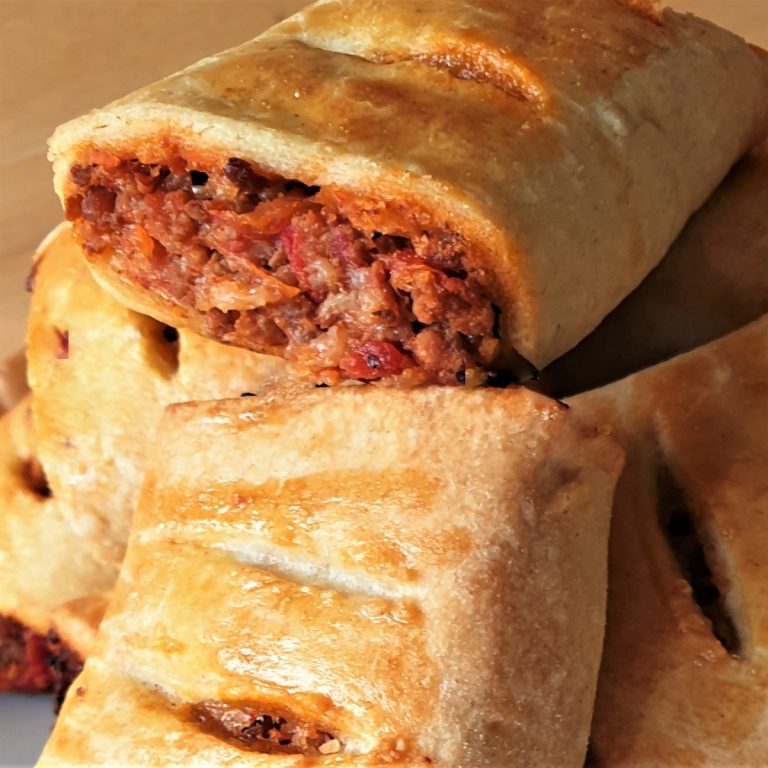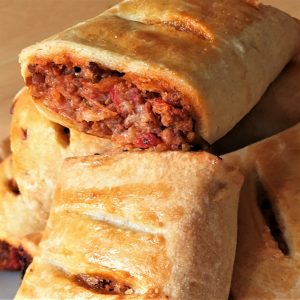 Bolognese sausage rolls (with leftover bolognese mince sauce)
Have you ever wondered what to do with your leftover bolognese mince? The obvious answer is to freeze it for another day, but if you mix it with Panko breadcrumbs and wrap it in pastry, you can turn it into the most delicious bolognese sausage rolls.
View recipe
Chicken and mushroom quiche
And last, but by no means least, here is my recipe for a quick and easy quiche made with leftover chicken. To be honest, it's more of a pie than a quiche, but as long as it tastes good it doesn't really matter what you call it 🙂
This is delicious served either hot or cold. Serve it with a bowl of creamy mashed potatoes and a side dish of peas for a simple easy supper.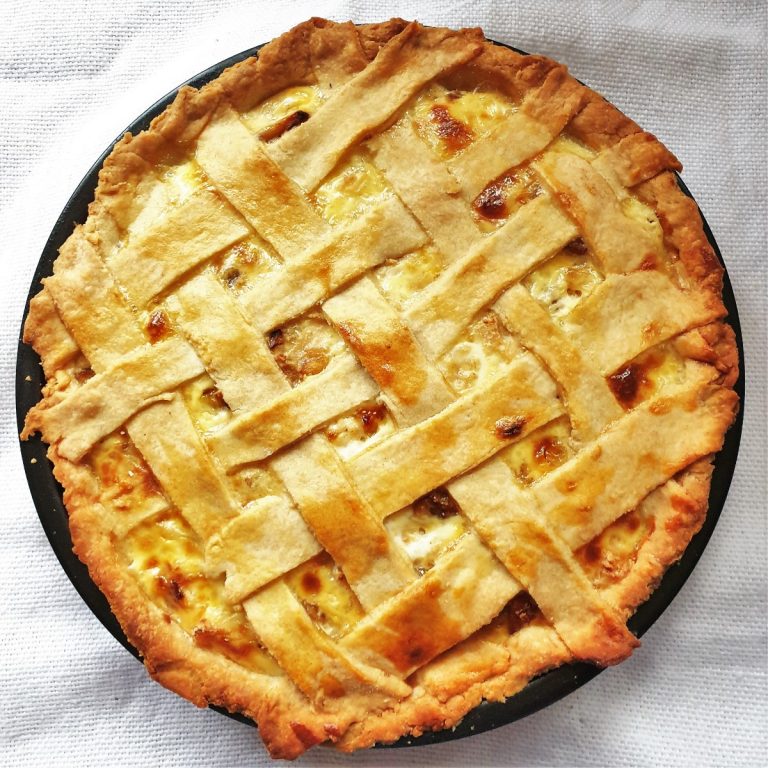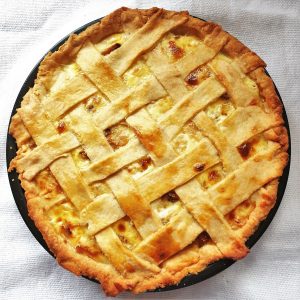 Chicken and Mushroom Quiche
When you want a quick and easy supper, but don't know what to make, this chicken and mushroom quiche is the answer. The filling is made with only 3 main ingredients and you can even use shop-bought pastry if you want to. Try it tonight – the family will love it!
View recipe
Well, there you have it, 7 easy ways to use up your leftovers. Which is your favourite I wonder. Let me know in the comments below. And if you have ideas for using leftover I'd love to hear what they are.
Pin for later
Why not pin these recipes to your pinterest board so you can make them later. Just click the image below.
You can click the buttons below if you'd like to save these recipes to Pinterest or your Yummly recipe box. And don't forget to subscribe to my mailing list so you can grab yourself a copy of my FREE COOKBOOK! And if you'd like to continue browsing, just click on this recipe link.