Homemade jalapeno chili paste is a great condiment to keep in your freezer. Just break a piece off when you need it and add it to soups, stews and sauces for extra oomph!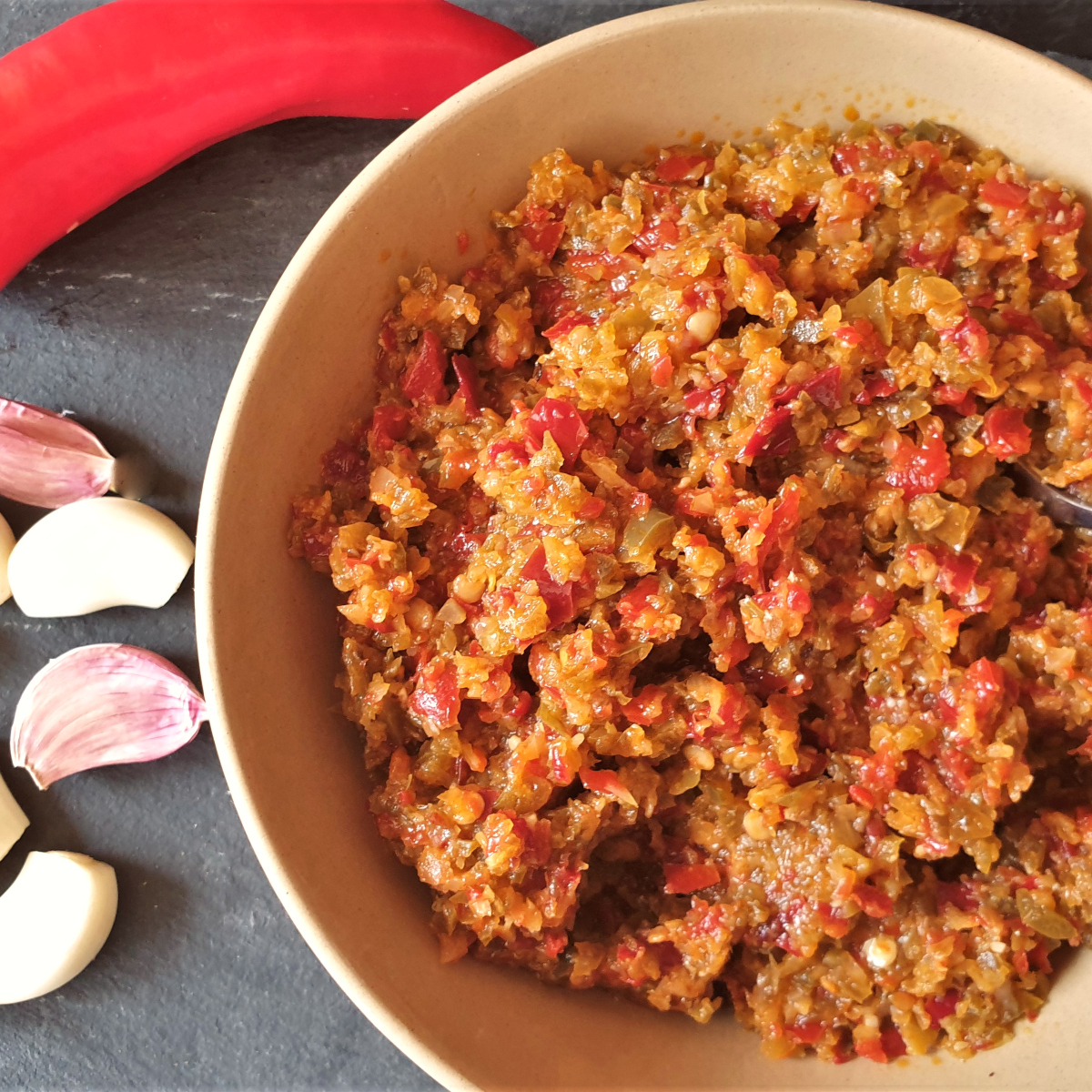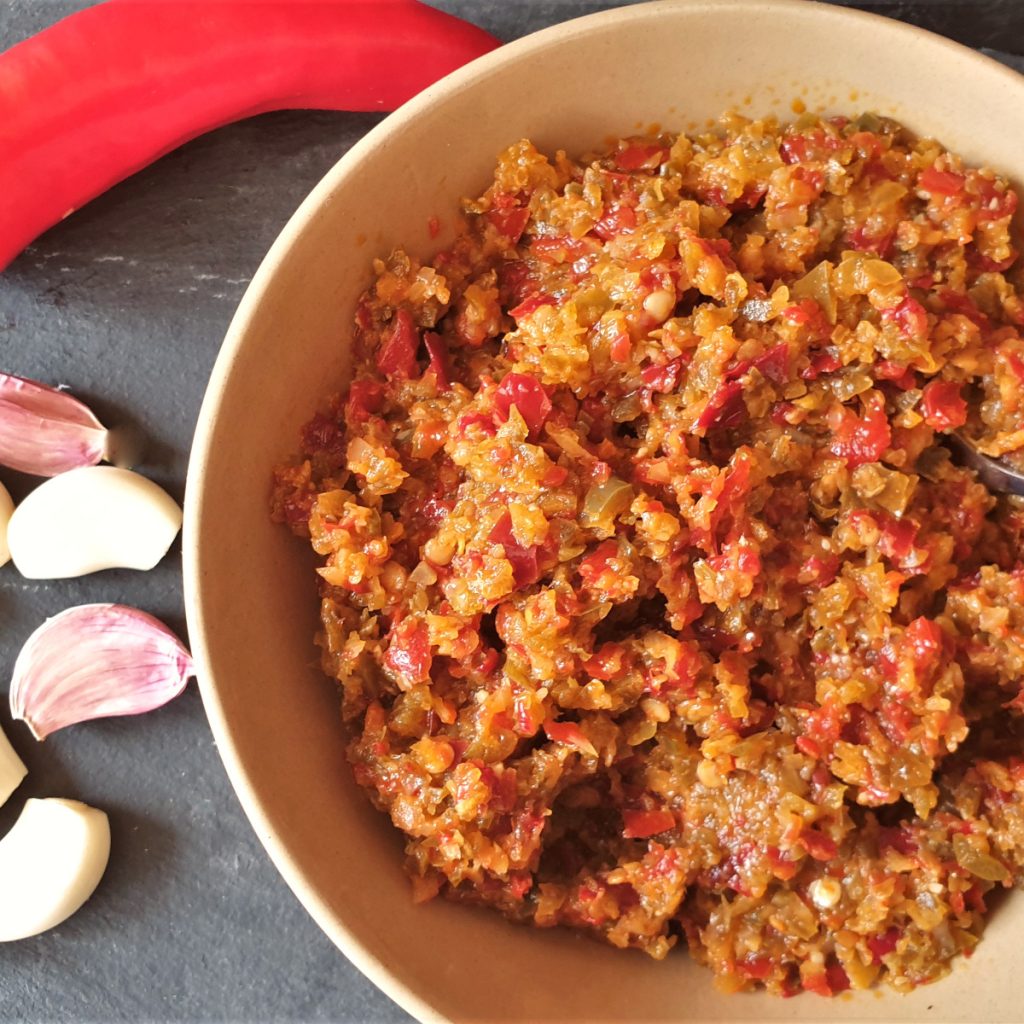 Jalapeno chili paste
My friend, Penny, arrived the other day, bringing with her an enormous packet of chopped jalapeno peppers.
My first thought was 'what on earth am I going to do with all those', followed immediately by 'oh, I know – I'll make jalapeno chili paste!'.
Jalapeno chili paste is a great condiment to keep on hand. There is so much you can do with it.
Use it to spice up soups and stews
Mix with mayonnaise or cream cheese to make a spicy dipping sauce
Add it to your meatballs, hamburger or meatloaf mixture for extra zing
Use it in your marinade for chicken or chops
Make a spicy chili pepper sauce to pour over steaks
If fact you can use this jalapeno chili paste in any recipe that calls for chili.
How spicy is jalapeno chili paste?
You can make this chili paste as mild or as spicy as you like.
Of course, the heat will depend to a certain extent on the heat of the peppers, but most of the burn comes from the seeds and the membranes. If you are using whole jalapenos, you can remove the seeds and membranes before making the paste and it will not be as hot.
If you find the chili paste is too hot, just adjust the amount of the paste that you add to your recipes.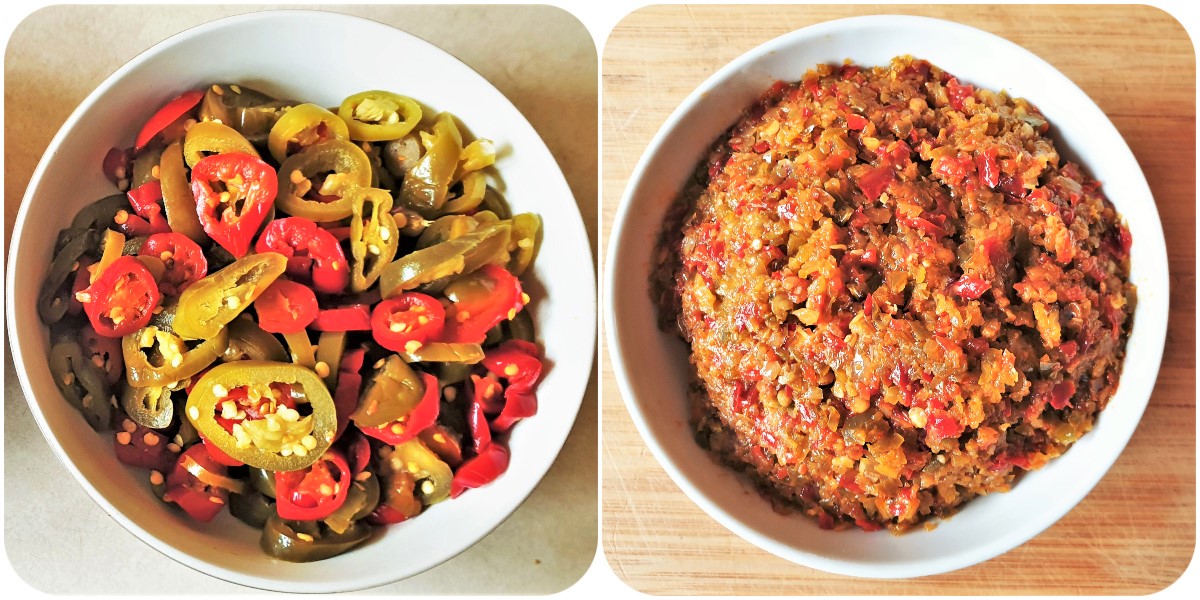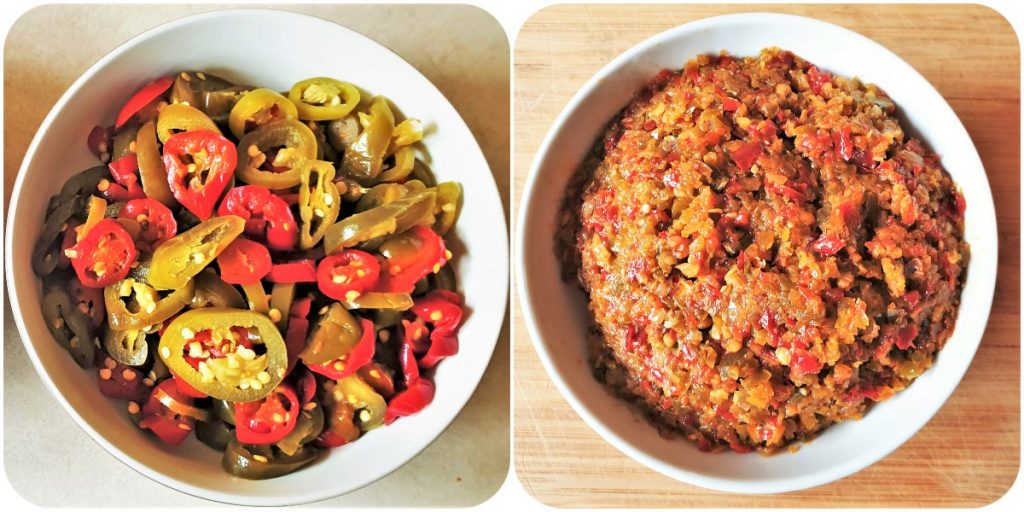 Keep jalapeno chili paste in the freezer
Fresh whole jalapenos will keep for 2 to 3 weeks in the refrigerator, but cut ones will only stay fresh for 2 or 3 days, so the best thing to do with this jalapeno paste is to freeze it. You can store it indefinitely in the freezer.
Pack it in a thin layer in a plastic freezer bag. The chili paste does not freeze solid, like water, so it is quite easy to just break off a piece as and when you need it to add to your recipes.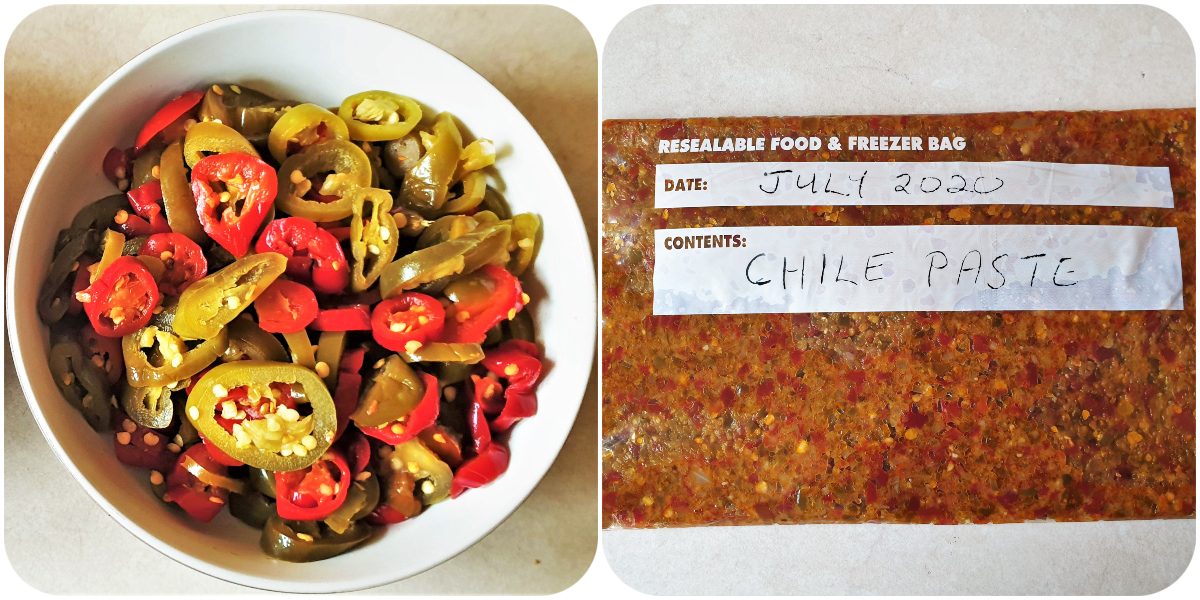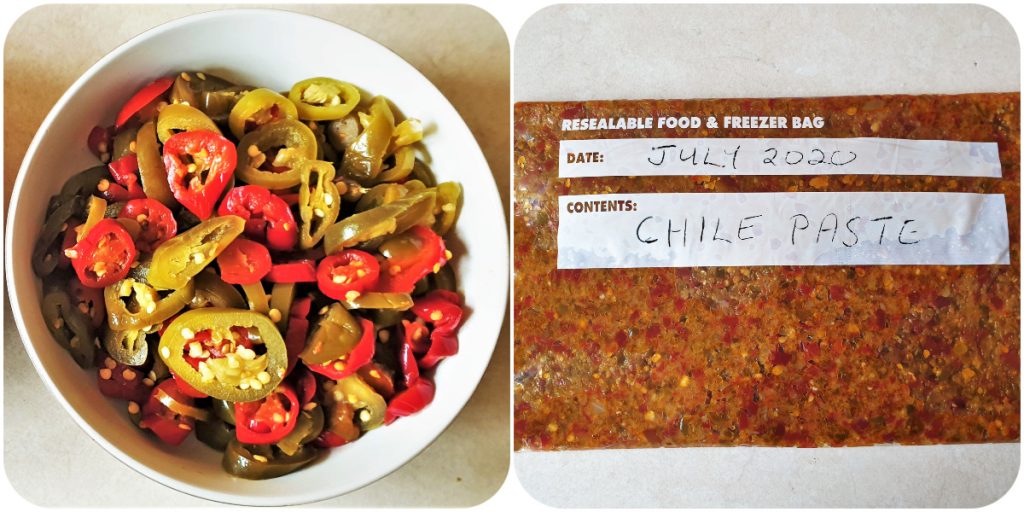 If you don't want to freeze it, you can store jalapeno chili paste in a covered container in the refrigerator for up to a week.
How to make jalapeno chili paste
This is quite easy to make and doesn't take long at all. You can get the detailed recipe on the printable recipe card at the end of this post.
All you will need are some chopped jalapeno peppers, onions and garlic, and a small amount of olive oil, for frying.
If you want to make a larger quantity, you can increase the quantity of the ingredients given in the recipe card. Just use 1 large onion and 2 cloves of garlic for each 250g (8 ounces) chopped jalapenos.
The garlic is optional. If you don't like garlic you can leave it out all together. I tend to cook with a lot of garlic, so I've added it to my chili paste. Just bear in mind though, that if you do add garlic, then you won't be able to use the chili paste in any recipe that doesn't call for garlic. You can use either fresh cloves of garlic, or substitute with minced garlic from a jar.
For the same reason as above, I have not added any salt to this recipe.
A word of warning – when working with chilis, don't forget to wash your hands afterwards, and please remember not to touch your face.
Place all the ingredients into a food processor …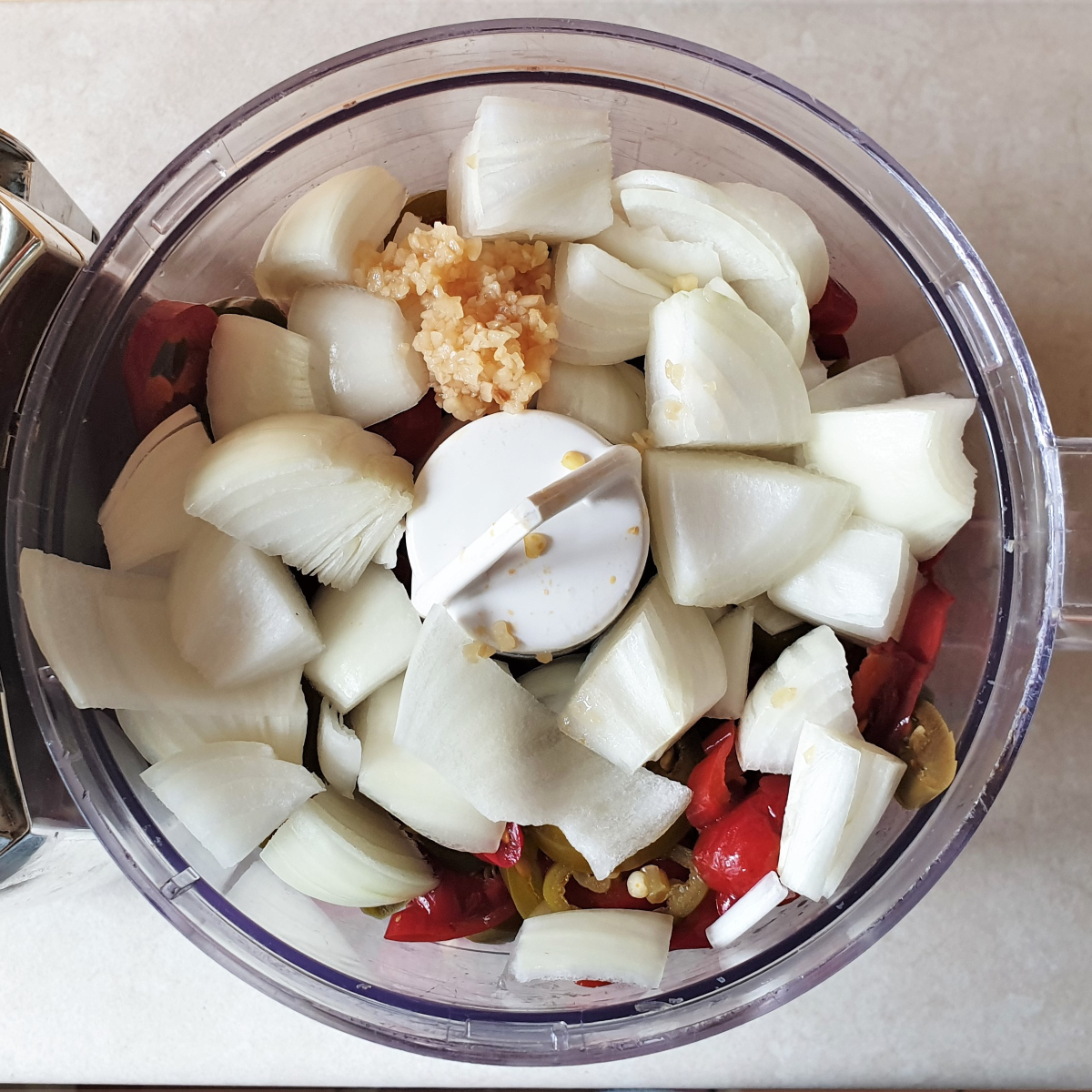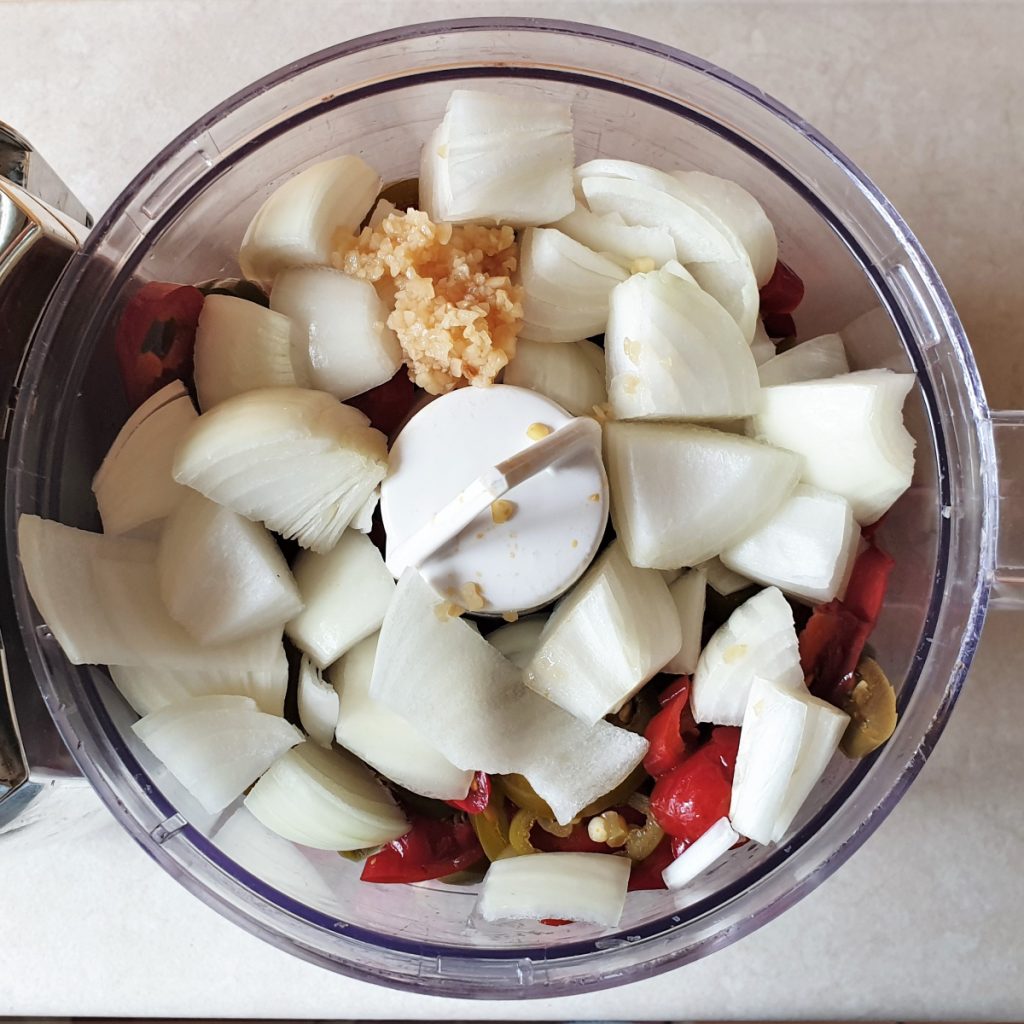 … and whizz around until it is all finely chopped.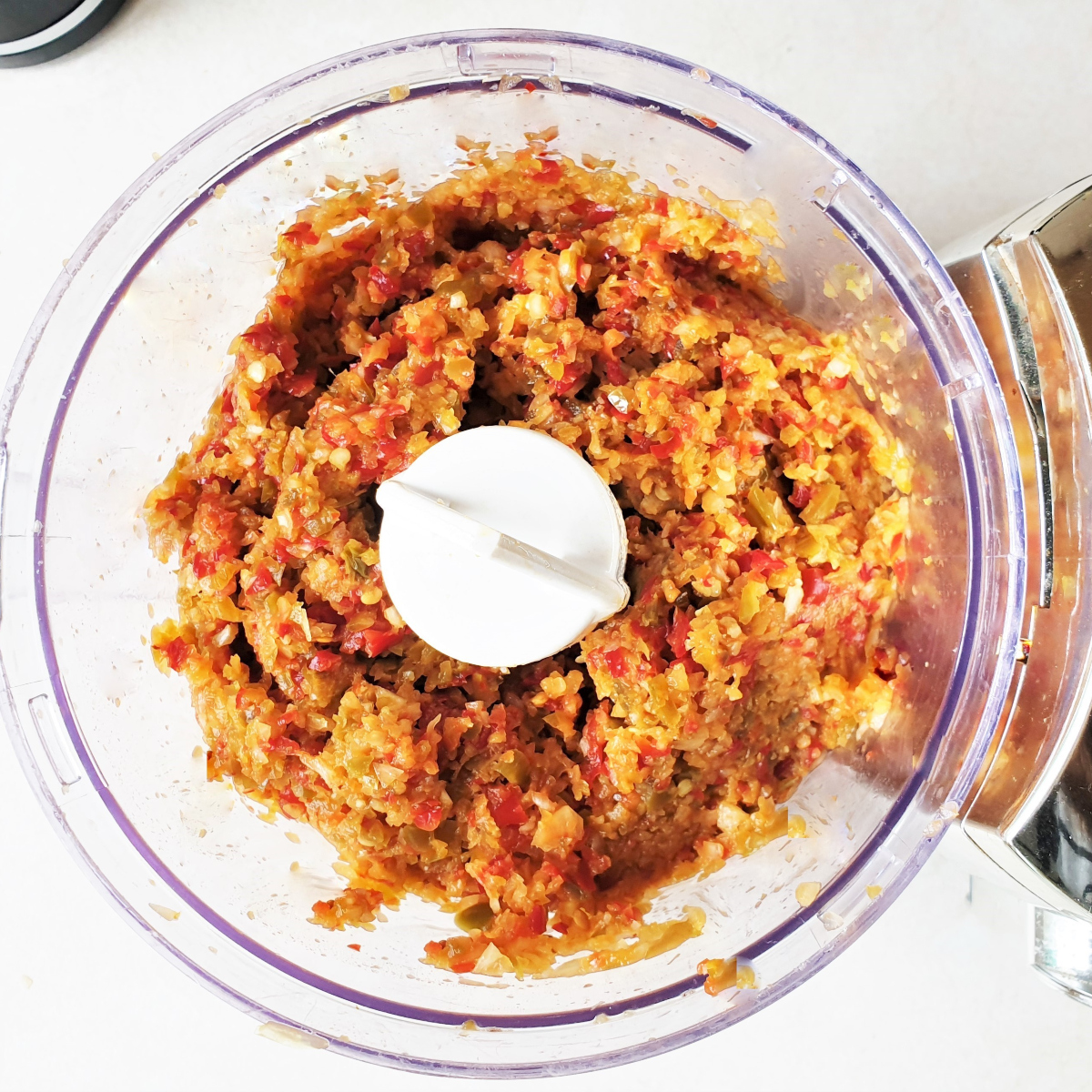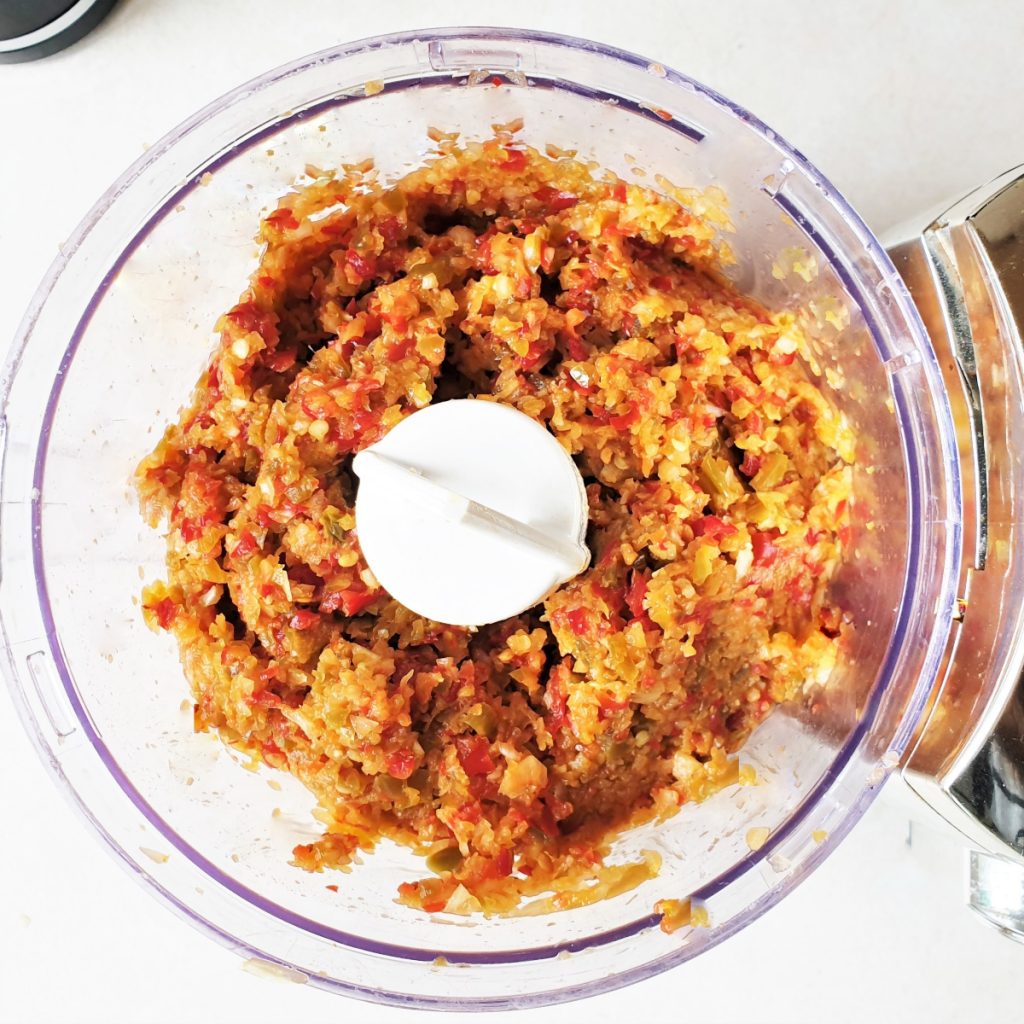 If you don't have a food processor you can just chop everything up very finely with a sharp knife. Of course, this is going to take rather a long time.
Then transfer to a saucepan and allow to simmer for about 10 minutes until everything is nicely softened.
Allow to cool, transfer to freezer bags, press down into a thin layer, label and freeze.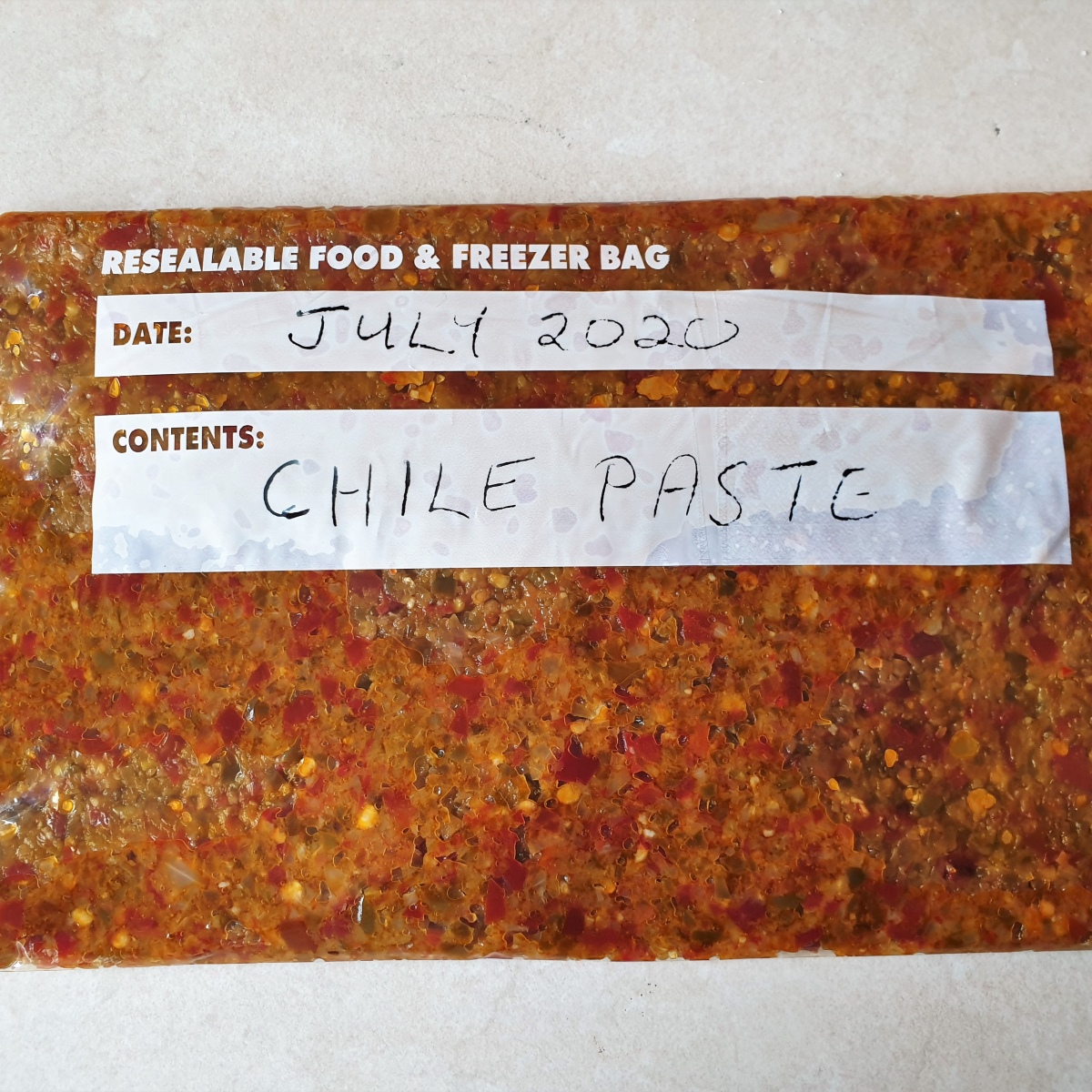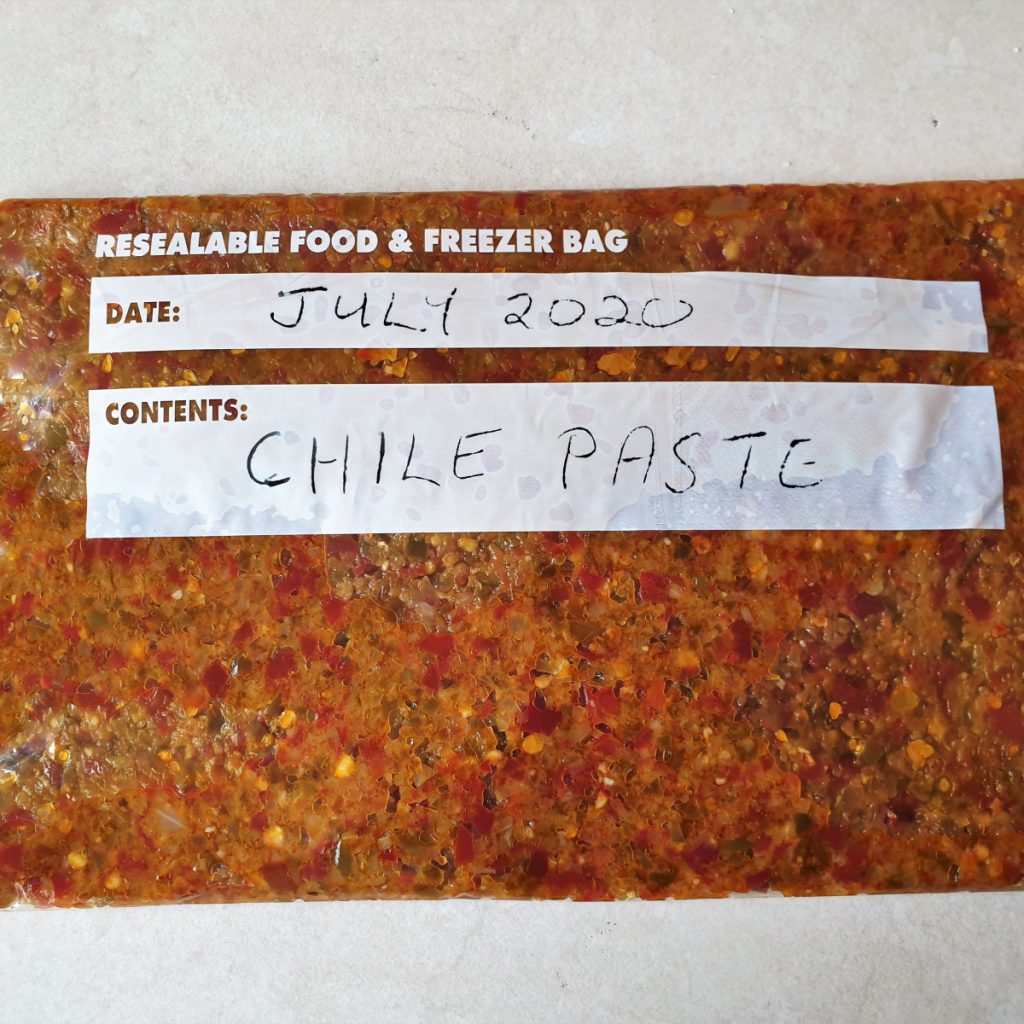 Make a finer paste
If you prefer, you can transfer the cooked chili paste to a blender and blend until fine. I haven't done this here, as I prefer a coarser texture.
If you want to keep up-to-date with my latest recipes why not follow along on Facebook or Pinterest. And don't forget to subscribe to my mailing list so you can get your FREE COOKERY BOOK
Convert grams to cups
To help you convert your recipes, I have created a handy Cookery Conversion Calculator which will convert ingredients between grams, ounces, tablespoons, cups and millilitres. I hope you will find it useful.
If you live at a high altitude you may find you need to adjust your baking recipes to compensate for this. You can read about how to do this in this post on baking at high altitudes.
Recipe – Jalapeno chili paste
I am not a nutritionist. The nutrition information has been calculated using an on-line calculator, and is intended for information and guidance purposes only. If the nutrition information is important to you, you should consider calculating it yourself, using your preferred tool.
If you made this recipe and enjoyed it, please don't forget to give me a star rating in the comments below. And if you'd like to get in touch, you can email me on foodleclub1@gmail.com. I'd love to hear from you. And don't forget to subscribe to my mailing list so you can grab yourself a copy of my FREE COOKBOOK!
If you'd like to continue browsing, just click on this link to all my recipes.