If you are looking for a quick and easy soda bread recipe, then you have come to the right place. Irish Soda bread made with buttermilk does not contain any yeast – so there's no kneading involved – which means you can have this delicious seed-packed loaf on the table is less than an hour. What are you waiting for?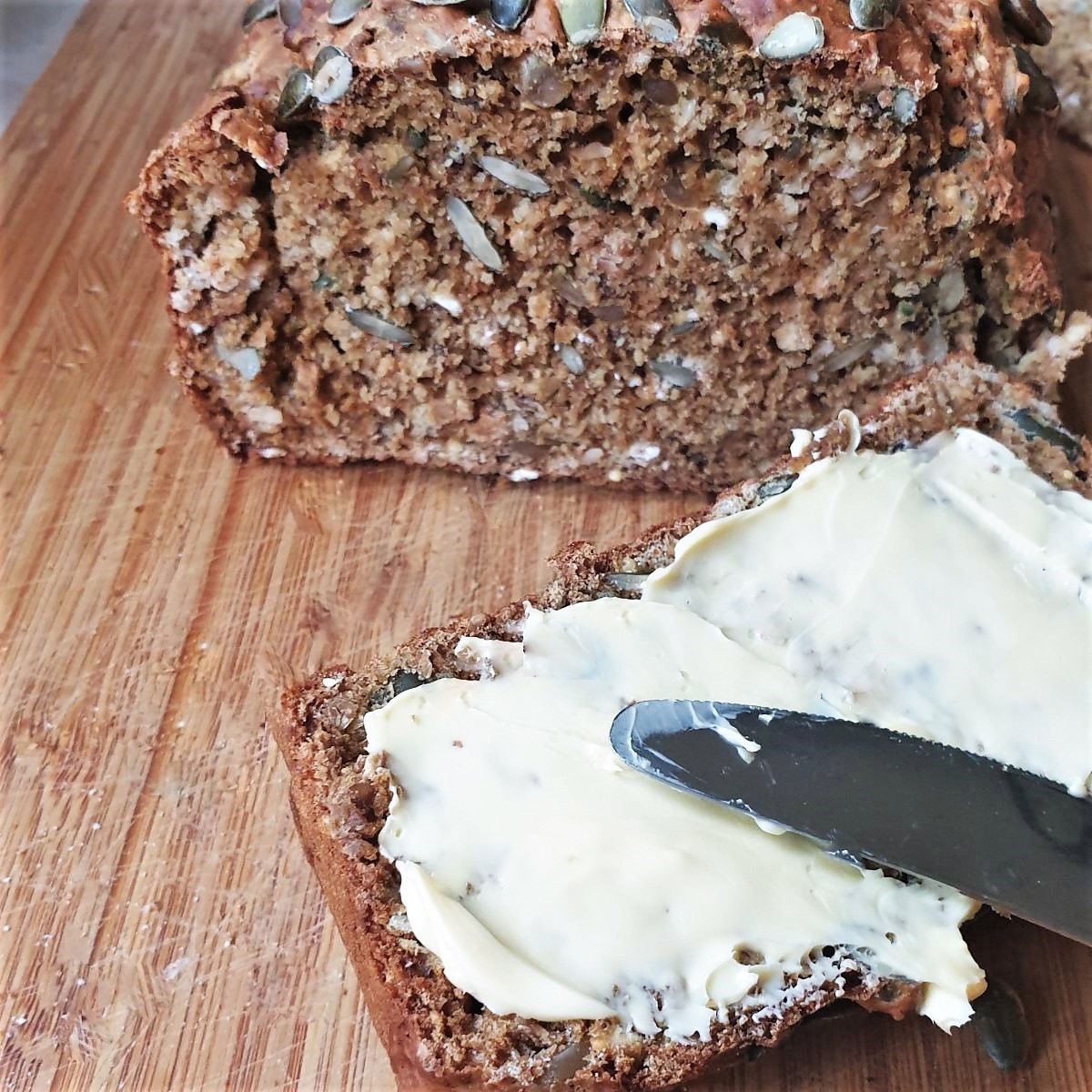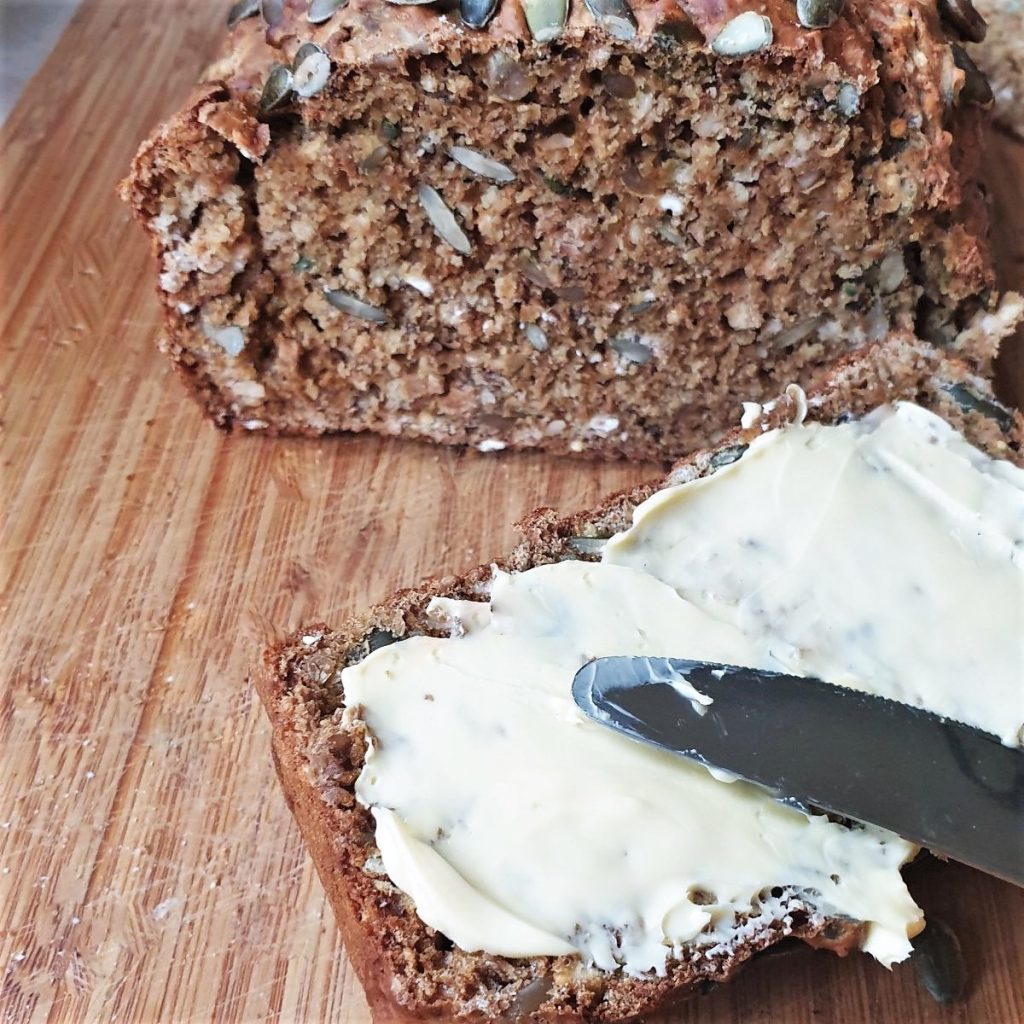 Seeded Irish Soda Bread with Buttermilk
This seeded Irish soda bread is jam-packed with goodness. It is made with half wholemeat and half regular flour and is crammed with pumpkin and sunflower seeds. For added goodness it contains sesame and linseeds (otherwise known as flaxseeds).
It is delicious served fresh out of the oven, smeared with butter. Or you can use it to mop up the juices from your favourite soup or stew. And if there is any left over, you can even make sandwiches for your lunch. This soda bread will stay fresh for up to 3 days, stored covered in your bread bin.
There is no yeast in this bread. Insead, bicarbonate of soda is used. The buttermilk reacts with the bicarb to form tiny bubbles which cause the dough to rise. Consequently, you don't have to spend hours kneading and waiting for the the dough to rise. Just combine all the ingredients, pop it in the oven and you have a mouth-wateringly good loaf of seeded Irish soda bread in under an hour. You can't get easier than that!
How to make Seeded Irish Soda Bread with Buttermilk
Ingredients
You can get the complete list of ingredients and full instructions on how to make this recipe on the printable recipe card at the end of this post.
To make this recipe for Irish soda bread you will need the following ingredients.
200g each of wholemeal and plain flour. The plain flour is just normal all purpose flour (not bread flour).
1 teaspoon bicarbonate of soda (or baking soda) – don't use baking powder. It won't rise properly if you do.
1 teaspoon salt
25g pumpkin seeds + 1 tablespoon to sprinkle on top of the loaf before baking.
25g sunflower seeds
1 tablespoon each of:

linseeds (flax seed)
sesame seeds (untoasted is fine but you can use toasted if that is all you have)
black treacle – dip your spoon in oil before measuring this out. The treacle won't stick to the spoon.
sugar – you could substitute this for 1 tablespoon of honey if you prefer
sunflower oil – that is all the fat that you will need for this recipe

500ml buttermilk
Steps
Pre-heat the oven to 180C / 360F
Grease a 8″ x 4″ loaf tin and set aside
Place the dry ingredients in a mixing bowl
Measure the wholemeal flour into a mixing bowl and sift the plain flour on top.
Add the salt, sugar and bicarbonate of soda and the seeds and and stir to mix through.
Make a well in the centre and pour in the buttermilk, treacle and oil and mix well to combine
The texture should be a soft dropping consistency – similar to a cake batter. If it seems too thick, you can thin it down with a splash of milk.
Bake
Pour the mixture into the prepared loaf tin. Sprinkle the top of the loaf with a tablespoon of pumpkin seeds.
Place in the pre-heated oven and bake for 40 – 45 minute.
The loaf will be cooked when a wooden skewer inserted in the middle comes out cleanly. Alternatively you can knock on the bottom of the tin. If the loaf if cooked, it will sound hollow.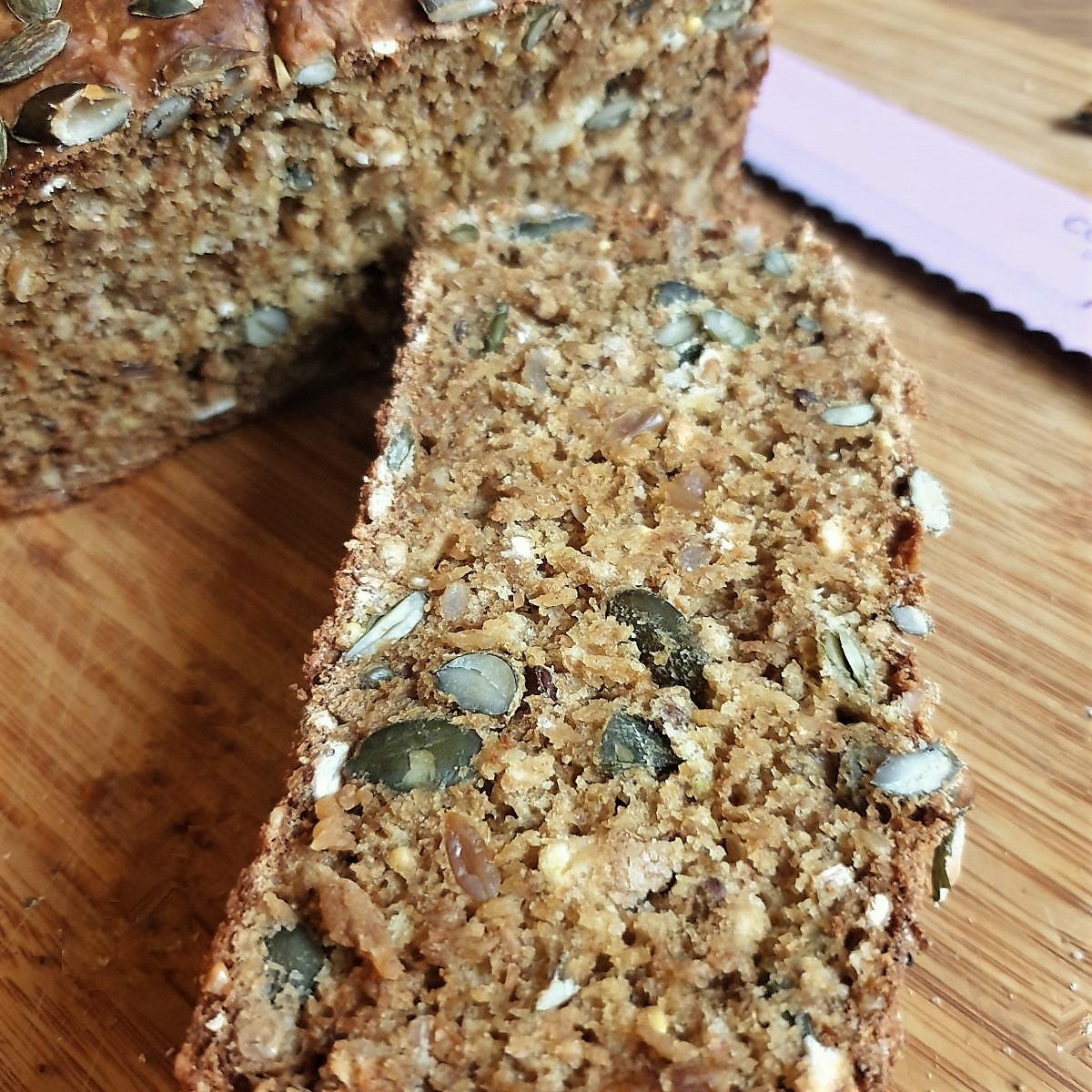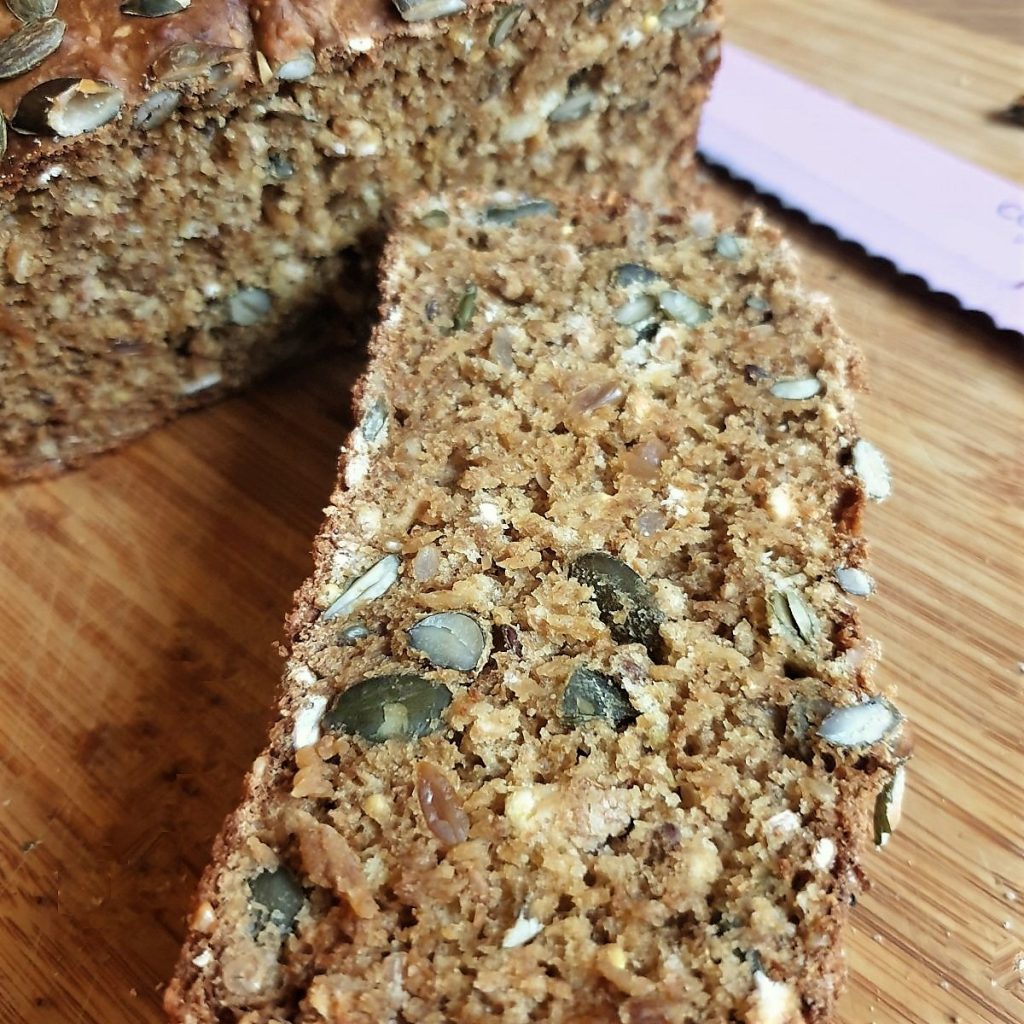 Your questions answered
If you want to keep up-to-date with my latest recipes why not follow along on Facebook or Pinterest. And don't forget to subscribe to my mailing list so you can get your FREE COOKERY BOOK
Convert grams to cups
To help you convert your recipes, I have created a handy Cookery Conversion Calculator which will convert ingredients between grams, ounces, tablespoons, cups and millilitres. I hope you will find it useful.
If you live at a high altitude you may find you need to adjust your baking recipes to compensate for this. You can read about how to do this in this post on baking at high altitudes.
Recipe – Seeded Irish Soda Bread with Buttermilk
I am not a nutritionist. The nutrition information has been calculated using an on-line calculator, and is intended for information and guidance purposes only. If the nutrition information is important to you, you should consider calculating it yourself, using your preferred tool.
If you made this recipe and enjoyed it, please don't forget to give me a star rating in the comments below. And if you'd like to get in touch, you can email me on foodleclub1@gmail.com. I'd love to hear from you. And don't forget to subscribe to my mailing list so you can grab yourself a copy of my FREE COOKBOOK!
If you'd like to continue browsing, just click on this link to all my recipes.