If you want something a little different for dessert this Christmas, why not try this impossible Christmas tart. It's a quick and easy one-bowl mix that forms a delicious layer of pastry mixed with Christmas fruit mincemeat, covered with a layer of creamy custard, and topped off with a thin layer of soft cake.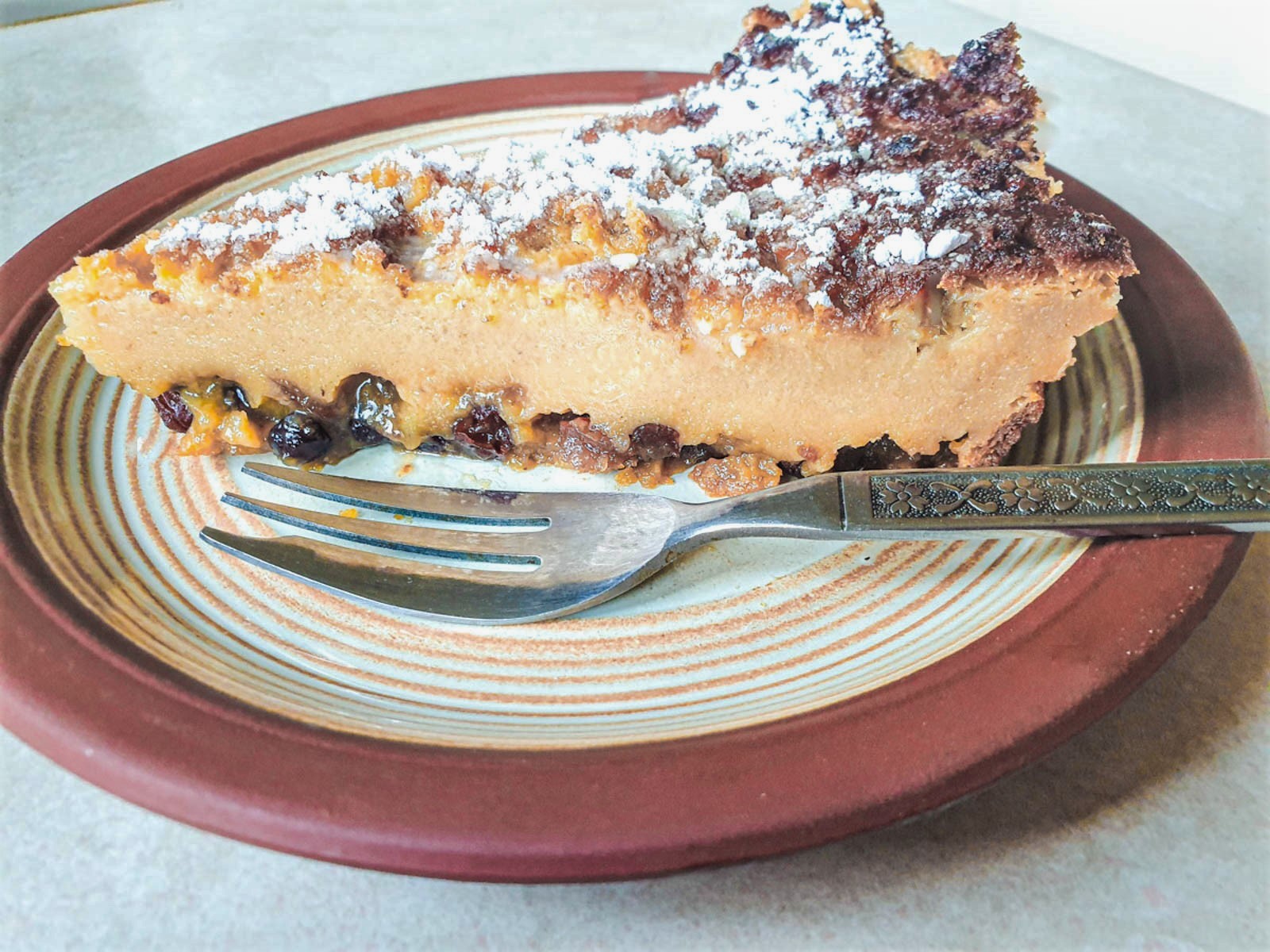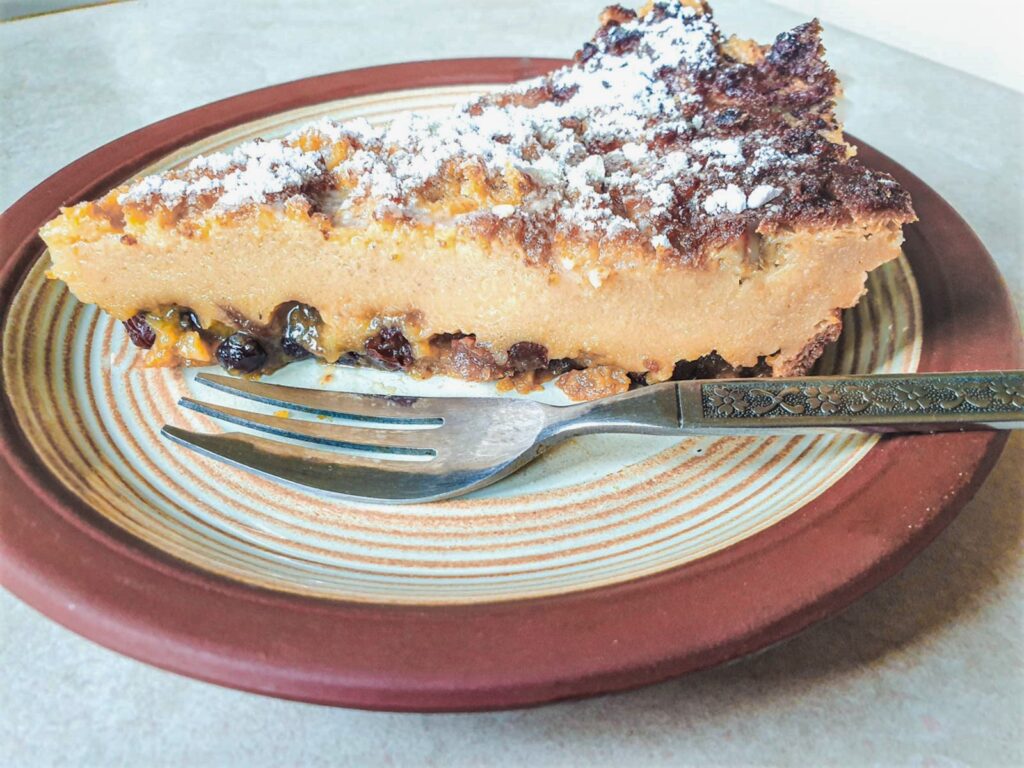 **As an Amazon affiliate, I earn from qualifying purchases.**
What is an impossible tart?
An impossible tart is so named because it seems impossible that one bowl of batter baked in the oven can separate into three distinct layers.
But it's true. You just mix all the ingredients in one bowl and pop it in the oven. And what you end up with is a tart with a layer of soft pastry at the bottom, followed by a layer of custard, and topped off with a thin cake-type layer.
Some people call impossible tarts magic cakes. And with the magic season (aka Christmas) fast approaching, I thought it appropriate to share my impossible Christmas tart with you.
If this isn't quite what you are looking for, why not give this easy coconut tart a try. It's based on the same principle – a one dish mixture that separates into three layers as it bakes.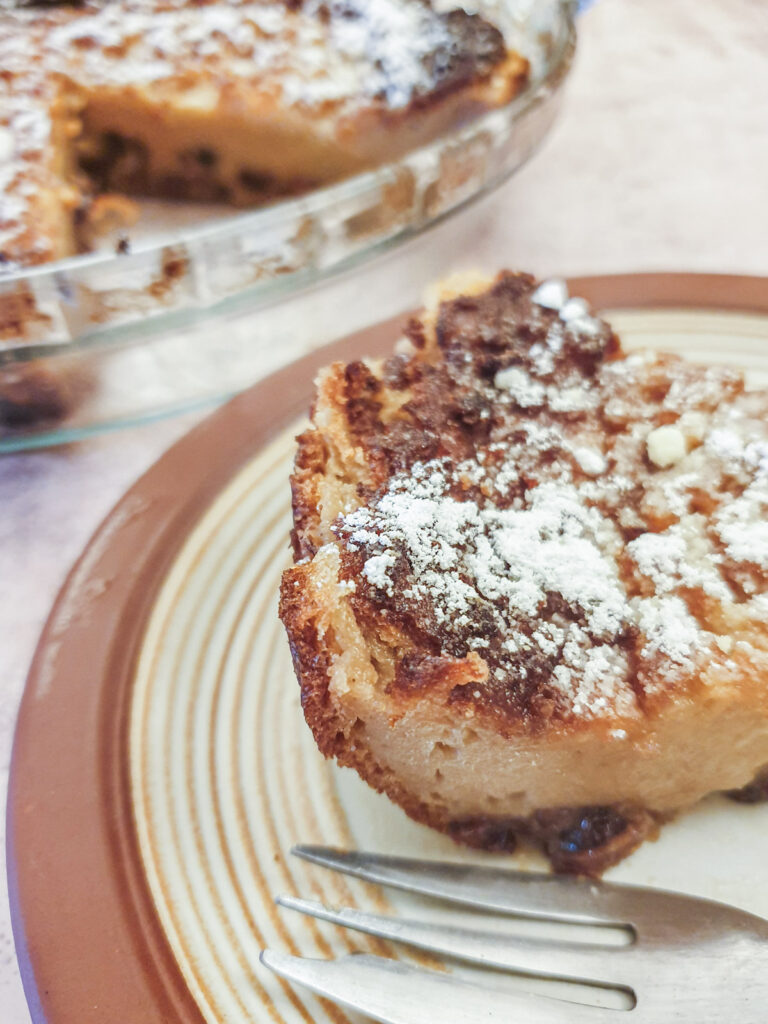 A great alternative to traditional Christmas pudding
If you are anything like me, then you will always stuff yourself to bursting point at the Christmas dinner table and then not have room left for any Christmas pudding.
This impossible Christmas tart get round that problem nicely. It's not at all stodgy, and served ice cold from the refrigerator, it makes a light an refreshing alternative to the traditional heavy puddings that are served at Christmas.
The custard is soft and creamy, and the pastry layer is filled with just enough fruit mincemeat to give this tart enough of a Christmas taste without being too stodgy.
What's more, it only takes a few minutes to mix before it goes into the oven. And because it's best served ice cold, you can make it the day before and just store it in the refrigerator until you are ready to eat it.
If you want to go all out you could serve it covered with custard or brandy sauce, or even top it with a scoop of icecream. To be perfectly honest though, I think it's fine just served by itself.
And of course, this impossible Christmas tart isn't just a Christmas pudding. A slice of this tart makes a great tea-time treat instead of the normal Christmas mince pies.
How to make an impossible Christmas tart
***You can print off the complete recipe for this impossible Christmas tart from the recipe card at the end of this post***
You will need a few simple ingredients: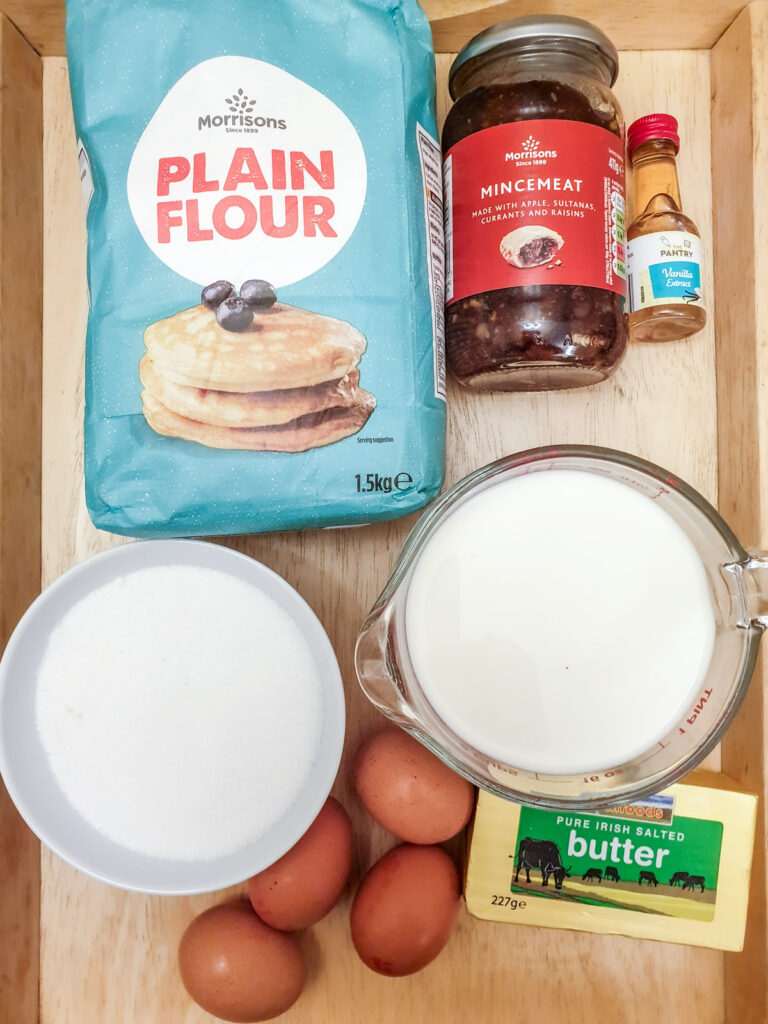 Flour – this should be plain all-purpose flour not self-raising flour. There's no baking powder in this recipe.
Fruit mincemeat – I used the supermarket own brand because this particular one doesn't have mixed peel in it (I'm not a love of mixed peel). Use your own favourite brand.
Milk – either full fat or semi-skinned is fine.
Sugar – this recipe calls for less sugar than a normal cake to compensate for the sweetness of the fruit mincemeat. For this recipe I've allowed half a cup of sugar (that's 100 grams). If you would prefer it a bit sweeter add a little extra sugar, but I wouldn't go above three-quarters of a cup in total (150 grams).
Eggs – I used 4 medium-sized eggs
Butter – if you use salted butter then don't add any salt to the mixture. If you have unsalted butter then you might like to add half a teaspoon of salt.
Vanilla essence – for extra flavour – you can leave it out if you don't have any in your pantry.
Variations
If you want to turn this into a boozy version, you could swap out some of the milk as follows:
50 ml of milk for 50 ml Baileys Original Cream Liqueur; or
1 tablespoon of milk for 1 tablespoon of brandy
What to do
Start off by mixing the flour, sugar, milk, eggs and vanilla essence in a mixing bowl.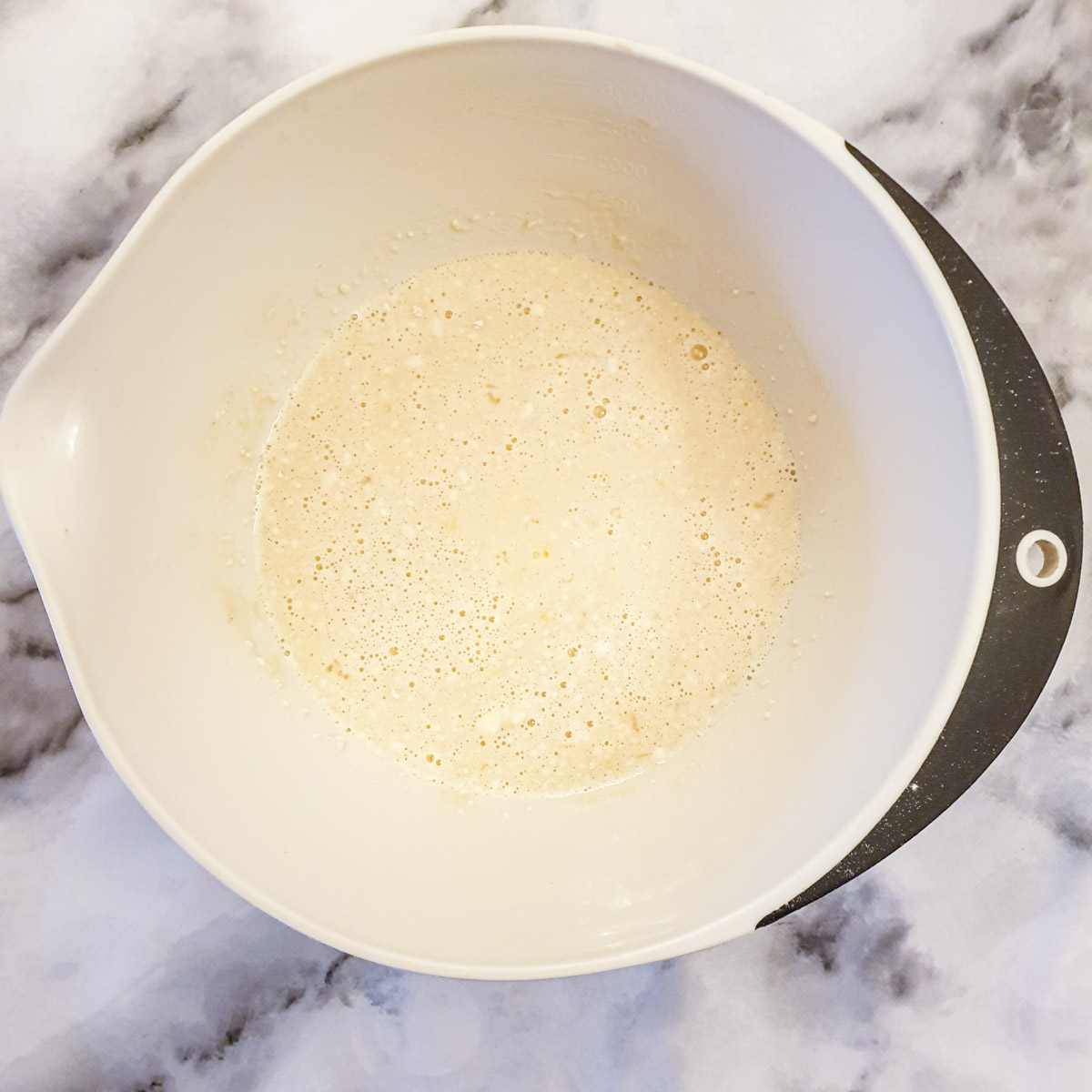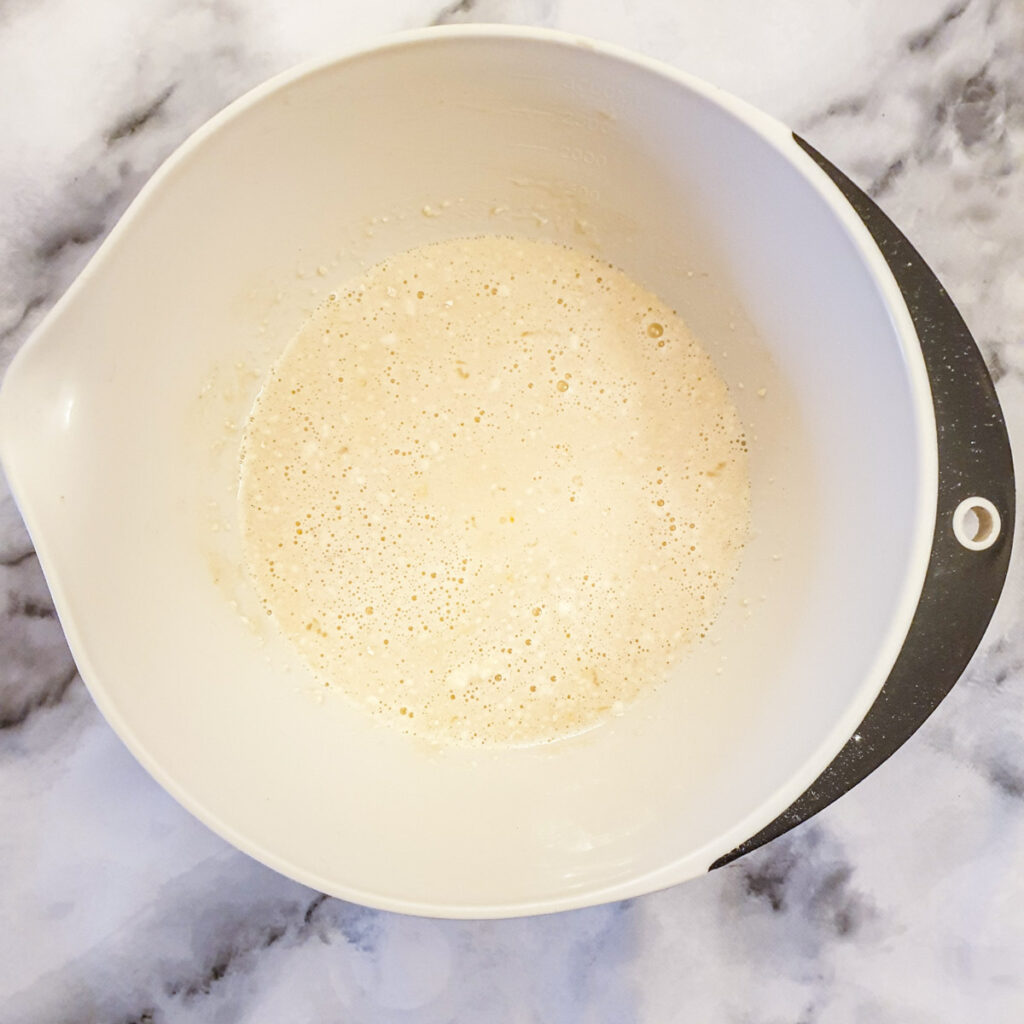 The next step is to melt the butter either in the microwave or in a pan on the stove.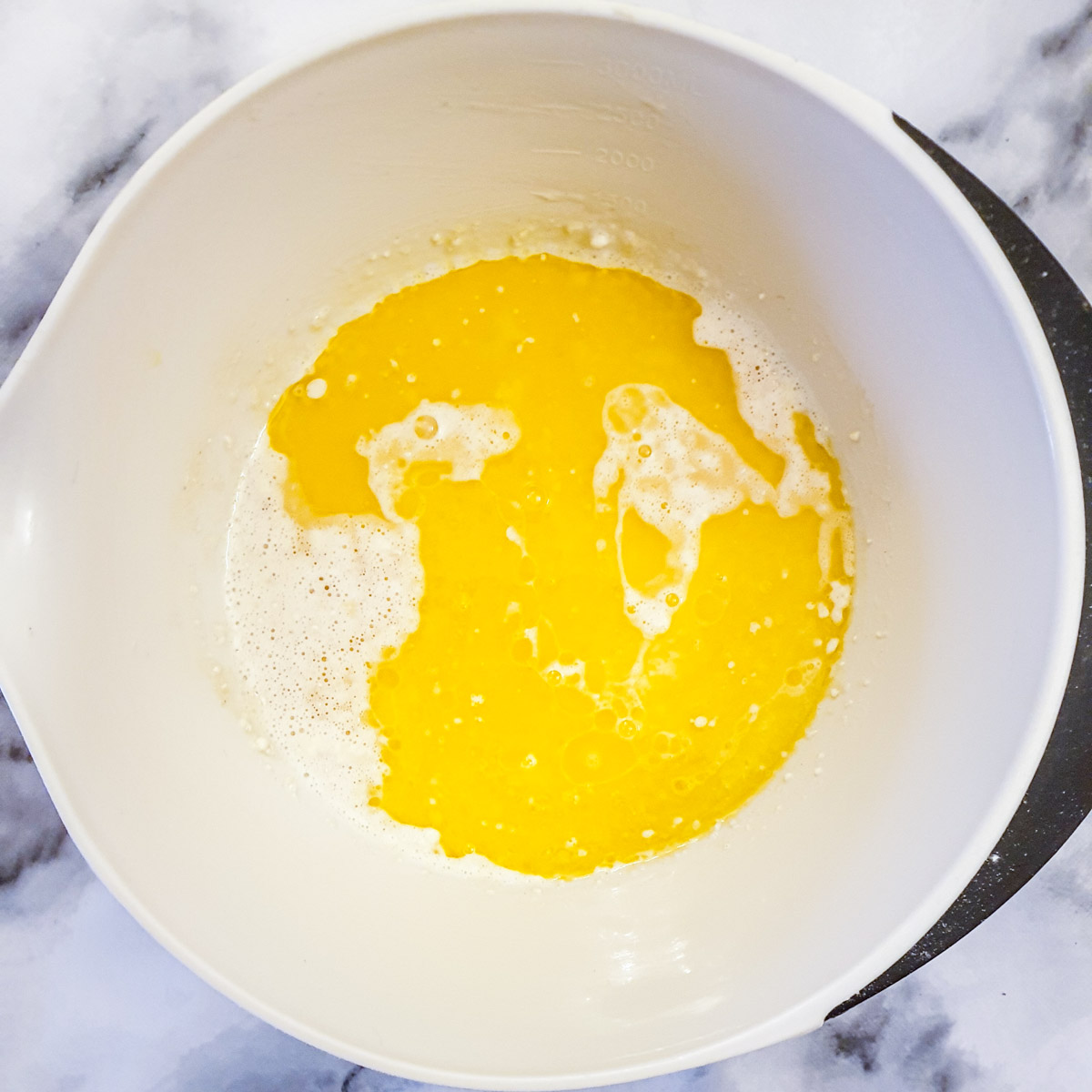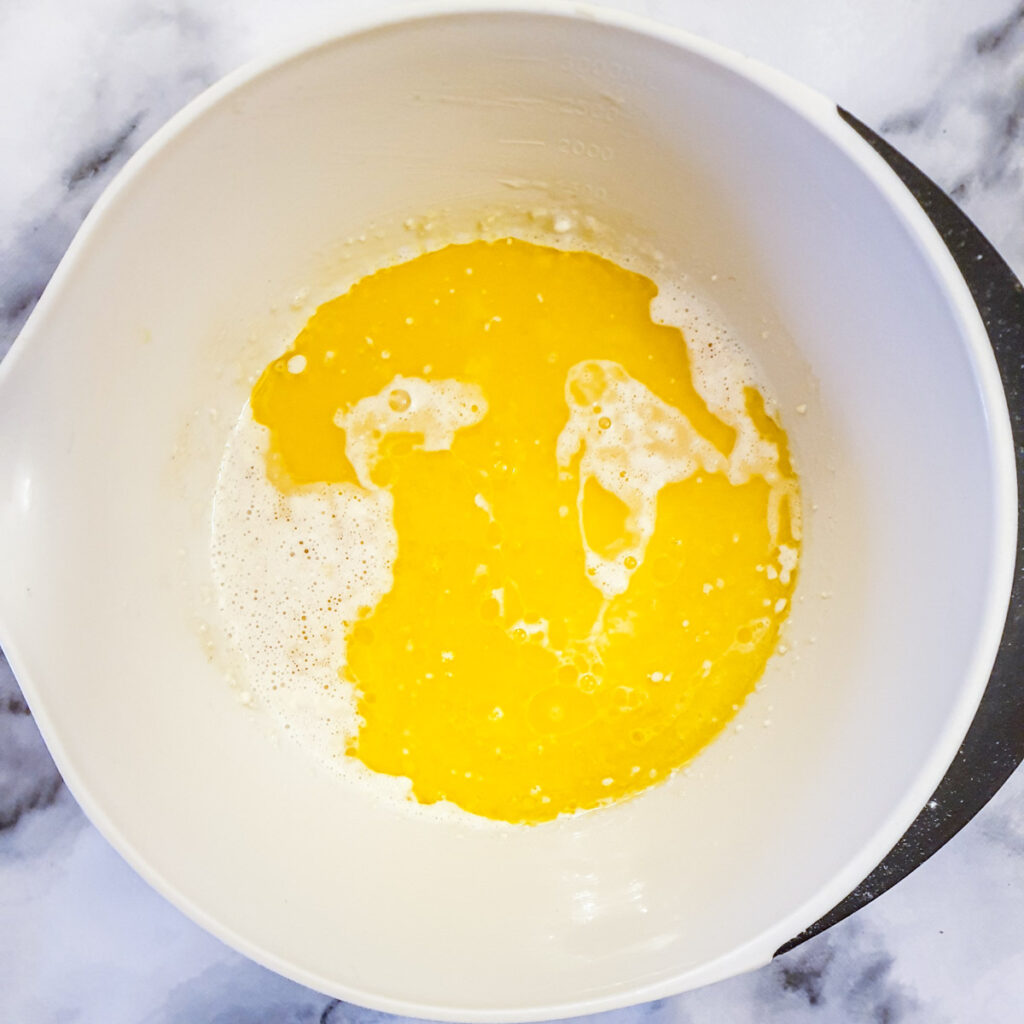 Finally stir in the fruit mincemeat. You will find that the mincemeat changes the colour of the batter slightly, but don't let this worry you. It will still taste delicious.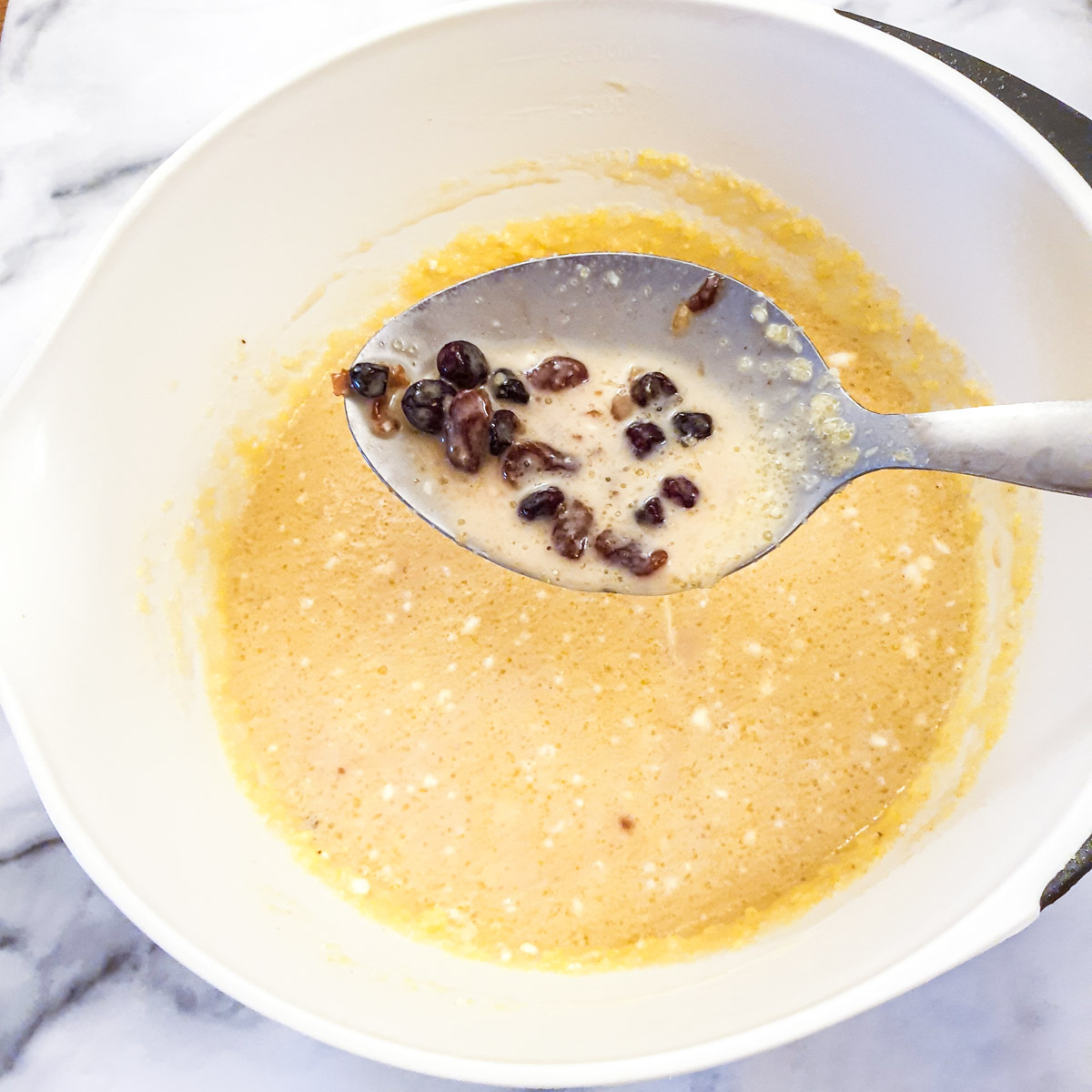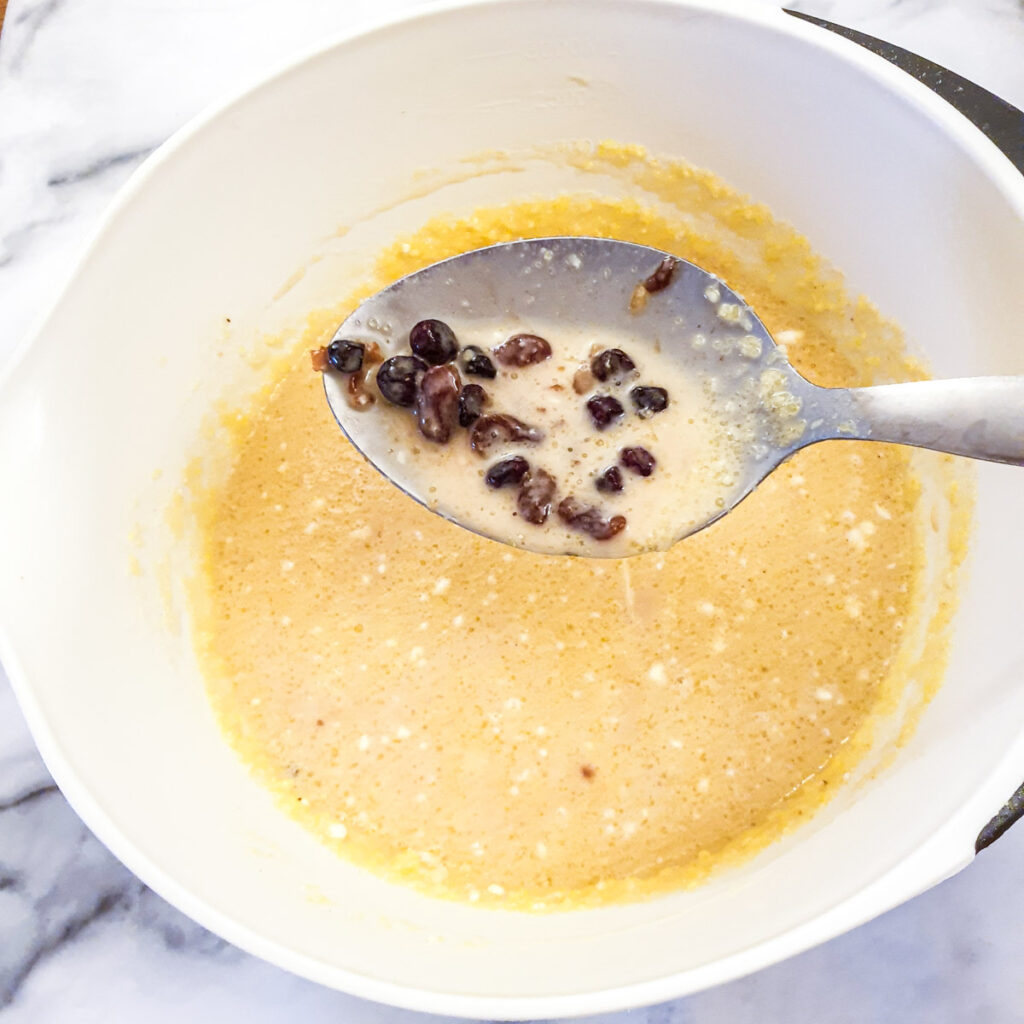 Grease a 10-inch round baking dish with a little melted butter.
Pour the mixture into the greased baking dish.
If you are worried about the tart overflowing in the oven, just place the baking dish on a baking sheet before placing in the oven.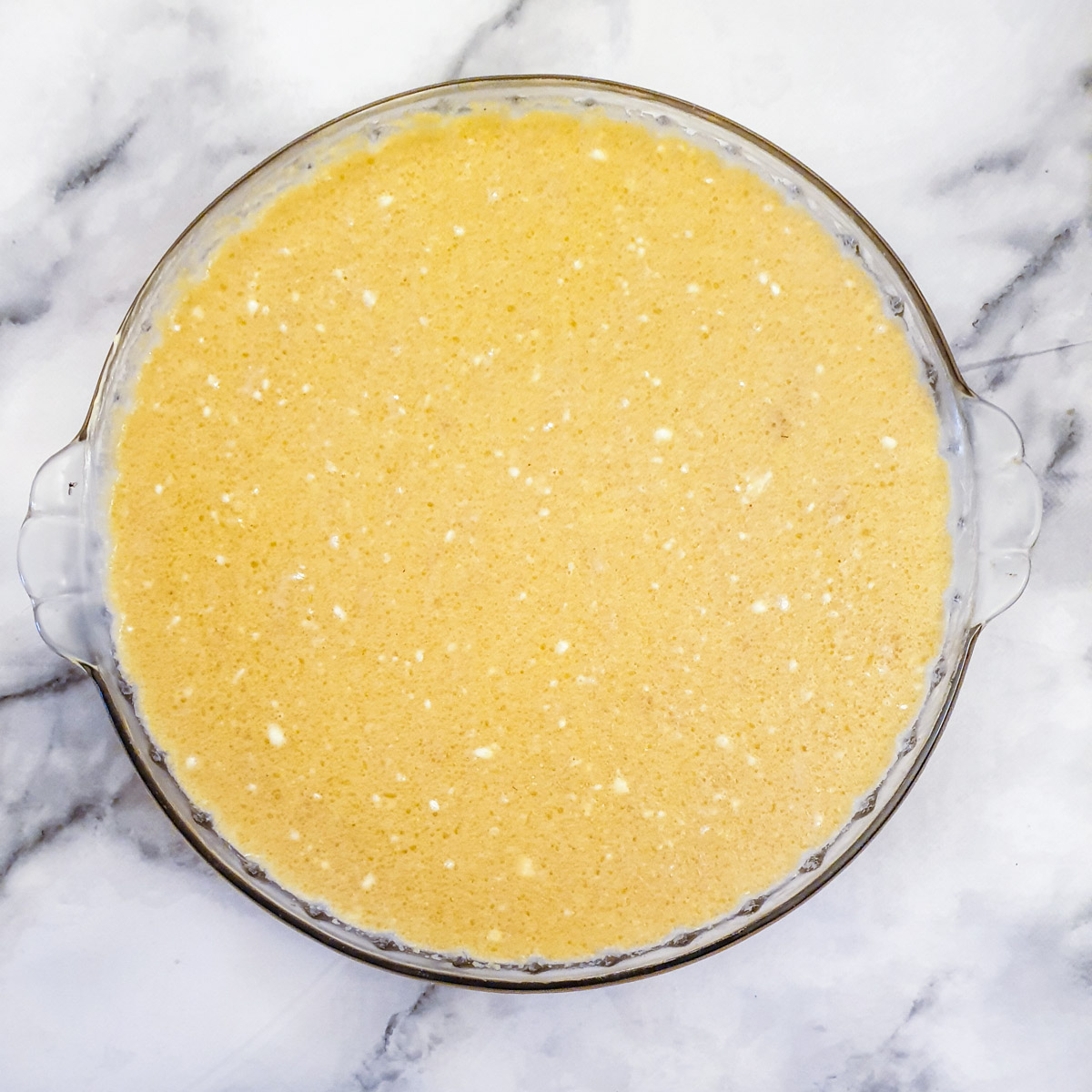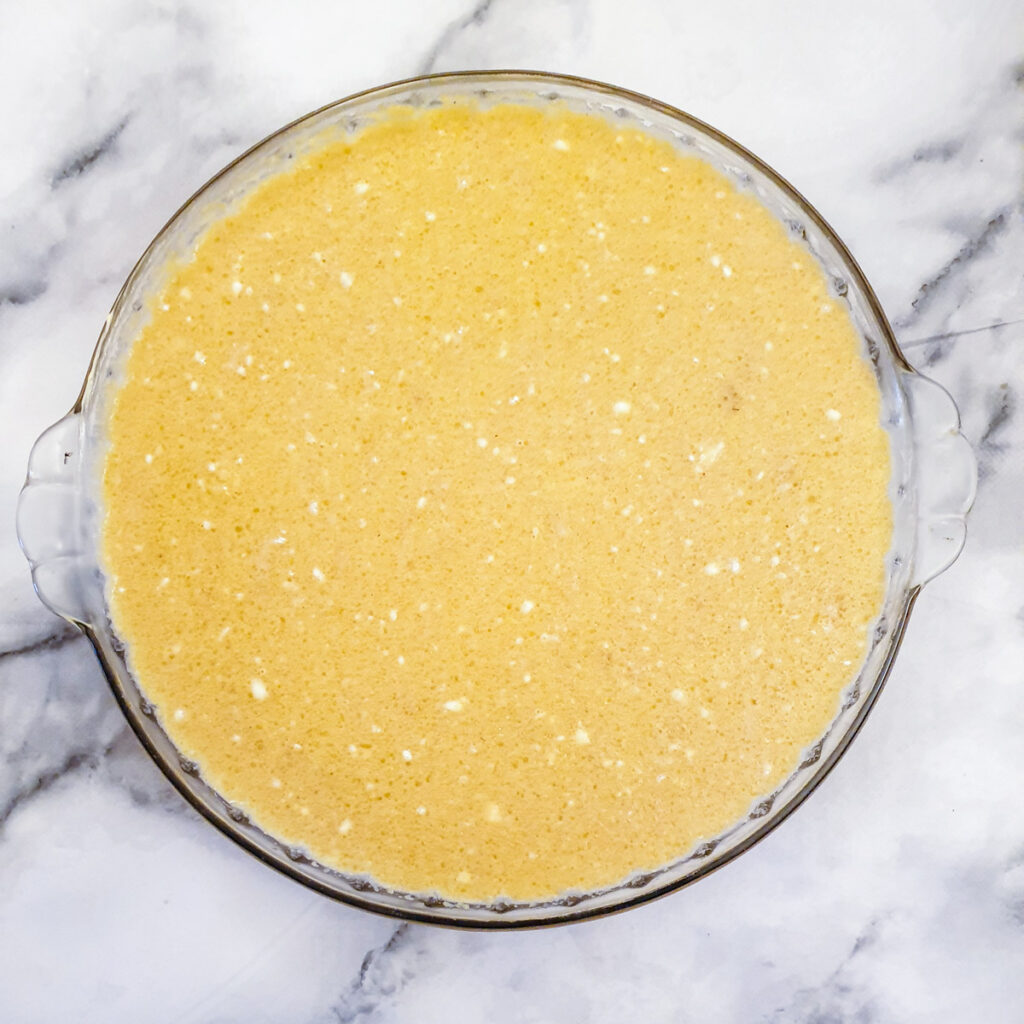 Bake
Bake in a medium oven (175C / 350F) for 1 hour.
Ovens can vary so keep your eye on it. You may find that your tart is cooked after 50 minutes.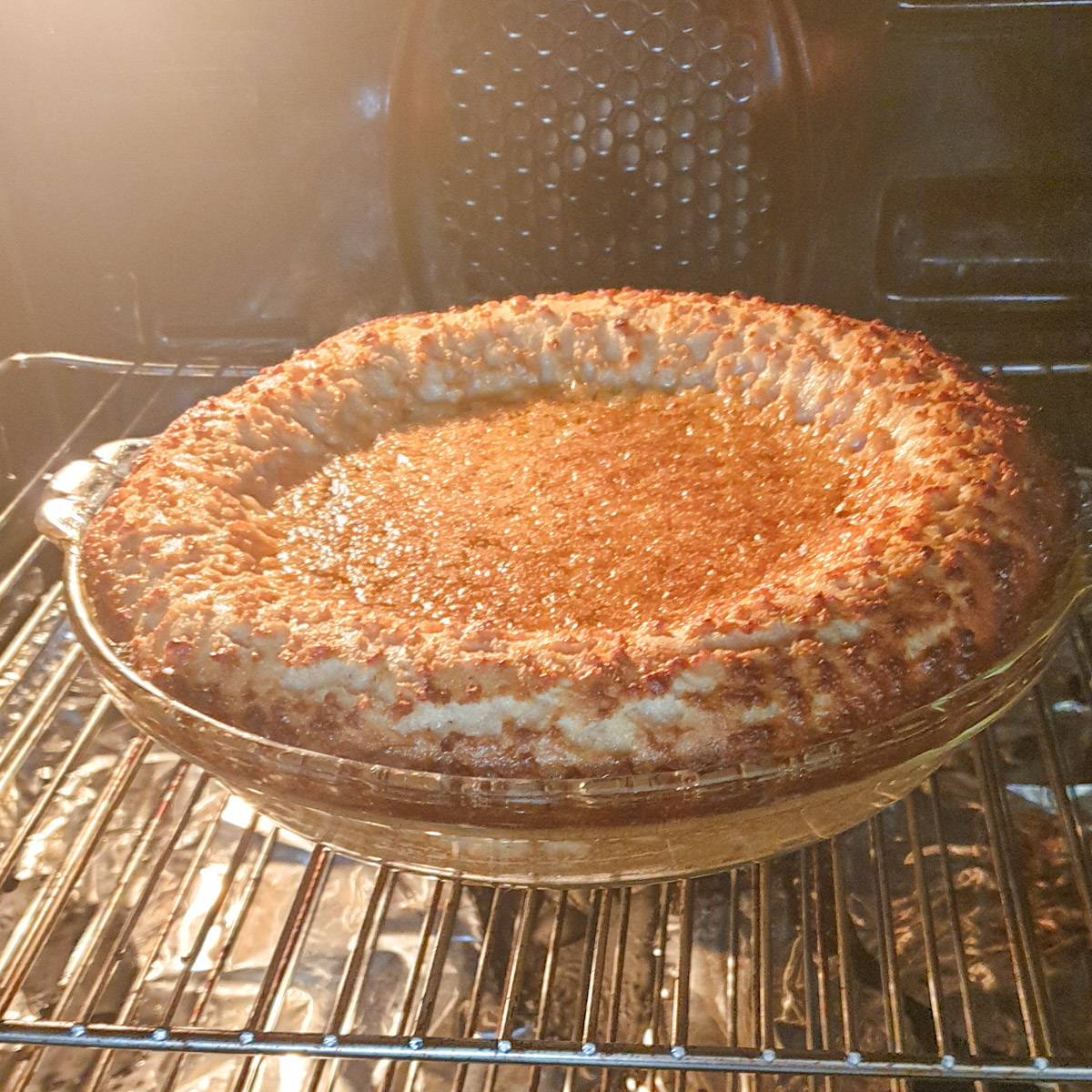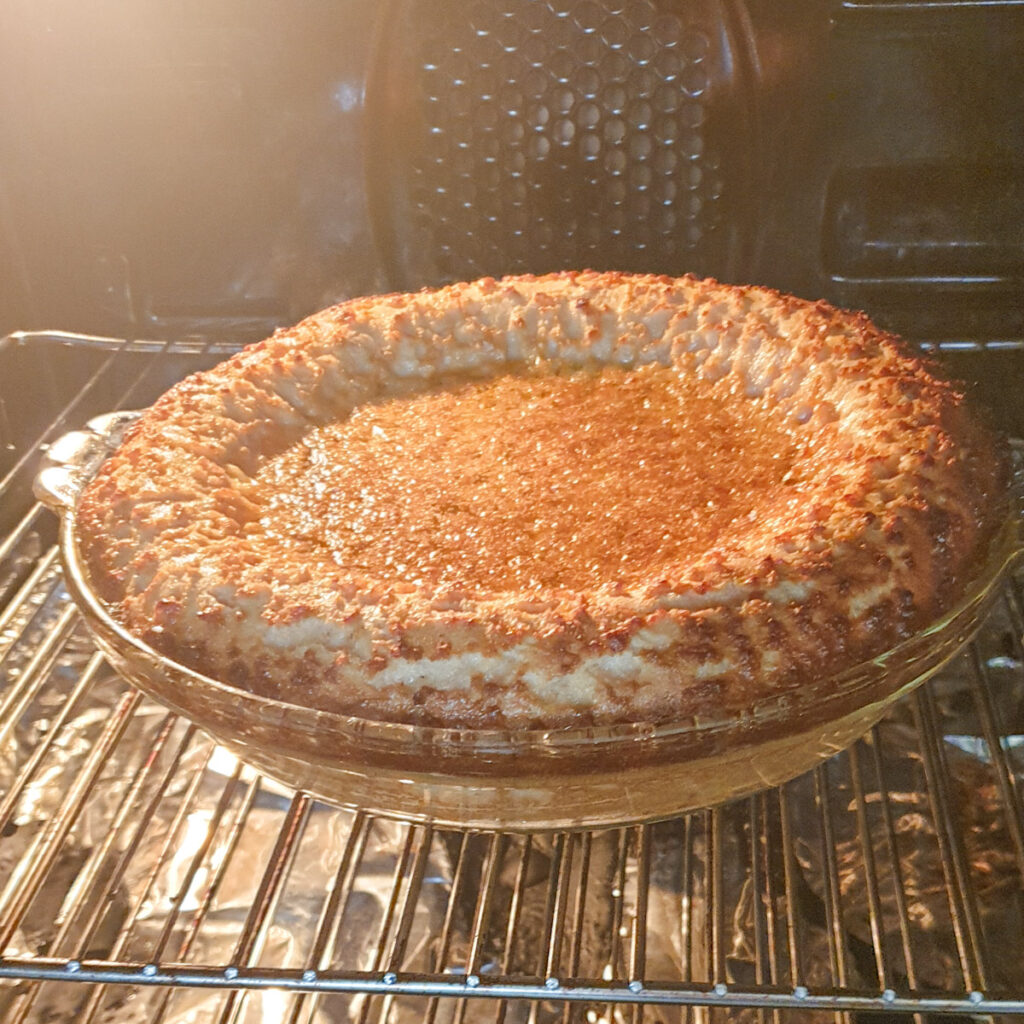 Don't expect the entire tart to puff up. It will only puff around the edges.
The tart will be cooked when it feels firm to the touch and no longer 'jiggles' if you shake the dish. If your tart starts to brown too much before the centre has set properly, just cover the edges with a strip of tinfoil.
This is a close up of the finished tart.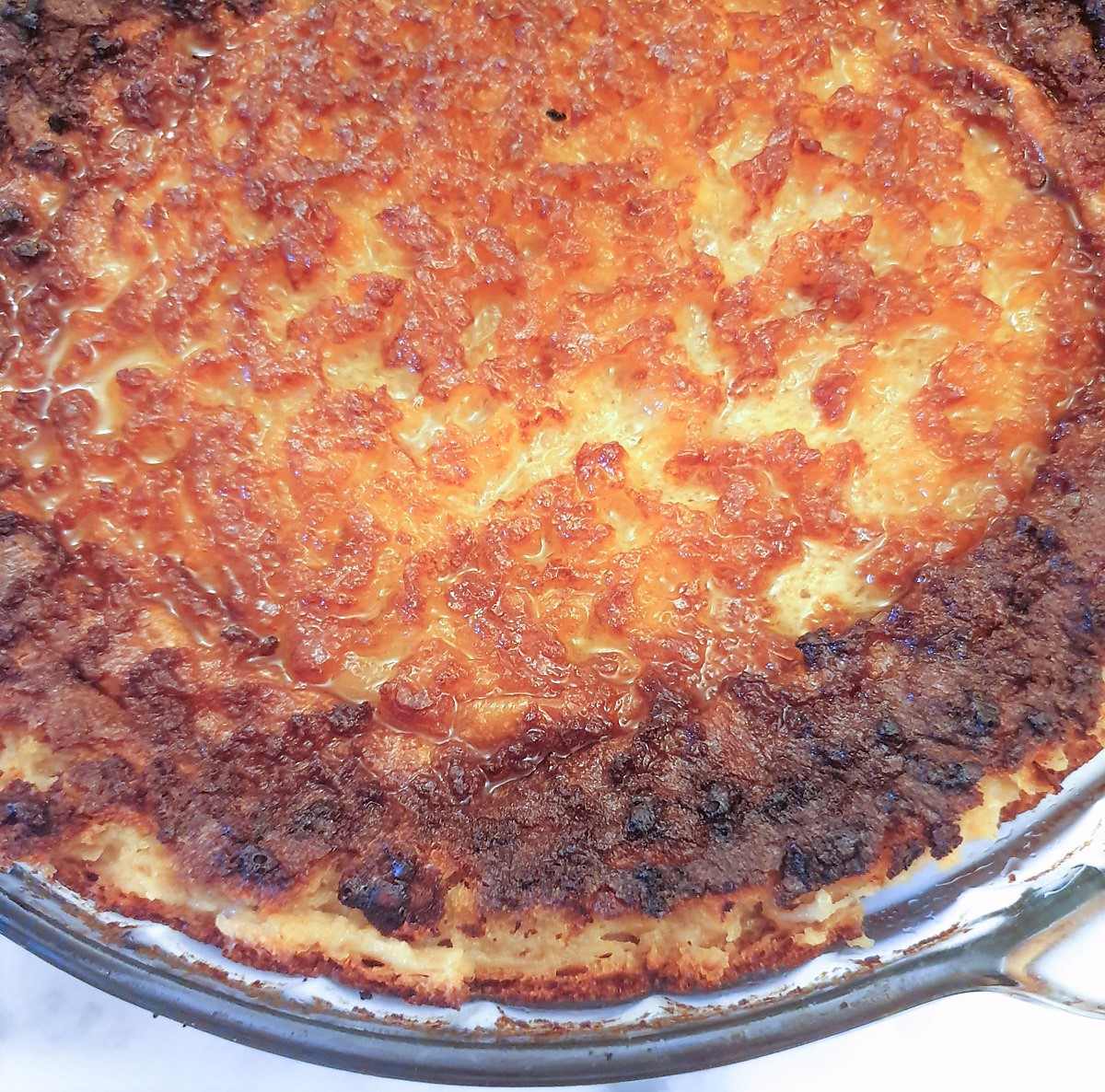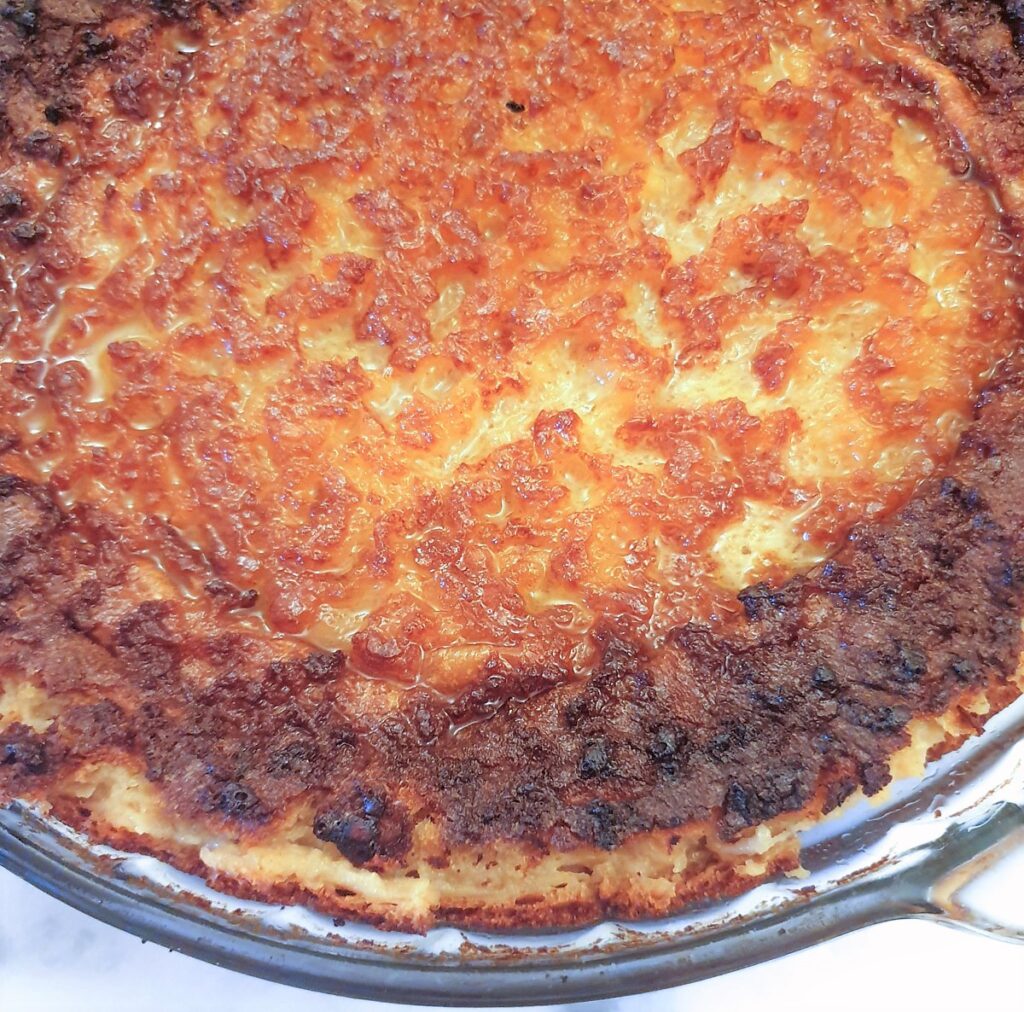 The top of the tart will be quite moist and sticky. This is due to the sugar in the fruit mincemeat rising to the top and forming a slight syrupy texture on the top.
Remove it from the oven and allow to cool completely before covering with tinfoil or plastic wrap and storing in the refrigerator.
The final photo shows the texture of the underside of the tart.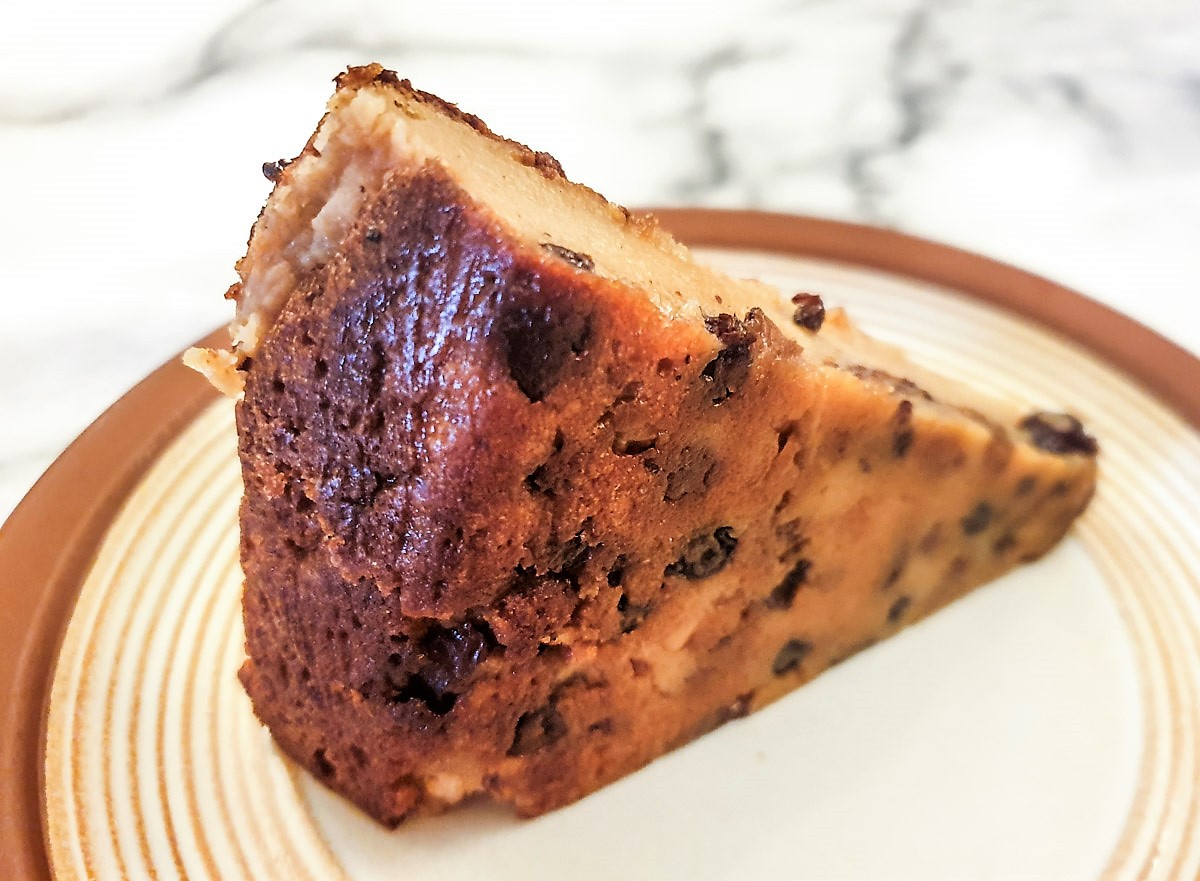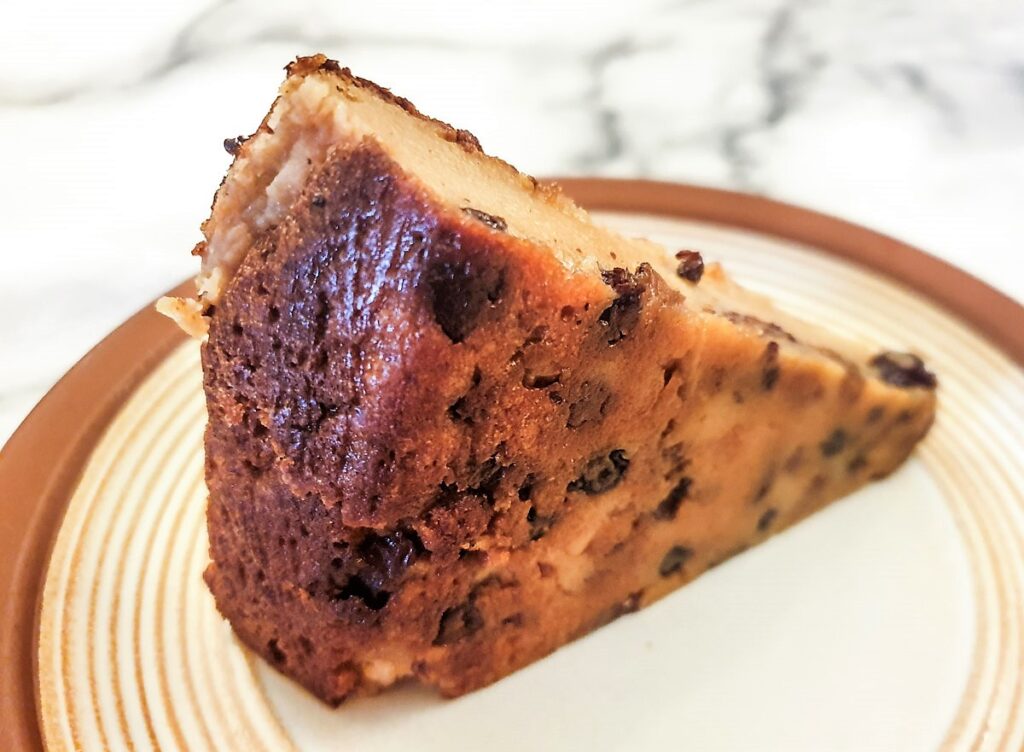 Even though there is a layer of custard in this impossible tart, the texture is quite firm. Once the tart has cooled in the refrigerator you will be able to cut it into slices and pick it up in your fingers. It will hold its shape nicely.
When you are ready to serve, dust the tart with icing sugar. Don't do this too far in advance because the top of the tart is quite moist and the icing sugar will just dissolve.
If you'd like to be notified of any new recipes, why not subscribe to my newsletter. As a thank-you gift, you will receive a free recipe e-book containing some of my most popular cakes and desserts.
Get ahead
Unfortunately this tart is not suitable for freezing.
However you can make it up to three days in advance and store it in the refrigerator covered in tinfoil or plastic wrap.
Pin for later
If you would like to try this impossible Christmas tart for yourself, why not pin it to your Pinterest board so you can find it easily. Just click on the image below.
Other recipes to try
Perhaps you'd like to try some of my other festive baking ideas
The recipe
If you made this recipe and enjoyed it, I'd love it if you could give me a star rating in the comments below. And if you'd like to get in touch, you can email me at [email protected]. I'd love to hear from you. And don't forget to subscribe to my mailing list so you can grab yourself a copy of my FREE COOKBOOK!
If you'd like to continue browsing, just click on this link to all my recipes.