As more and more people find themselves in self-isolation or lock-down, I thought it would be helpful to provide a guide containing tips on how to store perishables. Read on for my tips that will enable you to stock your freezer with frozen vegetables and other perishables, that will tide you over until you can get a fresh supply.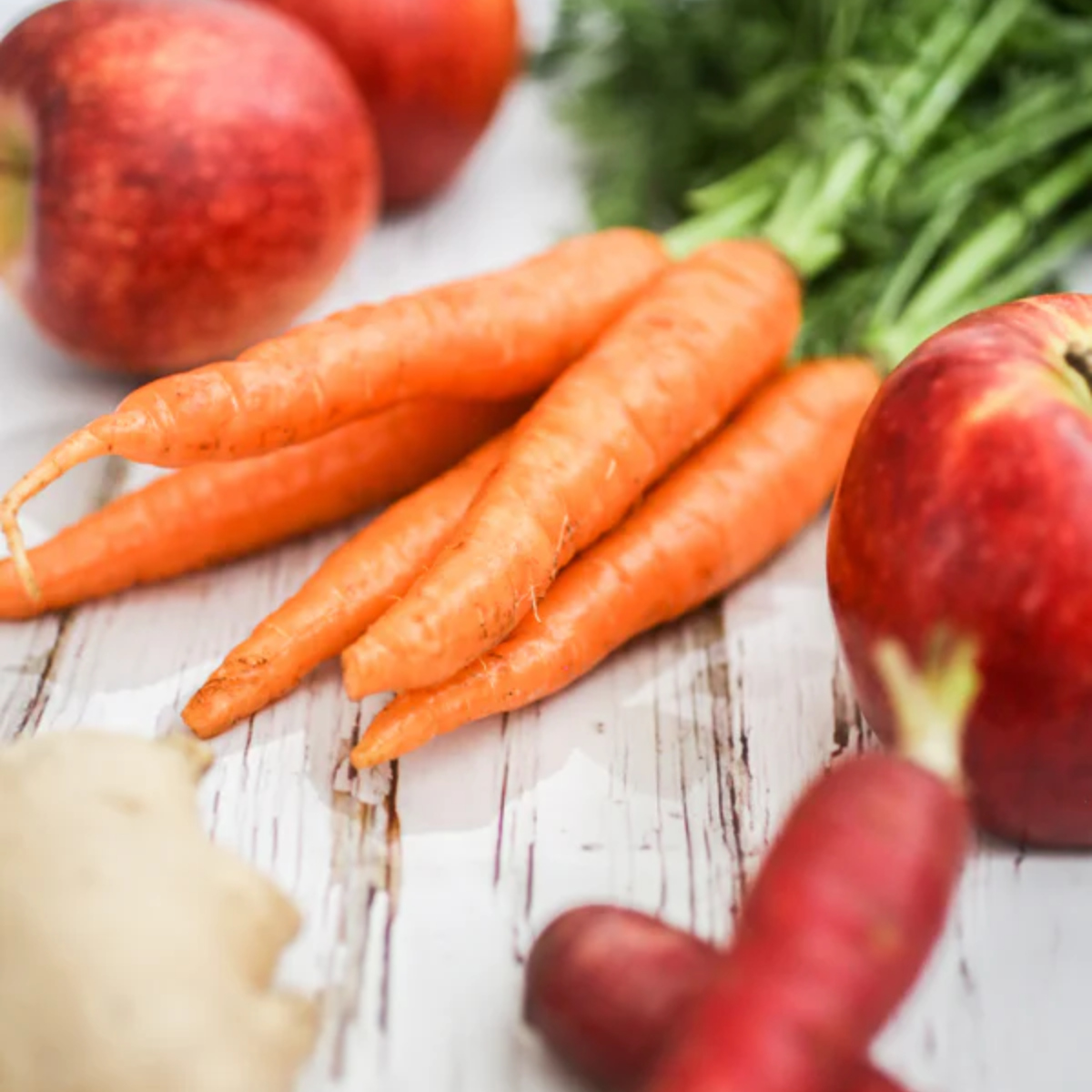 **As an Amazon affiliate, I earn from qualifying purchases.**
Fruit and Vegetables
Let's face it, if you are in self-isolation or lock-down, getting fresh fruit and vegetables is going to be difficult. And if you are lucky enough to get a supply, how do you make sure that you use them to best advantage, without them going off?
This guide provides you with some hints on storing, preparing and freezing vegetables and other perishables, which will help in some small way to getting you through the days ahead. I've included some recipe ideas too, to help you make the most of the fresh vegetables you do have.
Potatoes
Potatoes are a staple part of our diet. Properly stored, potatoes will last in your kitchen for up to 2 weeks. When you get them home, remove them from the supermarket plastic bag and place them in your vegetable basket in the kitchen. I have a wicker basket which I line with paper kitchen towel. The kitchen towel absorbs any moisture and thus helps to extend the life of the potatoes.
Other tips for storing potatoes
Potatoes will last for up to 2 months when stored in a cool, dark place. Store them in a brown paper bag or even a cardboard box to keep the light out, either in the cellar (if you have one) or in the cupboard under the stairs.
Store potatoes and onions separately – if you store them together they will both go off faster.
Don't freeze raw potatoes – they do not freeze well. However cooked potatoes do freeze well. Just boil them and mash them and once cooked place them into meal-sized containers. They will stay good in the freezer for up to 12 months. To use just defrost and heat.
You can use defrosted mashed potatoes to make this frittata. Just substitute the 3 medium grated raw potato with 2 cups of defrosted mashed potato.
You can also freeze your own chips or fries in this recipe for my twice fried crispy chips. Just make up a batch, fry them once and allow to cool on kitchen paper. Then place them on a baking tray in the freezer in a single layer. Once they are frozen, transfer them to a freezer bag. To use just fry the frozen chips in hot oil or lard for 4 to 5 minutes until they are crispy.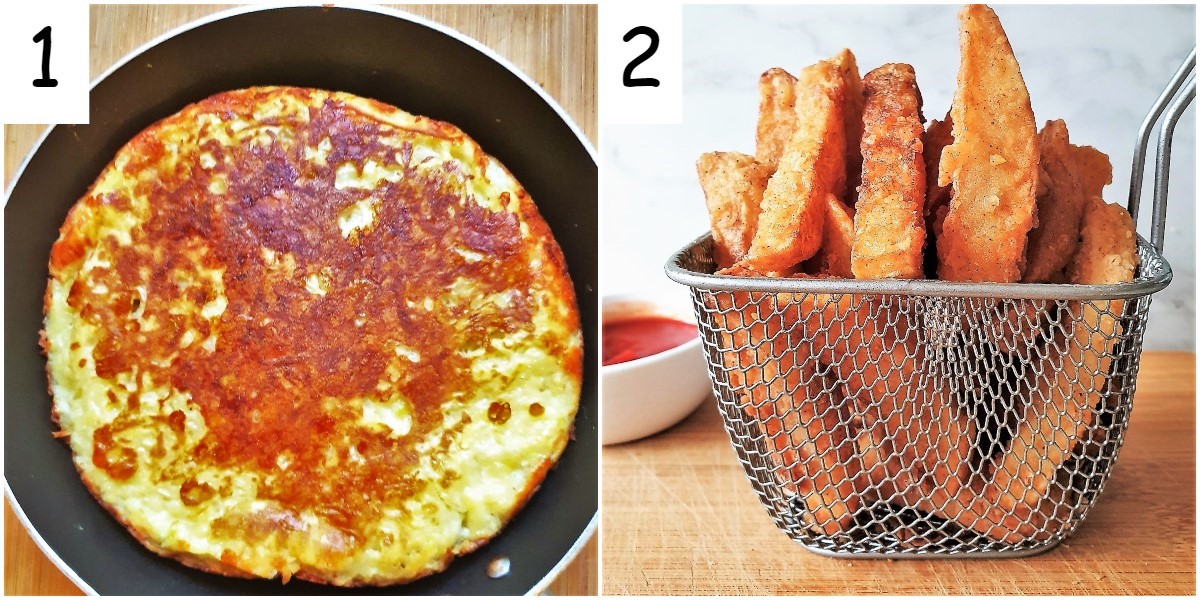 Onions
Fresh onions will last for up to 4 weeks. To extend their life, you can store them in the fridge for up to 2 months.
Onions can also be stored in a mesh bag in a cool dark place. Don't store them in a plastic bag.
Don't store near potatoes as this will cause both vegetables to go off faster.
You can freeze raw onions. Chop or slice them then pack in plastic bags and pop in the freezer. They will keep for at least 6 months. Use for cooking only, they won't taste good in salads!
You can also freeze cooked onions. I like to make a brown onion gravy by sweating sliced onions in a little cooking oil and then adding 2 cups of boiling water mixed with 2 – 3 tablespoons beef gravy granules. Let it simmer until it thickens and the onions are soft. This gravy is delicious poured over mashed potatoes with sausages and peas, or served alongside a helping of toad-in-the-hole.
To freeze the onion gravy, just pour meal-sized portions into freezer bags and freeze. To defrost, transfer to a microwave-safe dish and heat, or tip into a saucepan and heat on the stove.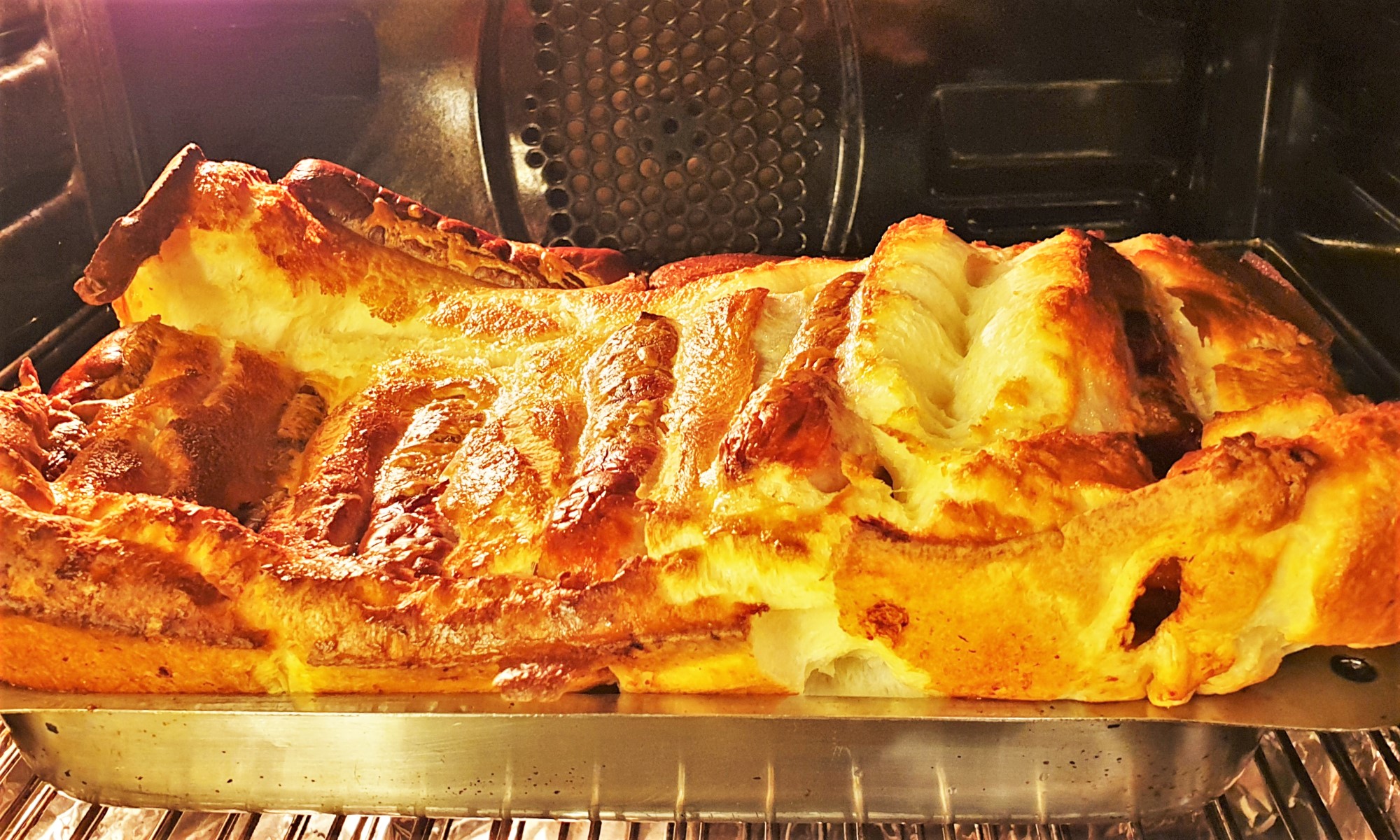 Tomatoes
With the best will in the world, you are not going to get fresh tomatoes to last longer than a week in the fridge before they start to go off.
The best way to preserve tomatoes would be to freeze them. Just chop coarsely and simmer until softened, with a little salt and a teaspoon of sugar to cut through the tartness. You can then store them in plastic bags indefinitely in the freezer. They make a great addition to stews if you don't have tinned tomatoes handy.
I always keep a stock of frozen cooked tomato and onion in the freezer. It has the advantage of using up any onions that might be coming to the end of their life too. This makes a great substitute for tinned tomatoes, and can be added to stews or a bolognese for great flavour. You will need twice as many tomatoes by volume as onions. Just chop them and simmer with 1 teaspoon sugar and salt to taste for about 30 minutes until the onions are soft and the mixture has thickened slightly. Cool and spoon into freezer bags. It will keep in the freezer for 6 month or longer. Substitute this in the bolognese recipe for the tomato and onion components.
I also like to make chilli tomato sauce, and freeze that too. It's a bit spicier than just plain tomato and onion, and it goes really well with sausages, or just mixed into cooked pasta, with a handful of grated cheese, for a quick and easy supper. Because a little of this sauce goes a long way, I like to freeze it in ice-cube trays and then just pop out a few as and when I need them.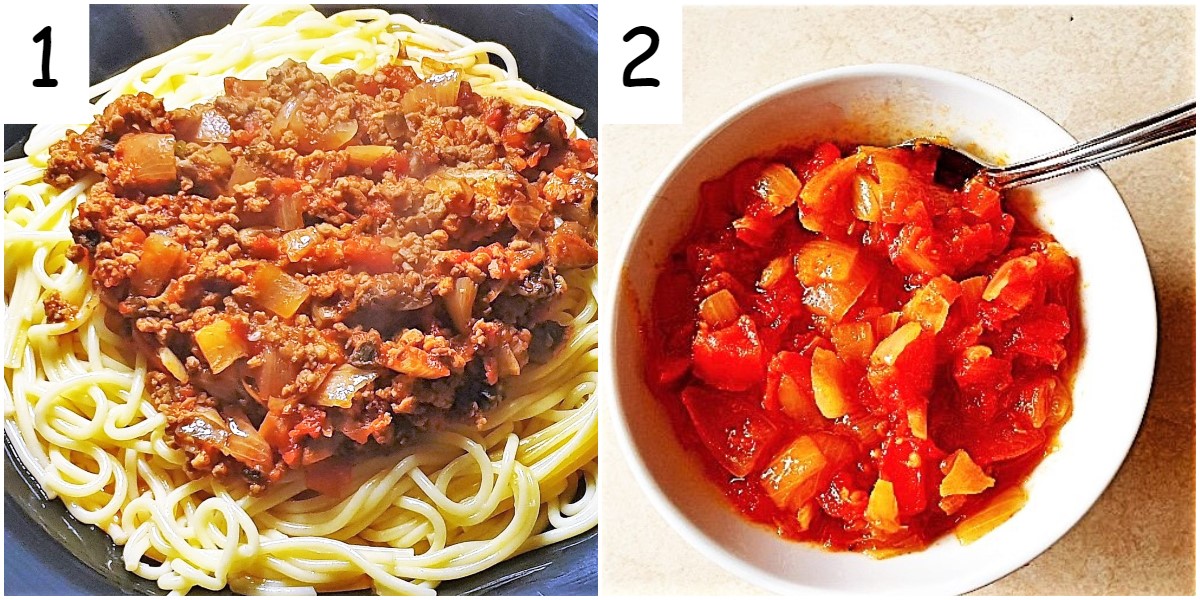 Other vegetables
Cabbage
Cabbage is a great standby, because it stays fresh for ages. I keep mine in the fridge in a plastic bag and it lasts at least 6 weeks. I use cabbage all the time when I'm making soups and stews. Grated cabbage added at the beginning of the cooking process disintegrates into the most delicious gravy. Try this recipe for my lamb stew and see for yourself.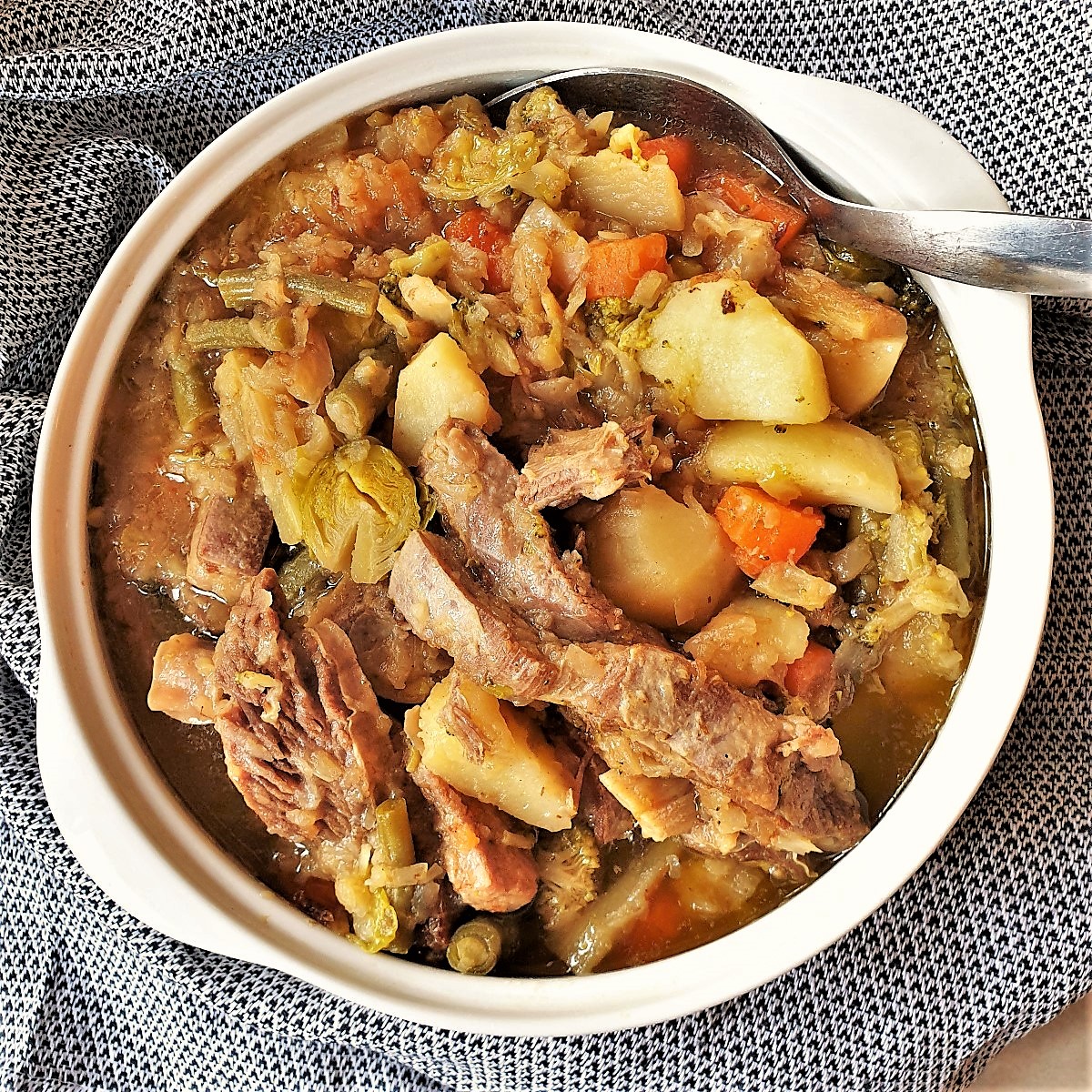 Carrots
This is another vegetable that will easily last for a couple of weeks in a plastic bag in the fridge. If you want to freeze carrots, just peel and chop them and the pop into a pot of boiling water for a couple of minutes to blanch them. Allow to cool and then pack into plastic freezer bags before putting in the freezer. They will last indefinitely.
To cook the frozen carrots, why not try making glazed carrots. Defrost enough frozen carrots for your meal and then pop them in a saucepan with 1 teaspoon of sugar and a knob of butter. Cover with a lid and leave them to sweat on the lowest heat, stirring occasionally until the carrots are cooked through and nicely glazed. Serve as a side vegetable.
Green beans and spinach
Green beans or spinach won't last for much longer than a week in the fridge before they go all limp and lifeless. My favourite way of freezing them is to cook them up with potatoes and onions and then mash them, as in this South African recipe for boereboontjies (or mashed green beans) – which is quite similar to the English version of bubble and squeak. They will keep indefinitely, packed in meal-sized portions in plastic bags in the freezer. To use, just defrost and heat through in a saucepan and serve as a side with your next roast.
Note – the recipe calls for green beans, but you can substiute the beans with cooked spinach. It will taste just as good.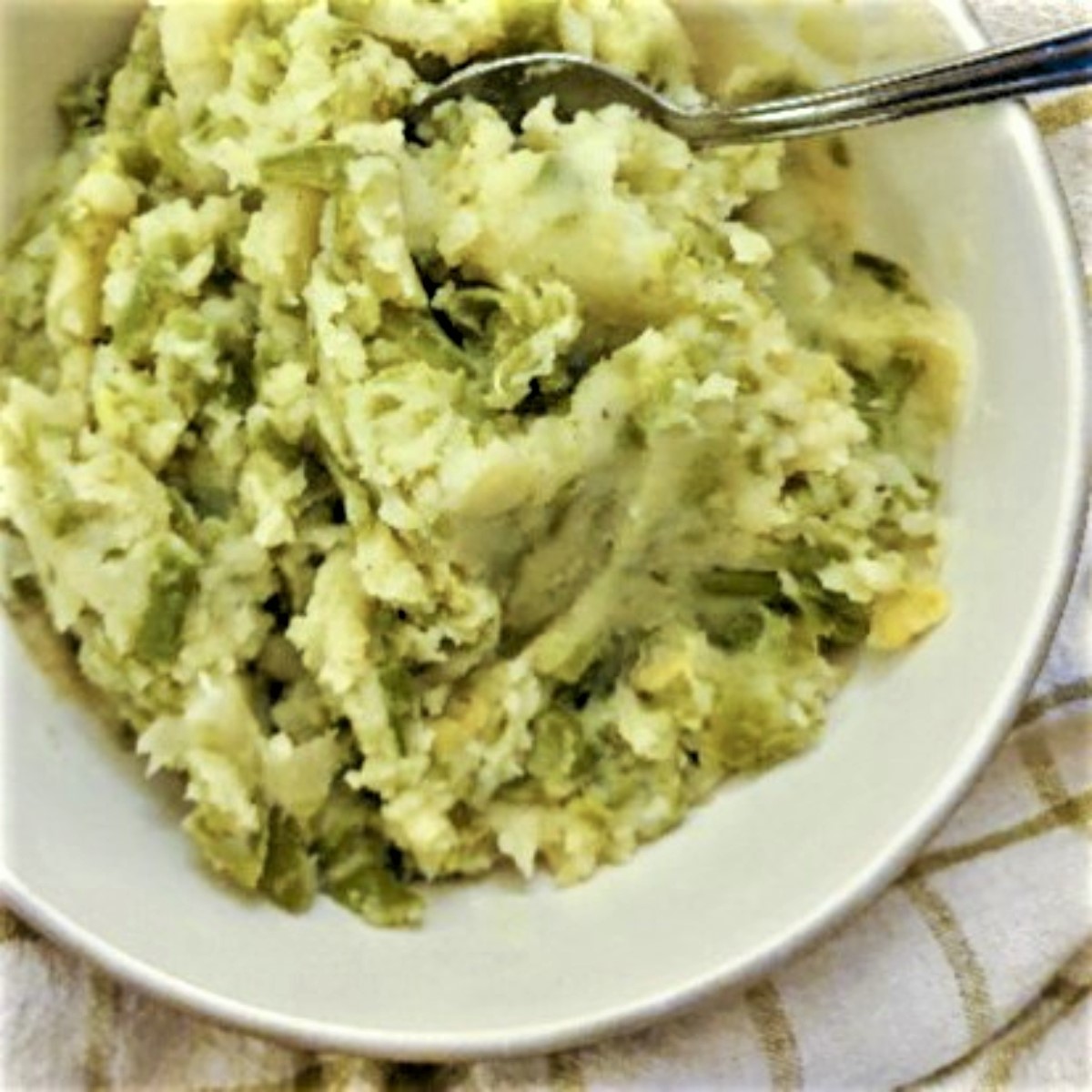 Sweet potato and butternut squash
Sweet potatoes and butternut squash will last for about a month in the kitchen before starting to turn 'woody'. Once cooked though, they will last indefinitely in the freezer.
Prepare sweet potato/butternut squash by peeling it, and chopping it into chunks.
Place it in a microwave-safe dish, add a knob of butter and a sprinkling of salt, then cover with clingfilm or a tight-fittig lid.
Microwave on high power for 3 to 4 minutes (check after 3 minutes to see if it is soft, if not, give it another minute).
Mash with a fork to incorporate the butter, allow to cool and transfer to freezer bags and freeze until needed.
To use, defrost, and then reheat in the microwave or in a saucepan on the stove.
Cauliflower and broccoli
These vegetables have a fridge life of about a week. You can freeze them by chopping into florets, and the blanching in boiling water for a couple of minutes. Once cooled, pack into freezer bags and freeze for up to six months.
I find that these 2 vegetables tend to become 'watery' once frozen and defrosted, so I prefer to cook them until almost tender and then cover with a cheese sauce before freezing.
Here's my recipe for a quick and easy cheese sauce made in the microwave.
Whisk 2 cups milk with 2 level tablespoons cornflour together in a microwave proof bowl to remove any lumps. Add salt to taste and 100g butter.
Microwave on high for 3 minutes
Remove from microwave and whisk to combine.
Return to microwave and cook on high for another 2 minutes
Remove from microwave and whisk again. If the sauce has not thickened sufficiently, microwave for another minute and whisk again.
Once the sauce has thickened, add 1 cup grated cheddar cheese and mix through.
Return to microwave and cook on high for 1 minute until the cheese has melted.
This cheese sauce and be frozen 'as is'. Pack it into a freezer container or ziploc bag and freeze indefinitely.
You can also mix it with cooked calliflower or broccoli (or a mixture of both), pack in containers and freeze.
Or why not make a creamy mushroom cheese sauce to pour over a schnitzel for a quick and easy supper. Just saute chopped mushrooms and a clove of chopped garlic in a little butter until the mushrooms and soft and then mix with the cheese sauce. Freeze as above.
To use any of these sauces, allow to defrost then reheat in the microwave or in a saucepan on the stove, stirring occasionally.
Apples
Apples will stay fresh at room temperature for up to a week, but you can store them in the fridge for up to 6 weeks. If you have a lot of apples, you could turn them into apple puree or apple slices and freeze for up to a year.
To cook sliced apples – peel and core the apples and cut into slices. Place them in a saucepan with about 1/3 of a cup of water and bring to the boil. Boil until just staring to soften. Allow to cool and pack into suitable freezer containers and freeze until needed.
To cook apple puree – peel and core the apples and chop into rough 1″ chunks. Place in a saucepan and add enough water to just cover the apples. Bring to the boil, then reduce the heat to a simmer, cover with a lid, and allow to simmer until the apples are soft. Mash with a fork, or for a smoother texture, whizz in a blender. Allow to cool and pack into suitable freezer containers and freeze until needed.
Why not try this easy recipe for apple cake. Just substitute the tin of apples for an equal quantity of sliced cooked apples.
Oranges
Oranges will normally last for up to a week at room temperature, and for up to a month if stored in a plastic bag in the fridge.
To ensure you have a fresh supply of orange juice available you can squeeze the juice from oranges and freeze in ice-cube trays. Once frozen, remove the orange ice-cubes and transer to plastic bags. They will keep indefinitely in the freezer. To use, just remove as many ice-cubes as you need and allow to defrost.
You can use the juice to make homemade orange curd, which is delicious spread on a scone (see my recipe for lemondade scones made with only 3 ingredients), or used as a topping on a homemade chocolate cake.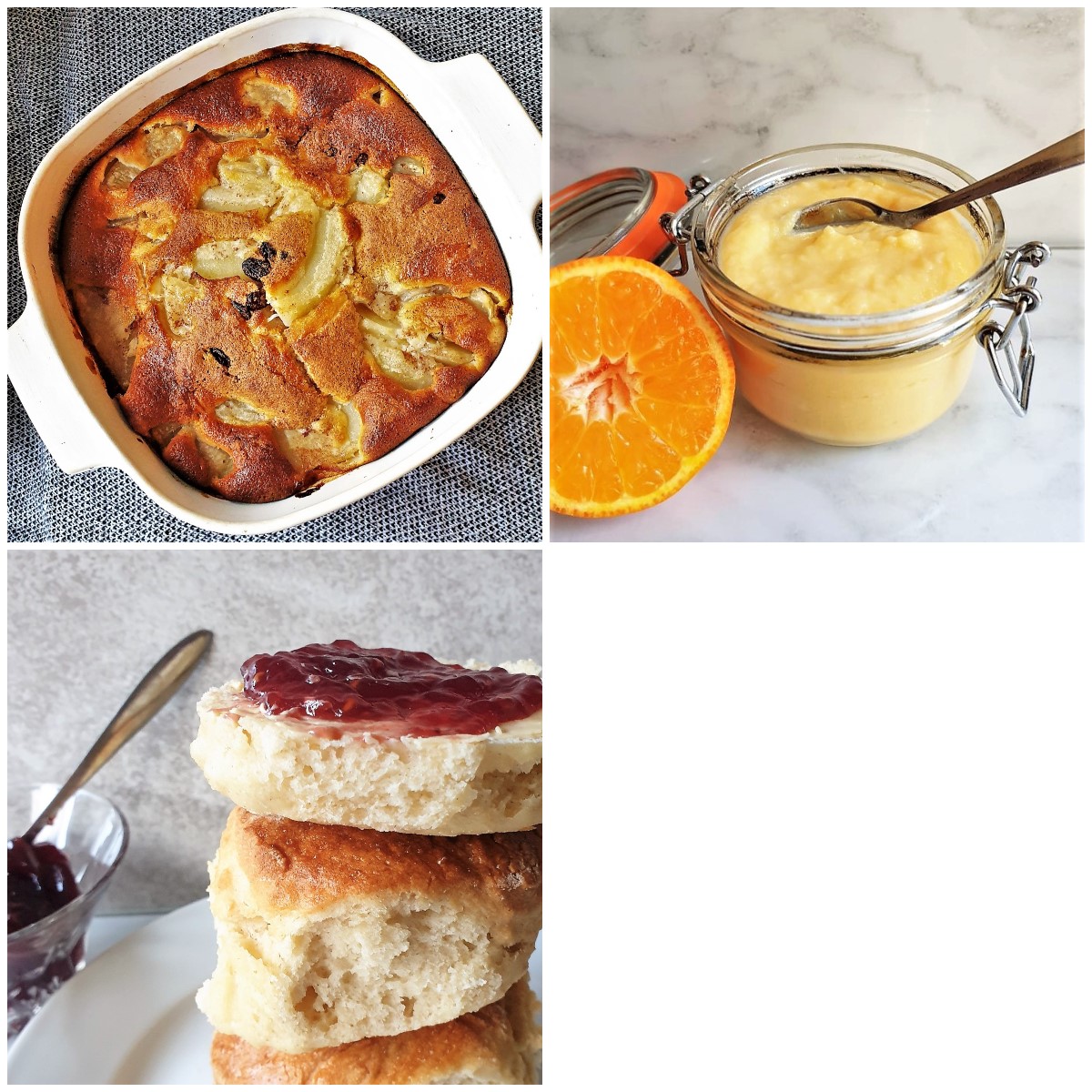 Other tips
Milk
Did you know that you can freeze fresh milk? When I lived in South Africa the supermarkets used to sell milk in sealed 1-litre plastic bags which you had to decant into a tupperware jug. As a working mother who didn't always have time to get to the shops, I used to buy milk in bulk once a week and store it in the freezer. Each night I'd take a frozen packet out of the freezer and leave it in the fridge. By the next day, it had defrosted and was ready for use.
Here in England, I always keep a 2-litre plastic bottle of milk in the freezer for emergencies, or for when I forget to pick up a bottle at the supermarket. If you are in a hurry to defrost it, and can't wait for it to defrost overnight, just pop it in a sinkful of lukewarm (not hot) water and leave for an hour.
Bread
Bread also freezes very well. When I had three school-going children and I had to pack their sandwiches for lunch I always kept sliced bread in the freezer. It keeps indefinitely. Just place it still in its plastic packet, in the freezer. Try not to squash it together too much so that the frozen slices will separate easily.
When you need to make a sandwich just remove as many slices as you will need. Leave the bread on the counter for a couple of minutes, or put it in the microwave for a quick 5 second blast to defrost, and then use to make sandwiches as normal.
The advantage of keeping bread in the freezer is that you get to use the entire loaf, and don't end up with mouldy week-old bread in your bread-bin!
Eggs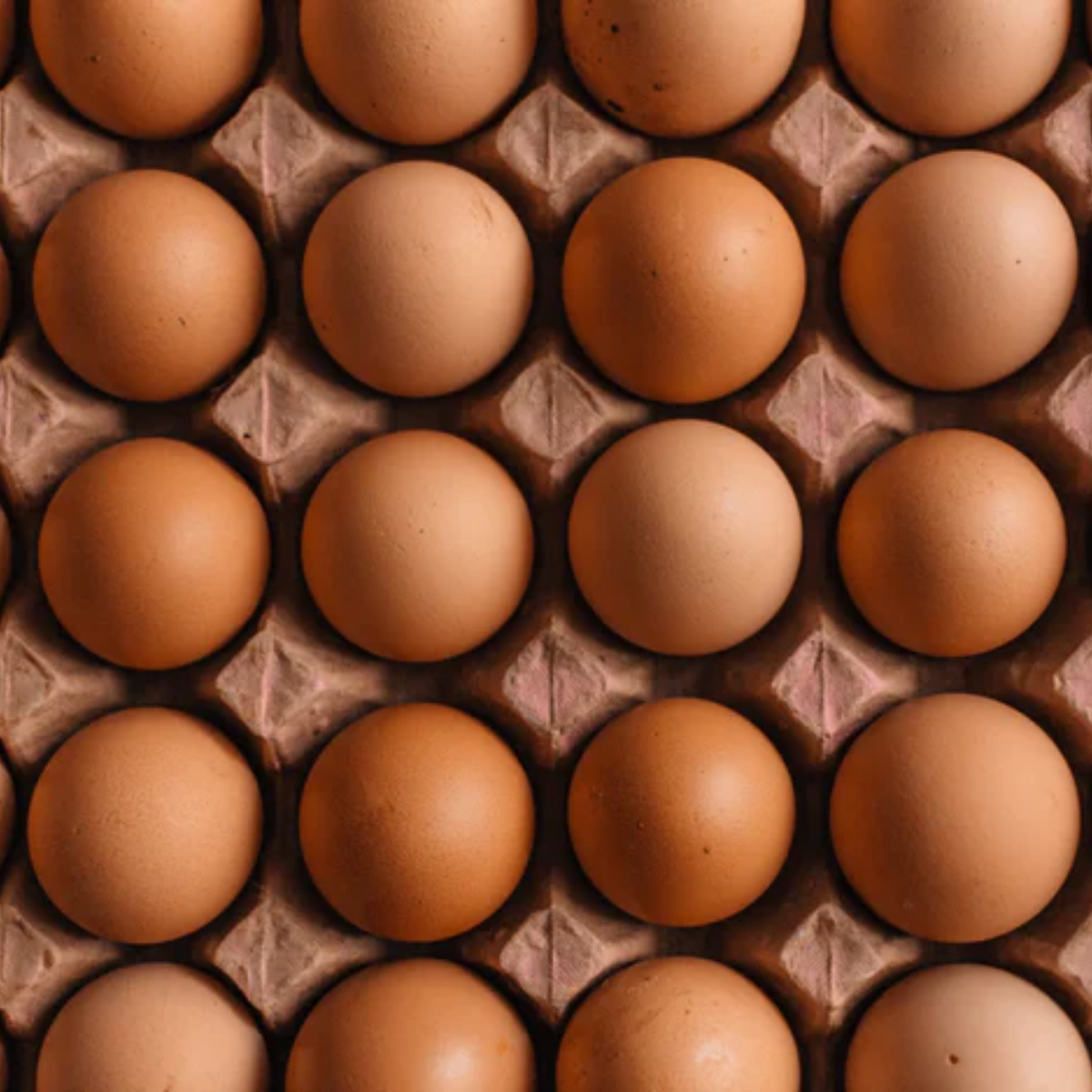 Fresh eggs can be safely stored in the fridge for up to 5 weeks. If you want to store eggs for longer than that, you should freeze them. Just don't put a whole egg, still in its shell, in the freezer. The contents of the egg will expand on freezing, causing the shell to crack!
To freeze whole eggs
Defrosted frozen eggs can be used in baking, and also for making scrambled eggs.
Break the eggs into a bowl and whisk lightly with a fork to break up the yolk and combine with the white.
Pour into suitable (small) containers – an ice-cube tray or a muffin tin would be ideal – and place in the freezer until frozen.
Once frozen, remove from the container and transfer to a plastic bag (to save space in the freezer).
To use, allow to defrost and use in baking, or to make scrambled eggs.
3 tablespoons of defrosted whole egg is the equivalent of 1 egg.
To freeze egg whites
Defrosted frozen egg whites can be used in making meringues.
Separate the egg whites from the yolks, being careful not to break the yolks.
Transfer the whites into an ice-cube tray. Try to get an ice-cube tray with holes large enough to hold each individual egg white.
Freeze, then transfer the frozen cubes into a freezer bag.
To use, remove the number of cubes required, allow to defrost, then beat to stiff peaks as normal.
2 tablespoons of defrosted egg white is the equivalent of one whole egg white.
To freeze egg yolks
The yolk is the only part of the egg that needs a bit of preparation before freezing. Egg yolks tend to become gelatinous once frozen and do not defrost well. To prevent this, add either 1/8 teaspoon of salt or 3/4 teaspoon sugar for each 2 egg yolks, depending on whether you will be using the egg yolks for savoury or sweet dishes.
Separate the yolks from the whites, then whisk the yolks to combine.
Add either salt or sugar and then pour into ice-cube trays and freeze.
Once frozen, transfer the cubes to a freezer bag and label as either sweet or savoury.
Once defrosted, 1 tablespoon of egg yolk is the equivalent of 1 normal egg yolk.
Cheese
Any hard cheese, such as cheddar or parmesan, that can be grated can be frozen. I've been freezing my cheese for years, so I'm never without grated cheese when I'm cooking. It lasts forever in the freezer so you need never run out of cheese again.
To freeze cheese, just grate it and pack it into a large freezer bag.
When you close the bag, do not squeeze all the air out of it. Once the bag is sealed, give it a bit of a shake to separate the grated bits. This ensures the grated cheese stays separate and doesn't cling together in clumps. Once the cheese is hard and frozen you can remove the air to save freezer space.
To use, just take out whatever you need. It defrosts really quickly on the counter top so if you are making sandwiches just take it out a few minutes before you will be making them.
If you are going to be using it for cooking (cheese sauce, pizza toppings etc) or baking (cheese scones), just use the frozen grated cheese directly in the dish.
I like to keep one bag of cheddar (for sandwiches) and one bag of mixed cheddar and mozarella (for baking), and a third bag of parmesan for sprinkling on pasta.
Share your own tips
I hope you found this post useful. It's not an exhaustive list by any means. If you have any tips of your own for freezing / storing perishables, to make them last longer, please share in the comments below.
Pin for later
Why not pin this post to your pinterest board so you can refer back to it later. Just click the image below.
If you found this post useful, please don't forget to give me a star rating in the comments below. And if you'd like to get in touch, you can email me on [email protected]. I'd love to hear from you. And don't forget to subscribe to my mailing list so you can grab yourself a copy of my FREE COOKBOOK!
If you'd like to continue browsing, just click on this link to all my recipes.