Crispy around the edges, softer towards the middle, with bursts of chocolate from the Smarties, these giant Smartie cookies are a delicious tea-time treat. They are perfect for slipping into a lunch box or for snacking on when the sweet cravings hit!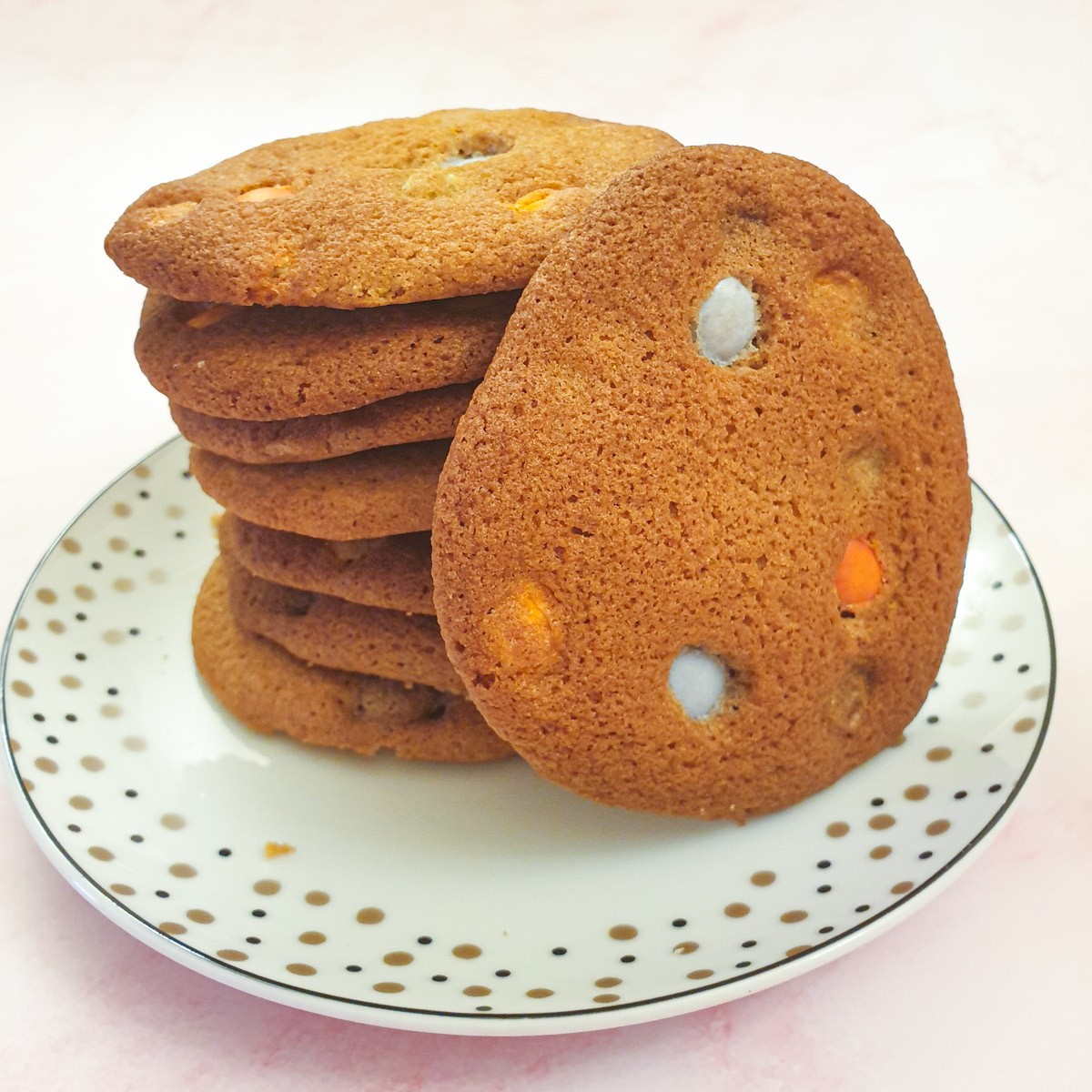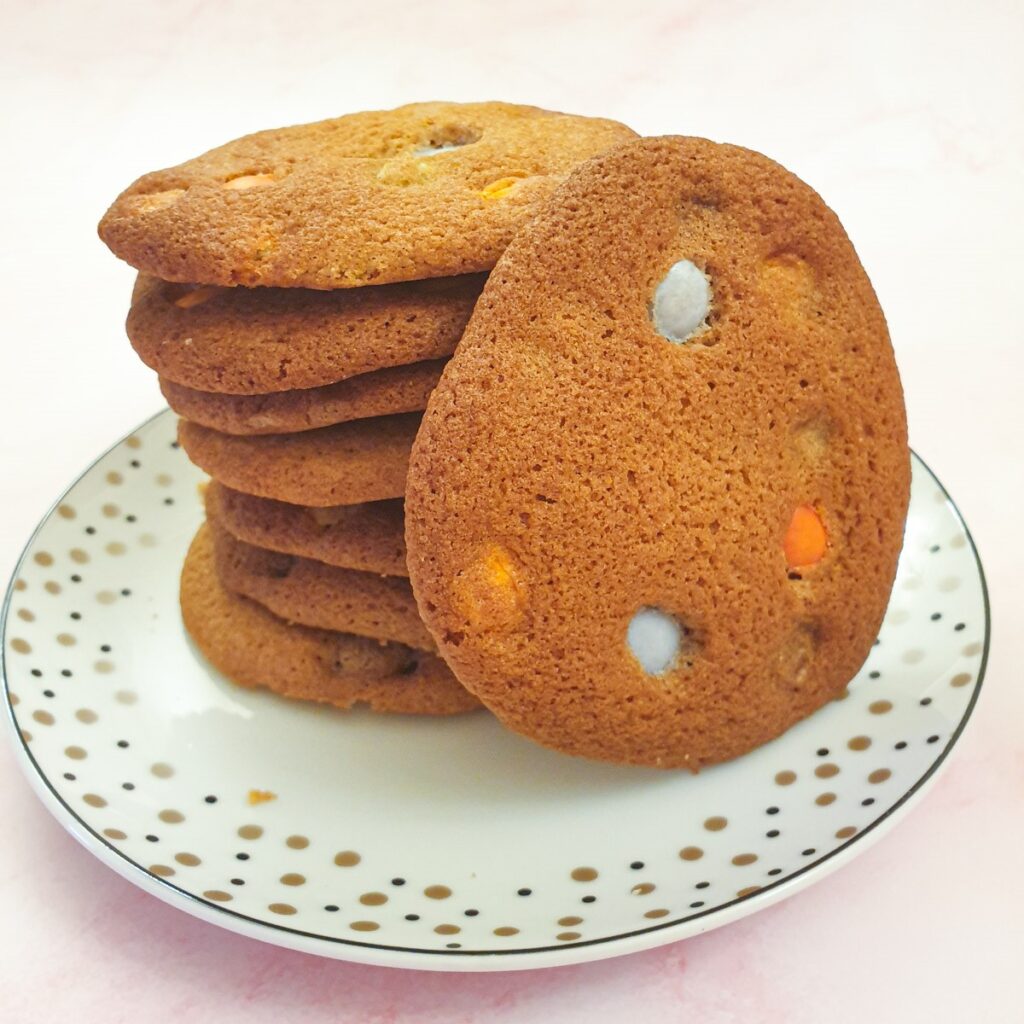 **As an Amazon affiliate, I earn from qualifying purchases.**
Smartie cookies
I love these giant-sized Smartie cookies. Don't let the slightly rustic look put you off – they are super-tasty.
They have a crispy edge to them, but as you get towards the centre of the cookie, the texture changes to become softer and slightly chewy. They are packed with Smarties too, so you get little pops of chocolate as you eat them.
They are made with dark brown sugar, which gives a slight caramel taste.
These Smartie cookies are also really easy to make, so they're great for getting children involved.
I must tell you that these are not a typical crisp biscuit – they are definitely more like a cake than a cookie. If you want a crispy cookie then I would suggest that you try this recipe for pistachio butter biscuits.
What I love about them
They have a crispy outer edge, but as you get closer to the middle of the cookie, the texture becomes slightly chewier.
The are not TOO fattening – one giant cookie has only 200 calories, but if you make normal-sized cookies, this goes down to 100 calories. So you can eat one without feeling guilty.
If you have an electric hand mixer you can whip up a batch of these in 5 minutes. If you are using a wooden spoon it will take a few minutes longer.
They only take 12 minutes to bake!
They are easy to vary – see below for how I change the recipe to make double chocolate Smartie cookies.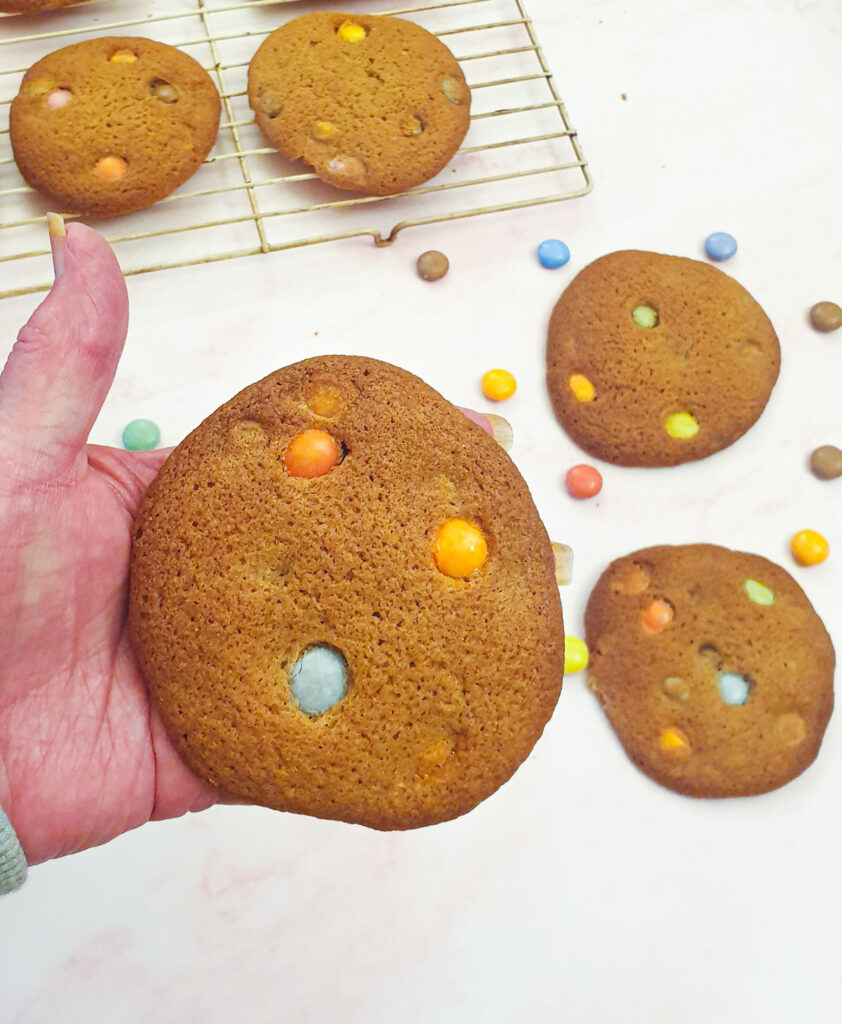 So without further ado, let's get on with the recipe.
Ingredients
**You can find the complete list of ingredients and full instructions for making these giant Smartie cookies on the printable recipe card at the end of this post**
This recipe makes 12 large or 24 smaller cookies.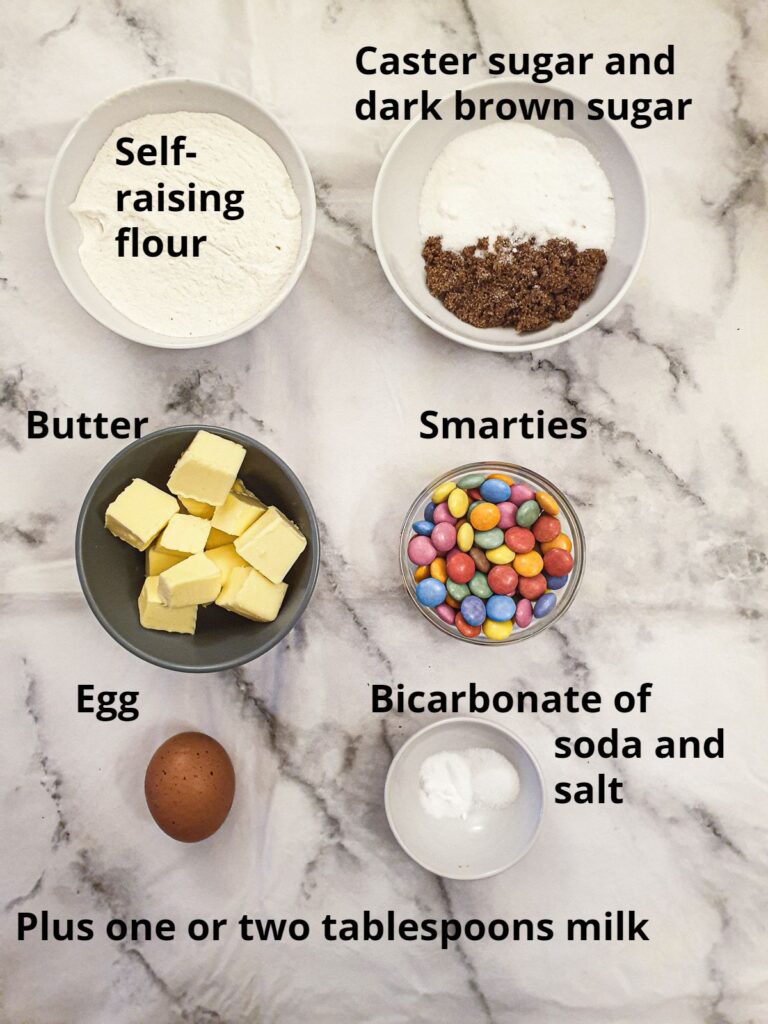 Self-raising flour – if you only have plain flour you can simply add one teaspoon of baking powder for each cup (140 grams) of plain flour.
Caster sugar – this is much finer than granulated sugar, and I like to use it for making cakes because it dissolves more easily into the butter. You can use granulated sugar if that's all you have, or you can whizz granulated sugar around in your food processor (fitted with a metal blade) and turn it into caster sugar.
Dark brown sugar – this adds a lovely caramel taste to the cookies and also helps form the slightly chewy texture.
Butter – if you are REALLY counting calories, you can substitute the butter with yellow baking margarine, such as STORK. Also, make sure the butter is at room temperature for easy mixing.
Egg – use a large egg or jumbo-sized egg. If you only have small eggs, you can use 2 eggs, but you may find you don't need to use any milk.
Smarties – I bought a large tube from Poundland which weighed 120 grams (4.2 ounces). If you are using the smaller tubes, they weigh 38 grams each (or 1.3 ounces) so you will need 3 of the smaller tubes. You don't have to be 100% exact on the measurements of the Smarties – an approximate amount is fine.
Bicarbonate of soda – helps form a lighter texture – you can leave it out if you prefer.
Salt – I think a small amount of salt adds to the taste, but this is optional.
Milk (not pictured) – this depends entirely on how large your egg is. The egg provides the moisture content. If you are using a jumbo egg you may not need to add any milk at all. I used a large egg and I found I needed 1 tablespoon of milk, just to loosen the dough slightly (see egg above).
How to mix the Smartie cookies
Start off by creaming the butter and sugar together. An electric hand-mixer makes light work of this, but if you don't have a hand-mixer you could use a wooden spoon.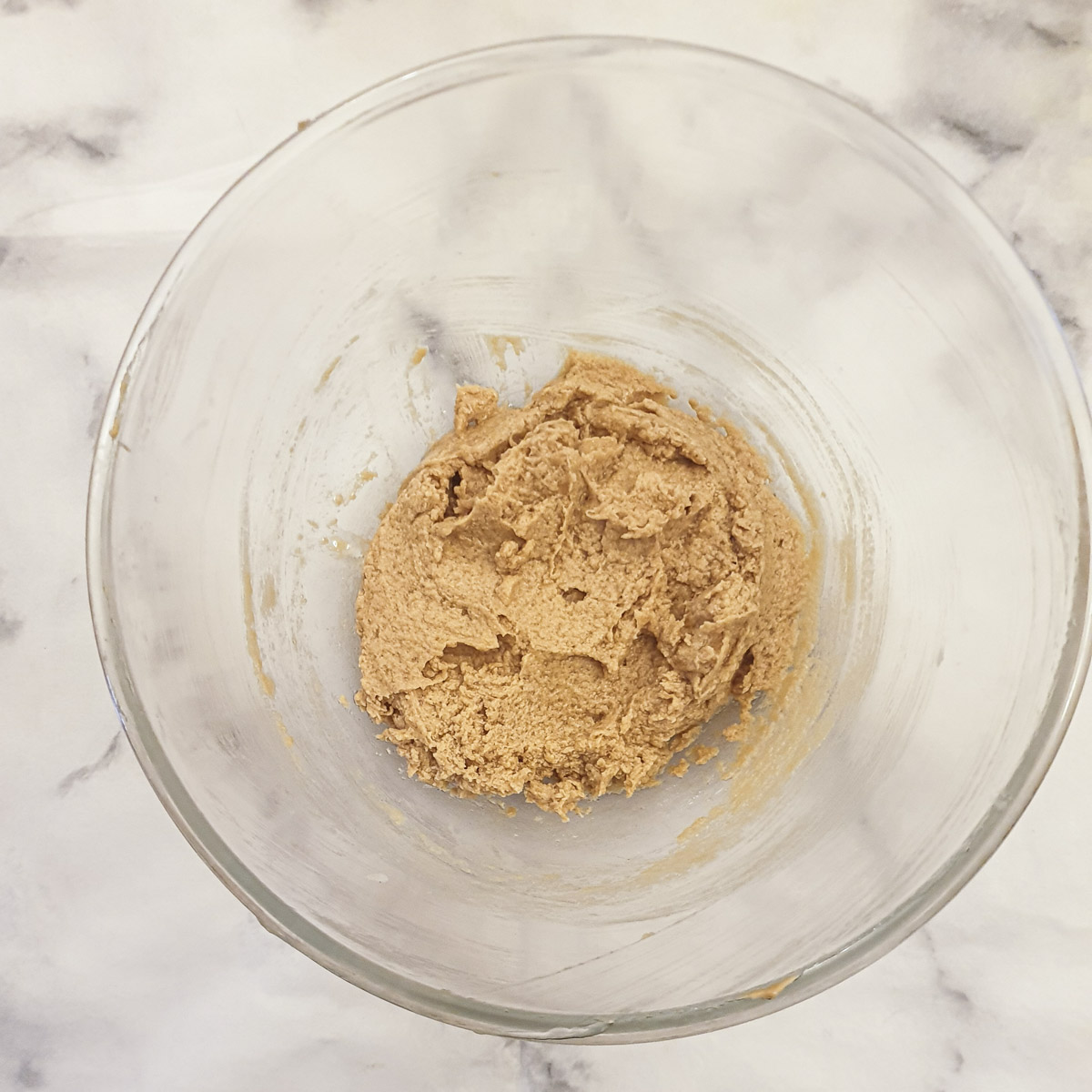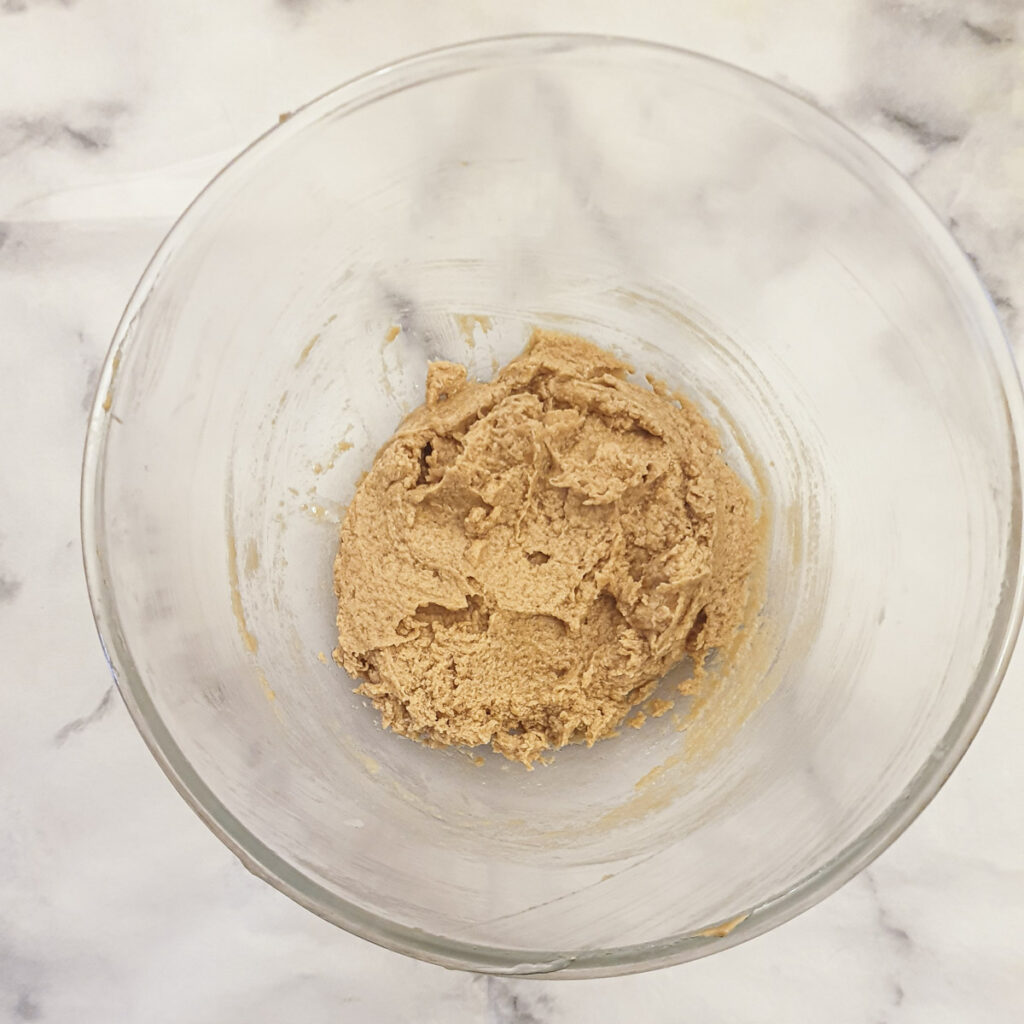 Next, add the flour, bicarbonate of soda, and salt, and continue mixing until it is well incorporated.
The mixture should be very thick, but if you think it is too thick, you can thin it down by adding a tablespoon of milk.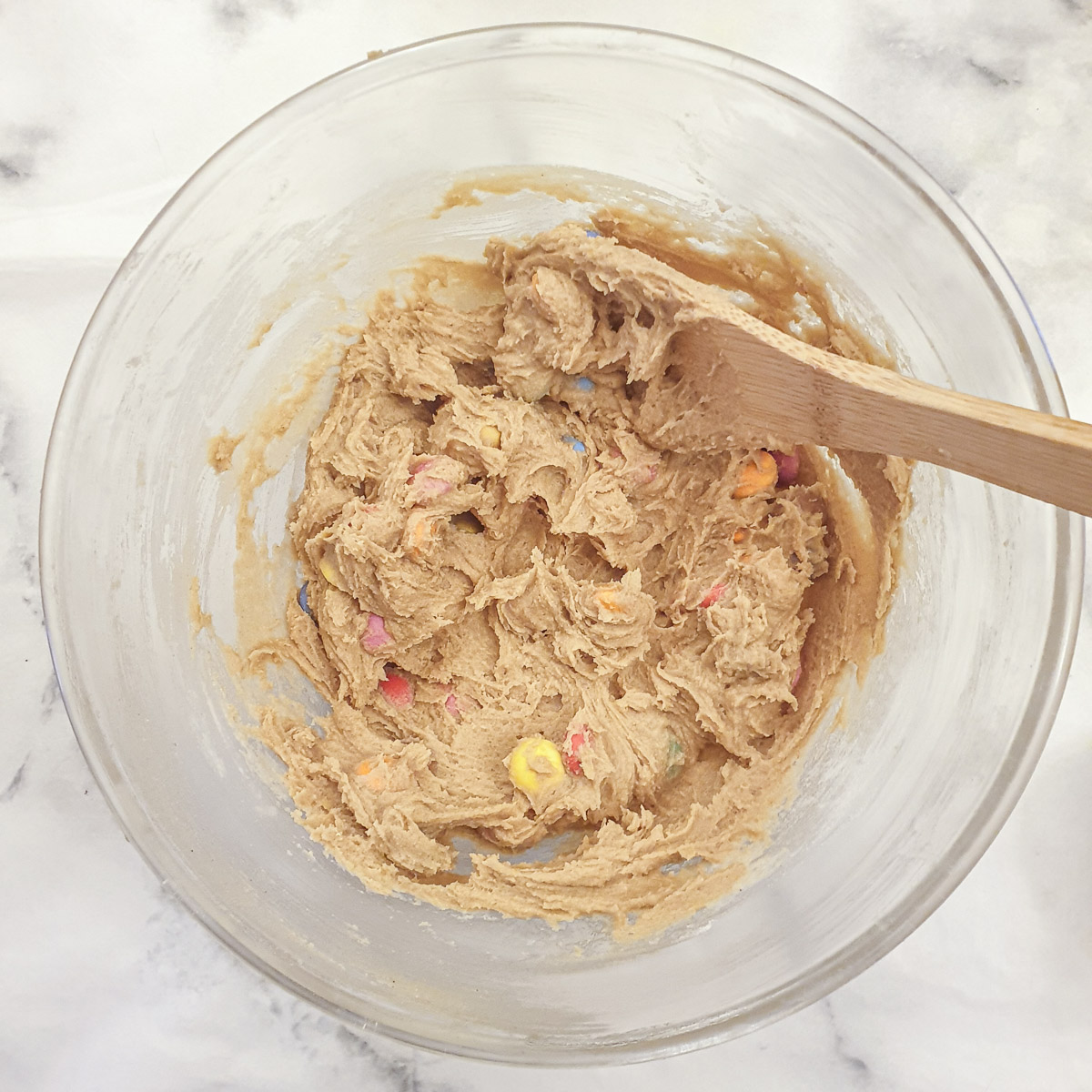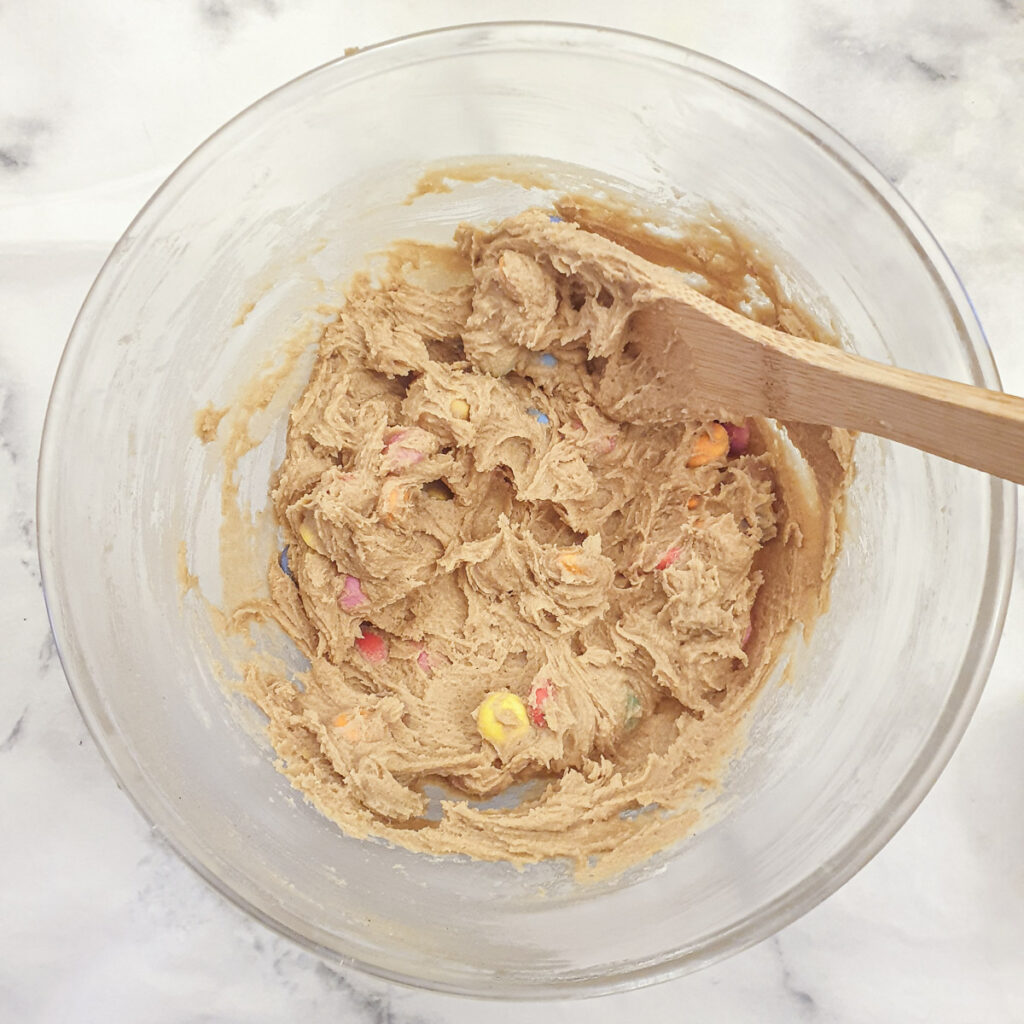 Preheat the oven to 190 degrees Celsius or 375 Fahrenheit.
Line two baking trays with baking parchment to prevent the cookies from sticking to the tray. If you don't have baking parchment you can just rub the trays lightly with oil or butter.
Place heaped tablespoons of the mixture onto the baking sheets. Leave plenty of room between the cookies as they spread quite a lot while they are baking.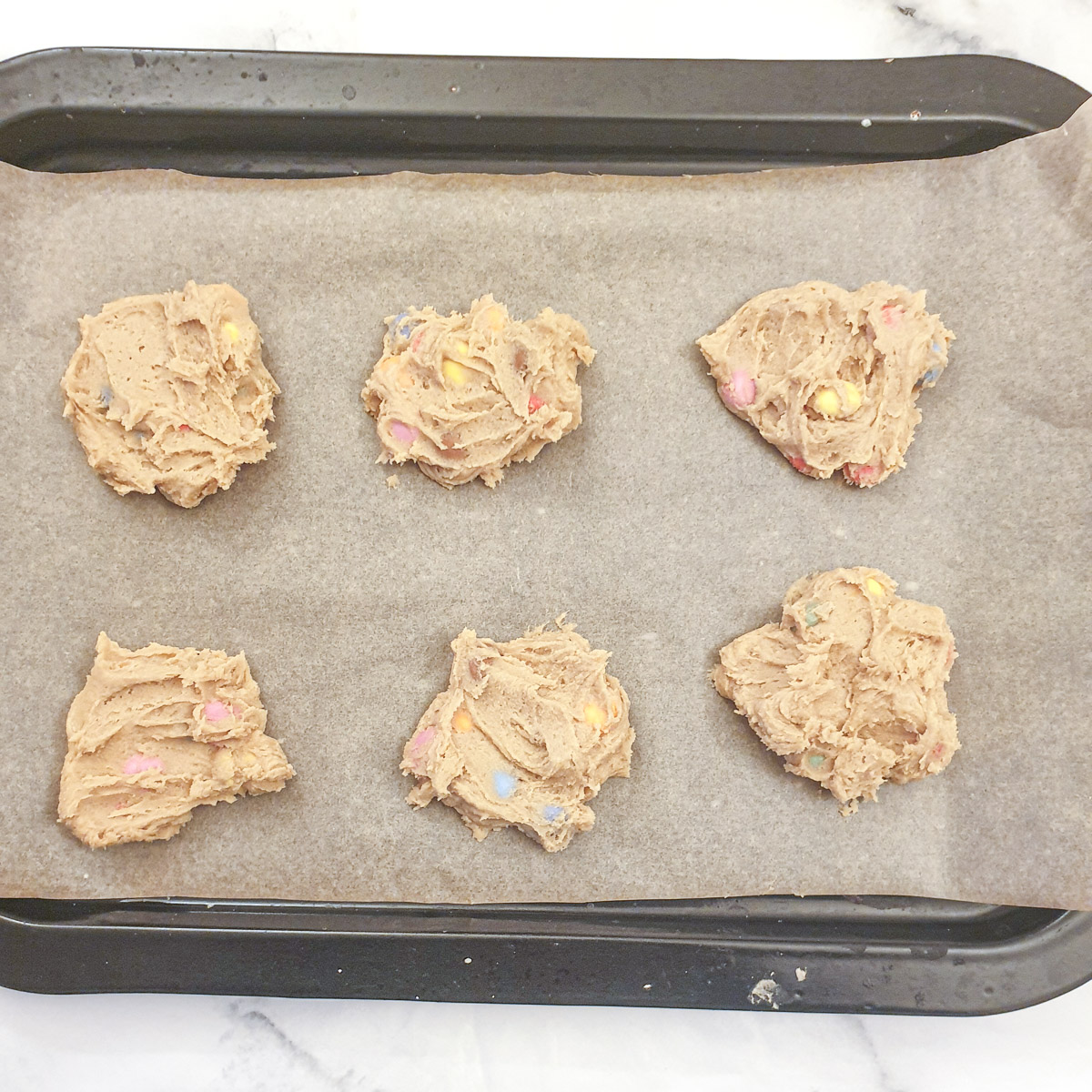 Place the baking trays in the oven (you can put them on two shelves one above the other).
Bake for 12 minutes, or until the cookies are golden.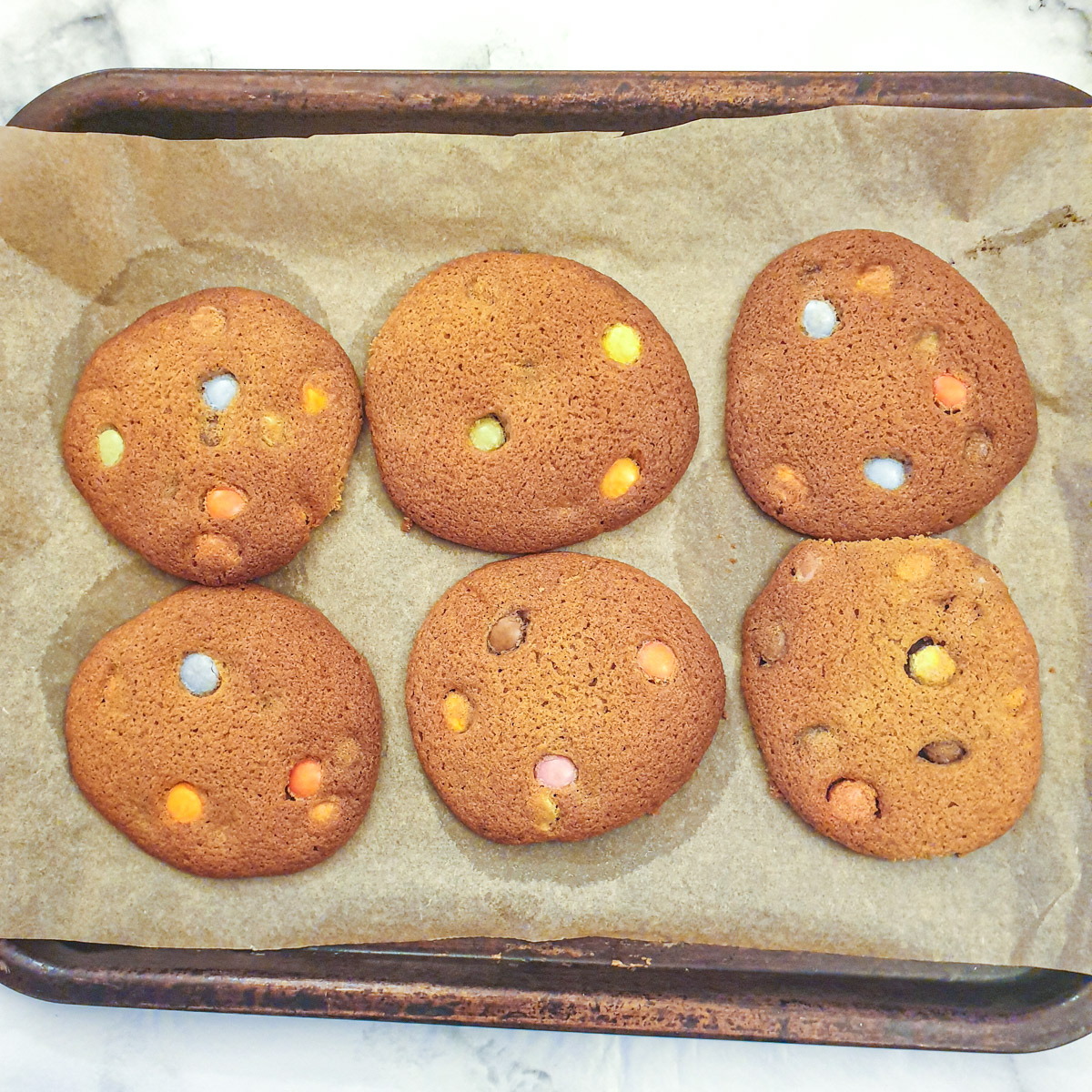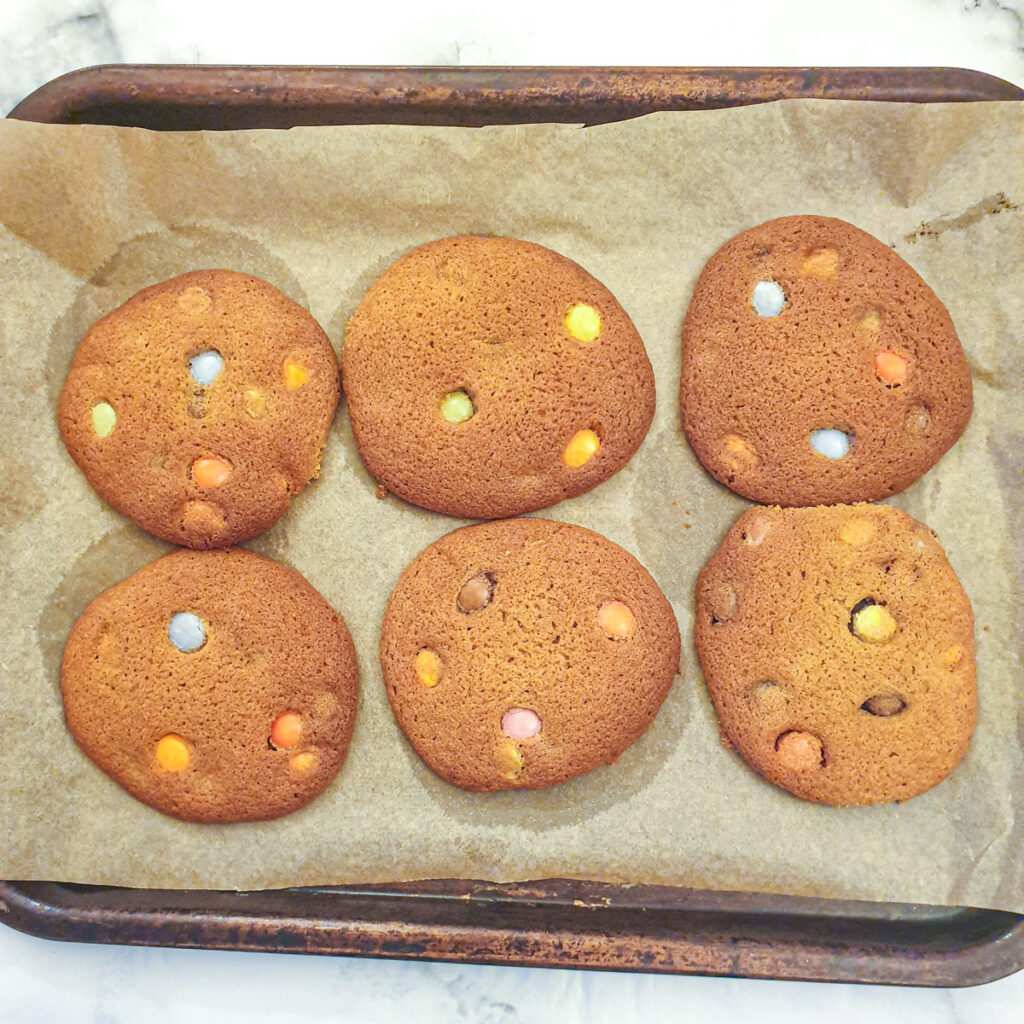 Variations
If you'd like to make chocolate Smartie cookies this is how you do it.
Use 100 grams of flour and 40 grams of cocoa or if you are measuring in cups that would be 3/4 cup flour and 1/4 cup cocoa powder.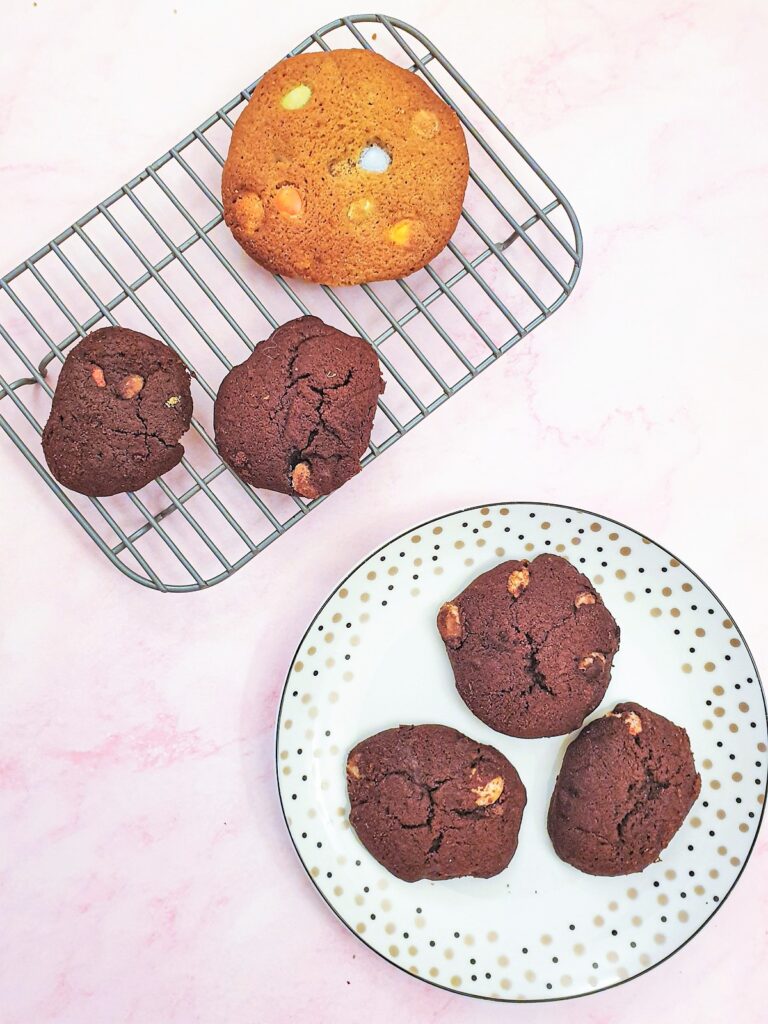 What I found when making the chocolate cookies was that the texture changed, and became much softer, more cake-like, and not quite as chewy. I can only put it down to the fact that the cocoa powder is a lot finer than flour and doesn't contain any gluten, which will make for a lighter texture.
The chocolate version is definitely more like a cake than a cookie – but just as tasty.
If you'd like to be notified of any new recipes, why not subscribe to my newsletter. As a thank-you gift, you will receive a free recipe e-book containing some of my most popular cakes and desserts.
Freezing and storage
You can freeze the baked cookies for up to 4 months. Let them defrost on the countertop before eating.
Either freeze the cookies in small individual bags or stack them in a large freezer bag with sheets of baking parchment in between each cookie.
Individual bags are great for packing in lunch boxes because you can pack a frozen cookie into the lunch box and it will be defrosted by lunchtime.
If you don't want to freeze the cookies you can store them in an airtight container in the kitchen. They will stay fresh for up to 4 days.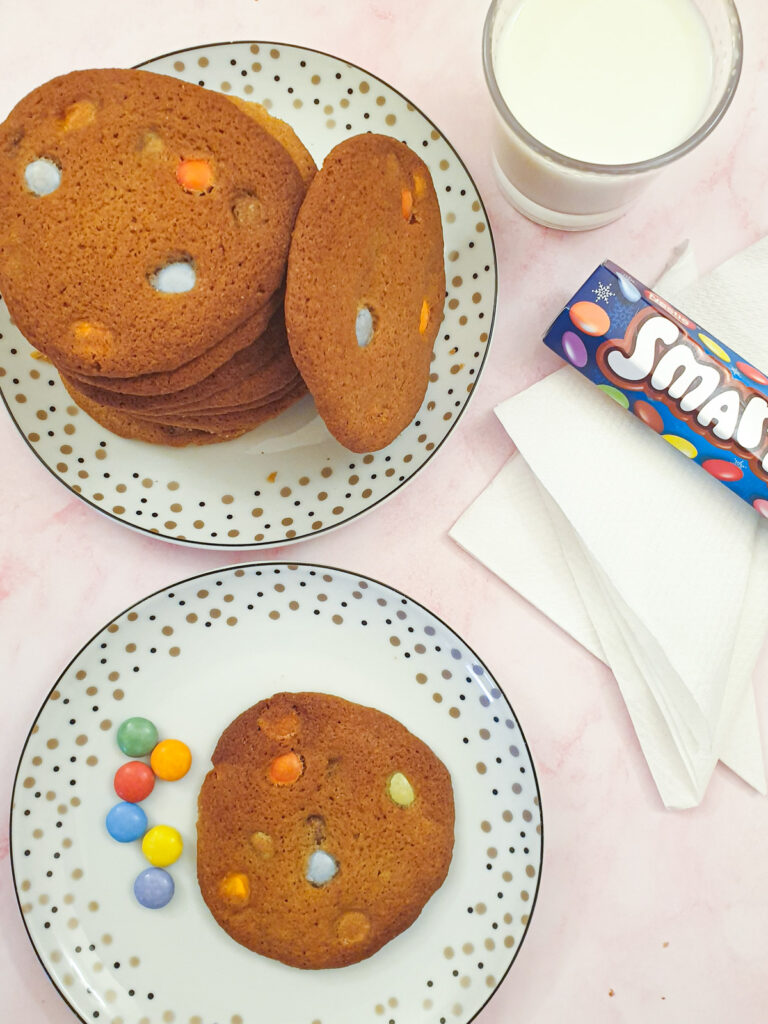 Pin for later
If you'd like to make these giant Smartie cookies yourself, why not pin the recipe to one of your Pinterests boards so you can find it later. Just click on the image below.
Other recipes
If this recipe isn't quite what you are looking for, why not try some of my other easy baking recipes:
The recipe
If you made this recipe and enjoyed it, I'd love it if you could give me a star rating in the comments below. And if you'd like to get in touch, you can email me at [email protected]. I'd love to hear from you. And don't forget to subscribe to my mailing list so you can grab yourself a copy of my FREE COOKBOOK!
If you'd like to continue browsing, just click on this link to all my recipes.