Spicy Asian flavours and juicy chunks of chicken come together in my take on this easy garlic chicken stirfry. This easy dish is so full of flavour, it's insane. And the best part is it only takes minutes to make!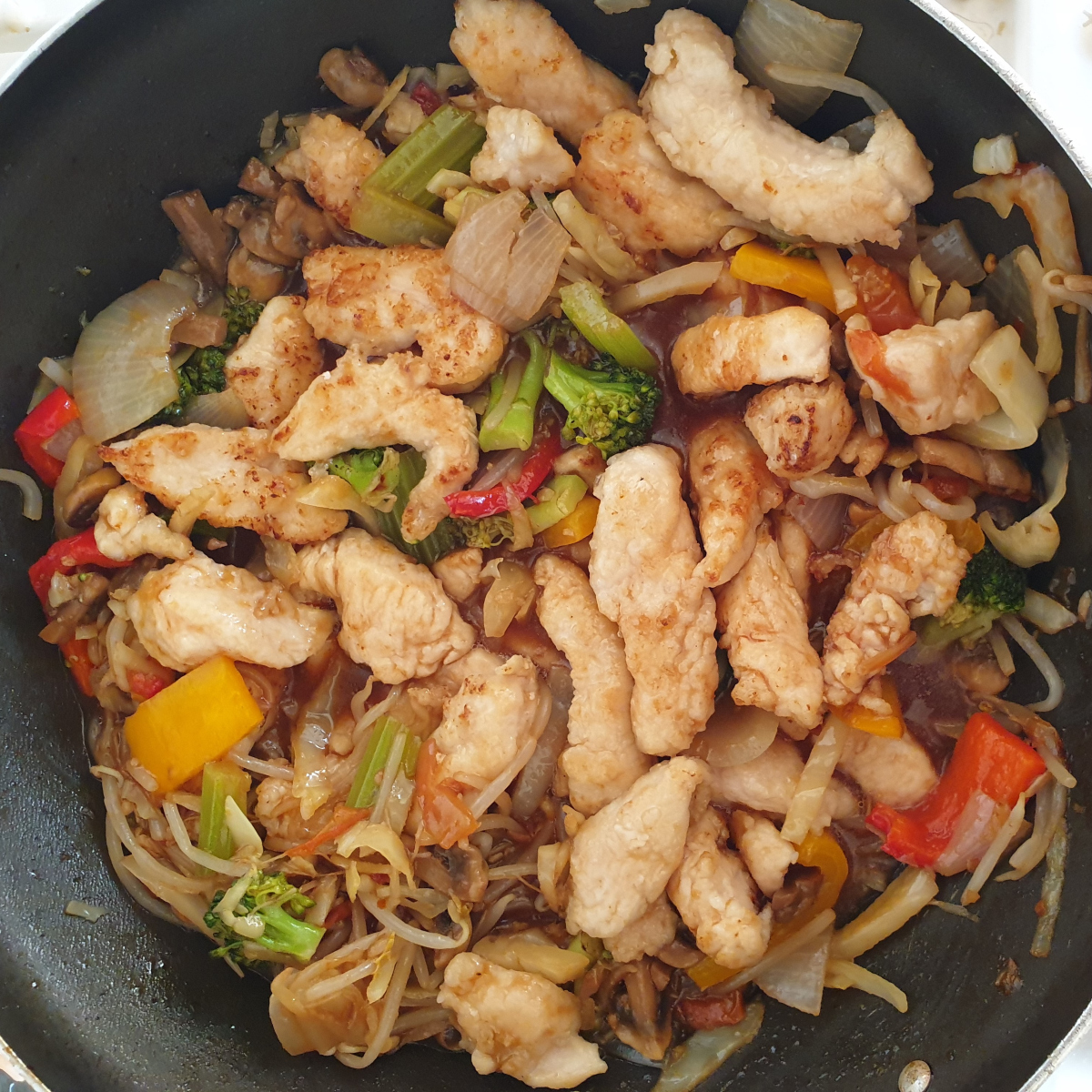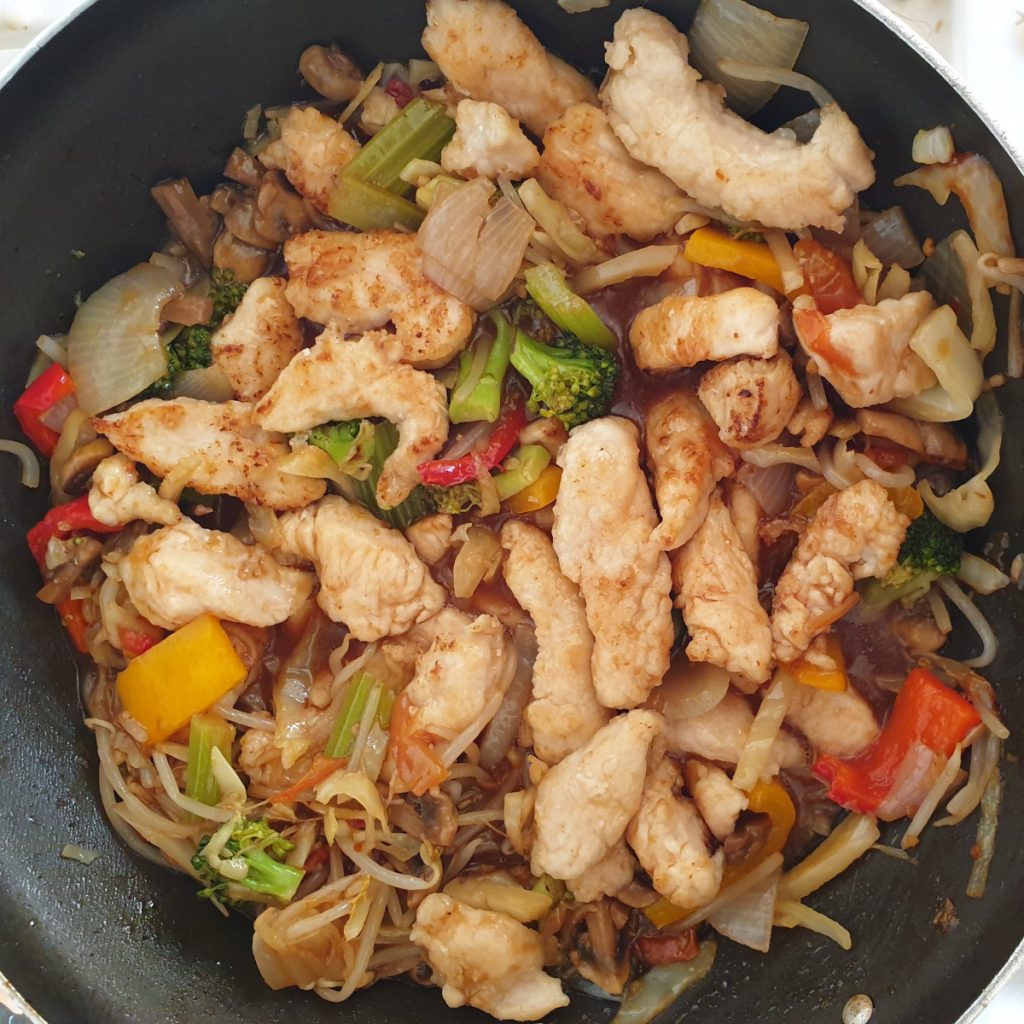 Easy garlic chicken stirfry
With the lockdown now in its fourth week, and shopping trips to the supermarket being heavily restricted, it's becoming increasing difficult to come up with tasty meals using ingredients that are in the pantry. Even the fast food outlets are starting to close down as more and more people are staying isolated in their homes.
Luckily, this easy recipe for garlic chicken stirfry helps with all of these problems.
You can use any vegetables that you happen to have left in the fridge, so there's no waste.
It's made with frozen chicken breasts that you probably have in the freezer anyway.
Most of the sauce ingredients are pantry staples, and I've given substitutions for anything that you may be missing.
It tastes better than takeaway, so it will satisfy any cravings that you might have for a fast food fix.
I call it easy garlic chicken stirfry, but it's not a stirfry in the true sense of the word. I do stirfry the chicken, just to brown it. But then the vegetables are steamed in their own juices to retain all the flavour before the chicken is added back. Then I add loads of my favourite garlic sauce and 2 cups of chicken stock and let it simmer for 10 minutes.
The chicken is so tender and juicy, you could cut it with a fork. And the vegetables are so tasty, having been simmered in the sauce. Serve it over rice or noodles for a truly delicious meal. Or hollow out a crusty bread-roll, paint the inside with garlic butter and toast in the oven. Then fill with the chicken and sauce for a meal with a difference.
The garlic sauce
This garlic sauce is the star of the show. You can use it with in so many different meals, for example roast pork in garlic sauce, made with leftover roast pork.
You will need 10 ingredients in total for the garlic sauce, but most of them are pretty standard, and I've given substitutions where possible in case you are missing something.
Ingredients for garlic sauce
Dark soy sauce
This should be dark soy sauce, not light. Light soy sauce is too salty for this dish. If you don't have any soy sauce, you could substitute with 3 tablespoons worcestershire sauce and 1 tablespoon water for every 4 tablespoons soy sauce (1/4 cup).
Oyster sauce
Oyster sauce adds a delicious umami flavour to the dish. If you don't have any you can substitute with a 1 : 1 mixture of hoisin and dark soy sauce.
Garlic
Sorry – there are no substiutions here. This is called GARLIC chicken stirfry. However, if you don't have fresh garlic, you can use garlic from a jar.
Rice wine vineger
Vinegar adds a little acidity to the sauce. You can substitute with any flavoured vinegar – apple cider / white wine / sherry vinegar. If you only have white spirit vinegar, you can use this, but add an additional 1/2 teaspoon of sugar to cut through the tartness. You could even use lemon juice if you don't have any vinegar at all.
Brown sugar
Brown sugar adds a touch of sweetness. If you don't have brown sugar, you can use white sugar.
Chilli
Chilli adds a little bit of heat. You can use either fresh chilli, very finely chopped, dried chilli flakes, or even chilli paste. If you don't like chilli, you can leave it out altogether.
Sesame oil
Sesame oil give a slight nutty taste – you could substitute with tahini, which is a sesame seed paste, or walnut oil. If you have a bottle of toasted sesame seeds, you could add a teaspoon of these. Otherwise, just leave it out altogether.
Ginger
I have heard that you can substitute ginger with ground allspice, nutmeg or mace, but I haven't tried these. Or you could use galangal which is pretty similar. If I was making this recipe and I didn't have ginger, I would be inclined to leave it out. You can use either fresh ginger which has been finely minced, or failing that, ginger from a jar.
Tomato puree
Garlic and tomatoes are a match made in heaven, so try your best to get some tomato puree into this dish. If you really don't have any tomato puree, tomato ketchup would be a good substitute or even tomato pasata. Failing that, add chopped tomatoes to your selection of stirfry vegetables.
Cornflour / cornstarch
This is used to thicken the sauce. If you don't have any, substitute with regular flour, or arrowroot, potato starch, or even mashed potato granules. If you don't have any of these, just whizz a small potato in a food processor until it is almost liquidised and add this as a thickening agent.
To make the sauce
To make the sauce, just mix all the ingredients together in a small mixing bowl and set aside until needed in the recipe.
How to make easy garlic chicken stirfry
Prepare the chicken
You should allow 1 chicken breast (about 150g) per person.
Try to get skinless chicken breast fillets. Otherwise, if your chicken still has the skin on, remove the skin and discard. If the chicken is still on the bone, use a sharp knife to get between the bone and the meat to remove the bone from the meat.
Cut up the chicken breasts into bite-sized pieces and coat them with cornflour / cornstarch. The cornstarch helps the chicken get a nice brown colour when it is fried.
Heat a tablespoon of sunflower or canola oil in a wok or large frying pan and fry the chicken in batches until it starts to turn brown. You may need to add extra oil for each batch.
Don't over-crowd the pan or the chicken will release its juices and will boil rather than sear.
Set the chicken aside until needed.
Prepare the vegetables
For this dish you can use whatever vegetables you have in your fridge/pantry.
At the very least I like to use beansprouts, mushrooms, celery, shredded cabbage and broccoli. You could also add red and yellow peppers, green beans, sugarsnap peas, onions, pak choi, leeks, or carrots. Just try and get at least one cupful of chopped/shredded vegetables per person.
Peel and chop the vegetables. Try and cut them all into similar sizes. If you are using cabbage, this should be shredded finely. If using carrots, they should be cut into julienned strips. Mushrooms can be halved or quartered, depending on the size.
Heat 1 tablespoon sunflower or canola oil to the pan in which the chicken was cooked. We want to get all the flavour possible into this dish. Stir well to coat the vegetables, then turn down the heat as much as possible, add 2 tablespoons water (just to start the steaming process), cover the pan with a lid and leave to steam for 6 to 8 minutes, stirring occasionally, until the vegetables have softened.
Don't allow the vegetables to burn, they should just steam gently, so that they release their juices, which will create sufficient liquid for them to steam in.
Add the sauce and browned chicken
Once the vegetables have steamed, pour in the sauce ingredients, and then add 2 cups of chicken stock. Stir well.
Bring to the boil then turn the heat down to a simmer. Add the chicken pieces and cover with a lid.
Allow to simmer for 10 minutes until the chicken is cooked through and the sauce has thickened.
To make sure the chicken is cooked all the way through, cut one of the larger pieces in half. It should be completely white, with no pink showing. If the chicken still has traces of pink, allow to simmer for a few minutes longer.
Serve immediately with rice or noodles. For a dish with a difference, why not serve in a hollowed out breadroll (see below for instructions). Spicy mushroom rice would go really well with this dish.
See my other recipes for how to cook rice in the microwave or how to cook rice in the oven. You may also like this recipe for Chinese egg fried rice.
Why not serve in a bread roll
Instead of serving garlic chicken stirfry with rice, why not try serving it inside a hollowed out garlic breadroll?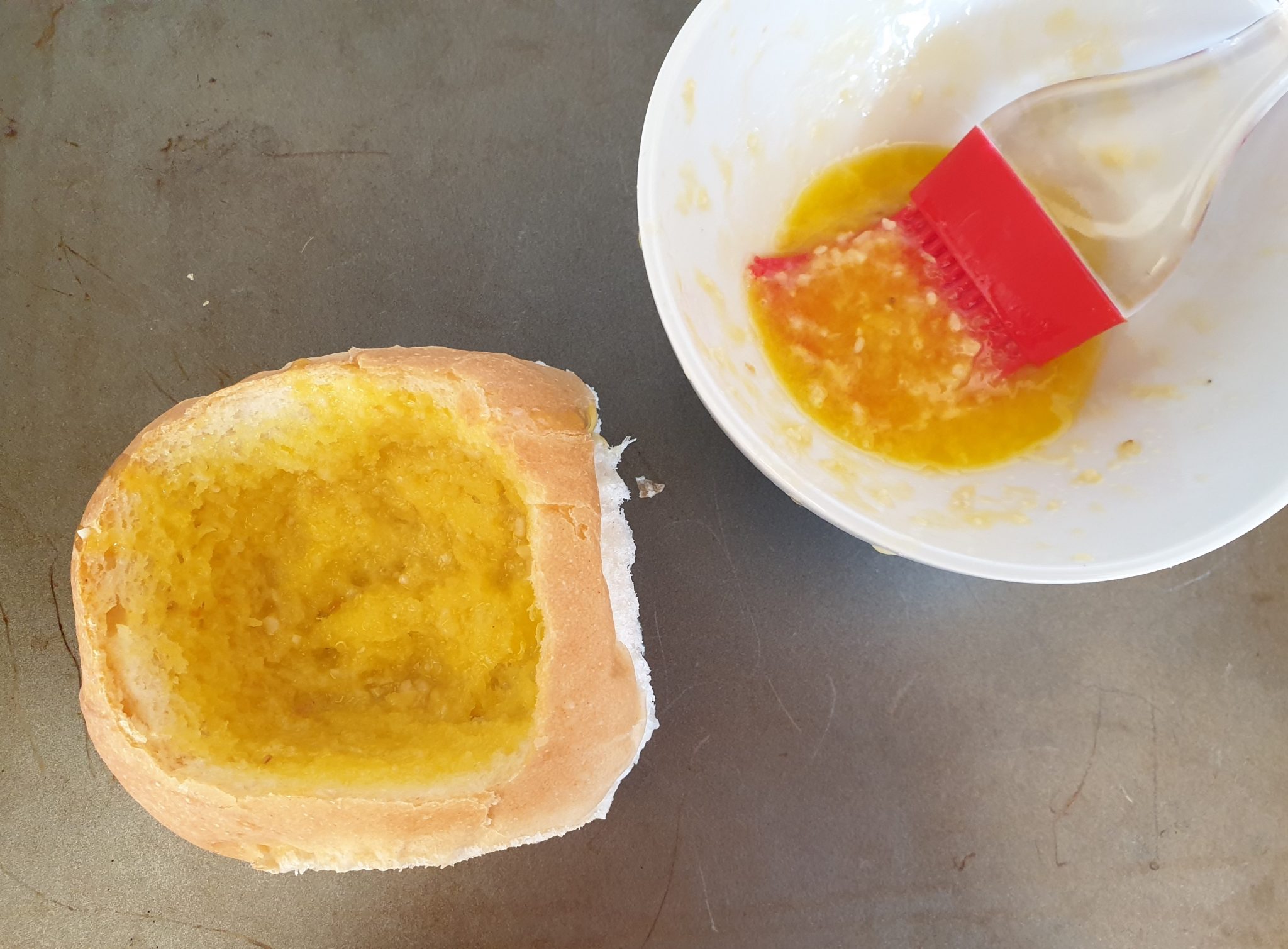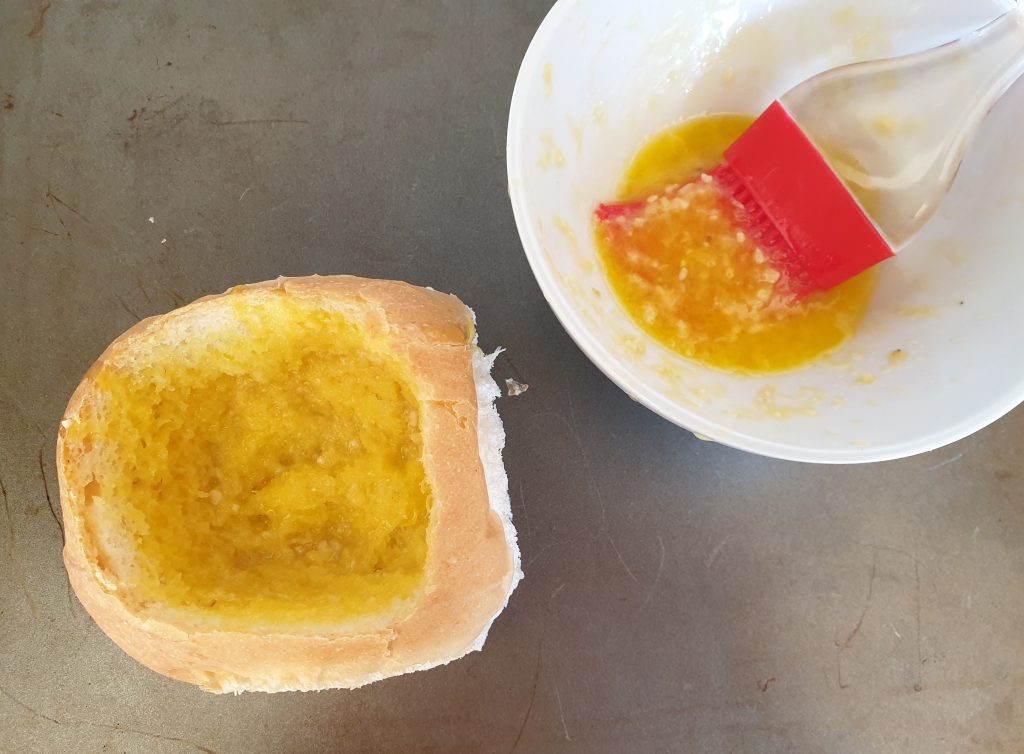 Carefull remove the inside for a breadroll.
Brush the inside of the breadroll with melted garlic butter.
Bake the breadrolls in a hot oven at 220C for 10 minutes until browned and crispy.
Fill with garlic chicken stirfry and serve.
Can I freeze garlic chicken stirfry?
If you have made this dish with pre-frozen chicken, I would not re-freeze it. Instead, it can be stored for 2 to 3 days in a covered container in the refrigerator.
If you used fresh chicken, you can freeze the leftovers for another meal. Just pack into a rigid freezer container, label and seal. This chicken can be frozen for up to 3 months.
To use, allow it to defrost in the fridge and then heat either in a saucepan or in the microwave until piping hot.
If you want to keep up-to-date with my latest recipes why not follow along on Facebook or Pinterest. And don't forget to subscribe to my mailing list so you can get your FREE COOKERY BOOK
Convert grams to cups
To help you convert your recipes, I have created a handy Cookery Conversion Calculator which will convert ingredients between grams, ounces, tablespoons, cups and millilitres. I hope you will find it useful.
If you live at a high altitude you may find you need to adjust your baking recipes to compensate for this. You can read about how to do this in this post on baking at high altitudes.
Recipe – Easy Garlic Chicken Stirfry
I am not a nutritionist. The nutrition information has been calculated using an on-line calculator, and is intended for information and guidance purposes only. If the nutrition information is important to you, you should consider calculating it yourself, using your preferred tool.
If you made this recipe and enjoyed it, please don't forget to give me a star rating in the comments below. And if you'd like to get in touch, you can email me on foodleclub1@gmail.com. I'd love to hear from you. And don't forget to subscribe to my mailing list so you can grab yourself a copy of my FREE COOKBOOK!
If you'd like to continue browsing, just click on this link to all my recipes.