These festive florentines are incredibly moreish! Packed with fruit and nuts and covered in milk chocolate, they make a mouthwatering festive treat.
**As an Amazon affiliate, I earn from qualifying purchases.**
What are Florentines?
Florentines are sweet crunchy biscuits, made with chopped nuts and fruit and coated in melted chocolate. Originally made in Florence, Italy, they are now popular all over the world, especially at Christmas. In years gone by, I've always kept a batch of Florentines ready to hand round to unexpected guests. This year, I'll probably just eat them all myself 🙂 .
Just looking at Florentines makes you think of Christmas. They look so festive, with red and yellow pops of colour from the chopped cherries and candied peel. And of course the nuts and chocolate are synonymous with Christmas. Who else remembers unpacking their Christmas stocking on Christmas morning and finding nuts, an orange and a sixpence nestling in the toe?
Anyway, I think you are going to love these little cookies:
they are easy to make – there's no creaming of butter and sugar, or sifting flour to worry about. Just melt butter and sugar on the stove and stir in the rest of the ingredients – job done.
they cook quickly – just 10 minutes in the oven is all they need.
the taste is amazing – the nuts and fruit give such a Christmassy taste to the biscuits, and the melted chocolate adds an extra layer of festive indulgence.
they have a super crunchy texture – a good Florentine should be crispy, and have a satisfying 'snap' as you bite into it.
florentines make a great foodie gift for family and friends – pack a batch of these in a pretty tin and give to family and friends as a little Christmas stocking filler.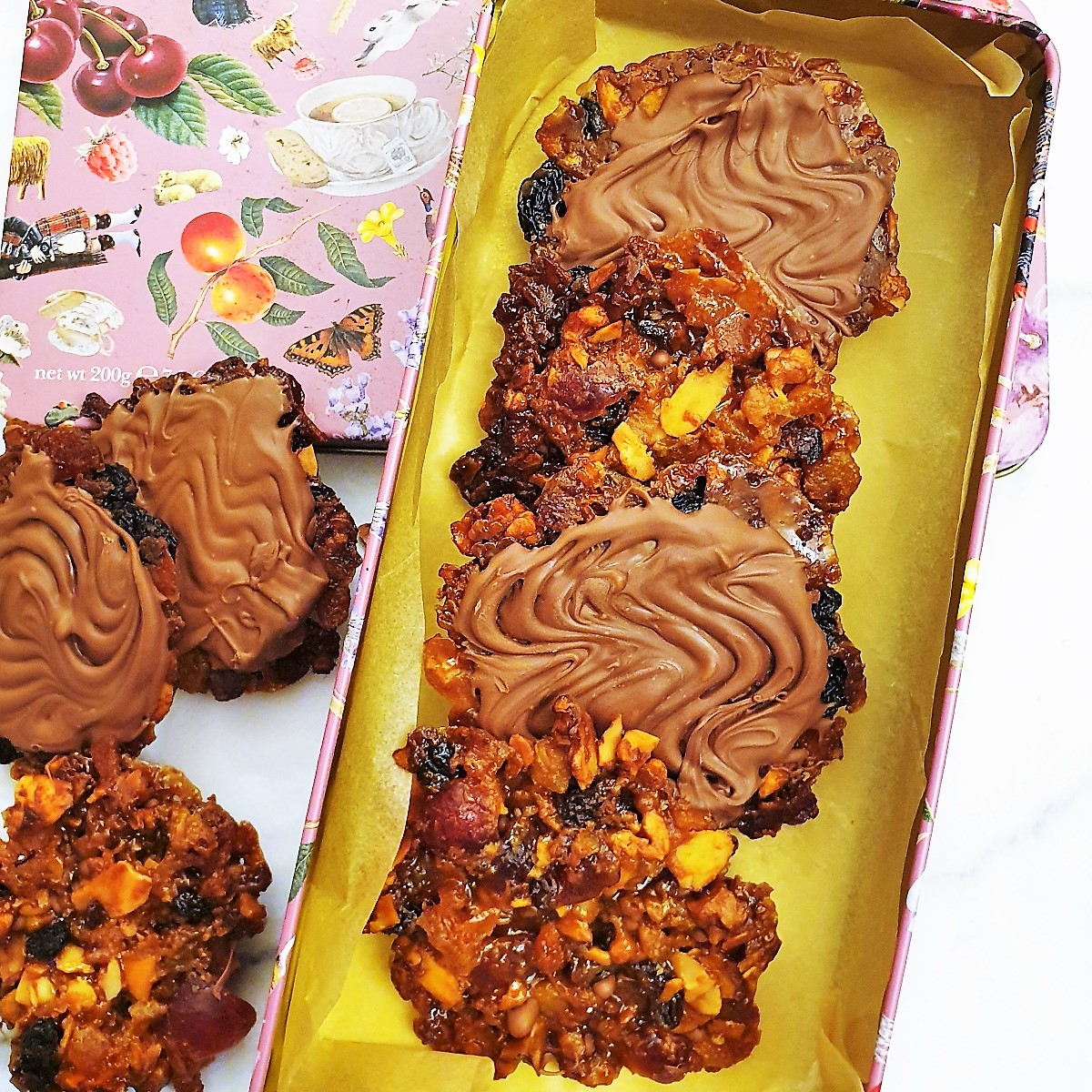 What do you need?
To make florentines you will need a selection of dried and candied fruits and nuts. Specifically:
walnuts and slivered or flaked almonds;
sultanas;
candied mixed peel – if you don't like the taste of mixed peel you can just leave it out;
glace cherries and ginger;
cream – only 1 tablespoon;
butter – use unsalted if possible;
sugar – castor sugar is best, but you can get away with granulated if that's all you have;
flour – this is needed for binding the biscuits, but surprisingly, you only need 1 tablespoonful;
chocolate for coating the biscuits. You can use either dark or milk chocolate depending on your taste.
You can get the exact quantities on the printable recipe card at the end of this post. This recipe makes 12 florentines, but you can easily double up to make a larger batch.
How to make Florentines
Florentines couldn't be easier to make.
Mix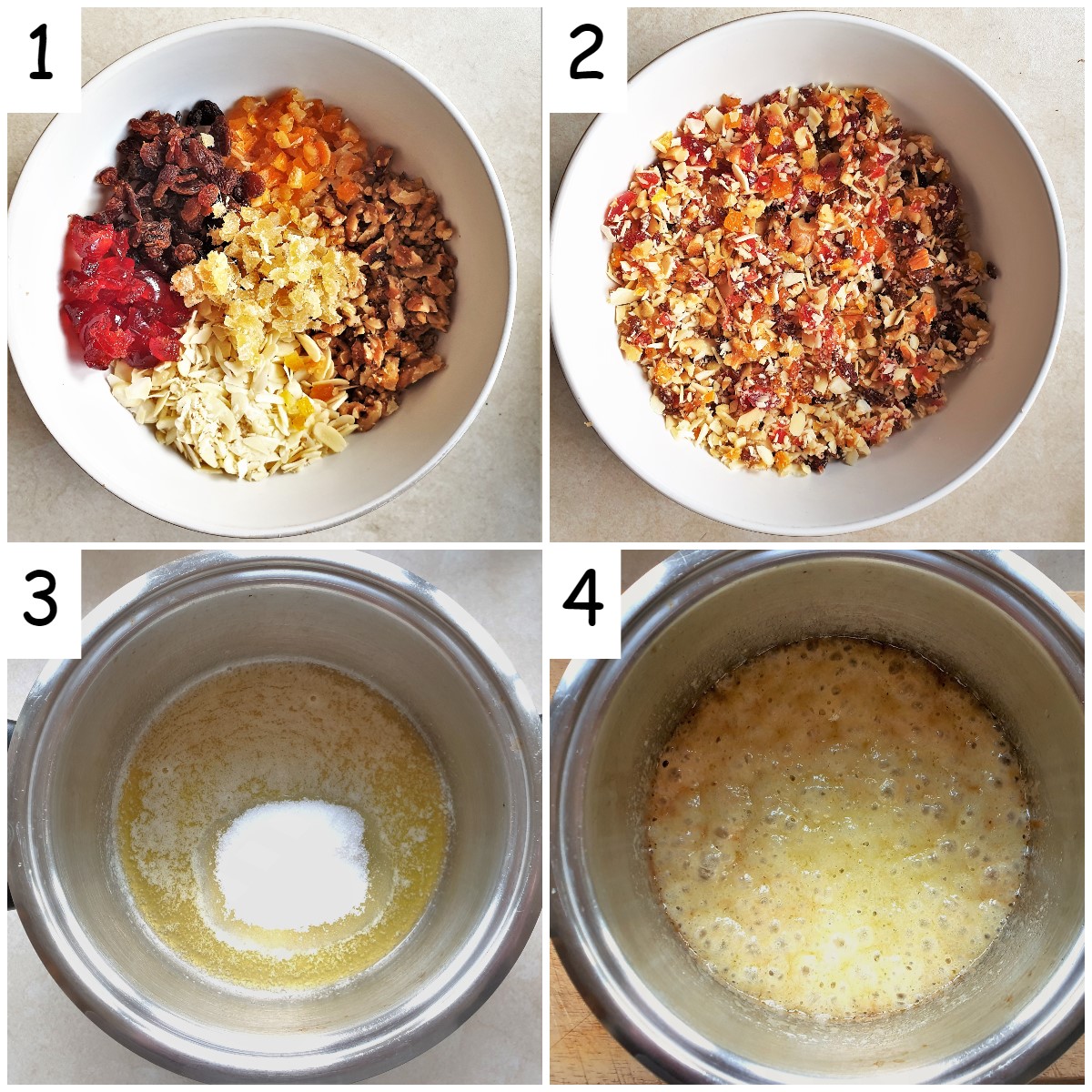 Start off be measuring out your fruit and nuts into a bowl, then chop them finely, either in a food processor or with a sharp knife on a chopping board.
The next step is to melt the butter in a saucepan, and once melted, add the sugar. Stir this around until the sugar is melted and then bring to the boil and boil for one minute without stirring (no longer). The mixture should just be starting to turn golden brown at the edges. Be careful – this mixture goes from golden brown to burnt in the blink of an eye.
Remove from the heat and allow to cool, then stir in the flour.
Finally stir in the chopped fruit and nuts.
Bake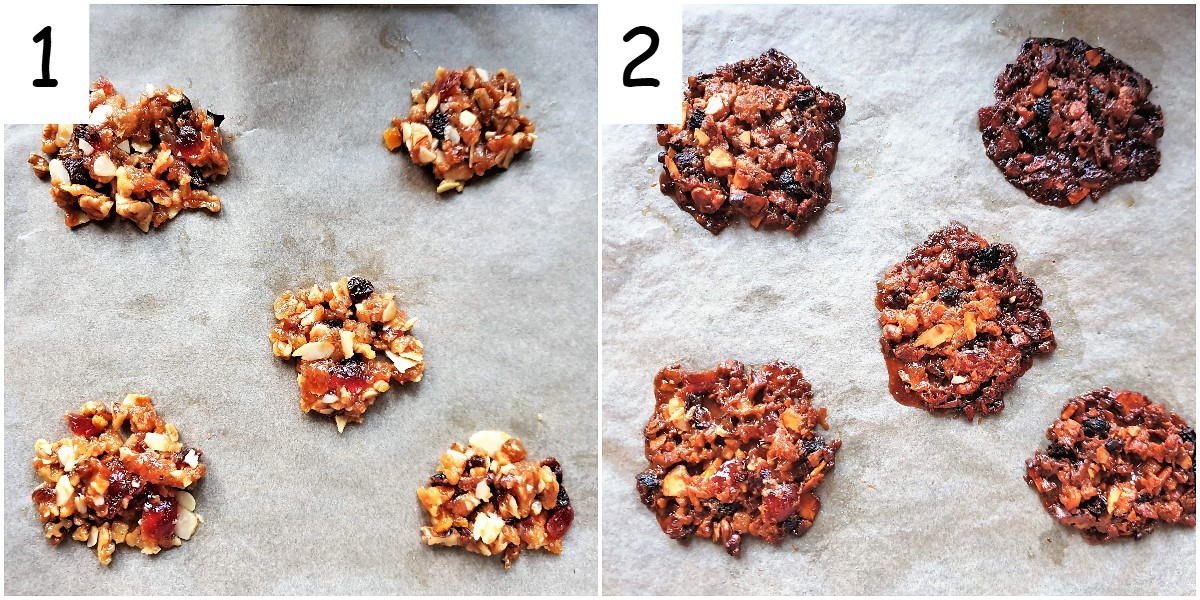 The next step is to bake the Florentines. Start off by pre-heating the oven to 175C / 350F.
Place heaped teaspoons of the mixture onto a baking tray lined with baking parchment. Press down gently with the teaspoon to flatten them slightly.
It's important to line the baking tray as these biscuits are inclined to stick to the baking tray even if you grease it first. You can also line the tray with a silicone mat.
Leave quite a lot of space between the biscuits, as they will spread out quite a lot as they bake.
Bake for 10 minutes until the edges start to turn golden. You will see from the image above that I left mine in just a little too long and the biscuits at the back of the oven overcooked slightly. Just keep your eye on them – they can burn easily.
You will also find that once baked, the biscuits may not be as nicely rounded as you would like – they do tend to spread quite a bit. Just push them into shape gently with a flat-bladed knife when they come out of the oven.
Allow the Florentines to cool completely. The biscuits will be very soft and pliable when they come out of the oven, but they will crisp up and harden as they cool.
Coat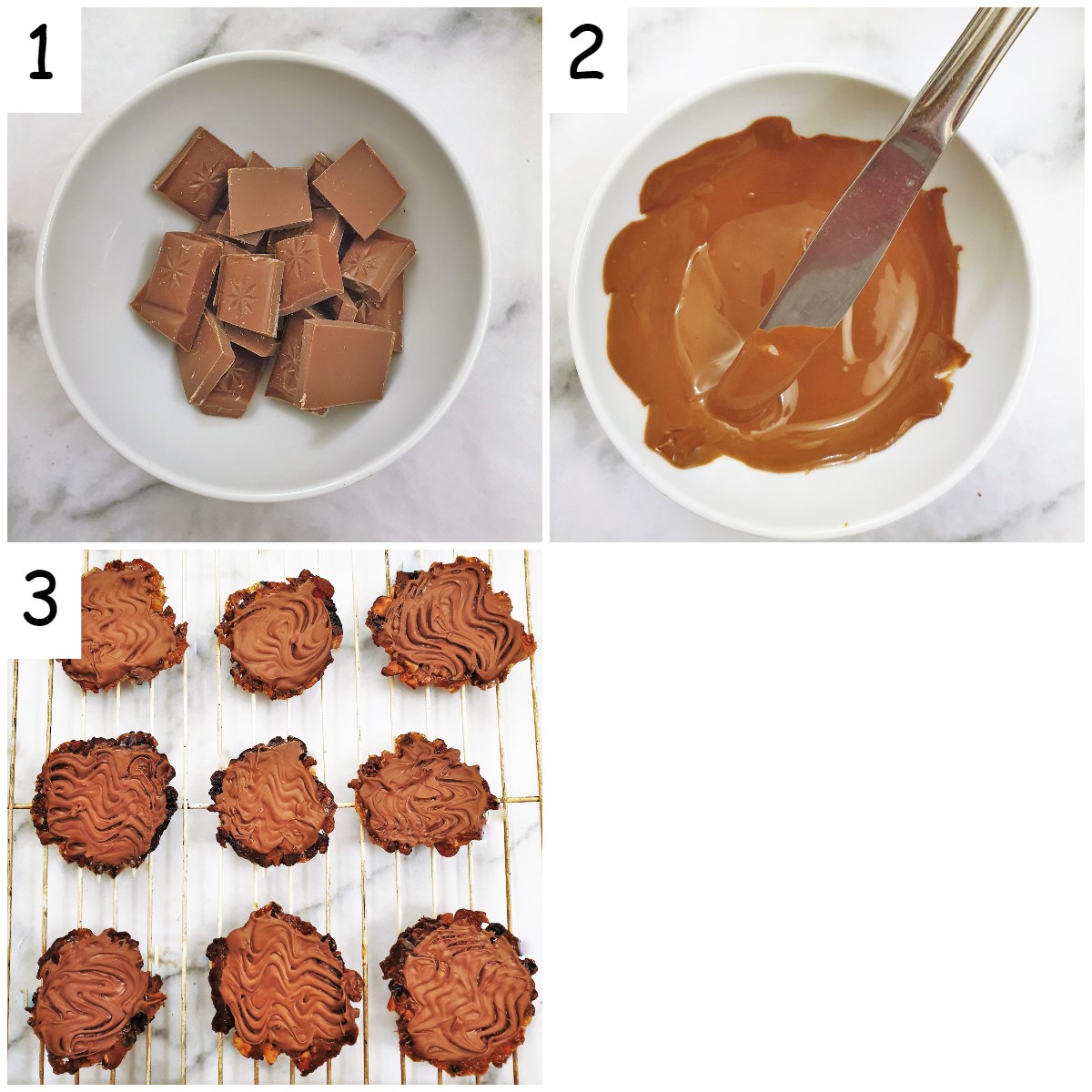 Once the biscuits are completely cool you can coat them in melted chocolate.
To melt the chocolate, break it into pieces and place in a microwave-safe bowl.
Heat on full power for 30 seconds, then stir and heat again for another 30 seconds. I have a 900-watt microwave and this timing was perfect. You can adjust the time depending on the wattage of your microwave.
You could also melt the chocolate by stirring it in a glass bowl over a pan of simmering water. Just be careful not to let any water get into the chocolate or it will form lumps.
Using a flat-bladed knife, spread the chocolate onto the flat side of the florentines (ie the side that was on the baking sheet).
Use a fork to etch wavy lines into the soft chocolate, then set aside and allow the chocolate to set.
Store in an airtight tin in a cool place.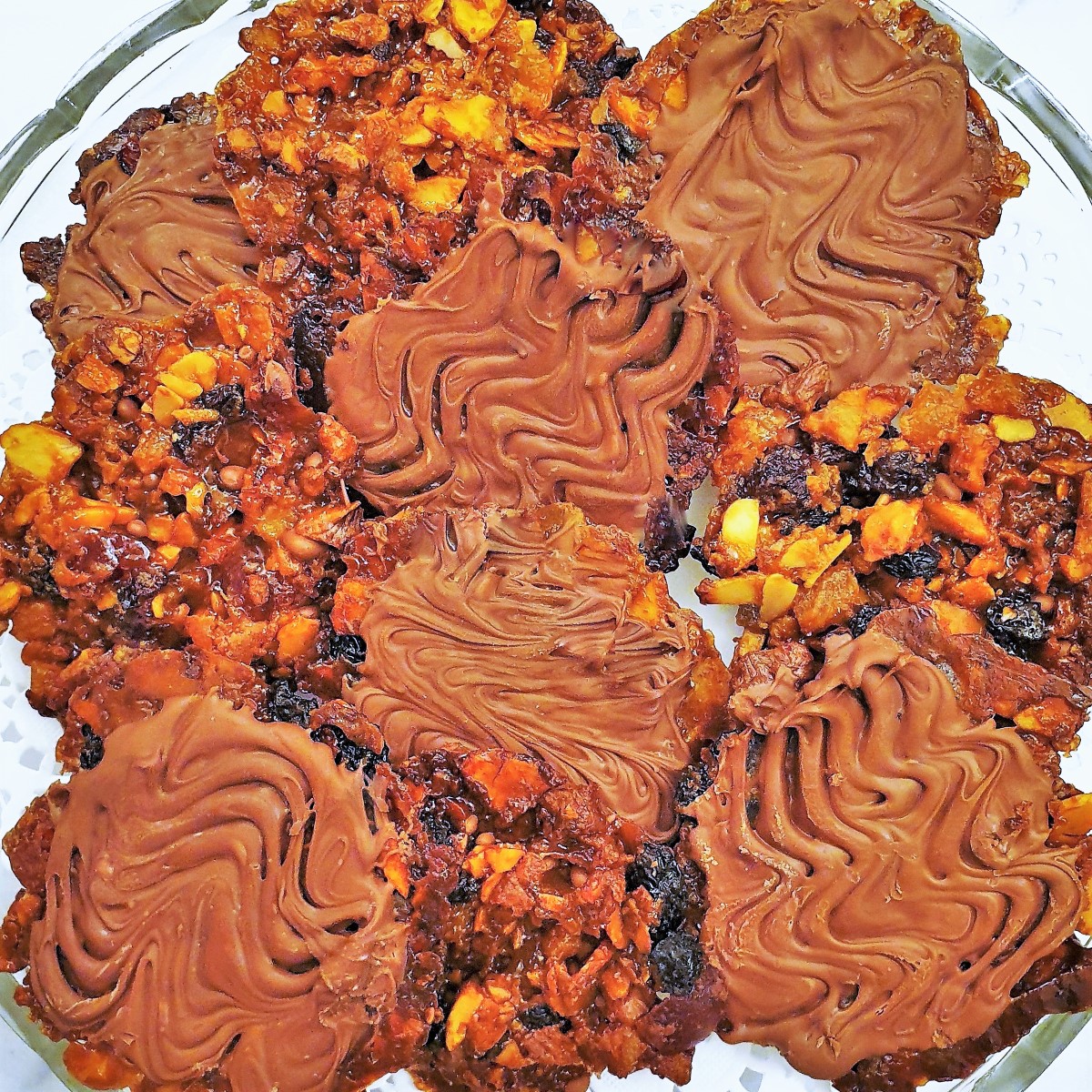 If you'd like to be notified of any new recipes, why not subscribe to my newsletter. As a thank-you gift, you will receive a free recipe e-book containing some of my most popular cakes and desserts.
If you enjoyed these festive florentine cookies, you might like to try some of my other festive recipes: