This upside-down apple pie is such an easy dessert to make. It's simple enough to make for the family any night of the week, but it wouldn't be out of place at a dinner party.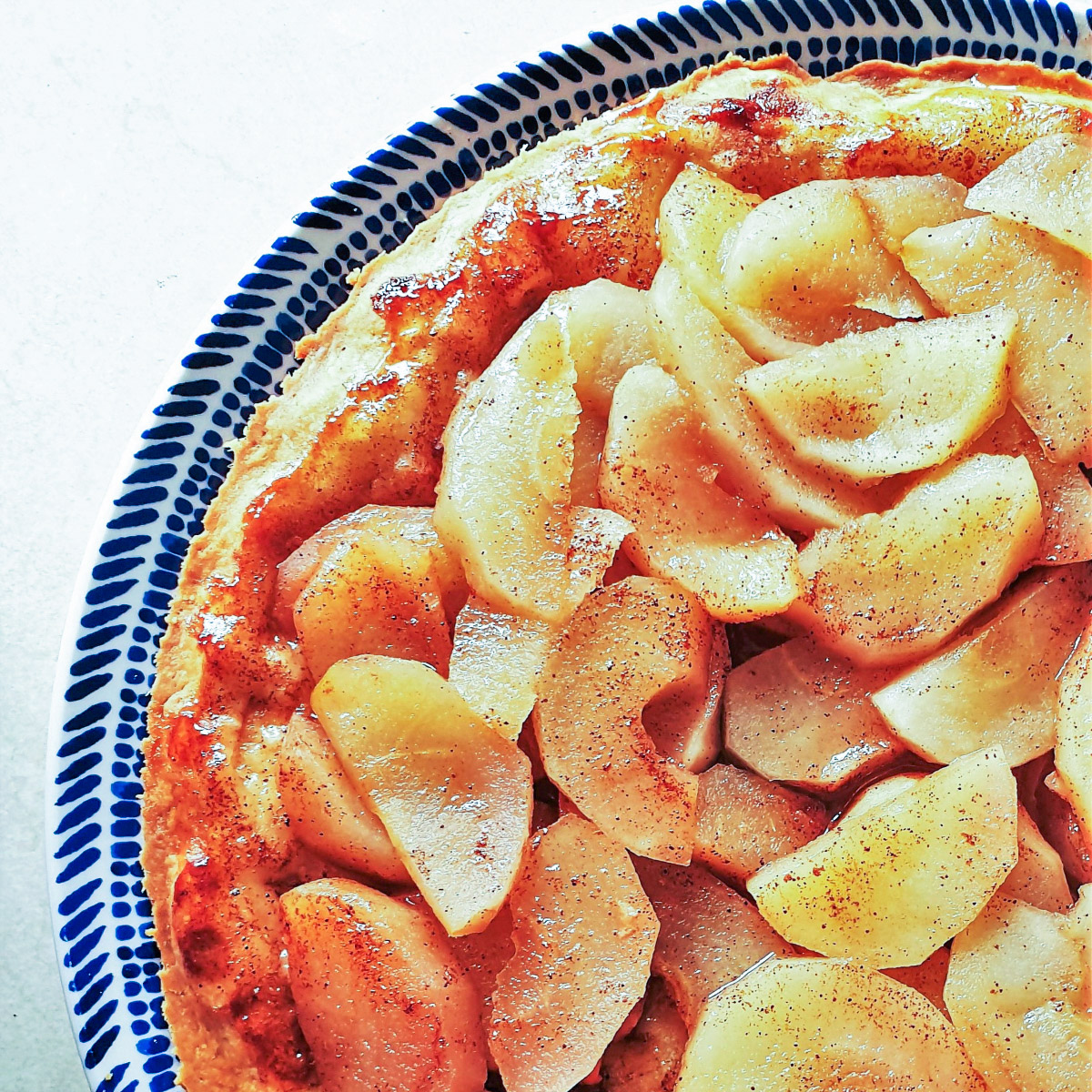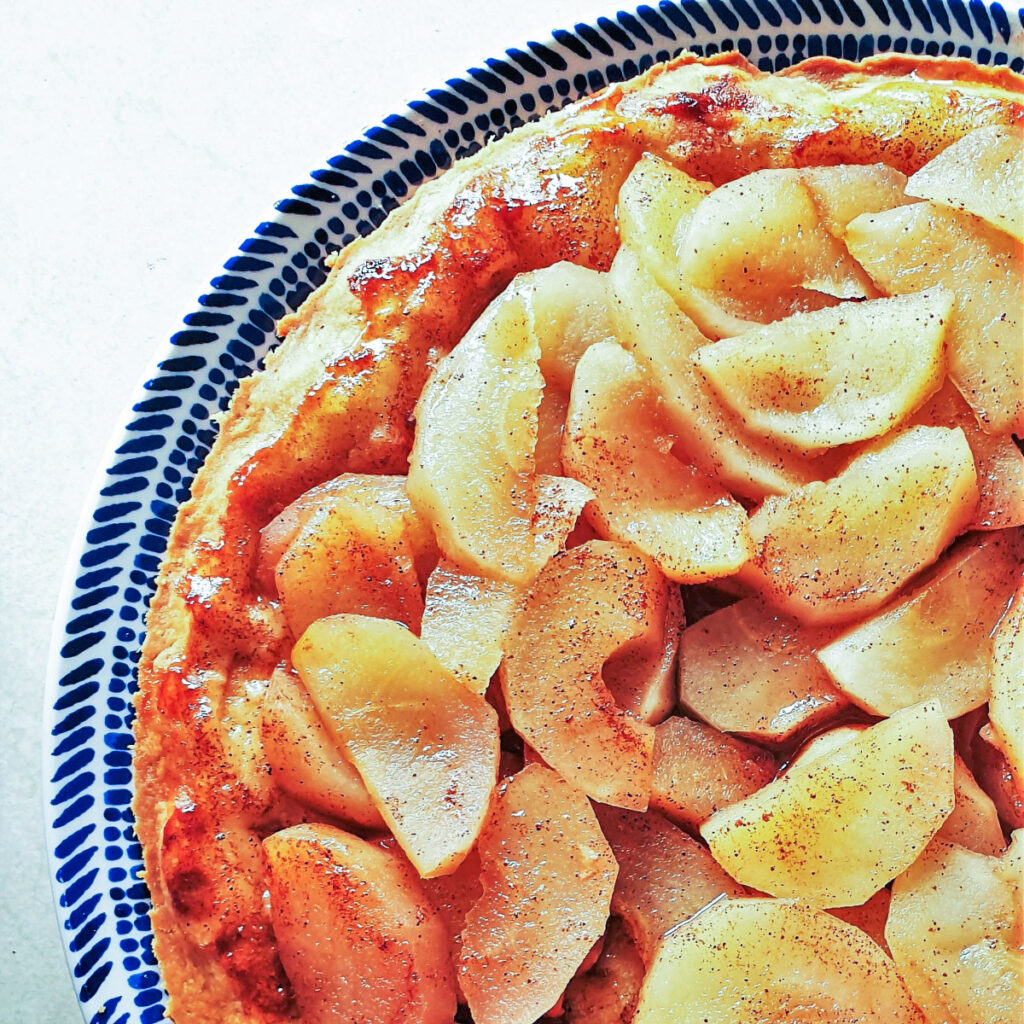 **As an Amazon affiliate, I earn from qualifying purchases.**
Easy upside down apple pie
I love this time of year. It means I get supplied with apples fresh from my daughter's apple tree. This year was no exception, and my daughter and I spent a happy afternoon chatting while peeling and slicing a mountain of apples ready to go in the freezer.
Of course, we had to use some of the apples for a quick and easy dessert too. So I made this easy upside-down apple pie. It's my take on a classic French tart tatin, but without all the fuss. There's no need to cook the apples first. They cook perfectly in the oven under the crispy pastry topping. Just layer the apples in a baking dish, sprinkle with cinnamon sugar, drizzle with melted butter and cover with a pastry lid and bake.
As it bakes, the butter and sugar combine with the juice from the apples to form a sweet caramel sauce. And once you turn the pie upside down, this sauce soaks into the pastry forming a delicious base for the succulent apples. Top with a scoop of vanilla ice cream and you have a fabulous dessert that is easy enough to make for the family any night of the week, but also elegant enough to serve at a dinner party.
How to make this easy upside down apple pie
Start with the pastry
You can use pastry that you might happen to have leftover from any of my pastry recipes. Otherwise, you can buy a roll of shortcrust pastry and use that. If you don't have leftover pastry, or if you prefer to make your own, here is how to make it.
This pastry recipe is too much for one upside-down apple pie. You will only need about one-third of the amount it makes. But you could use the remainder for making bolognese sausage rolls (with leftover bolognese meat sauce), zucchini and goat cheese tarts, or even an old-fashioned bacon and egg pie.
You could even store any leftover pastry in a plastic bag in the fridge for up to 3 days. When you are ready to use it just remove it from the fridge and let it come to room temperature (still in the plastic bag). Then just roll it and use it as needed.
To save you from having to search for a recipe for pastry, I've included my favourite shortcrust pastry recipe here.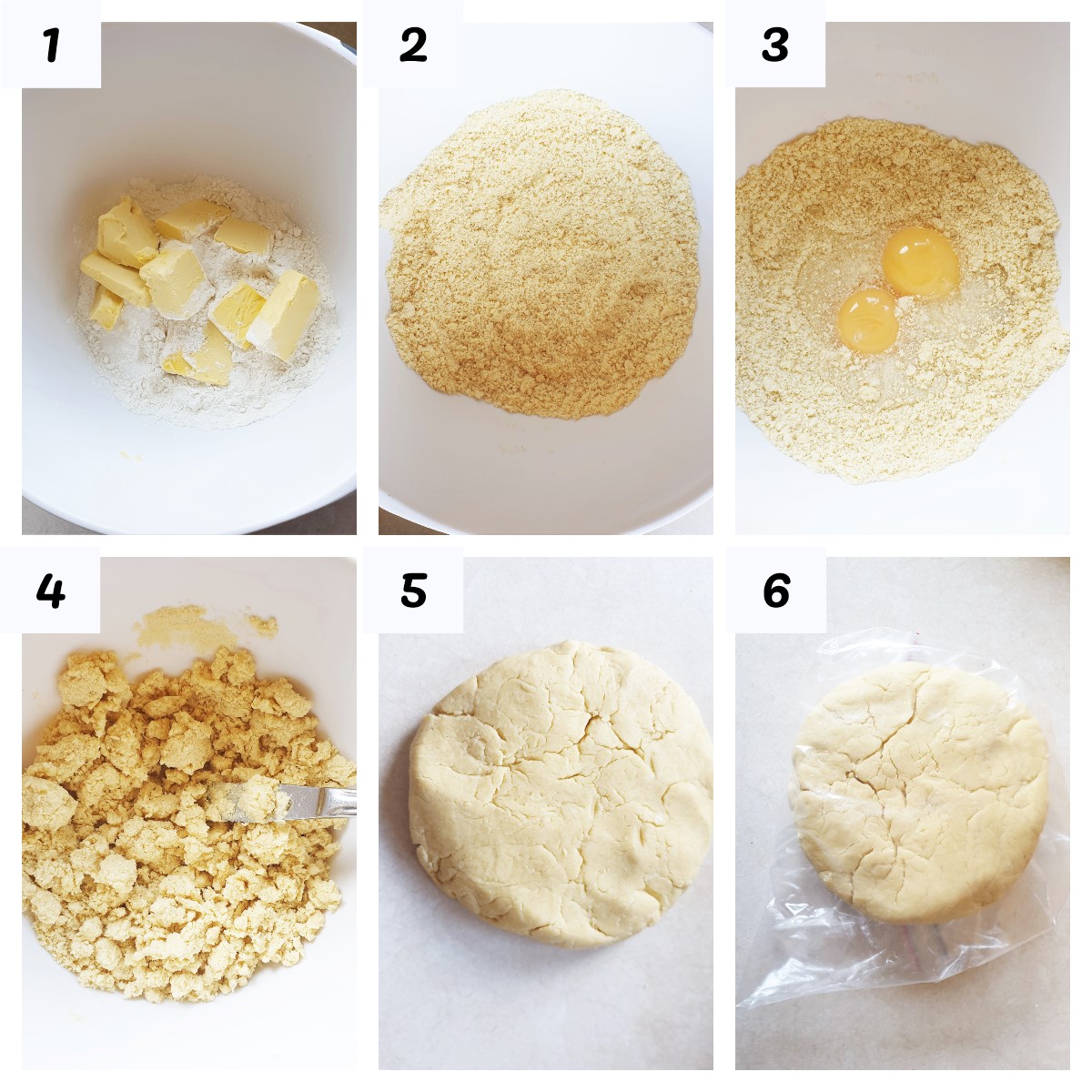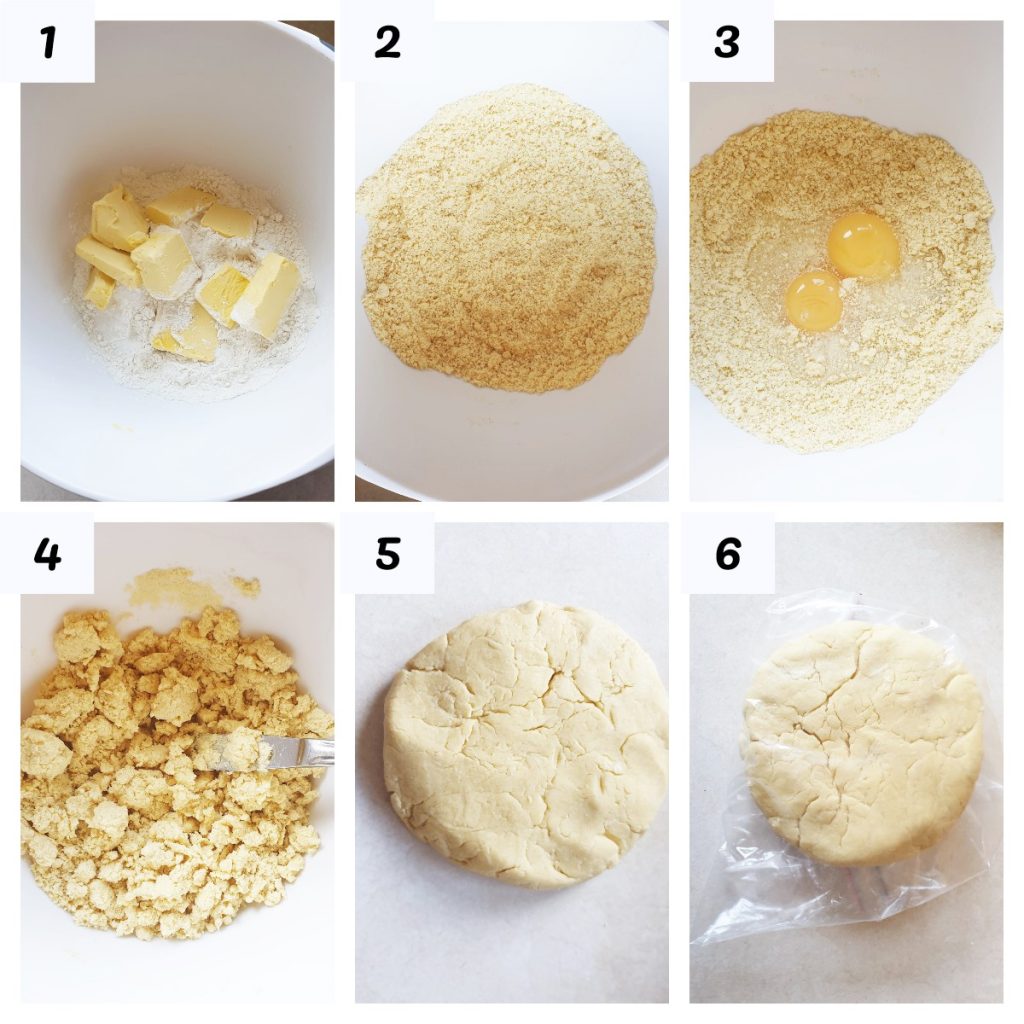 Shortcrust pastry
Sift the flour into a mixing bowl, cut the butter into cubes and add to the flour (image 1).
Using your fingertips, rub the butter into the flour until all the flour has been coated with butter and the mixture resembles fine breadcrumbs (image 2). When rubbing in, lift the butter and flour above the bowl and allow it to fall back. This helps aerate the mixture.
Add the egg yolk and water (image 3). You could use the egg whites to make a meringue for these coconut meringue jam tarts.
Use a flat knife to cut the eggs and water through the flour mixture until it starts to come together (image 4). Start with 4 tablespoons of water and if you need more add the extra tablespoon.
Now use your hands to gently press the pastry together into a flat disk (image 5). Do not knead. Use just enough pressure to make the dough come together.
Place the pastry into a plastic bag, or cover with clingfilm (image 6), and place in the refrigerator to rest for at least half an hour.
Now prepare the apples
Start off by peeling and coring 3 or 4 apples. The number of apples you will need depends on how large your pie dish is. I used a 10″ pie dish and I needed 4 apples. You will need enough apples to make a layer of apple slices about 3-deep.
Any crisp apple that holds its shape well, such as Bramley or Granny Smith would be suitable. You don't want to use apples that will turn to mush in the oven.
I'm not sure what these are called, I think they might be Evelina, but these are the apples from my daughter's tree that we used, and they cooked perfectly.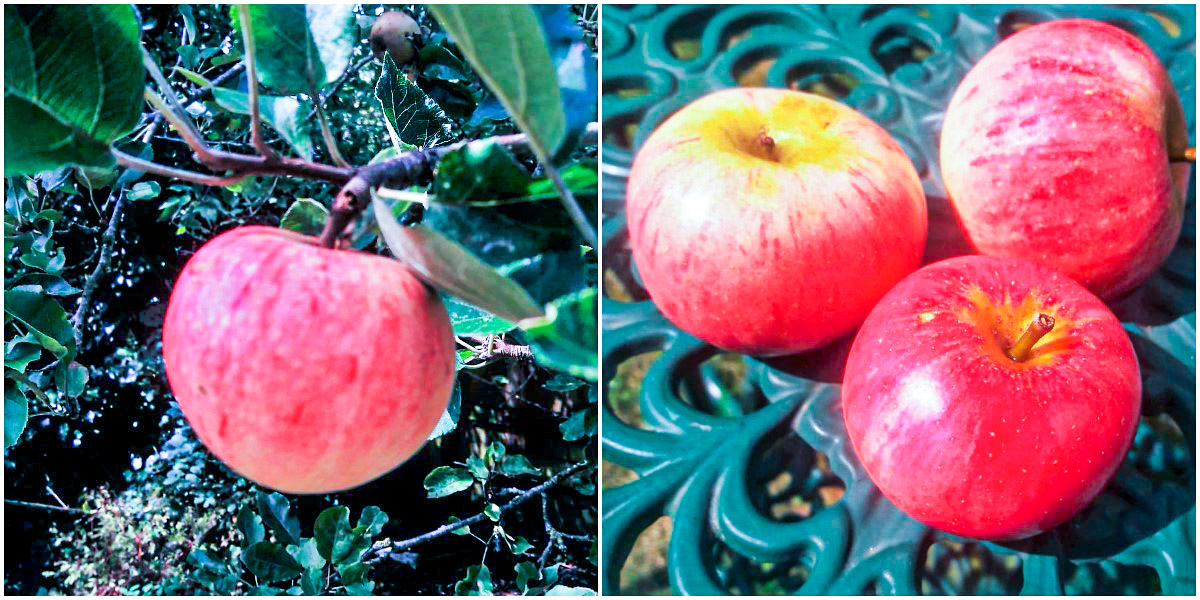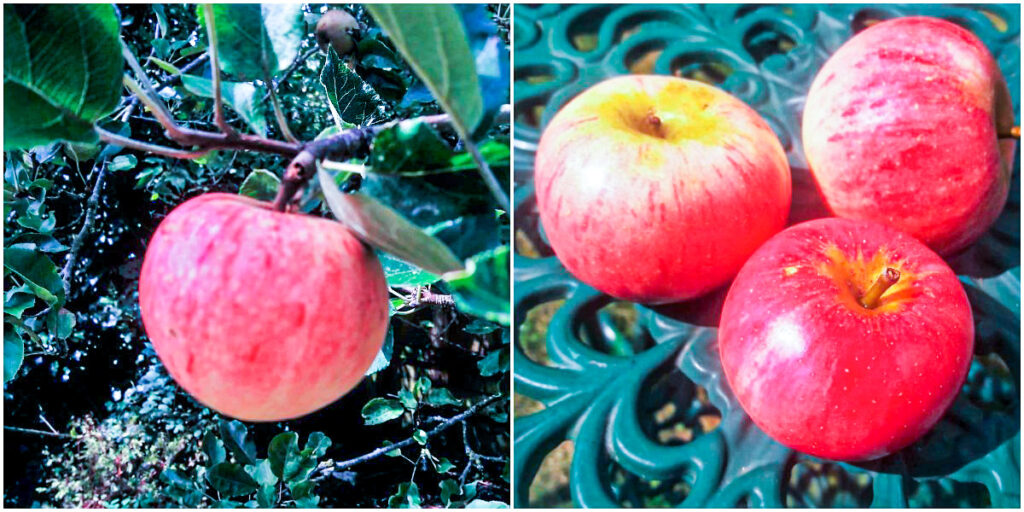 Cut the apples into quite thick slices, about 1/4″ in thickness and as you slice them, place them into a bowl of water with the juice of half a lemon to prevent them from turning brown.
Pat the apples dry on paper towels, then coat them in a mixture of cinnamon and sugar.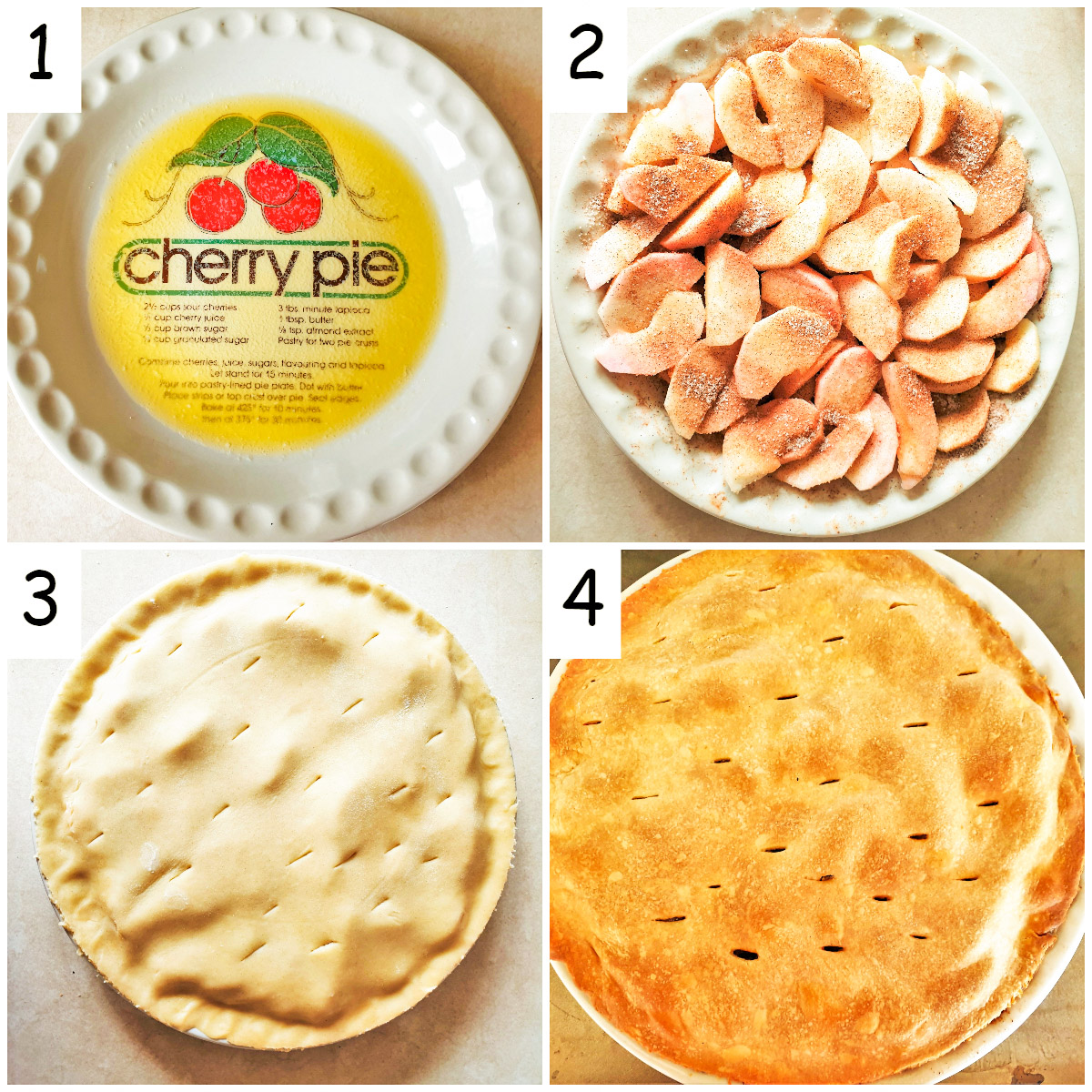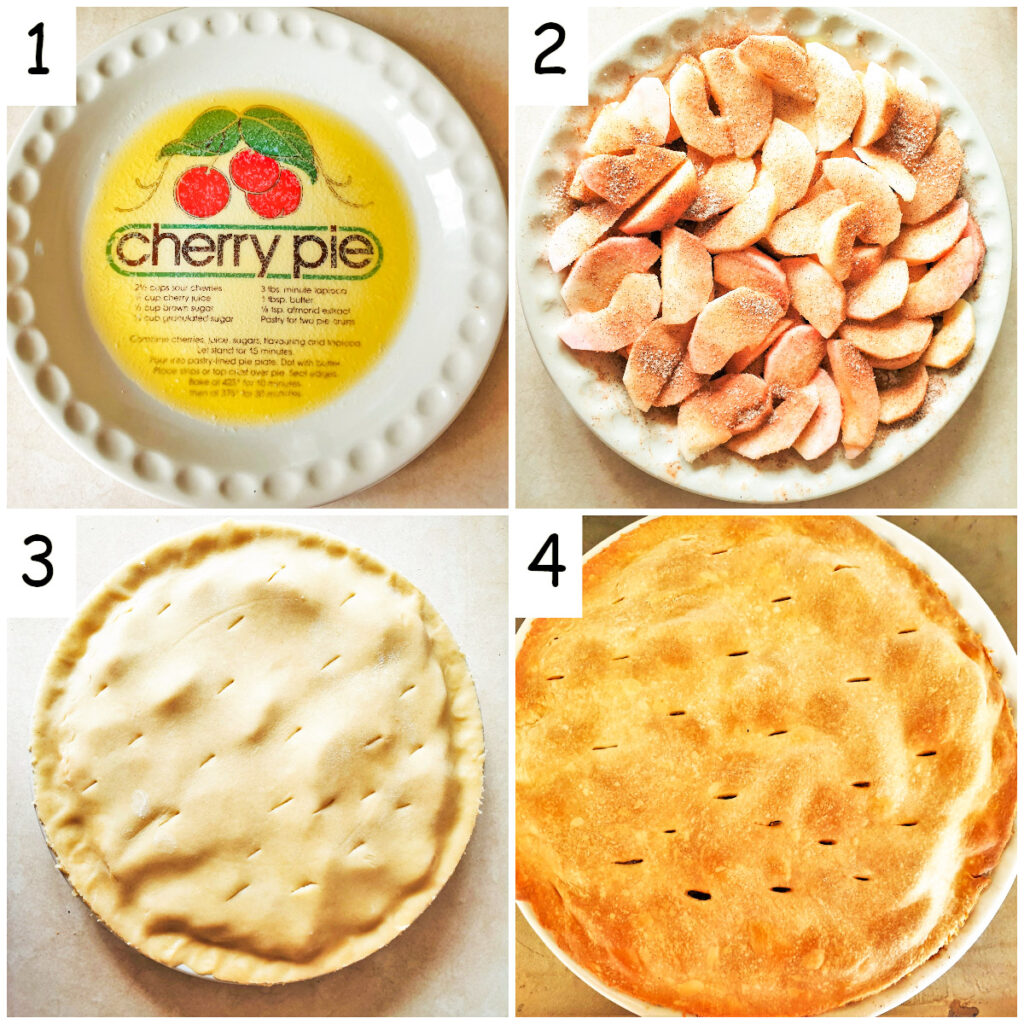 Assemble the apple pie
Now pour half of the melted butter into a suitable pie plate. I used a 10″ shallow pie plate (image 1 above).
Arrange the apples neatly in the pie plate, then drizzle the rest of the melted butter over the top (image 2 above).
Roll out the pastry to about 1/8″ thickness and use it to cover the apples. Trim the edges of the pastry with a sharp knife, then press the edges of the pastry onto the rim of the pie dish. Make small slits in the pastry with a sharp knife to allow the steam to escape during baking (image 3 above).
Place in a pre-heated oven (190C / 375F) for 20 minutes, or until the pastry is nicely browned (image 4 above). There is no need to egg-wash the pastry – you are going to turn this upside-down once it cools so that the pastry will form the base of the apple pie.
Allow to cool, then place a large plate or serving dish upside down over the pie and flip it over. Remove the pie dish carefully so as not to disturb the apples. The pie should be upside down on the plate with the apples covering the pastry.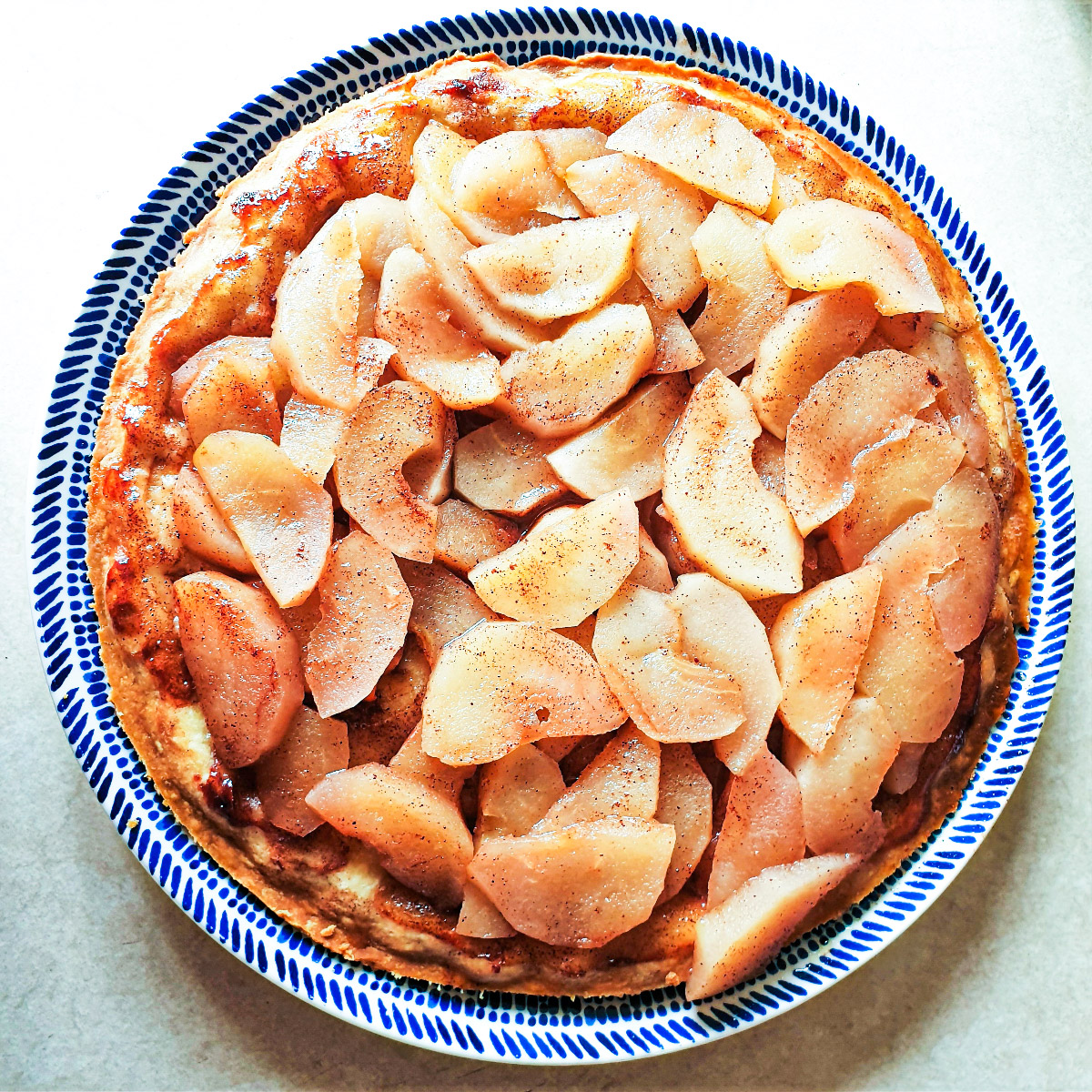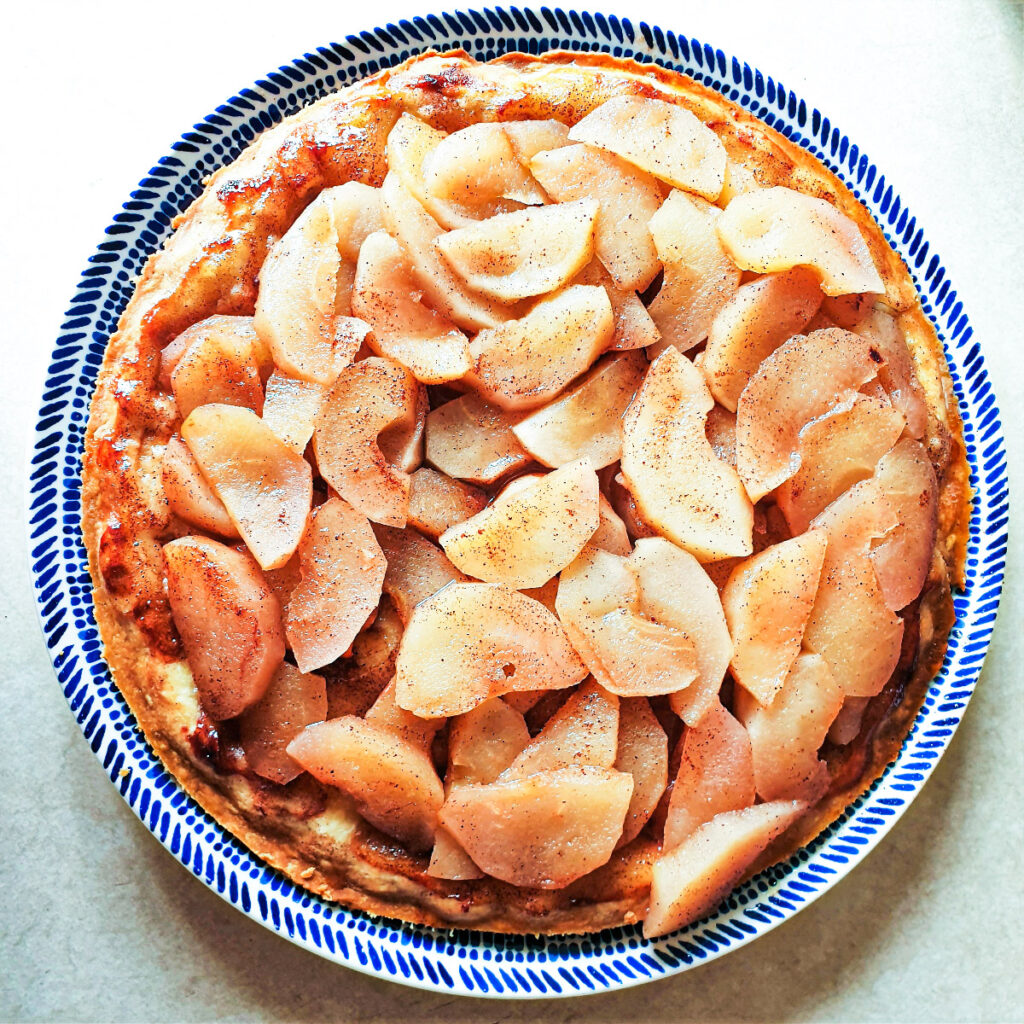 Leave the apple pie to stand for about half an hour before serving to allow the juices to soak into the pastry.
Serve slices of upside-down apple pie topped with either whipped cream or ice cream.
This apple pie is delicious served either hot or cold.
If you'd like to be notified of any new recipes, why not subscribe to my newsletter. As a thank-you gift, you will receive a free recipe e-book containing some of my most popular cakes and desserts.
Pin for later
Why not pin this recipe for upside-down apple pie to your Pinterest dessert board so you can make it later. Just click the picture below.
Recipe – Upside-down apple pie
If you made this recipe and enjoyed it, I'd love it if you could give me a star rating in the comments below. And if you'd like to get in touch, you can email me at [email protected]. I'd love to hear from you. And don't forget to subscribe to my mailing list so you can grab yourself a copy of my FREE COOKBOOK!
If you'd like to continue browsing, just click on this link to all my recipes.