They are moist, they are fudgy, they are chocolately, and they have a deliciously different taste. Chocolate Mud Brownies made with avocado are a real tea-time treat. Eat a slice plain, or add a scoop of ice cream or a dollop of whipped cream for a dessert that will impress the fussiest of dinner guests!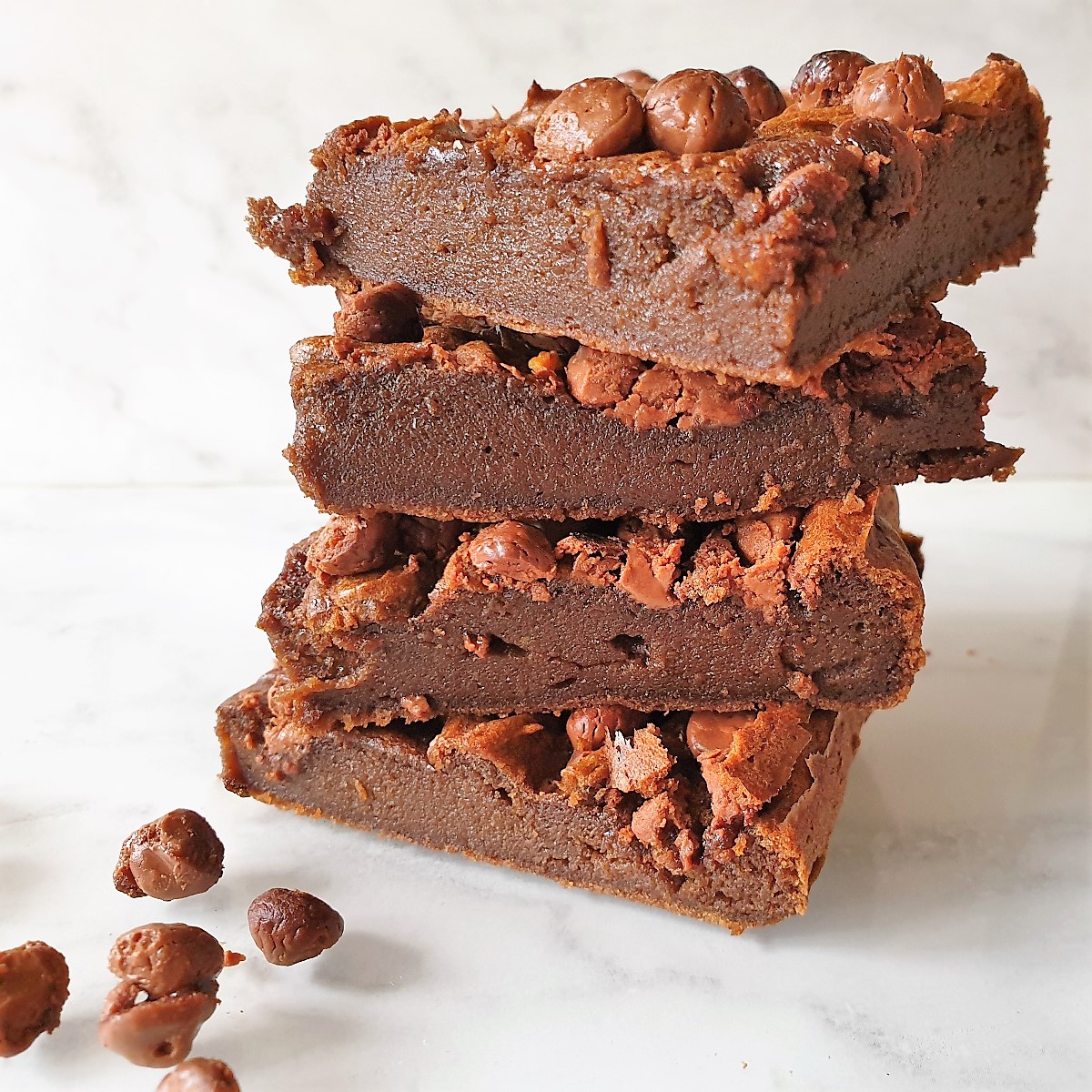 Chocolate mud brownies with avocado
I recently had a glut of avocado pears, which I mashed up and stored in the freezer. (Yes, you really can freeze avocados – see my post on how to freeze avocados for details).
The first thing that springs to mind when you are looking for something to made with avocados is obviously guacamole. But I decided I'd like to try something different, and came up with this recipe for an avocado brownie cake.
This chocolate mud brownie can be made with either fresh or frozen avocados. It makes no difference to either the taste or the texture of the cake. I normally freeze 2 small avocados per packet, and 1 packet is the ideal size for this recipe.
If you are looking for a light and airy cake, then this recipe is not for you. A chocolate mud brownie made with avocados has a sticky, fudgy texture, nothing like a normal cake. It's moist, and gooey, and the avocado provides subtle additional flavour to the cake. In addition, the chocolate chips which are sprinkled on top, provide a double hit of chocolate.
The cake itself is very easy to mix. Just whizz the avocado, eggs, sugar and butter in a food processor until smooth. Add the dry ingredients and whizz to combine, pop it in the oven to bake, and you are done. 5 minutes prep maximum. No fuss. How easy is that?
How to make a chocolate mud brownie with avocado
You can get the complete list of ingredients and full instructions on how to make this recipe on the printable recipe card at the end of this post.
Ingredients
Avocados – you can use fresh or frozen. If you are using fresh, ensure that they are completely ripe. You will need approximately 1 cup of mashed avocado.
Eggs – no need to beat them first.
Sugar – you can use either white granulated or caster sugar, or light brown sugar. It doesn't matter.
Butter – this should be at room temperature for easier mixing.
Cocoa powder – use unsweetened. I you are using sweetened cocoa powder you should reduce the amount of sugar accordingly.
Flour – you can use self-raising powder or plain all purpose. If you are using all purpose flour add 1 teaspoon baking powder.
Chocolate chips – these should be sprinkled on top of the batter before baking. These are optional, but they do add extra chocolate taste.
Salt – this is optional, but does enhance the flavour, especially since you are using avocado in the cake.
Step by step instructions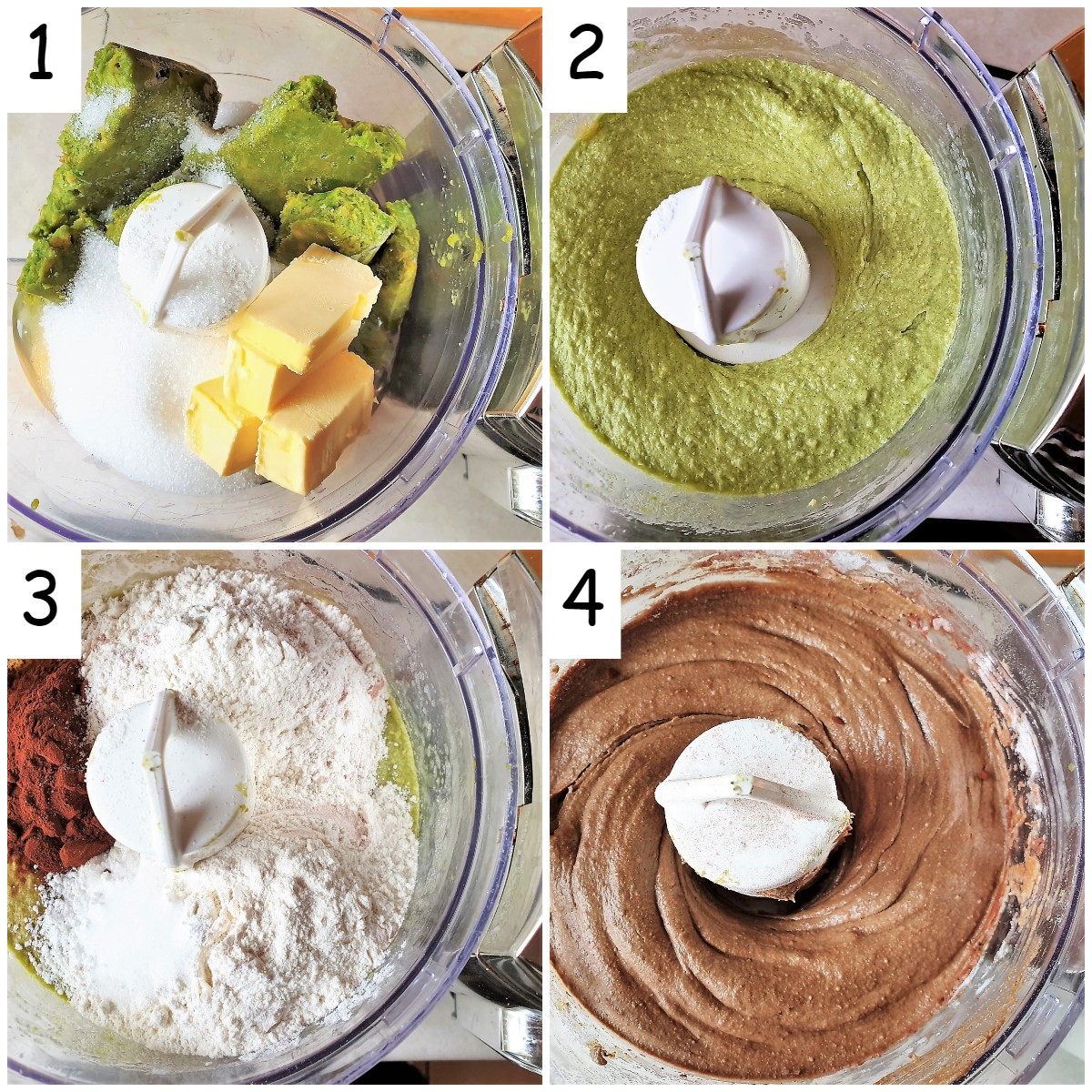 If you are using frozen avocado, allow to defrost first, then put into a food processor.
If you are using fresh avocado, cut in half lengthwise by running a knife around the avocado then twist to open. Hit the pip with a sharp knife, so that the blade of the knife sticks in the pip, then twist the knife to remove the pip. Scoop the flesh from the avocado with a spoon and place in the food processor.
Add the eggs, sugar and butter and process until there are no lumps in the avocado, and all the ingredients are well combined.
Add the cocoa, flour, baking powder and salt and process until well mixed.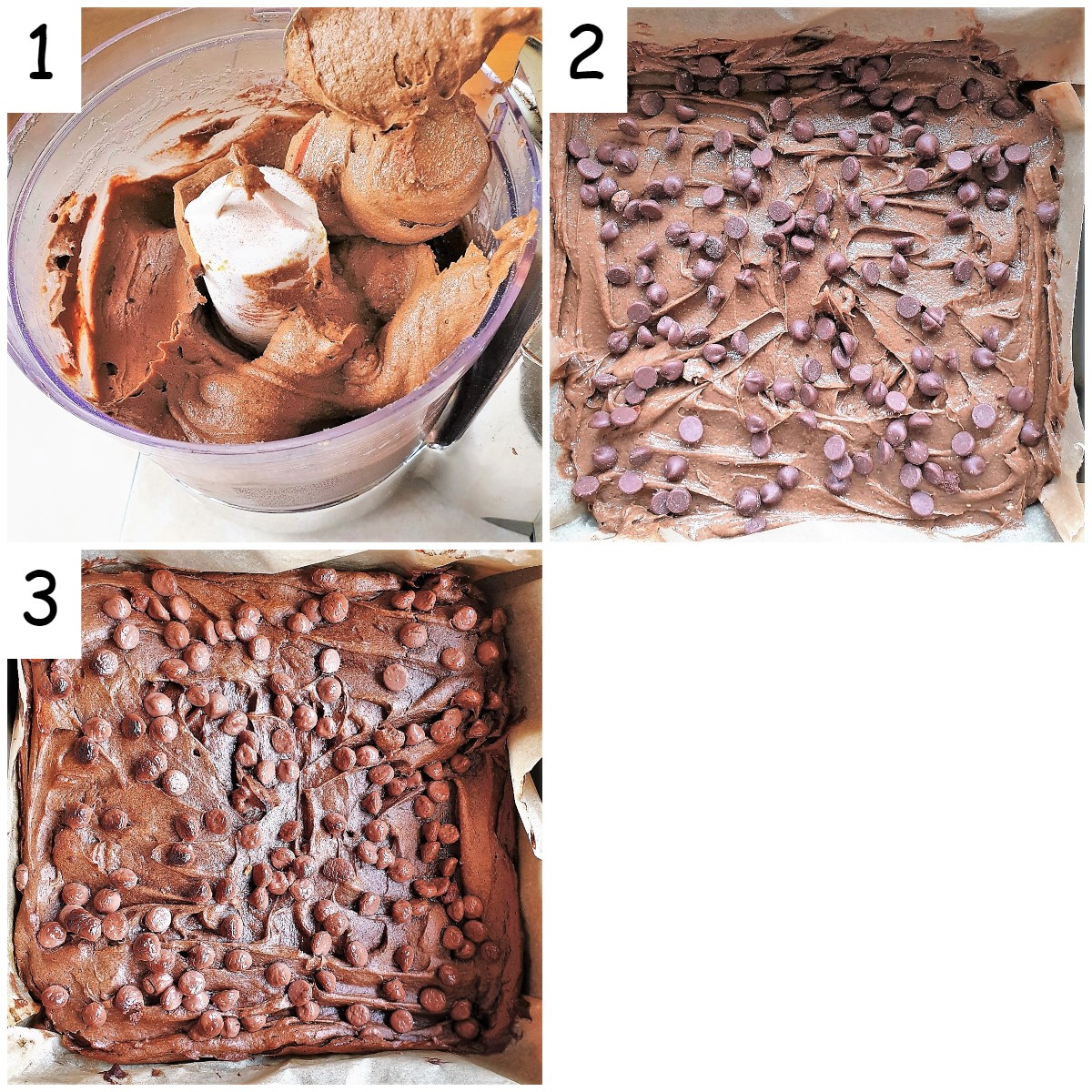 You will end up with quite a dense mixture, which is much thicker than a normal cake batter.
Line a 8″ x 8″ square cake pan with baking parchment and let the baking parchment stick up above the sides. This is so you will have something to help you remove the baked cake from the pan.
Spread the cake batter into the cake pan and smooth the top. Sprinkle the chocolate chips on top.
Bake in a pre-heated oven (180C / 375F) for 20 minutes. The cake should be firm to the touch and a toothpick inserted into the cake should come out cleanly.
Note – this cake does not rise, it is supposed to be fudgy and gooey./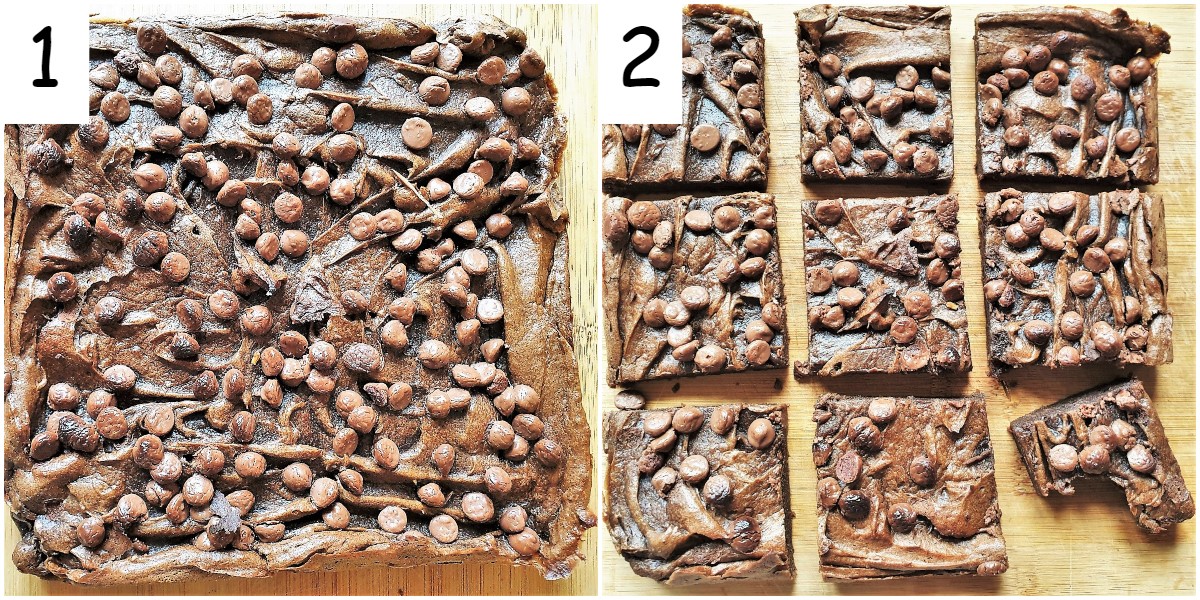 Allow the cake to cool in the pan, then remove from the pan by lifting the baking parchment.
Peel the baking parchment away from the cake and cut into squares.
You can enjoy this cake just by itself as a teatime treat, or turn it into a delicious dessert by adding a scoop of icecream, or a dollop of whipped cream.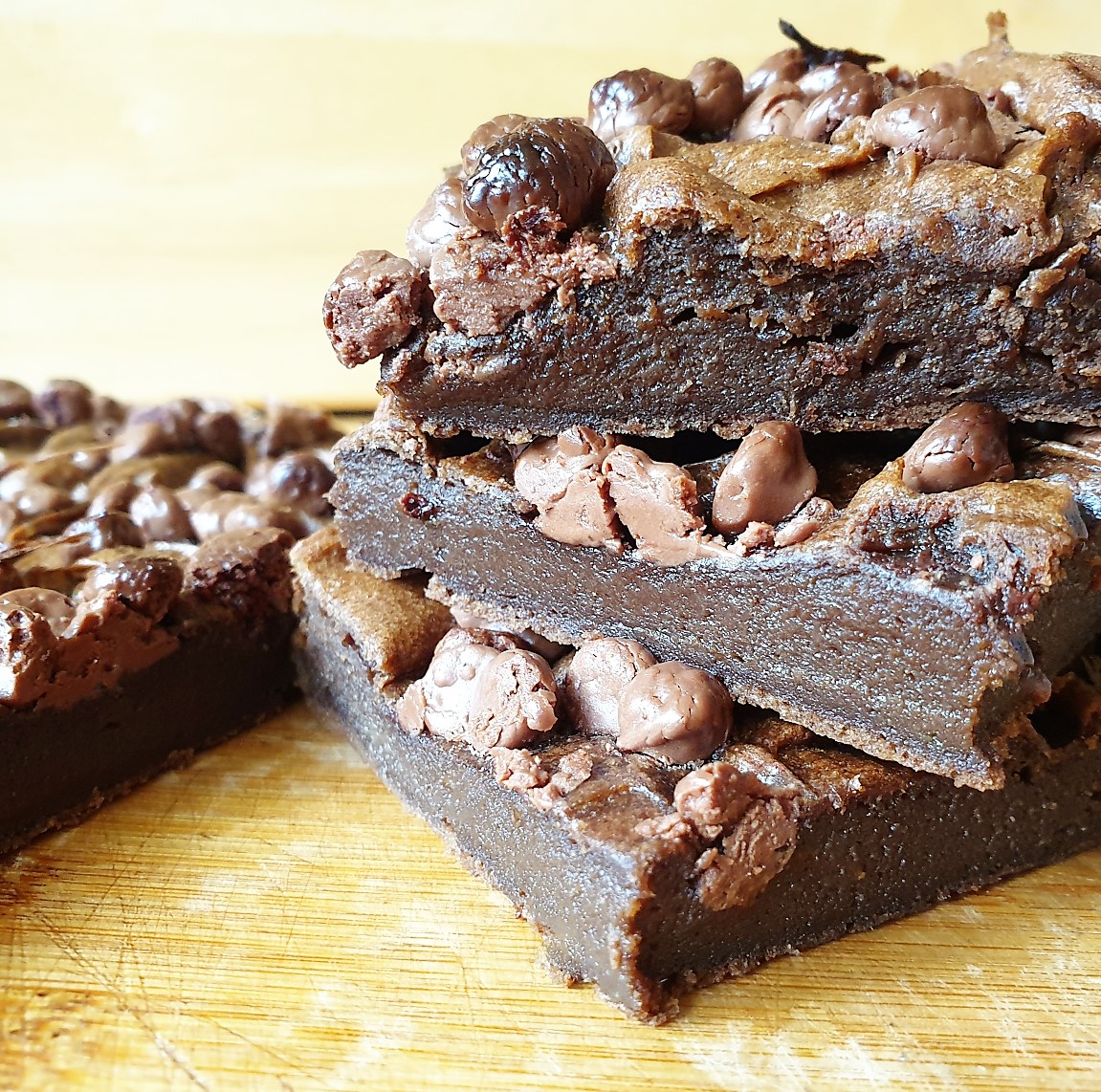 Can I freeze this cake?
To freeze – wrap the cake in a layer of baking parchment and then in a layer of tinfoil and seal it in a large ziploc bag before putting in the freezer.
To defrost – remove the plastic bag and tinfoil and leave it, still wrapped in the baking parchment, to defrost at room temperature.
If you want to keep up-to-date with my latest recipes why not follow along on Facebook or Pinterest. And don't forget to subscribe to my mailing list so you can get your FREE COOKERY BOOK
Convert grams to cups
To help you convert your recipes, I have created a handy Cookery Conversion Calculator which will convert ingredients between grams, ounces, tablespoons, cups and millilitres. I hope you will find it useful.
If you live at a high altitude you may find you need to adjust your baking recipes to compensate for this. You can read about how to do this in this post on baking at high altitudes.
Pin for later
Why not pin this recipe to your pinterest board so you can make it later. Just click the image below.
Recipe – Chocolate mud brownies with avocado
Chocolate Mud Brownie with Avocado
This cake is a deliciously different way to use avocados – moist, gooey and fudgy, packed with chocolate and just a hint of avocado flavour.
Equipment
Sharp Knife

Kitchen scales or

Measuring cups

Food processor

8" x 8" baking pan

Baking parchment
Ingredients
1

large

avocado (mashed)

(approximately 1 cup)

2

large

eggs

1/3

cup

white sugar

(70g / 80ml)

3

tablespoons

butter

(50g / 50ml)

1/2

cup

unsweetened cocoa powder

(40g / 125ml)

1/2

cup

plain flour

(70g / 125ml)

1

teaspoon

baking powder

1/2

teaspoon

salt

chocolate chips

to sprinkle
Instructions
Preheat oven to 180°C / 375°F

Line an 8" square tin with baking parchment, allowing the baking parchment to extend above the sides of the pan. This is to aid in removing the baked cake from the pan.

Place the avocado, eggs, sugar and butter in a food processor and mix until all the lumps have been removed and the mixture is smooth.

Add the cocoa, flour, baking powder and salt and process until combined.

Transer the mixture to the lined baking pan, taking care to ensure the mixture fills all the corners.

Sprinkle with chocolate chips

Place in a pre-heated oven and bake for 20 minutes. The top will feel firm to the touch and a toothpick inserted into the mixture will come out cleanly when the cake is cooked.

Remove from the oven and allow to cool.

Serve as a dessert with icecream or thick whipped cream, or just enjoy a slice on its own as a tea-time treat.
I am not a nutritionist. The nutrition information has been calculated using an on-line calculator, and is intended for information and guidance purposes only. If the nutrition information is important to you, you should consider calculating it yourself, using your preferred tool.
If you made this recipe and enjoyed it, please don't forget to give me a star rating in the comments below. And if you'd like to get in touch, you can email me on foodleclub1@gmail.com. I'd love to hear from you. And don't forget to subscribe to my mailing list so you can grab yourself a copy of my FREE COOKBOOK!
If you'd like to continue browsing, just click on this link to all my recipes.