When you need a quick and easy supper for the family you'd be hard-pressed to beat these quick and easy chicken fajitas. Tender strips of chicken breast, mixed with a blend of homemade fajita spice mix, wrapped in soft flour tortillas is a meal the whole family will love. Serve with a selection of toppings and then sit back and relax while everyone builds their own fajitas!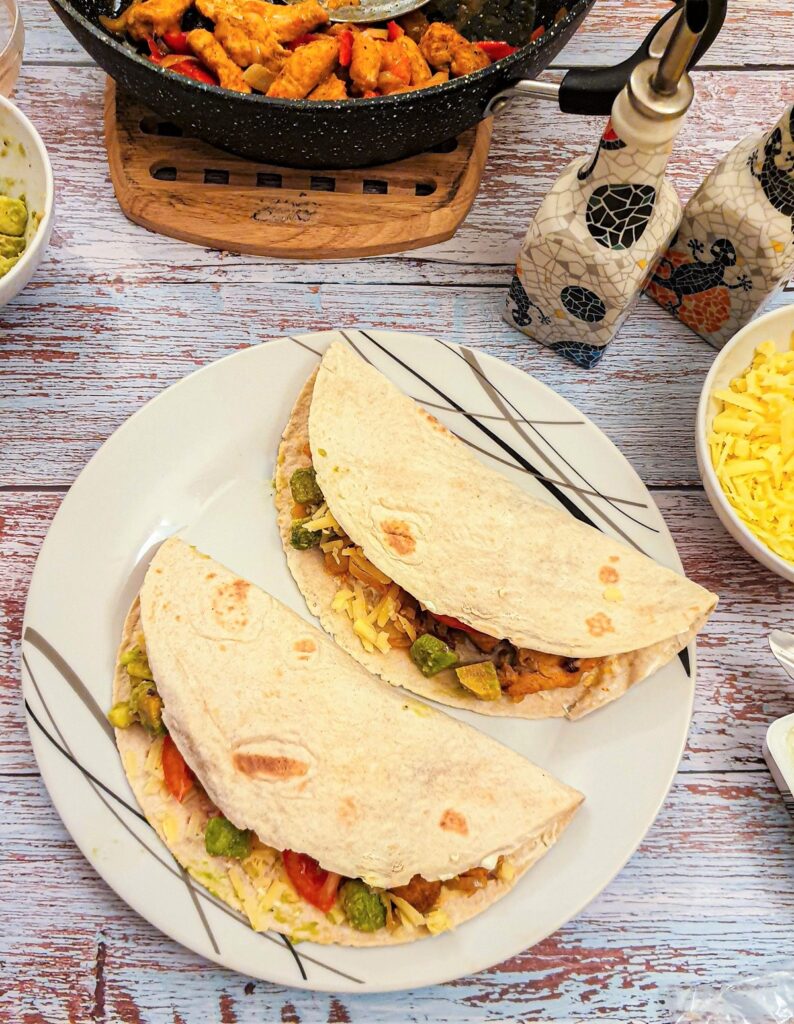 **As an Amazon affiliate, I earn from qualifying purchases.**
Everybody's favourite meal
Chicken fajitas often feature on our menu, especially on those busy weeknights when there's not much time for cooking! And I have to say this spicy Mexican treat always goes down well.
I mean, what's not to love?
Juicy chicken pieces coated in a blend of spices, stir-fried with onions and colourful peppers (or capsicums), and flavoured with a hint of lime.
Plenty of toppings so you can squeeze extra vegetables into the meal.
Just the right amount of heat from the chilli
Soft flour tortilla wraps to hold the chicken fajitas together.
All resulting in a delicious meal that encourages family chit-chat as everyone sits at the dinner table happily combining their own favourite toppings.
And once everyone has eaten their fill of these chicken fajitas, all that's left for you to do is clear away the empty plates!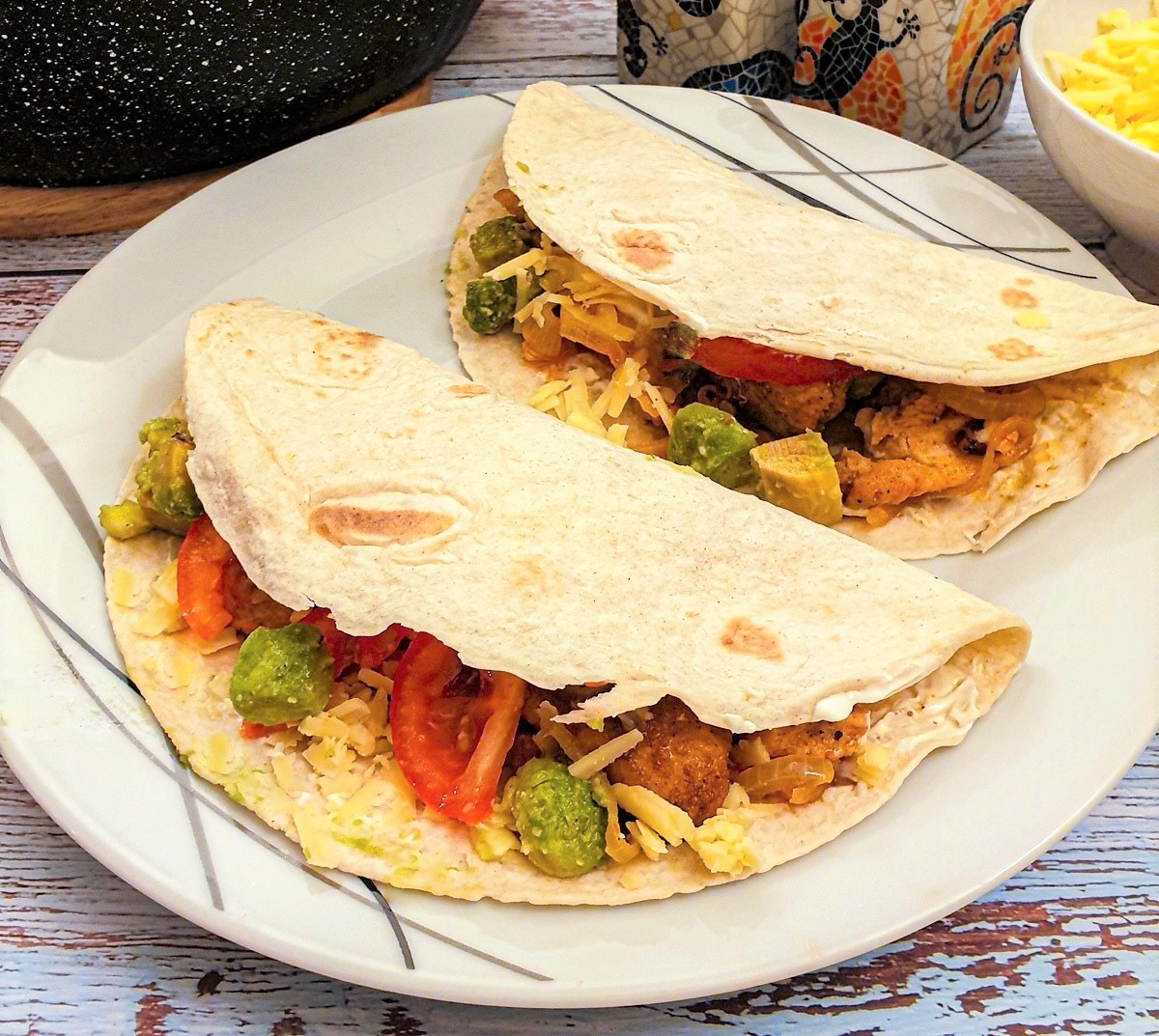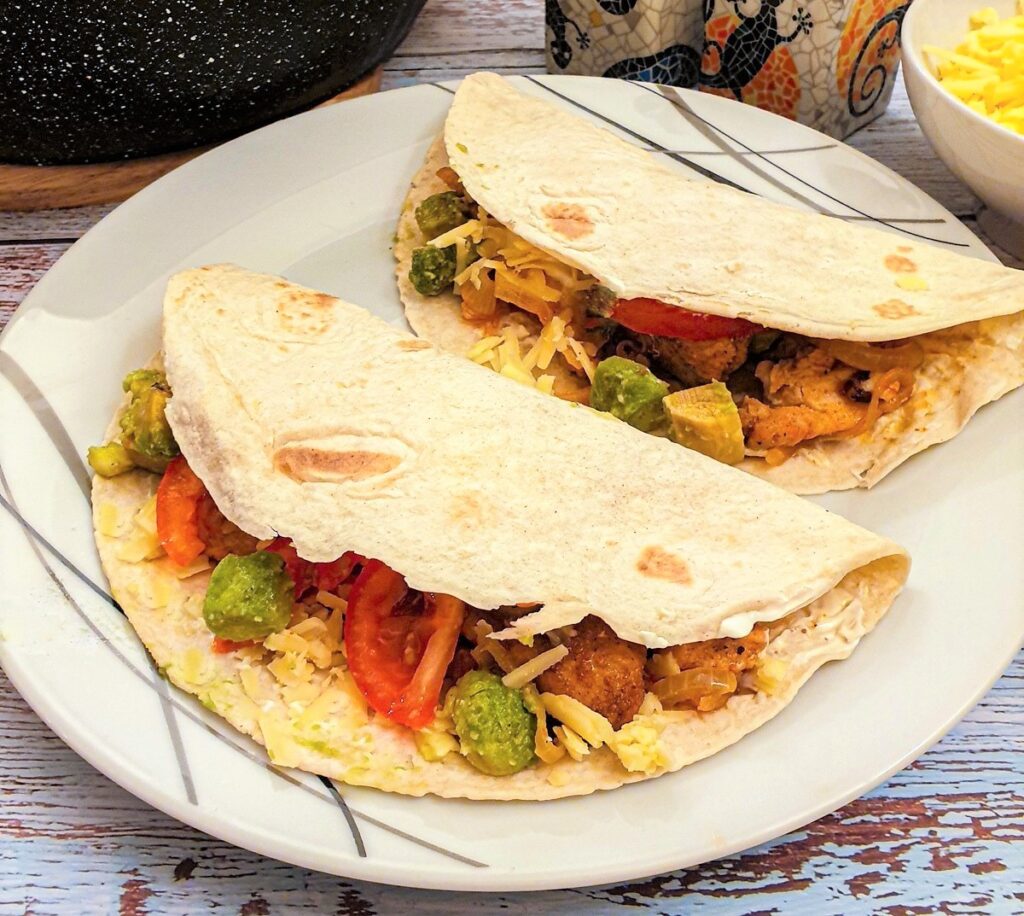 Homemade fajita spice mix
Much as I love chicken fajitas, I have to say that I'm not much of a lover of the blends of fajita spice mix that you buy in the supermarket.
There's either too much or too little chilli in there for my personal taste, and sometimes the blend of spices can be a bit over-powering. Also, I'm not too keen on the sound of some of the ingredients – anti-caking agents, preservatives, and artificial colourings.
So I've put together my own homemade fajita spice mix, using just spices that I keep in the pantry. You can mix it up just enough for one meal, or you can make a larger quantity and store it in a screw-top jar in the cupboard so you always have fajita spice mix to hand. And the beauty of this is that you can adjust the heat of the chilli and the balance of spices to suit your own taste. (See further down in the post for details).
Ingredients
**Get the complete list of ingredients and complete instructions for making chicken fajitas with homemade spice mix on the printable recipe card at the end of this post**
This is what you will need to make chicken fajitas. This recipe will serve 4 people.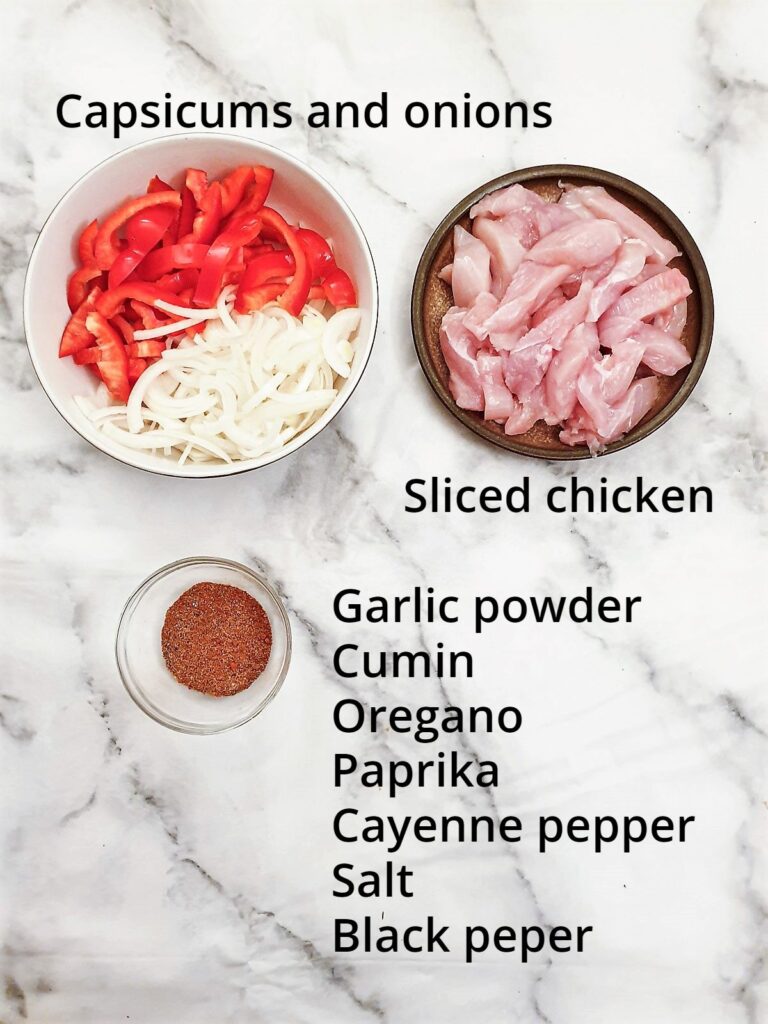 Chicken breast fillets – skinless and boneless – and should be thinly sliced.
Capsicum – otherwise known as bell peppers – you can use a mixture of red, orange, and yellow peppers (I only had red peppers in the fridge when I took the photos for this dish). You will need to remove the seeds and inner membranes and then slice the peppers thinly.
Onion – this is just a normal white onion, peeled and finely sliced. If you have shallots you can use those instead. A red onion will also work well.
Spice mix – this is my homemade spice mix made up of garlic powder, cumin, oregano, sweet paprika, cayenne pepper, salt, and black pepper.
Lime juice – you can use the juice of a freshly squeezed lime, or if you prefer you can use bottled lime juice. Do make sure it is pure lime juice, not cordial.
Sunflower oil – this is used for frying the chicken and the vegetables. I like to use a neutral flavoured vegetable oil for this dish rather than olive oil.
You will also need a packet of flour tortillas or wraps.
How to make it
Chicken fajitas are really quick to make. All you really have to do is fry off the chicken, fry off the vegetables, and toss them all together with a splash of lime juice and you're done. Read on for more detail.
Preparation
Cut the chicken breasts in half horizontally through the middle, and then cut them into thin strips. If the strips are very long you can cut them in half.
Remove the seeds and membranes from the capsicums and slice then thinly.
Peel the onion, cut it in half from top to bottom, and slice thinly into semi-circles.
Spice mix
For this recipe measure out the following spices and mix them together in a small bowl.
One teaspoon each of
garlic granules or garlic powder. Don't use garlic salt as this contains salt
dried cumin
dried sweet paprika
Half a teaspoon each of
dried oregano
cayenne pepper
salt
ground black pepper
Alternatively, for a larger quantity which you can store in a screw-top jar, just double or treble the amounts above, keeping to the same ratio. You will need approximately 2 tablespoons of this spice mixture for the amount of chicken in this recipe.
Notes
The cayenne pepper provides the heat. Adjust this according to your own level of heat tolerance.
Adjust the salt according to your own taste or leave it out altogether and salt the meat to taste when you are making this dish.
Chicken
Mix the strips of chicken with the spices, and leave to stand for at least 10 minutes to give the flavours time to start penetrating the chicken. You can cut up the vegetables while you are waiting.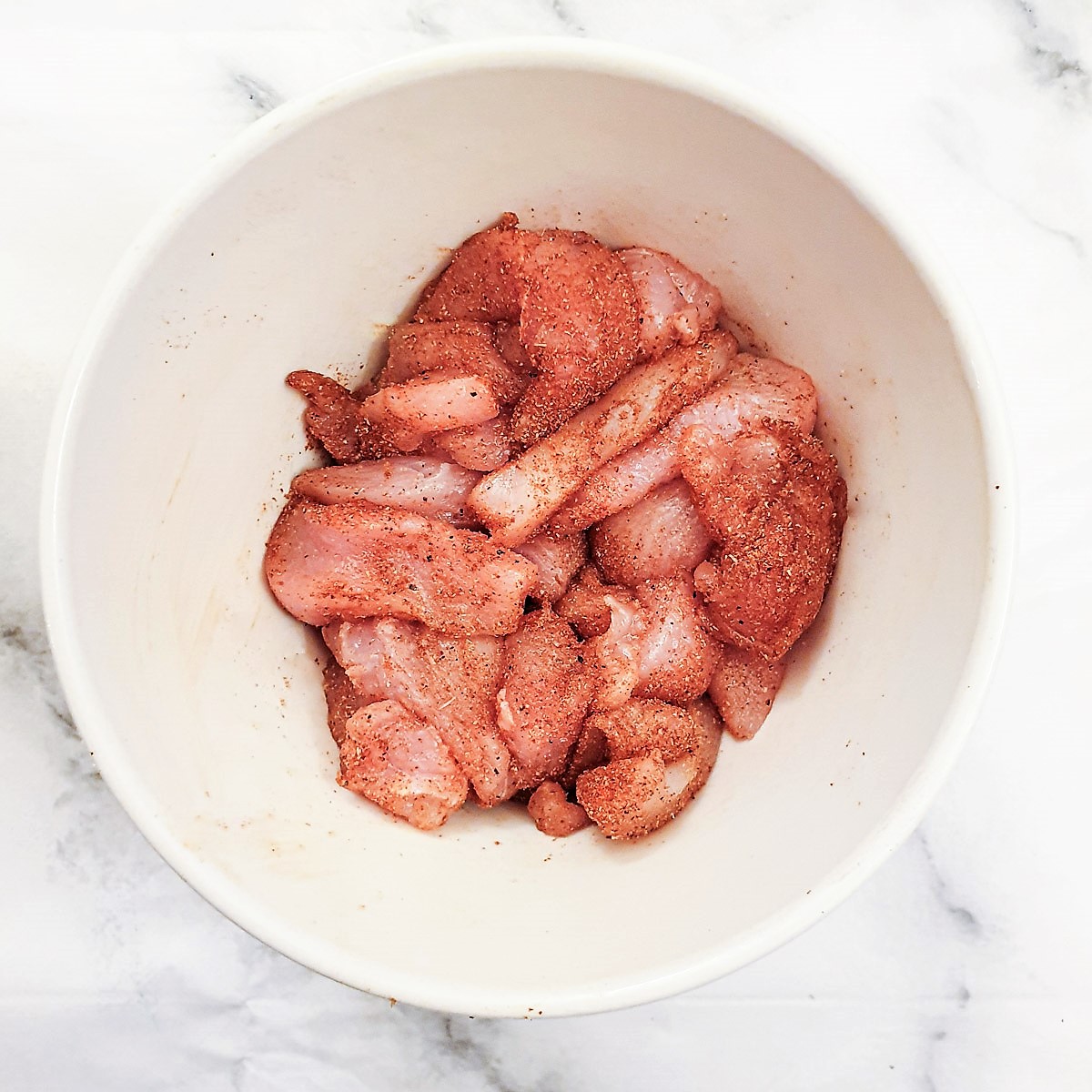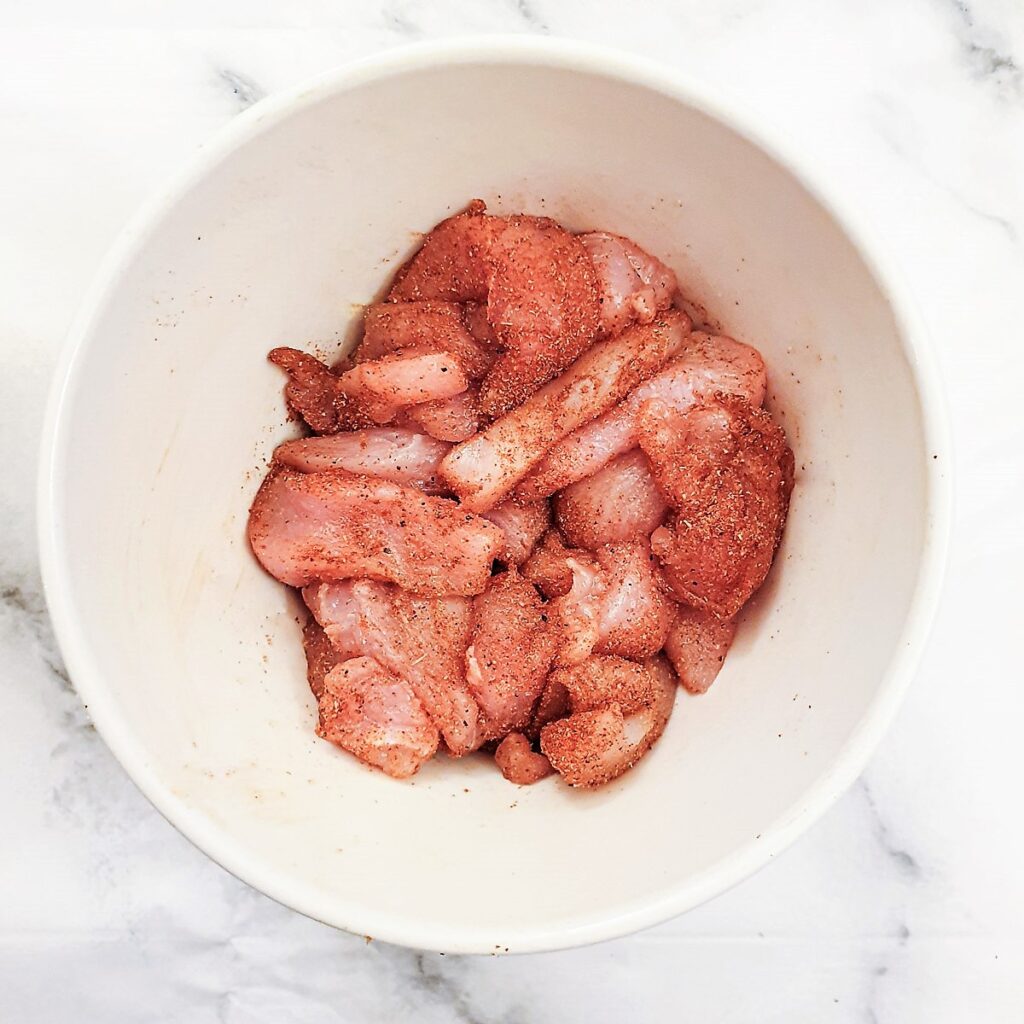 Heat 2 tablespoons of sunflower oil in a frying pan and fry the chicken pieces until they are no longer pink on the inside. Keep the heat to medium so the chicken does not burn on the outside before the inside is cooked through.
Use a spatula to move the chicken around in the pan and turn it as it is browning. Because the chicken pieces have been quite thinly sliced, this step will not take long.
If the chicken does not fit easily into the pan in one layer, fry the chicken in batches. Don't over-crowd the pan or the chicken will release moisture and will stew rather than brown, resulting in tough, dry chicken.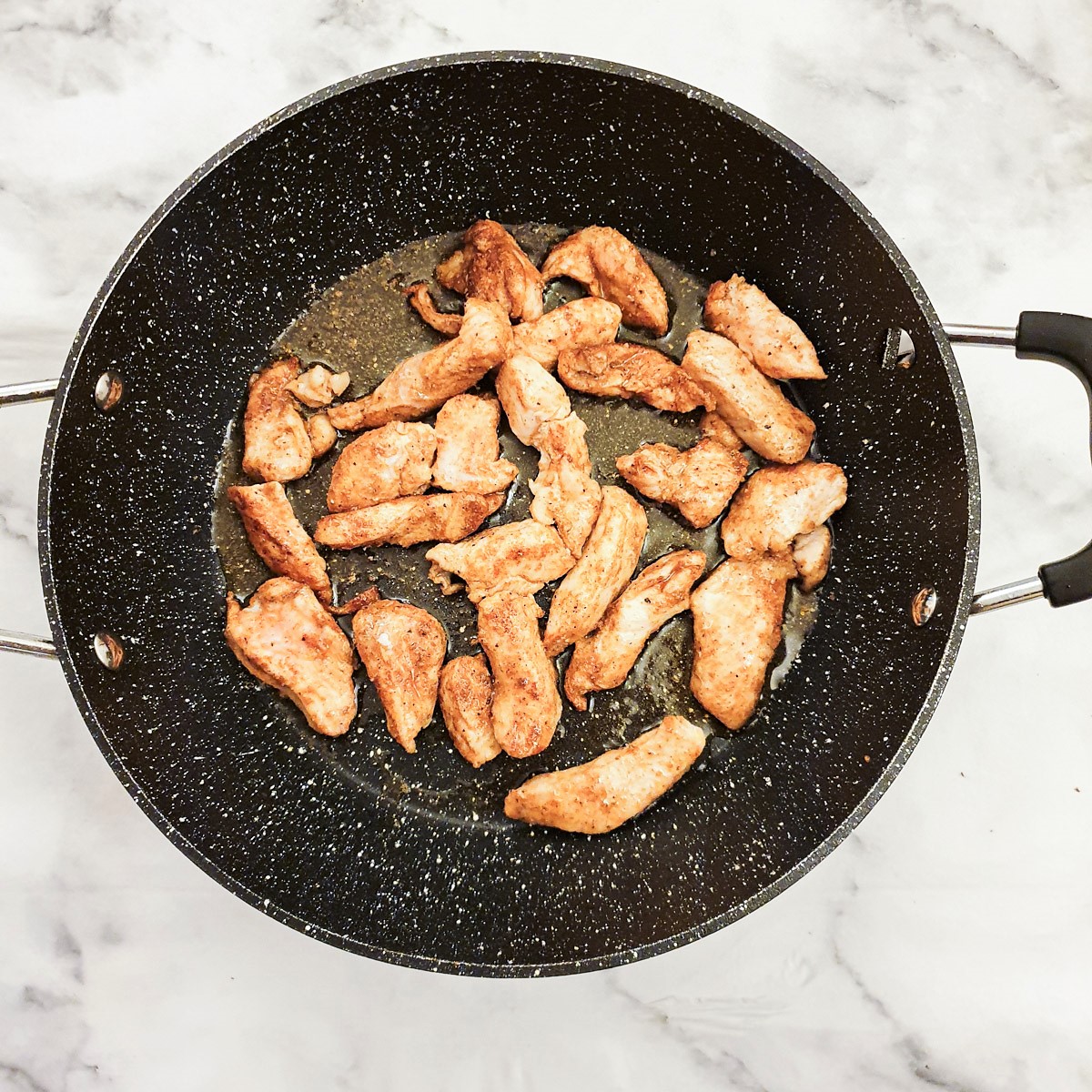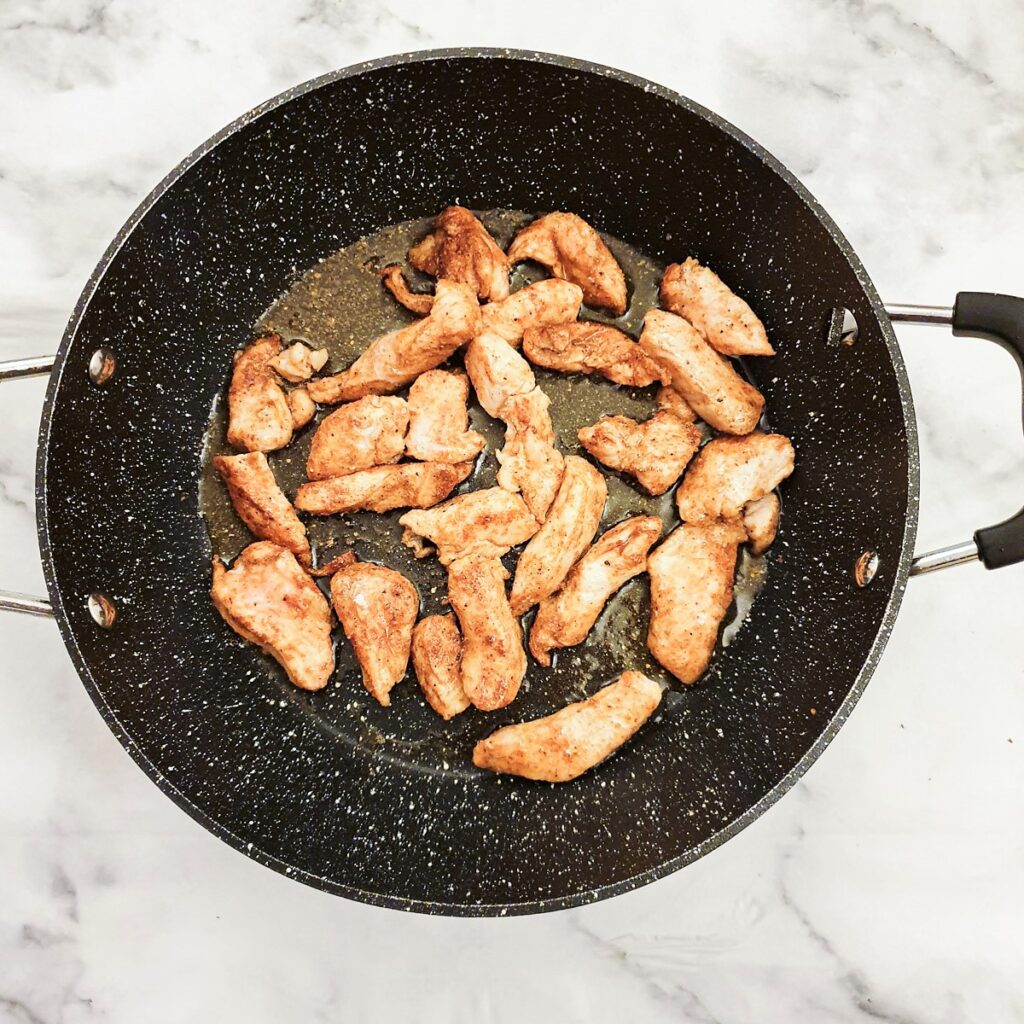 Remove the chicken from the pan and set it aside.
Vegetables
Add the sliced peppers and onions to the pan and continue to fry. You may need to add another splash of oil.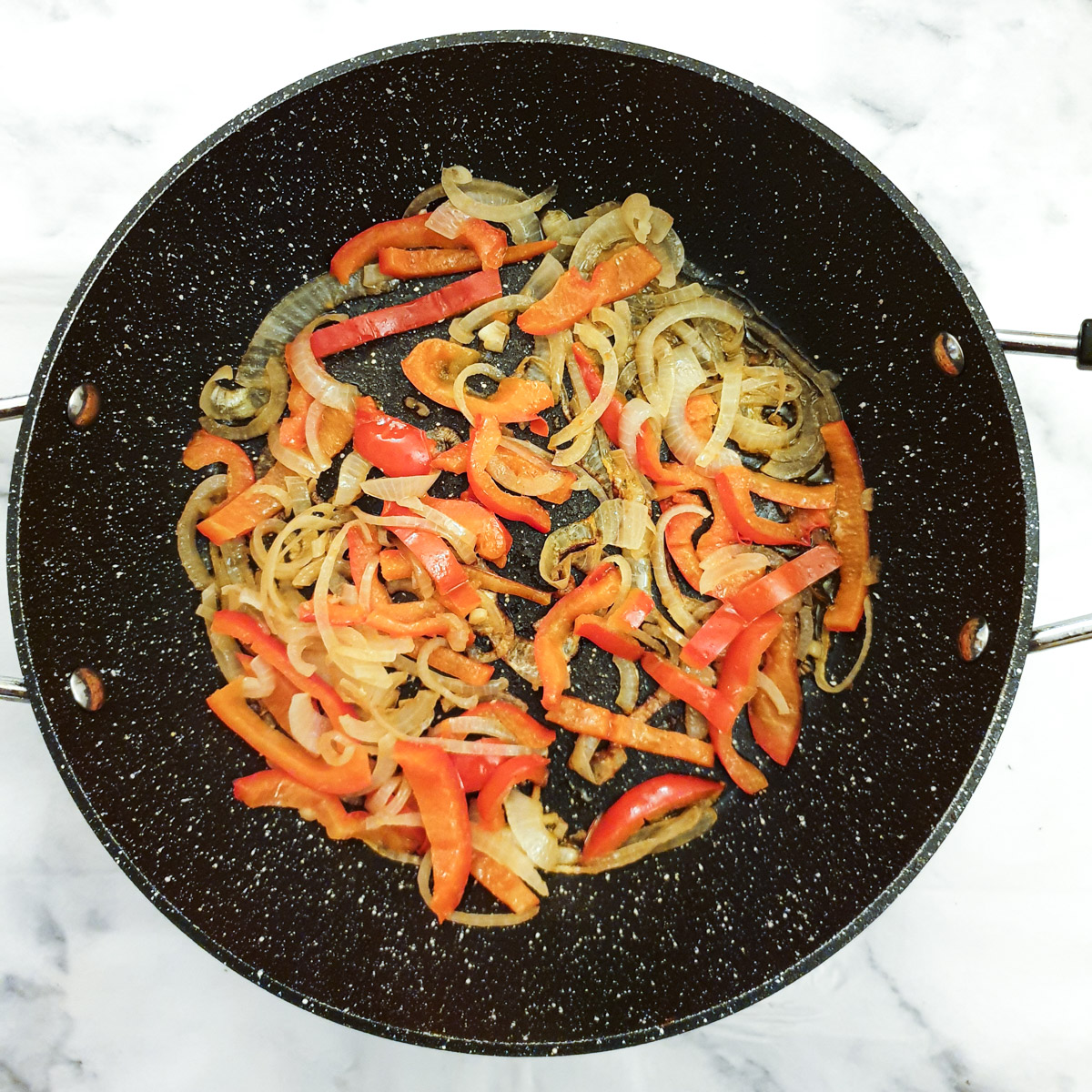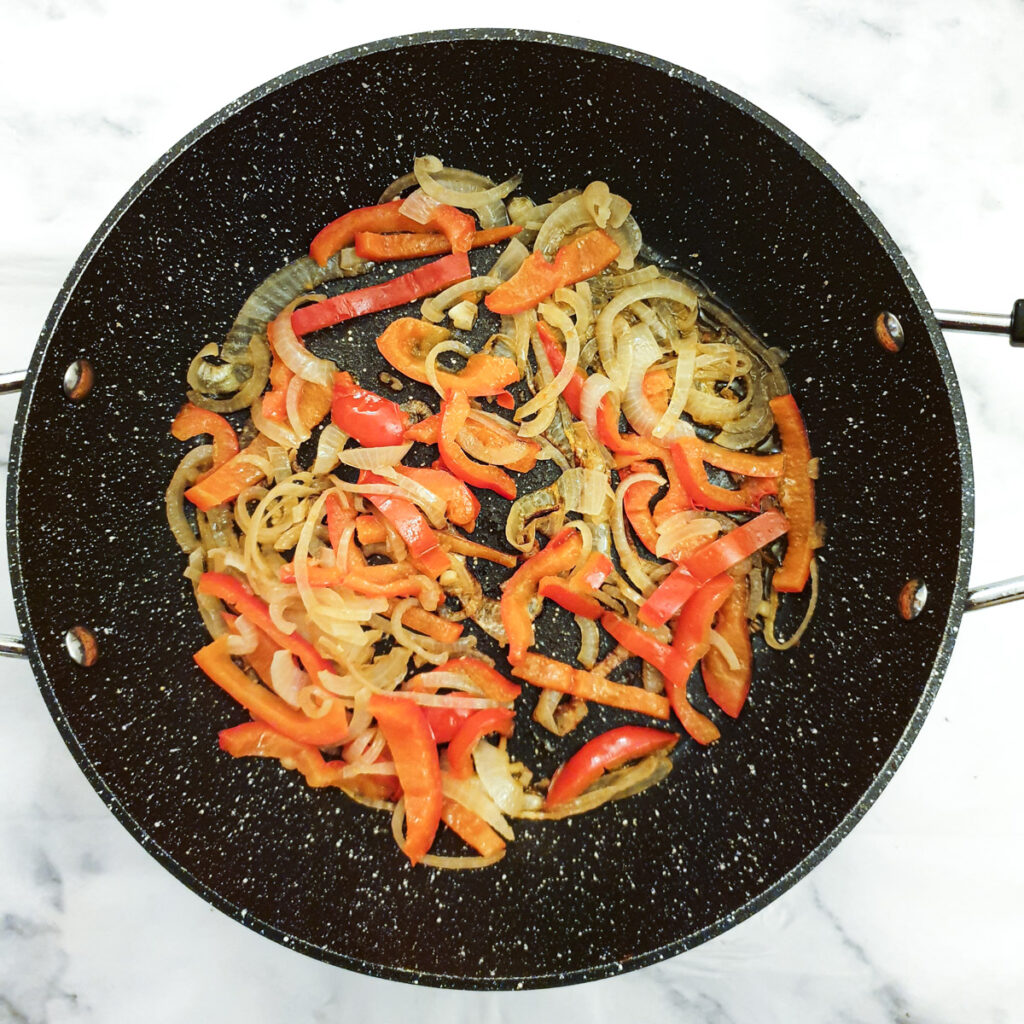 Add the chicken back to the pan and stir in the juice of a small lime (about 2 tablespoons).
Cover with a lid and bring to a boil, remove from the heat and serve immediately with tortillas and your selection of toppings.
To warm tortillas, either warm them in the microwave for a few seconds or place a tortilla into a hot frying pan and warm on both sides for a few seconds per side.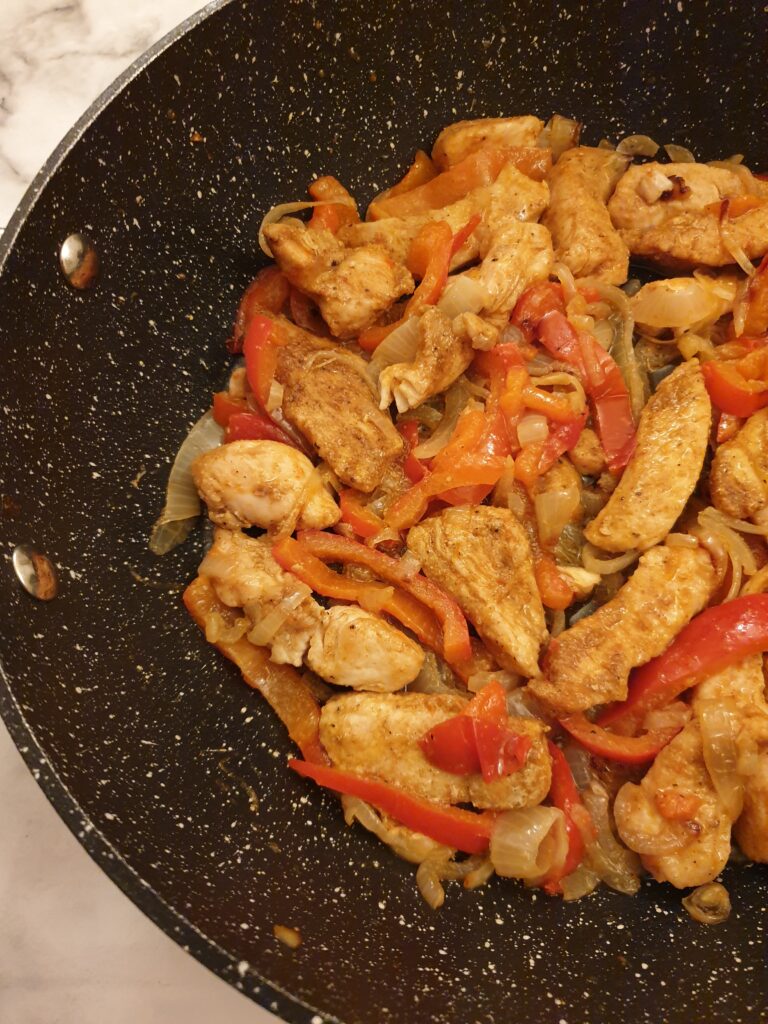 If you'd like to be notified of any new recipes, why not subscribe to my newsletter. As a thank-you gift, you will receive a free recipe e-book containing some of my most popular cakes and desserts.
What to serve with chicken fajitas
These are some suggestions for toppings and sides to serve with your fajitas.
Sliced avocado or a bowl of guacamole
Sour cream
Shredded lettuce
Sliced or finely diced tomatoes
A bowl of tomato salsa
Grated cheddar cheese
Grated carrots
Halved cherry tomatoes
Soft cream cheese to spread on the tortillas before adding the chicken
Freezing and storage
The cooled chicken can be frozen in suitable freezer containers (either plastic bags or Tupperware or similar) for up to three months.
To use, defrost in the microwave, or leave it overnight in the refrigerator. Tip into a frying pan on the stove and heat slowly until piping hot. Do not leave the chicken in the pan once it has heated or the chicken will overcook and dry out.
Leftover chicken can be stored in the refrigerator for up to three days. It makes delicious sandwiches for packing into a lunch box. You can either use leftover tortillas, or sandwich the chicken pieces into a soft bread roll.
If you've made a large quantity of spice mix, you can store it in a screw-top jar in the pantry for as long as you would normally store spices.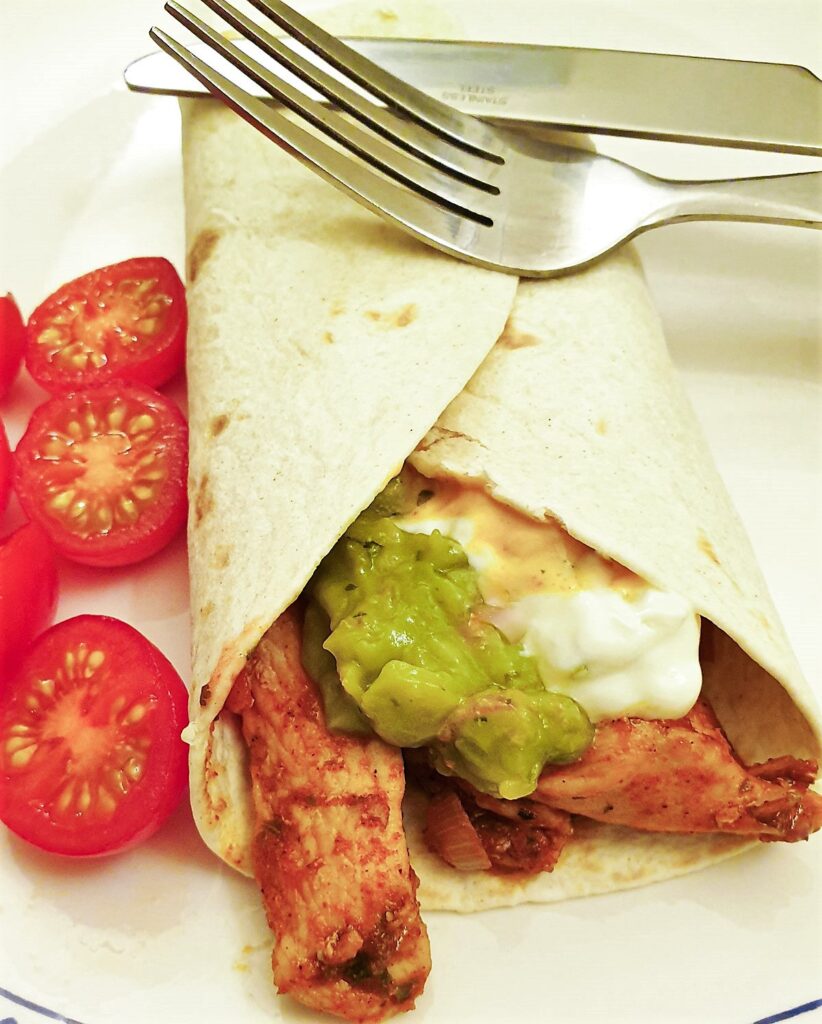 Pin for later
Other recipes
If you like this recipe you may also enjoy some of these easy chicken meals:
If you made this recipe and enjoyed it, I'd love it if you could give me a star rating in the comments below. And if you'd like to get in touch, you can email me at [email protected]. I'd love to hear from you. And don't forget to subscribe to my mailing list so you can grab yourself a copy of my FREE COOKBOOK!
If you'd like to continue browsing, just click on this link to all my recipes.