If you like fajitas, you'll love this easy cheesy turkey fajita bake. It's packed with flavour from the fajita spices with just the right amount of heat. The turkey is juicy and succulent, and it's all baked in one dish in the oven with a creamy cheesy sauce.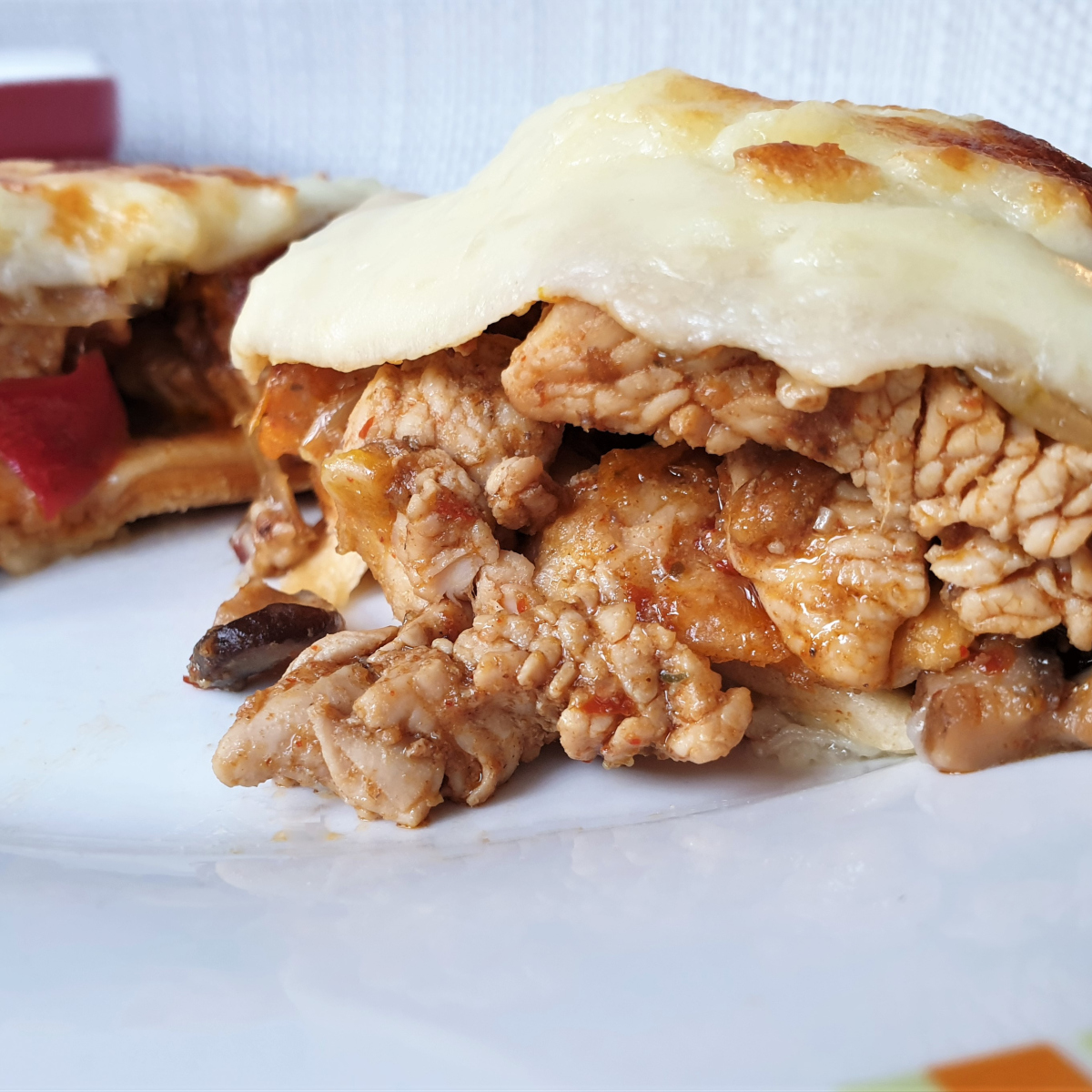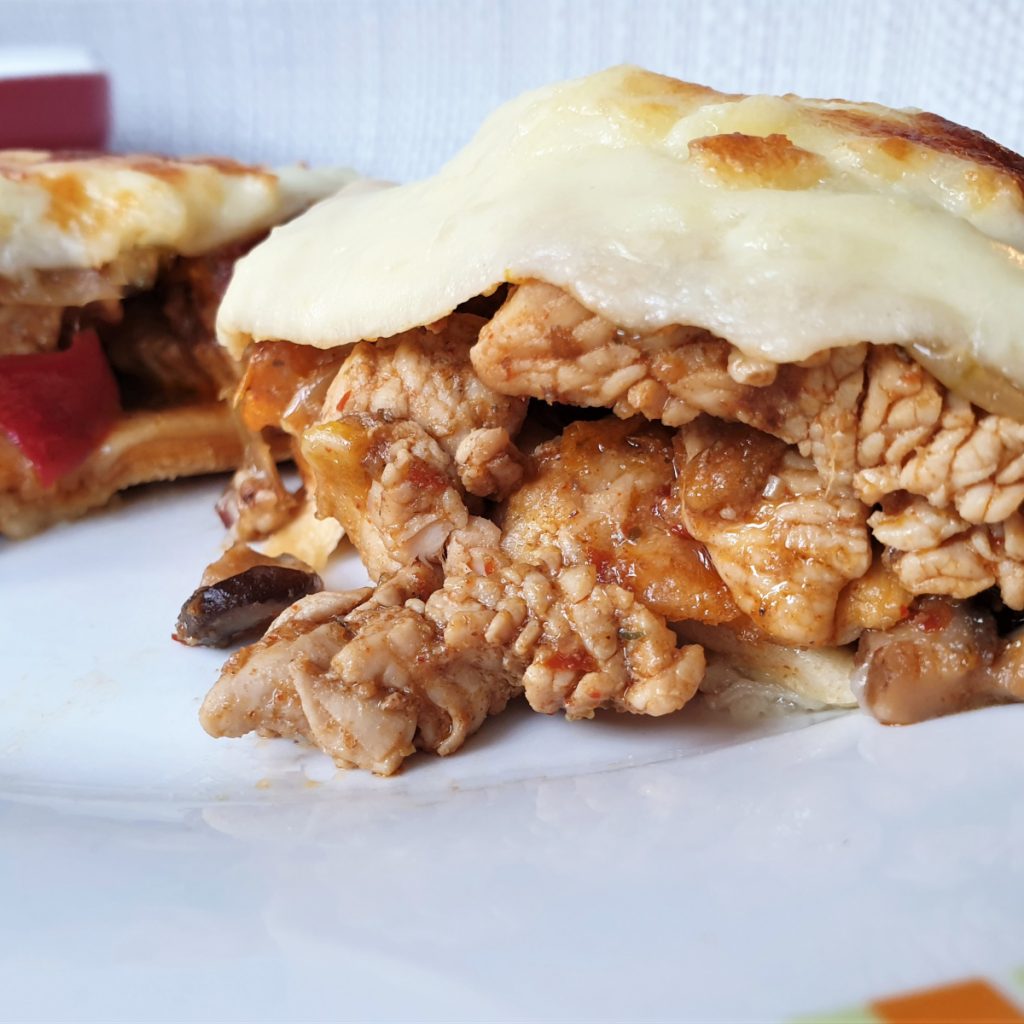 This recipe is a cross between fajitas and lasagne. Yes, that's right, who'd have thought it. Today we are mixing Mexican fajitas with Italian lasagne and making a super-tasty, cheesy turkey fajita bake.
Now I know you are thinking 'this is never going to work', but believe me these flavours go so well together. The smokey flavours of the fajita spices perfectly complement the turkey, the flour tortilla wraps take the place of the lasagna sheets, and it's a well-known fact that cheese goes with everything 🙂
This recipe has so much going for it.
It's economical and versatile – you can use up any leftover turkey, or you can use turkey breasts cut into thin slices. And if you don't have turkey, it doesn't matter. You can use chicken breasts instead. The choice is yours.
It's super tasty – it's made completely from scratch so you know exactly what is going in to it. There isn't a packet of spice mix in sight.
It's kid friendly – you can adjust the heat according to your family's taste.
It's deliciously different – the turkey fajitas are assembled and layered in a baking dish before being covered with a creamy cheesy sauce and baked in the oven.
This turkey fajita bake is so juicy and full of flavour. Because the turkey is encased with the vegetables in tortilla wraps before being baked in the oven, it doesn't get a chance to dry out. It retains all it's flavour and moisture. Try it for yourself. I'm sure you'll agree that this is a meal with a difference!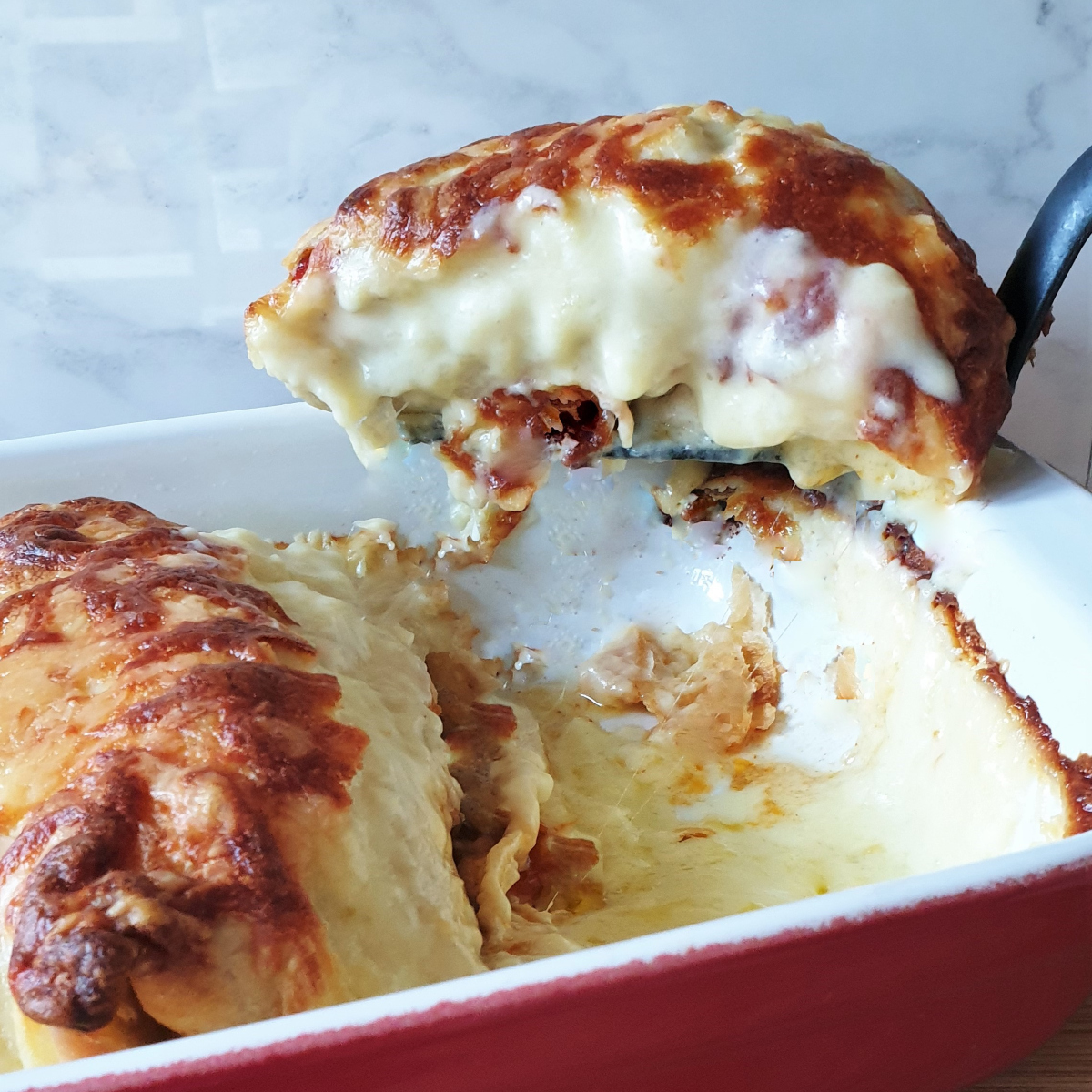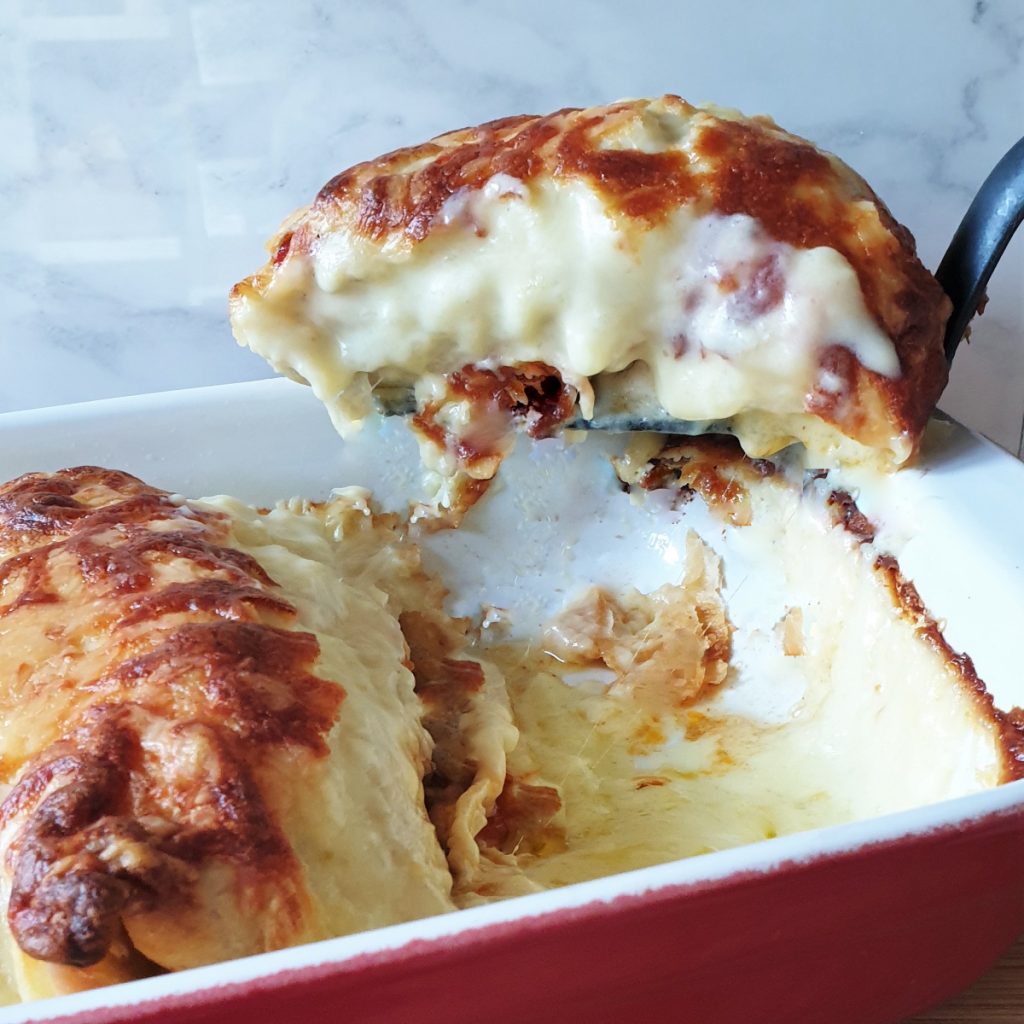 How to make cheesy turkey fajita bake
This recipe should be sufficient for 4 people. You can get the complete recipe on the printable recipe card at the end of this post.
Step 1 – prepare and cook the turkey and vegetables.
Allow 4 ounces (110g) uncooked turkey breast per person. Slice this into thin strips. (See picture 3 below).
Mix together the spice mix (you will need this in step 4).
2 teaspoons each dried onion salt, dried cumin, dried paprika
1 teaspoon dried oregano
1 teaspoon chili flakes – adjust this according to your own taste.
Peel one large onion and cut into 1cm dice. Peel and mince 2 cloves of garlic. You can use the equivalent amount of garlic from a jar if you like.
Deseed 1 red and 1 yellow pepper, remove the membranes and slice.
Fry the onions, garlic and peppers in a little sunflower (or other neutral flavoured oil) over a low heat, until they start to soften. If you cover the pan with a lid, it will speed up the cooking process.
Now add add 1 cup (about 75g) chopped mushrooms. Cover with a lid and allow to let the mushrooms soften and release their juices.
Add the sliced turkey and spice mix and stir through. Increase the heat slightly and stirfry for 2 to 3 minutes until the turkey is no longer pink. Don't worry if the turkey is not completely cooked through, it will continue cooking in the oven.
Taste and add salt to your own taste if necessary.
Step 2 – Assemble the fajitas
If you are using large (ie 12 inch) tortilla wraps, then one per person should be sufficient. If you are using smaller ones then adjust the quantities of the filling accordinngly.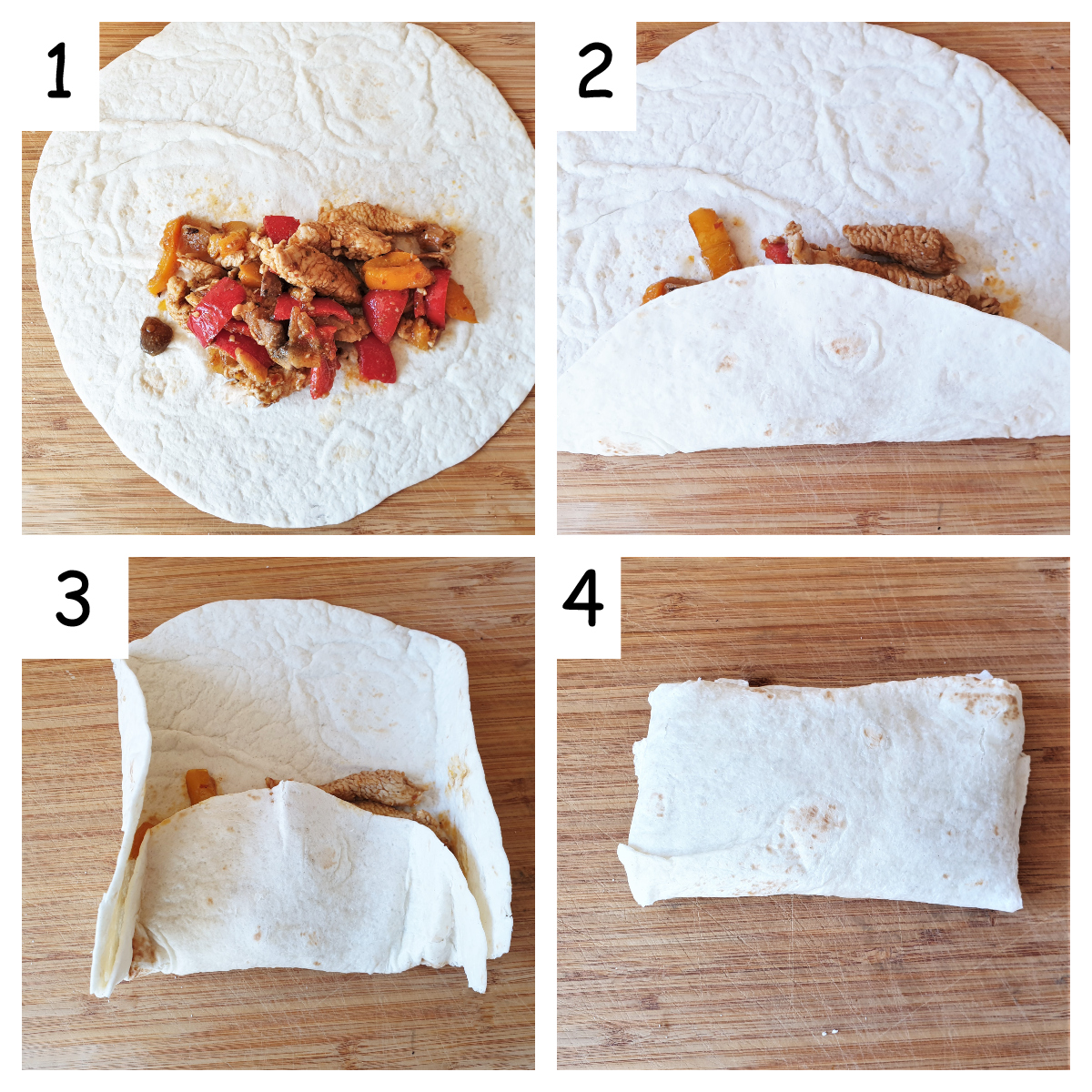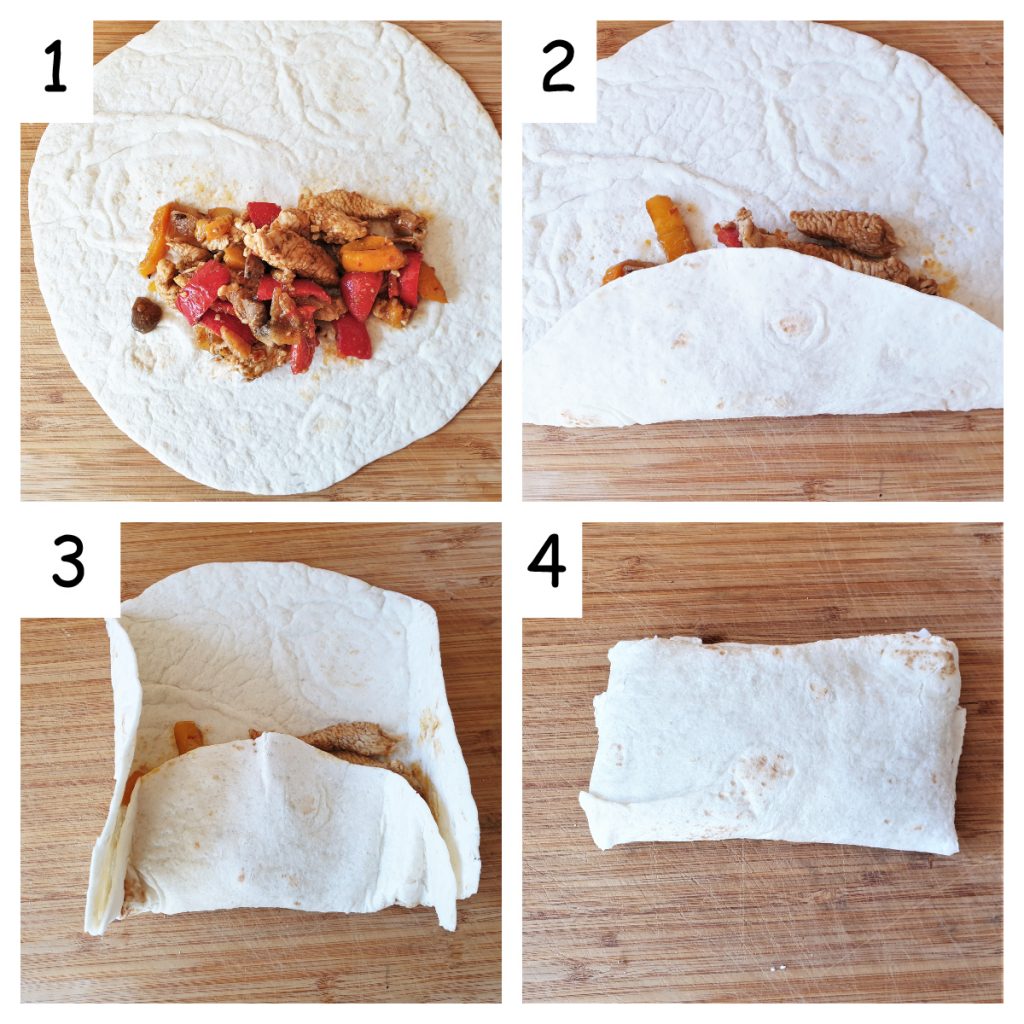 Allow the filling to cool, then place 1/4 of the filling just below the centre of a 12″ tortilla wrap.
Fold the bottom of the tortilla up over the filling, then fold in the sides.
Finally fold over to form a parcel.
Step 3 – Make the cheese sauce
Arrange the folded tortillas in an ovenproof baking dish. For my 12″ tortilla, I made 4 parcels and they fitted nicely into a 7″ x 9″ (18cm x 23cm) dish.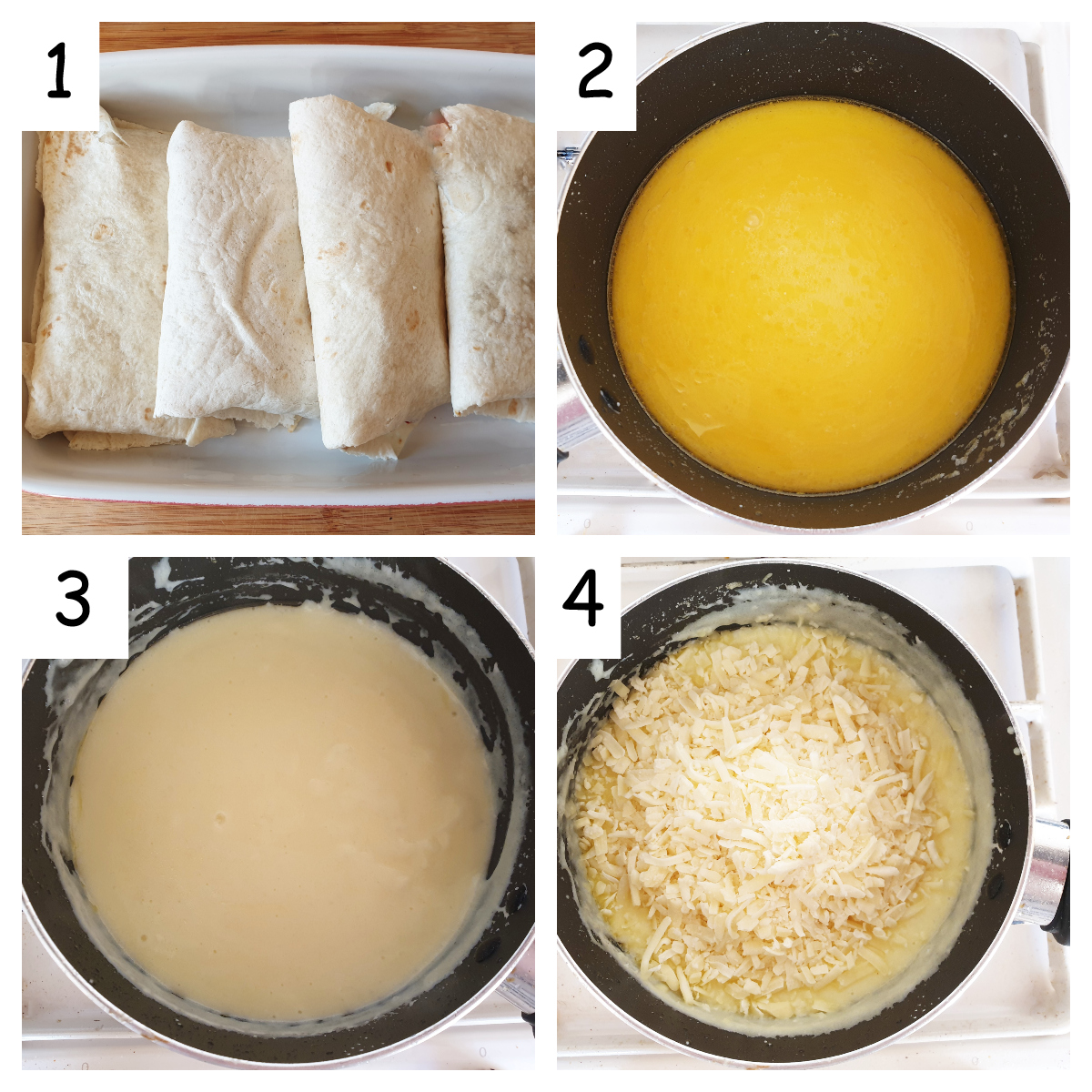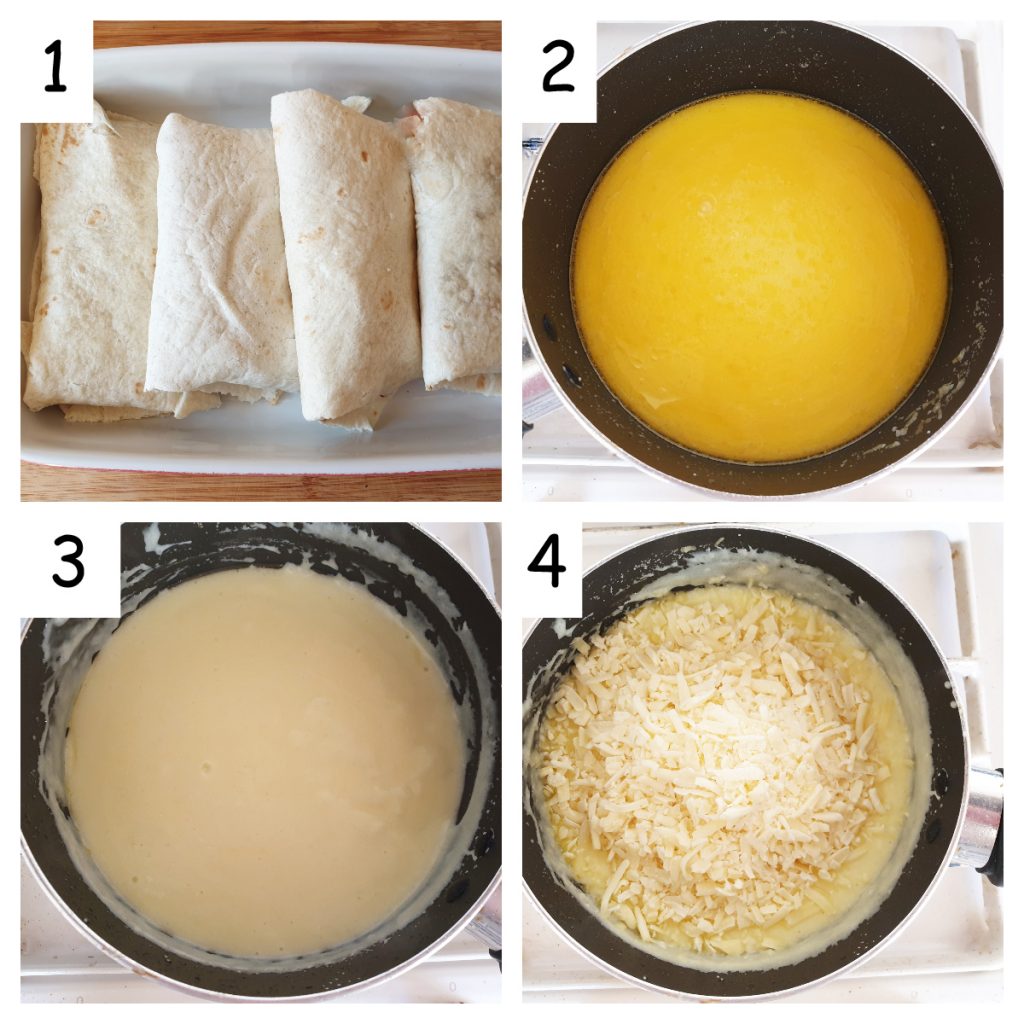 Melt the butter in a saucepan and then stir in the cornflour / cornstarch.
Mix thoroughly to remove any lumps, then stir in the milk and allow to cook over a low heat stirring continuously, until the mixture thickens. The consistency should be that of thick custard.
Now add the grated cheese and stir through. For the cheese I used a mixture of cheddar and mozarella because I like the stringy chewiness of mozarella. You can use your favourite brand of cheese.
Please bear in mind that the sauce will thicken with the addition of the cheese. If the sauce is too thick, stir in a little extra milk to thin it down.
Check for seasoning, and add salt to your own taste if necessary.
Step 4 – Assemble and bake
Preheat the oven to 180C / 375F.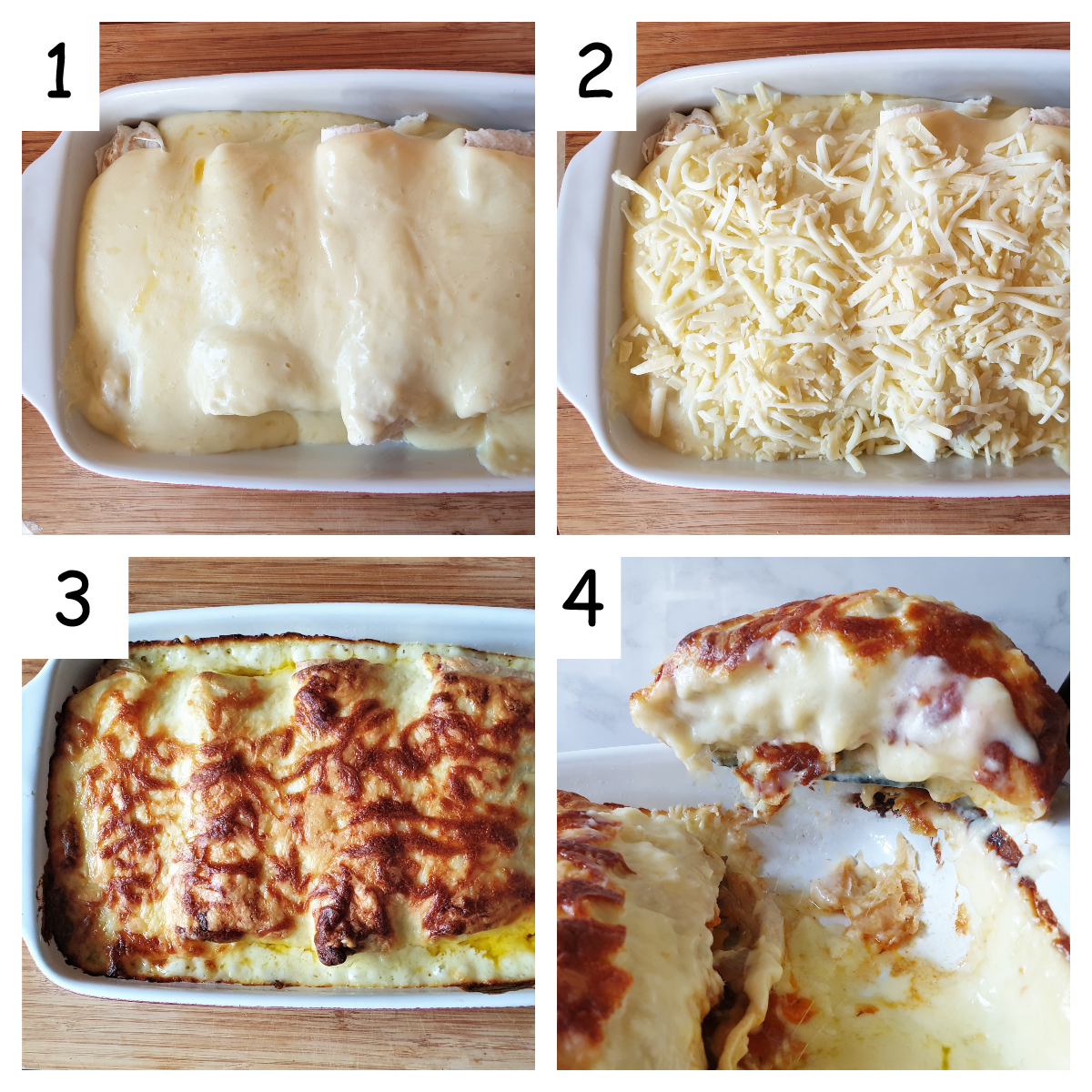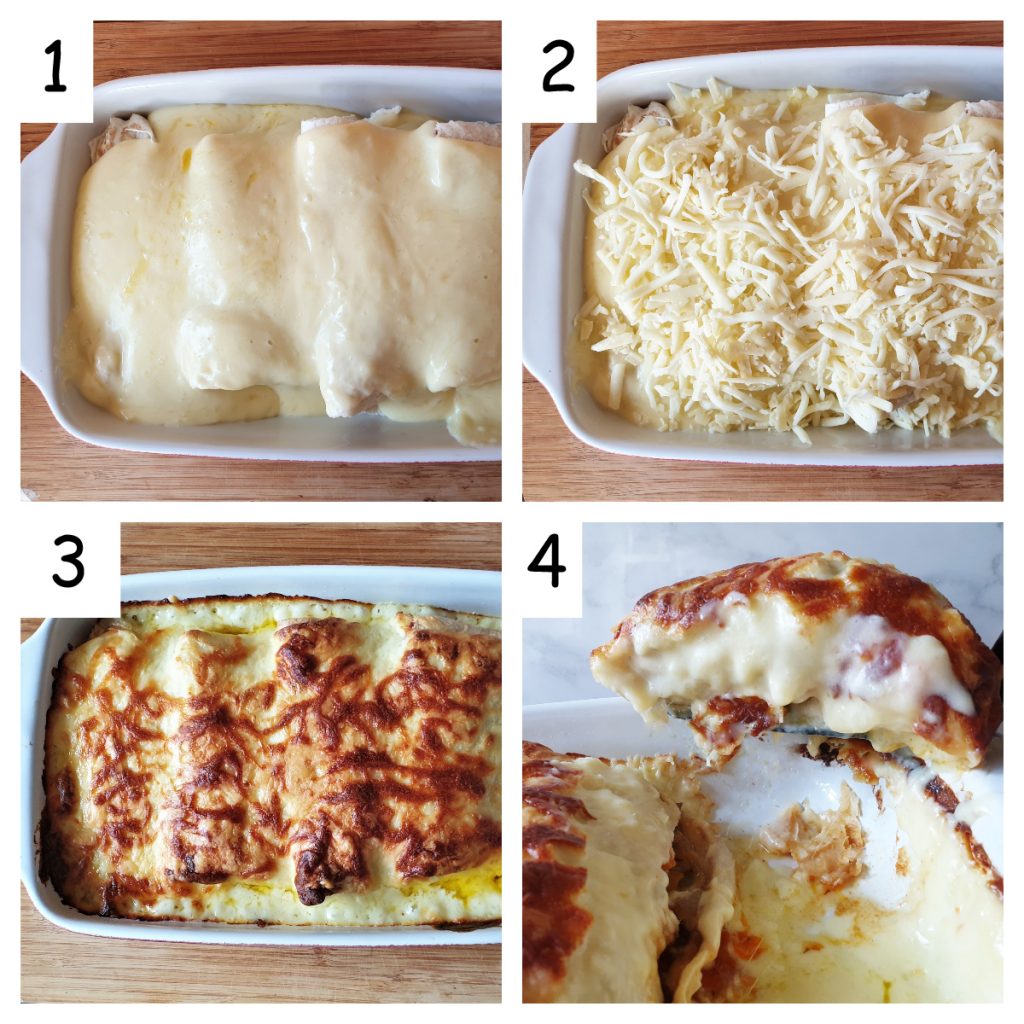 Pour the cheese sauce over the folded tortillas in the baking dish and sprinkle with grated cheese.
Bake in the pre-heated oven for 20 minutes, or until the cheese has melted and turned golden.
Remove from the oven and serve.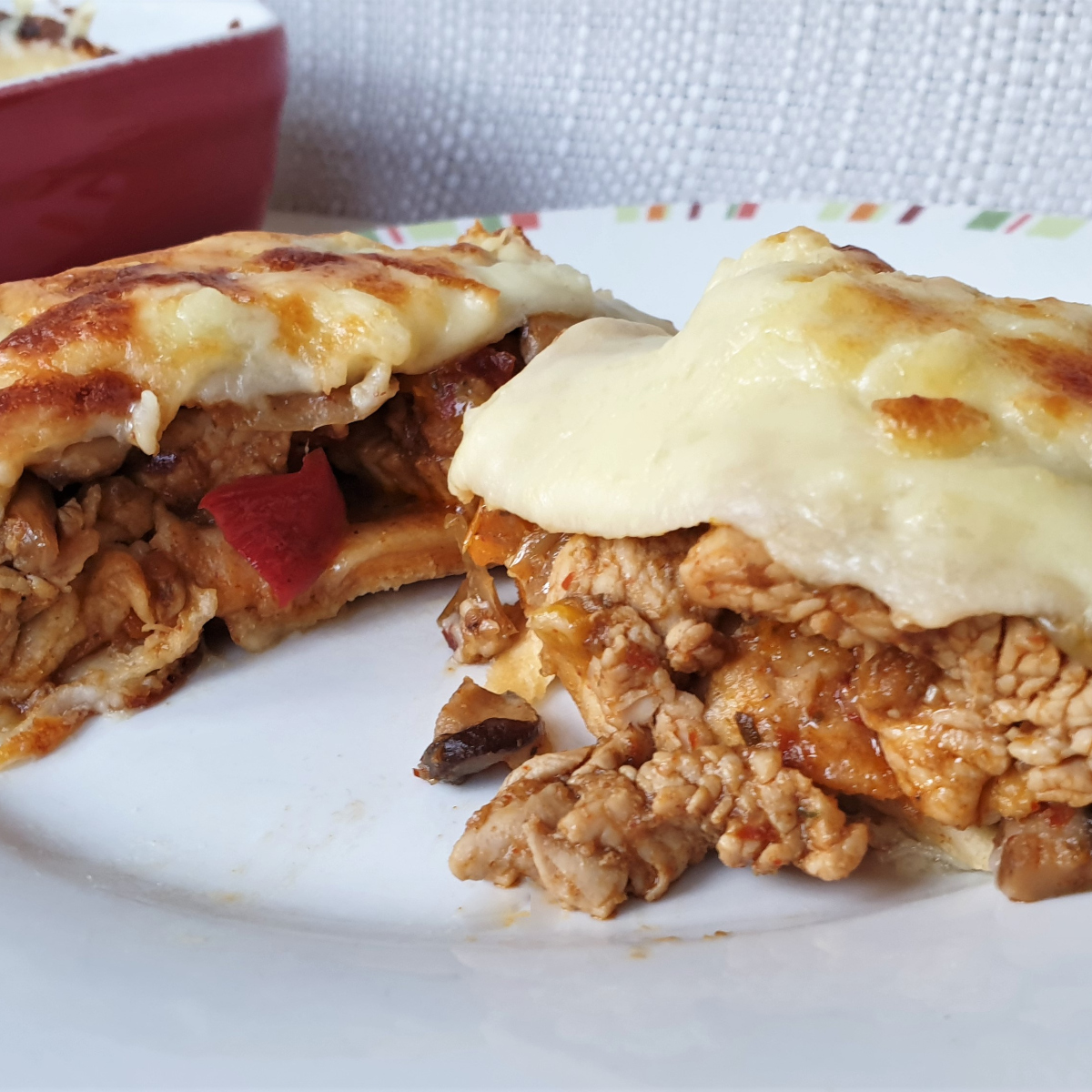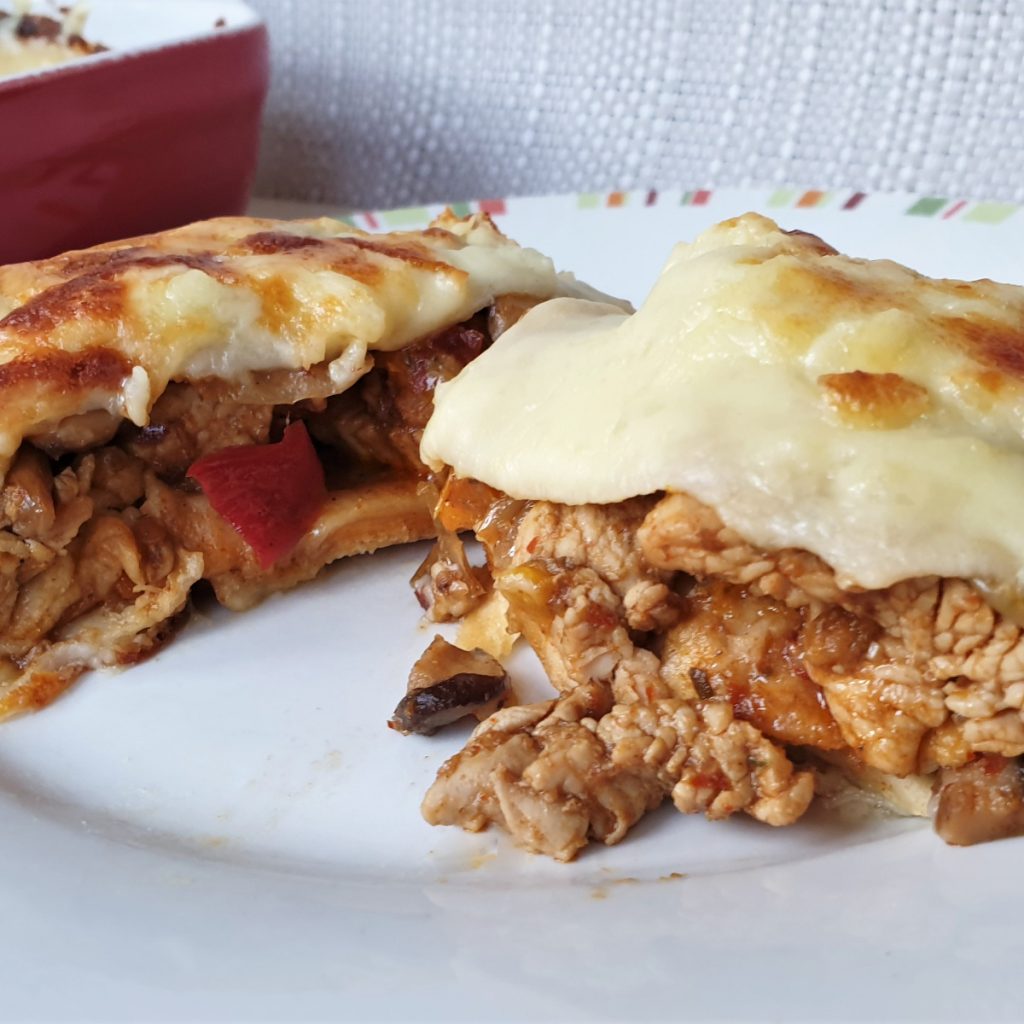 What do I serve with turkey fajita bake?
This is quite a substantial meal, so you won't need much in the way of sides. You could try these:
a bowl of fresh guacamole, made by mashing an avocado with a couple of tablespoons of lime juice and salt and pepper to taste. You don't want too many contrasting flavours in the guacamole, there is more than enough spicy flavour in the turkey.
a bowl of tomato salsa, or this easy sweet pepper relish
alternatively make a mixture of shredded lettuce and finely chopped tomatoes and corriander leaves, with a light drizzle of balsamic vinegar
and for those of you who like the heat, a bottle of your favourite hot sauce.
Can I freeze this turkey bake?
You can freeze either the filling or the fully assembled dish.
To freeze the filling
Follow the instructions to the end of Step 1 above. Then allow the mixture to cool.
Pack into a large freezer bag or a rigid plastic container, label and freeze for up to 3 months.
To use, allow the turkey mixture to defrost in the refrigerator (preferably overnight), the continue with the instructions from Step 2 above.
To freeze the fully assembled dish
Follow the instructions until the dish has been fully assembled and covered with grated cheese.
Allow to cool completely then wrap the dish in tinfoil and cover with a layer of clingfilm (or plastic wrap).
Label and place in the freezer for up to 3 months.
To use, allow to defrost in the refrigerator overnight then bake in a pre-heated oven (180C/375F) for 20 minutes, or until the cheese has melted and turned golden.
If you want to keep up-to-date with my latest recipes why not follow along on Facebook or Pinterest. And don't forget to subscribe to my mailing list so you can get your FREE COOKERY BOOK
Recipe – easy cheesy turkey fajita bake
I am not a nutritionist. The nutrition information has been calculated using an on-line calculator, and is intended for information and guidance purposes only. If the nutrition information is important to you, you should consider calculating it yourself, using your preferred tool.
If you made this recipe and enjoyed it, please don't forget to give me a star rating in the comments below. And if you'd like to get in touch, you can email me on foodleclub1@gmail.com. I'd love to hear from you. And don't forget to subscribe to my mailing list so you can grab yourself a copy of my FREE COOKBOOK!
If you'd like to continue browsing, just click on this link to all my recipes.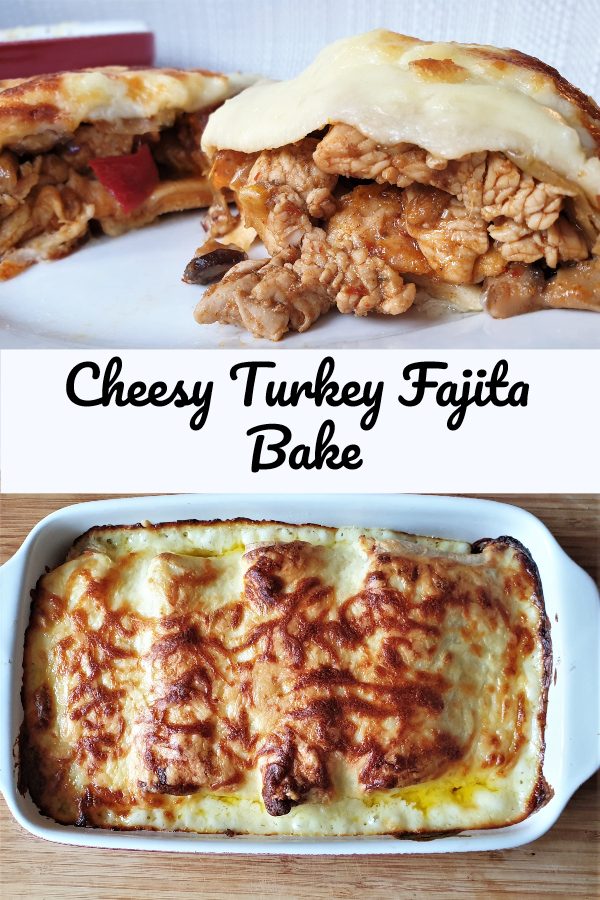 This recipe has been shared on #CookBlogShare