Whether you're searching for a special dinner party dessert, or you just want to give the family a delicious treat, I'm sure you'll find inspiration in this collection of my favourite dessert recipes.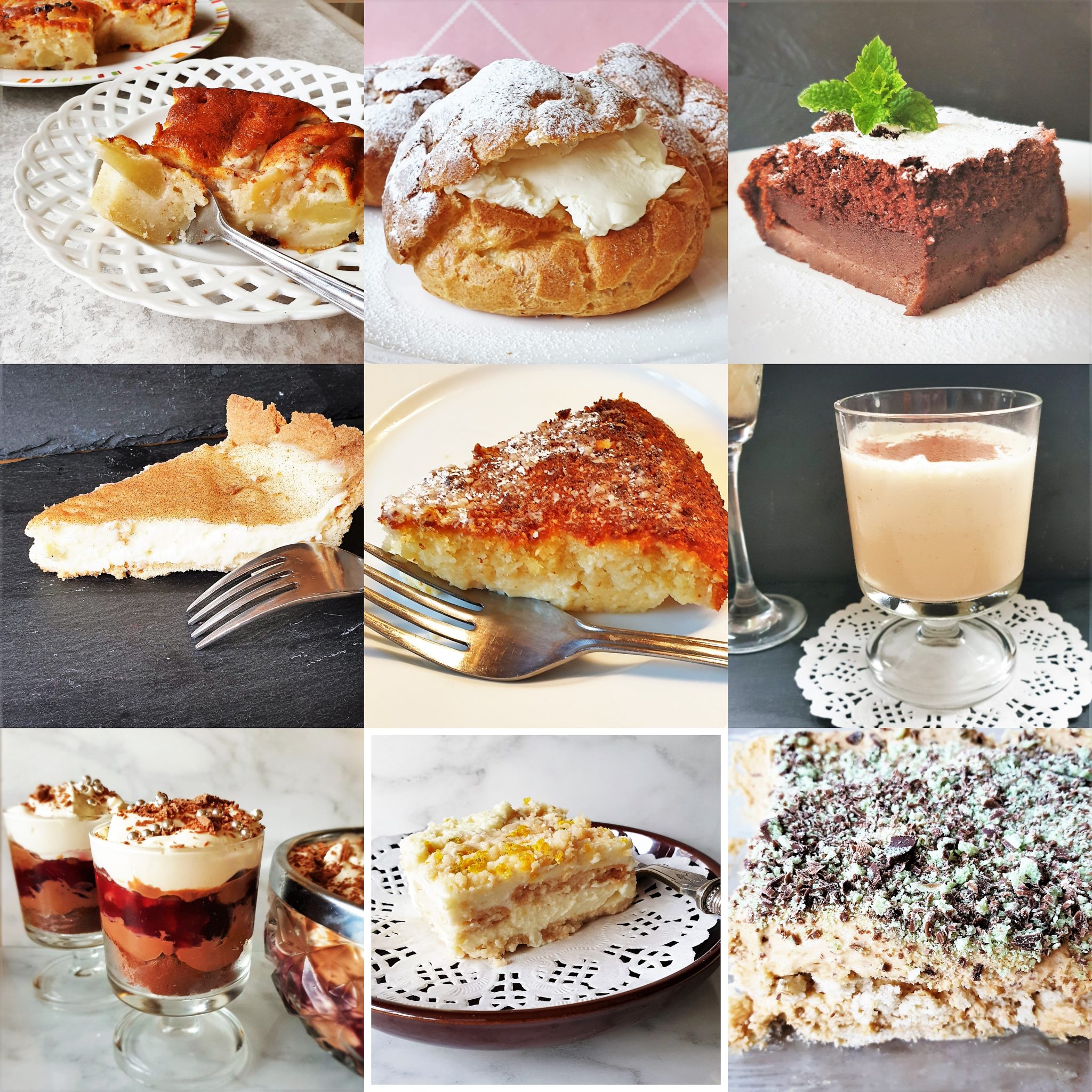 **As an Amazon affiliate, I earn from qualifying purchases.**
A Collection of 9 Dessert Recipes
Sometimes, when you are searching for a recipe, it's difficult to know exactly what to search for. You may know you want a to make a dessert, but not sure exactly what ingredients to search for. To make it easier for you I've put together a collection of 9 of my most popular dessert recipes in one post.
There's something for everyone. Quick and easy simple family treats like apple cake and South African milk tart. Or if you are looking for a dessert to impress your dinner guests, why not try a decadent rich peppermint crisp tart, or a tangy citrus cheesecake. And let's not forget my signature cocktail, the creamy Dom Pedro, made with ice cream and Baileys liqueur. That's sure to go down well an any special occasion.
Easy Apple Cake
This is one of my most popular recipes – it takes only minutes to whip together, and is so simple to make, even a child could do it.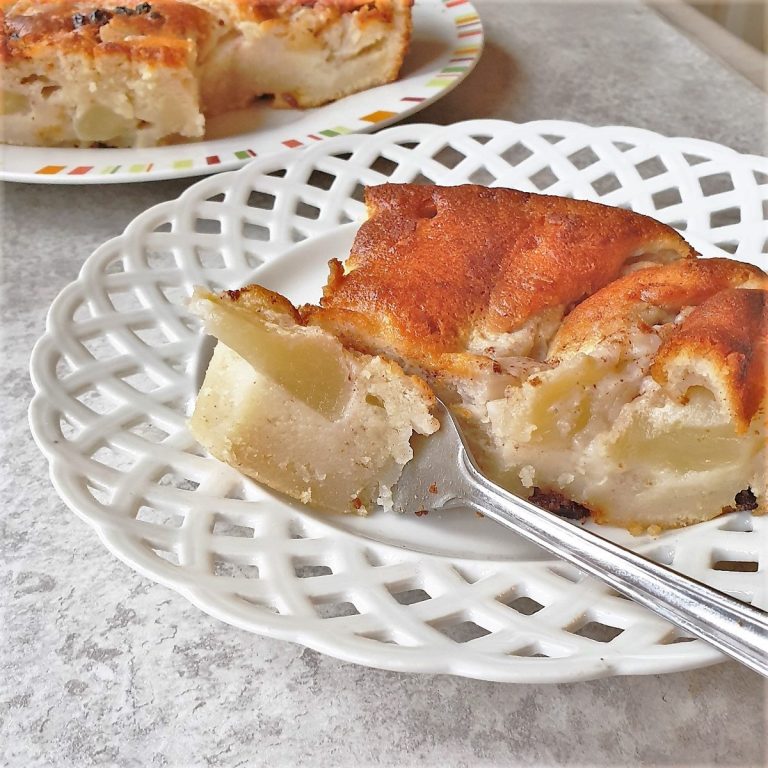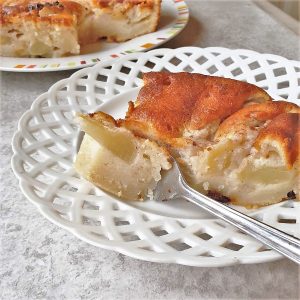 Easy Apple Cake tray bake
This all-in-one apple cake tray bake is the best apple cake recipe I have ever tried. As it bakes, the juice from the apples combines with the cake batter to form a delicious custardy inside. Combine this with cinnamon and plump juicy sultanas and you have the best apple cake ever!
View recipe
Cream Puffs
These are easier to make than you might think. I've got step-by-step instructions to make the perfect choux pastry.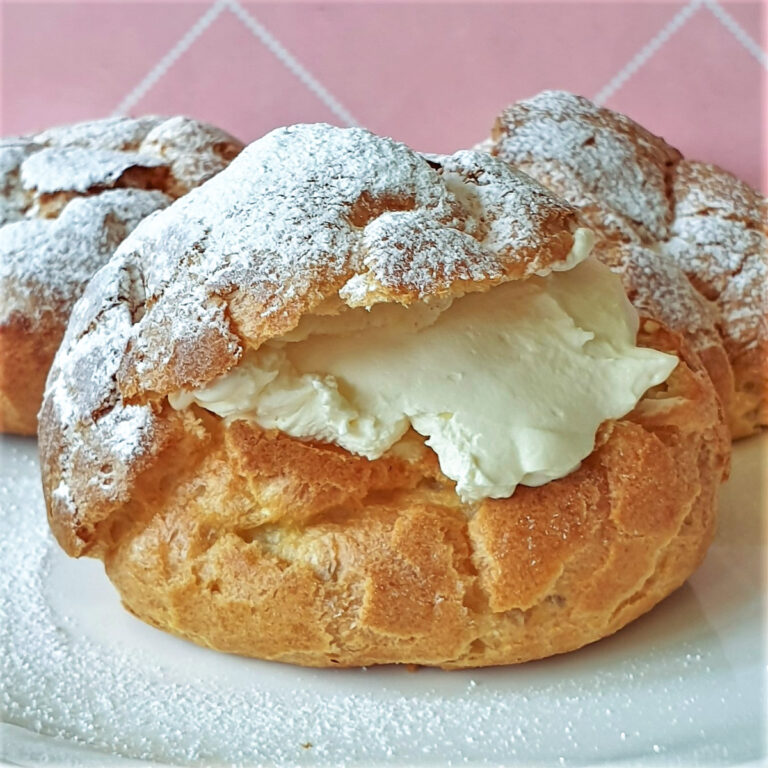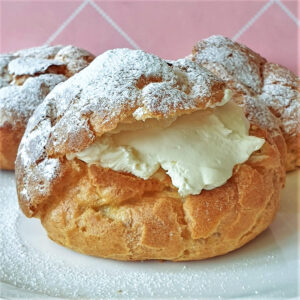 Homemade Cream Puffs
I can't think of anything more tempting than these homemade Cream Puffs. Light-as-a-feather choux pastry, filled with whipped cream and dusted with icing sugar. Forget about diets – sink your teeth into one of these – you've earned it!
View recipe
Chocolate Magic Cake
This cake certainly lives up to its name. Just mix everything together in one bowl, pop it in the oven, and it separates into 3 distinct layers, as if by magic.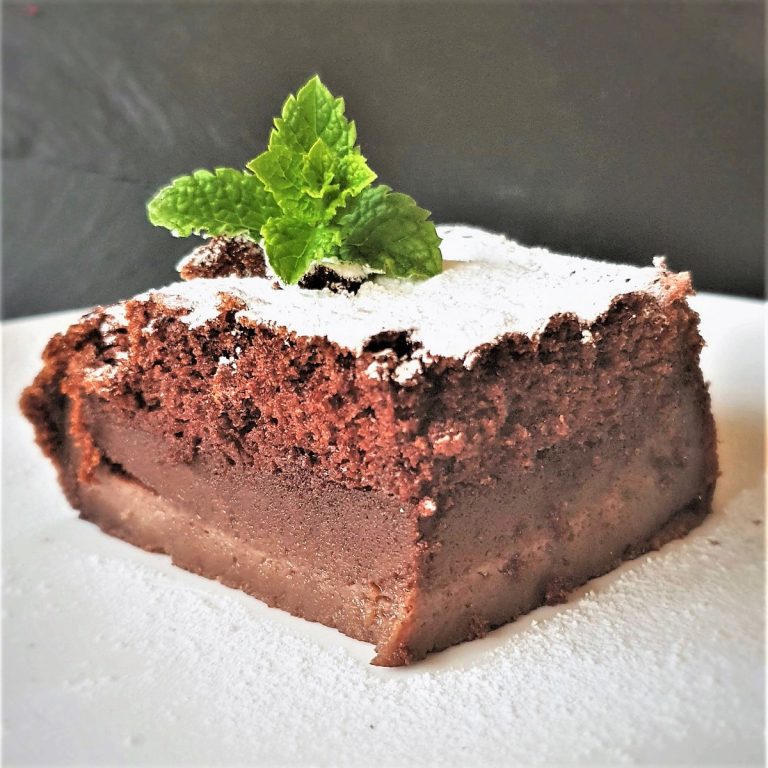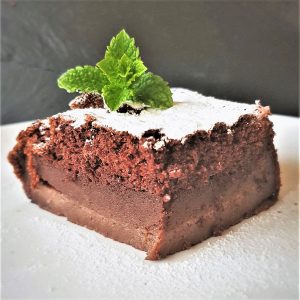 Chocolate Magic Cake
What's better than Chocolate Cake?  Chocolate MAGIC Cake, that's what.  Fudgy base, covered with creamy ganache and topped off with a layer of super soft sponge.  All made out of one batter mix.  How good is that?
View recipe
South African Milk Tart
Every family in South Africa has their own version of a milk tart. It's sure to be a hit with your family too.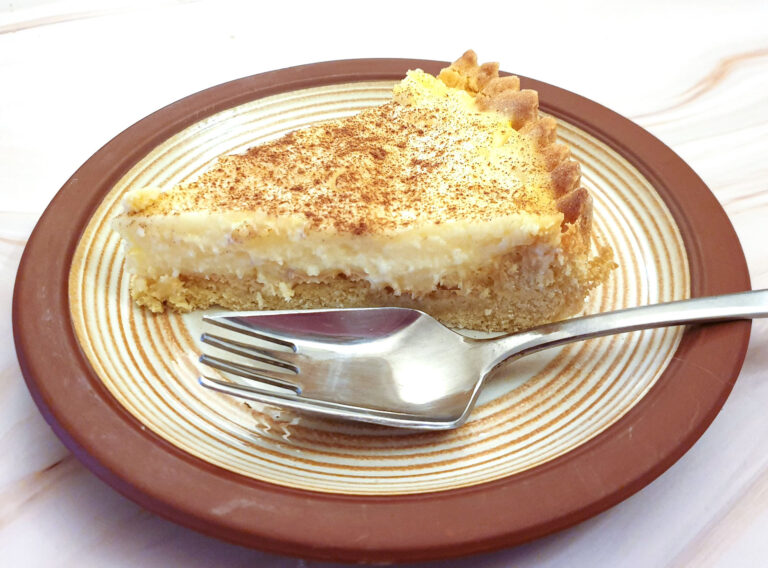 Milk Tart
Traditional South African Milk Tart (Melk Tert) has a soft buttery sweet crust pastry that is filled with creamy custard and sprinkled with cinnamon. For this version the crust is pre-baked and the filling is cooked separately on the stove before being poured into the pie crust and left to set in the refrigerator.
View recipe
Easy Coconut Pie
My all-time favourite. I love the way it separates as it bakes.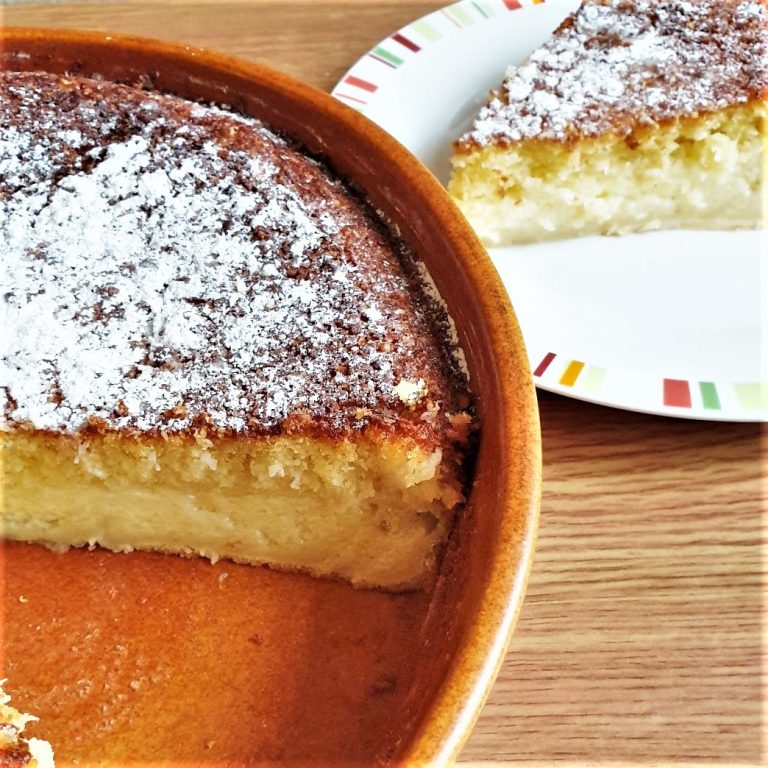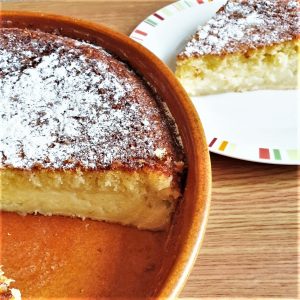 Easy Coconut Pie
The easiest ever Coconut Pie. Just mix all the ingredients together, pour into a pie dish and bake. As it bakes, the batter separates into 3 distinct layers – a delicious soft pastry base, a creamy custard filling and a crunchy coconut topping. Eat a slice by itself or top it with whipped cream or ice cream for extra indulgence.
View recipe
Dom Pedro Cocktail
In South Africa you find these on the dessert menu, even though they contain alcohol. A glass of ice cream laced with Baileys liqueur. Definitely not one for the kiddies!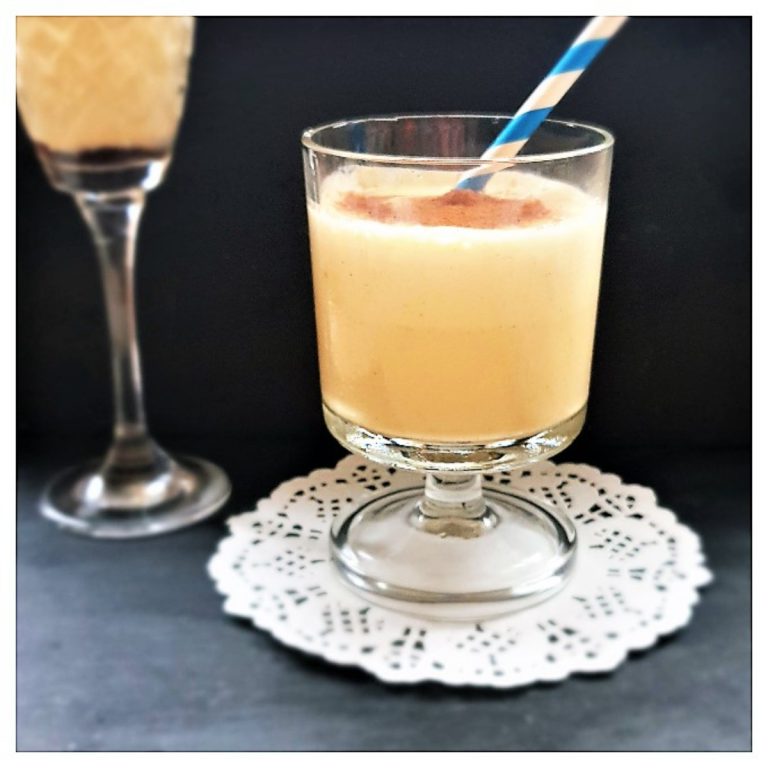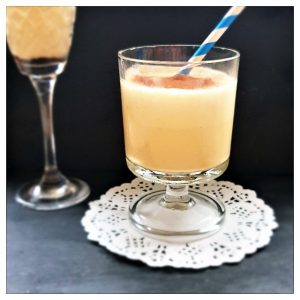 Dom Pedro Cocktail
A Dom Pedro is a luscious cocktail made with ice cream and Baileys. It's great for serving at parties, and it makes the perfect easy dessert too.
View recipe
Black Forest Trifle
A delicious trifle, filled with cherries, and laced with cherry brandy for the adults, or black current syrup for the kiddies. Trifles aren't just for Christmas!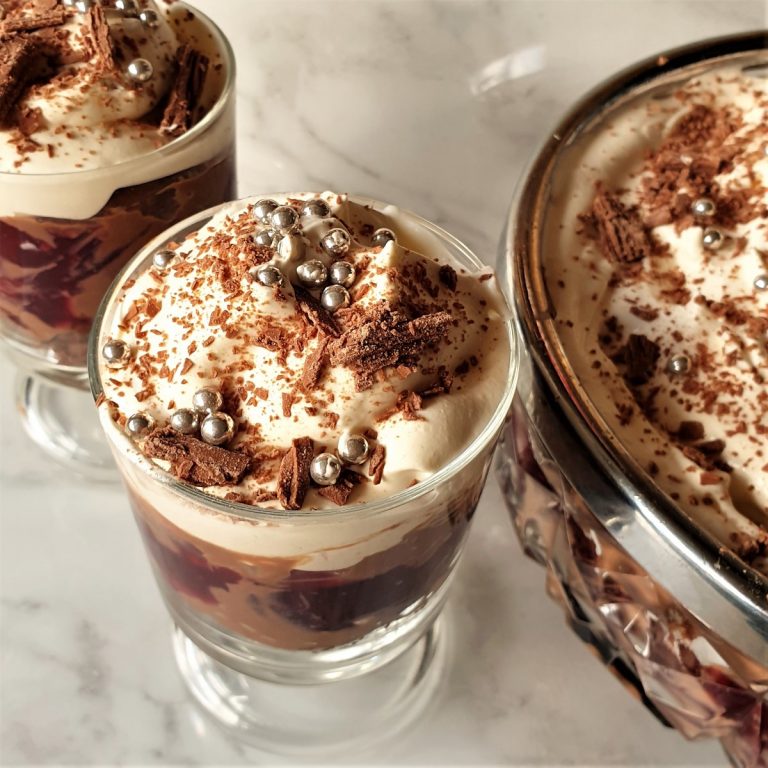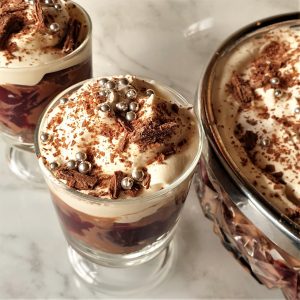 Boozy Black Forest Trifle
Impress family and friends with this really simple boozy Black Forest Trifle recipe with cherries and cream. Lace it with cherry brandy for the adults or use cherry syrup for the youngsters. Trifle isn't just for Christmas!!!!
View recipe
Citrus Cheesecake
This is a light and refreshing dessert, with the juice and zest of 3 different citrus fruits – orange, lemon and lime.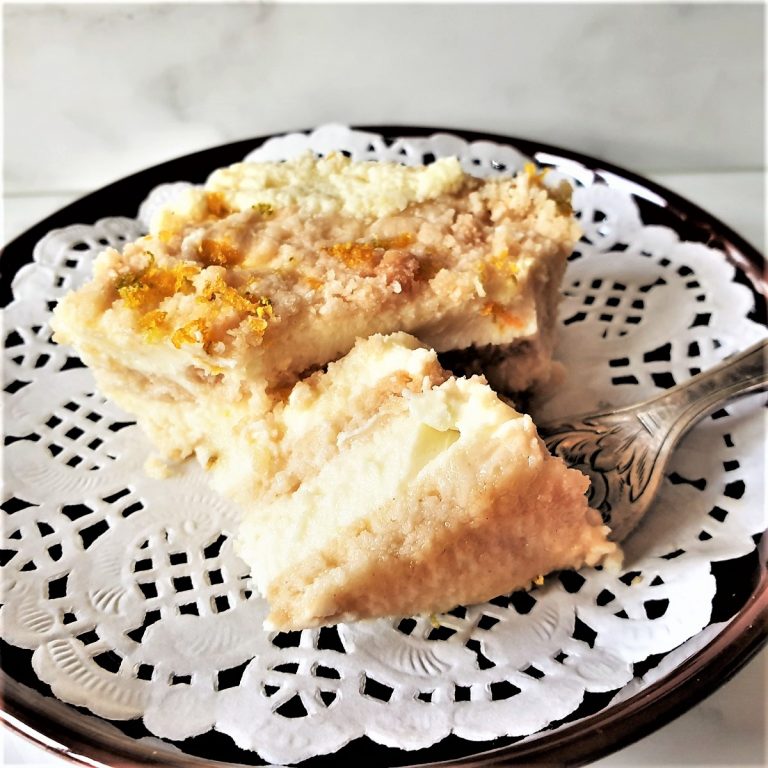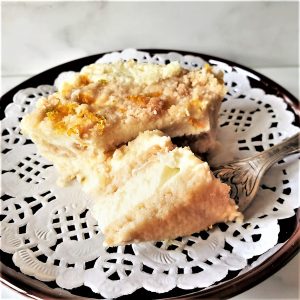 Citrus Cheesecake with Greek Yoghurt
The most delicious citrus cheesecake with greek yoghurt takes only 10 minutes to make, but it tastes like you spent hours. It's tangy, creamy and mouthwateringly good, packed with citrus flavours of lemon, lime and orange. If this doesn't get your taste-buds tingling then nothing will!!
View recipe
Peppermint Crisp Tart
This dessert is made with double cream and caramel condensed milk, but it is saved from being too sweet by the addition of peppermint essence.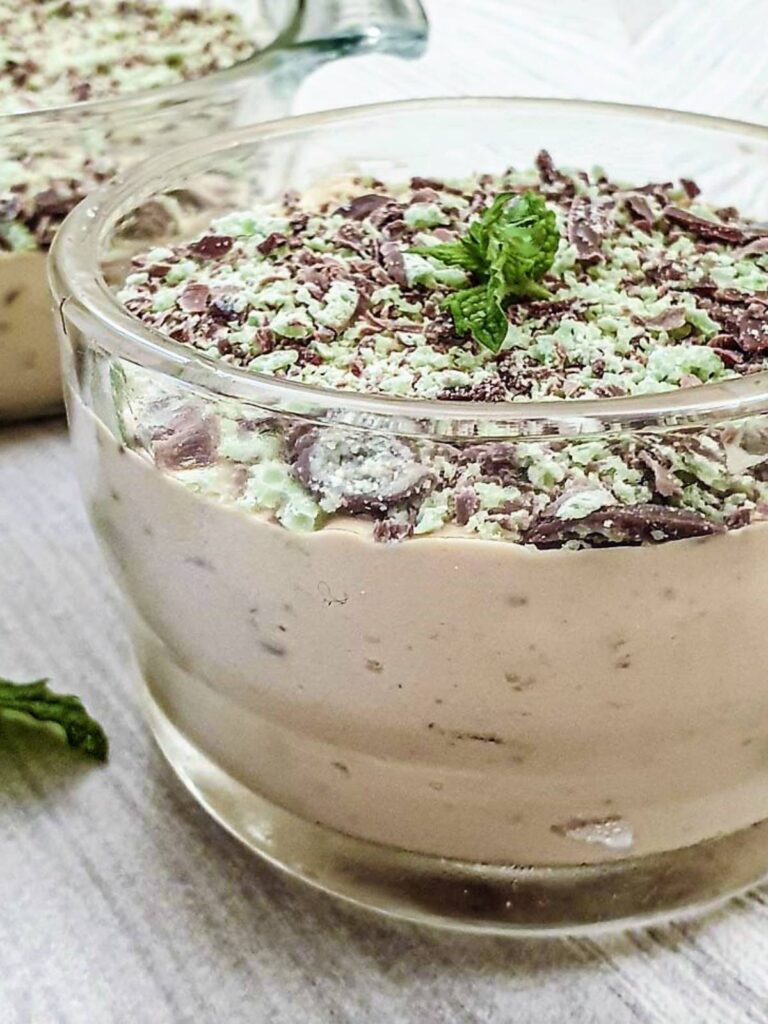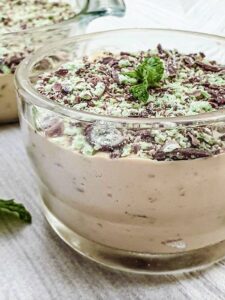 Peppermint crisp fridge tart
Peppermint Crisp Fridge Tart is the ultimate in sweet indulgence. Luscious whipped cream mixed with caramelised condensed milk, layered on coconut biscuits and covered in grated peppermint chocolate. As a bonus there is no cooking required. Just let it set in the fridge for an hour or two before eating – if you can wait that long!
View recipe
So there you have it, 9 of my favourite desserts for a little bit of sweet inspiration. Which is your favourite? Do let me know in the comments below.
And for more inspiration, why not browse my full collection of cakes and desserts?
Pin for later
Why not pin this recipe collection to your pinterest board so you can make them later. Just click the image below.
If you made this recipe and enjoyed it, I'd love it if you could give me a star rating in the comments below. And if you'd like to get in touch, you can email me at [email protected]. I'd love to hear from you. And don't forget to subscribe to my mailing list so you can grab yourself a copy of my FREE COOKBOOK!
If you'd like to continue browsing, just click on this link to all my recipes.