Whether you're searching for a special dinner party dessert, or you just want to give the family a delicious treat, I'm sure you'll find inspiration in this collection of my favourite dessert recipes.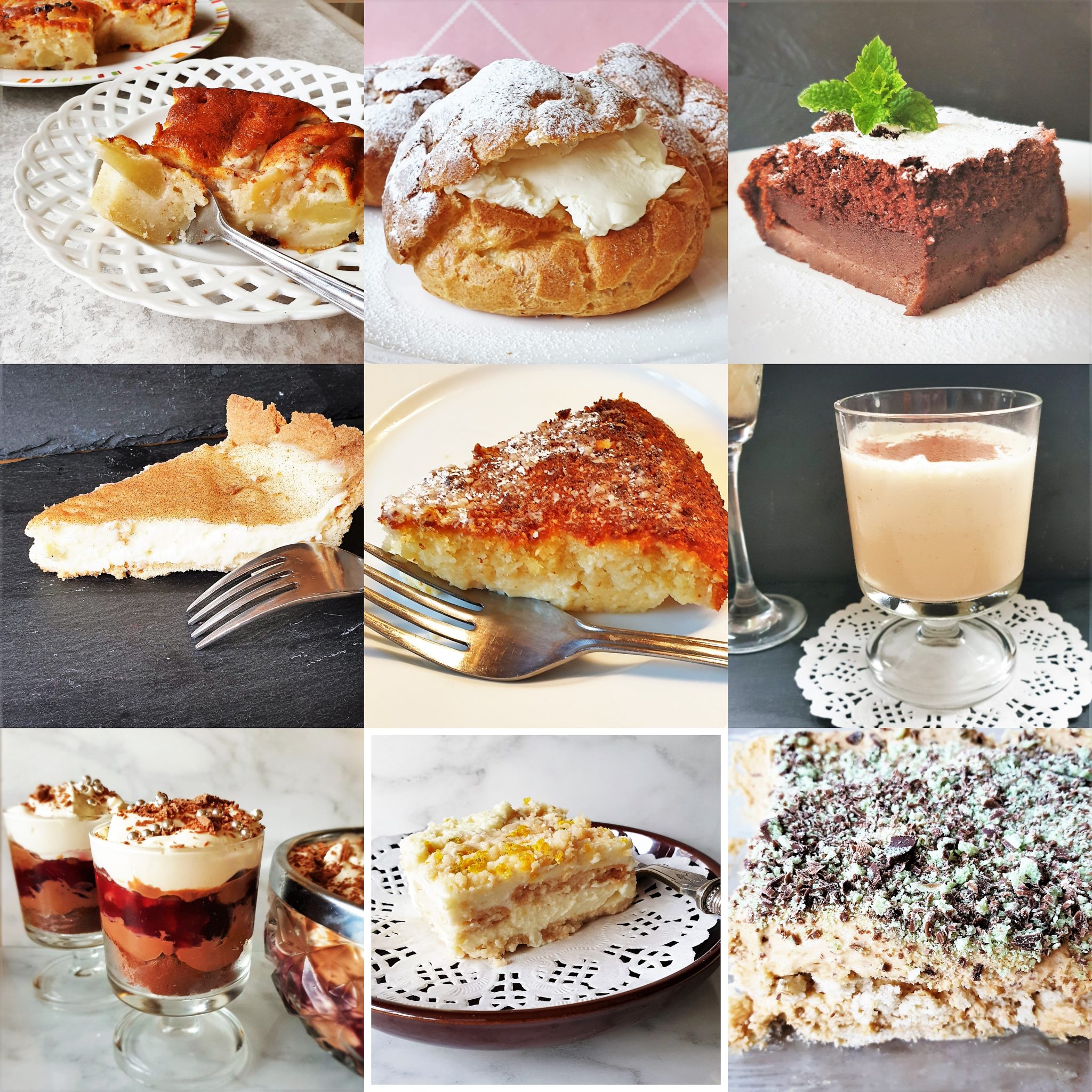 **As an Amazon affiliate, I earn from qualifying purchases.**
A Collection of 9 Dessert Recipes
Sometimes, when you are searching for a recipe, it's difficult to know exactly what to search for. You may know you want a to make a dessert, but not sure exactly what ingredients to search for. To make it easier for you I've put together a collection of 9 of my most popular dessert recipes in one post.
There's something for everyone. Quick and easy simple family treats like apple cake and South African milk tart. Or if you are looking for a dessert to impress your dinner guests, why not try a decadent rich peppermint crisp tart, or a tangy citrus cheesecake. And let's not forget my signature cocktail, the creamy Dom Pedro, made with ice cream and Baileys liqueur. That's sure to go down well an any special occasion.
Easy Apple Cake
This is one of my most popular recipes – it takes only minutes to whip together, and is so simple to make, even a child could do it.
Cream Puffs
These are easier to make than you might think. I've got step-by-step instructions to make the perfect choux pastry.
Chocolate Magic Cake
This cake certainly lives up to its name. Just mix everything together in one bowl, pop it in the oven, and it separates into 3 distinct layers, as if by magic.
South African Milk Tart
Every family in South Africa has their own version of a milk tart. It's sure to be a hit with your family too.
Easy Coconut Pie
My all-time favourite. I love the way it separates as it bakes.
Dom Pedro Cocktail
In South Africa you find these on the dessert menu, even though they contain alcohol. A glass of ice cream laced with Baileys liqueur. Definitely not one for the kiddies!
Black Forest Trifle
A delicious trifle, filled with cherries, and laced with cherry brandy for the adults, or black current syrup for the kiddies. Trifles aren't just for Christmas!
Citrus Cheesecake
This is a light and refreshing dessert, with the juice and zest of 3 different citrus fruits – orange, lemon and lime.
Peppermint Crisp Tart
This dessert is made with double cream and caramel condensed milk, but it is saved from being too sweet by the addition of peppermint essence.
So there you have it, 9 of my favourite desserts for a little bit of sweet inspiration. Which is your favourite? Do let me know in the comments below.
And for more inspiration, why not browse my full collection of cakes and desserts?